Photography: Nas Mato via Unsplash
No matter your cravings, we've got you covered with our pick of the best ice cream stores in Singapore.
Can you really say no to ice cream in Singapore? Indulging in icy cold goodness has come a long way since messily horking down raspberry ripple ice cream on top of coloured bread from the ice cream stand uncle. Today, parlours specialising in the sweet treat – and its classic and whacky flavours – are aplenty in Singapore. So forget the calories (we'll take that extra visit to the gym, any day), be a discerning ice cream enthusiast and drop by these spots for 100% satisfaction. Fair warning: it's gonna get messy!
Best ice cream stores in Singapore
1. Sunday Folks
Famous for its ice cream and waffles, this Holland Village hangout takes pride in its handcrafted pints made fresh with no preservatives. To sweeten up your day, get your hands on artisanal varieties like espresso rum, Ferrero rocky road and raspberry rose with lychee.
Sunday Folks, #01-52, Chip Bee Gardens, 44 Jalan Merah Saga, Singapore 278116; order online for delivery
2. Birds of Paradise
Craving a light dessert? Head over to East Coast or Jewel Changi Airport for fresh gelato made using natural and botanically-inspired ingredients like fragrant lemongrass, ginger and basil. These flavours are familiar yet unique – strawberry basil ice cream on a thyme cone, anyone?
Birds Of Paradise, multiple locations including Jewel Changi Airport and East Coast Road
3. Creamier
Creamier's quaint Toa Payoh outlet is back with its famed flavours. For those who've not tried it, let us fill you in: made in small batches, the ice cream features a rotating menu of nostalgic flavours. Bestsellers include roasted pistachio, Earl Grey lavender and blue pea vanilla. And always, always get the homemade waffles. We think it's one of the fluffiest in town.
Creamier, #01-02, Blk 131 Toa Payoh Lorong 1, Singapore 310131; order online for delivery
4. Tom's Palette
Feeling adventurous? Tom's Palette whips up the most unusual flavours, from salted egg yolk to white chocolate nori and even… chee cheong fun. These folks always think out of the box when it comes to ice cream. You won't find a menu as creative as theirs elsewhere!
Tom's Palette, #01-01, 51 Middle Road, Singapore 188959
5. Dopa Dopa Creamery
Ice cream and croissants? What a dream pairing. We're in love with Dopa Dopa Creamery for this rich, buttery combination. Get your pastry stuffed with scoops of genmaicha, brown butter crumble, pistachio and more.
Dopa Dopa Creamery, #01-01, 29 South Bridge Road, Singapore 058665
6. Gelatolabo
Always experimenting in the kitchen, the folks behind Gelatolabo put out small batch pints. These are made with fresh fruits, as well as local and organic ingredients wherever possible. Intriguing flavours include Fuji apple pie and cinnamon, Colombian cold brew with cookie butter bits, and Yamanashi peach and lemongrass.
Gelatolabo, multiple locations including Mohamed Sultan Road and Cavan Road; order online for delivery
7. Holy Cow Creamery
We know you're here for ice cream but trust us, you gotta try the waffles at Holy Cow Creamery. They're crispy on the outside and dense on the inside, which means they soak up all that flavour from your ice cream. Choose from options such as choc chip mint, ondeh ondeh, sour plum sorbet and salted gula melaka. All we can say is, holy cow.
Holy Cow Creamery, #01-291, 292 Yishun Street 22, Singapore 760292
8. Lickers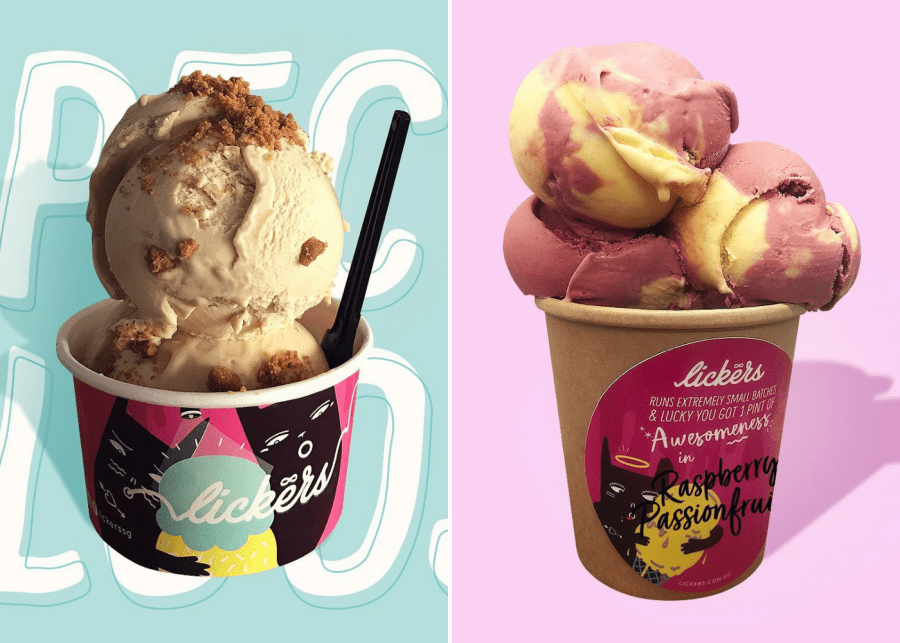 This hidden gem of an ice cream parlour is the perfect spot for a sweet rendezvous as it stays open till 2am. You won't spot any synthetic flavouring or off-the-shelf mixes in the house-made ice cream, which we love for its wacky flavours such as Yakult oreo and oolong lavender. Yup, we tried the former and let's just say, we're sold. If you're not up to travel all the way to Hougang, the joint delivers too!
Lickers, #01-1446, Block 124, Hougang Avenue 1, Singapore 530124; order online for delivery
9. Island Creamery
Island Creamery was established by Stanley Kwok back in 2003 and is one of the pioneers of the homemade ice cream scene in Singapore. We're digging the range of locally-inspired flavours, from pulut hitam to Horlicks to soursop pomegranate.
Island Creamery, multiple locations including Bukit Timah and Ion Orchard
10. Apiary
Apiary is raved about for its interesting ice cream flavours in Singapore. The blue milk and lavender variations are stand-outs, but even classic flavours are worth a try! With all dairy products pasteurised right in the kitchen, you can expect a rich and creamy consistency and a big smile on your face while having your fill.
Apiary, 84 Neil Road, Singapore 088844; order online for delivery

11. Kind Kones
Here's one way to treat yourself and be kind to your body (and the planet). Using only 100% fresh and natural ingredients – sans preservatives, refined sugar, artificial flavouring and all those nasties – Kind Kones makes great alternatives to the sugary dessert. Offering a bevy of fun flavours such as charcoal vanilla, matcha coconut and pandan gula melaka, Kind Kones proves that vegan, gluten-free and dairy-free ice cream can taste just as good! You'll never notice the difference.
Kind Kones, #B1-27/K1, Forum The Shopping Mall, 583 Orchard Road, Singapore 238884; order online for delivery
12. Salted Caramel
Dessert after supper? Yes, we live for that kind of thing. And if you're in the Upper Thomson area, a visit to Salted Caramel is how it's done. Made in-house daily, the ice cream features unique flavour combos like caramel and espresso, Horlicks Tim Tam and peppermint brownie. But if you're too lazy to get out of the house, Salted Caramel can deliver a pint right to your doorstep.
Salted Caramel, 246F Upper Thomson Road, Singapore 574370; order online for delivery
13. Moosh
Imagine desserts like ondeh ondeh or Nutella brownie cheesecake whipped into soft serve…that's exactly what you'll get at Moosh. The portion sizes are on the bigger side so one cup is good for sharing. However, you'll want to finish it quickly, as it melts pretty fast. Just don't forget to snap your pics first!
Moosh SG, 44 Haji Lane, Singapore 189237
14. Milk & Honey
Indulge in handmade gelato at this cosy hangout in the heartlands of Bedok. Aside from classics like chocolate and vanilla, flavours on offer include speculoos, black goma and tiramisu. Order a fresh, fluffy waffle to go with your dollop of ice cream.
Milk & Honey, #01-179, Blk 86 Bedok North Street 4, Singapore 460086
15. The Ice Cream & Cookie Co.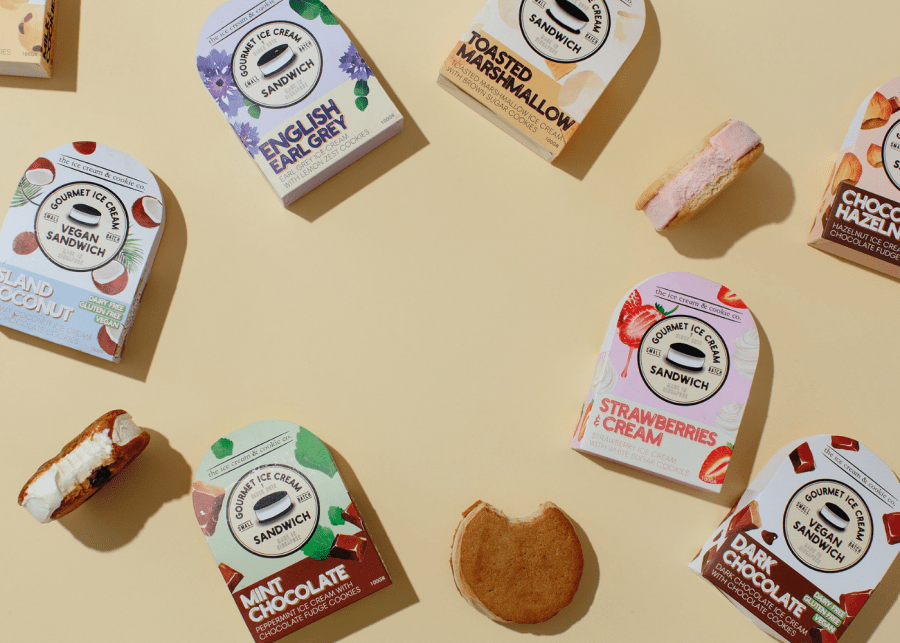 What's even better than ice cream? An ice cream cookie sandwich. The makers behind this brilliant combo offer flavours like toasted marshmallow (brown sugar cookies with marshmallow ice cream), English earl (lemon zest cookies with Earl Grey ice cream), and mint chocolate (choc fudge cookies with peppermint ice cream). If you want more, the selection of tub flavours has gluten-free, dairy-free and vegan options for sweet indulgence.
The Ice Cream & Cookie Co., available at selected retailers including Cold Storage and RedMart; order online for delivery
16. The Daily Scoop
The Daily Scoop has a wide range of ice cream flavours for those who want more options. Choices like cha Earl Grey, kookie monster, maple crisp and lychee martini are must-haves. But, if you're eyeing something in particular, call ahead to check if the flavour's available as the menu rotates regularly.
The Daily Scoop, multiple locations including Chip Bee Gardens and Bedok Reservoir; order online for delivery
17. Double Scoops
After making its mark in the heartlands of Ang Mo Kio, this cosy spot has since moved online. But you still can indulge in popular flavours like salted caramel brownie, tiramisu, matcha KitKat and mango coconut sorbet by ordering in.
Double Scoops, order online for delivery
18. Merely Ice Cream
The menu at Merely Ice Cream is ever-changing, so you never really know what to expect when you step in. This place has been serving ice cold scoops since 2012, with hot favourites like salted butterscotch, grape Yakult yogurt, Horlicks panda and roasted pistachio.
Merely Ice Cream, multiple locations including Sunshine Plaza and Our Tampines Hub; order online for delivery
19. Kooks Creamery
Kooks Creamery stands out from the rest of the pack thanks to the decadent molten lava cookies on its menu. Imagine digging your spoon into a scoop of your choice! Together with gooey molten lava from the chewy cookie, this decadent dessert warms you up in all the right places. Take your pick from ice cream flavours such as blue chai Hokkaido milk or brown butter. Then, pair them with chocolate chip speculoos, matcha Nutella or red velvet cream cheese cookies.
Kooks Creamery, multiple locations including The Cathay and Serangoon; order online for delivery
20. Carmen's Best
Popular in the Philippines, this ice cream parlour has opened its first outpost in Singapore, churning out popular flavours like Vietnamese coffee, birthday cake, cereal milk and pistachio almond fudge. Oh, and apparently the brown butter almond brittle has Pope Francis' stamp of approval.
Carmen's Best, #B1-32, Capitol Piazza, 13 Stamford Road, Singapore 178905
21. Udders
A homegrown ice cream brand, Udders produces unique flavours like Baileys & Bourbon, Champion Chendol and Snickers Mars Honeycomb Vanilla (for an unforgivingly chocolate-y experience). We recommend pairing your creamy dessert with fluffy waffles!
Udders, multiple locations including Bukit Timah and Novena; order online for delivery
Who's ready to beat the heat with a scoop of ice cream?