Photography: Lek Lim Nonya Cake Confectionery via Facebook
Here's our list of must-try local kueh in Singapore for breakfast, dessert and anything in between.
Oh Singapore, aren't you a foodie's dream destination! Our sunny island offers amazing local dishes: Some original, some adapted, but all just as delicious and binge-worthy. Yup, we're looking at you, laksa, chicken rice, roti prata and chilli crab. Part of our tasty fare is the plethora of kueh in Singapore, a selection of traditional delicacies that can be eaten as a snack or dessert. Here's an introduction to local kueh varieties and where to get 'em!
Types of kueh in Singapore
Kueh Tutu
Steamed rice cakes in pretty moulds filled with ground peanuts or grated coconut, kueh tutu is served on pandan leaves and easily gobbled down any time of the day. It is believed to have originated in China and is similar to putu piring, a popular Malay snack with a gula melaka (palm sugar) filling and grated coconut topping.
Kueh Bahulu
Think of it as an Asian rendition of the madeleine. These mini sponge cakes are fluffy on the inside with just the right amount of crisp on the outside, and they're typically lower in sugar, which makes 'em a healthy(ish) snack.
Ang Ku Kueh
One of the first things you'll notice about this 'red tortoise cake' is its brightly coloured oval shape. It's a soft, glutinous rice cake with a sweet filling, typically mung bean or peanut paste. While the kueh has its roots in China, the ones in Singapore have Nyonya influences, which elevate the flavour and appearance of this delicacy. These days, you can also find ang ku kueh stuffed with everything from durian to yam.
Kueh Lopes
Made from glutinous rice, these sticky cakes (also called Kueh Lupis) are usually found in triangular shapes and coated with grated coconut. They get their lovely fragrance from pandan used in the cooking process. Best eaten slightly warm, the tea time treats won't be complete without a sweet serving of gula melaka.
Kueh Salat
The simple two-layered cake is hard to miss! Most identifiable by its bright green top layer (which is actually a rich coconut and pandan custard), it is paired with a bottom layer of glutinous rice to balance out the sweetness and creaminess. Sometimes, you'll find different variations of the glutinous rice – from blue pea-tinged versions to ones mixed with red rice grains for an extra crunch.
Kueh Dadar
For a quick sugar rush, tuck into mini pandan crepe rolls filled with gula melaka and grated coconut. The popular Peranakan treat can be found just about anywhere, especially in the mornings at Malay food stalls. We'd say save 'em for when you need a glucose kick though. Don't waste the good stuff too early in the day.
Ondeh Ondeh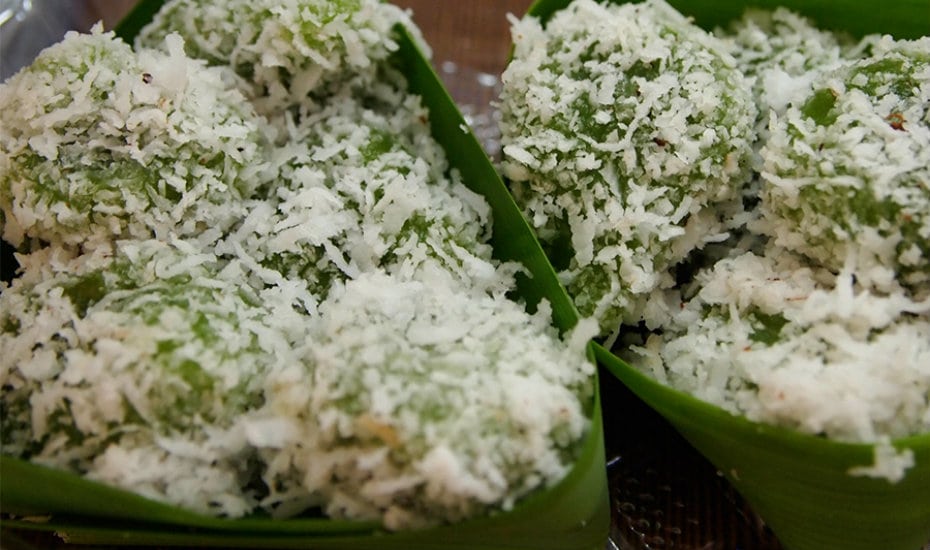 Round, bite-sized and green, these sweet potato or glutinous rice cakes are coated with grated coconut and filled with liquid gula melaka. Just a fair warning: They burst open with a molten core once you bite down on them, and they're highly addictive (not to mention easy to pop into your mouth).
Kueh Bugis
Kueh Bugis is a sticky and chewy tidbit, thanks to its mixture of glutinous rice flour, coconut cream and gula melaka. It's similar to ondeh ondeh, but cooked by way of steaming instead of boiling.
Kueh Lapis
Another one that catches the eye, kueh lapis is vibrant in colour. Made from tapioca flour, rice flour and coconut milk, this sweet treat has a sticky feel and glossy sheen. Oh, and you have to eat it by peeling off each layer, one at a time. That way, you get to prolong your piece of cake, too…
Kueh Bingka Ubi
Mmm… baked tapioca cake, anyone? The Nyonya treat is an aromatic one, made with pandan leaves and coconut milk. Best paired with a cup of tea in the afternoon.
Kueh Kosui
Tapioca starch and rice flour make up the base of this pandan-flavoured rice cake, which ups its sugar level with gula melaka. Each bite is soft and springy, with added texture from coconut shavings.
Kueh Bakar Berlauk
You'll spot them at most Malay stalls: Bright yellow, uniquely flower-shaped with minced meat and chilli on the top. Wonderfully savoury, these doughy bite-sized cakes make the best snacks. Trust us, you won't be stopping at one!
Where to buy kueh in Singapore
Tiong Bahru Galicier Pastry
The famous family-run store is beloved for its array of Nyonya sweets and baked treats – don't be surprised if you have to get in line for your fix. It does things the traditional way, which means you'll find plenty of old school cakes and pastries to satiate your cravings. We're obsessed with the ondeh ondeh here, as well as kueh salat, kueh kosui, kueh dadar… and even the pandan kaya cake (just sayin').
Tiong Bahru Galicier Pastry, #01-39, 55 Tiong Bahru Road, Singapore 160055
Molly's Nonya Cake
The husband-and-wife duo kick-started their business in 1971, expanding from a small roadside stall grilling homemade otah to a bustling shop known for its Nyonya kuehs and traditional delicacies. From mung bean ang ku kueh and coconut tapioca cake to kueh dadar and kueh kosui, there's something for every kueh lover here.
Molly's Nonya Cake, #01-1121, Blk 104 Hougang Avenue 1, Singapore 530104
Lek Lim Nonya Cake Confectionery
From its humble roots in the 60s, Lek Lim has been around for decades, serving amazing kuehs that are all kinds of flavourful and tasty. Try the ondeh ondeh, kueh lapis or kueh salat for sweet snacks, or munch on rice dumplings and savoury kuehs stuffed with glutinous rice or veggies.
Lek Lim Nonya Cake Confectionery, #01-21, 84 Bedok North Street 4, Singapore 460084
Ji Xiang Confectionery
From HDB kitchen to famous ang ku kueh store, this family-run business has been dishing out its sticky, chewy treats at Everton Park since 1988. With kuehs made Nyonya-style using glutinous rice flour and coconut milk, the popular brand offers a wide variety of flavours, including peanut, corn, sweet bean, coconut, salted bean and yam.
Ji Xiang Confectionery, #01-33, Block 1 Everton Park, Singapore 081001
Lina Confectionery
An old school gem of a find, Lina Confectionery makes its kueh by hand – the traditional way. Founded in the late 80s, the store specialises in Indonesian kueh lapis (spiced layer butter cake), which comes in original, prune and chocolate variations. If you're on the hunt for Nyonya kueh, try the ondeh ondeh, kueh lopes or kueh salat.
Lina Confectionery, #01-138, Blk 124 Bukit Merah Lane 1, Singapore 150124
HarriAnns Nonya Table
Keeping the biz in the family, HarriAnns is a popular place for Peranakan goodies and kuehs. What started out as a wooden push-cart in the 1940s has now grown into a full-fledged business with multiple cafes spotlighting delish delicacies. Some of the kitchen's signature kuehs, made with freshly squeezed coconut milk, pandan juice and gula melaka, include rainbow kueh lapis, kueh salat, ondeh ondeh and kueh chendol (it's basically the local dessert in kueh form).
HarriAnns Nonya Table, multiple locations including Tiong Bahru Food Centre, Suntec City and Bugis Junction
Haig Road Putu Piring
With various outlets across the island, the well-known putu piring stall uses top-notch ingredients in its signature item. Besides filling its steamed rice cakes with gula melaka, it also experiments with flavours like durian and chocolate. And if you think it sounds familiar, perhaps you've seen it spotlighted on the Singapore edition of Netflix's Street Food.
Haig Road Putu Piring, multiple locations including #01-02, Al-Azhar Coffeeshop, 970 Geylang Road, Singapore 423492