Photography: Marina Bay Sands
Timeless classics, modern twists and unique flavours – this year's line-up of mooncakes in Singapore is out of this world.
The Mid-Autumn Festival (which falls on 29 September 2023) essentially marks a traditional harvest celebration, but it's also the start of mooncake mania in Singapore. As always, restaurants and hotels go above and beyond to bring us the best. Traditionalist or not, you can't deny trying mainstays such as durian flavours or ones spiked with booze. Oh, and kudos to the ridiculously gorgeous packaging too! These are the best mooncakes in Singapore we'll be munching on throughout the Mid-Autumn Festival 2023.
Where to buy the best mooncakes in Singapore in 2023
1. 5 ON 25, Andaz Singapore
Delicious creations await at 5 ON 25 in Andaz Singapore this mid-autumn season. Expertly crafted by Hotel Pastry Chef Francis Wong and Chinese Head Chef Lim Hong Lih, there are two new exciting baked mooncake flavours this year. Try Citrus Surprise for a delectable blend of caramel, miso, and yuzu white chocolate. Or, take a bite out of Gula Galore, featuring smooth lotus paste with rich gula melaka and the delicious crunch of pecan nuts.
New creations aside, 5 ON 25's Signature Tea Blend and Silver Lotus++ flavours are back by popular demand. Sink your teeth into Signature Tea Blend for a fragrant combination of osmanthus, oolong and pu'er tea notes; while Silver Lotus++ features white lotus paste and two golden egg yolks at its core.
Choose from two sets on sale: the 5 ON 25 Mooncakes Set, a box of four assorted flavours at $88 nett; and the 5 ON 25 Silver Lotus++ Mooncakes Set, a box of four double yolk mooncakes at $92 nett. The mooncakes are housed in a two-tier box, wrapped with a playful bespoke design by homegrown lifestyle brand, Binary Style.
Perk alert: enjoy 35% off for an early bird offer till 31 July 2023.
Andaz Singapore, 5 Fraser Street, Singapore 189354
2. Xin Cuisine Chinese Restaurant
For a delectable mooncake collection that combines traditional flavours with modern creations, look no further than Xin Cuisine Chinese Restaurant. Classic signatures include the Teochew yam paste with single yolk mooncake, featuring a smooth yam paste complemented by the richness of a salted egg yolk. There's also the mini baked egg custard with yolk, promising a luscious, creamy egg custard.
New creations include the mini snowskin cheesecake mooncake that's inspired by the classic New York cheesecake, featuring a rich cream cheese praline within. For fans of both tea and coffee, the dirty matcha latte mini snowskin mooncake is an absolute must-try. Expect a silky matcha lotus seed paste and a cafe latte praline that makes a unique bite.
For those watching their sugar levels, the low sugar white lotus seed paste baked mooncake is the perfect way to get your mooncake fix this season. On the other hand, durian fans will love the Peranakan durian mini snowskin mooncake.
Perk alert: enjoy up to 30% off for orders placed online.
Xin Cuisine Chinese Restaurant, Holiday Inn Singapore Atrium, 317 Outram Road, Singapore 169075
3. Parkroyal Collection Marina Bay, Singapore
Mid-Autumn season is the time for gifts and gatherings, and this hotel has the perfect mooncake set for friends and family. Check out its Celestial Chest: adorned with pastel green-brown botanical motifs and crafted with sustainable materials, it pays homage to the hotel's iconic 'garden-in-a-hotel' concept. Alternatively, get the Moonlit Pavilion.
Choose to fill your Celestial Chest or Moonlit Pavilion with four mooncakes of your choice from Peach Blossoms' selection, delicately crafted by executive Chinese chef Edward Chong. We're talking about flavours like the classic single yolk with white lotus, or the refreshing lychee with wolfberries. For vegetarians, there's the unique charcoal black sesame paste with melon seed and gold dust. Want something savoury? Try the assorted nuts with chicken ham mooncake.
Parkroyal Collection Marina Bay, Singapore, available from now till 29 Sep 2023, 6 Raffles Boulevard, Singapore 039594
4. InterContinental Singapore
When it comes to the best mooncakes, InterContinental Singapore's exquisite creations can't be left out of the list. We're eyeing its array of new snowskin mooncakes, meticulously moulded into Man Fu Yuan's iconic rose shape. Each mooncake combines the delicate flavours of flowers with tea profiles for a delicious bite, with a delectable chocolate truffle centre.
We're also excited for its crowd favourite flavours from past years. We love the negroni lychee chocolate truffle mooncake, a luxurious creation inspired by the hotel's signature drink. Plus, classics like the white lotus seed paste with double yolk, and the red lotus seed paste with single yolk.
Oh, and did we mention its stunning mooncake box? Expect your Mid-Autumn treats to be encased in a sleek, scarlet-red leatherette box adorned with intricate prints and gold accents. It's designed to be repurposed, with two storage layers and side pockets within, making it a great box for makeup or jewellery. It even comes with a handle and detachable sling for you to carry it around in style!
Perk alert: use the code 'HCMC35' for 35% off till 23 July 2023; 'HCMC30' for 30% off from 24 July to 27 August 2023; or 'HCMC25' for 25% off from 28 August to 29 September 2023.
InterContinental Singapore, 80 Middle Road, Singapore 188966
5. Ding Bakery
On the hunt for delectable mooncakes with no preservatives or additives? Ding Mooncakes has you covered. You can't go wrong with its signature traditional baked mooncakes packaged in exquisite boxes. Expect classic flavours like white lotus with single or double yolk, made with premium white lotus seeds from Hunan and are made with lower sugar levels so you can indulge with less worry.
If you love the King of Fruits, the Pahang Highland MSW snowskin mooncakes are a must-try. It's one of Ding Bakery's signature snowskin flavours, made from the best AAA grade Mao Shan Wang durians for an addictive, creamy taste. Other snowskin highlights include Fuerte avocado, Piedmont hazelnut, Kyoto hojicha and Thai young coconut– all of which promise a luscious, satisfying treat that's perfect for gifting this season. Psst: enjoy up to 40% off till the end of August 2023!
Ding Bakery, available online
6. Wan Hao Chinese Restaurant
Indulge in the art of exquisite mooncakes from Wan Hao Chinese Restaurant at Singapore Marriott Tang Plaza Hotel. Celebrating tradition with a modern twist, its selection of handcrafted mooncakes will please your friends and family.
New standouts include the golden black truffle baked mooncake, made with savoury dry-aged parma ham, the nutty flavour of pistachio, and a classic single yolk. Another delight that's making a comeback is the imperial "Long Jing" tea with walnuts baked mooncake, marrying the aromatic tea and crunchy walnuts for a delightful bite. For snowskin fans, try new flavours like the refreshing yuzu honey with peach passionfruit praline, the unique blueberry with maple cream cheese praline, and the delicious Irish cream latte with Baileys praline.
Check out the Red Tower Box embellished with peony motifs for the perfect surprise. With a front lid showcasing intricate trellis patterns, this gift box opens up to reveal four beautiful pastel pink chest drawers and can be upcycled long after the mid-autumn season is over.
Perk alert: from now till 26 Sep 2023, enjoy 20% off with promo code 'HCMMC20'. Get an additional 10% off if you opt for self-collection. Alternatively, visit the Mid-Autumn booth at the hotel's forecourt entrance from 24 August 2023, between 10am and 9.30pm to make your purchase.
Wan Hao Chinese Restaurant, Singapore Marriott Tang Plaza Hotel, available from now till 29 Sep 2023, 320 Orchard Road, Singapore 238865
7. The Capitol Kempinski Hotel Singapore
Looking for delightful mooncakes to elevate your Mid-Autumn Festival? Savour The Capitol Kempinski Hotel Singapore's new petite mooncake flavours. We're talking about new baked mooncakes like the almond red bean paste, a creamy treat with a delightful crunch, as well as the walnut white lotus paste, which is aromatic and earthy.
If snowskin creations are up your alley, don't miss the champagne truffle snowskin mooncake with white chocolate, champagne, white lotus paste and luxurious champagne truffle. Durian fans will love the Mao Shan Wang Durian mooncake, crafted with pure mao shan wang flesh. New on the snowskin menu is the pistachio snowskin mooncake with a crisp nutty flavour, alongside the Japanese matcha mochi mooncake with refreshing green tea notes.
This year, these sweet treats are packaged in a stunning two-tier tin box featuring a design inspired by the facades of the Capitol Building and Stamford House. Plus, the Celestial Collection adds an extra stylish touch with a limited edition canvas bag, available in dusty rose and pastel pink.
The Capitol Kempinski Hotel Singapore, available from now till 29 Sep 2023, 15 Stamford Road, Singapore 178906
8. PS.Cafe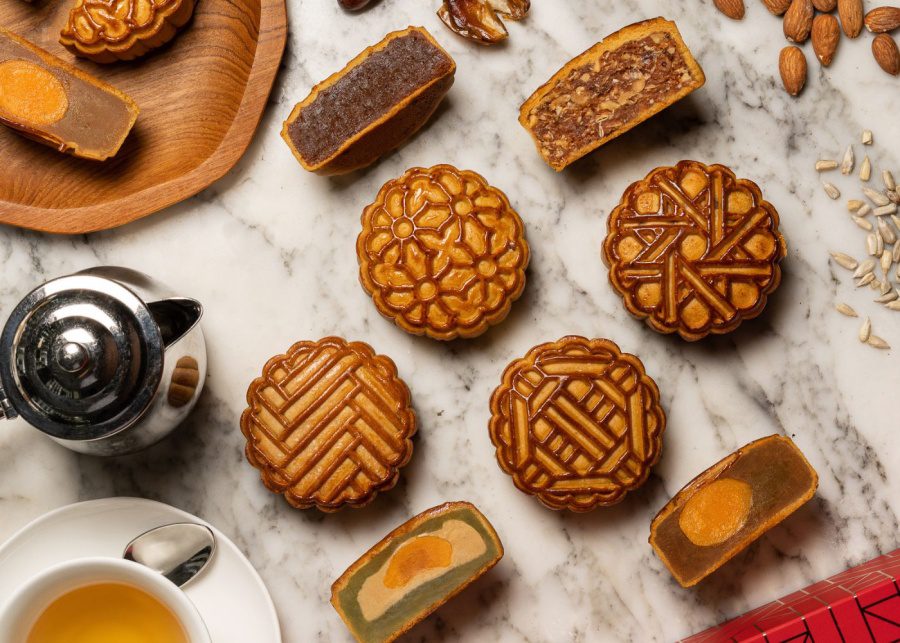 If you're a fan of PS.Cafe's eats, you'll be pleased to know that this popular cafe is offering mooncakes for the first time! Indulge in the white truffle mooncake, featuring velvety white truffle paste infused with PS.Cafe's signature truffle oil, complemented by premium-grade salted egg yolk.
Love PS.Cafe's sticky date pudding? You can't miss the sticky date mooncake with plump honeyed dates and brown sugar mochi mixed into a luscious date paste. Another delicious treat is the superfood mooncake, containing a blend of pine nuts, sunflower seeds, walnuts, melon seeds, and almonds, combined with candied orange peel for a touch of natural sweetness.
For a dose of locally inspired flavour, we love the verandah mooncake, featuring a smooth pandan paste blended with fresh coconuts and a premium-grade salted egg yolk.
Perk alert: enjoy 15% off your mooncake order from now till 26 Sep 2023 when you pay with OCBC credit or debit cards! Check out OCBC for more dining deals.
PS.Cafe, multiple locations including Tiong Bahru, Katong and One Fullerton
9. Shisen Hanten by Chen Kentaro
Indulge in a medley of flavours with Michelin-starred restaurant, Shisen Hanten's exquisite mooncake collection. For a sophisticated gift, check out the Shisen Hanten's mini snowskin collection with eight mini pieces per box, complete with a bottle of Devaux Cuvée D Rosé MV with apricot and raspberry scents and a well-balanced finish.
Standout mooncake options include the new launch: charcoal black sesame paste with sakura prawn, pistachio and melon seeds. This unique creation promises the perfect mix of sweet and savoury flavours in every bite.
Craving the classics? Savour the double yolk and white lotus paste mooncake for a sweet treat, or bite into Shisen Hanten's well-loved signature, assorted nuts with jamon iberico. On the snowskin menu, try the premium oolong tea chocolate with orange paste, or the lychee martini chocolate with white lotus paste – the latter is a low sugar option that's ideal for a health-conscious treat!
Perk alert: enjoy 30% off all mooncakes till 3 Sep 2023, and 25% off all mooncakes from 4 to 29 Sep 2023 when you make your purchase with Citibank, AMEX, Maybank, UOB and DBS/POSB.
Shisen Hanten by Chen Kentaro, Level 35 Hilton Singapore Orchard, 333 Orchard Road, Singapore 238867
10. Old Seng Choong
Enjoy the Four Heavenly Kings treat from Old Seng Choong this year. There's yam with olive kernel, pandan pulut hitam, black truffle bak kwa, and white lotus with yolk blend. If you'd like a taste of them all, get the eponymous box at $72.80 for two of each flavour.
Old Seng Choong, available online and at multiple locations including The Shoppes at Marina Bay Sands and Paragon Shopping Centre
11. Lady M
For something special, get the limited edition Moonglow Gift Set ($99). It's a gorgeous jewellery box adorned with illustrations of the full moon, rabbits, lanterns and foliage. The embossed vegan leather and microsuede lining give it all a luxe touch, too. Open the custom-designed gift bag to find six mini mooncakes done in collaboration with Kee Wah Bakery. Flavours include yuzu milk custard, matcha pandan custard, and lychee rose custard.
Lady M, available online and at all Lady M stores
12. Marina Bay Sands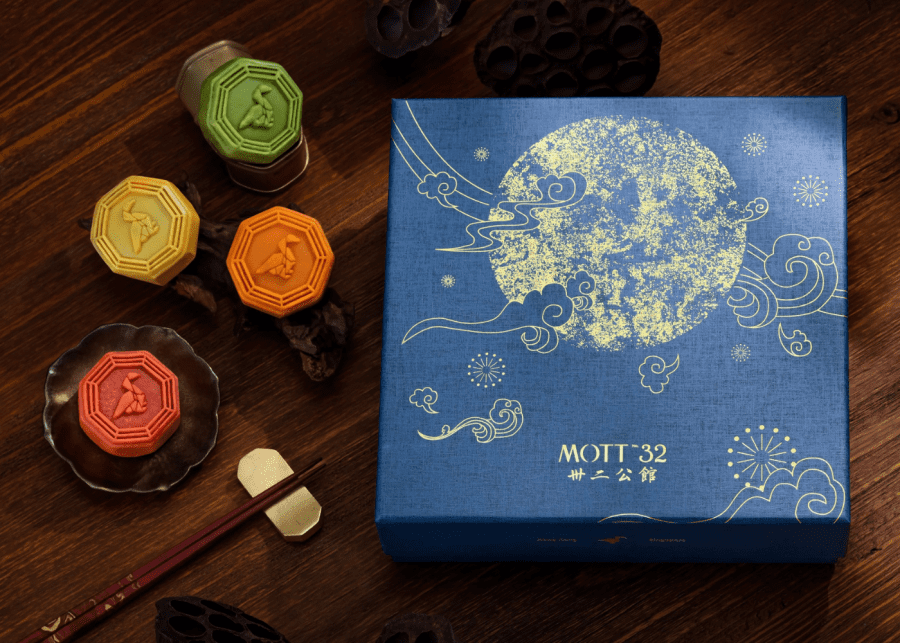 As a nod to the Mid-Autumn season, Marina Bay Sands has created four sweet snowskin treats. The Golden Nest is a blend of kumquat custard cream with bird's nest, while the Matcha Blossom has uji matcha and sugar-free mung bean paste with azuki beans. If you're into floral flavours, you'll enjoy Strawberry Fields with its yogurt and granola bits. Or go the decadent route with Ebony and its dark chocolate truffle core infused with whisky. Traditional baked mooncakes are available too; choose from options like Jinhua ham and mixed nuts with Macallan whisky.
Want to get your hands on Mott 32's first mooncake creations in Singapore? Influenced by the Chinese restaurant's signature dishes, the nature-inspired flavours include matcha yuzu, mango coconut wrapped in mochi, chrysanthemum red date, and yuzu umeshu. The beautiful blue box with gold embroidery features all four for $98.
Marina Bay Sands and Mott 32, both available online
13. Janice Wong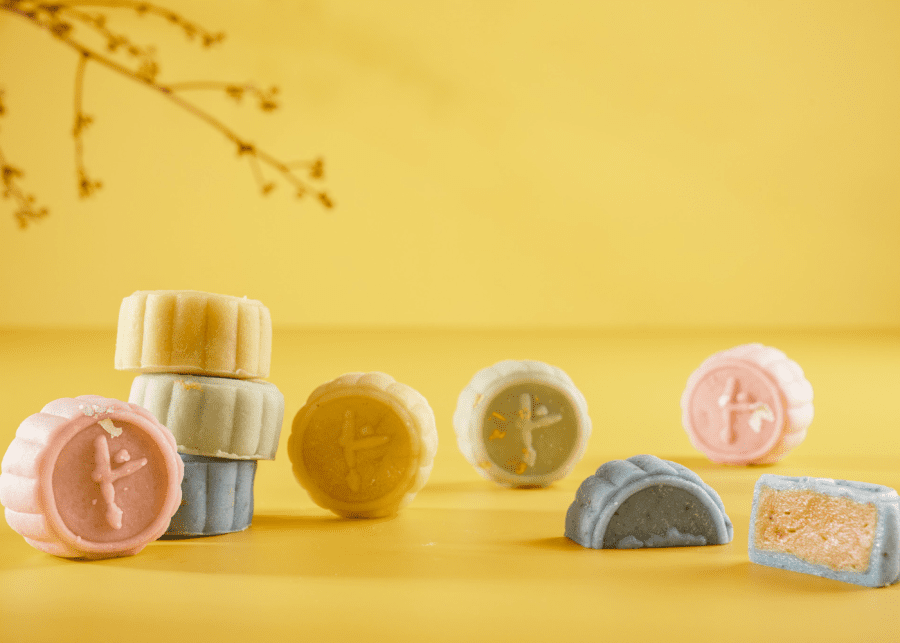 Indulge in the whimsical route with chocolate, baked and snowskin collections by Janice Wong. The brand's signature chocolate mooncakes ($105 for eight pieces) are inspired by the theme of 'Childhood Memories' this year. It's a total throwback with flavours like peanut butter Snickers, salted pecan dark chocolate, vanilla biscoff, and coffee chocolate.
As for the Japan-inspired baked ones ($105 for eight pieces), you'll find options like kuromitsu sea salt, kinako macadamia, and raspberry almond with azuki paste. Can't resist a delicate snowskin mooncake? The floral-themed ones ($50 for four pieces) come in pastel hues with fillings like osmanthus figs, jasmine tea and lavender apricot.
Janice Wong, available online
14. The Peninsula
If you love the iconic egg custard mooncakes from The Peninsula, you'll be excited to try the two new flavours. The mini chocolate ones come in classic chocolate with a toffee filling or chocolate brownie, while the mini fruity ones offer two variations: strawberry or mango with passion fruit. Get the four-piece or eight-piece gift box for your family and friends.
Alternatively, try the tea-flavoured ones with notes of lychee black tea or The Peninsula's breakfast tea. More gift sets include the Star Chef one, with options like mini pineapple paste with red date and fig, and mini osmanthus with yuzu and walnuts.
The Peninsula, available at Takashimaya B2 and Tangs L1 at VivoCity till 29 September 2023
15. Four Seasons Hotel Singapore
Celebrate the Mid-Autumn season with baked and snowskin treats from Jiang-Nan Chun and Nobu, with limited edition boxes that are oh so pretty. If you love baked treats, try the new pumpkin lotus paste with dark chocolate, or go classic with favourites such as silver lotus paste with single yolk.
Snowskin enthusiasts, go for Jiang-Nan Chun's jasmine tea and pear creation. Or sink your teeth into the miso, cranberry and white chocolate version from Nobu. More mooncakes come in the form of bird's nest with custard, as well as Mao Shan Wang durian.
Four Seasons Hotel Singapore, available online
16. The Marmalade Pantry
If you want baked mooncakes with low sugar and no lard, you've come to the right place. Get 'em in new flavours like assam tea with Hokkaido milk and raisin, taro coconut with red bean, and red lotus with pecan and black sesame. The Marmalade Mix gift set ($88) offers all these treats plus the traditional white lotus with double yolk, packaged in a limited edition box lined in grey velvet. It'll double up as an elegant jewellery case after the Mid-Autumn Festival!
The Marmalade Pantry, available online
17. Mr. Bucket Chocolaterie
Fancy a chocolate spin on mooncakes? Check out the brand's first-ever Gratitude Boxes with mooncake chocolate bon bons ($68++ for a box of four). These aren't your regular bon bons – they're about four times larger, which means four times the deliciousness. Sink your teeth into the four flavours: salted egg yolk, yuzu pumpkin, honey oolong, and pandan macadamia.
Mr. Bucket Chocolaterie, available online
18. Yan
Feast on five traditional baked mooncakes and a lovely snowskin creation by Yan. The Classic Flight comes in a set of four, with options such as baked white lotus with single or double salted egg yolks, and the crowd favourite thousand layer yam. Of course, you can't miss out on the Mao Shan Wang durian snowskin mooncake, as well as the newest offering: baked lychee white lotus. Plus, we love how the treats are packed in eco-friendly paper boxes made from recyclable materials.
Yan, available from now to 29 September 2023; #05-02, National Gallery Singapore, 1 St. Andrew's Road, Singapore 178957
19. Roku Gin x Manhattan
In the mood for a boozy treat? Roku Gin and Manhattan have teamed up to launch a limited edition Luxury Box (only 200 sets are available) for mooncake season in Singapore. It features eight mini snowskin mooncakes enveloped with gold-dusted charcoal skin. Each lotus paste creation comes with booze-filled cherry and a chocolate ball with a core of Roku Gin. Plus, you'll get a bottled cocktail and two sake cups with your order. Purple Moon by Manhattan is made of Roku Gin, banana wine, sweet potato, whey syrup, and hazelnut tincture.
Roku Gin x Manhattan, available online till 29 September 2023
20. La Levain
We're loving the colourful, elegant prints on La Levain's mooncake box. If you're a fan of the baked Teochew version, get a box of six for $86 to enjoy flavours such as molten salted egg, bobo chacha mochi, and black sesame latte. For those who prefer truffle liqueur snowskin creations, a box of eight comes with a price tag of $82. Go ahead and treat yourself to variations like apricot passion fruit and strawberry lime.
La Levain, available online
21. Laderach
Celebrate the Mid-Autumn Fest with a Swiss chocolate spin. The gift boxes (from $98) of wooden crates feature the brand's bestseller chocolates and traditional baked mooncakes like double yolk with low sugar white lotus paste, and peach oolong with melon seeds white lotus paste. Pair those with bites of FrischSchoggi (which means fresh chocolate in Swiss German) loaded with nuts and fruits.
Laderach, available online
22. Bynd Artisan + Sunday Folks
This collab between both local brands in Singapore returns for its third year with an upgrade on the adorable bunny-shaped mooncake. The Tugether in Harmony Mooncake Basket ($108) features six boxed baked mooncakes in two flavours: yuzu custard and lava custard. They're packed in an elegant, vegan-weaved leather basket with an adjustable strap designer by Bynd Artisan. Plus, a nylon dustbag with The Letter J Supply's matching art prints.
Bynd Artisan + Sunday Folks, available online and at multiple locations including Sunday Folks Holland Village and Bynd Artisan Raffles City Atelier
23. SunnyHills
So you're into fruity flavours? You'll love SunnyHills' Mid-Autumn delights. These treats are said to have up to 65% fewer calories than the traditional ones. Try the bestselling pineapple and apple mooncakes, or make a beeline for the King of Fruits with the superfood x durian mooncake range. The acai snowskin Mao Shan Wang durian mooncake is packed with durian paste. Another must-try? The coconut snowskin D24 variation.
SunnyHills, available online
Which of these mooncakes in Singapore are you waiting to try for the Mid-Autumn Festival? We can't just pick one!