We've got 54 food and restaurant delivery options to the rescue.
If you're not in the mood to shed your PJs and step out of the house, let these food delivery services in Singapore bring the meals to your door.
For those times when whipping up an entire meal just seems like too much work, and leaving the comfort of your couch (especially when it's pouring out!) is an unwelcome hassle, the best food delivery services in Singapore are here to save the day. No matter if you're craving Italian, dim sum or burgers — you'll find all these and more just an easy click away on restaurant delivery platforms.
Best restaurant delivery services and food delivery platforms in Singapore
1. 8 Crabs
Craving local zi char fare? Get a feast delivered to your door with 8 Crabs. The only crab and zi char service in Singapore with local cuisine and premium crab dishes, this convenient option sates all our chili crab cravings. Expect only Sri Lankan wild crabs that are flown in daily for a tasty, meaty bite. Loved by over 30,000 customers and top social media influencers, you can be sure you're delivered only premium crab dishes from 8 Crabs. Signatures like chili crab and black pepper crab aside, there are also well-loved local dishes like beef with ginger and spring onion, prawn omelette, hotplate bean curd, salted fish fried rice and more. Time to gather the family for a hearty stay home feast! Psst: spend a minimum of $120 for free delivery (except for Sentosa, Tuas, Jurong Island/Port and restricted zones).
8 Crabs, order online
2. Little Farms
Thinking about your next meal? Let Little Farms deliver its selection of food and beverages right to your door! To brighten your stay home days, enjoy its extensive selection – the crowd favourite smashed avocado on toast is just a click away! Plus, get the fresh Australian avocados at Little Farms Grocer.
Feeling ravenous? Tuck into the prawn bisque pasta and pair it with sangria during happy hour. For desserts, you have to try the Manuka honey cake, featuring a soft and fluffy bite with the right amount of sweetness and cream. Enjoy free islandwide delivery if you order more than $100 – time to round up the fam for a delicious feast!
Little Farms, order online
3. GrabFood's Michelin selection
Zhush up your home dining sitch with GrabFood! On top of its extensive options, the food delivery app now has an entire catalogue dedicated to Michelin recommended restaurants. From Bib Gourmand eateries to Michelin-starred establishments, you've got over 100 stellar choices that will send you into an extremely satisfied food coma. Best of all, you won't have to get dressed up or wait months for a reservation – it's oh so easy and convenient to enjoy Michelin food in the comfort of home. And depending on your mood or the occasion, you can go all out with blowout meals from prestigious restaurants or take the hawker route for familiar faves. Think Nouri, Putien, Summer Pavilion and Song Fa Bak Kut Teh.
GrabFood's Michelin selection, order online
4. Canchita Peruvian Cuisine
A new Latin American resto in Dempsey, this hotspot dishes out cold tapas and seafood signatures. Items to try include arroz con mariscos (crayfish and seafood rice), pescado pamlito (crispy skin sea bass) and lomo saltado (stir-fried beef tenderloin). If you're looking to feed the fam at home, opt for the family meal of ceviche, pescado sudado (Peruvian fisherman soup), arroz chaufa (Peruvian fried riced with pork belly) and tres leches (traditional coconut cake).
Canchita Peruvian Cuisine, order online
5. Coop
Brought to you by the team behind Neon Pigeon, this new Japanese takeout platform offers sando burgersv and rice and salad bowls. If you're up for the classic bun-and-patty combo, try the pork katsu, cod katsu or Korean fried chicken burgers. Otherwise, go the healthier route with miso roasted salmon or yakiniku wagyu beef bowls.
Coop, order online
6. The Dragon Chamber
Missing out on your secret underground adventures to this hidden eatery? Bring the meal to your home instead. New dishes include sauteed minced duck in lettuce cup and prawn broth with seafood. Or go straight for faves like cheeseburger roll and wagyu truffle beef hor fun.
The Dragon Chamber, order online
7. WhyQ
What started out as a simple hawker delivery system in the CBD has since expanded to include breakfast takeaways, corporate catering and even a subscription program with meals delivered each month. So if you're constantly craving for local delights such as wanton noodles, nasi lemak or carrot cake, you'll find some of the best hawkers from Maxwell Food Centre, Amoy Food Centre and Chinatown Complex here.
WhyQ, order online
8. The Masses
This Franco-Asian restaurant brings you comfort food in the form of duck confit with kway teow and char siew lamb rib. If you're a pasta  fan, try the C&C&C&C Pasta which features crab meat, caviar, confit lemon, chorizo crumbles and lobster suace.  Or dig in to the mushroom 'risotto' for a trio of mushrooms ( morel, king oyster and swiss brown) with nori.
The Masses, order online
9. The Blue Ginger
Fancy a Peranakan feast? Let The Blue Ginger do all the work for you. Start with otak otak and kueh pie tee before you move on to communal plates of babi pong tay, pork ribs assam and beef rendang. Don't forget the buah keluak fried rice!
The Blue Ginger, order online
10. Kinki Restaurant + Bar
Craving Japanese? Let Kinki bring the fun to you with good grub like the unagi claypot, wagyu and foie gras don, and salmon and ikura don. For sushi, turn to creative rolls like Cowabunga (seared A4 Wagyu beef, cream cheese, tobiko, potato floss, spicy mayo and soy reduction) and Dragon Chaser (seared foie gras and eel, breaded prawn, cream cheese and cucumber). Also don't miss out on the onigiri burgers which come with pork belly with kimchi, yakiniku beef and salmon mayo.
Kinki Restaurant + Bar, order online
11. JW Marriott Singapore South Beach
The hotel's restaurants bring their gourmet offerings to your home with free food delivery in Singapore for every $88 spent. Get A4 tochigi striploin or 350-day grain-fed charcoal-grilled ribeye from Akira Back, dim sum and cocktail pairings from Madame Fan, or family feast bundles with seafood, meat and sweets from Beach Road Kitchen.
JW Marriott Singapore South Beach restaurants, order online
12. Nusantara Singapore
For your fill of authentic Nusantara cuisine, order in from this resto. Breakfast plates include dry laksa and mee soto, while lunch offers rice bowls of beef rendang, soto ayam and assam pedas. You can also get vegan variations like nasi sambal goreng and nasi sayur lodeh. For a spicy kick, nasi goreng gila fits the bill. You can choose your spice level according to your preference from 20% to 50% to 100%.
Nusantara Singapore, order online
13. Bedrock Bar & Grill
Savour exquisite cuts from this steakhouse – and treat your family to a sumptuous feast while you're at it. Its sharing menus offer woodfire-grilled steaks with sides such as mac and cheese. Or get the tomahawk steak and wine set that comes with two sides, four sauces and a bottle of vino.
Bedrock Bar & Grill, order online
14. Restaurant Gaig
Indulge in Catalan cuisine without leaving the home when you order in from Restaurant Gaig. From tapas to mains, the selection includes Jamon Iberico, croquettes, cannelloni, seafood fideua and Spanish churros with chocolate sauce.
Restaurant Gaig, order online
15. Oddle Eats
This personalised food directory by F&B e-platform Oddle has a database of more than 500 restaurant partners, allowing you to order directly from each of them. Whether you're craving for Japanese, Chinese or Western food, you're bound to find something you love here.
Oddle Eats, order online
16. All Things Delicious
In need of sugary treats? All Things Delicious is your best bet. Dig into desserts like caramel brownies, orange cranberry scones and sticky toffee pudding. Plus, these don't come with a side of guilt as there's no trans fat in the baked goods… just organic unrefined sugar and free-range eggs!
All Things Delicious, order online
17. Tiong Bahru Bakery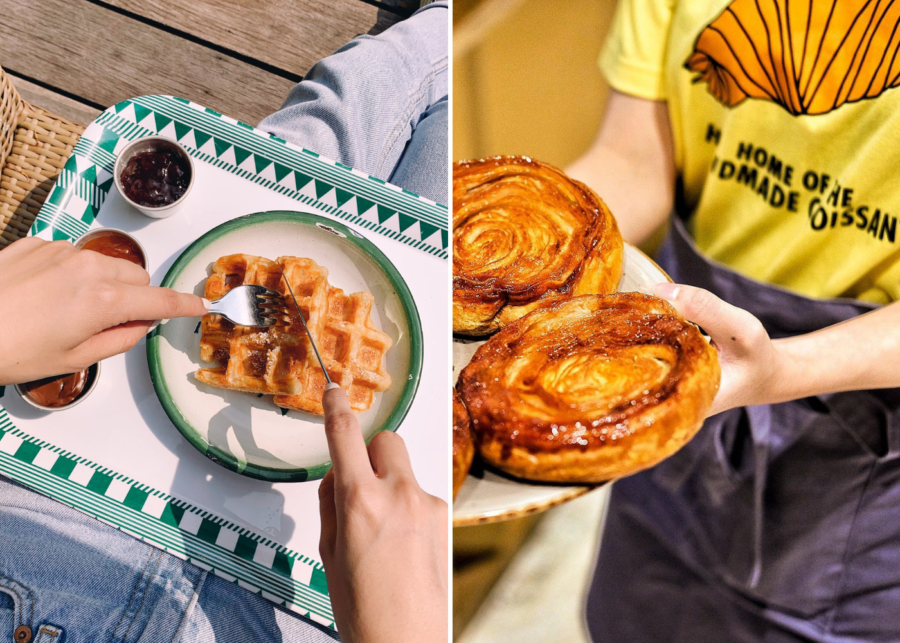 Kick start your day with Tiong Bahru Bakery. Nope, we're not asking you to head out and brave the crowd for stellar French pastries. Instead, turn to your fave delivery services. For breakfast, try the signature croissant for light, flaky and buttery bites, or munch on the kouign amann if you're looking for something sweet. For something more substantial, there are savoury croissants stuffed with roast beef or ham and cheese.
Tiong Bahru Bakery, order online
18. VeganBurg
VeganBurg is the world's first 100% plant-based burger joint established in 2010 – yes, way before the variety of vegan fare you can find today. Not only do these burgers taste scrumptious, but they're also super Instagram-worthy. Give the Hawaiian Teriyaki, Cracked Mayo or Mustang Relish a try from the comfort of your couch.
VeganBurg, order online
19. The Priority Club
The Priority Club is a virtual restaurant that delivers unique pizzas to your doorstep. Fronted by chef Don Hanif, who's worked with the Da Paolo group for a decade, the culinary team pushes the boundaries with pizzas topped with truffle mac and cheese, Japanese curry chicken and fries, and spiced chicken with garlic yogurt.
The Priority Club, order online
20. MeatSmith
This meat joint is here to bring you delicious smoked meats right at your doorstep. Having a meal with the fam? Go for the sharing packs and don't forget mouthwatering burgers like pulled pork or Nashville chicken. Plus, load up on brisket, spiced pork ribs, wagyu tenderloin and more.
MeatSmith, order online
21. Deliver.sg
Did someone say islandwide food delivery in Singapore? A collection of over 100 restaurants, Deliver.sg features beloved brands, all nicely categorised by cuisine and dining promotions. Whether you're in the mood for Peranakan or Vietnamese, Mexican or Mediterranean, there's something for you.
Deliver.sg, order online
22. Burnt Ends
The food delivery scene in Singapore is looking up with the entrance of the award-winning Burnt Ends. So you never managed to score a table at the popular restaurant? Fret not. Diners can now feast on a mouthwatering barrage of delightful meats cooked in scorching ovens (that go up to a crazy temp of over 700 degrees). Dreaming of enjoying the legendary pulled pork burger at home? It's a gastronomical reality now.
Burnt Ends, order online
23. Jumbo Seafood
Jumbo Seafood is here to satiate your seafood cravings, from lobsters and prawns to crabs and abalones. Don't miss out on Jumbo's signature dishes like scallops wrapped in yam ring, mocha pork ribs and chilli crab meat sauce with man tou.
Jumbo Seafood, order online
24. Butcher Boy
This Asian-inspired grill is part of the restaurant delivery scene and we're so here for it. Spoil yourself by ordering baos stuffed with fried chicken and Peking pork. Or up the ante on your stay-home weekend by ordering a round of burgers and steaks complimented by skinny fries and brussel sprouts.
Butcher Boy, order online
25. Grain
No need to fret over what you'll eat next, thanks to Grain, which offers up a regularly rotating menu of dishes inspired by cuisines and techniques across the globe. You can get meals on demand, meal plans, catering services and festive foods here.
Grain, order online
26. New Ubin Seafood
You'll be glad to know that this iconic zi char joint does islandwide restaurant delivery. The menu spotlights perennial faves like prawn paste chicken wings, black angus ribeye, cereal butter prawns, deep-fried baby squid and chilli crab. What are you waiting for? A typical Singaporean dining affair awaits without leaving your crib.
New Ubin Seafood, order online
27. Violet Oon
Hankering for authentic Peranakan nosh? The godmother of Nyonya cuisine, Violet Oon, is here to rescue us with all with her spicy dishes that will soothe our social distancing souls. We're talking about goodies like beef rendang, butter prawn, dry laksa and ayam buah keluak from one of the best food delivery spots in Singapore.
Violet Oon, order online
28. #SupportLocalSG
Calling for Singaporeans to stay in and support homegrown businesses, this platform aims to give F&B owners all the help they can get without digging into their profit margins. It essentially cuts out the middleman, so all your money will go straight to the hawkers and eateries. Plus, you can easily filter to find what you want based on cuisine, area and diet. It also lets you search smoothly for meals, snacks, groceries and even meal subscription plans.
#SupportLocalSG, order online
29. Jypsy
Brought to you by PS.Cafe, Jypsy takes Japanese cuisine on a contemporary ride. To spice up your meals at home, scroll through its range of sushi rolls, salads and all-day bowls for a treat. Menu must-tries include the Jypsy Cali roll, katsu curry rice, udon goreng and yuzu tofu cheesecake for dessert. Pizzas and sandwiches are available too!
Jypsy, order online
30. Three Buns Quayside
If you're looking to get your bun-and-patty meal, Three Buns has got your back. Its menu will see you spoilt for choice: Options include Baby Huey, a juicy classic beef burger, and Rambo, for those who want a wicked lamb burger. Looking for something lighter? The hotdog buns are equally good!
Three Buns Quayside, order online
31. Chimichanga
Get your carb fix with a smorgasbord of Mexican fare from Chimichanga. The resto offers popular dishes like beef quesadilla, nachos loaded with cheese and meat, and tacos. Psst: Don't forget to order a couple of beer bottles while you're at it.
Chimichanga, order online
32. Papi's Tacos
Tacos are sure to cure the stay-at-home blues. The DIY taco option is a fun food activity when you're bored out of your mind. Heat up the tortillas and build them with fillings like pulled pork, shrimp, mushroom and grilled fish. For a heady reward, you can sip on pre-mixed margaritas that come in flavours like spicy mango and strawberry. Sounds like a Mexican fiesta, if you ask us.
Papi's Tacos, order online
33. Where Got Food?
With a database of more than 100 brands, the Singlish-inspired site has everything from burger joints and dim sum spots to Indian restos and Japanese eateries. It also helpfully notes down the delivery fees of each place so you know what you're getting into before you click order. Oh, and you'll find discounts and promo codes on each listing as well.
Where Got Food?, order online
34. Brinda's
Got a hankering for tikka masala or mutton biryani at 1am in the morning? This is your best bet. The restaurant is open 24/7, and it offers delivery for its fiery food creations all across Singapore. There are vegetarian and non-vegetarian items as well, with something for everyone.
Brinda's, order online
35. Chopsuey Cafe
Scratch that cafe-hopping itch by tucking into Asian-inflected grub by Chopsuey Cafe. With mud crab fried rice, rice noodles with ribeye and the ever-satisfying dim sum basket on this restaurant delivery menu, you won't feel like you're missing out on the serene ambience at Dempsey Hill.
Chopsuey Cafe, order online
36. The Loco Group
Looking for the best Mexican food delivery spot in Singapore? Thanks to The Loco Group, we can now have a fiesta right at home. Yes, all the restaurants (Lucha Loco, Super Loco and Chico Loco) offer islandwide delivery. Crowd favourites like burritos, tacos and quesadillas are on offer, alongside cocktails and desserts.
The Loco Group, order online
37. Burrata Bar
Brought to you by the folks behind Pasta Bar and Papi's Taco, Burrata Bar is a virtual restaurant that serves up all things – you guessed it – burrata! Working closely with Puglian master cheesemakers, the menu brims with the decadent creamy cheese. Highlights include baked rigatoni, cheesy calzone, burrata salads and of course fresh burrata.
Burrata Bar, available online
38. Thai To Go
Up for hearty, authentic Thai fare? Head to these folks for your fill of green curry chicken, pad Thai, basil chicken, pineapple fried rice and even bento boxes packed with the likes of basil seafood with rice and pepper chicken spaghetti.
Thai To Go, order online
39. Komala's
For all herbivores, there's Komala's. Arguably one of Singapore's most well-known chain of vegetarian restaurants, it delivers satisfying, value-for-money Indian fare, including options such as chilli paneer, dhahi samosa, and rawa masala.
Komala's, order online
40. John's Pizzeria & Bakery
Spruce up your pizza meal with John's Pizzeria. Take your pick from 14-inch NY-style pizzas, 10-inch cauliflower crust pizza or gluten-free pizzas. But our fave has to be the deep-dish variation where you can choose four toppings such as pepperoni, veggie supreme and four cheese.
John's Pizzeria & Bakery, order online
41. Boon Tong Kee
This dial-a-chicken-rice is your saviour when you're thinking about indulging in the local dish. Be sure to also ask for side dishes such as the famous crispy cereal prawns and fried beancurd. For same-day delivery, check in with the branch nearest to your delivery location.
Boon Tong Kee, order online
42. Don Play Play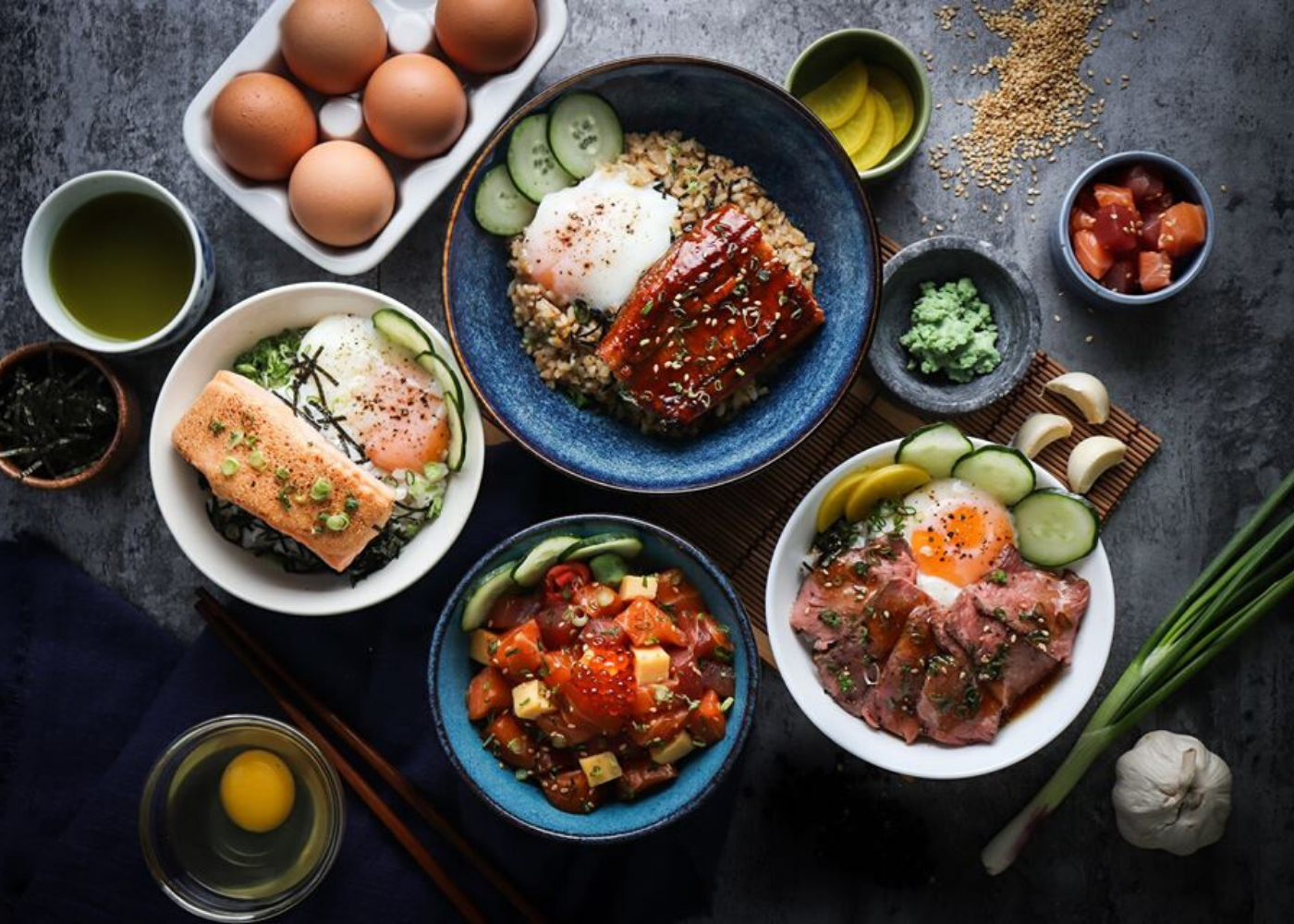 Carb-loading ahead! This food delivery platform in Singapore is all about rice bowls. Its name is a tongue-in-cheek play on the Singlish phrase "don't play play". Tuck into goodies like truffle beef yakiniku, spicy salmon and unagi chirashi.
Don Play Play, order online
43. Tiga Roti
Brought to you by Three Buns chef Adam Penney, Tiga Roti serves up bangin' halal-friendly burgers, hot dogs and milkshakes. Oh, and don't forget to pair 'em with stellar sides. Our pick? Fuhhhhh Fires – potato dippers generously topped with spiced béarnaise beef chilli, fried shallots and pickled chilli. Spice lovers, we dare you to try the ghost face thrilla hot sauce packed with a ghost pepper punch.
Tiga Roti, order online
44. The Beast
Who's craving for lip-smacking fried chicken. We love our usual flower bouquets but The Beast's buffalo chicken bouquet is next level. Add on glazed ribs, buffalo cheese chicken burger, cornbread and mac and cheese for the ultimate family feast.
The Beast, order online
45. The Dine In Movement
As the brainchild of local hospitality group The Dandy Collection, this not-for-profit movement curates a collection of top restaurants and bars open for delivery. You can't go wrong with meals from Pasta Bar, Candlenut and Esquina. Just browse through the platform to find old favourites and explore new names. Then, sit back and relax as you wait for the food to arrive at your door.
The Dine In Movement, order online
46. Cicheti
Craving for Italian? Nothing beats Cicheti's wood-fired Neopolitan pizzas and exquisite hand-made pasta plates. Don't forget to pair your meal with vino (there's a fine selection!) and the famous crack pie.
Cicheti, order online
47. Shabestan
Looking for Persian food delivery in Singapore? It's Middle Eastern restaurant Shabestan to the rescue! Whether you're vegan, vegetarian or gluten intolerant, there's something for everyone. Highlights include Persian yoghurt, tekeh masti (beef fillet cubes), fish kebab, meigu polo (prawns cooked with basmati rice) and baklava
Shabestan, order online
48. Siri House
Siri House serves up classic Asian plates with a modern twist. Think stellar seafood dishes like Asari clams and seabream linguine with sambal crab fat and sake broth, crustacean pappardelle in lobster and prawn bisque, and Iberico ribeye rice bowls. Don't forget to add a couple of bottled cocktails or booze-free cold-brew teas to your order!
Siri House, order online
49. Heart of Darkness
If you think Heart of Darkness only serves craft beers, think again. Crack a cold one with a mix of Asian cuisine and American soul food. For starters, get the beef dumplings and poutine, then proceed with the rendang wagyu burger. Or go for the jumbo nachos family platter or meat platter, if you're throwing a mini party.
Heart of Darkness, order online
50. The Butcher's Wife
Nosh on Brazilian fare that's good for your taste buds and gut at The Butcher's Wife. The restaurant is still as gluten-free as ever, with the addition of punchier flavours and inventive cooking (read: fermentation) to the menu. Our picks? The sweet potato and buckwheat gnocchi with shiitake and king oyster mushroom, chargrilled wagyu picanha, and the "land tuna" poke bowl topped with refreshing watermelon. End your meal on a sweet note with a vibrant garden panna cotta.
The Butcher's Wife, order online
51. Gomoku Gohan by Sun with Moon
It's donburi city at Sun with Moon's new virtual brand, Gomoku Gohan. Born out of the pandemic, this food delivery-only concept in Singapore is perfect during these times. Order your preferred meat or seafood choices along with its signature Japanese rice bowls tossed with five veggies.
Gomoku Gohan by Sun with Moon, order online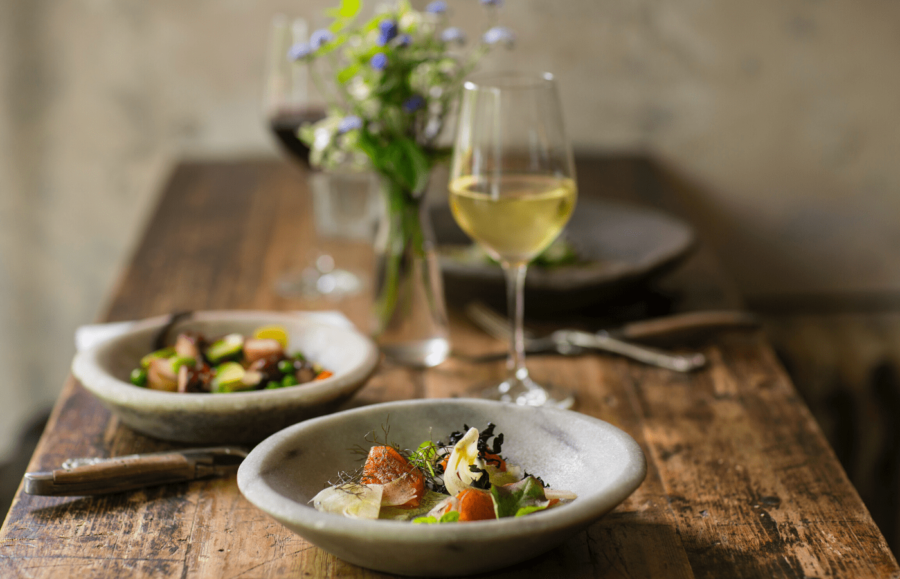 52. Deliveroo
You can't go wrong with Deliveroo, thanks to its user-friendly platform and wide range of participating eateries. Whatever your heart wishes for, be it ramen, chicken rice or pizza, you'll easily get it here. The restaurant delivery options change depending on your neighbourhood, with highlights like Blu Kouzina, PizzaExpress and Sushi Tei. Oh, and frequent customers can offset the delivery cost by signing up for its subscription service, Deliveroo Plus ($16.90/month), to get extra discounts and free deliveries with a minimum spend of $18.
Deliveroo, order online
53. GrabFood
Consolidated for convenient access on the Grab app, the food delivery arm of the company stretches its reach islandwide to bring you everything from local cuisine to fast casual grub to bubble tea. Plus, users can chalk up reward points for each order to redeem future goodies. Say goodbye to long waits when you've got the likes of Guzman Y Gomez, Shake Shack and 40 Hands at your fingertips.
GrabFood, order online
54. Foodpanda
Whether you're dreaming of gourmet pizzas, burgers, sushi, or even local food, this restaurant delivery service will do all the legwork for you. The first major brand to set up shop in the city, back when the market was still cornered by pizza and fast food eateries, the pink panda and its team brings bakeries, local delicacies and vegetarian goodies to your door.
Foodpanda, order online
Go ahead and get your meals from these best food delivery services in Singapore! Did we miss out on a business? Drop us a DM on Instagram! We'd love to be in touch.