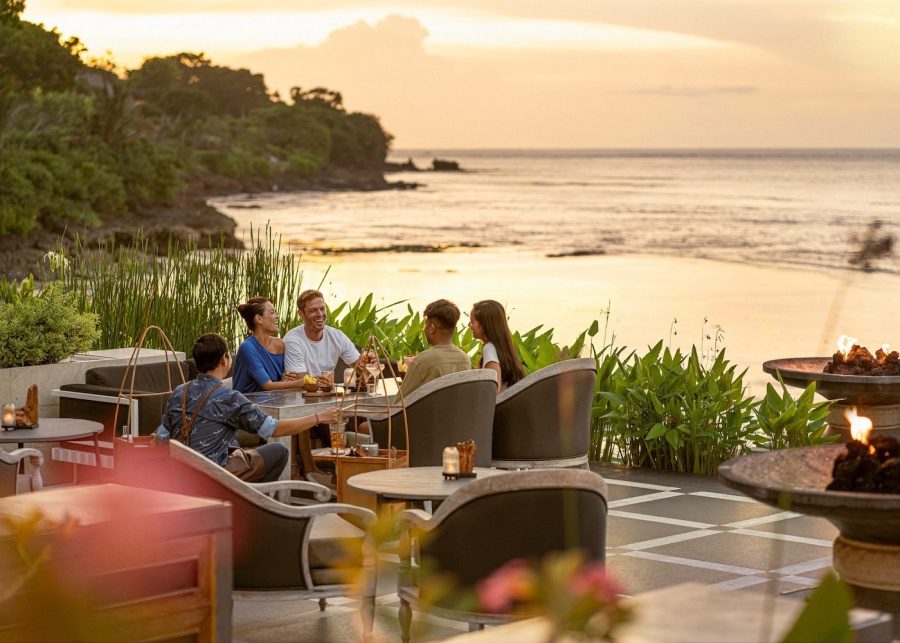 Love Sundara? There's a new head chef in the open kitchen, and he's brought with him a brand new menu and an elevated beachside barbecue concept…
With its sparkling sea views, a 57-metre ocean-edge infinity pool, and a sophisticated vista all around, Sundara is a world-revered beachside icon in Bali. And with its glowing fire pits at dusk, a blazing sunset as the backdrop, and the kind of elegant, al fresco ambiance that calls for evening cocktails and a leisurely pursuit of finely crafted food – it's the most dreamy setting for a refined, beachside barbecue.
Well, this discerning oceanfront destination at Four Seasons Resort Jimbaran Bay is cooking up exactly that, all thanks to the new Chef de Cuisine helming the open kitchen – Swedish-born David Gavin – and his phenomenal kitchen team. His spectacular new menu showcases his passion for local flavours and Indonesia's rare ingredients, together with his refined cooking techniques from working in some of Asia's very best restaurants. The result? A locally-inspired dining experience par excellence.
In fact, the entire menu pays homage to its island home, honouring the beloved beach barbecue culture that has made Jimbaran Bay so famous. And just like the traditional coconut-husk barbecues, every dish on the new Sundara menu has somehow been touched by fire, whether via roasting, grilling or smoking. Everything is local, and each dish introduces diners to the spices and flavours of the Indonesian archipelago – some using up to 20 different spices in a single dish! All of this is then topped off with impeccable presentation atop ceramics that have been custom-made for each delicious creation.
We'll be honest – we've always loved Sundara's menu. So much so, we thought it was impossible to beat. But true to form, Sundara is once again refusing to rest on its laurels, and this refined new take on a beachside barbecue has upped the culinary stakes, taking Sundara's epicurean reputation to an entirely new level. This new edition is proving Sundara's never-ending commitment to its gourmet evolution, and we couldn't wait to try it…
The Sundara experience
The scene is set on Sundara's open-air terrace, where the glow of a fire-pit dances with the soft sea breeze and the burnt-orange skies of a quintessential Bali sunset. A signature Kelapa Negroni is served table-side, where the mixologist smokes, shakes and scents the aged libation in a whole husky coconut. On the menu, it's a choice between a seven-course degustation dinner, or an a la carte selection of appetisers, raw seafood, cured meats, mains, shared plates and delectable desserts.
While the degustation menu is a must for any date night, we opt for the a la carte options to get a taste of everything. We begin with oysters in a Bali lime ponzo, alongside a line-caught tuna tartare, and our favourite, the salmon cured in kelp, placed in an Indonesian sauce vierge, and topped with smoked avocado and fresh herbs. We love how the delicateness of these ocean treats are paired with a subtle tartness, and of course, the flavourful nods to the Indonesian archipelago.
Next on the menu was the spice-roasted cauliflower in rendang spices, the squid-ink risotto, and the crispy-skin baby pig, where the sweetness of the pork is spectacularly matched by the tang from a local snake-fruit chutney (instead of apple), plus charred cabbage, confit garlic, and a mustard jus.
Another must-try is the smoked Australian Wagyu brisket, served with fresh green peppercorns plucked from the hills of north Ubud, and roasted local sweet potato. Or, the whole Jimbaran-style snapper-for-two, served with a classic Balinese sambal matah, local lime, lemon basil, red rice and "morning glory" water spinach.
True to form, the evening ended on a particularly sweet note, with the Textures of Chocolate dessert that's theatrically served in giant cacao shell with a surge of smokey dry ice, then opened to reveal the goodies inside: a local 85% dark chocolate mousse, a smoked cacao nib sorbet, and a crunchy chocolate crumble.
From the subtle flavour combinations to the exquisite plating, and of course the tributes to Bali's culinary landscapes, this new menu really has proved what we deemed impossible. It has taken something so extraordinary and so world-renowned, and somehow made it even better. Compliments to the chefs indeed!
Sundara's eco-initiatives
Four Seasons Resorts Bali has always been well known for its lighter footprints on the island, from water-efficient landscaping and conservation, to the eco-amenities, recycling and zero-waste programmes throughout each resort. Well, as part of its ongoing mission to eliminate single-use plastic and products, Sundara has now also implemented ecoSPIRITs, the world's first low-carbon and low-waste high-end spirits. These premium spirits reduce single-use glass bottles and increase shipping efficiency, and they also taste mighty fine too. We tried the Hermit Far cocktail – a post-dinner digestif – which mixes ecoSPIRITs' vodka together with hazelnut, strawberry and lemon. Now that's worth raising a glass to…
Sundara at Four Seasons Bali at Jimbaran Bay, Jl Bukit Permai, Jimbaran, p. +62 361 708333, e. [email protected]; Open daily 11am – 1am.
This article is in proud partnership with Four Seasons Resorts Bali