Photography: Ellieelien via Unsplash
Whether you're looking for a customised cake or a decadent dessert for a special occasion, we've got you covered. Let there be cake!
So you've sorted the venue, guest list and food. The one thing you just can't mess up? The cake! Skip the subpar birthday cakes that are all fondant and dry sponge and look to these cake artists in Singapore for custom or ready-made edible artworks. Not your birthday and just want cake? We won't tell anyone…
Behold, the best birthday cakes in Singapore
1. Whyzee
Gifts? Check. Birthday decor? Check. What about the cake? If you've left it to the eleventh hour, don't fret. Enter Whyzee. This homegrown online bakery offers same-day cake delivery options. Run by a passionate team of highly skilled bakers with decades of experience under their belts, every cake is baked with finesse and creativity. In under four hours, you can get customised cakes delivered to your doorstep. Think fancy creations like unicorn cake, ombre cake and bunny cake. On a time crunch? Go for options like classic New York cheesecake, lavender earl grey cake and ondeh ondeh cake – all delivered within an hour. Plus, don't forget to check out bundles that come with flower bouquets and balloons for that extra razzle-dazzle.
Whyzee, available online
2. Dig In Cakes
Birthday cakes shouldn't just be limited to birthdays. Don't you agree? Dig In Cakes is giving us a reason to order dessert any time, any day with its delectable variety of freshly baked artisanal and affordable cakes. Enjoy tea, coffee and fruit cakes like blueberry elderflower, dark chocolate banana mousse and green tea chestnut mousse. And for a local twist, try interesting flavours such as Okinawa milk tea with brown sugar jelly, Mao Shan Wang durian, pandan kaya and ondeh ondeh. Dig In Cakes also offers same-day cake delivery in Singapore as well as midnight delivery. Forks out, you're in for a sweet treat!
Dig In Cakes, available online
3. Rainbowly
Looking for a change of scene? Look no further than Rainbowly for delectable selections. Touted as one of the top fruit arrangement specialists in Singapore, prepare to wow your guests with one-of-a-kind cake alternatives. Yup, these aren't your ordinary cakes. Select from a variety of edible gift boxes, fresh fruit towers decked in adorable designs and chocolate piñata cake hearts (with smashable cake alternatives for some fun). We've got a soft spot for the watermelon cake with fresh fruits, a healthy alternative that's totally Instagram-worthy too. Sizes come in petite, two-tiers and three-tiers with an array of fresh strawberries, black figs, grapes, blackberries and blueberries. Islandwide delivery is available at a flat rate of $20. Sweet!
Rainbowly, available online
4. The Durian Bakery
Searching for a cake to surprise a durian-loving friend or family member? Look to The Durian Bakery for the best picks. This local bakery promises the richest durian-infused bakes, made with its signature Grade A Mao Shan Wang durian puree for a rich, creamy flavour. You can't go wrong with the classic Mao Shan Wang durian cake. Crafted with light and airy vanilla sponge, the cake features a Mao Shan Wang core, topped with fresh Hokkaido whipped cream and white chocolate for a decadent bite.
Alternatively, go for a less traditional option like the Mao Shan Wang durian mille crepe cake, layered with thick durian puree in between handmade crepe slices. Textured and creamy, this cake offers a delectable experience. Plus, The Durian Bakery's cakes are freshly baked daily with no preservatives, so you know you're getting only the best. Add birthday accessories like a 'happy birthday' topper and a personalised greeting card and you're good to go. The team bakes limited cakes daily, so get your orders in fast. Need a cake in a hurry? Same-day cake delivery in two hours is available, too!
The Durian Bakery, available online
5. Honeypeachsg Bakery
With a name like that, you can only expect sweet, sweet cakes that will wow you with their dreamy exteriors. Specialising in OTT customisable designs like white swans, misty butterflies and fairies (yes!), the bakery puts out an amazing selection of birthday and wedding cakes. These whimsical beauts are made using high-quality ingredients and tick all the boxes when it comes to a good cake: soft, moist and just the perfect amount of sweetness. Take your pick from classic flavours like double chocolate and chocolate salted caramel. Or you can go all out with interesting flavours like matcha white chocolate, vanilla raspberry and earl grey lavender. To top it all off, you don't have to fork out a single cent for delivery!
Honeypeachsg Bakery, #B1-64, The Promenade @ Pelikat, 183 Jalan Pelikat, Singapore 537643
6. Delcie's Desserts and Cakes
Are dietary restrictions or preferences a concern? Take a gander at Delcie's for a selection of gluten-free cakes and bakes. Choose from myriad vegan-, diabetic-, keto- and baby-friendly cakes that don't compromise on flavour and are guaranteed to satisfy your sweet tooth. If you've got chocoholics in the house, we recommend ordering the decadent fudge brownie and banana fudge cake. Otherwise, try one of its fruitier numbers like the strawberry cheesecake.
Delcie's Desserts and Cakes, available for delivery and at #01-83, 34 Whampoa West, Singapore 330034
7. Nesuto
We love the intricately crafted cakes at Nesuto. Expect artisanal quality bakes made with premium French butter and cream. Its signature selection features fab flavours such as decadent dark chocolate and chestnut-vanilla brandy gateau. The cakes are also partially blast-frozen before delivery to maintain optimum integrity and quality. Plus, they can be kept in the fridge for up to three days (great for advance planning). Just don't forget to take it out of the fridge to defrost half an hour before serving!
Nesuto, available for delivery and at 53 Tras Street, Singapore 078992
8. Baker's Brew
Ah, so many choices! It's a good problem to have when you're planning to order a cake. Countless flavours aside, we love how Baker's Brew takes various trends in its stride. Case in point: the strawberry watermelon cake, classic Basque cheesecake and dalgona tiramisu. Oh, and there's even a six-in-one cake bundle (featuring the bestsellers) to fix your sugar cravings.
Baker's Brew, available for delivery and at multiple locations including Paragon and Great World
9. Bloomsbury Bakers
We love the usual chocolate sea salt, Earl Grey, red velvet, rum and raisin and strawberry shortcake options but what sets Bloomsbury Bakers apart from its contemporaries is the local flavours. Forks out for pulut hitam, orh nee (yam), honey calamansi pineapple and ondeh ondeh cakes.
Bloomsbury Bakers, available for delivery and at #01-889, 30 Bendemeer Road, Singapore 330030
10. Lisse Cakes
Lisse Cakes are baked to perfection – soft and moist sponge in the middle, layered with a delish filling made in-house and coated beautifully with frosting. Gourmet cake flavours include coconut raspberry, earl grey lavender and red velvet Nutella. It also offers free islandwide delivery with every order!
Lisse Cakes, available for delivery
11. Zee & Elle
If you're all about lush botanical and dreamy whimsical vibes, the creators from Zee & Elle are right up your alley. The two-day notice cakes (best for last-minute celebrations) are far from average. In fact, they look like they've been taken right out of a garden-themed birthday celebration. We've got our mind set on the Uji matcha soy mousse cake and guava grapefruit cake. If you're planning in advance, browse through the five-day notice category for myriad designs.
Zee & Elle, available for delivery and at 524 Macpherson Road, Singapore 368215
12. Bob The Baker Boy
Those looking for low sugar and healthy cake options, Bob the Baker Boy is here to save the day. These folks may use 50% less sugar than regular cakes but the flavour and look are always 100%. Add some pizazz to the cakes with fun designs from the fancy standard cake options. FYI: We've got eyes on the divine Belgian Chocolate Cake (pictured above).
Bob The Baker Boy, #01-03, 369 Sembawang Road, Singapore 758382
13. Fluff Bakery
You don't need to hit up Google maps to locate this bakery. Just look for the shop with a long queue and you're there. This halal bakery offers a splash of local delights like ondeh ondeh and durian chendol cake. Not your birthday? Treat yourself to a box of red velvet and salted caramel cupcakes. Best to visit before lunch to avoid leaving empty-handed.
Fluff Bakery, 4 Jalan Pisang Singapore 199071; Available for delivery
14. Spatula Bakery
This bakery is popular on the Instagram scene, boasting some of the best birthday cakes in Singapore that are just too good to cut into. All cakes come with three layers of your selected flavour including the likes of chocolate chip cookie dough, pandan gula melaka, banana salted caramel, lychee rose bandung and lemon curd meringue. If you're looking for something extra, this is the place to be. From edible gold and chocolate drip effect to watercolour gradient, hand-piped 3D buttercream flowers and the highly-rave rosette piping technique, there's no skimming on the deco for these beauties. Don't get us started on the wedding cakes!
Spatula Bakery, available for delivery
15. Cupplets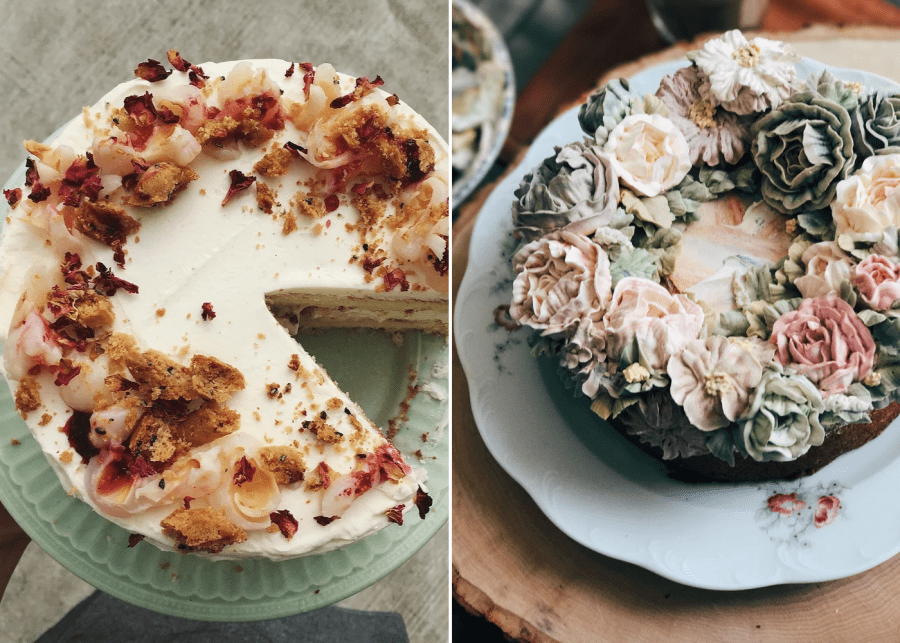 We've talked about cakes that look too good to eat but this just takes the… cake. Ever seen edible art? Trust us, you'll find something here. The freestyle abstract painting, Peranakan-inspired and floral buttercream cakes are masterpieces. And don't expect to find your basic flavours here. Cupplets takes it up a couple of notches with flavours like yuzu passionfruit, lychee rose, raspberry red velvet, honey pistachio, lemon lavender, and black Earl Grey.
Cupplets, available for delivery and at Newest, 1 West Coast Drive, Singapore 128020, by appointment only
16. Sarah's Loft
Harping on Shop Wonderland's closure? Maybe the gorgeous cakes from the cafe could give you some comfort. Yes, Sarah is still baking away in her little loft. There are over 12 flavours to choose from – novelties like root beer vanilla and chocolate cookie toffee are pegged to hit cult status. There's even a customised option for you to assemble your preferred flavour combo. Whether you choose a watercolour, Mad Hatter, rustic or unicorn style, your cake is sure to be the highlight of the party.
Sarah's Loft, available for delivery and at 504 MacPherson Road, Singapore 368205 (for self-collection only)
17. Cake Spade
Cake Spade's phenomenal selection of baked treats might leave your head spinning, so we'll go ahead and recommend its most interesting creation: tofu cheesecake. This specialty cheesecake is lighter and less sweet than the ones you're probably familiar with and features a jelly topping with fresh strawberries, mango or peaches encased within. You can also pick a choice of digestive or oreo bases.
Cake Spade, available for delivery and at 83 Tanjong Pagar Road, Singapore 088504
18. Lady M
If you're tired of thick, heavy birthday cakes and crave something a little lighter, the signature Mille Crêpe Cake from Lady M Confection is exactly what you're looking for. The cake is made by stacking twenty layers of paper-thin crêpes with mild, delicately flavoured cream sandwiched in between. Plus, the boutique offers chocolate, rose and green tea versions, as well as creations like strawberry shortcake and chocolate sponge cake.
Lady M, available for delivery and at multiple locations Orchard Central and Jewel Changi Airport
19. The Ugly Cake Shop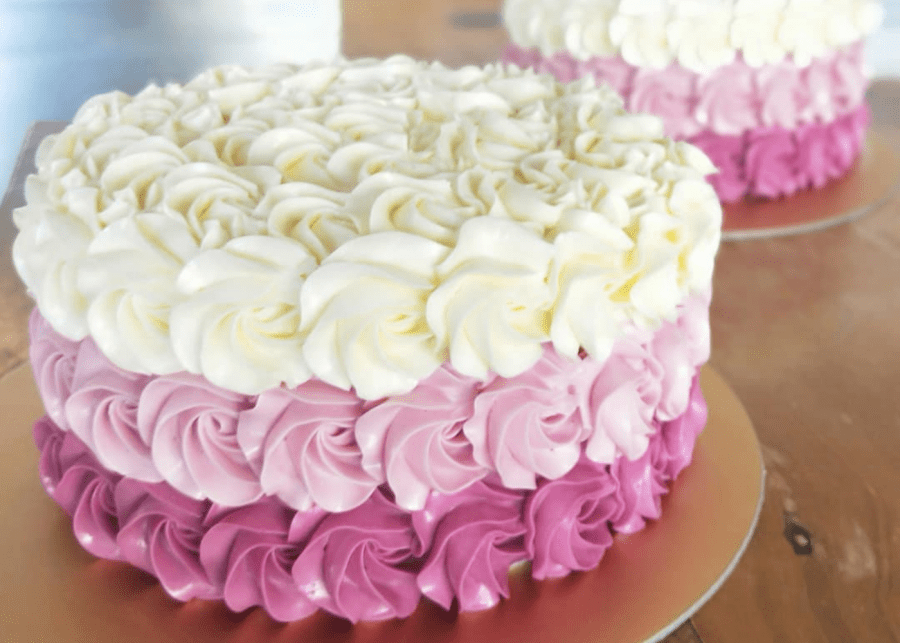 Don't let the name fool you. The Ugly Cake Shop whips up some of the best birthday cakes we've ever seen, like the ombre one with its beautiful shades of pastel colours and rose-patterned icing. If fancy frosting isn't your thing, you'll be happy to know that you can choose from a range of interesting cake flavours like salted caramel and the decadent peanut butter and dark chocolate. What's more, the cakes are for a cause; part of the profit goes towards feeding hungry children in Timor Leste. Score good karma points this b-day!
The Ugly Cake Shop, available for delivery and at #01-06, GB Point, 535 Kallang Bahru, Singapore 339351; available for delivery
20. Edith Patisserie
A chance encounter between two pastry aficionados at culinary school led to this small home-style bakery that whips up some of the best birthday cakes in Singapore. Think yuzu osmanthus, black sesame, cookie dough speculoos chocolate, and gluten-free pandan coconut cakes. The bakers even do a boozy gin and tonic creation if you want to mix things up a bit.
Edith Patisserie, available for delivery and at 772 North Bridge Road, Singapore 198740
21. Cat and The Fiddle
Birthday boys and girls who prefer creamy cheesecakes have a smorgasbord of options to pick from here. Just browse through the selection, which includes the classic Over The Moon New York cheesecake and the perennial favourite Oreo cheesecake (The Modern Duke's Pudding). Looking for a little variety? Opt for a Fickle Feline platter that includes ten different slices of cheesecake.
Cat and The Fiddle, available for delivery and at multiple locations including Clarke Quay and Junction 8
22. All Things Delicious
Founder of All Things Delicious, Imelda Wadhwa, puts together creative confections done the old-fashioned way with organic unrefined sugar and no artificial flavourings, trans fat or high-fructose corn syrup. Crowd-pleasing favourites include sea salt caramel chocolate, raspberry pistachio and gula melaka cake. Want something out of the ordinary? Try the lemon rosemary olive oil cake for soft, pudding-like texture and a comforting hint of rosemary.
All Things Delicious, available for delivery and at #01-01, 34 Arab Street, Singapore 199733
23. The Fabulous Baker Boy
Cakes here are, indeed, fabulous. What stands out to us is the "Diva" range where cakes are named after – yup, you guessed it right – Hollywood divas. For fans of Queen B herself, the Beyonce packs a punch with a lemonade-inspired flavour, blending lemon and yogurt in a sponge cake. The style of cake decor is also minimalistic – perfect for small and intimate birthday celebrations. You can now enjoy its bakes along with a classic brunch menu at Aliwal Arts Centre in Kampong Glam.
The Fabulous Baker Boy, available for delivery and at #01-01, 28 Aliwal Street, Singapore 199918
24. Roa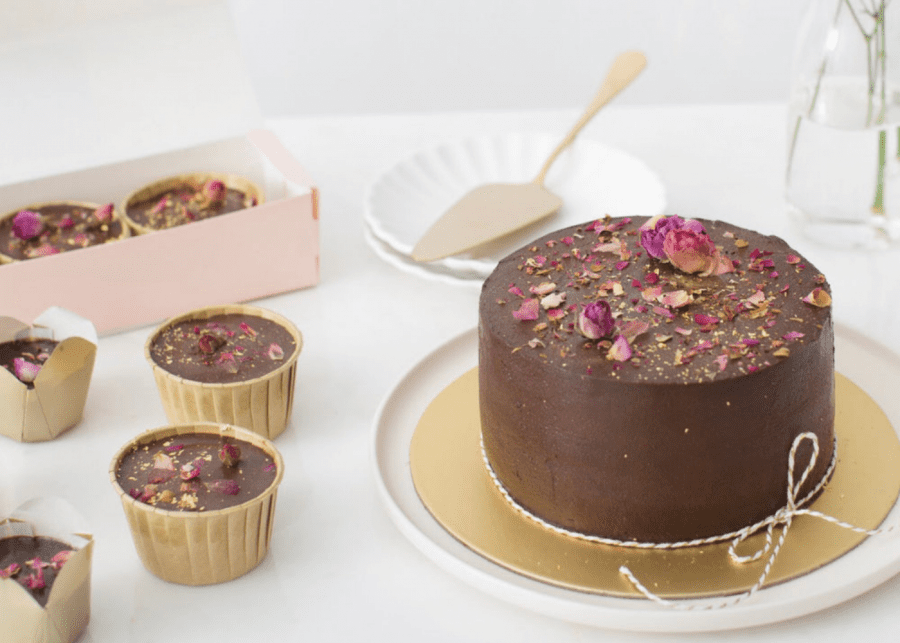 This cake shop wins our hearts for being the most decadent. It's taken the classic chocolate cake and elevated it with rich dark chocolate ganache and moist (not always an iffy word!) chocolate sponge. The icing on top? These eggless cakes are also vegan, gluten-free and dairy-free. Avocados, brown rice milk and psyllium husk are used to create a fluffy, mousse-like texture. No wonder its moniker means calm in Icelandic. A bite of this might just make us forget our problems for a second. The Midnight chocolate flavour is also available in cupcakes and in a petite size.
Roa, #B1-126, 183 Jalan Pelikat, Singapore 537643 (by appointment only); available for delivery
25. Monice Bakes
Looking for a customised cake? Hit up Monice Bakes. From adorable 3D cakes for the little ones to elegant cakes for weddings, there's plenty to pick from. The flavours range from classics like chocolate and vanilla to premium matcha, mocha and Earl Grey picks. Oh, and don't forget to add fillings. We say go for Nutella, fresh sliced strawberries or coffee cream.
Monice Bakes, available for delivery and at Bedok Reservoir View, The Clearwater, Singapore 479234
26. Chalk Farm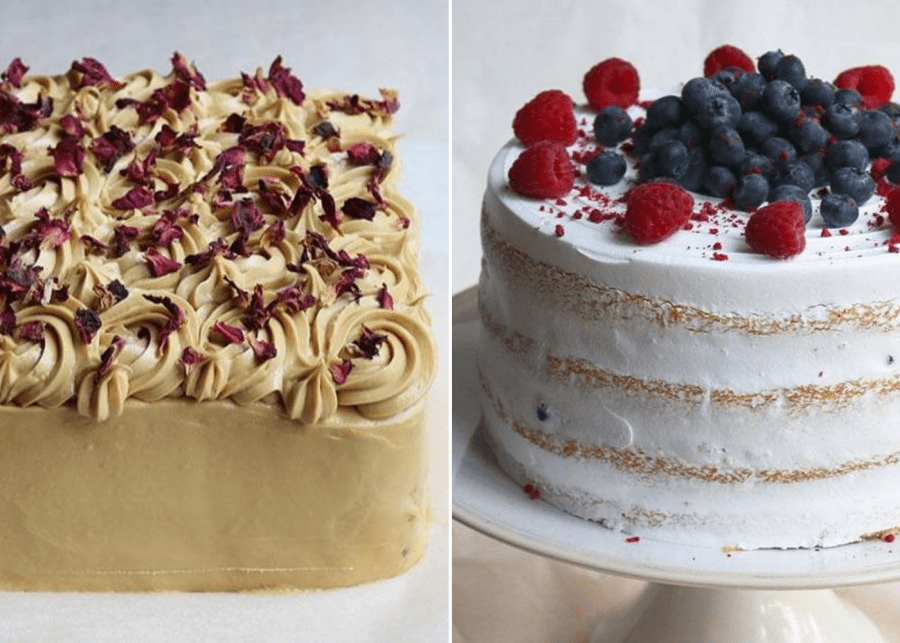 If you're floored by the utter elegance of the cakes at Chalk Farm, wait till you actually try them. The shop, which is named after a stop on London's Northern Tube Line, started with just two flavours. Today, Chalk Farm offers over 20 options including local flavours such as pandan chiffon and burnt durian cheesecake. And we can't forget the wildly-popular chocolate Guinness cake, along with classics like rum butterscotch bundt, espresso meringue and salted caramel red velvet.
Chalk Farm, available for delivery multiple locations including Paragon and Parkway Parade
27. Gaily Bakes
Gaily Bakes perfectly combines the chewy texture of mochi with classic favourites like brownies and bundt cakes. Try the decadent mochi brownies made filled with strawberries and cream or peanut butter. Or get your forks out for pillowy mochi bundtlettes available in matcha espresso, smoked butterscotch and white chocolate mocha. Look out for weekly specials (like genmaicha terrine) which rotate regularly! We also love that 10% of the profits are donated to animal shelters in Singapore.
Gaily Bakes, available for delivery only
The next time you're craving cake, why not pick from our list of best birthday cakes in Singapore?