Photography: Well Collective
We sniff out the best new cafes in Singapore each month so you'll always have cool hangouts for coffee and brunch.
Calling all cafe-hoppers! Always on the lookout for fab new cafes in Singapore? You've come to the right place. Keep your adventures fresh and fun with our regularly updated list of the best eatery openings. Whether you're in the mood for coffee and pastries or tea and cake, you'll find something to catch your fancy.
Best new cafes in Singapore: July 2022
Well Collective
Add this contemporary Japanese-French concept to your list of pet-friendly cafes to visit in Singapore. Opening in early July, this fun space is a sister outlet of well-loved cafes Botany and The Ritual. You'll love its medley of house-made deli, bakes, and brunch delights. It even has a pop-up menu for dinner if you're dropping by later in the day. Got a little furry friend? Dine at the cafe's alfresco pet-friendly area. There's even a pet salon and veterinary clinic next door, so you can chill out with a cup of coffee while your fur baby goes for its monthly grooming sesh.
Well Collective, #02-11/12, Northshore Plaza II, Singapore 820418
La Petite Boulangerie
Fancy a sweet treat after picking up some swish dinnerware for your abode? This new boulangerie corner occupies the same space as My Selection, a homegrown furniture store that sells a hardy array of lamps, tables and sideboards. La Petite Boulangerie offers a traditional French and Belgian meringue dessert called merveilleux – and the folks behind it claim you can't find this elsewhere in Singapore. We've got our eyes set on flavours that cater to local palettes like kaya and tiramisu.
La Petite Boulangerie, 2 Marne Road, Singapore 208393
Flamingo
If you're familiar with street-posh restaurant bar Stay Gold Flamingo, you've gotta stop by its daytime coffee bar for equally good tipples and bites. It just launched a new Mediterranean-inspired menu that perfectly complements the cafe's seaside vibes. Think all-day nibbles like pita bread served with homemade dips like courgette pesto, sunflower hummus and garlic confit; and salmon lasagna filled with smoked salmon, spinach and cheese. Wash it all down with innovative, low-ABV cocktails that you can sip on all day. Our favourite has to be the pink guava bellini – a sweet and refreshing tipple that's perfect for our hot weather! Plus, the hospitality you'll receive is A-plus. Take it from us: it's hard to leave after stepping foot in this space.
Flamingo, 69 Amoy Street, Singapore 069888
Boyutei
Fans of one Michelin-starred Whitegrass and master tea artisan Hvala can look forward to all-day dining Japanese cafe Boyutei at Ann Siang Hill. Whitegrass' head chef Takuya Yamashita has crafted a savoury menu that comprises of salads, soups, Japanese sandos, rice, noodles and crepes. We're talking dishes like ebi katsu sandos, Japanese dry curry with tender prime cut beef, and seafood mentaiko crepes. Of course, Hvala will oversee the dessert and beverage list. Choose from an expansive tea selection, as well as handmade matcha warabi mochi and freshly churned homemade matcha ice cream. Delish!
Boyutei, #01-02, 28 Ann Siang Road, Singapore 069708
Cafe Hachi
We're obsessed with the matcha-centric desserts at Cafe Hachi. It's a matcha paradise serving authentic Japanese desserts like parfait, chewy warabi mochi, and Swiss rolls made with three ceremonial grades of matcha powder. You can even grab gluten-free vegan dishes at this specialty cafe. Indulge in savoury, hearty bowls like the Loco Moco that comes with a grilled soy patty in ginger and teriyaki sauce atop homemade granola tossed in maple syrup.
Cafe Hachi, #01-01, 35 North Canal Road, Singapore 059291
Linden's Dessert House
The newly reopened Linden's Dessert House transports you to a flowery, ethereal wonderland. Tucked above its sister restaurant Under The Linden, this Instagram-worthy cafe serves intricately-designed desserts, coffee, cocktails and wine. Take a bite out of the Ugly Duckling – an adorable duck-shaped dessert filled with mango chutney and vanilla mousse. We also recommend sipping on caffeinated refreshments like the coconut cappuccino.
Linden's Dessert House, #01-04, 5B Portsdown Road, Singapore 139311
---
Best new cafes in Singapore: June 2022
Waga Waga Den
This new cafe in Singapore opens its doors on 1 June at South Beach Tower 1. We're already loving the look of its stylish interiors! The third-wave coffee bar is the latest concept from Black Carvery Group, inspired by co-owner Sam Chua's travels in Japan. Treat yourself to Japanese sweets, wagyu-focused snacks and other seasonal offerings when you swing by. And don't forget to indulge in a cuppa while you're here. Its house blend is a mix of single-origin Brazilian and single-origin Guatemalan beans, roasted on the same day it arrives in Singapore.
Waga Waga Den, #01-14, South Beach Tower 1, 38 Beach Road, Singapore 189767
Cafe Natsu
Cafe Natsu is the latest brainchild of Lewis Barker, head chef of Michelin-starred Sommer. Think the laidback vibes of Melbourne cafes intertwined with the gentle elegance of Japanese establishments. The menu is impressive, featuring a collaborative effort by chef Lewis, head chef of Cafe Natsu Paul Chua, and pastry chef Ang Weichan. Dig into hearty dishes like wagyu beef short rib sandos and eggs benedict with miso hollandaise. Or satisfy your sweet tooth with creamy baked Hokkaido cheese tarts and souffle pancakes topped with peaches.
Cafe Natsu, 283 Joo Chiat Road, Singapore 427537
Mr Holmes Bakehouse
Looking for a new cafe to hit up in the CBD? Mr Holmes Bakehouse has expanded with a second outlet at MYP Centre. Its menu is perfect for busy executives and passers-by looking for a satiating meal. We're talking about a larger menu of sandwiches you can grab and go. Think along the lines of spam and egg kimchi or roasted veggies and hummus.
Looking for low-carb options? No problem. It has plenty of fresh salads for you to choose from. Our pick is the chicken kale caesar salad. And of course, we can't forget its selection of cruffins and doughnuts for a mid-afternoon snack. You've gotta check out the seasonal flavours featuring the toasty Coconut Cream, coffee-laced Raspberry Mocha, and nutty Pistachio Cream.
Mr Holmes Bakehouse, #01-01, MYP Centre, 9 Battery Road, Singapore 049910
O Happi Place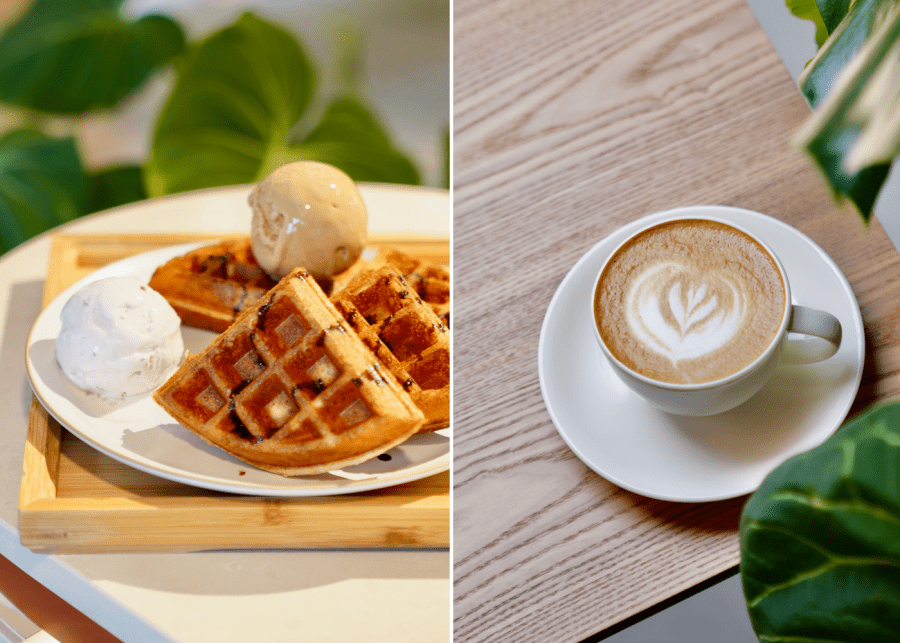 Take the afternoon off at this charming gelato cafe nestled within Everton Park. What started off as a home-based delivery business in the midst of the pandemic has transformed into this dreamy little space serving freshly-churned gelato. Treat yourself to sweet scoops of Ju Pu, Cookie Monster and Sake Melon atop warm buttery waffles. Then wash it all down with a comforting cup of hand-crafted coffee.
O Happi Place, #01-22, 5 Everton Park, Singapore 080005
PS.Cafe Katong
This crowd-favourite cafe has opened yet another outlet within i12 Katong. You can bet we'll be here on the weekends indulging in a decadent slice of double chocolate blackout cake. Who can resist? Expect to find all of PS.Cafe's classic dishes on the menu, including the burger with shoestring fries and sticky BBQ ribs with cabbage, walnut and potato slaw. Did we mention it's pet-friendly?
PS.Cafe Katong, #01-01/02/03, i12 Katong, 112 East Coast Road, Singapore 428802
Missus
Add this new space to your list of halal cafes to explore in Singapore! The bohemian-themed spot doles out delish brunch-worthy dishes in an alluring pastel pink space. Enjoy a thick slice of French toast drizzled with maple syrup, and local-inspired grilled cheese sandwiches filled with kaya cheese or masala potato. Don't forget to try its house-made bakes as well! We've got out eyes on the sticky pecan buns.
Missus, #01-05, 16 Hamilton Road, Singapore 209186
---
Best new cafes in Singapore: May 2022
Upshot Coffee
Love specialty coffee? You've gotta check out this new cafe at One Raffles Place. Upshot Coffee offers a unique selection of high-quality coffee products from Indonesia. It takes pride in using sustainable ways to produce organic coffee, and pairs freshly-made cuppas with desserts like Oreo ice cream croffles and sticky cinnamon buns. Yum!
Upshot Coffee, #04-31, One Raffles Place, Singapore 048616
Supernova
The folks behind Atlas Coffeehouse, Apollo Coffee Bar and Columbus Coffee Co have done it yet again with the launch of Supernova. This new pet-friendly cafe sits along Tanjong Katong Road and serves hearty brunch dishes that are absolutely satisfying. Think bacon and pumpkin rigatoni or fried chicken French toast that you can enjoy alongside quality coffee brews. We also love the interiors of the cafe – it features rustic contemporary style intertwined with modern Victorian elements. Yet another reason for Easties to say, "East side, best side".
Supernova, 266 Tanjong Katong Road, Singapore 437053
Hello Arigato Joo Chiat
If you can't get enough of the thicc specialty sandos and stellar coffee at Hello Arigato, you'll be pleased to know it's opened a second outlet in the cool 'hood of Joo Chiat! Grab your friends and share a plate of crispy fried kombu tater tots with shio kombu, then chow down on its signature gyu sando. It's a whopping 160g of Angus beef striploin topped with caramelised sweet onion jam that's sandwiched between two slices of Japanese milk bread. And of course, don't leave without trying some of its bakes – we recommend the miso banana cake.
Hello Arigato Joo Chiat, 314 Joo Chiat Road, Singapore 427565
Blue Balls Cafe
This cheekily named hideout at Pasir Panjang is perfect for cycling aficionados. Think bicycle decor hanging off walls, fitness gear and cycling apparel you can grab to-go, plus plenty of burgers and soups to fuel up on. Stop by with your cycling pals for a quick bite – there's even a space to park your two-wheeled contraptions just outside the door.
Blue Balls Cafe, 44 Pasir Panjang Road, Singapore 118504
---
Best new cafes in Singapore: April 2022
Ratio Cafe + Gastrobar
Ratio's new flagship store at Ion Orchard offers some zany frozen cocktails you'll want to try this April. Not to mention, the experience will be a little out of the ordinary, as the outlet is run by the world's first fifth wave coffee robotic barista – The Super Manual! Customise the alcohol level of your tipple when you pick two of its signature cocktails that come with a "push your limit" option, or dig into some mouthwatering nosh like curry-spiced marinated chicken tails and seafood laksa cream linguine.
Ratio Cafe + Gastrobar, #B1-12, Ion Orchard, 2 Orchard Turn, Singapore 238801
Hvala Beach Road
If you're also a big fan of Hvala, you'll be psyched to know this modern-day Japanese teahouse has opened a new takeaway outlet along Beach Road! You'll be able to order your usual favourites (including its delicious sliced cakes, petit gateau, and a vast selection of tea), as well as outlet exclusives like the new rock melon ice blend. Don't forget to snap some #ootds on your way out – its minimalistic zen interiors are, as always, uber Instagrammable.
Hvala Beach Road, 267 Beach Road, Singapore 199545
Cava Cafe
Brunch lovers, this new cafe at Jalan Gelanggang is one you should be excited for. It's not at the same place as Upper Thomson's thriving food haven, but it's close by and a worthy addition to your list of must-visit cafes. We're talkin' fried chicken atop croffles, rosti platters served with juicy sausages, and creamy tagliatelle pasta topped with sakura ebi. It even has an outdoor pet-friendly area so you can bring your furry friends along for a lovely afternoon out.
Cava Cafe, 8 Jalan Gelanggang, Singapore 578190
Oriole Coffee + Bar
Oh yes, we're all familiar with Oriole Coffee + Bar – it's been a mainstay of Singapore's coffee scene for years. And for good reason! Its recently revamped menu offerings include popcorn pancakes (you heard that right) topped with whipped cream and fruits, juicy baked tiger prawns, and a delightfully decadent chocolate fudge cake (that seriously reminds us of the one that Bruce Bogtrotter inhaled in the movie Matilda).
Oriole Coffee + Bar, #01-01, 96 Somerset Road, Singapore 238163
What The Pug
Any pug lovers in the house? This new dog-petting cafe in Singapore lets you get up close and personal with cute, cuddly pugs! They don't sell food for humans so you won't walk away with a full stomach, but we guarantee these adorable puppers will fill your heart with love. We hear there's even a puggy snack bar coming up soon, so you can treat your little fur babies to delicious and nutritious nibbles. Stay tuned to its socials for more info.
What The Pug, 80 Haji Lane, Singapore 189271
---
Best new cafes in Singapore: March 2022
Coexist Coffee Co. Paya Lebar
When Coexist Coffee Co. first opened at Hillview, we journeyed to the West just to taste its food and coffee. Trust us when we say the Coexist breakfast is to die for – those creamy scrambled eggs and herbed mushrooms were the bee's knees. If you're also a fan, you'll be psyched to know it's opening a second outlet at Paya Lebar on 1 March, boasting sleek monochrome interiors and equally good food. Shut up and take our money.
Coexist Coffee Co. Paya Lebar, #01-02, Lifelong Learning Institute, 11 Eunos Road 8, Singapore 089109
Working Title Riverside
Loyal customers of this halal cafe can now indulge in juicy burgers along the Kallang River! The new outlet is tucked away in luscious greenery beside Singapore's longest river – meaning you get to enjoy good food, tons of natural light and scenic riverside views. It even has great options for those who aren't enthusiastic about meat. Order the Magic Truffle Mushroom for smoky grilled portobello mushrooms served with caramelised onions and truffle aioli.
Working Title Riverside, #01-03, Kallang Riverside Condominium, 51 Kampong Bugis, Singapore 338986
GelatiAmo
Take your gelato game to the next level at GelatiAmo! If you love the creamy cold goodness of authentic gelato, know that you won't have to travel to Florence just to try it. GelatiAmo has opened its doors at OneNorth, serving a mix of classic and contemporary gelato (think unique flavours like burrata balsamico). Want something a little extra? Have your gelato to-go in a square cinnamon-coated doughnut. We guarantee it'll be worth every calorie.
GelatiAmo, #B1-11, Connexis, 1 Fusionopolis Way, Singapore 138632
Vanda Botanical Desserts
Traditional Italian techniques meet Asian botanics at the new Vanda Botanical Desserts. Think exquisite gelato flavours like poached pear walnut, coconut pandan, and chrysanthemum and goji berry. We hear the brains behind these delightful creations is none other than Italian chef Loris Massimini, apprentice of famed ice cream maker Manuele Presenti of Chiccheria Gelateria. If that's not enough to wow you, we're sure a scoop of gelato will do the trick.
Vanda Botanical Desserts, #01-16/17, [email protected], 313 Orchard Road, Singapore 238895
Best new cafes in Singapore: February 2022
99 Old Trees
Our fave durian retailer made its move from Owen Road to Chinatown, and we're lovin' the photo-worthy space. The shophouse spotlights the King of Fruits with hand-painted murals on its exterior and a warm interior with rattan furniture, framed artworks, botanical designs and upcycled tree trunk "seats". Come to check out its cool facelift, but stay for the exquisite durians (and durian desserts by its sister brand, Stinky).
Add to your list of must-tries: Stinky Bowl ($5.50, D24 durian mousse) and Stinky Chendul ($3, Teochew-style chendol with durian). Don't forget to try new treats like Stinky Roll ($6.50 for a quarter piece), a Swiss roll with mao shan wang flesh, and Stinky Bomb ($1.80 per piece) – choux au craquelin filled with mao shan wang. Durian lovers, you know what to do.
99 Old Trees, 1 Teo Hong Road, Singapore 088321
Cowpresso Coffee Roasters
Can't give up your daily dose of coffee? Make it a good one at this caffeine paradise, which houses a showroom in its shophouse space to display coffee machines and host coffee appreciation events. These folks are definitely serious about their craft! Savour brioche donuts (from $4.90) in flavours like chocolate, berry jam and croque madame while you sip on your drink. Come nightfall, the cafe cranks things up a notch with neon lights, wines and heartier dishes.
Cowpresso Coffee Roasters, #01-07, 21 Lorong Kilat, Singapore 598123
Abseil
Hands up if you're back in the office going about your daily grind in the Tanjong Pagar area. Abseil gives busy worker bees their much-needed shot of caffeine to beat the afternoon slump. Just take note that seating is limited at the black-and-white cafe – it's more of a grab-and-go concept. Coffee beans are brought in from All Day Roasting Company in Taiwan, but tea enthusiasts can also get in on the action with floral infusions like oolong osmanthus. Enjoy your drink of choice with the French meringue dessert dacquoise ($7) in flavours like matcha, pistachio and Earl Grey.
Abseil, #01-14, Eon Shenton, 70 Shenton Way, Singapore 079118
Panquecas'
From steak to crepes, the folks behind Picanhas' have branched out to open this cafe next door. Just like its name suggests, this minimalistic Muslim-owned eatery adores its signature item in sweet and savoury variations. Munch on those thin pancakes stuffed with picanha steak or chicken sausage ($18 each), or try unique creations ($13 each) like kopi-o, apple crumble, lemon yuzu and blueberry Earl Grey to satisfy your sugar cravings. Complete your meal with sparkling teas, coffees and cheese teas in flavours such as grape and mango passion fruit.
Panquecas', 92 Club Street, Singapore 069460
---
Best new cafes in Singapore: January 2022
La Levain
This bakery is helmed by executive chef Wythe Ng, formerly from Bakery Brera and Keong Saik Bakery. Get excited for pastries like kouign amann, pain au chocolat, burnt cheese croissant, bo bo cha cha croissant, hojicha mochi croissant and those famous cruffins. Wanna try a bit of everything? Grab the signatures box ($38 for 8 items) to nibble on goodies like banana danish, pistachio salted caramel cruffin, cranberry and raisin scone, and ham and cheese croissant. The industrial chic cafe sits comfortably in the Jalan Besar enclave, so you know what to do the next time you're in the 'hood!
La Levain, 23 Hamilton Road, Singapore 209193
Baker X Baking Studio & Cafe
Gotta love goodies by home-based bakers! This space at Orchard Central features social enterprise Foreword Coffee Roasters, as well as a revolving line-up of businesses that changes every two to six weeks. Pop by to watch the bakers in action and grab your fill of cakes, pastries and coffee.
From now till 6 March, catch Ree and Mummy at Baker X! The mini breakthrough box is a must-try – you'll let off some steam smashing through this toffee-chocolate bark with a wooden mallet. Cheesecake fans will also enjoy the tangy pineapple cheesecake, studded with pineapple bits and torched to finish. Delish! Other upcoming names include Flourcrafts, Simplybakez, Egg Sugar Butter and Frosted by Fang.
Baker X Baking Studio & Cafe, #04-29, Orchard Central, 181 Orchard Road, Singapore 238896
Guerilla Coffee
This beautifully minimalistic space will no doubt catch your eye when you're strolling past shops and eateries at Suntec City. It takes the high tech route when it comes to coffee, using Slayer LPX espresso machines, the city's first Tone 3 boilerless brewer and Latte Art Factory, an automated milk steaming and frothing system. Go for the floral and sweet Guerilla No. 1 or the rich and nutty Guerilla No. 2 in cappuccino, cafe latte and iced latte versions. FYI, all drinks get double shots of espresso – great for a mid-day boost. Another signature to try is Home, a reimagined kopi beverage of double ristretto shots mixed with condensed milk, pepper and salt.
Guerilla Coffee, #01-506/507, Suntec City, 3 Temasek Boulevard, Singapore 038983
Hooloo Cafe
This hidden gem in Kovan stands out from its neighbours with a colourful, holographic storefront. Formerly taken up by Hatter Street, the revamped spot serves up burgers and pasta. Plus, Hatter Street's signature waffles and ice cream. Come hungry and fill up on bagels generously stuffed with turkey ham, smoked duck, ribeye, smoked salmon and more. Don't forget to save space for an ice cold scoop of rainbow cereal milk, toasted marshmallow, Earl Grey lavender or pistachio!
Hooloo Cafe, #01-333, Blk 212 Hougang Street 21, Singapore 530212
Panamericana Bakery
Stopped by Panamericana Bakery yet? If not, here's a reason you should. It has brand new additions to its menu that include reimagined brekkie favourites, rustic bakes and indulgent sweet treats. Think flatbread served with fresh tomatoes and manchego cheese (finished over wood-fire for a delicious smoky flavour), ham and cheese puffs and sausage rolls inspired by childhood breakfasts, and chunky, chewy 'big boy' cookies that are sinfully good. Delish!
Panamericana Bakery, 27 Bukit Manis Road, Sentosa Golf Club, Singapore 099892
A Beautiful Day
Looking for something unique? A Beautiful Day will surprise you with its charming, pink floral-themed concept. Boasting gorgeous backdrops, every corner of this eatery is totally Insta-worthy. Indulge in scrumptious sweet and savoury high tea treats perfectly placed on a three-tiered cake stand. We're talking caramel macarons, local favourites like chilli crab crackers and much more.
We especially can't get enough of Pink My Bubble Tea: pink sugar milk tea topped with raspberry macaron and cream – it doesn't look anything like your conventional boba drink! But if you're just popping by for light bites, don't miss the mala popcorn chicken for a fiery kick. The aesthetically pleasing space complements the cafe's playlist nicely – we couldn't stop Shazam-ing those tunes. You'll be grooving to the beat while spending a beautiful day here.
A Beautiful Day, #01-70/71, 5 Changi Business Park Central 1, Singapore 486038
Sofi Cafe+Keto+Rooftop
Sticking to your keto diet? Add this hotspot to your list. Located at The Scarlet, it houses a cosy cafe space and a breezy rooftop bar overlooking the Chinatown sights. Take your pick from the all-day brunch menu and enjoy low-carb, high-fat dishes: think pizza, pasta and waffles. This joint is owned by keto advocate Sofi Sui, the brains behind Pasta Brava, and each dish is made with organic ingredients. From healthy eats like acai bowls and baked granola to hearty mains such as risotto, lasagna, pan-fried salmon and baked half spring chicken, you have plenty to choose from.
Sofi Cafe+Keto+Rooftop, #03-13, The Scarlet Singapore, 33 Erskine Road, Singapore 069333
Add these new cafes in Singapore to your 2022 bucket list!