Photography: Aline Viana Prado
Are books better than their film adaptations? We'd say so! That's why we've rounded up a list of books that inspired all-time favourite flicks.
With the release of the new Fantastic Beasts film and the much-anticipated Lord of the Rings TV series, book-to-screen adaptations are taking over the world. Here, we bring you a list of must-reads that were inspirations for some of the greatest movies to grace the silver screen. From historical fiction to dark fantasy, we spotlight these bestseller books that deserve the same fame as their movie versions. Plus, some you might not know were originally literary works. Buckle up for some surprises!
Bestseller books: Novels that inspired famous movies
The Silence of the Lambs by Thomas Harris
Bet you didn't know that one of the most iconic film characters of all time, Hannibal Lecter, came to life from the pages of a novel series. Just like the movies, the second book proves to be the best. If you thought the flick sent chills down your spine, wait until your imagination is truly unlocked by the descriptive novel.
This psychological horror follows Clarice Starling, a young FBI trainee, as she hunts down a serial killer with the aid of another cannibalistic one, Hannibal Lecter. Harris is especially credited for creating a highly impactful and empowering female protagonist, alongside an extremely wicked yet likeable villain. He presents a world filled with complex characters, intricate storytelling, and twists that'll have you gasping aloud, making this book an intense page-turner.
The Pursuit of Happyness by Chris Gardner
If the movie made you cry, this read is sure to make you bawl. A memoir by Chris Gardner that details his rags to riches story, it's grittier, revealing hard realities and ugly truths that give it a darker side than the film version. You see the world through the eyes of a homeless single father as he fights tooth and nail with the world to provide a stable life for his son, hoping to break the cycle of abandonment and poverty that existed within his own childhood. It's a book to make you feel intensely: the tragic segments will have you aching and when his hard work bears fruit you can't help but feel warm hope. If you're in need of a motivational story to hustle, nothing will get the job done better than this pick.
The Help by Kathryn Stockett
This Academy Award-nominated movie was adapted from a historical fiction novel. It focuses on the perspective of three women during the early 1960s in Jackson, Mississippi, within the setting of African Americans working in white households. The horrors of racism exposed in the novel are balanced by sweet relationships and humorous scenes that reveal moments of happiness in an otherwise oppressive society. Skeeter, a wealthy white woman, takes on the extremely difficult job of writing about the experiences of coloured maids in the south. Does she succeed? Read the book and be inspired by the fight for minority voices.
Psycho by Robert Bloch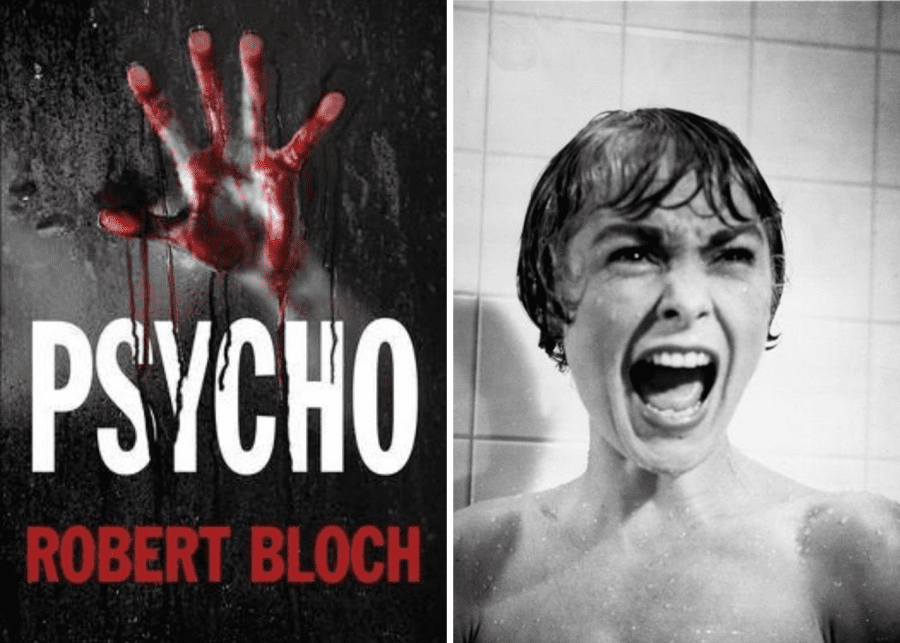 Although it's praised as one of the most influential horror books of the 20th century, few know that this book gave life to the universally acclaimed Hitchcock film. It tells the story of Norman Bates, a motel caretaker, who suffers from mental trauma and a complicated relationship with his mother, which leads to his involvement in a series of deaths.
It's one of those rare scenarios where it's hard to say if the book or the film is better, but the former is definitely worth the read. Aside from depicting a dimension of Bates' personality that's not explicitly shown in the film, it jumps deep into the relationships between the characters in a more detailed manner, which forms the crux of the storyline. Check this one out for the OG creepy stalker who'll put Joe Goldberg to shame.
The BFG by Roald Dahl
You've surely read the famous Charlie and the Chocolate Factory by this celebrated author but we claim this to be our underrated favourite of his. The Big Friendly Giant and orphan Sophie embark on a journey to visit the Queen of England as they aim to expose the world of man-eating giants who live in secret. A story with fantastical characters and emotional depth, it's certain to have both kids and adults totally engaged. The best part of the story? The beautiful relationship between the giant and the young orphan, as they learn to become each other's companions in a world that's left them feeling alone. Look out for Dahl's Gobblefunk: his very own language of which you can find over 300 hilarious words in the book!

The Devil Wears Prada by Lauren Weisberger
For many of us, our insight into the fashion world comes from the legendary roles portrayed by Anne Hathaway and Meryl Streep from the classic 2006 film. But before Miranda Priestly and Andrea Sachs appeared on our screens, they were from the pages of Lauren Weisberger's bestselling book of the same name. We're taken into the glamorous but ruthless fashion industry in New York City where Andy secures the job of a personal assistant to Priestly, the feared editor-in-chief of a top fashion magazine. Filled with scandals, power plays, and the hardships of making it big in the famous city, this fun read will have you contemplating your life choices.
Coraline by Neil Gaiman
Known for his hugely popular American Gods, Gaiman's lesser-known Coraline is another masterpiece. The adapted film does the impressive job of being truly horrific despite being animated, a unique quality that's widely praised and discussed. So imagine our surprise when we discovered its literary version surpasses the fright quotient of even the super scary flick.
The dark fantasy novella was created by the author for his young daughter when he realised he couldn't find any horror stories for kids that she wanted. But trust us when we say it can scare a grown adult well enough. It narrates the tale of young Coraline and her parents after they move into an old house, where she discovers a mirrored dimension. It doesn't include saturated plotlines of bloody details and jump scares but rather plays with realistic issues, making for a truly hair-raising reading experience.
---
Bestseller books: Essential reads for the year
The Anthropocene Reviewed: Essays on a Human-Centered Planet by John Green
Yes, it's the famous The Fault in Our Stars author, but no, this isn't another love story. Green's first non-fiction book debuted at first place on The New York Times' Best Seller list. The Anthropocene is defined as the current geological age that's been intensely shaped by human activity, and this book covers unexpectedly unique everyday topics surrounding that. A podcast series that was converted into a book, it's a collection of essays that has the author rating different facets of the human-centred planet on a five-star scale – ranging from a Taco Bell breakfast menu to Halley's Comet. Green also goes into deep detail about his personal experience of living through the pandemic, reflecting the hopes and fears of the average individual on varying levels.
Photography: Book Depository
Station Eleven by Emily St. John Mandel
This novel revolves around the consequences following the fictitious Georgian swine flu that takes over the world, killing off a significant percentage of the population. It focuses on the journey of a nomadic troupe of actors and musicians called "the travelling symphony". They tour North America performing musicals and Shakespeare plays to keep their art alive. This post-apocalyptic story will have you at the edge of your seat with its realistic settings and situations, giving you a true sense of loss and empathy for the fallen civilisation.
How to Think Like a Monk by Jay Shetty
The modern world is plagued by the eternal struggle of trying to balance different aspects of life: work, health, relationships, quality alone time and more. So, it's pretty hard to imagine trying to adapt a monk-like mindset in order to solve our problems. But this is precisely what Jay Shetty attempts to show through his book. A mixture of traditional wisdom and the author's personal experiences, he provides guidance on self-discipline, filtering negativity, getting in touch with your true purpose, and many more important life lessons.
Love in the Time of Cholera by Gabriel Garcia Marquez
This famous literary classic's popularity reemerged during the pandemic due to obvious reasons. It's set against the backdrop of recurring cholera epidemics, alongside political unrest and civil war. This is a tale of legendary love between Florentino Ariza and Fermina Daza, who tragically had to separate. The story follows their enduring love while dealing with themes of death and decay. Warning: this romance is scandalous. It's not made of the stuff that's Romeo and Juliet. So expect a good dose of infidelity and lies. That's what sets it apart from the sweet, innocent love of the classics!
Photography: Book Depository
Frankenstein by Mary Shelley
Now, this might seem like an unusual addition to this list but hear us out. One of the most significant issues of the pandemic – ever since stay-home notices, quarantining and WFH – is the gradual realisation of loneliness. This gothic novel was one of the first to touch on the topic before the effects of isolation on mental health became a public discussion. As the tale goes, Victor Frankenstein, an eccentric scientist, creates a monster who's cast away and demonised by society. He yearns for companionship and understanding but is forced to lead a life of solitude. This 1818 novel pulls all the emotional strings and highlights the importance of interaction and engagement for a fulfilling life.
Maybe You Should Talk to Someone by Lori Gottlieb
If you've been going through a rough period but you're hesitant about therapy, this book will be an eye-opener. The author is a therapist and writes her memoir detailing both her professional and personal experiences. She tells the stories of five individuals – including her journey of experiencing an unexpected sadness that leads her to therapy. The book provides an interesting perspective of sessions through the therapist's eyes, emphasising the importance of seeking help. These professionals are just as human as the rest of us!
Photography: Book Depository
The Dog Stars by Peter Heller
This post-apocalyptic fiction novel is set in the lands of Colorado after an epidemic eliminates the majority of the US population. But what stands out in this story is the protagonist. Hig lives with an armed elderly man and his dog on an abandoned airfield. And he's an optimistic soul with hope for a better future. We love how this tale has a refreshing take on the doomsday narrative. It portrays a unique perspective as he survives through each day appreciating nature, cherishing brotherhood, and reciting poetry. Pick up this bestseller for a feel-good book that'll leave you pleasantly comforted by humanity.
Got bestseller books to recommend? DM us on Instagram or Facebook with your picks!