Photography: Polina Zimmerman via Pexels
We're all for these books as recommended by voracious readers on TikTok.
TikTok is many things: dancing challenges, exploring haunted places, sharing memes, and more. It's also another platform where bookworms endorse the novels everyone should have on their reading lists. Are you on a reading slump and want suggestions on what to devour next? Here's our selection of bestseller books you should have on your list, as recommended by #BookTok.
Bestseller books recommended by #BookTok
The Woman in Me by Britney Spears
Everyone's talking about this memoir. Scroll through your FYP, and you'll likely come across videos of people reading excerpts from the book, which has already hit Amazon's bestselling list. This stunning revelation chronicles the pop icon's life from her childhood days to her rise as one of the world's bonafide superstars. Of course, there are chapters dedicated to Ms Spears' very public relationships (we're not going to mention his name), her thoughts and interactions with fellow celebrities, and of course, her prolonged conservatorship. It's time to read, folks – Britney has opened the library!
Yellowface by R.F. Kuang
Yes, the world has gone to shit. That doesn't mean you shouldn't read about it. This book's premise revolves around two writers, one of whom dies in a freak accident, leaving behind an unpublished manuscript. Survivor and eyewitness June Hayward steals the work and passes it off as her own. The remainder of the story sees the lengths June will go to protect her secret. This novel, which shines a light on topics such as racism, cultural appropriation, and social media, is a biting satire that'll have you flipping the pages and forgetting everything else.
Less by Andrew Sean Greer
What would you do if you've been invited to your ex's wedding? Travel around the world, of course. And that's what 49-year-old Arthur Less does: attending half-baked literary engagements he's been avoiding all those years in order to avoid his former flame. Originally conceptualised as a "serious novel", this book spans the themes of romantic love, ageing, and self-discovery.
The Guest List by Lucy Foley
How about a murder mystery reminiscent of Agatha Christie's works? This novel takes place at Jules and Will's wedding, which is held on an island off the coast of Ireland. A waitress finds a dead body that night, setting the story in motion. There are limited suspects here, and each guest is hiding a secret. Let's see if you can figure out who did it before the end of the book. The Guest List has received numerous accolades and was chosen for Resse Witherspoon's book club.
Funny You Should Ask by Elisa Sussman
Picture this: you're a journalist who's asked to interview a Hollywood heartthrob. The caveat is that he's also your longtime celebrity crush. Will you take up the assignment? In Chani Horowitz's case, she goes along with it, resulting in a whirlwind weekend and gossip for the tabloids. Ten years later, after divorce and therapy, Chani finds herself back to where it all started. Will she say yes again, or will her answer be no this time?
The Silent Patient by Alex Michaelides
If you're on the lookout for a thrilling page-turner, #BookTok strongly recommends this New York Times bestseller. Alex Michaelides' debut novel follows Alicia Berenson, a famous painter betrothed to an in-demand fashion photographer. One evening, she suddenly snaps, shoots her husband five times in the face when he returns home, and stops speaking entirely thereafter. Criminal psychotherapist Theo Faber is determined to get her to talk about that incident… but at what cost? You definitely won't see the twist at the end coming.
Haunting Adeline by H.D. Carlton
Those looking for dark romance recommendations should add this to their book cart. Meet Adeline Reilly, a successful author who comes face to face with a man on a mission. The moment he lays his eyes on Adeline, he wants to make her his – and he'll do whatever it takes, including stalking her. Creepy much? This haunting novel comes with various content warnings, so read it at your own risk.
I'm Glad My Mom Died by Jennette McCurdy
Don't judge a book by its title; this is another must-read memoir to add to your list. Those familiar with the Nickelodeon channel will recognise the author. Jennette McCurdy's book recounts her career and struggles as an actress as well as her complicated relationship with her abusive mother up till her death in 2013. Equal parts heartbreaking and hilarious, readers who relate to Jeanette will find solace in this memoir.
The Midnight Library by Matt Haig
Ever wondered how your life would've turned out if you had made a different choice at some point throughout your life? If your answer's 'yes', this blockbuster novel is for you. Nora Seed finds herself in the same predicament until she ends up at The Midnight Library. Here, every book offers her glimpses into the other lives she would've led if her decisions had been different from what she originally chose. You'll leave with many lessons after finishing this book.
Surrounded by Idiots: The Four Types of Human Behaviour (or, How to Understand Those Who Cannot Be Understood) by Thomas Erikson
Humans can be so complicated. Don't you agree? If you've ever wanted to understand why people behave the way they do, get your hands on this self-help book. The idea for this book came about after the author's disastrous meeting with an entrepreneur. This international bestseller offers simple tricks on body language, honing communication and social skills, and how to handle conflict with confidence.
---
Bestseller books by our fave local authors
What Gives Us Our Names by Alvin Pang
If you have time to read only one book this month (or this year – no judgment here), make it this one. It's less than 100 pages, but the collection of prose will stay with you days after you're done with it. Each chapter overflows with allegory and wisdom, covering topics such as success, freedom, hope, and courage. We particularly like the first story, which talks about community. Time to settle down at your reading nook with your favourite brew and start flipping the pages of this book.
Aunty Lee's Delights by Ovidia Yu
Our team loves a good murder mystery – we're a clowder of curious cats, after all. Now imagine Ms Marple, except it's a Peranakan aunty, and it's set in Sentosa. Rosie Lee begins her investigation after a dead woman washes up on the beach. When a wealthy guest failed to show up for her dinner party, Aunty Lee suspects the missing person to be the one found ashore. She starts working with the police commissioner to solve the murder. If you're into spicy mysteries, this is a delightful page-turner.
The Gatekeeper by Nuraliah Norasid
We have to recommend this bestseller, which has bagged a couple of awards back in 2016 and 2018. It follows a tale of two sisters: Ria, a young Medusa who has turned her entire village into stone, and Barani, her older sister. After the mishap, they flee to an underground settlement populated by other marginalised non-humans. Ria vows to be their gatekeeper, until an encounter and subsequent friendship with a human man threatens to take down the very city and secret she swears to protect.
A Mosque in the Jungle: Classic Ghost Stories by Othman Wok
Those of you who are familiar with Singapore's political landscape will know this author. Among his many illustrious accomplishments, Othman Wok was present during the signing of our country's independence treaty in 1965. He's also a pioneer of writing ghost stories and horror fiction in Malay. This anthology, curated by award-winning poet Ng Yi Sheng, compiles the best stories from three of his English works. Read this book in the dark of night… if you dare.
Lion Boy and Fire Girl by Pauline Loh
He was a lion dancer, she was a monkey-like tomboy… can we make it anymore obvious? Apple, the Lion Legends' youngest idol, has to do whatever it takes to keep his brotherhood together, as his lion dance troupe participates in the race of a lifetime. He meets Charm along the way, whom he can't help but be drawn to. Pick up this copy if you're into K-pop and fluffy romance novels. When you're done, go on and read the other two books in this series as well.
Now You See Us by Balli Kaur Jaswal
Here's another whodunnit to add to your list. Balli Kaur Jaswal's latest novel involves three Filipina domestic workers, who have taken it upon themselves to find the real culprit involved in their fellow countrywoman's case and exonerate the victim. This smart read deftly blends social satire and a well-written mystery, and is packed with lucid details such as the big boxes Filipina workers send back home to employers' tyrannical demands that we often read up about in the news. Consider this book a love letter to the migrant workers working in our households.
The Rock and the Bird by Chew Chia Shao Wei
When was the last time you cried while or after reading a book? We guarantee you'll shed a tear or two after you're done with this. Written by Chew when she was 14 and illustrated by Singaporean illustrator Anngee Neo, this young adult title details the long friendship between a lonely, old rock and a noisy bird. We won't spoil the ending, but besides the tears, it'll leave you with profound thoughts and reflections on mortality and comradeship.
It Never Rains on National Day by Jeremy Tiang
It's only fitting we include this collection, since we'll be celebrating our nation's birthday soon in August. Have you ever wondered why it never rains on National Day? (We have some theories on that – DM us yours too!) While this book doesn't dive into question, it does look into one's sense of belonging. The short stories follow various characters across the world, such as a woman on an overnight train in Norway, an anxious wife in Beijing, and a foreign worker in Singapore. Sing it with us: where I belong, where I keep my heart soul…
---
Bestseller books to read for Pride Month
Sounds Fake but Okay by Sarah Costello and Kayla Kaszyca
Ever wondered what life's like for asexual and aromantic people? Authors Sarah and Kayla, who are also hosts of a podcast with the same name, shed light on love, relationships, and more by drawing on their personal experiences. This book will challenge you to reexamine all preconceived notions you may have about sex and rethink what human connection means.
Red, White & Royal Blue by Casey McQuiston
It'll be some time before the movie adaptation is released, so you have time to read this bestseller and discover why everyone (and #booktok, especially) has been raving about it. Red, White & Royal Blue details the classic enemies-to-lovers trope: the Prince of Wales and America's First Son must be cordial with each other, all in the name of diplomacy. You can probably obviously guess what happens next, but that shouldn't stop you from picking this up.
A Little Life by Hanya Yanagihara
"Have you read this? It's the saddest book ever!" exclaims Angela, our colleague (and avid reader). She's not alone in this. Many have heaped praises on this National Book Award finalist, which explores the themes of love and friendship in the modern century. At over 700 pages, this epic novel might be challenging, and you'll probably struggle to finish it. But trust us when we say: the journey is better than the destination.
The Atlas Six by Olivie Blake
Looking for a queer version of Harry Potter? You can consider this fantasy fiction. A twist on dark academia, this New York Times bestseller follows six magicians competing for membership in the powerful and prestigious Alexandrian Society. The chosen one will secure a life of power and prestige – but at a cost. That includes getting closer to their enemies or betraying their trusted allies. Will all that be worth the membership? There's only one way to find out…
Middlesex by Jeffrey Eugenides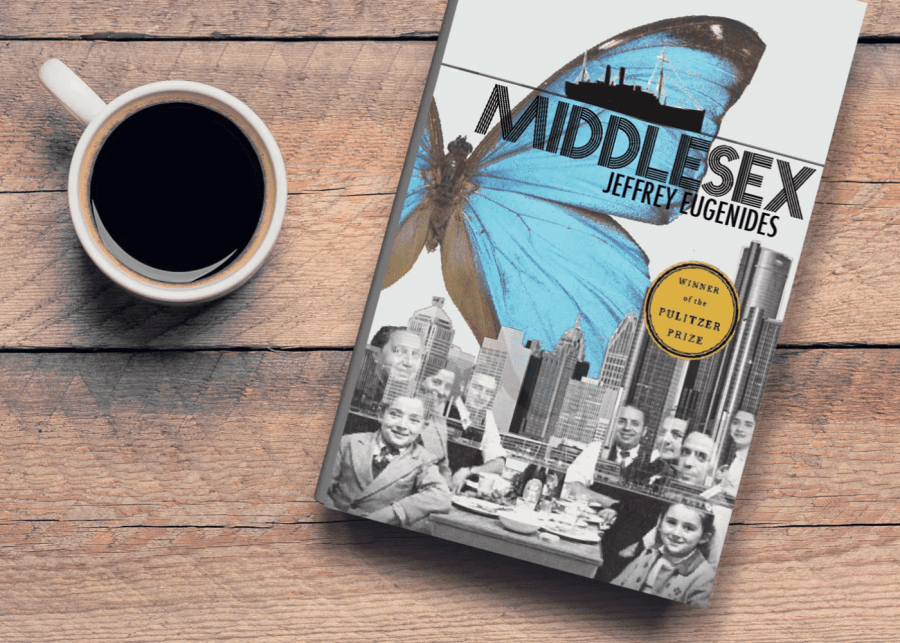 This Pulitzer Prize winner is a permanent fixture in reading lists for Pride Month, which speaks volumes about this novel. Greek-American Calliope Stephanides doesn't feel like other girls, and she doesn't understand why. So she embarks on a journey, uncovering a guilty family secret and genetic history that eventually sees Calliope transform into the person she feels she ought to be.
We Do What We Do in the Dark by Michelle Hart
Mallory is a freshman when she gets to know the woman. A much older married woman who works at the school, if we may add. But that doesn't stop the two from falling for each other. Before long, they're involved in an affair, all while Mallory is still reeling from her mother's death a few months earlier, which leads to her cutting ties with everyone and everything but the woman. Eventually, the affair ends, which leaves Mallory with the question: stay isolated, or return to the world?
The Guncle by Steven Rowley
What do you get when you combine a gay uncle, his niece and nephew who are facing the loss of their mother, and a health crisis affecting their father? Patrick loves spending time with Maisie and Grant but isn't keen on caretaking. That is, until tragedy strikes and he's left as their primary guardian. Oops, Patrick was definitely not expecting that! How will he manage the little people? This funny, heartwarming read will leave you smiling – probably with relief – by the time you're done with it.
---
Bestseller books by our favourite female authors
Delayed Rays of a Star by Amanda Lee Koe
Of course, we had to start this off with a phenomenal author from our very own sunny shores. You might find Amanda Lee Koe's name familiar as she's the youngest winner of the Singapore Literature Prize. Her debut novel, The Straits Times bestseller, was named one of NPR's Best Books of 2019. In Delayed Rays of a Star, follow the lives of three cinema legends who light up the 20th century. The book paints a rich setting from Weimar Berlin to LA's Chinatown, depicting the different lives of a Chinese immigrant housemaid, a German soldier, and a pompous Hollywood director. It's a true testament to Amanda's writing prowess.
Somewhere Else, Another You by Tania de Rozario
As a writer, visual artist, and author of three books (and counting), you know Tania de Rozario's got talent in spades. Besides having art showcases in galleries around Singapore and beyond, she's written about art extensively. She also founded EtiquetteSG, a platform to celebrate art, writing, and film by women from and in Singapore. Somewhere Else, Another You is a cross between a choose-your-own-adventure and an existential crisis. It's a short book and won't take a long time to read. But you might find yourself going back to it over and over again just for the literary beauty.
The Murder of Roger Ackroyd by Agatha Christie
Despite six consecutive rejections, this queen of crime has sold over two billion copies of her books. That's a world record, btw. There was even a thallium poisoning case that got solved because the medical personnel read her books and recognised the symptoms! Talk about impressive. This book features the very iconic Hercule Poirot in another misadventure. Looking to retire, he moves to a home near his friend Roger Ackroyd to perfect vegetable marrows. Unfortunately, Ackroyd is murdered and it's up to the detective to find out who did it.
How Sunflowers Bloom Under Moonlight by Isabella Dorta
Do you love poetry inspired by the aches of heartbreak? We've got a new poet to recommend. As a fellow victim of heartbreak, Isabella Dorta tells her story loudly and proudly through her work. You can read this collection of books from front to back and devour every word. Or, pick it up and flip to a random page, allowing the universe to decide what poem you should read. While this book is beautiful in its own regard, we highly recommend watching Isabella perform snippets on her TikTok. Her enchanting performance coupled with the emotion she puts into each poem she recites is absolutely haunting.
The Lost Apothecary by Sarah Penner
If the gorgeous cover caught your attention, you aren't the only one. This book is the debut of author Sarah Penner. It tells the story of two women set in two different timelines within London. The mysterious Nella in the 18th century aids women across the city with her cleverly disguised poisons. Meanwhile, modern day historian Caroline struggles with running from her own demons. The two worlds clash as Caroline digs up clues to the unsolved apothecary murders that haunted London. This book's got a wide range of reviews depending on who you ask, so it might be a hit or miss. But we think it's a bestseller for a reason – never hurts to give it a try.
The Light We Carry by Michelle Obama
Looking for a dose of inspiration to take you through the day? We can't think of a better person to turn to than the former First Lady herself. Flip through one of Michelle Obama's bestseller books as she shares practical and powerful strategies for staying hopeful and balanced. She reflects on her path from her ordinary upbringing to her time in The White House. It can be a bit of a slow burn, but once you get into it, you'll find nuggets of wisdom to carry you through the day.
If Life Is a Bowl of Cherries, What Am I Doing in the Pits? by Erma Bombeck
Sometimes, all you need is a good laugh. Look to one of America's favourite humourists for over three decades and be prepared for the hilarious musings of Erma Bombeck. Between the covers is her heartful but comedic words about society and her observations of life. As a natural worrier, she reflects on how married life has made her an expert. She worries about snakes sneaking through her pipes, making meaningful conversations, and running out of ball bearings. Her sharp wit is felt within these pages and will leave your sides aching with laughter.
Frankenstein: The 1818 Text by Mary Shelley
We have to thank Mary Shelley for her literary creations that have spurred the art of science fiction. She's even written historical novels and biographical articles in her time. We're drawing attention back to a much beloved classic – Frankenstein. It's inspired several films and movie adaptations – definitely worth a read. If you're a true history buff, go for the 1818 text. This edition preserves the politically charged aspects of Mary's original writing. Given that she was a teenager when she wrote this, being able to read such a strong female voice in the story is nothing short of impressive.
Dork Diaries by Rachel Renee Russell
Okay, hear us out on this one. If you have a daughter and want to get her started on books, run and get something from this series. The duo behind these books is author Rachel Renee Russell and her daughter Nikki Russell. While the book can be melodramatic, its entertainment factor makes it a fun read. Plus, the relatable struggles of being a girl trying to fit in strike a chord. If your inner child still remembers these books, send yourself back in time with games on the Dork Diaries website.
Detransition, Baby by Torrey Peters
This debut book throws you into the story of three women – both transgender and cisgender – whose lives collide. The group includes a transwoman who chooses to de-transition, her partner, and a third lover who's pregnant. This unexpected pregnancy leads them to confront their deepest desires regarding gender, motherhood, and sex. The novel can get messy, exploring vulnerable corners of womanhood. But it's worth getting a look at this smart navigation of dangerous taboos around relationships and gender identity.
Got bestseller books to recommend? DM us on Instagram or Facebook with your picks!