Photography: Mizuno K via Pexels
It's all about inclusivity and gender expression with these books we're reading for Pride Month.
Done reading all the books you purchased from a certain online bookstore before it closed down? Perhaps you're looking for reads that'll give you a peek into the LGBTQ community, seeing as June is Pride Month and all. Well, you're in luck, fellow bookworms. Here's our list of bestseller books that you should have on your reading list for Pride Month.
Bestseller books to read for Pride Month
Sounds Fake but Okay by Sarah Costello and Kayla Kaszyca
Ever wondered what life's like for asexual and aromantic people? Authors Sarah and Kayla, who are also hosts of a podcast with the same name, shed light on love, relationships, and more by drawing on their personal experiences. This book will challenge you to reexamine all preconceived notions you may have about sex and rethink what human connection means.
Red, White & Royal Blue by Casey McQuiston
It'll be some time before the movie adaptation is released, so you have time to read this bestseller and discover why everyone (and Booktok, especially) has been raving about it. Red, White & Royal Blue details the classic enemies-to-lovers trope: the Prince of Wales and America's First Son must be cordial with each other, all in the name of diplomacy. You can probably obviously guess what happens next, but that shouldn't stop you from picking this up.
A Little Life by Hanya Yanagihara
"Have you read this? It's the saddest book ever!" exclaims Angela, our colleague (and avid reader). She's not alone in this. Many have heaped praises on this National Book Award finalist, which explores the themes of love and friendship in the modern century. At over 700 pages, this epic novel might be challenging, and you'll probably struggle to finish it. But trust us when we say: the journey is better than the destination.
The Atlas Six by Olivie Blake
Looking for a queer version of Harry Potter? You can consider this fantasy fiction. A twist on dark academia, this New York Times bestseller follows six magicians competing for membership in the powerful and prestigious Alexandrian Society. The chosen one will secure a life of power and prestige – but at a cost. That includes getting closer to their enemies or betraying their trusted allies. Will all that be worth the membership? There's only one way to find out…
Middlesex by Jeffrey Eugenides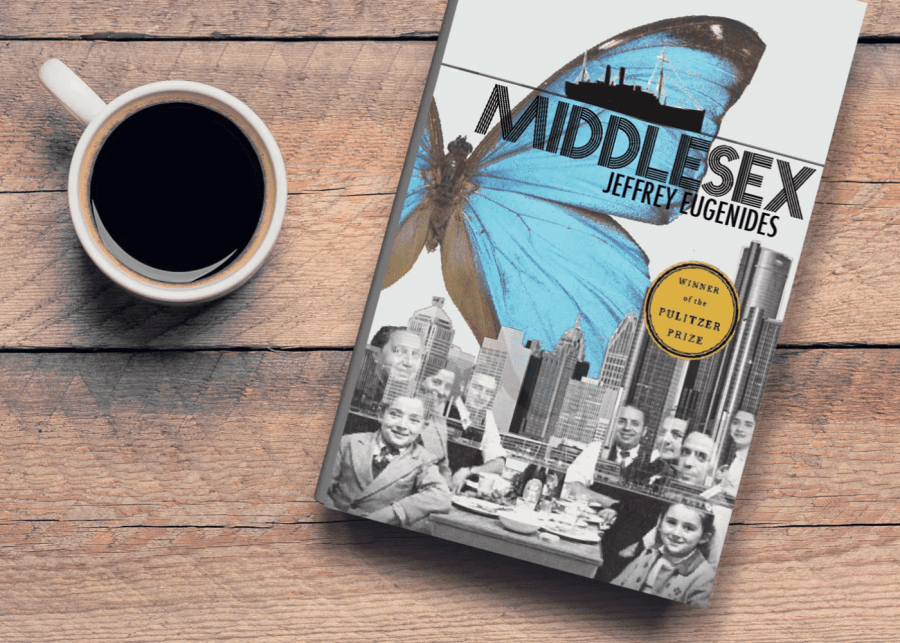 This Pulitzer Prize winner is a permanent fixture in reading lists for Pride Month, which speaks volumes about this novel. Greek-American Calliope Stephanides doesn't feel like other girls, and she doesn't understand why. So she embarks on a journey, uncovering a guilty family secret and genetic history that eventually sees Calliope transform into the person she feels she ought to be.
We Do What We Do in the Dark by Michelle Hart
Mallory is a freshman when she gets to know the woman. A much older married woman who works at the school, if we may add. But that doesn't stop the two from falling for each other. Before long, they're involved in an affair, all while Mallory is still reeling from her mother's death a few months earlier, which leads to her cutting ties with everyone and everything but the woman. Eventually, the affair ends, which leaves Mallory with the question: stay isolated, or return to the world?
The Guncle by Steven Rowley
What do you get when you combine a gay uncle, his niece and nephew who are facing the loss of their mother, and a health crisis affecting their father? Patrick loves spending time with Maisie and Grant but isn't keen on caretaking. That is, until tragedy strikes and he's left as their primary guardian. Oops, Patrick was definitely not expecting that! How will he manage the little people? This funny, heartwarming read will leave you smiling – probably with relief – by the time you're done with it.
---
Bestseller books by our favourite female authors
Delayed Rays of a Star by Amanda Lee Koe
Of course, we had to start this off with a phenomenal author from our very own sunny shores. You might find Amanda Lee Koe's name familiar as she's the youngest winner of the Singapore Literature Prize. Her debut novel, The Straits Times bestseller, was named one of NPR's Best Books of 2019. In Delayed Rays of a Star, follow the lives of three cinema legends who light up the 20th century. The book paints a rich setting from Weimar Berlin to LA's Chinatown, depicting the different lives of a Chinese immigrant housemaid, a German soldier, and a pompous Hollywood director. It's a true testament to Amanda's writing prowess.
Somewhere Else, Another You by Tania de Rozario
As a writer, visual artist, and author of three books (and counting), you know Tania de Rozario's got talent in spades. Besides having art showcases in galleries around Singapore and beyond, she's written about art extensively. She also founded EtiquetteSG, a platform to celebrate art, writing, and film by women from and in Singapore. Somewhere Else, Another You is a cross between a choose-your-own-adventure and an existential crisis. It's a short book and won't take a long time to read. But you might find yourself going back to it over and over again just for the literary beauty.
The Murder of Roger Ackroyd by Agatha Christie
Despite six consecutive rejections, this queen of crime has sold over two billion copies of her books. That's a world record, btw. There was even a thallium poisoning case that got solved because the medical personnel read her books and recognised the symptoms! Talk about impressive. This book features the very iconic Hercule Poirot in another misadventure. Looking to retire, he moves to a home near his friend Roger Ackroyd to perfect vegetable marrows. Unfortunately, Ackroyd is murdered and it's up to the detective to find out who did it.
How Sunflowers Bloom Under Moonlight by Isabella Dorta
Do you love poetry inspired by the aches of heartbreak? We've got a new poet to recommend. As a fellow victim of heartbreak, Isabella Dorta tells her story loudly and proudly through her work. You can read this collection of books from front to back and devour every word. Or, pick it up and flip to a random page, allowing the universe to decide what poem you should read. While this book is beautiful in its own regard, we highly recommend watching Isabella perform snippets on her TikTok. Her enchanting performance coupled with the emotion she puts into each poem she recites is absolutely haunting.
The Lost Apothecary by Sarah Penner
If the gorgeous cover caught your attention, you aren't the only one. This book is the debut of author Sarah Penner. It tells the story of two women set in two different timelines within London. The mysterious Nella in the 18th century aids women across the city with her cleverly disguised poisons. Meanwhile, modern day historian Caroline struggles with running from her own demons. The two worlds clash as Caroline digs up clues to the unsolved apothecary murders that haunted London. This book's got a wide range of reviews depending on who you ask, so it might be a hit or miss. But we think it's a bestseller for a reason – never hurts to give it a try.
The Light We Carry by Michelle Obama
Looking for a dose of inspiration to take you through the day? We can't think of a better person to turn to than the former First Lady herself. Flip through one of Michelle Obama's bestseller books as she shares practical and powerful strategies for staying hopeful and balanced. She reflects on her path from her ordinary upbringing to her time in The White House. It can be a bit of a slow burn, but once you get into it, you'll find nuggets of wisdom to carry you through the day.
If Life Is a Bowl of Cherries, What Am I Doing in the Pits? by Erma Bombeck
Sometimes, all you need is a good laugh. Look to one of America's favourite humourists for over three decades and be prepared for the hilarious musings of Erma Bombeck. Between the covers is her heartful but comedic words about society and her observations of life. As a natural worrier, she reflects on how married life has made her an expert. She worries about snakes sneaking through her pipes, making meaningful conversations, and running out of ball bearings. Her sharp wit is felt within these pages and will leave your sides aching with laughter.
Frankenstein: The 1818 Text by Mary Shelley
We have to thank Mary Shelley for her literary creations that have spurred the art of science fiction. She's even written historical novels and biographical articles in her time. We're drawing attention back to a much beloved classic – Frankenstein. It's inspired several films and movie adaptations – definitely worth a read. If you're a true history buff, go for the 1818 text. This edition preserves the politically charged aspects of Mary's original writing. Given that she was a teenager when she wrote this, being able to read such a strong female voice in the story is nothing short of impressive.
Dork Diaries by Rachel Renee Russell
Okay, hear us out on this one. If you have a daughter and want to get her started on books, run and get something from this series. The duo behind these books is author Rachel Renee Russell and her daughter Nikki Russell. While the book can be melodramatic, its entertainment factor makes it a fun read. Plus, the relatable struggles of being a girl trying to fit in strike a chord. If your inner child still remembers these books, send yourself back in time with games on the Dork Diaries website.
Detransition, Baby by Torrey Peters
This debut book throws you into the story of three women – both transgender and cisgender – whose lives collide. The group includes a transwoman who chooses to de-transition, her partner, and a third lover who's pregnant. This unexpected pregnancy leads them to confront their deepest desires regarding gender, motherhood, and sex. The novel can get messy, exploring vulnerable corners of womanhood. But it's worth getting a look at this smart navigation of dangerous taboos around relationships and gender identity.
Got bestseller books to recommend? DM us on Instagram or Facebook with your picks!