Photography: Craft & Culture via Facebook
Freshly fermented kefir and kombucha await at these locally-based breweries.
On the health bandwagon? On top of your body-loving greens, detox juices and heart-pumping workouts, add probiotic drinks in the mix to show some love for your gut. We're not talking about gimmicky, sugary concoctions that do the exact opposite – bloating. Instead, look out for kombucha and kefir. Chances are, you probably would have seen those words paired with marketing phrases like "elixir of life" and "gut-friendly" online. But before you judge a book by its cover – or in this case, the bottle – the fermented duo has been around the block for centuries.
Kombucha is essentially tea fermented with sugar and SCOBY (symbiotic culture of bacteria and yeast), resulting in a tart, slightly fizzy beverage. Meanwhile, kefir is a milk-based drink made with kefir grains (think of it as yoghurt on steroids). Vegans can enjoy the latter too as there's a dairy-free version made with water kefir grains. While their origins date so far back that they're hazy, the benefits are pretty evident. Both are known to be good for your digestive system, immunity and heart, so yes, you can say goodbye to stomach bloat and constipation. Show some love to your gut with these brews in Singapore.
1. Fizzicle
Founder Melissa Mak knows a thing or two when it comes to fermented food. She first created the Facebook group SG Fermented Foods as her passion project in 2015 and later furthered her passion by starting her own brewery, Fizzicle. Her brews are a little special: Endearingly called junboocha, her version is sweetened with raw honey instead – perfect for those who think sugar is the devil. Get your daily dose of probiotics in flavours like the wonderfully potent ginger, Earl Grey and Trigona honey (for an immunity boost), or the caffeine-free Calmboocha, which is mixed with rosebuds, cinnamon and lavender.
Fizzicle, available online
2. Craft & Culture
This Singaporean brewery founded by two lovely ladies knows what's up. With over 20 years of experience in fermentation, medical research and microbiology, Zhiwei and Winnie found their love for fermented drinks during a business trip in America. After some experimentation, the rest is history. Now, the brand offers the whole shebang: Kefir, kombucha, fermentation workshops and even probiotic skincare! If you're looking to rid your body of toxins, get the seven-day kefir or kombucha detox pack, depending on your choice of poison. Some of our fave flavours include lychee and ginger chia black tea kombucha, as well as strawberry, blueberry and mango kefir. Oh, and soon you'll be able to get in on the DIY action with their brewing kits!
Craft & Culture, available online, with delivery or collection at #B1-113, 183 Jalan Pelikat, Singapore 537643
3. Wild Boochas
There's a saying: Quality over quantity. But this brand does both by offering 500ml and one-litre artisanal kombuchas that are chock-full of vitamin B, probiotics and enzymes. On the fizzier side, flavours come in interesting combinations like yuzu lavender, pineapple, mango and ginger, and strawberry hibiscus. Plus, the Harmony Adaptogenic kombucha contains a trio of ayurvedic herbs – tulsi, amla powder and ashwagandha powder – to help boost energy and minimise stress.
Wild Boochas, available online
4. Teapulse
What's the tea? We're here to tell you to ditch your usual sticky, saccharine bubble tea afternoon pick-me-up and try something healthier at this CBD tea bar. Veering away from typical kombucha flavours, the casual joint offers unique choices like matcha, French rose and lemongrass. Not ready to dive into the probiotics pool? Then go for something familiar – the lemonade here is lacto-fermented, so you'll still get all the good stuff with a citrusy zing.
Teapulse, #01-04, Royal Group Building, 3 Phillip Street. Singapore 048693

5. Miss Kefir
Kefir takes centre stage at this spot, where it is prepared in small batches using hormone- and antibiotic-free milk. Expect only the best from flavours like turmeric, cinnamon and acai berry. Apart from milk kefir, you can also sample parfait and smoothie versions for a guiltless, substantial treat. For vegans and the lactose-intolerant, there's the water kefir fermented with organic sugar, so you can guzzle that down without a worry. Kombucha-loving friends can join in too with the selection of raw kombucha on the menu.
Miss Kefir, available online and at Vibes @ East Coast, #01-06, 308 Telok Kurau Road, Singapore 423858
6. Yocha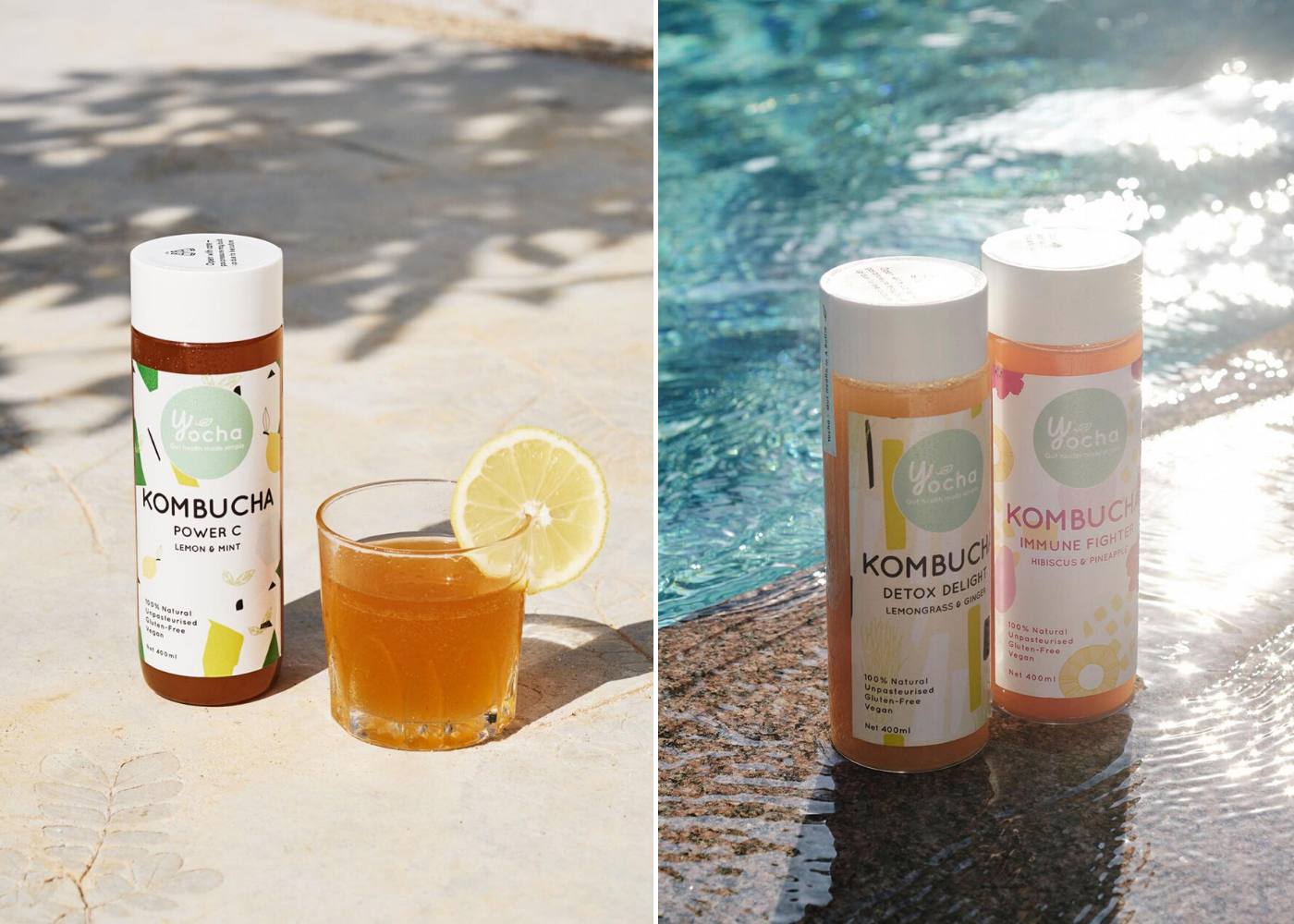 It all started when founder Amanda went in search of a cure for her eczema and sinusitis, which led her to a pot of kombucha – figuratively, of course. After loading up on self-brewed kombuchas, she never looked back. And just like any other good folks, she wanted to share the goodness with everyone. Fast forward to present day, where the brand features six different flavours, including Earl Grey and lavender, strawberry and mint, and hibiscus and pineapple. If you've got a soft spot for gummy treats, she makes her own kombucha jelly too!
Yocha, available online and at Vibes @ East Coast, #01-19, 308 Telok Kurau Road, Singapore 423858
7. Bushwick
Billing itself as the brand with the lowest sugar kombucha in Singapore, everything here is organic and raw, making this drink even more nutritious. Depending on your needs, you can sign up for the subscription plan that ranges from weekly to monthly. Not ready to commit? Opt for the one-time delivery to get a taste of mixes such as Concorde grape, ginger and lemon lavender. You can also get yourself a bottle of cold brew bulletproof coffee – keto-heads, we're looking at you.
Bushwick, available online
8. Kombynation
With a solid background in biological sciences and a passion for kombucha, the folks behind Kombynation love to combine fermented tea with superfruits. The result? A delish, healthy concoction, of course! If you want to kill two birds with one stone, try the antioxidant-rich Berried Peaches to boost your skin's glow, or the Chiananas, packed with vitamin C and Omega 3, for when you're feeling under the weather.
Kombynation, available online