Photography: Teaspoon of Love
Give in to temptation because resistance is futile when it comes to the city's best burnt cheesecakes.
Ah, the Basque burnt cheesecake. When it's baked to perfection, each slice is a mix of rich creaminess and gooey goodness. You just can't stop at one! These scorched babies may not be the prettiest treats to emerge from an oven, but don't judge 'em by their look. Move aside, brownies, cookies and regular ol' cakes. If your sweet tooth has been begging you to feed it, hop on the express train to scrumptious city. Or butter up your loved ones with these amazing burnt cheesecakes.
Best burnt cheesecakes in Singapore
Teaspoon of Love
Turns out, all you need to make a mind-blowing burnt cheesecake is a teaspoon of love. We kid (but not really!). This homegrown online tea company whips up a stunning version of our fave treat – with a unique spin. Yes, it's creamy and comforting, but it's also infused with da hong pao tea, a roasted oolong from Fujian, China. That means you'll get fruity, woody and nutty hints in every bite. So if you'd like a twist on your cheesecake ($51.90/whole cake), this one's a fantastic choice.
Teaspoon of Love, available online
TXA Pintxo Bar
Singapore's first pintxo bar specialises in bite-sized nibbles and great small plates. Best of all, you can end your Basque meal on a sweet note with three variations of the burnt cheesecake. Original, matcha or Earl Grey ($9.50) – take your pick. Or have 'em all. No one's judging.
TXA Pintxo Bar, available online, The Alkaff Mansion, 10 Telok Blangah Green, Singapore 109178
Paparch
It's cheesecake time, and that means we're looking to Paparch for the hottest treats in town. This is one name that always sells out quickly (and months in advance), so you'll have to keep tabs on it to avoid crushing disappointment. A professionally-trained chef is the baker behind the home-based halal kitchen, which puts out burnt cheesecakes in original and matcha flavours that are downright delicious.
Paparch, available online
Grub
Kaya and cheese? Now that's a union we can get behind. If you'd like to venture further afield from the regular Basque burnt cheesecake ($10.50), which Grub does a mean rendition of, try its pandan-flavoured version for a fragrant treat. Both bakes are firmly on our dessert go-to list.
Grub, available online, multiple outlets including Bishan – Ang Mo Kio Park, 510 Ang Mo Kio Ave 1, Singapore 569983
Olivia Restaurant & Lounge
Famous for its homemade creation, made with cream and blue cheese with almond sable, Olivia's dessert star is what other cheesecakes aspire to be. It comes with a higher-than-usual price tag ($14/slice or $45-$76/whole cake), but suffice to say it's worth every cent when you sink your teeth into the rich, decadent treat with a caramelised top layer covering a melty centre that flows gorgeously onto the plate.
Olivia Restaurant & Lounge, WhatsApp 8296 0740 to order, #01-03, 55 Keong Saik Road, Singapore 089158
Le Petit Baker
No matter if you're looking for brownies or cookies – Le Petit Baker absolutely nails it across the dessert realm. The burnt cheesecakes, in particular, are a luscious mix of creamy core and beautifully burnt top. You can always go for the classic (from $39/whole cake), but we're eyeing the hojicha and matcha flavours (from $49 each). Psst: This baker has even paired durian with burnt cheesecake for a limited edition flavour bomb!
Le Petit Baker, available online
The Kins' Specialty Coffee
This minimalistic cafe in Pasir Panjang serves brunch grub, pastas and rice bowls, along with a decadent dessert menu of tarts, fudge brownies and cakes. If you're just here for the burnt goodies, try its original ($8) or opt for the hojicha flavoured one ($8.50). Each bite is a blend of fluffy cheesecake, slightly smoky top layer and creamy centre – best eaten immediately.
The Kins' Specialty Coffee, WhatsApp 8286 2230 to order, #01-08/09, Bijou Condo, 2 Jalan Mat Jambol, Singapore 119554
Bakery Brera
The popular bakery is known for its artisanal bread, pastries and tarts made with flour sourced from France and Japan. But what we love about its line-up is the holy trinity of original, matcha and Earl Grey chocolate burnt cheesecakes (from $8/slice) made fresh daily with three types of cheeses. These slices of paradise are so highly-coveted, they sell out just about every day, which is why you're encouraged to pre-order to avoid disappointment.
Bakery Brera, available online, #01-05, Empress Mall, 8 Empress Road, Singapore 260008
Fluff Bakery
What started as a home baking hobby has since evolved into a must-try bakery over the years. We simply can't walk past Fluff without giving in to temptation and buying a few desserts off the shelves. Besides the uber popular cupcakes and cakes in local and classic flavours, the store whips up a wicked Basque burnt cheesecake ($7.50/slice, $75/whole cake) that's got just the right amount of custard-like ooze from the centre.
Fluff Bakery, available online, 4 Jalan Pisang, Singapore 199071
Fiftygramss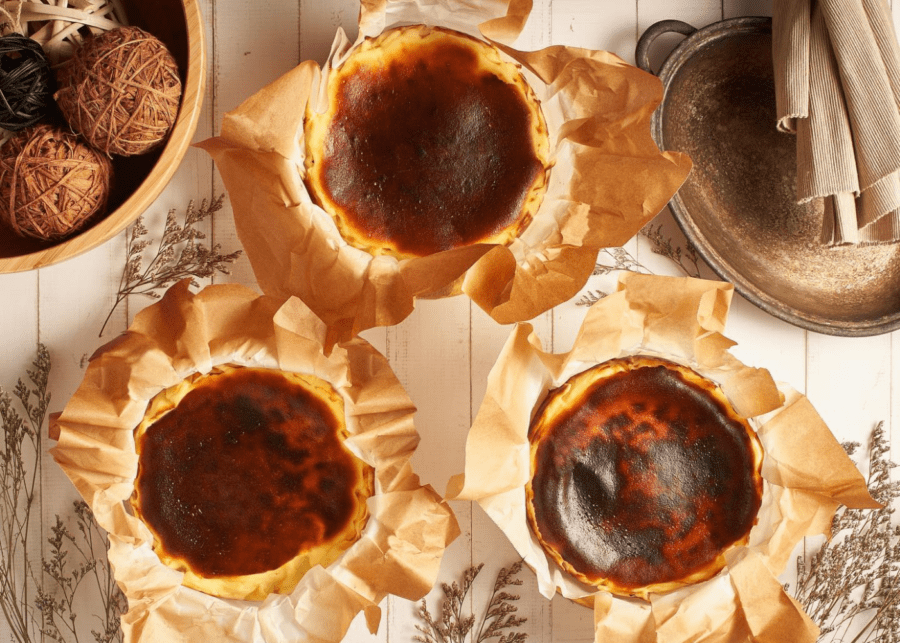 What do you get when you combine a gloriously caramelised crust with a rich, smooth and cheesy core? A Basque burnt cheesecake ($48/whole cake) you'll want to stash away and keep all for yourself. (But seriously, do share the love.) Have a slice immediately to savour the gooey, molten lava, then store it in the fridge for nibbles throughout the day. This new name on our local baking scene is one to keep an eye on.
Fiftygramss, PM or WhatsApp to order
Esquina
The modern Spanish eatery knows what's up when it comes to the delightful combination of crust and cheese. Its cakes aren't as torched as others, but the rich, cheesy core is as good as it gets. Dessert lovers will be pleased to know you can get the goods in medium ($46) and large ($108) whole cake sizes. Great for parties and gatherings!
Esquina, available online, 16 Jiak Chuan Road, Singapore 089267
Cat and the Fiddle
Aptly called Charred Eclipse, the cheesecake specialist's burnt creation is layered with cream cheese and martabak cheese. Each smouldering, scrumptious slice is sweet, savoury and full of fab flavours and textures. Get the entire cake ($48.90) to feed your fam so everyone can gleefully tuck into seconds without hesitation.
Cat and the Fiddle, available online, multiple outlets including #01-41, The Central @ Clarke Quay, 6 Eu Tong Sen Street, Singapore 059817
The Whisking Well
Delicious and decadent bakes from The Whisking Well will make any sweet tooth swoon, especially if you're gunning for the OG burnt cheesecake. Unless you'd care to spend your calories on other just-as-worthy flavours: Matcha and latte (the latter is made with single-origin Colombian coffee). Oh, and keep an eye out for new and cool variations – these folks have created everything from rose to durian burnt cheesecakes.
The Whisking Well, available online
Basque Kitchen by Aitor
For a restaurant that focuses on elevated Basque cuisine with a twist, this one Michelin-starred spot unsurprisingly spotlights the iconic burnt cheesecake ($88/whole cake) on its menu. Made with buttery idiazabal cheese, the baked treat encases a centre that's creamy and not quite gooey but still silky smooth and highly raved about.
Basque Kitchen by Aitor, available online, 97 Amoy Street, Singapore 069917
Keong Saik Bakery
We love the hip, retro-tinged bakery for its old school bread and pastries with a modern twist. But you know what's better than an original burnt cheesecake ($8)? More alternatives to choose from, including matcha, pandan and orh choo bee ($8.50 each). The latter combines a coconut-infused top half with a chewy pulut hitam bottom. Yep, this one's for the undecided and the decidedly greedy dessert freaks (like us). Every forkful is a mish-mash of creamy cheese and fab flavours – what more could you ask for?
Keong Saik Bakery, available online, 33 Keong Saik Road, Singapore 089140
Sinpopo
This bake shop makes the list for its marvellous cakes infused with familiar local flavours – think pulut hitam, pandan kaya, gula melaka and more. Want a little Basque burnt cheesecake action? It's on the menu. For $42, you can have your entire cake and eat it, too.
Sinpopo, available online, multiple outlets including 458 Joo Chiat Road, Singapore 427671