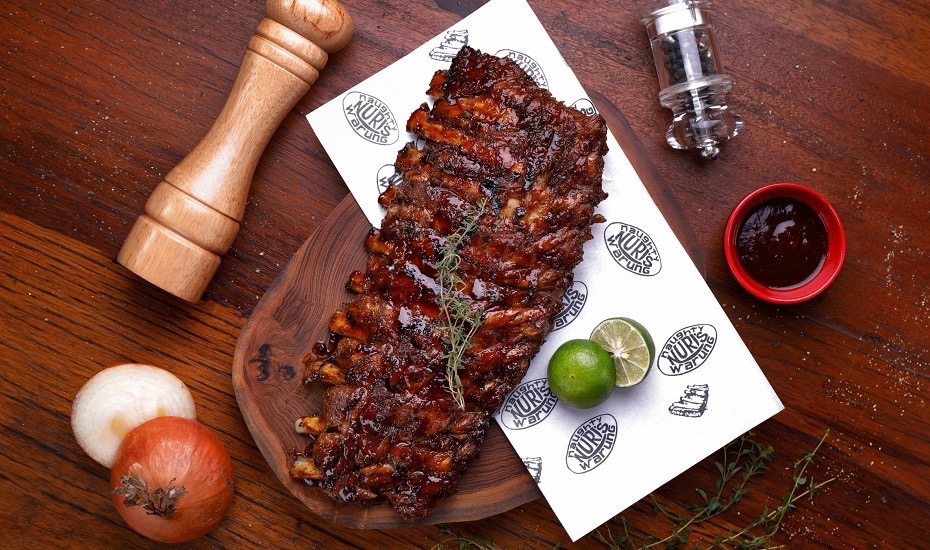 Get your juicy rib fix, pig out on meaty morsels and knock back some killer cocktails - Naughty Nuri's has a new menu!
We never tell porky pies, so when we say that Naughty Nuri's is where you'll find the best pork ribs in Bali – you better believe it. But it's not only these porky, mammoth morsels you can get your snouts around here. You can now pig out on beef, chicken and fish too, because just recently, the Naughty Nuri's Seminyak menu got even naughtier… 
Smokey, sticky and oh-so succulent – if there's one thing every new dish at Nuri's has in common, it's finger lickin' deliciousness. From the jumbo fillet of Grade-A beef, to the grilled butterfish that's been marinated in lashings of butter and herbs, everything here is smothered in scrumptiousness, all with a slight charredness from that ever-smouldering barbecue. Maybe it's the premium meat, maybe it's the secret sauce recipes, or maybe it's just the Nuri's touch…
To get our meaty feast started, we went ahead and grazed on the brand new "Nasty Sampler" – a sharing plate of pork poppers, quesadillas and pork drumettes. Step aside knives and forks, we're grabbing, gobbling and letting loose our inner caveman. Even the grilled Bratwurst sausages had us licking our fingers clean, sumptuously stuffed with Swiss veal, jalapeño and cheese…
We also gorged on the new Nasi Goreng Iga, served with those ever-famous pork ribs, pork crackling, egg and pickles, followed by the Porky Soup made with those epic ribs, Indonesian herbs and vegetables. Yup, there's no escaping the piggy in the middle of these dishes – even the Naughty Mac 'n' Cheese is stuffed with crunchy bacon bits that had us mmm-ing and oinking…
And then there's the cocktails. Oh those killer cocktails. Joining the twisted martinis that once caught the attention of The New York Times and celebrity chef, Anthony Bourdain, try the Piggy Wiggy with gin, triple sec, honey, cinnamon, lime juice and tonic, or go large with your gang and have the 4SOME – a mega mix made to share with fruity bites, vodka, dark rum, triple sec, and a lemon Raddler top – it'll knock your trotters off!
In fact, to make sure you don't forget your Nuri's visit after a few too many martinis, you can take home your own porky compadre, because along with the new menu, Naughty Nuri's Seminyak has also launched a line of piggy merchandise! There are Nuri's tees, sutffed toys and piggy pillows too – hog hugs incoming!
Just remember Honeys – there is only one REAL Naughty Nuri's in Seminyak (located on Jalan Mertanadi) so don't be fooled by any porky impersonators. Unless it's got the Naughty Nuri's logo, serves the secret Nuri's sauce, and sells tees and big piggy pillows – it ain't Nuri's! You've been warned…
WIN WIN WIN!
For one lucky Honey and their piggy pals, we have IDR 2,000,000 to giveaway to spend at Naughty Nuri's in Seminyak!
HOW TO WIN
Just head over to our Facebook & Instagram page to enter – simple!
Naughty Nuri's Seminyak, Jl. Mertanadi No.62 Kerobokan, Seminyak, p. (+62) 361 8476 783. Open daily from 11am – 10pm.This story was proudly sponsored by Naughty Nuri's Seminyak.
T&Cs  – The voucher is valued at IDR 2,000,000 to spend on food and beverage at Naughty Nuri's Seminyak only. The voucher will be valid for 6 months and can be picked up directly at the restaurant. The competition will run for two weeks from 8th May until 22nd May 2018.