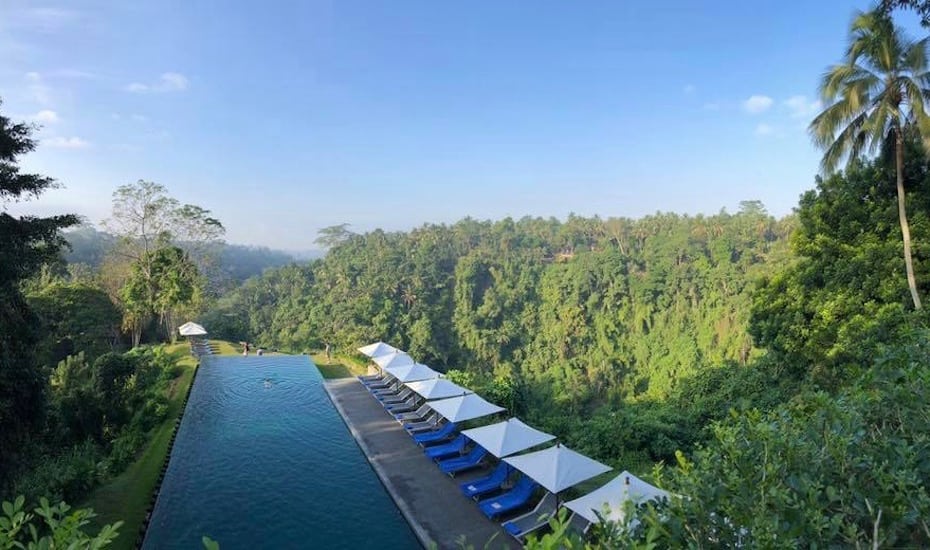 Fine dining in the jungle, villas with a valley view and infinity pools that soar above the treetops - here are just a few reasons why Alila Ubud is our fave rainforest retreat.
As much as we love the sand and sea of Bali's southern coast, sometimes we need an escape to pure nature – a lavish weekend getaway in a dreamy, jungle-hugged resort located deep in the mystical rainforests of central Bali. That's where Alila Ubud steps in – the crème de la crème of luxe jungle living, and everything you'd expect from this design-led hotel group, and more.
In true Alila style, the interiors here are beyond breathtaking, the architecture is as boundary-pushing as it comes (hello sky-high infinity pools) and sleek, geometric lines are dramatically contrasted by natural elements, like wood, stone and coconut pillars. And while we could also wax lyrical about the resort's sublime hospitality, world-class luxuries and bespoke cultural journeys (not to mention the gourmet food, cocktails and insta-worthy moments galore!), here are just a few reasons why Alila Ubud is our fave rainforest retreat.
The lush jungle surrounds
When it comes to luxe jungle living, Alila Ubud has it all. It's the perfect balance of five-star indulgences seamlessly immersed into Mother Nature at her best. Think world-class spa treatments with the sounds of singing tropical birds as a soundtrack. Or the comfiest and most enormous king-sized beds dressed in silky-smooth fine linens, overlooking an uninterrupted expanse of untouched greenery…
The resort sits high up on the lush valley of Ubud's Ayung River, far away from any noise or disturbances, yet just five kilometres away from Ubud's artistic centre, with its art galleries and museums, opulent temples, festivals and traditional dances. It's a hillside retreat hidden in Bali's central foothills, with the magic of "real Bali" all around, hugged by pristine surroundings.
And to ensure Alila Ubud fits right in to this natural cocoon, Alila's ever-contemporary designs have been expertly blended with traditional Balinese architecture, dotted with secluded courtyards, spacious open-air terraces and private gardens for maximised jungle memories.
Live like royalty in the treetops
To soak up Alila Ubud's postcard-perfect panorama, every room and every villa at the resort has been specifically designed to capture the stunning views of the lush, tropical vegetation that surrounds the valley. Not only fringed by floor-to-ceiling windows, the rooms stand above the ravine on stilts, set into the banks of the river valley like magical tree houses.
In particular, the brand new Terrace Tree Villas are like six-star jungle palaces that overlook it all, each with spacious wooden terraces to nab ultimate views of plantations, rice paddies and magnificent glimpses of Ubud's wildlife. These Terrace Tree Villas really are on another level, sitting on a lofty hillside perch in all their splendour, high above the rich jungle canopy. For the ultimate experience, the Two Bedroom Terrace Tree Villas feature a whopping 252 square metre private pool where you can swim above the treetops like jungle royalty…
Fine dining in the forest
As every Alila addict knows, superb wining and dining is a given when it comes to an Alila feast. Well, Alila Ubud is no different. For starters, the resort's Plantation Restaurant is an award-winning Ubud culinary great – a sight to be seen and a wholesome host of delicious, nutritious food to be tasted. The restaurant prides itself on its Slow Food accreditation, with the culinary team passionately preparing authentic Balinese cuisine and farm-to-table seasonal tasting menus that are inspired by fresh ingredients, all of which have been sourced locally or harvested from Alila Ubud's own organic gardens. In line with the Slow Food philosophy, each dish is sustainable, environmentally conscious and good for you too, so you can feast guilt-free on pan-seared scallops, slow-roast chicken, cured duck breast and Balinese satay.
Then there's the Cabana Lounge – a stunning spot for mixology magic, with organic libations shaken and stirred in the two-storey high dining room with Karangasem Terracotta Brick walls and mood lighting for good measure – best enjoyed with the menu of gourmet bites and small tapas plates. Or to really up the romance, take your dinner plans to the Bale Bengong – a table for two in the jungle where you can feast on a five-course dinner surrounded by nature and the distant rippling of the Ayung River. And when you're finished, there's a separate lounge to cosy up and stargaze after dinner, too…
A commitment to sustainability
With such picturesque landscapes all around, it's easy to see why Alila Ubud is so dedicated to sustaining the environment. One initiative that Alila Ubud has put into place is a water purification system – a system that lets the resort produce its own bottled water, so that plastic bottles become non-essential. This means that amidst the pristine jungle, you can quench your thirst with fresh drinking water that has been filtered and bottled in reusable glass bottles, right on the resort premises. And the best bit? Water filters actually provide the best and healthiest alternative to both bottled and tap water, with less contaminants than any other purification method.
Another initiative is Alila Ubud's Balinese Organic Culinary Masterclass – an informative cooking class that lets you experience the entire journey from picking ingredients at the local market and the resort's organic garden, to cooking up some of Bali's most iconic (and delicious) dishes. The resident chef will guide you through the spices, flavours and techniques, all the while cooking close to nature in an outside kitchen at the Organic Garden. Te result? A heightened awareness around sustainable farming and organic cooking. It's nutritious, delicious and eco-conscious!
Need more reason to check into this rainforest retreat? Check this out:
Alila Ubud is Bali's five-star rainforest resort that's ticking all our boxes – here's why…

Posted by Honeycombers Bali on Thursday, 16 August 2018
Alila Ubud, Desa Melinggih Kelod, Payangan, Gianyar, p. +62 361 975 963, e. [email protected]
Like this story? Here's four more we think you'll enjoy:
50 best restaurants in Ubud for your hit list
Don't go chasing waterfalls – find them all here!
Ubud's best bars for a post-temple tipple
Bali Bucket List: 50 awesome things to see & do