Need a break from the temple hopping and monkey spotting? Head to the best cafes in Ubud for relaxing vibes, rice terrace views and all-day yumminess…
Aahh Ubud… our favourite Bali neighbourhood when it comes to escaping the hustle and bustle of the south, swapping beaches and beach clubs for rice terraces, lush jungles and beautiful temples. But that's not all we come to Ubud for. This lush little town is also home to some of Bali's best restaurants, and that includes a never-ending collection of cool cafes and award-winning coffee shops too. From healthy breakfasts surrounded by breathtaking greenery, to coffee workshops that showcase Indonesia's famous beans, the best cafes in Ubud have got it all. Here are our top picks for your daily cuppa, a vegan brekkie or just a cute pit-stop with picture-perfect aesthetics.
THE BEST CAFES IN UBUD
Where to go for breakfast, brunch, lunch and great coffee
1. Pison Ubud
With rice fields in its backyard and European interiors, Pison is an Asian-Western fusion cafe with great food and even better coffee. The menu highlights the island's abundance of local coffee beans and fresh ingredients; try the Avocado Espresso, and graze on favourites like buttermilk pancakes, stacks of crispy corn fritters, and a creamy homemade chicken curry with a poached egg on top (we order a croissant on the side to mop up all the goodness!). You'll want to come back for lunch and dinner too, for Indonesian faves like nasi goreng with crispy pork belly. Wash it all down with Pison's signature cold brews, or go big and make it a Flat White Martini.
Pison Ubud, Jl Hanoman, p. +62 813 3774 9328; Open daily 7am – 10pm.
2. Tucky
For true coffee lovers, it doesn't get much better than Tucky – a specialty coffee and brunch shop located in the charming eat-street of Jalan Goutama. The younger sibling of Bacari (one of the finest wine bars in Ubud), Tucky consistently slings delicious Single Origin and Single Estate coffee from the island and overseas. Head in to this 22-seater for a lazy midday cuppa, alongside brunchy bites inspired by the cafe culture of Singapore. Yup, it's not just the espressos and cappuccinos that are worth dropping by for. Try Tucky's brunch classics with a twist, like fried eggs on sourdough, served with slow-cooked lamb shoulder and rustic Indian chutneys. Pair it with a cold-pressed juice, or a tea made with fresh leaves sourced from family-run tea estates in Java and Sumatra. Attention to detail is clearly a priority here – not just in the quality of the food and drinks, but also in the industrial-chic decor and quirky artwork too. It's no wonder that Tucky is now the cafe to be seen in when in Ubud…
Tucky, Jl Goutama No. 15, Ubud, p. +62 811 3811 7613; Open daily from 9am – 4pm.
3. Melali
Cosy Moroccan interiors, healthy eats and laid-back vibes – we simply love Melali Ubud for a post-yoga brunch or laptop lunch. It's a place where you can turn up mid-morning to graze leisurely on colourful falafel bowls or hearty salads, and stick around until late afternoon or early evening for cocktails, bites and the feel of a casual neighbourhood hangout. Patterned Middle Eastern cushions and a personal collection of framed pictures make you feel right at home, while fresh juices, Mediterranean-inspired dishes and a modern twist on a Pina Colada reminds you that even home doesn't taste this good. Keep your eyes on Melali Ubud's calendar, because happy hours make an appearance almost every day of the week.
Melali Ubud, Jl Sri Wedari No. 58, Ubud, p. +62 813 3711 6490; Open daily 7am – 10pm.
4. Seniman Coffee Studio
All your coffee Christmases come at once when you visit Seniman Coffee Studio. Located just off the main drag in Ubud, this place is an absolute mecca for coffee lovers. Not only an awesome cafe with world-class beans from all over Indonesia, Africa, South and Central America, there is also an on-site micro-roastery, a brew bar, a shop with every piece of coffee equipment you could possibly wish for, and tasting workshops at the studio on how to home-brew, roast, make the perfect espresso, and even a 101 on latte art.
Seniman Coffee Studio, Jl Sriwedari No. 5, p. +62 812 8338 6641, e. [email protected]; Open daily 7.30am – 10pm.
5. Milk & Madu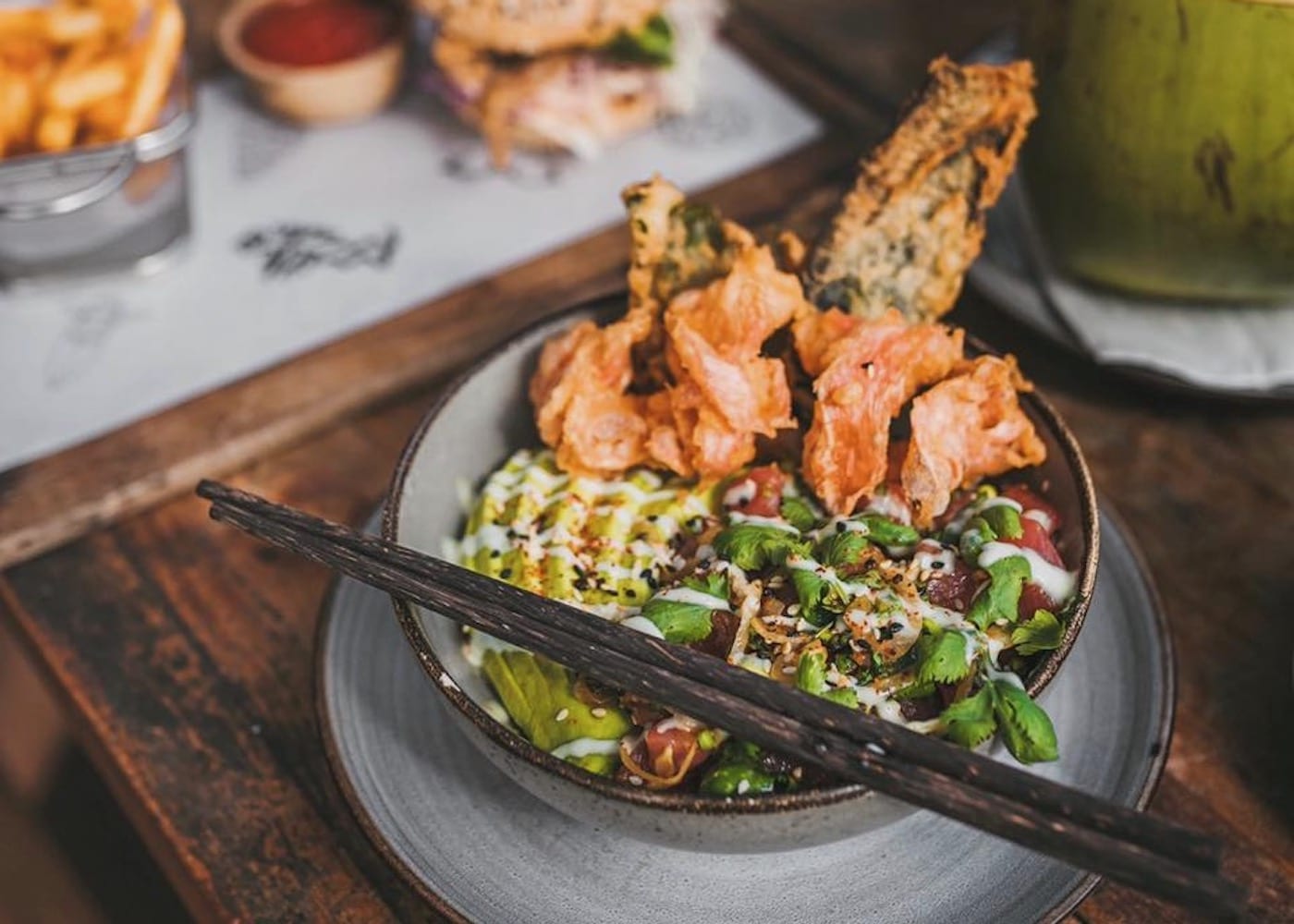 By very popular demand, everyone's fave Canggu cafe found a second home in the heart of Ubud. Bringing those amazing all-day breakfasts, sumptuous lunches and delectable dinners to the Ubud 'hood, Milk & Madu Ubud means you can get your hungry mitts on those skillet eggs and a variety of burgers in two island locations – not to mention those epic wood-fired pizzas. And just like its sister spot, the vibes here are tropical, cool and cosy with just enough industrial-chic decor to make you #interiorcrush. It's everything we love about Milk & Madu Canggu, right at home in Bali's cultural hub.
Milk & Madu, Jl Sweta No. 3, p. +62 813 2975 6708, e. [email protected]; Open daily 7am – 10pm.
6. Suka Espresso
Born in The Bukit and now one of the go-to cafes in Ubud, Suka Espresso is where brunch fanatics flock to feast on a neat and utterly delicious menu of Australian-style cafe staples (the avocado smash here is arguably the best around – need we say more?). And of course, coffee lovers come for the fact that they source their beans in small batches from Indonesia and South America for the perfect cuppa joe. Yup, this is a must-try tropical stop-off for your daily coffee and brunch fix.
Suka Espresso, Jl Raya Pengosekan No. 108, p. +62 812 3792 5414, e. [email protected]; Open daily 7.30am – 9pm.
7. Anomali Coffee
If you're in the market to road-test some really great Indonesian coffee blends, then you need to make a pit-stop at the very funky Anomali Coffee. At their Ubud address, you can sip on beans from Papua, Java, Sumatra, and even a good-old local Balinese Kintamani roast, with expert baristas and regular training sessions on-hand to get your coffee sipping up to scratch. Not only that, the espresso machines are top notch, too, pumping out strong and creamy cappuccinos on the regular, as well as a cold drip, French press, plunger, and the very snazzy syphon coffee.
Anomali Coffee, Jl Raya Ubud No. 88, p. +62 361 972 263 / +62 811 392 2212; Open daily 7am – 10pm.
8. RÜSTERS
When it comes to best cafes in Ubud with everything under one roof, you'll want to make your way to RÜSTERS. Start your day with a choice of beans, and choose between a cortado, flat white, affogato, or Masala Latte, just to name a few. You can't go wrong with any of the breakfast items to pair with your cuppa, like the Green Shakshuka with avocado, spicy tomato sauce, lime, feta and gooey eggs. Or the Caramelised Barley with whipped cream, salted caramel, crunchy almonds and pineapple. Then, spend the day browsing through RÜSTERS concept store, bakery and pottery workshop, before making your way back as the west-facing terrace for a prime seat at sunset…
RÜSTERS, Jl Raya Kengetan No. 44, p. +62 811 380 4341; Open daily from 8am.
9. Pubas Coffee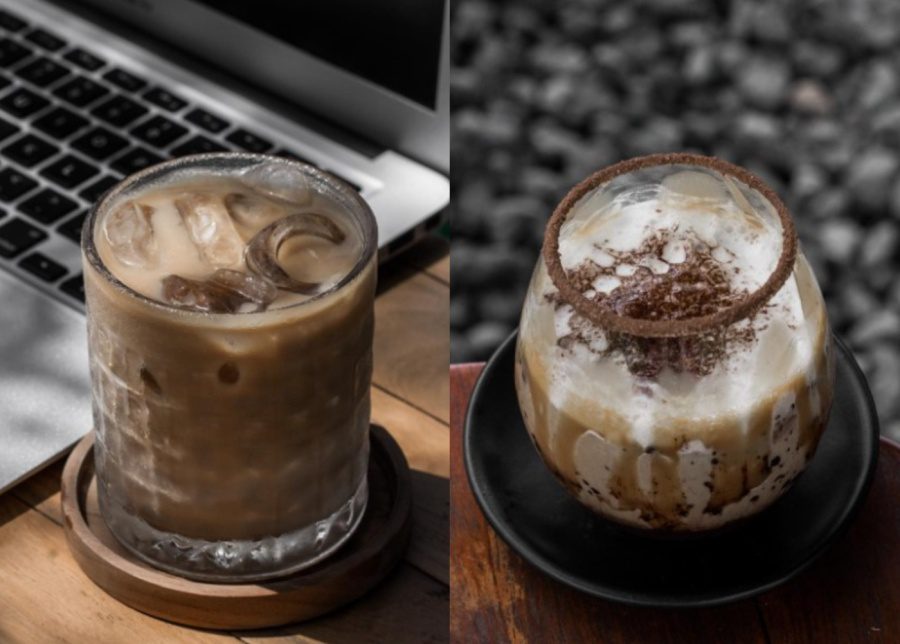 Chic interiors, industrial decor and epic brews: this modern cafe and coffee shop sits in the beating heart of Ubud, and is unsurprisingly popular for its great coffee. You'll find all the classics here, like piccolos, long blacks and cappuccinos, best enjoyed with buttery croissants and danish pastries. We love the Pubas Iced Coffee with chocolate, caramel and a hint of salt, or the Misty Tarz – a single shot of espresso with mint, cassava, a scoop of ice cream and a sprinkle of salt. Best part is, you can stop by at night for an Espresso Martini too…
Pubas Coffee, Jl Sri Wedari, Tegallantang, Ubud, p. +62 812 4643 1232; Open daily 8am – 10pm.
10. Huma Cafe by Goldmine
At Huma Cafe, a rice paddy views simply isn't enough. Here, you're immersed in nature with emerald landscapes all around. This hidden gem is sister to Pubas Coffee (backed by Goldmine's finest coffee beans) and is quickly becoming the 'hood's favourite for a slow morning coffee and brekkie with a view. And while we love the Western fusion dishes on the menu, Huma's iddylic setting is perfect for grazing on their classic Indonesian staples. Try the steamy soto ayam, followed by a nasi goreng or mie goreng – best enjoyed with a cold brew and fresh juice.
Huma Cafe by Goldmine, Jl Cinta, Tegallalang, p. +62 821 4436 3996; Open daily 8am – 10pm.
11. KAFE
Somewhere between tropical canteen and New York-style bistro sits KAFE; a super cute spot for brekkie or lunch just off of Jalan Hanoman in downtown Ubud. Flaunting both veggie and vegan options as well as a few meaty appearances, the gorgeous menu here has been carefully nurtured and developed in line with the owner's ethos of a healthy, environmentally-conscious lifestyle. Delish and good for you, it's a double win!
KAFE, Jl Hanoman No. 44 B, Padang Tegal, Ubud, p. +62 811 179 3455 / +62 819 0711 8242, e. [email protected]; Open daily 7am – 11pm.
12. Muse Cafe & Art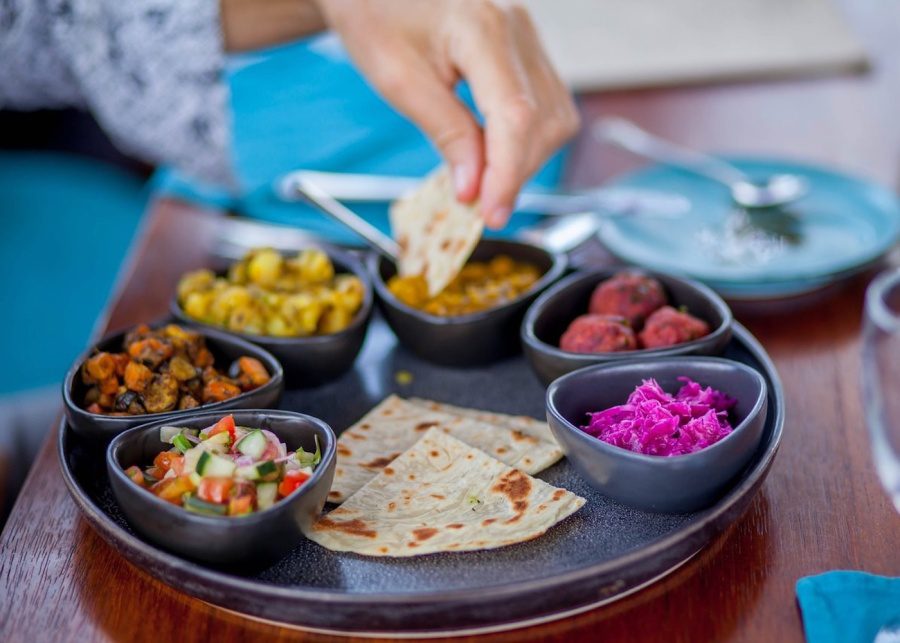 What began as the place to feast on authentic Indian favourites, has evolved into one of Ubud's most popular rooftop cafes to while away a sunshiney day with a crisp G&T, great company and a table full of wholesome eats. Everything here is house-made with all-natural, locally-sourced ingredients, and everything is beyond delicious. We say, swap and share the small plates for a taste of everything, and whatever you do, don't miss Muse's famous dosas. Other must-trys include the turmeric coconut fish curry, the jackfruit steak, and the thali. Whichever you choose, it's all made with love, and a true passion for good food.
Muse Café & Art, Jl Sri Wedari No. 6b, Ubud, p. +62 811 3809 394; Open daily 7am – 11pm.
13. Watercress Cafe
Epic coffee, cold-pressed juices, rustic breakfasts, scrumptious salads, homemade cakes, and so.much.more. Watercress Cafe is another Seminyak export that made its home in Ubud, bringing everything we love about the flagship address to the Monkey Forest strip. In true Watercress style, they nail just about everything. Our faves? The veggie burger, the smoked salmon with cream cheese bagel, and some of the most finger lickin' ribs around. A minimalist tropical design with communal seating finishes this place off – oh, and did we mention there's a wine bar upstairs?
Watercress Cafe, Jl Monkey Forest, Ubud, p. +62 813 3868 5599; Open daily 7am – 10pm.
14. Monsieur Spoon
If you thought Bali life couldn't get any sweeter, settle in for brunch or lunch at Monsieur Spoon – the island's favourite institution for artisanal breads, pastries and à la Francaise brunch favourites. One of many locations on the island (also in Canggu, Umalas, Pererenan and Seminyak) you'll want to try the oh-so creamy eclairs, shatteringly crisp croissants, velvety salted caramels and buttery smashed avocado, gooey eggs or juicy bacon. If that wasn't enough, they sling perfectly brewed coffees too.
Monsieur Spoon, Jl Hanoman No. 10, p. +62 819 9971 0384; Open daily 7am – 9pm.
15. FREAK Coffee
Wholly dedicated to Bali-born beans, FREAK stands for Fresh Roasted 'Enak' Arabica from Kintamani. Enak means delicious in Indonesian, and this coffee really is yum. It is all organically grown and roasted daily, so it's about as fresh as it gets. The result? A sweeter, less bitter and much, much richer brew. And it's certainly no accident, either. They use the best equipment around (like Rancilio espresso machines and Mazzer grinders for all the gadget geeks out there) and most importantly, they verse their baristas in the craft of espresso – a tradition to be learned, practised and honoured. Amen to that!
FREAK Coffee, Jl Hanoman No.19, p. +62 361 975 927, e. [email protected]; Open daily 8am – 8pm.
16. Clear Cafe
Your one-stop-shop for healthy, holistic nourishment, Clear Café offers a 'clean food for clear minds' philosophy matched with homey furnishings and a quirky soundtrack for music fans. Check out the refreshing list of tonics and elixirs before diving into the super-delish international vegetarian and pescetarian menu. This one's an Ubud classic.
Clear Café, Jl Hanoman No. 8, Ubud, p. +62 878 6219 7585, e. [email protected]; Open daily.
17. Yellow Flower Cafe
Hidden away just past the Blanco Museum a few minutes out of downtown Ubud, Yellow Flower Cafe is a beyond-cute little pocket of calm that feels like you're sat in somebody's tropical living room. Hang out on the low-slung bamboo sofas or go cross-legged on the cushions – it's the perfect spot to snack on tasty, healthy Indonesian food and western grinds. While you might not hear this cafe on the lips of every island visitor, it's the locals and in-the-know expats that have Yellow Flower on speed-dial.
Yellow Flower Café, Penestanan Steps, Jl Sanggingan, Ubud, p. +62 812 3889 9695; Open daily 7am – 9pm.
18. GreenKubu Cafe
GreenKubu is where you and your brunch crew can dine amidst nature, surrounded by calming water lily ponds. The menu is a great mix of Indonesian, pan-Asian and Western dishes, all best enjoyed with the selection of fresh drinks. But the star of the show is the space: a pretty setting with water lilies with rice terraces in the background. It's no surprise that so many come here for photoshoots and those all-important Insta shots!
GreenKubu Cafe, Banjar Pejengaji, Tegallalang, p. +62 813 3725 4812; Open daily 8am – 10pm.
19. Lazy Cats Cafe
Lazy Cats is an Ubud cafe by day, and a hopping bar by night, designed for soaking up the good times and mingling with great friends – all in industrial-bohemian interiors dotted with art, plants and vintage furniture (yep, cushiony armchairs included). You'll want to spend lazy days here, grazing on all of your favourite brunch classics and more.
Lazy Cats Cafe, Jl Raya Ubud No. 23, Ubud, p. +62 812 4652 4975; Open daily 8am – 9pm.
20. Namaskara Coffee & Superfood
A humble vegetarian and vegan cafe serving guilt-free comfort food and coffees, Namaskara Coffee & Superfood uses fair-trade and organic beans directly sourced from local plantations and roasteries. You'll find classic brews mixed with spices, like the Chai Latte or the calming Ceremonial Cacao. And good news for late risers: breakfast is served until 5pm, so you can have a gluten-free pancakes for brunch, or hummus on toast for lunch. Or, swing by for a light and healthy dinner – we love the vegan Trick'n Katsu Burger and the colourful falafel salad.
Namaskara Coffee & Superfood, Jl Tirta Tawar No. 50, p. +62 819 9629 5643, e. [email protected]; Open daily 7.30am – 9pm.
21. WYAH Art & Creative Space
Unlike any other cafe in Ubud, WYAH is a dedicated space for art enthusiasts. Made entirely of towering structures, it's a truly iconic space to sip on classic coffees while grazing on sushi, burritos, burgers and Indonesian nasi campur. You'll also want to try the quirky signature cocktails (or the Exotic Tea mocktail), as well as the Korean French Fries, or the cheesy chicken teriyaki. And WYAH (While You Are Here), you'll want to roam around to spot creative artwork and beehive-shaped buildings that all architecture buffs get excited about.
WYAH Art & Creative Space, Jl RSI Markandya II, Keliki, p. +62 813 3950 7373; Open daily 6.30am – 8pm.
22. Dragonfly Cafe
Dragonfly Village is home to one of the best cafes in Ubud for a wholesome menu of vegan and vegetarian dishes. A favourite amongst yoga retreat goers, the cafe serves up delicious and nutritious meals with organically grown ingredients, from sweet chia puddings, smoothie bowls and pink pancakes, to the savoury omelette with veggies and fried vermicelli noodles. And psst… the kitchen bakes its own wholemeal and gluten-free bread, with buckwheat, almonds and flaxseeds, and makes their own coconut oil for all cooking! All of this, while you bask in the serenity of the open air, sun-soaked cafe…
Dragonfly Cafe at Dragonfly Village, Jl Subak Sok Wayah, Abangan, p. +62 859 3388 1999; Open daily 7.30am – 8.30pm.
23. Gangga Coffee
Look out for a colonial building that's slightly hidden from the crowds, and you'll find Gangga Coffee – a hidden gem that's fast become one of the best cafes in Ubud (and in Bali for that matter…). They serve up specialty coffee straight from North Bali's Kintamani, all before roasting it in-house. The result? A cup full of fruity flavours with citrusy aromas and syrupy aftertastes. Pair you cuppa with sweet pancakes topped with whipped cream and fresh fruits, or fluffy scrambled eggs and buttery croissants. Enjoy all of this in the modern-minimalist interiors that contrast the vintage exterior. it's the perfect place for a casual brekky or quirky brunch date.
Gangga Coffee, Jl Andong No. 18, Peliatan, p. +62 817 010 7899, e. [email protected]; Open daily 8am – 6pm.
Happy cafe-hopping, Honeys!
Love this list of the best cafes in Ubud? Check out our list of best cafes in Canggu too!