We just can't get enough of Japanese cuisine. From sushi and sashimi, to izakayas and high-end omakase, here's the lowdown on the best Japanese restaurants in Bali.
As much as we love Bali's local food and spicy Indonesian specialities, we've got a serious soft spot for Japanese cuisine. From steamy ramen to sticky gyoza and of course colourful sushi rolls loaded with fresh ingredients and buttery sashimi, there really is nothing like great Japanese food. Luckily for us, Bali is packed full of awesome Japanese restaurants, with everything from beachside izakayas, to cosy sushi bars and fine-dining teppanyaki. So, we've done the hard work for you and found the very best Japanese restaurants in Bali for when those umami urges hit.
The best Japanese restaurants in Bali: Editor's Picks
1. Hamabe – Nusa Dua
Not only famous for its Teppanyaki tables (yes, there's more than one!) Hamabe at The Westin Resort knows exactly how to entertain its diners with culinary performances galore. For starters, this dazzling restaurant is designed to depict a Japanese village street: on one side of the dining room sits a long sushi and sashimi counter, whilst on the other, a Robatayaki station sizzles and smokes as delicacies are seared on the grill. Then, as the main event, the calls and clatters of the Teppan are ever-present, alongside the oohs and aahs from the very satisfied diners. And did we mention, there's an extensive selection of sake too? Keep your eyes peeled, because soon, Hamabe will also be unveiling a brand new Shabu Shabu station…
Hamabe at The Westin Resort Nusa Dua, Kawasan Pariwisata Nusa Dua BTDC Lot N-3, Benoa, p. +62 361 771 906 / +62 811 3820 8841, e. [email protected]; Open daily 5.30pm – 9.30pm.
2. Nampu – Nusa Dua
With its rustic Izakaya vibes and elegant interiors overlooking the manicured gardens of Grand Hyatt Bali in Nusa Dua, Nampu isn't your typical Japanese restaurant. Step inside this upscale destination and you have the choice of three different dining experiences: dine beside the interactive sushi bar in the main dining room, sit front-row at the teppanyaki grill for a theatrical eight-course show of fire and Japanese flavours, or, if you're dining in a group, there's even private Tatami dining rooms. Whichever you choose, you'll feast on authentic Japanese dishes that stay true to Japanese culinary traditions. All dishes are a work of art, meticulously prepared and served by the talented chefs. Start with the Sashimi Moriawase platter, then move on to the charcoal-grilled Sumiyaki meat or fish, and finish with the velvety tofu cheesecake. Top tip: pair your Japanese degustation with a high-quality sake, exclusively imported all the way from the foot of Mount Hakkai. And the best bit? Despite the high quality dishes and five-star setting, a dinner at Nampu is surprisingly affordable. We'll raise a sake to that!
Nampu at Grand Hyatt Bali, Kawasan Wisata Nusa Dua BTDC, p. +62 361 77 1234, e. [email protected]; Open daily.
3. Yuki – Canggu & Uluwatu
Tuna truffle maki roll, Wagyu beef yakitori and even vegan teriyaki pumpkin – Yuki is a modern Japanese izakaya with some of Bali's biggest hospitality names behind it. And it shows. In Canggu, Yuki's boundary-pushing menu is served up right beside the seaside; a fusion of fine ingredients and contemporary twists, topped off with an impeccable drinks list and a nifty fit-out too. To find this breezy beachfront spot, follow the beautiful Canggu crowds to the Batu Bolong seafront, where classic cocktails, cold beers and hot sake are served up alongside Japanese aesthetics and some of the best Japanese bites around. And psst – Yuki is now open in Uluwatu too!
Yuki, Canggu: Jl Pura Dalem, Batu Bolong Beach, p. +62 811 3960 8556; Open daily from 11am ⏐ Uluwatu: Pecatu, p. +62 811 3960 8557; Open daily from 4pm.
4. Sushi Koen – Seminyak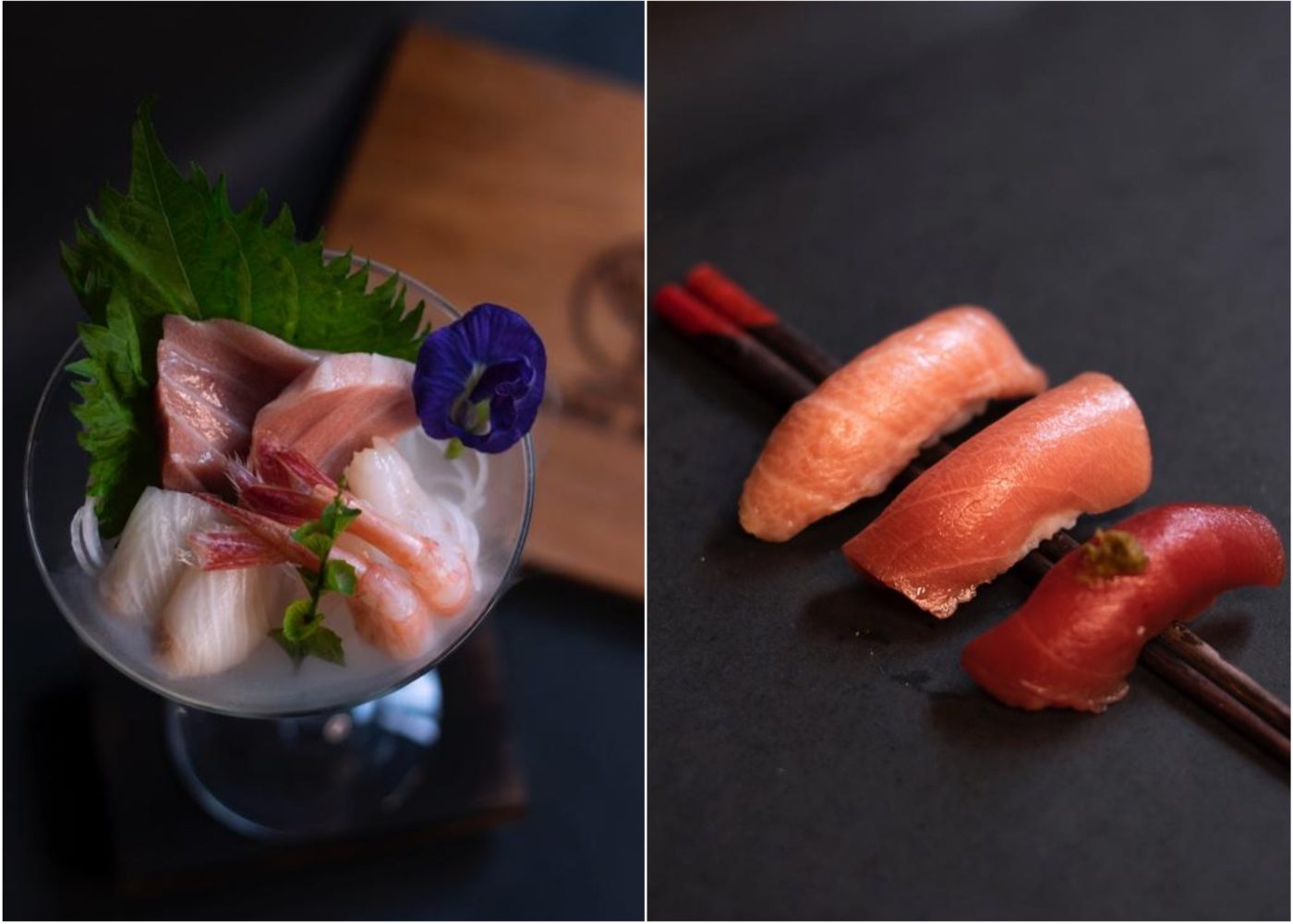 For an authentic and award-winning Omakase dining experience, head to Sushi Koen in Seminyak. Sitting in the heart of Petitenget, this spectacular Japanese restaurant prides itself on perfectly crafting each and every bite by using premium grade ingredients, both locally and imported directly from the Toyosu Market in Japan. And while the Omakase experience is our fave, you'll also find plenty of a la carte dishes too, from sashimi, ramen and tempura, to the chef's signature Premium Donburi rice bowls. Try the Bluefin Otoro sushi, the fresh Akami nigiri, the Chutoro sashimi, and of course, that Sushi Koen Special Donburi with chopped prime tuna, uni, salmon roe and A5 Beef Aburi with vinegar rice. All of this is then served up in a sleek, stylish and oh-so comfy atmosphere, best enjoyed with Sushi Koen's specialty Japanese cocktails. Kanpai!
Sushi Koen, Jl Petitenget N0.106, Seminyak, p. +62 361 8499 799 / +62 821 4502 8679, e. [email protected]; Open daily 5pm – 11pm.
5. Shichirin – Ubud
For an authentic Japanese Konro grill slinging charred meats and veg, check out Shichirin in Ubud – a casual take on a Japanese BBQ, where your food is dramatically grilled table-side. Showcasing traditional Japanese cooking techniques – like teppanyaki and gyukatsu – this 16-seat restaurant is all about high quality, fresh ingredients, carefully prepared with true Japanese flavour. Start with the hibachi enoki maki drizzled in teriyaki and yakiniku, or the sashimi set with tuna, salmon, white snapper, scallop and ebi. Then, try the signature Black Cod in saikyoyaki miso with torched lemon. Our fave? The Gyu katsu, featuring melt-in-your-mouth breaded santuri Wagyu that you can cook on your own hot plate, served with three different dipping sauces. It goes without saying, you can't go wrong with any of the desserts or Japanese-inspired cocktails, which use ingredients like wasabi, yuzu, shiso and sake.
Shichirin Ubud, Jl Bisma No.888x, Ubud, p. +62 813 3888 6513, e. [email protected]; Open Mon – Thu 4pm – 11pm & Fri – Sun 12pm – 11pm.
The best Japanese restaurants in Bali: IZAKAYAS
Japan's urban neighbourhoods are best known for their buzzing nightlife and boozy izakayas. Similar to a bistro bar, izakayas are small and cosy restaurants and bars, usually open in the afternoon until late for an after-work hangout spot. As for the food? Casual bites and staple street food reigns supreme, like crispy tempura and takoyaki, all in small share-style plates (think Japanese tapas). Look for three things in an izakaya-inspired restaurant: good food, bustling vibes, and most importantly, great company!
6. One Eyed Jack – Berawa
A playful take on a Japanese izakaya and sake bar, One Eyed Jack is a culinary underdog. While its aesthetic is all about casual shared plates in a cool and vibey setting, make no mistake – One Eyed Jack means business. The menu is the work of a Noma-trained chef, serving up a mix of traditional and modern fusion fare like spicy tuna bites on crispy rice with rich droplets of eel sauce. Pair it with shochu or sake and soak up the stylish minimalist ambiance. We can't get enough…
One Eyed Jack, Jl Pantai Berawa No. 89C, Canggu, p. +62 819 9929 1888, e. [email protected]; Open daily from 3pm.
7. Izakaya by OKU – Nusa Dua
When Izakaya by OKU first opened its doors in Nusa Dua at The Apurva Kempinski, it felt like the entire island was lining up to try its fine dining signatures. And boy, it did not disappoint. An outpost of the award-winning OKU Japanese Restaurant in Jakarta, Izakaya by OKU brings all of the flagship's finest creations to the island, this time served up in a dynamic and casual atmosphere that reinvents a typical izakaya. With its bistro-chic setting and fab open-kitchen taking centre stage, feast on Aburi Wagyu Sushi, Teriyaki Chicken and truffled Gyūdon. Or, for a super spesh experience, go for the Chef's six-course "OKU" degustation menu.
Izakaya by OKU at The Apurva Kempinski, Jl Raya Nusa Dua Selatan, Sawangan, Nusa Dua, p. +62 361 209 2288, e. r[email protected]; Open daily 12pm – 10.30pm. 
8. ShiShi Izakaya Lounge – Seminyak
You may know it as one of Bali's most upscale nightclubs, but did you know that ShiShi also serves up a scrummy feast in its Izakaya lounge on the ground floor? Yep, pre-gaming has never looked so good, with Japanese flavours, Izakaya-style nibbles and delectable sushi and sashimi served up in a glittering space. Think crispy squid, spicy tuna tartare and yakitori chicken slathered in teriyaki sauce. And when you're all fuelled up, put those dancing shoes to work and head upstairs where the DJ and dance floors await…
ShiShi, Jl Petitenget No. 208x, Seminyak, p. +62 819 1888 8059; Open daily from 6pm.
9. Nagisa Japanese Restaurant – Nusa Dua
If a laidback and authentic Izakaya is your kinda thing, then Nagisa Japanese Restaurant at Hotel Nikko Bali Benoa Beach will be right up your eating alley. In true izakaya style, the menu is uncomplicated, reasonably priced, and designed for nibbling and grazing, using locally sourced ingredients wherever possible. And to add to the authenticity, the restaurant observes "omotenashi" – the Japanese principle of sincere and wholehearted service. The highlights? Try the robatayaki, the teppanyaki and the sushi rolls, all best enjoyed with the carefully curated selection of sake, shochu, Japanese whisky and beer.
Nagisa Japanese Restaurant at Hotel Nikko Bali, Jl Pratama No. 68X, Tanjung Benoa, Nusa Dua, p. +62 821 4612 2818, e. nag[email protected]; Open daily 12pm – 10pm.
10. Yatta Izakaya – Ubud (currently closed)
Yatta Izakaya is just one of the culinary showstoppers from celeb Indonesian chef, Mandif Warokka, and with Yatta Izakaya, he introduced fine Japanese food to the Ubud 'hood. Dished up Izakaya-style, every dish at Yatta (all 200!) is designed to tell the stories of Japanese culture, rituals, memories and people. You'll have to try it to know exactly what we mean, but just be sure to graze your way through the sushi and sashimi, the create-your-own tempura, and the selection of smokey Yakitori…
Yatta Izakaya at Pertiwi Resort & Spa, Jl Monkey Forest, Ubud, p. +62 361 978 189, e. [email protected].
11. Izzy Izakaya Street – Sanur (currently closed)
So much more than 'just' an epic Japanese restaurant, Izzy Izakaya Street is home to an entire street's worth of authentic Japanese cuisine. Inspired by Kyoto's street food culture, it's the first of its kind in Indonesia, where you can bounce from six different dining destinations throughout the evening for a taste of absolutely everything. Step through the red gates and you'll find a spacious outdoor setting, street food stalls, lanterns and Japanese carp-shaped windsocks, AKA koinobori. Start at the deep fried bar before meandering to the indoor and intimate Ikigai sushi restaurant. Continue your food tour with ramen, yakitori and teppanyaki, before wrapping it up at the dessert shop. Thirsty? There's even a pub on the street slinging cocktails with Japanese twists, as well as weekly kids activities and live music to keep the Kyoto vibes alive…
Izzy Izakaya Street, Jl Bypass Ngurah Rai No. 274, Sanur, p. +62 812 3985 7570, e. [email protected]; Open daily from 4pm.
The best Japanese restaurants in Bali: SUSHI & SASHIMI
Arguably the most popular Japanese staples, sushi and sashimi have earned cult-status around the world, Bali included. Sushi is typically rolled with vinegared rice and plenty of fillings, whereas sashimi is a delicacy of raw sliced seafood and sometimes meat or vegetables too. The traditional – and difficult to master – techniques are designed to honour the freshest produce and key ingredients. Expect beautiful presentation, colourful produce and some nifty handiwork too – sushi and sashimi is considered an art form in Japanese culture.
12. TAKE restaurant – Kuta
Bali's first and most authentic Japanese restaurant, Take is committed to shining a light on the freshness of the produce they serve. Expect only the very best ingredients as chef Kiyomi Okamoto frequents the market and hand picks ocean delicacies and fine meats himself. With over 500 items on the menu, from sashimi and sushi to live seafood, there really is something for every palate here. Psst – Take is Japanese for bamboo, and so it's used in the cooking philosophy as well as in the restaurant's island-style furniture and decor. Love!
TAKE, Jl Patih Jelantik Legian, Kuta, p. +62 361 759 745 / +62 896 0267 3570; Open daily 12pm – 10pm.
13. TYGR Sushi – Canggu & Ubud
Next-level nori rolls and super-cool sushi plates are top-of-the-bill at this hand-roll bar. Everything is made fresh (there's no questionable sushi train here) with made-to-order, rolled-right-in-front-of-your-eyes hand rolls with still-warm nasi, shatteringly crisp nori, and oh-so fresh fillings. All of this is housed inside industrial-Japanese interiors, and it goes without saying, a Sake or ice-cold Sapporo tops it all off.
TYGR Sushi, Canggu: Jl Pantai Berawa No. 999X, Berawa (p. +62 813 3916 3894) & Jl Pantai Batu Bolong No. 55, Canggu (p. +62 881 196 5635); Open daily 11am – 11pm ⏐ Ubud: Jl Penestenan, p. +62 811 389 406; Open daily 8am – 10pm.
14. Indigo – Berawa
Always hot on the lips of Bali's resident foodies, Indigo is Canggu's upscale Japanese restaurant that sits boldly on the main Berawa strip with a stunning Japanese structure as its frontage. Step inside and it's a breathtaking horizon of modern indigo-coloured furniture, minimalist wooden furnishings, and Japanese shoji-style doors. As for the food, expect fresh ingredients and a slight European influence. The sushi and maki tastes just as good as they look, with each plate more beautiful than the last and bursting with colour, flavour and texture. Top tip: try the sublime Yakimono dishes cooked over the charcoal grill…
Indigo, Jl Pantai Berawa No. 7A, Canggu, p. +62 819 9888 8018; Open Mon – Sat 12pm – 3pm & 6pm – 11pm.
15. Enso – Canggu
Fuelling our sushi obsession, Enso sits in the heart of Canggu, dishing up authentic and delicious Japanese food done just as it should. Think takoyaki, tataki, soba and sushi, served in a stunning Japanese-style space with quintessential clean lines, uncluttered aesthetics and a backdrop of light wood. Our menu faves? Try the Golden Roll and the Unagi Tartar, the Salmon Empire Roll, and the tuna tataki that looks *almost* too good to eat. And psst – there's plenty of vegan dishes for plant-based diners too!
Enso, Jl Tanah Barak No. 19, Canggu, p. +62 812 3909 1550; Open daily from 1pm – 10pm.
16. The Black Box Provisions – Canggu
Honestly, we don't even know where to begin with this one. The branding, the packaging (plastic-free, FYI), the epic menu and the ridiculously scrummy sushi that ranges from all-vegan to raw and cooked too – it's all indescribably delicious. Yup, The Black Box Provisions almost has us speechless, and not just because of the crazy amounts of sushi we've been shoving into our mouths. What started as a mere pop-up concept has taken off so quickly and fiercely, that it is now an official resident within Canggu's Restaurant Naga. Believe us when we say you'll want to try everything on the menu here, including the vegan sushi…
The Black Box Provisions, Jl Karang Suwung No. 1, Canggu, p. +62 813 3889 5675; Open daily 12pm – 11pm.
17. Shaka Riki – Uluwatu
This laid-back and breezy Japanese restaurant brings awesome sushi and authentic Japanese bites to Uluwatu. With its smooth and welcoming service (think complimentary miso soup and cold towels on arrival) paired with an enormous menu of top-notch sushi rolls (maki, hand rolls and vegan rolls too), plus combo plates and Japanese staples, Shaka Riki is regularly buzzing with big crowds and post-surf, family vibes.
Shaka Riki, Jl Labuan Sait No. 34, Pecatu, Uluwatu, p. +62 877 4335 9142; Open daily 3.30pm – 10pm.
18. Ryoshi – Seminyak, Sanur, Ubud and Kuta
One of the first Japanese restaurants in Bali, Ryoshi rolls and whips up all of your fave Japanese dishes, including sushi platters, tataki and Japanese-style carpaccio. The maki rolls are stuffed with a selection of scrummy fillings – try the Spider Maki with soft shell crab tempura fried to a crisp – and we also love the sweet yet savoury inari sushi; sushi rice wrapped in fried tofu. For extra freshness on Bali's balmy days, pair your sushi and sashimi with a side of cold soba noodles. Drop by the Seminyak hub on Monday and Friday nights for one of the best live jazz performances on the island…
Ryoshi, multiple locations island-wide. 
19. Kunti Sushi Bar – Kerobokan
Taking Japanese culinary art to another level, you'll find sushi and sashimi galore at Kunti's two island-based sushi bars. At Kunti 3 Sushi Bar you'll find sushi in a bowl (AKA sushi don), classic sushi rolls, and plenty of sushi and sashimi platters to share. Feel like going all out? Try the whole set of Sashimi on the Boat, with expertly prepared sashimi and salmon roe sushi. Order a selection of sake cocktails to get the full experience. Kanpai!
Kunti 3 Sushi Bar, Jl Raya Semer No. 100, Kerobokan, p. +62 361 934 2131 / +62 816 582 849; Open daily 11am – 11.30pm.
20. Sushimi – Berawa, Seminyak and Uluwatu
Sushimi has taken Japan's famed sushi train and turned it into a cool and quirky restaurant concept. Sushi, sushi and more sushi – the chefs whip up classic as well as signature rolls from the freshest ingredients and delivery it via the rotating carousel. Choose from the a la carte menu, and if you're feeling adventurous, try Sushimi's own creations like sushi burritos and sushi donuts. Or, let your creativity go wild and customise your own rolls, complete with vegan and vegetarian options too.
Sushimi, Jl Pantai Berawa No. 101C, Berawa (p. +62 878 7878 0037), Jl Camplung Tanduk No. 4X, Seminyak (p. +62 361 737 816) & Jl Labuansait No. 8X, Uluwatu (p. +62 817 427 312); Open daily.
21. Ink Bali – Berawa (currently closed)
Set within the ever-expanding Tamora Gallery, Ink Bali is the only 'all you can eat' sushi destination in Bali. It dishes up Japanese comfort food in the heart of the Berawa 'hood, and it's a real hit with local and expat families in the area. An umami explosion of all things "oishi", here you can tuck into colourful fusion sushi, sticky Karaage chicken, ooey-gooey pork belly and alllll the buttery gyoza. And to really settle into Japan's comfort cuisine (it's quite easy) there's plenty of cocktails here too, equally Japanese-y and doubly delicious.
Ink Bali at Tamora Gallery, Jl Pantai Berawa No. 99, Canggu, p. +62 878 0012 9888, e. [email protected].
The best Japanese restaurants in Bali: TEPPANYAKI
Everyone loves a good ol' barbecue, but the Japanese have it down to an art – a performance art at that. With a clatter of steel here and a colossal whoosh of fire there, authentic Teppanyaki is one of the most theatrical dining experiences around. Prepared to be bedazzled by the chefs' sleight of hand, acrobatic teppan tricks, and (literally) explosive charisma that takes place right in front of your very eyes.
22. SONO Teppanyaki – Uluwatu
Juggled and drummed pepper shakers, flipped spatulas and flashy fireballs – SONO Teppanyaki at Anantara Uluwatu Bali Resort ticks all the boxes when it comes to a fiery Teppan feast – and the chefs know exactly how to put on an explosive show. Glamorously set on the top floor of this clifftop resort with just 14 hot seats positioned around two steel griddles, the chefs take to the stage. A rat-a-tat-tat of spatulas and chitter-chatter of knives marks the start of the show, with a constant beat of pepper shakers and intermittent hollas from the kitchen cast. Eggs are spun and juggled, vegetables are chopped and diced at lightning speed and – POOF – a circle of oil around a stack of onions is set ablaze in a ring of fire. Top-shelf produce is then whipped onto the Teppan. Whole bamboo lobsters turn a vibrant red while plump scallops glow golden as they sear in lashings of butter. Hot-off-the-grill, try the juicy black Angus beef, the enormous tiger prawns and the buttery Hibachi Lobster. Compliments to the chef indeed…
SONO Teppanyaki at Anantara Uluwatu Bali Resort, Jl Pemutih, Labuan Sait, Uluwatu, p. +62 811 399 5048, e. [email protected]; Open daily 6pm – 11pm.
23. Rayjin Teppanyaki – Seminyak
From the same people who brought us Kajin and Dahana (AKA two of Bali's best Japanese restaurants) Rayjin Teppanyaki is very well versed in the art of impeccable Japanese dining. Leading the pack when it comes to an affordable and utterly delicious night out, Rayjin Teppanyaki is without doubt one of our fave Bali restaurants. Why do we love it so much? Where do we start… There's  the modern-chic vibes and lively atmo, the "Omotenashi" Japanese hospitality and the consistently creative, exquisite cuisine. Expect high-ticket ingredients like Meltique beef and ocean-fresh scallops sizzling on the Teppan just an arm's length away, and watch them set ablaze in a burst of flames before being cleverly whipped, flipped and tossed with garlic fried rice until tender and juicy. Oh yes, Rayjin should be high up on your list for a fiery Japanese feast in Bali.
Rayjin Teppanyaki, Jl Petitenget No. 98x, Seminyak, p. +62 813 3918 1295, e. [email protected]; Open daily 12pm – 9.30pm.
24. Shima Teppanyaki & Shabu Shabu – Seminyak
Not only focused on the theatrics of Teppanyaki (though there's plenty of that too) Shima is all about the ingredients – top notch produce that's handled with precision. Letting pure, natural flavours speak for themselves, only a grind of salt or swift sprinkle of pepper is needed to refine the enormous fillets of high-grade Wagyu or juicy Australian lamb cutlets. Let the internationally trained chefs take the reins of the doneness, or get involved and have your plate of choice cooked exactly how you like it.
Shima Teppanyaki & Shabu Shabu, Jl Petitenget No. 5E, p. +62 859 5858 7396, e. shimat[email protected]; Open daily 12.30pm – 10.30pm.
25. Edogin – Nusa Dua
The crème de la crème of Japanese fine dining, Edogin at The Mulia is perhaps the most refined Teppanyaki experience on the entire island. For starters, this ultra-luxe restaurant is set within the palatial grounds of what's been ranked the world's best beachfront resort multiple years running, so naturally, first-rate cuisine and expert service comes as standard. On top of that, expect lavish gourmet delicacies and the most flamboyant theatrics, and swing by on a Friday, Saturday or Sunday night to experience an uber-indulgent Teppanyaki buffet.
Edogin at The Mulia, Mulia Resort & Villas, Jl Raya Nusa Dua Selatan Kawasan Sawangan, Nusa Dua, p. +62 361 301 7777, e. [email protected]; Open daily 6pm – 11pm.
26. Tenkai Japanese Nikkei Restaurant – Legian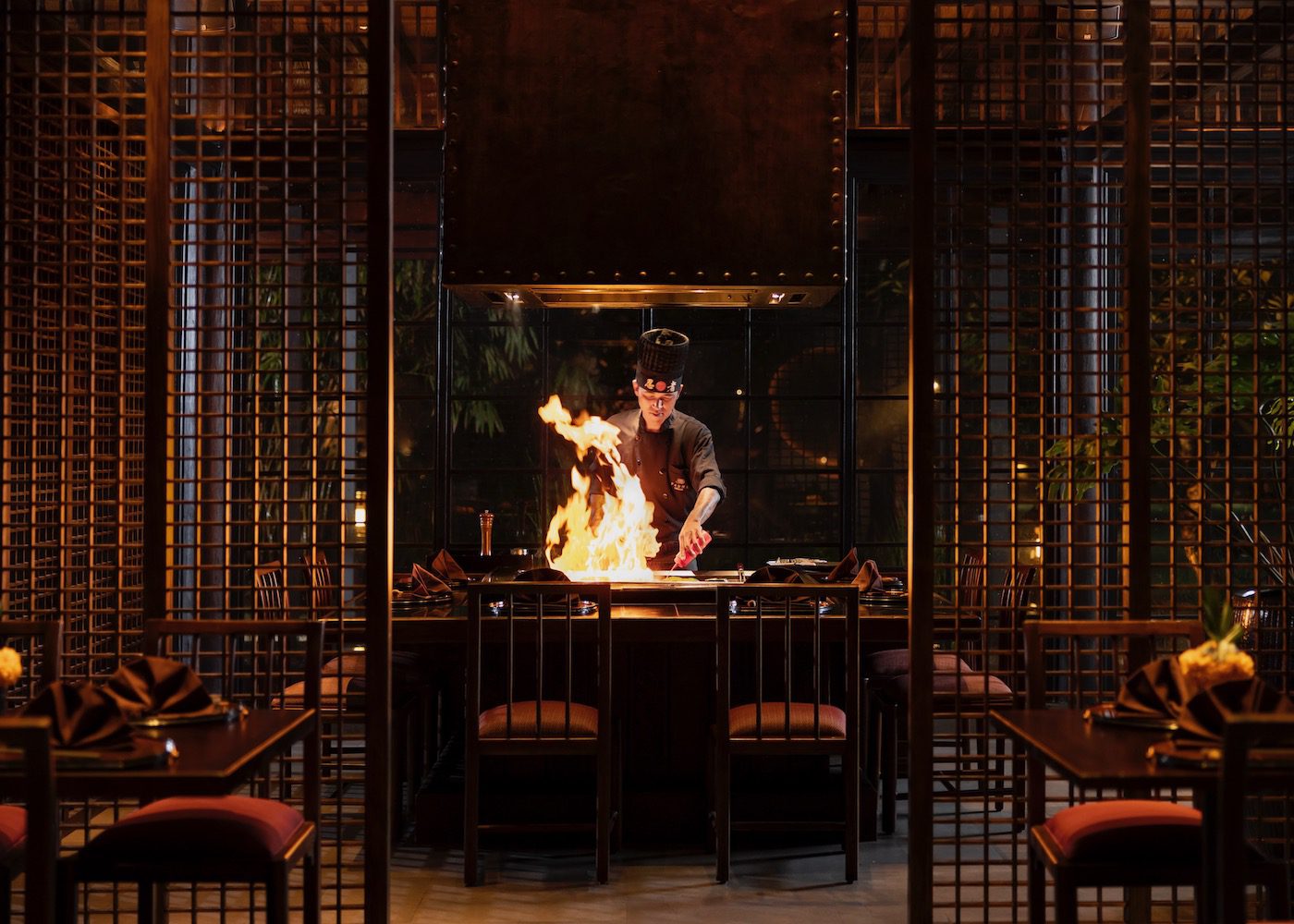 A firm favourite for Bali's Teppan fans, the chefs at Tenkai Japanese Restaurant whip up a performance as engrossing as the feast they lay in front of you. There are flips, tricks and explosive stunts, and that's before we even mention the food. The tuna medallion alone is worth making the trip into town, as is the Bamboo lobster that's as big as it is juicy. Wrap it all up with stunning interiors and an uber romantic setting and you'll see exactly why Tenkai has hit this list.
Tenkai at Padma Resort Legian, Jl Padma No. 1, Legian, Kuta, e. [email protected]; Open daily 1pm – 5.15pm & 6pm – 11pm.
27. KO Japanese – Jimbaran
At the InterContinental Bali Resort's award-winning Japanese restaurant, the focus here is on contemporary yet authentic cuisine served up in an unconventional atmosphere – unconventional because unlike most Japanese restaurants, this one features a subtle infusion of Balinese architecture. In true Japanese style however, two Teppanyaki counters sit at the restaurant's heart, helmed by an Executive Chef who's been trained under the guidance of famed Japanese kitchen gurus and has worked at several world-renowned Nobu restaurants. Try his "KO Special" set dinner menu and feast your way through multiple courses of prawns, mussels, beef, Barramundi and more.
KO Japanese at InterContinental Bali Resort, Jl Uluwatu No. 45, Jimbaran, p. +62 811 3820 8768; Open daily 6.30pm – 10.30pm.
The best Japanese restaurants in Bali: RAMEN
Originally from China, ramen has now earned a reputation as one of Japan's national dishes, all thanks to its popularity and refined takes. This warm and comforting staple is made up of wheat-based noodles in a meat or veggie broth, perfect for a cold rainy day. You'll find plenty of ramen variations out there – from classic shoyu or miso base, to a fusion of international flavours, topped off with karaage, pork, tofu, or veg… the world of ramen is your oyster!
28. Mad Ronin – Seminyak & Canggu
It feels like only yesterday that we first slurped on the epic tonkotsu ramen at Mad Ronin in Seminyak. And now, after multiple years and countless bowls of steamy Japanese deliciousness, the Mad Ronin masterminds have a second outlet in Canggu too: on the buzzing Batu Bolong strip. At both addresses, you'll find all of your fave Mad Ronin ramen signatures, plus vegan and veggie ramen, and donburi. To find these cool ramen hotspots? Look for the artsy murals out front…
Mad Ronin, Jl Pantai Batu Bolong, Canggu, & Jl Petitenget No. 7, Petitenget; Open daily from 11am.
29. Menya Kenji – Berawa and Seminyak
Menya Kenji knows that the secret to a great ramen is the broth, so unsurprisingly, the broth here is on another level. The team of chefs from Fukuoka whip up a signature chicken and pork broth, in four different ramen variations: the Kenji Signature Ramen featuring their signature blend, the Curry Ramen that fuses a traditional Japanese curry, the Dan Dan Men for spice addicts, and the Kara Kara Men that comes with a hint of seafood. Each bowl is then topped off with a gooey soft boiled egg and all the yummy toppings. Top tip: this ramen restaurant also doubles up as an Izakaya-inspired bar, serving cocktails using Balinese arak, plus bar snacks like chicken karaage and gyozas. Kanpai!
Menya Kenji, Jl Pantai Berawa No. 13B, Canggu (p. +62 811 9525 857) & Jl Petitenget No. 106A, Seminyak (p. +62 811 8121 5050); Open daily from 11am.
30. Ramen Dake – Umalas
Hungry for a fuss-free Japanese feast? Ramen Dake dishes up all of our Japanese favourites, with ramen as the star. Each bowl of ramen is created using the house-made triple flour noodles, shoyu egg, nori, mushrooms, a dash of black garlic oil and a sprinkle of sliced spring onions. Start with plump edamame with spicy seaweed furikake. Then, move on to the classic Tantan Ramen with sesame chilli broth, steamed greens, and your choice of chicken or pork. Or, choose the vegetarian friendly Mushroom Shio, with grilled oyster mushrooms and pickled shimeji mushrooms. Hot tip: top it all off with the house-made chilli paste for extra kick! And when you need to cool down, end the meal with a Matcha Ice Cream that's topped with corn flakes and lychee, and a sweet-salty combo of miso butterscotch.
Ramen Dake, Jl Bumbak No. 76, Kerobokan, p. +62 811 344 641; Open daily 11am – 10pm.
31. 101 Ramen Yakitori Bar – Berawa (currently closed)
Handmade noodles, just-steamed dumplings and stacks of freshly grilled yakitori sticks with a sticky charred skin: 101 Ramen Yakitori Bar brings the best of Japan to Berawa. Served up in an industrial space with a long bar, open kitchen and communal tables, here you can graze on 13-hour pork broth ramen, sichuan-spiced pork gyoza and pork belly yakitori – topped off with a potent cocktail list. You'll want to invite your veggie friends here too, because 101 has also whipped up a vegan coconut ramen with a chilli-lemongrass broth, plus vegetarian mushroom and tofu gyoza and even chashu tempeh yakitori. Oishi!
101 Ramen Yakitori Bar, Jl Pantai Berawa No. 101A, Canggu, p. +62 813 3850 6010; Open daily 10.30am – 11pm.
The best Japanese restaurants in Bali: FUSION
Quirky creations and bold yet complimentary flavours… Japanese fusion is a must-try for all adventurous foodies out there! From Asian fusion to Latin American-Japanese combos, here's where you can sample your way through the most unique blends of Japanese-inspired cuisines on the island.
32. The Sayan House – Ubud
This foodie gem is just ten minutes from downtown Ubud with panoramic views of the surrounding jungle that borders the dramatic Sayan valley. Expect casual fine dining here with a fantastic fusion of Latin-Japanese cuisine. We're talking foie gras Nigiri sushi and tempeh tempura tacos. YUM. And FYI, the breezy bar teetering on the edge of the gorge is exceptional for a stunning sunset…
The Sayan House, Jl Raya Sayan No. 70, Sayan, Ubud, p. +62 361 4792 592, e. [email protected]; Open daily 12pm – 11pm.
33. Ji Terrace by the Sea – Canggu
Asian-fusion bites, boho-chic vibes and the crème de la crème of killer ocean views – Ji Terrace By The Sea really has it all when it comes to wining, dining and sunset swooning in Canggu. This breezy and beautiful rooftop spot is crammed full of cultural flourishes, colourful design touches, and of course, some of the best Japanese fusion food on the island. Try the signature Dragon of Ji sushi roll (a chopstick treat of crispy ebi tempura, slick avocado slices and a creamy, slightly spicy sauce) and the beautifully seared Tuna Tataki. You'll also want to sip on the smokin' Coco Sexo (inspired by the volcanoes of Indonesia) and – our favourite – the Gin & Tea with Javanese tea and herb-infused gin.
Ji Terrace by the Sea, Jl Pantai Batu Bolong, Canggu Beach, p. +62 811 388 9599, e. [email protected]; Open daily 12pm – 11pm.
34. Kyoka Japanese Kitchen – Ubud
Colourful cocktails, crispy katsu and supersized sushi rolls – Kyoka Japanese Kitchen had us at konnichiwa! This homely Kyoto-style restaurant is where it's at for modern-fusion Japanese staples, plus specialty sake and Japanese whiskey too. Think sticky chicken yakitori, crunchy tempura, and ocean-fresh sashimi, or the signature Nabeyaki Udon and cold Hiyasi Somen noodles with crispy veggies. We love the spicy tuna roll, the fresh-made Kyoka gyoza and the Tonkotsu Ramen, best paired with Kyoka's siganture cocktail Hakutini. Kanpai!
Kyoka Japanese Kitchen, Jl Dewi Sita, Ubud, p. +62 361 971 056, e. [email protected]; Open daily 11am – 11pm.
35. Seasalt – Seminyak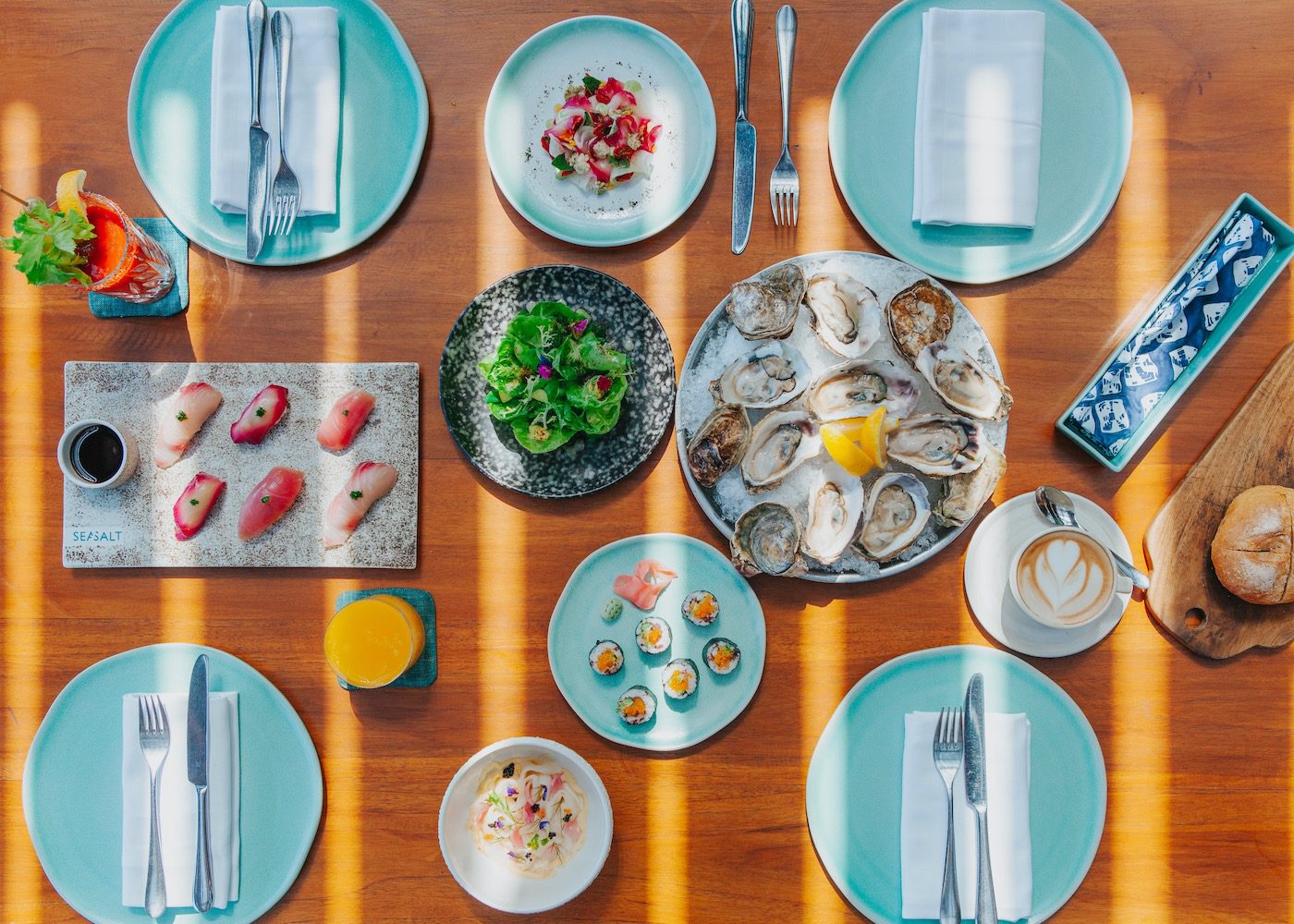 Seasalt is Seminyak's ocean- and Japanese-inspired restaurant that we've fallen head over flip flops for. It's located right on the beachfront at Alila Seminyak, with endless ocean views and an ever-present sea breeze as company. Beachy, chic and also home to one of our fave Sunday brunches in Bali, this fabulously fresh seaside restaurant is a must-try, with sublime Japanese-infused dishes. It goes without saying that sundowners here are unparalleled, with exceptional designer cocktails that follow a strict zero-waste concept. Cheers to that!
Seasalt at Alila Seminyak, Jl Taman Ganesha No. 9, Petitenget, Seminyak, p. +62 361 3021 889 / +62 811 3867 544, e. [email protected]; Open daily.
36. Tabu – Uluwatu
Mexico meets Japan at Tabu – one of the most elegant dining destinations in Uluwatu. Brought to us by the unstoppable Ours Group (the peeps behind Ours restaurant and Our Spa) none of the Ours flair or flavour has been lost at this foodie hotspot. Think smoked salmon sashimi, jalapeno hamachi nigiri and all sorts of fusion sushi rolls. And of course, the cocktails are not to be missed either. And it goes without saying, you'll need to make a reservation here, as this place is booked out most nights.
Tabu, Jl Labuansait No. 10, Pecatu, Uluwatu, p. +62 813 5800 9090; Open daily from 5pm.
37. SugarSand – Seminyak
Beachy, boozy and best enjoyed with friends, SugarSand is Seminyak's all-day sunshine destination that's brought Japanese-fusion dining to the easy-breezy seaside. Serving up Izakaya-inspired, avante-garde cuisine, you could easily spend many sunshine-soaked days here, lapping up the live music, the next-level cocktails, and of course, the sublime food. Taking centre stage at SugarSand is locally-sourced produce from both land and sea, plus plenty of other Japanese-inspired delicacies for good measure. Try the Kiwami Maki, the Gindara Miso and anything from the charcoal grill.
SugarSand, Jl Camplung Tanduk No. 10, Seminyak, p. +62 813 5369 5640; Open daily 7am – 11pm.
38. Sando Sando (currently closed)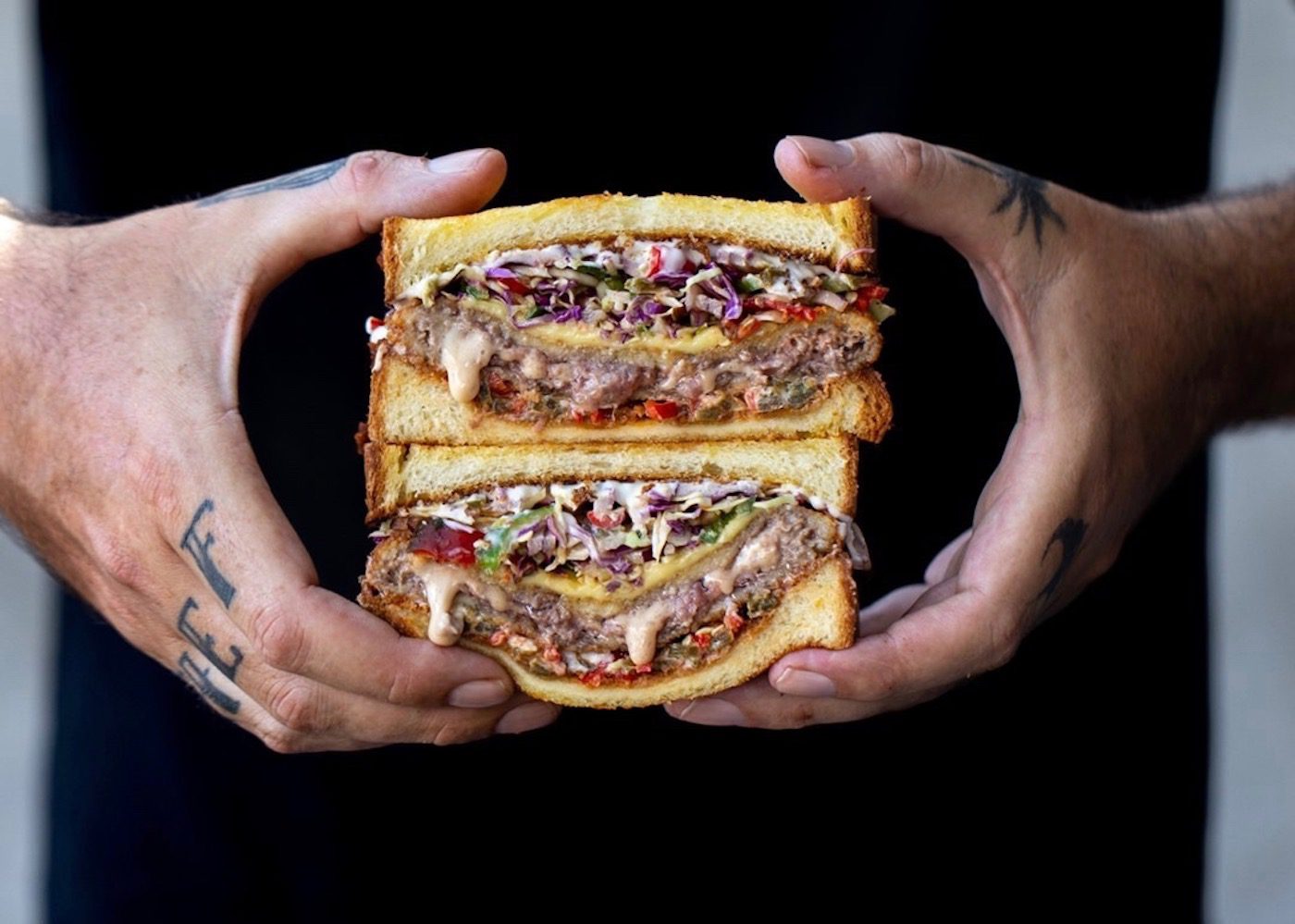 Three of our biggest loves? Chunky sandwiches, crunchy Japanese katsu and great beer. So what did Sando Sando go and do? They brought these three beauties together. The result is a menu of enormous Japanese-inspired sandos, stuffed full of ooey-gooey deliciousness like katsu mozzarella, spicy chicken and succulent pork covered in slaw and panko breadcrumbs. Pair a Sando Sando creation with a local Kura Kura beer and you've got yourself a winner.
Sando Sando (delivery only), Denpasar (WA +62 857 1189 4857) and Seminyak (WA +62 812 3706 5770).
Love the look of these Japanese restaurants in Bali? Check out our fave Chinese restaurants too!