From luxury cliffside accommodation to chic abodes on the beach, these are the very best villas in Uluwatu, Bingin, Balangan & beyond...
Crashing waves, surfer cafes, glamorous spas and a beautiful temple on the cliff's edge – there are SO many things to see and do in Uluwatu, AKA south Bali's Bukit peninsula. A surfer's paradise, this clifftop neighbourhood is where it's at for stunning beaches, ocean views, and stylish sunset bars where locals and expats mingle over a shared love of sun, sand and sea. All of this, and that's before we mention the plethora of world-class villas and boho abodes that sprinkle the quiet streets of Uluwatu, Bingin, Balangan and Padang Padang.
So, if catching waves or catching up over coffee is on your Bali itinerary, you'll want to book a fabulous place to stay in Uluwatu. And to help you on your search, we've found the very best private villas in Uluwatu. From luxury, modern accommodation with the best views in the 'hood, to humble abodes by the beach – here's where to stay on Bali's Bukit peninsula. And psst – if you'd rather stay in a resort, check out our guide to Uluwatu's best hotels too!
THE BEST VILLAS IN ULUWATU
– Where to stay in the Bukit –
1. Jellyfish Villas
1 or 2 bedrooms
Location: Bingin
A collection of just six bamboo abodes surrounded by lush tropical gardens, Jellyfish Villas in Bingin is all about slow-living, where you can lounge by your private pool, meander to the onsite Banana Lounge restaurant for your morning coffee, or stay in bed all day with the help of the e-butler services. Stay with bae in one of the one-bedroom pool villas, or bring your friends and go big with the two-bedroom abode. We love that every villa is decked out in natural materials – from white stone to bamboo – then topped off with luxe bathroom amenities, contemporary furnishings, fluffy towels and top-quality linens. Best bit is, you're always just footsteps from the main entrance to Impossibles Beach, not to mention, you have all the delicious food, fab cocktails and poolside BBQ vibes of Banana Lounge right on your doorstep. Did we mention, Jellyfish Villas and Banana Lounge double up as a fab wedding venue too?
2. Casa Sula
3 bedrooms
Location: Bingin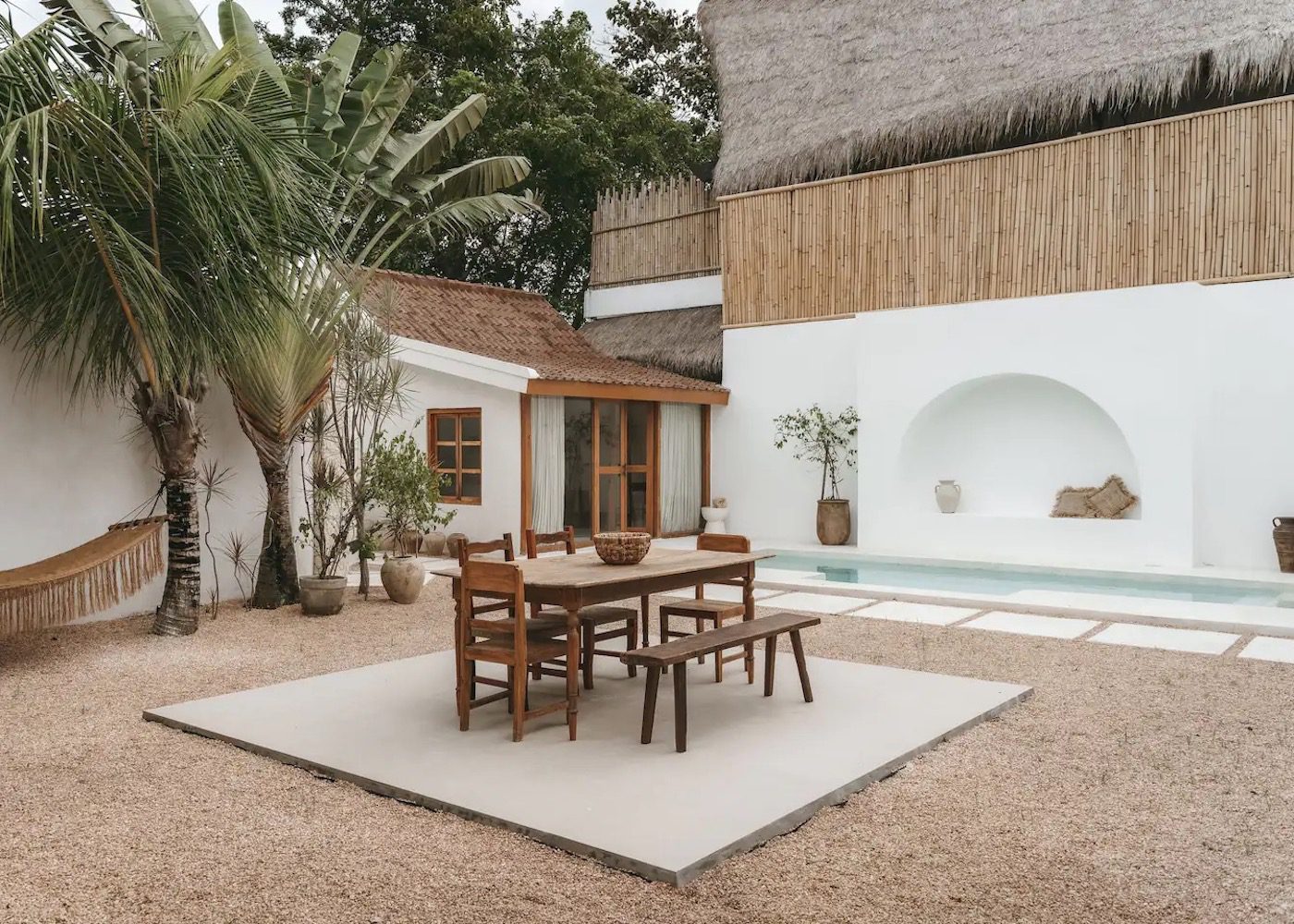 Rustic, elegant and dripping in Mediterranean style, Casa Sula is a three-bedroom villa for up to six lucky guests. This bohemian casa is conveniently located just minutes from Bingin beach, surrounded by chic restaurants and boutiques. Step inside, and it's a whitewashed horizon of outdoor living, with a patio and dining table taking centre stage beside the aquamarine private pool. Head indoors and you'll find a semi-open living and dining room, a fully equipped kitchen and two elegant bedrooms, each with their own bathroom. The third bedroom is then located in its own standalone casa – perfect for that little extra privacy, peace and quiet…
3. Uluwatu Surf Villas
1, 3, 4 or 5 bedrooms
Location: Uluwatu
Standing above Bali's most iconic surf break – made famous by the 1960s flick "Morning of the Earth" – Uluwatu Surf Villas is a favourite amongst surfers, yogis and even celebs. Salute the sun in the morning with the view of the sparkly Indian Ocean below, before tucking into a healthy brekky bowl and an almond latte on your private terrace. Then, take a short walk down to the beach where at low tide, you can find caves, rock pools and a lively reef. Just be back in time for sunset, because these villas get a front-row seat to the nightly show, while the resort's infinity pool and signature restaurant – Mana Uluwatu – slings epic cocktails and some of the best tacos in town.
4. Bingin Cliff House
4 bedrooms
Location: Bingin
For the perfect mix of luxury living and barefoot beach vibes, you'll want to book Bingin Cliff House. This four-bedroom villa is designed with the ultimate beach life in mind: show-stopping ocean views, a limitless horizon of world-class surf, and Bingin's white sandy bay at your doorstep. Not to mention, a gorgeous villa to call home. Settle in to your comfy sofa at sunset and soak in the breathtaking golden rays with a cocktail in-hand. It's the perfect spot for a group of friends, and since the beach is just below, there'll be nothing on the itinerary except sun, sea and surf (and maybe a few bottles of bubbles).
5. Uluwatu Estate
8 bedrooms
Location: Nyang Nyang
As Asia's first Mandarin Oriental Exclusive Home, Uluwatu Estate is where you can live it up in The Bukit in celeb-style. It's an entire residence with plenty of space, perched high up on the clifftops above Uluwatu's famous Nyang Nyang Beach. Fringed by lush tropical gardens with panoramic views of the glittering ocean, the open-plan living areas pay homage to its surroundings. Meanwhile, upmarket amenities, six-star service and the eclectic decor are inspired by Coco Chanel's view on luxury: "Luxury must be comfortable, otherwise it is not luxury". Expect signature handcrafted bath sets, state-of-the-art technology (hellooo Netflix, Apple TV and video games), and an ocean-view infinity pool with luxe lounges. There's even a private chef who'll whip up a feast, as well as a spa and a fitness centre too.
6. Melali Bingin
1 or 3 bedrooms
Location: Bingin
A tropical home-away-from-home tucked away beneath the coconut trees of Bingin, Melali Bingin is a boutique accommodation just minutes from the beach. While you can choose to stay in either of the two suites or the private one-bedroom villa, we say, book the entire villa as a whole (three bedrooms) to get the full Melali experience. You'll be treated to homemade breakfasts each morning (trust us when we say that Melali's breakfasts are the best!), and the always-smiling staff will make sure you're never too far from a fresh coconut by the pool…
7. The Ungasan Clifftop Resort
5 bedrooms
Location: Ungasan
A breathtaking clifftop resort with views to die for, The Ungasan's villas are just as dreamy as its location. Alongside its one-bedroom suites, this luxury resort features an exclusive collection of spacious, five-bedroom pool villas: the Balinese-inspired Villa Ambar, the tranquil Villa Pawana, the colonial-style (à la the Hamptons) Villa Tamarama, the family-friendly Villa Jamadara, and the entertainment house, Villa Santai Sorga. Each villa comes with a private butler, in-room dining, spa treatments and yoga sessions, as well as priority access to one of Bali's best beach clubs; the one and only Sundays Beach Club.
8. The Young Villas
1, 2, 3 or 4 bedrooms
Location: Bingin
With a prime address just a stone's throw from Bingin beach, The Young Villas is a top pick for Bali's sunbathers and surfers. The Bingin location is home to seven luxury villas, each with their own tropical gardens, private swimming pools and of course, those Insta-famous interiors. You can choose to stay in the two- or three-bedroom villas, or bring the whole crew and rent out the four-bedroom show-stopper. We love the homey vibes of these chic villas, with cosy sunken lounges, fully-equipped kitchens and utmost privacy. And psst – The Young Villas are in Canggu too!
9. Hideaway Villas
1 or 2 bedrooms
Location: Ungasan
A secluded haven of private villas tucked away in the verdant hillsides of the Bukit, Hideaway Villas is exactly that – a hidden sanctuary of peace and quiet away from the hustle and bustle. The villas feature one or two bedrooms, each with a private pool and views of the lush gardens or panoramic scenery from the hilltop. Spend lazy days by the pool, treat yourself to an indulgent floating breakfast, or swing by the in-house spa to pamper yourself silly. And whenever you want to venture out of your villa, Uluwatu's most famous sights are just minutes away…
10. Yume Villas
1 or 2 bedrooms
Location: Bingin
Breezy and beautiful, Yume Villas in Bingin is a boutique collection of tropical homes; either one- or two-bedroom private pool villas that can be booked separately, or together for groups of up to six. These stylish villas are hidden away in a peaceful laneway, and decorated with handcrafted furnishings, local art and artisanal homewares. You can spend your days lounging in the open-air living area, or sun-soak on your private pool deck and day beds after a surf at the nearby break. By night, explore Bingin's very best restaurants, spas, bars and boutiques – all just minutes from your villa doorstep.
11. The Surga Villa Estate
13 bedrooms
Location: Ungasan
For a luxury stay with heavenly elegance, check out The Surga Villa Estate. This world-class estate is home to two spacious villas: the six-bedroom Villa Surga One and the seven-bedroom Villa Surga Two, each decked out with six-star amenities and Balinese touches. Villa Surga One is a botanical oasis, enveloped by lush gardens and an infinity pool overlooking the stunning cliff. Then there's Villa Surga Two, with panoramic ocean views and plenty of Instagram photo opps. You'll also have direct beach access from the estate, where you can stroll down to the sand in the late-afternoon to catch the sunset. And psst… If you're planning a Bali wedding, The Surga is a gorgeous wedding venue for up to 120 guests, with of course, plenty of accommodation for the wedding party!
12. Bandido Bali
1, 3 or 4 bedrooms
Location: Bingin
Think bamboo houses are only found in North Bali? Think again, because Bandido Bali houses not just one, but five bamboo abodes, all just footsteps away from Bingin Beach. This boutique villa resort is inspired by Bali's rich culture and natural landscapes, topped off by warm Balinese hospitality and utmost seclusion. We love the use of bamboo, recycled wood and local stones for that authentic Balinese experience. Our fave villa has to be La Pepe, with its lush gardens, fruit-bearing trees and enormous deck fringing the aquamarine pool. Hea-ven!
13. Villa Zyloh
2, 3 or 5 bedrooms
Location: Labuansait
A luxury collection of three villas located high up in the hilltops, Villa Zyloh's breathtaking abodes are inspired by modern-Mediterranean architecture, decked out in high-end amenities, white-wash saltwater pools, and even a cinema room. We love the three-bedroom Zyloh Sunset villa. The first floor is truly awe-inspiring, with its high ceilings, all-white living room and a kitchen that opens out to the outdoor lounge. You'll find two bedrooms with private en-suites, but you'll want to head upstairs to nab yourself the master bedroom, complete with its own walk-in wardrobe and giant bathtub. Come sunset, head out to the balcony for a chocolate fondue by the fire…
14. Mahi Mahi Beach Shack
3 bedrooms
Location: Bingin
Endless ocean views, designer interiors and an address right on the beach – Mahi Mahi Beach Shack is everything you'd expect from a beachfront holiday. While we love Mahi-Mahi's four-bedroom villa in the heart of Bingin, our fave has to be the Beach Shack, hidden down on the cliffs on Bingin Beach. This chic, three-bedroom villa is in prime position for sunset and surf-watching, designed in contemporary style with nautical aesthetics and Balinese accents – think alang-alang roofs, woven baskets and seashells in every corner. Top tip: raise a glass on the deck with friends, then meander down to the sands for a seafood barbecue on the beach.
Happy Bukit vacay, Honeys!
Love this list of the best villas in Uluwatu? Check out these Uluwatu hotels and resorts too!