If you're after a dreamy wedding destination that's a little more private than a standalone venue, then say yes to these luxury wedding villas in Bali...
Destination weddings are so-hot-right-now, with more and more loved-up couples looking to escape the norm with a dreamy wedding abroad. Unsurprisingly so, Bali is often at the top of those love lists, thanks to its paradisal beaches, its world-class restaurants and dramatic natural beauty all around.
We've already found some of Bali's most breathtaking wedding venues, but if you're looking for a more private and unique setting for your Big Day, then this list of Bali's Best Wedding Villas is for you and your boo. From stylish architecture and utmost luxury, to intimate ceremonies with ocean views and sunset cocktail receptions on a manicured lawn, Bali has some of the most gorgeous destinations for a villa wedding – and some even come with their very own wedding planners.
So read on and prepare to swoon, because here's our pick of the Top 11 wedding villas in Bali…
THE BEST WEDDING VILLAS IN BALI
1. Pandawa Cliff Estate  –  Bukit Peninsula
Designed by internationally acclaimed Bali architect, Popo Danes, Pandawa Cliff Estate sits on the cliff-top of the Bukit Peninsula, offering stunning views of the white sand beaches and Indian Ocean below. This is truly a hidden paradise, and with four villas combined (The Pala, Villa Rose, Villa Marie and Villa Markisa) it covers a total of 21 bedrooms, meaning you can offer guests on-site accommodation for after the party, with no late night taxis home for your nearest and dearest!  The stunning cliff-top gardens, extensive decked areas, plus a team of professional staff make the Pandawa Cliff Estate a perfect wedding venue.  The Pala boasts a unique, stone amphitheatre which can be used for exchanging vows,  and its garden links through to those of Villa Rose and Villa Markisa next door, allowing separate areas for cocktails, dining and dancing for up to 400 guests.
2. Villa Florimar  –  Seseh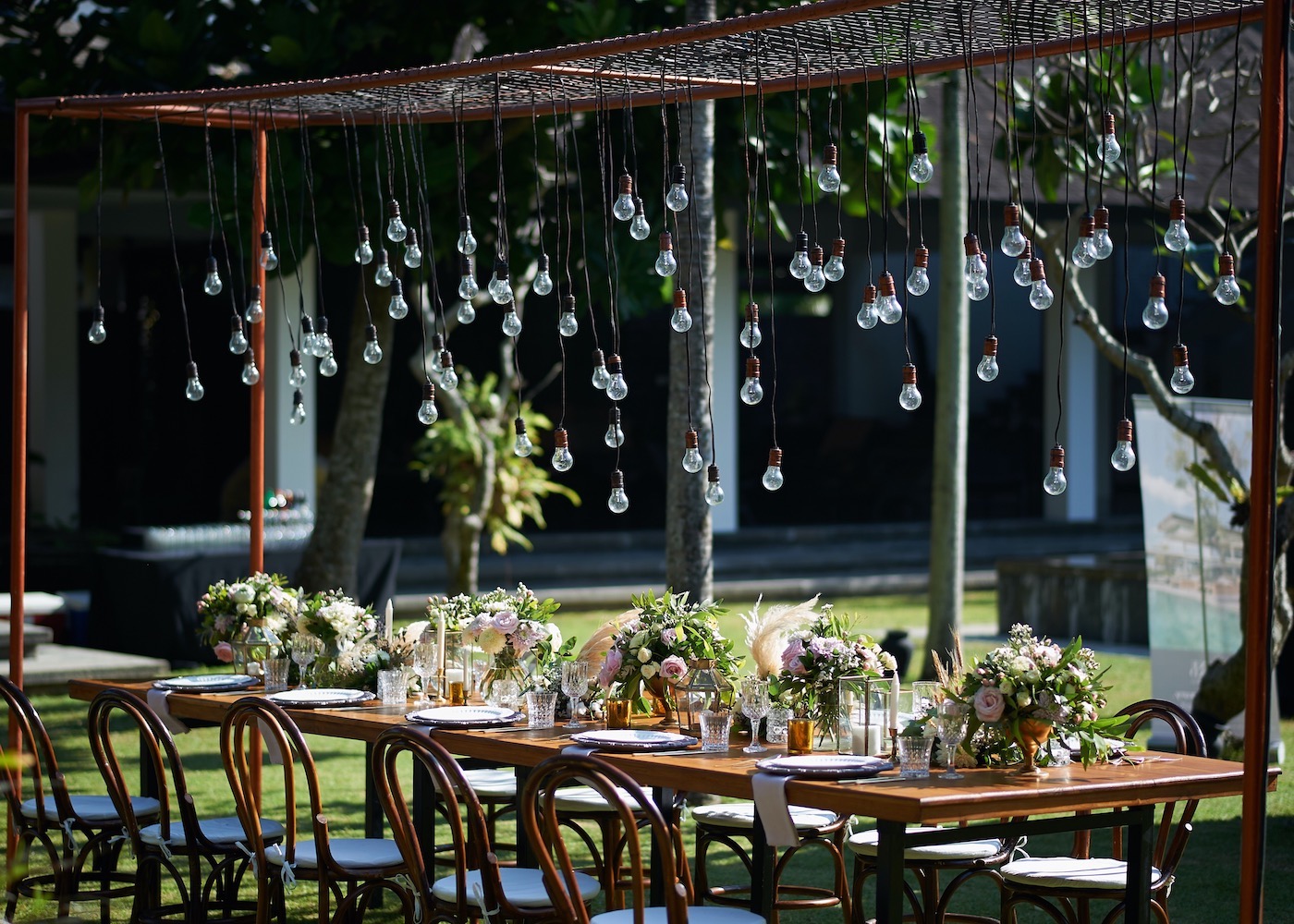 Sleek, elegant and undeniably lavish, the five-bedroom Villa Florimar is an ideal wedding venue for design addicts, thanks to its beautifully stylish interiors that are decked out in a mixture of traditional and contemporary elements and Asian-inspired antiquities. A walled garden encloses the entire property for utmost privacy, and with it comes tonnes of palm trees and stunning tropical plants. The airy and open-plan villa (with its three living pavilions) is then centred by a big manicured garden and long, luxurious pool, perfect for a reception, dinner and after-party. And psst, the master bedrooms come with views of the ocean and south-west Bali's famous black-sand beaches, making it ideal for pre-wedding photos too…
3. Villa Latitude  –  Pandawa
Villa Latitude is located on the Karang Kembar Estate on the southernmost tip of Bali in Nusa Dua, amongst an array of lush and luxury villas and estates. The view? It's simply spectacular, and if the sea is calm, you can see the coral reef and the seaweed farms beneath the surface of the ocean – you might even spot turtles, dugongs, manta rays and migrating pilot whales, Wildlife is abundant here, with sightings of long-tailed grey macaque monkeys playing in the neighbouring areas where the landscape is dotted with cactus, kapok trees and gorgeous scarlet flamboyants. The villa itself has six ultra contemporary bedrooms (with indoor and outdoor bathrooms), terraced lawns, pavilions, open terraces, ponds, a special wedding lawn and a huge infinity-edge swimming pool. This is the villa weddings were made for – and there's even a private helipad if you fancy arriving in style!
4. The Phalosa  –  Seminyak
The Phalosa is a modern villa with extensive lawns located right on Batu Belig Beach in Seminyak.  If you're looking to say 'I do' with the beach right in front of you, the sea breeze on your face, and perhaps the sun setting above, then this is the villa for you. The word 'phalosa' means (in Ancient Greek) 'to shine', which we LOVE considering we're talking about blushing brides and grooms! A typical wedding here could start with a wedding blessing before walking down a flower petal aisle towards the 'floating' pool pavilion, before a cocktail party on the lawn, followed by an elegant outdoor tropical sit down dinner. Stylish, luxurious and helplessly romantic – it's the perfect spot for a sophisticated wedding by the beach.
5. The Surga Villa Estate  –  Ungasan
The Surga Villa Estate is a magnificent clifftop villa (with ocean views for as far as the eye can see) that's both functional and flawless. You see, this sprawling estate on the clifftops of Bali's Bukit Peninsula comes with its very own team of event organisers, direct contact with world-class vendors, a purpose-built aisle that appears to float above the iridescent infinity pool, and up to 13 master suites for the entire wedding party. There's even dedicated powder rooms for the bridal party, dual kitchens for the catering, and discreet areas for the vendors to avoid any disruption. Add to that the direct beach access, the mauve sunsets and all the opulent extras you could ever think of (hello tennis courts, onsite spa and outdoor cinema!) and it's easy to see why The Surga Villa Estate is one of our forever-fave wedding venues in Bali – a very special place enjoyed by a very lucky few.
6. Villa Atas Ombak  –  Seminyak
Hellooo breathtaking beach views! Meaning 'villa on top of the waves', it's easy to see how Villa Atas Ombak earned its name, with an uninterrupted panorama of glittering blue ocean. And with so much open space here, the options for a beautiful Bali wedding are as endless as that azure horizon. Say 'I do' on the manicured gardens with frangipani flowers all around, walk across a floating aisle, or set up a stunning sit-down dinner by the pool, illuminated by fairy lights and the starlit sky. Whatever you choose, Villa Atas Ombak is the magical wedding setting that dreams were made of.
7. The Asmara Heavenly Residence  –  Nusa Dua
Made up of two stunning four-bedroom villas, The Asmara Heavenly Residence is ideal for either big or small celebrations, depending on whether you rent one or both villas. You can choose from Villa OMG and Villa O-Wow – aptly named after the first reactions the villas bestow. Our fave is Villa OMG, with its 25-metre infinity pool facing the ocean (the perfect place for floating candles), a jacuzzi, a long ironwood sundeck, and 180-degree ocean views. As part of the residence, you can choose from ready-made wedding packages, or design your own with the on-site wedding and events planner who is available to assist with any questions you may have – and to ensure your special day is perfect in every way.
8. Villa Anugrah  –  Uluwatu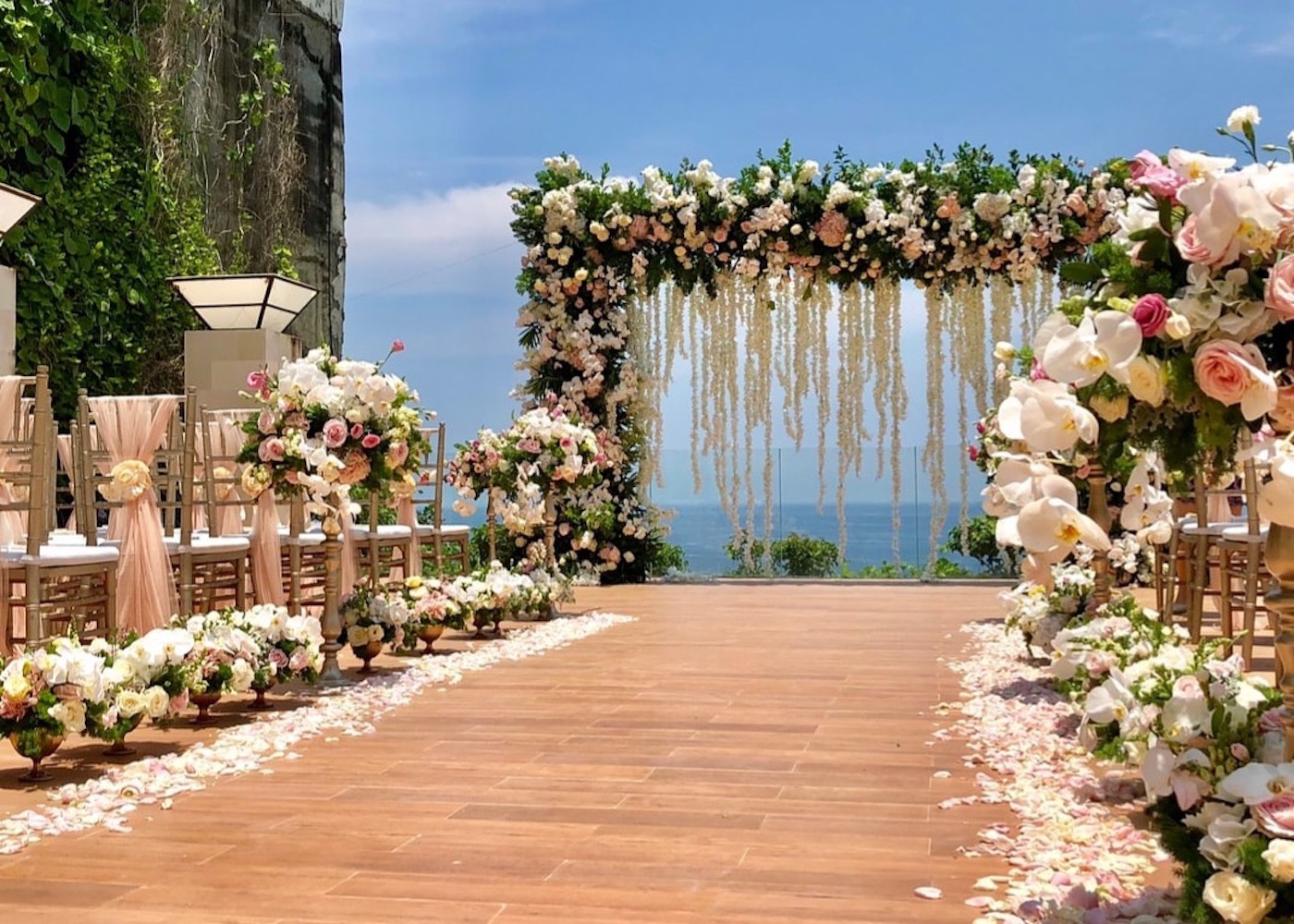 With divine ocean views (the sunsets are incredible), extensive grounds and breathtaking design, Villa Anugrah is a truly fabulous venue for your special day. Set back approximately 45 metres from the dramatic cliff face, Villa Anugrah's tropical landscapes boast a 25 metre swimming pool and three intimate plunge pools, a large living and dining area, a library, a showcase five-star kitchen, breakfast area, a chill room, and the main house, not to mention a manicured garden for mixing and mingling with your friends and families. You're welcome to create your own bespoke event here for up to 250 people sitting or 300 standing, so if you have a large wedding party, this is the villa for you.
9. Villa Asante  –  Canggu
Located in hip Canggu and just five hundred metres from Echo Beach and its famous surf breaks lies Villa Asante – a four-bedroom villa that's the epitome of elegant Balinese living. Designed by international architect Ross Franklin and interiors' guru Dean Kempnich, it has a pair of open-sided pavilions for living and dining, a huge swimming pool, a large relaxation pavilion, and a vast manicured lawn for saying 'I do'. With views of the rice paddies and flowering frangipani trees, plus the villa's white and contemporary interior, it's the perfect backdrop to customise in a way that suits you and your wedding style. It has a capacity of 100 people sitting and 150 people standing, ideal for more intimate weddings.
10. Villa Batujimbar  –  Sanur
Fancy getting married in the same venue as Mick Jagger and Jerry Hall?! Let us introduce you to Villa Batujimbar. This nine bedroom villa sits on the beachfront in Sanur, and boasts a 20-metre swimming pool, private tennis court, air-conditioned gym and enchanting gardens. There are also a series of alang-alang thatched pavilions that spread through the substantial estate, with the Lembu Bale at the centre. This is a moated double-storey brick-built pavilion housing an open-sided lounge on its upper floor looking onto the swimming pool on one side, and across the gardens to the ocean on the other. Just imagine exchanging vows in this breathtaking Bale (with its astonishing collection of Balinese art), then sweeping down the wide steps into the beautifully manicured gardens for a candle-lit banquet under a canopy of stars… Dreamy!
11. Villa Infinity  –  Canggu
Villa Infinity is one of the most sought-after villas on the island, located on the outskirts of trendy Canggu in the peaceful village of Pererenan. Sitting among lush green rice terraces beside a meditative river, the villa has unobstructed views of Bali's heavenly emerald landscape. It has 8 bedrooms (including a lush and romantic bedroom by the river), a 40-metre infinity pool, plus 150 metres of private garden for up to 300 guests to join in your special day. There's even a wedding chapel where you and your lover can exchange vows, meaning you can spend the whole celebration in one place. They outsource wedding planners and welcome any ideas or creative visions, so if you want twinkly lights around the pool or special wedding favours, it's all doable, and undeniably dreamy.
Looking for more fabulous wedding villas in Bali? Check out some of our fave abodes in Seminyak and these stunning design villas with dreamy interiors…