Hit up go karts for an adrenaline rush! Photography: The Karting Arena via Facebook
Do a cool photo shoot, throw a yacht party and try indoor skydiving with our list of unique things to do in Singapore.
Bored of the usual weekend brunch and trips to the beach? Or tired of showing your visiting buds the same old Merlion-and-Marina-Bay routine? Abandon your comfort zone and leap into the unknown with these fun and wacky activities. Who says there aren't any unusual and unique things to do in Singapore? We're veering off the beaten track for this one…
Unique things to do in Singapore
1. Zoom off to the races
For a high-intensity adrenaline rush, grab your pals and head to The Karting Arena for oodles of fun. Pick from petroleum or electric karts and battle it out to see who's the fastest. Don't worry, everything's safe – even for novices. You can even host kids' birthdays, parties and corporate events here!
The Karting Arena, multiple locations including Jurong and Bukit Timah
2. Try a cool photo shoot
Love getting in front of the camera? Forget the usual Instagram-worthy places and check out unconventional photography concepts instead. We're talking about underwater experiences, sensuous boudoir sessions, body profile photography and more.
3. Host a yacht party
The ocean beckons! Round up the fam and take to the seas – just rent a yacht in Singapore for fun times on the water. From birthday parties to proposals to team bonding events, the options are endless. You can find pet-friendly yachts, have BBQ sessions on board or try water activities for amped up fun.
4. Strap on those skates
This one's a neat throwback to 80s nostalgia with funky disco roller skating vibes. Swing by indoor skating rink Hi Roller and lace up your skates to show off any tricks you have up your sleeve. Psst: the place hosts themed nights twice a month and takes song requests as well!
Hi Roller, Market Square @ Downtown East, E!Hub, Level 5, 1 Pasir Ris Close, Singapore 519599
5. Visit a kooky theme park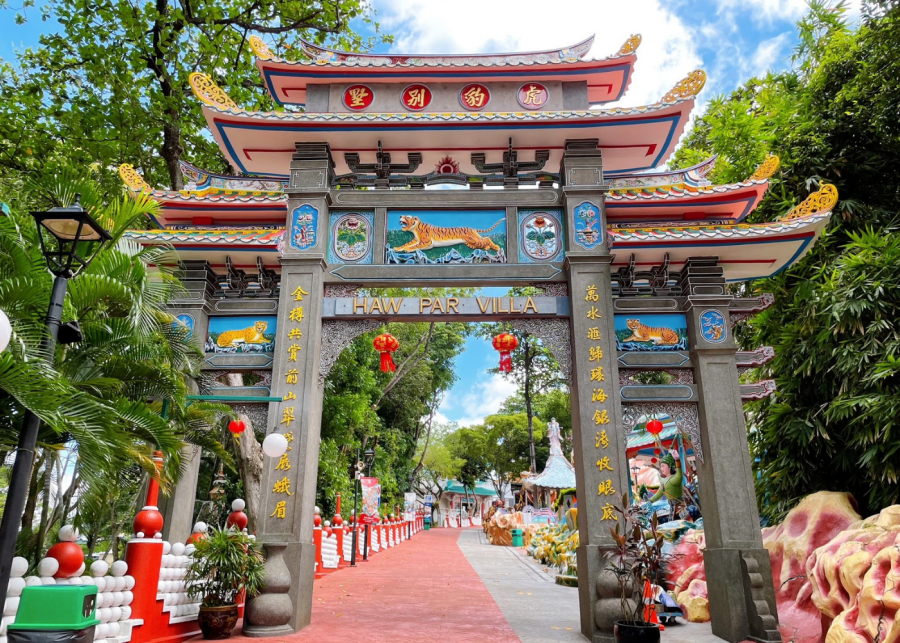 So you'd like a tour of Haw Par Villa? Welcome to hell. This theme park might make you feel more uncomfortable than excited, but it's thrilling nonetheless. Revolving around Chinese folklore and mythology, Haw Par Villa is home to intricately hand-painted statues and sculptures – some even displaying bloody and decapitated figurines. If that doesn't freak you out yet, visit the iconic Ten Courts of Hell attraction for a nightmare to remember. You may not want to come here alone, just sayin'.
Haw Par Villa, 262 Pasir Panjang Road, Singapore 118628
6. Experience free-fall with indoor skydiving
If you've always wanted to try skydiving but never worked up the courage to do it, this is the next best thing. Head to iFly Singapore, one of the world's largest indoor skydiving wind tunnels, to feel true free-fall conditions. Everyone's welcome, from first-timers to companies on team-building activities to couples looking for a thrilling date. Don't worry, you'll be guided by the pros from start to end!
iFly Singapore, #01-01, 43 Siloso Beach Walk, Singapore 099010
7. Ready, take aim, throw!
For target practice with a twist, head to Axe Factor and throw your frustrations away by aiming for the bullseye with your axe. Whether you're here for some friendly competition, a birthday party or a hen's night, you're looking at fun times ahead.
Axe Factor, #01-32A/B & 34A/B, 200 Turf Club Road, Singapore 287994
8. Who's up for an unusual dining experience?
Looking for a meal to remember? We've got plenty of unique dining experiences in Singapore. Discover the hiding place of The Dragon Chamber, have an immersive dinner theatre with Andsoforth, dine in the dark at Nox, check out themed restos like Platform 1094 and loads more. You can even sail the high seas on a sunset dinner cruise for romantic vibes!
9. Kayak through the coasts
Whether you're a water sports junkie or just looking for some fun, Fever Kayak's packages have you covered with the most exciting adventures. And don't worry, they're beginner-friendly, thanks to the leg-powered kayaks! Go hands-free as you speed through the water, where you can experience a thrilling ride as you make a big catch. Yes, we're talking about a fishing and kayaking trip all in one session with the Big Boat Small Boat tour or The Playground tour (from $129 per person for four pax). Plus, your fishing guide will be taking professional photos for you to share, so you don't have to fret about missing that cool shot of your catch.
Fever Kayak, register online
10. Crank up the action
For family-friendly fun that'll get your blood pumping, head to Nerf Action Xperience. The arena features multiple zones including Zombie City, The Volcano, The Glacier and challenges that test your speed, agility and accuracy. It's a high-energy activity, for sure.
Nerf Action Xperience, #01-208, Marina Square, 6 Raffles Boulevard, Singapore 039594
11. Make a date with quirky museums
We've got amazing museums and galleries in Singapore for you to get your culture fix. But if you're thinking of the unconventional, skip your regular date with the National Gallery and try out a new experience. For instance, The Intan collects all things Peranakan and displays them gorgeously in a home setting. Each tour includes a dive into the culture's history, heritage and traditions, complemented by tea and Nyonya light bites. Oh, and did you know we're home to The Gem Museum? You're welcome to step into the world of gemstones, rocks and minerals at this space. Other intriguing spots include the Singapore Chinese Opera Museum and The Vintage Cameras Museum.
12. Head outdoors
For a quiet and relaxing day out, head north to Orto at Yishun. The rustic multi-recreational park is a haven for outdoor lovers. It's open 24 hours a day, and it's a nice break from the busyness of city life. Plus, you can try your hand at fishing and prawning or sweat it out with a game of paintball, an hour of trampolining or a drift-karting ride.
Orto, #01-01, 81 Lorong Chencharu, Singapore 769198
13. Sweat it out, but not at the gym
Who else hates the treadmill? We're totally with you. It's not for everyone. To get your heart pumping – and have loads of fun at the same time – opt for alternative fitness workouts instead. Besides aqua spinning, trampolining and surfboard yoga, you can also try aerial yoga, pole dancing and even combat saber sessions, Star Wars-style, by the likes of SaberFit and The Saber Authority.
14. Hulk smash!
The only place where your tantrums will be entertained, The Fragment Room is perfect for all you ill-tempered souls out there. It's definitely one of the most unique things to do in Singapore! Release all your frustrations with a bat and some very fragile items. Simply choose a preferred playlist, put on your safety gear and brace yourself for some rage-fueled destruction. It can be therapeutic if that's your sort of thing. Plus, not having to clean up after yourself just makes your stress melt away instantly.
The Fragment Room, 490 MacPherson Road, Singapore 368198
15. Listen to a choir of… exotic birds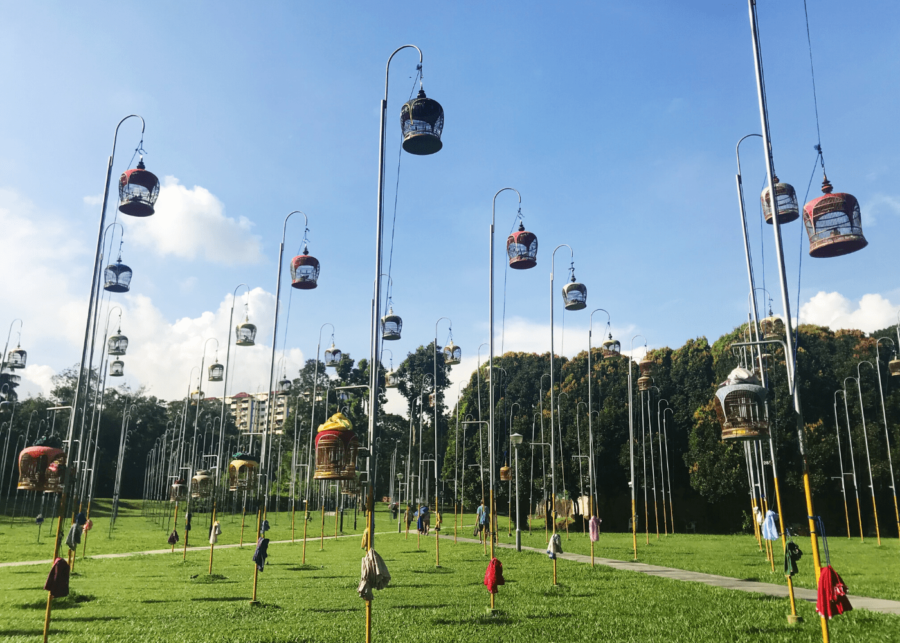 At Kebun Baru Birdsinging Club in Ang Mo Kio, you'll watch exotic birds chirping beautiful melodies all at once – something relatively unheard of in Singapore. Perched on the foot of Ang Mo Kio Town Garden and Block 159, the popular (and largest!) songbird display in Singapore is quite a delight to the eyes and ears. Admire these songbirds in uniquely crafted cages hoisted 20ft up on poles as they showcase their tunes at this quiet, hidden heartland gem.
Kebun Baru Birdsinging Club, Blk 159 Ang Mo Kio Avenue 5, Singapore 560159
16. Get spooked
Stranger things alert! Singapore's home to spooky spots, that we all know. But have you explored 'em all? To get you started on your ghostly adventures, our list of haunted places will come in handy. Spine-tingling, spooky spots include Bedok Reservoir, Old Changi Hospital, Caldecott Hill (yup, the former Mediacorp headquarters) and Woodneuk House. Go get your freak on!
17. Explore a countryside farm
We're not all skyscrapers and modern architecture here. Take a break from Singapore's cityscapes and feast your eyes on lush greenery. We've got several farms in our countryside to visit, including Quan Fa Organic Farm (for fresh veggies), Hay Dairies (for goat milk) and Jurong Frog Farm (to meet and greet the amphibians). One of our faves? Bollywood Veggies, which is located in Kranji and rightly bills itself as 'paradise on earth'. It's been around since 2000 and houses a museum, bistro and shop on its premises.
18. Float in a futuristic space pod
If you're bored of the usual rub-downs and facials, allow your worries to sink while you float at Palm Ave Float Club. Here, you'll be immersed in your very own private pod filled with Epsom salt. Drift away and enter a deep, meditative state that will help you improve mental clarity. Besides being one of the more unique things to do in Singapore, it's also extremely relaxing.
Palm Ave Float Club, #05-01, 66 Kampong Bugis, Singapore 338987
19. Experience a taste of kampong life
Do you find yourself yearning for a simple life? You might be surprised to find there are remnants of kampong houses still standing on our mainland. Kampong Lorong Buangkok is a relic where time seems frozen, giving you a glimpse of the 60s with cats, dogs and chickens roaming freely, and dirt roads connecting houses mainly made out of wood and zinc roofs. Just keep in mind not to disturb the residents if you're visiting.
Kampong Lorong Buangkok, 7 Lorong Buangkok, Singapore 547557
20. Get your feet nibbled on by fishes
Looking for a fishy form of foot therapy after all that walking around the island? Pop by Qian Hu Fish Farm along Jalan Lekar and check out its fish spa. All you have to do is persevere through the tickles while these Garra Rufa fish devour the dead skin off your feet! It's natural exfoliation at its best – and a great stress-reliever 'cause you'll be busy giggling out loud with your friends and fam.
Qian Hu Fish Farm Trading, 71 Jalan Lekar, Sungei Tengah, Singapore 698950
21. Have a snow day out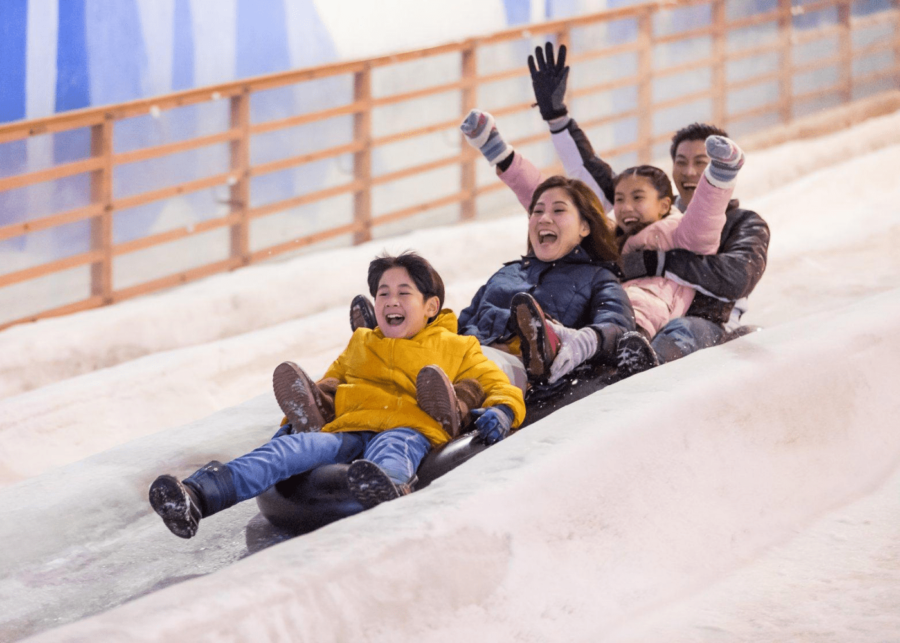 Living on a tropical island can be paradise, but when the sun's scorching rays get to you, beat the heat at Snow City. It's Singapore's first permanent indoor snow centre, a family-friendly spot that takes you to the North Pole without hopping on a plane. Cool down quick at the Arctic snow playground, slide down the 60m-long snow slope and saddle up in bumper cars to drift on ice.
Snow City, 21 Jurong Town Hall Road, Singapore 609433
Done exploring all the unique activities in Singapore? Next stop: Free things to do!