Photography: Absurdities
Looking for unusual adventures and secret spots? You'll have an extraordinary time at these unique dining experiences in Singapore.
We've got no lack of great restaurants and cafes in Singapore. Whether it's the excellent service and amazing food or fab decor and ambience, our eateries cover it all. But sometimes, you just want to go the extra mile with unique dining experiences. Like themed restaurants and cool cafe concepts for an unforgettable time. So get those cameras ready for dining in a wizarding world, immersive theatrical meals, safari adventures and more.
Unique dining experiences in Singapore
1. For Narnia-esque experiences: Absurdities
Things are absurdly exciting here: this dining experience engages all your senses – even your physical being. It's a multi-sensory omakase guaranteed to surprise you at every turn. Get ready to be Narnia'd through six courses as each cleverly hidden door brings you to a whole new world. Pro tip: you may or may not end up climbing or crawling through spaces, so make sure to wear comfortable shoes.
Absurdities, secret location revealed 24 hours before your reservation
2. For a voyage on the waters: Royal Albatross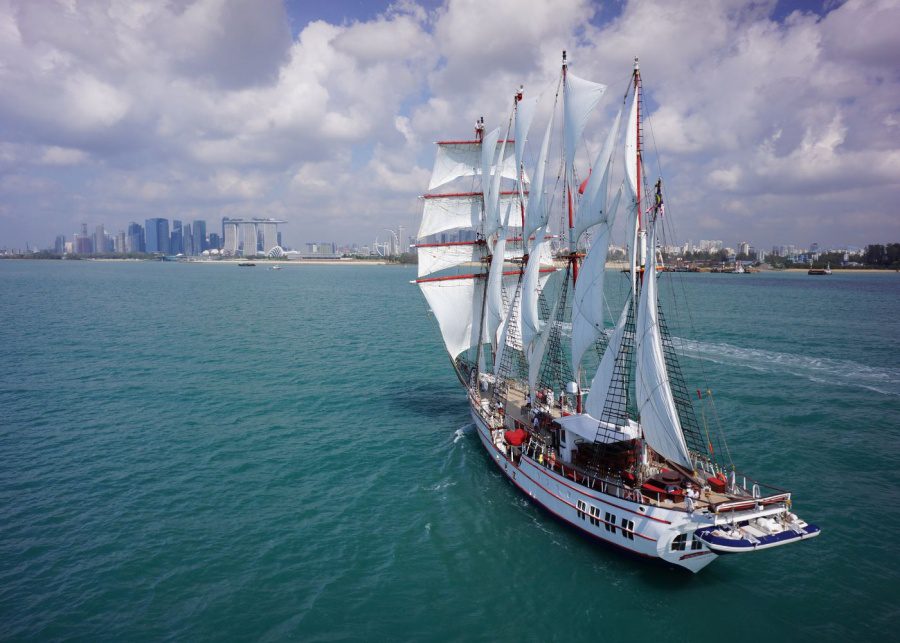 Fan of Pirates of the Caribbean? Or just looking for a unique dining adventure? Royal Albatross invites you to set sail on a luxury ship berthed in Resorts World Sentosa. Fun fact: this beauty has even made a cameo in Batman movie "The Dark Knight" as Bruce Wayne's private yacht!
Want to wine and dine on board this fancy ride? It's the perfect option for a sunset dinner cruise, or for wedding proposals, celebrating anniversaries, birthday bashes and more. The chefs have curated new four- and seven-course meal options and all dishes are freshly prepared onboard (they're halal-friendly, too).
Alternatively, spend a morning with the sea breeze in your hair and a breakfast buffet spread – Royal Albatross sets sail on Saturday mornings with a delicious feast and a fun adventure on the waters. Psst: it's dog-friendly, so you can bring your furbabies!
Royal Albatross, Resorts World Sentosa, 8 Sentosa Gateway, Singapore 098269
3. For cocktails and fortune-telling: 3 of Cups
Walk through the unassuming door of this tarot-themed cocktail bar in Haji Lane and you'll be whisked off on a mystical journey. Sure, you can go the conventional route and peruse the menu to get a cocktail. Or you can leave it up to the universe and pull from a deck of cards to let the fates decide for you. Complete your experience with Black Magic, a fiery chocolate cake that isn't as sinister as its name suggests. Plus, drop by on weekends for special in-house tarot readings – all you have to do is order three cocktails.
3 of Cups, 53 Haji Lane, Singapore 189246
4. For a taste of the past: Smith Marine Floating Restaurant
Built on top of a steel pontoon, Smith Marine is one of the last remaining kelongs in Singapore. A short ferry ride from Changi Point Ferry Terminal will take you to this floating dining experience. Although you won't be able to visit the actual fish farm, you can sample its delicious eats. Tuck into fresh seafood like crab, lobster and scallops while enjoying the cool sea breeze. Reservations require you to book in advance, so be sure to drop 'em a message.
Smith Marine Floating Restaurant, between Pulau Ubin and Changi Point Ferry Terminal
5. For American diner vibes: Joji's Diner
If you've been watching TV and wondering what an American diner experience is like, you're in luck. Make your Riverdale dreams come true at this retro hangout, with its red-and-white chairs, vinyl records hanging on the walls, and chill vibes. It's an explosion of colour and we love it. Settle into a booth to order affordably-priced and generously portioned menu items like chicken and waffles, mac and cheese, pancakes and milkshakes. Just be prepared to join a long line of hungry diners (especially on weekends) as the place gets packed.
Joji's Diner, 534 Upper Serangoon Road, Singapore 534549
6. For black and white fun: Cafe Monochrome
Touted as the city's first 2D-themed cafe, its name pretty much speaks for itself. Step into the Instagrammable space to admire the black and white wall artworks and snap all the pics you want. Once you've adapted to your trippy surroundings, have a look at the menu. You'll find everything from smoked duck pasta and all-day breakfast to softshell crab burger and wagyu donburi on the line-up.
Cafe Monochrome, 216 Syed Alwi Road, Singapore 207749
7. For a wild adventure: Tiong Bahru Bakery Safari
Here's a fun, outdoorsy idea: dine alfresco under a rustic tent and spend time with nature at Tiong Bahru Bakery's Dempsey location. The pastries are delicious (as always), the coffee is great, and you get a totally different vibe from its other outlets. Little ones will love the family-friendly safari-themed cafe with a mini playground nestled amidst lush greenery.
Tiong Bahru Bakery Safari, 130E Minden Road, Singapore 248819
8. For a secret adventure: The Dragon Chamber
Finding The Dragon Chamber is a trip on its own. You've gotta head to Circular Road, find the humble kopitiam and open the fridge door before you find yourself in the hidden themed restaurant. The dark den brings to mind old school Chinatown gambling hideaways and secret society stomping grounds. And its enigmatic ambience is backed by a menu of unconventional nose-to-tail Chinese dishes. Signatures include wagyu truffle beef hor fun, crab and conpoy soup, firecracker chicken with maple fritters, and cheeseburger egg rolls. Imagine munching on a dragon claw (aka crocodile foot)… Are you game?
The Dragon Chamber, 2 Circular Road, Singapore 049358
9. For a theatrical time: Andsoforth
Making dinner theatre fun and engaging, this pop-up themed restaurant has taken us through mystery murders, wonderland adventures and whimsical fairy tales through the years. Spend a night with them and you'll never be bored, thanks to the interactive surprises and non-stop entertainment you're treated to. What's new with the unique, immersive dining experience, you ask? Around The World in 80 Days by Jules Verne: Book Analysis Workshop. Time to dial up the intrigue and romance!
Andsoforth, secret location will be revealed 24 hours before
10. For a pitch-black experience: Nox – Dine in the Dark
Take away your sight and you're left with enhanced senses for taste, smell, touch and sound. That's the idea at this pitch-black restaurant, one of the most memorable dining experiences in Singapore. It's located at the corner of Club Street, with funky interiors and cocktail menu by Sam Wong of Ah Sam Cold Drink Stall.
You're led to your table by friendly visually impaired hosts, who offer you all the guidance you need to find your chair and cutlery. It's an unfamiliar sensation as you feel your way around the table and try the mysterious 12-dish Modern European menu, which you can pair with wines or cocktails. All the fun is in guessing what's what (your palate may surprise you) and relaxing in the peaceful darkness – no phones allowed!
Nox – Dine in the Dark, 83 Club Street, Singapore 069451
11. For romance in the clouds: Cable Car Sky Dining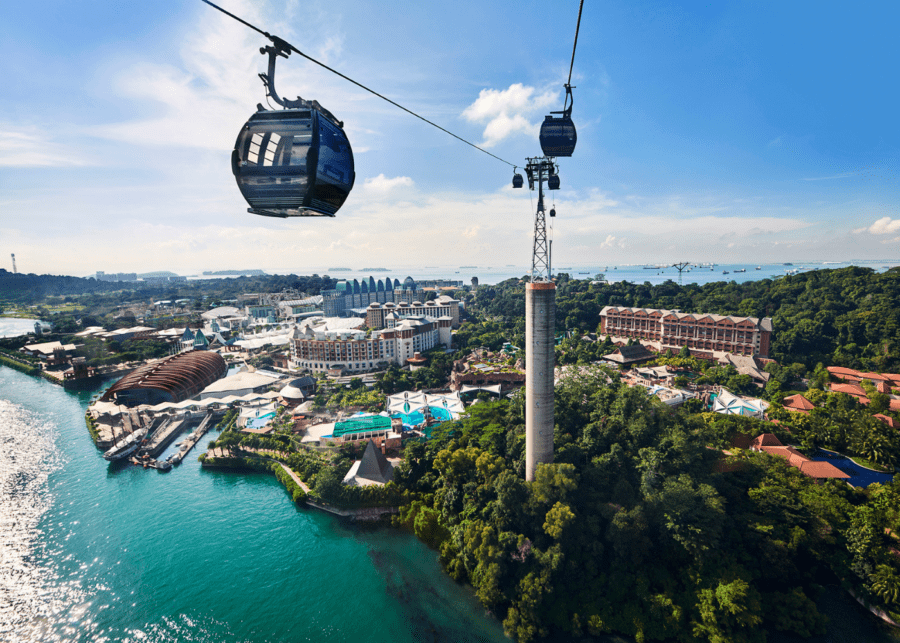 Fancy a cosy dinner for two with the twinkling night sky as your backdrop? Board your own private cable car cabin and tuck into a four-course meal that'll take you on a 60-minute journey from the top of Mount Faber to Sentosa. Options include the Singapore Flavours Cabin, the Champagne Cabin with Modern European food, and the Stardust Cabin. Did someone say love is in the air?
Cable Car Sky Dining, Level 2, Mount Faber Peak, 109 Mount Faber Road, Singapore 099203
12. For the Potterheads: Platform 1094
So you think you know your spells? Or perhaps you're still waiting (in vain) for a letter from a particular magical institution. Jump on your broomstick and fly over to this wonderful world of wizardry. While its interior may not be totally witchy, you'll get to geek out over all things Harry Potter. The menu also features whimsically-named items like greens from Hagrid's pumpkin patch, dragon milk cheese sticks and house elves special pork ribs. Plus, let's not forget the potions (non-alcoholic) and poisons (alcoholic) for you to sip on.
Platform 1094, 1094 Serangoon Road, Singapore 328192
13. For frequent flyers: Sushi Airways
This aeroplane-themed restaurant is a unique dining experience, especially since it's hidden amidst the bustle of the Arab Street area. Combining the in-flight ambience and first-class service with expertly prepared Japanese food, the place offers sushi, sashimi and seasonal treats. Oh, and did we mention the space is inspired by an 80-year-old aircraft? If you miss the allure of travel, head in and let the attendants welcome you on board, we say.
Sushi Airways, 20A Baghdad Street, Singapore 199659
14. For anyone who can't stop rewatching Friends: Central Perk
Fans of Friends will be familiar with Central Perk, the iconic cafe that's seen countless wacky jokes and silly shenanigans take place on the hit comedy show. Here, you can pick your own cast of bumbling buddies – and snap away as you reenact classic scenes. It's a little surreal to sit on 'set' if you're been binge-watching the series. But if you've never seen an episode, all this will probably fly over your head. Especially since the menu also features pizzas, all-day brunch, desserts and drinks named after the characters. It's all about reminiscing and making insider jokes!
Central Perk, #01-01, Central Mall, 1 Magazine Road, Singapore 059567
15. For the bikers: Handlebar
If you gravitate towards grungy bars with an edge, or if you're just dying to throw on your coolest leather jacket, head over to Handlebar. This biker-themed hangout – the first in Singapore – is where motorbike enthusiasts flock to. The chill bar also serves a selection of meaty mains and small bites to go with your cocktails and jugs of beer.
Handlebar, 10 Lock Road, Singapore 108938
16. For a deep sea dive: Ocean Restaurant
No, you can't sleep with the fishes here – you'll have to book a hotel room for that. But this unconventional resto puts you in the heart of S.E.A. Aquarium, with its full-length glass panels giving you marvellous views of marine animals. It's a front-row seat to all the underwater action! You'll enjoy a menu made with seafood and sustainability in mind, created by a Michelin-starred chef. Just, y'know, don't make eye contact with the fishes while feasting on their friends.
Ocean Restaurant, #B1-455/456, Equarius Hotel, West B1M Carpark, 22 Sentosa Gateway, Singapore 098136
Which unique dining experience or themed restaurant in Singapore are you most excited to try?