Photography: The Dragon Chamber via Facebook
Looking for unusual adventures and secret spots? You'll have an extraordinary time at these unique dining experiences in Singapore.
We've got no lack of great restaurants and cafes in Singapore. Whether it's the excellent service and amazing food or fab decor and ambience, our eateries cover it all. But sometimes, you just want to go the extra mile with unique dining experiences. Like themed restaurants and cool cafe concepts for an unforgettable time. So get those cameras ready for dining in a wizarding world, immersive theatrical meals, underwater adventures and more.
Unique dining experiences in Singapore
1. For a secret adventure: The Dragon Chamber
Finding The Dragon Chamber is a trip on its own. You've gotta head to the address, find the humble kopitiam and open the fridge door before you find yourself in the hidden themed restaurant. The dark den brings to mind old school Chinatown gambling hideaways and secret society stomping grounds. And its enigmatic ambience is backed by a menu of unconventional nose-to-tail Chinese dishes. Imagine munching on a dragon claw (crocodile foot)… are you game?
The Dragon Chamber, 2 Circular Road, Singapore 049358
2. For a theatrical time: Andsoforth
Making dinner theatre fun and engaging, this pop-up themed restaurant has taken us through mystery murders, wonderland adventures and whimsical fairy tales through the years. Spend a night with them and you'll never be bored, thanks to the interactive surprises and non-stop entertainment you're treated to. Next up for the unique, immersive dining experience? Around The World in 80 Days for Valentine's Day in 2021. Time to dial up the intrigue and romance!
Andsoforth, secret location will be revealed 24 hours before
3. For a pitch-black experience: Nox – Dine in the Dark
Take away your sight, and you're left with enhanced senses for taste, smell, touch and sound. That's the idea at this pitch-black restaurant, one of the most memorable dining experiences in Singapore. You're led to your table by friendly visually impaired hosts, who will offer you all the guidance you need to find your chair and cutlery. It's an unfamiliar sensation, as you feel your way around the table and try the 12-dish mystery tasting menu, which you can pair with wines, cocktails or mocktails. All the fun is in guessing what's what (your palate may surprise you) and relaxing in the peaceful darkness – no phones allowed!
Nox – Dine in the Dark, 269 Beach Road, Singapore 199546
4. For romance in the clouds: Cable Car Sky Dining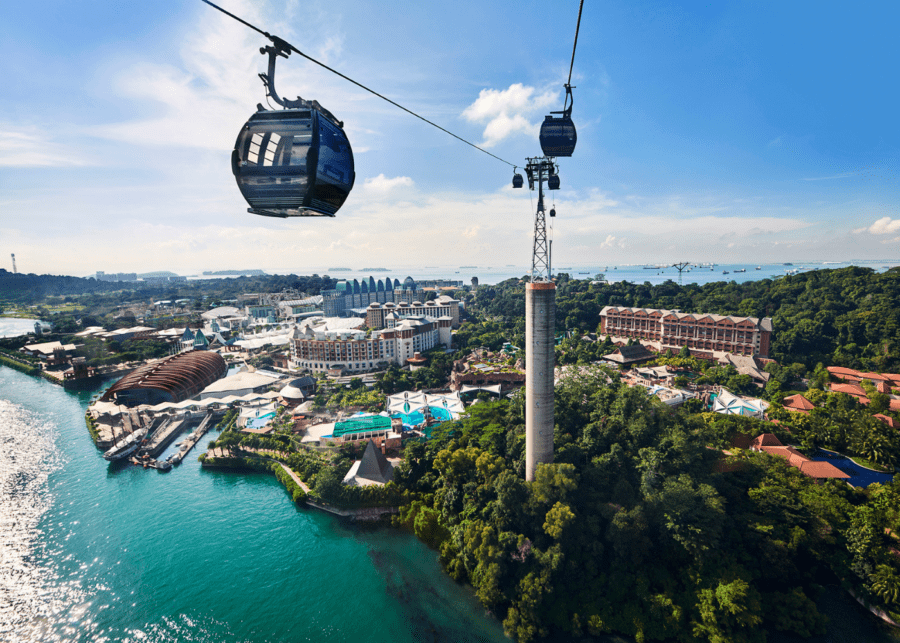 Fancy a cosy dinner for two with the twinkling night sky as your backdrop? Board the private Stardust Cabin and tuck into a four-course meal that'll take you on a 90-minute journey from Faber Peak to Sentosa. Other options include seven local dishes as part of the Singapore Flavours Cabin experience, and the luxe Champagne Cabin that'll have you enjoying a bottle of bubbly and tapas nibbles. Did someone say love is in the air?
Cable Car Sky Dining, Level 2, Faber Peak Singapore, 109 Mount Faber Road, Singapore 099203
5. For the Potterheads: Platform 1094
So you think you know your spells? Or perhaps you're still waiting (in vain) for a letter from a particular magical institution. Jump on your broomstick and fly over to this wonderful world of wizardry. While its interior may not be totally witchy, you'll get to geek out over all things Harry Potter. The menu also features whimsically-named items like greens from Hagrid's pumpkin patch, dragon milk cheese sticks and Hedwig's secret message. Plus, let's not forget the potions (non-alcoholic) and poisons (alcoholic) for you to sip on.
Platform 1094, 1094 Serangoon Road, Singapore 328192
6. For those who miss flying: Sushi Airways
This airplane-themed restaurant is a unique dining experience, especially since it's hidden amidst the bustle of the Arab Street area. Combining the in-flight ambience and first class service with expertly prepared Japanese food, the place offers sushi, sashimi and seasonal treats. Oh, and did we mention the space is inspired by an 80-year-old aircraft? Head in and let the attendants welcome you on board, we say.
Sushi Airways, 20A Baghdad Street, Singapore 199659
7. For a deep sea dive: Ocean Restaurant
No, you can't sleep with the fishes here – you'll have to book a hotel room for that. But this unconventional resto puts you in the heart of S.E.A. Aquarium, with its full-length glass panels giving you marvellous views of marine animals. It's a front-row seat to all the underwater action! You'll enjoy mod-Asian dishes made with locally-sourced and sustainable produce as you take in the glorious sights. Just, y'know, don't make eye contact with the fishes while feasting on their friends.
Ocean Restaurant, Equarius Hotel, West B1M Carpark, 22 Sentosa Gateway, Singapore 098136
8. For anyone who can't stop rewatching Friends: Central Perk
Fans of Friends will be familiar with Central Perk, the iconic cafe that's seen countless wacky jokes and silly shenanigans take place on the hit comedy show. Here, you can pick your own cast of bumbling buddies – and snap away as you reenact classic scenes. It's a little surreal to sit on 'set' if you're been binge-watching the series. But if you've never seen an episode, all this will probably fly over your head. Especially since the menu also features pizzas, pastas, desserts and drinks named after the characters. It's all about reminiscing and making insider jokes!
Central Perk, #01-01, Central Mall, 1 Magazine Road, Singapore 059567
9. For cycling addicts: Soek Seng 1954 Bicycle Cafe
This quaint, retro-themed cafe sits a little off-the-radar in Seletar. The main draw? Its vintage bikes, all cared for and restored, that feature as charming wall decor. It's quite a unique dining experience, especially for bicycle fans. And thanks to its out-of-the-way location, you'll work up an appetite just by cycling here. So tuck into casual cafe grub as you chill at the space and enjoy a break from the crowds.
Soek Seng 1954 Bicycle Cafe, #01-01, MAJ Aviation Building, 80 Seletar Aerospace View, Singapore 797563
10. For a voyage on the waters: Royal Albatross
Sail the high seas with a sunset dinner cruise on this superyacht, where you'll have the most perfect and unique dining experience. Docked alongside Adventure Cove Waterpark at Resorts World Sentosa, the luxury tall ship sets off on regular cruises with all kinds of birthday, anniversary and wedding packages. You can even have a wine tasting sesh onboard while admiring the glittering waters around you.
Royal Albatross, Resorts World Sentosa, 8 Sentosa Gateway, Singapore 098269
11. For mini golf fans: Holey Moley Golf Club
Have a game of mini golf… with a crazy fun twist! At this Clarke Quay hotspot, you'll try your hand at a round of putt putt with scenes that take you from pop culture sets to shark-infested waters. Let's just say, every hole is a surprise. When you're done having a ball, plop down on a seat to munch on casual grub like burgers, pizzas, hot dogs and truffle fries. Don't forget the cocktails! Whether you're here with a partner or a rowdy group of friends, you'll be soaking in the fun ambience and vibrant decor in no time.
Holey Moley Golf Club, 3B River Valley Road, Singapore 179024
12. For the bikers: Handlebar
If you gravitate towards grungy bars with an edge, or if you've just been dying to throw on your coolest leather jacket, head over to Handlebar. This biker-themed hangout – the first in Singapore – is where motorbike enthusiasts flock to. The chill bar also serves a selection of meaty mains, pizzas, burgers and small bites to go with your cocktails and jugs of beer.
Handlebar, 10 Lock Road, Singapore 108938
Which unique dining experience or themed restaurant in Singapore are you most excited to try?