Photography: Rodnae Productions via Pexels
Ready to let the good times roll? Grab your skates and zoom off for a fun day out in Singapore.
Skating may not be top of mind when you think about exercise. But this activity actually burns calories, builds endurance, and it's gentler on the joints than workouts like jogging. Plus, it's a blast. Whether you're into ice skating, roller skating, skateboarding or rollerblading, these skating spots in Singapore are wheely cool. So lace up those skates and practice your twirls!
Where to go ice skating, rollerblading and skateboarding in Singapore
1. The Rink
Journey to the west and say hello to Singapore's only Olympic-sized ice skating rink. It's a popular spot for fun with friends, performances by the pros and themed events like disco night or costume parties. So you've always wanted to twirl on ice dressed as Elsa? Now you can. If you need a first date idea, beat the heat at The Rink. It's a great excuse to hold on to your partner's hand, too. For those who want to level up, check out the lessons on offer: they range from beginner workshops to ice hockey and speed skating classes.
The Rink, #03-11, JCube, 2 Jurong East Central 1, Singapore 609731
2. Por Vida Skateboarding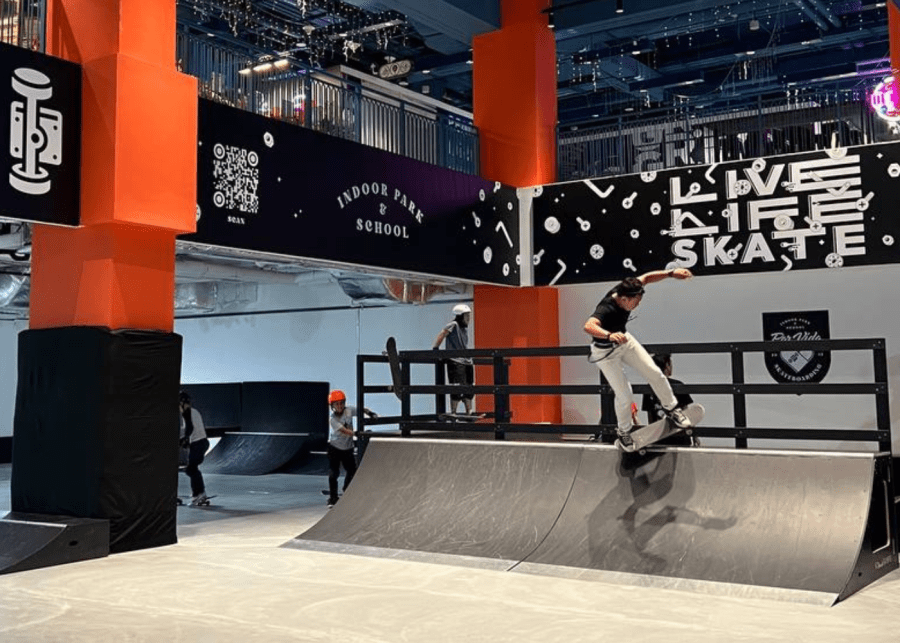 A fresh face in Singapore, this marks the city's largest indoor skatepark and school. It sits on over 6,000 sq ft of air-conditioned basement space in Grid Mall, which means you can skate your heart out come rain or shine. Expect to see skate obstacles scattered throughout the premises – think mini ramps, quarter pipes, benches, ledges and even a wave ramp. Whether you're a beginner or a pro, you'll be honing your skills in no time, 'cos you can take lessons here!
Besides skateboarding, you can also get your heart pumping with activities like rollerblading, roller skating, longboarding and surf skating. Don't have your own gear? Just rent or purchase yours at the retail space.
Por Vida Skateboarding, #B1-11, Grid Mall, 1 Selegie Mall, Singapore 188306
3. Hi Roller Indoor Skating Rink
Got a thing for nostalgia? Skate back in time to the 80s at this roller disco in Pasir Ris. After you strap on your roller skates or inline skates (the former offers more stability, which is great for beginners), those groovy tunes will take you straight to funky town. To impress your date, sign up for beginner classes before the big day. And keep tabs on Hi Roller's socials so you can swing by during themed nights for Mandopop melodies, 2000s hits and more.
Hi Roller Indoor Skating Rink, Market Square @ Downtown East, E!Hub, Level 5, 1 Pasir Ris Close, Singapore 519599
4. Kallang Ice World
This ice skating rink has been around for years – oh the memories! Great for little ones, teens, couples on dates and families, Kallang Ice World offers lessons for all ages, whether you're a beginner or you've been around the block a few times. Need a breather? Take a seat in the viewing gallery to catch your breath. For a birthday bash or a special occasion, you can book the rink and host a private party.
Kallang Ice World, #03-08/09, Leisure Park Kallang, 5 Stadium Walk, Singapore 397693
5. Xtreme SkatePark
Ever wondered what the island's largest skatepark looks like? Make your way to East Coast Park and follow the skateboarders and inline skaters to this hangout. You'll spot people on everything from BMX bikes to scooters to skates practising tricks. Beginners can head to the street course for small ramps and easy slopes, while sports enthusiasts with more experience can try the 12-foot roll-in ramp. If you're up for a challenge, check out the combo bowl or the 3.6m-deep vertical bowl. But fair warning: you'll need some skill to skate in these advanced areas.
Xtreme SkatePark, behind car park F, 1 East Coast Terrace, Singapore 458912
6. Somerset Skatepark
Head across the road from 313 @ Somerset (it's right by the bus stop) and you'll be treated to a sight of skateboarders doing all kinds of tricks on graffiti-stamped ramps. No matter your skill level, everyone's welcome here. Make your way through obstacles like rails, ledges and ramps – the ones here aren't as steep as those at Xtreme SkatePark.
Somerset Skatepark, 1 Somerset Road, Singapore 238162
7. Singapore Sports Hub Skate Park
No surprise here – the Sports Hub is home to all kinds of activities, including basketball, table tennis, volleyball, kayaking, and yes, skateboarding. So if you're keen to pick up a new sport, this is the place to be. For an afternoon of flips and tricks, head to the Skate Park to practice on rails, a funbox, a mini quarter pipe and more.
Singapore Sports Hub Skate Park, Near Gate 14 of the National Stadium (Level 3), 1 Stadium Drive, Singapore 397629
Ready to let the good times roll? Go ahead and try ice skating, rollerblading or skateboarding in Singapore!