Photography: Flow Funkie Studios
These sports shops in Singapore offer sleek activewear and athleisure threads that take you from spin class to savasana in absolute style.
Sure, it's all in the mind, but finding the right workout clothes can make you feel invincible in the gym – it's probably why we take our sportswear as seriously as our workouts. With the athleisure phenomena in play, kickass fitness threads are taking us from the office to the yoga studio (with one less bag to tote around). If you're all about looking good while sweating it out, check out our guide to the best sports shops for activewear in Singapore. But we won't judge if you get into your yoga gear just to go out for a coffee…
Where to shop for activewear in Singapore
1. Zestys
Ready to crush your fitness goals without breaking the bank? If you're stunned at the exorbitant pricing of popular athleisure ensembles, say hello to Zestys, your new go-to for affordable and fabulous activewear. With prices starting at just $28, you can rock ultra-comfy threads packed with more lycra than top brands. Highlights include the Breathable Plus Signature Legging which has hidden pockets and the Breathable Plus Signature Bra, a high-support bra that stays put and has a flattering cut.
And ladies, Zestys' leggings are camel toe-proof for a hassle-free, comfy – and less embarrassing – workout experience. Embrace style, performance, and value, all wrapped up in Zestys activewear. Get ready to sweat in style and slay those workouts!
Zestys, available online
2. Muji
When it comes to workout gear, comfort and functionality are key. That's where Muji Walker comes in: this dynamic range of activewear is stylish and practical, featuring breathable and quick-drying fabrics. We love the UV-blocking properties of standout picks like the UV cut leggings and UV half top bra made with a fabric that blocks over 90% of harmful UV rays! Whether you're having an outdoor yoga sesh or a morning stroll, this UPF50+ feature protects you from harmful rays when you're out and about.
Plus, the pieces are minimal and sleek – they come in four colours including a muted azure blue and pastel blush pink. Matching sets are all the rage now, so take your pick for a matching bra top and leggings set ($29.90 each). Muji has also expanded its Walker range to include an array of products including sports bras, leggings, quick dry shorts, tank tops, polo t-shirts and T-shirts in basic colours, so get shopping!
Muji, multiple locations including Ion Orchard, Paragon and Plaza Singapura
3. Flow Funkie Studios
Eye-catching, versatile and sustainable? Now, that's what we're talking about. These fun pieces from Flow Funkie Studios will have you looking and feeling amazing. We're obsessed with the Opposites Attract Bra and Fighter Biker shorts that come in vivid colours like blue, yellow and pink.
Flow Funkie Studios, shop online
4. Perk by Kate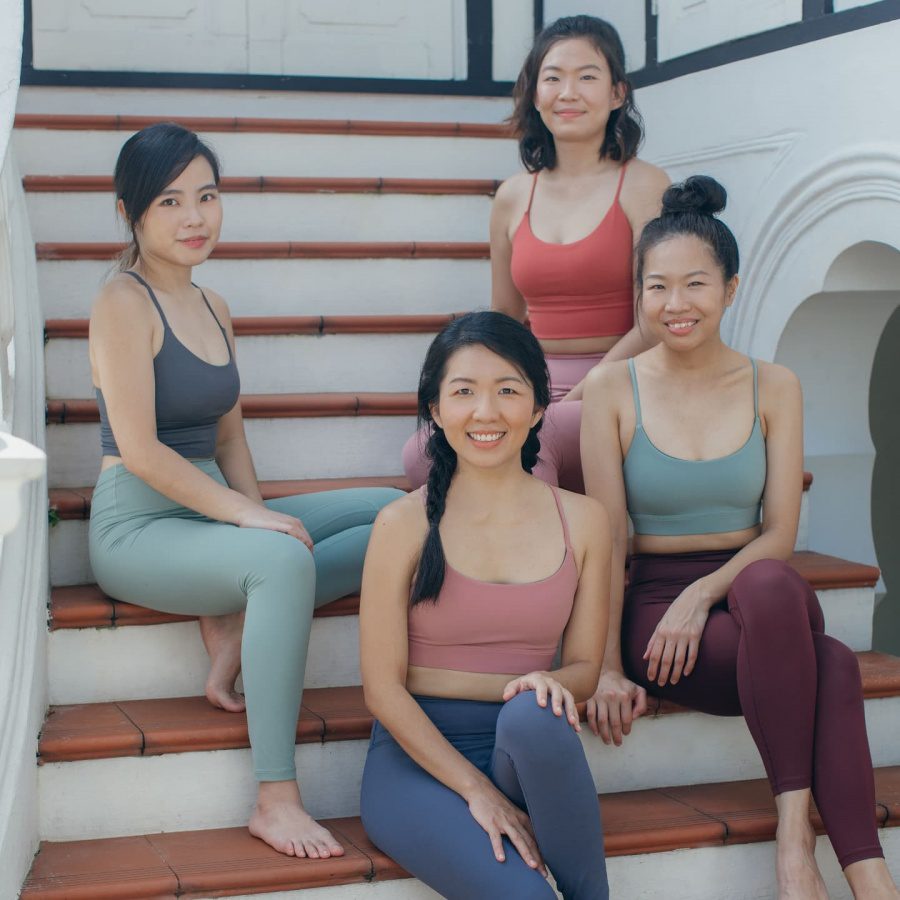 This local brand is known for its exquisite selection of lingerie but it's also recently ventured into the athleisure world. Sizes range from S to XXL with products in colours that include burnt orange, sage green, dusty blue and slate grey. You'll be comfy in these standout threads while you're working that bod!
Perk by Kate, shop online and at 134A Telok Ayer Street, Singapore 068600
5. Fitta Active
Founded by sisters Debbie and Jamie, Fitta Active aims to provide affordable, high-quality and inclusive sizes for all. Take your pick from sports bras, leggings, shorts, loose tank tops and crop tops in vibrant colours. Sizes for selected items go up to 3XL. Psst: some pieces are also made from recycled materials like plastic water bottles.
Fitta Active, shop online and at #04-119A, Far East Plaza, 14 Scotts Road, Singapore 228213 
6. Bambine Body
Stylish, practical and versatile athleisure 'fits never looked so good until Bambine Body popped up on our radar. This activewear label from Australia accentuates the body with form-fitting bras and crop tops, and figure-hugging leggings and shorts. They even have oversized joggers and flare pants for a casual-chic look. All tops come with removable padding providing you with the flexibility to customise your level of support according to your preferences. And the high stretch fabric feels like a second skin, supporting every workout from yoga to pilates and beyond. Select from gorgeous shades of periwinkle, sage, and rust or go classic with white or black. Ready to redefine your workout wardrobe? Perks: Enjoy 10% off for all online orders above $80 with the promo code, 'HONEYCOMBERS10'.
Bambine Body, available online with free international shipping for orders over AU$150
7. Anya Active
We're all hearts for Anya Active's ethos. Anya, which means grace, is all about being kind to your body and adopting the best version of yourself. Upgrade your HIIT, yoga or cardio sessions with breathable shorts, leggings with pockets, and tank tops. Made from sweat-wicking and stretchy material, these pieces help maximise your range of movement – no matter your workout. In fact, each item goes through various rounds of testing. The sizes range from XS to 2XL.
Anya Active, shop online
8. Yumi Active
We found a couple of reasons to add Yumi Active to your radar! These pieces are created with customised miSkin – a light performance fabric that's breathable and super comfy with quick-dry technology so you won't feel icky after sweating it out. Plus, we're not complaining about the pretty motif designs inspired by blooms from East Asia, or the sleek mesh collections.
Yumi Active, shop online and at#05-15, Centropod, 80 Changi Road, Singapore 419715
9. Glowco
Back in 2018, founder Nawal Alhaddad set out to find more inclusive activewear for muslimahs when she realised her hijab was getting in the way of her workout. She founded Glowco along the way and the rest is history. You'll find comfy and chic modest activewear threads at this sports shop in Singapore. That includes non-slip shawls and sports hijabs with breathable fabrics, earphone-friendly inlets, and other inclusive activewear brands.
Glowco, shop online and at #01-19, Yo:Ha Tampines, 6 Tampines Street 92, Singapore 528893
10. Gym Wear Movement
This one's created with the Asian frame in mind – that includes petite, curvy and modern activewear! Gym Wear Movement knocks it out of the park with eye-catching pastel hues, sleek designs and comfy threads you can wear outside of your workout. The brand even has a style guide with home, workout, leisure and workwear inspo so you can look good anytime, anywhere.
Gym Wear Movement, shop online
11. Tough Cookie
Think strong is the new sexy? Then consider yourself a Tough Cookie. The brand's fitness wear celebrates strength and resilience. All of its sports bras come in black, and feature cutouts, mesh and geometric straps. Fully lined with removable padding, they're suitable for medium to high-intensity workouts.
Tough Cookie, shop online
12. Kurios by Pure Apparel
This community-inspired activewear knows what we really want – versatile fabrics that give us total freedom to push ourselves at every session. Whether you're looking for structural support or relax-fit styles, there's something for you and your fellow yogi friends. Plus, choices for men such as t-shirts, tanks, shorts and leggings, as well as accessories like yoga mats and traps, towels, water bottles and dry bags.
Kurios by Pure Apparel, available online
13. Gym Squad Active
For comfy, trendy and performance-driven activewear, make Gym Squad Active your new go-to. Its chic and affordable pieces are designed for everyone – from exercise newbies to gym buffs – and they're made of fabrics that are soft yet supportive. Plus, with pops of colour in the selection, you'll brighten up your wardrobe in no time.
Gym Squad Active, available online
14. Sloggi
Rediscover the joy of movement – and feel truly comfortable while at it – with Sloggi's athleisure range. Pick a piece that's specific for different types of movement. For beginners, ease your way into a workout with the Flow range of moisture-wicking and odour-preventing fabric, or reach for your limit with the Flex range of super high-stretch fabric. For the ultimate workout, the smart technology of the Fly range balances your body's heat with the temperature of the environment to keep you cool at all times. Break a sweat with ease.
Sloggi, shop online and at multiple locations including Takashimaya and Tangs
15. Kydra
It's easy to see why Kydra should be a staple in everyone's workout wardrobe. What's not to like when all designs in this range are made with a sweat-wicking and buttery smooth four-way stretch fabric – and with attractive price points? It's just too easy. Our go-to combo: Kara pocket high-waisted leggings with the power tank top. It's minimalist athleisure at its finest.
Kydra, shop online and at #B2-12, Takashimaya Shopping Centre, 391 Orchard Road, Singapore 238872
16. Lululemon
This Canadian brand's eclectic mix of leggings is a firm favourite amongst mat-toting, downward-dogging yogis. But Lululemon also stocks a comprehensive range of stylish running shorts, activewear bras, singlets, sports bags, and sweatbands for every type of sport for both men and women.
Lululemon, shop online and at multiple locations including Ion Orchard and Takashimaya
17. Under Armour
Under Armour exudes a tougher-than-nails vibe. So expect nothing less than high-performing fitness gear and accessories that are known for technologies such as heat dissemination and scent control. Must-buys in Singapore include the sports shop's staples like UA CoolSwitch tanks and shorts, HeatGear tees, and compression wear.
Under Armour, shop online and at multiple locations including Orchard Central and Paragon
18. Vivre Activewear
With Vivre Activewear, the days of dealing with too-long tights are over. These folks cater to the Asian body frame. But the double-layer tops are our favourites. Featuring a sports bra built into a top, they're great for grab-and-go mornings when you're packing your gym bags in a hurry.
Vivre Activewear, shop online and at multiple locations including VivoCity and Midview City
19. Touch the Toes
This one's helmed by yogis Kelly Hotta-Moung and Wuen Lin Tan. The green and stylish co-venture brings in yoga apparel and accessories by international brands like Rumi Earth, Manduka (California) and Hanuman (Hong Kong). It's all sustainably produced with organic cotton, bamboo blends, recycled or upcycled materials. Above all, we love how Touch the Toes curates collections that are funky, colourful and fun with fabrics featuring everything from snake prints to vibrant geometric patterns.
Touch the Toes, shop online and at Level 2, Funan, The Green Collective, 107 North Bridge Road, Singapore 179105
20. Om Going
Founded by sisters Alice and Michelle, Om Going caters to gym bunnies with a weakness for fun activewear. Case in point: you'll find tops and tanks with cheeky motivational slogans, and tropical printed pants. Brands stocked by the sports shop are sourced from all over the world and include celebrity favourite Alo Yoga and the label's in-house collections.
Om Going, shop online
21. Lorna Jane
What's not to love about this Aussie brand? Paving the way for fashionable activewear, Lorna Jane is every fitness-loving fashionista's dream come true. Think chic tights, colourful slogan tees, strappy sports bras and stylish accessories to complete your look. But be warned: no more excuses for looking sloppy at your next spin class!
Lorna Jane, shop online
22. Calvin Klein Performance
Gym clothes feeling a little blah? Break out of your workout gear rut with Calvin Klein's Performance line. These threads are seriously good enough to take you from barre to brunch. Throw a bomber jacket over one of their iconic sports bras and sleek leggings, and you've got your day's outfits sorted.
Calvin Klein Performance, shop online
23. The Outnet
The Outnet has always been our little secret for bagging designer threads on a budget. Major deals aside, the collections are constantly updated, thanks to new arrivals thrice a week. Its power dressing theme isn't just limited to work basics. For gym junkies, the activewear boutique is chock full of stylish, supportive pieces from labels like Stella McCartney, T by Alexander Wang, and Purity Active.
The Outnet, shop online
24. Uniqlo
It won't surprise you that this Japanese fashion behemoth has its very own sports line. Designed to "keep you ready for everything", the active apparel adjusts to your body movements and boasts breathable fabric with a quick-dry function so you'll stay and dry no matter how gruelling your workout is.
Uniqlo, shop online and at multiple locations including Orchard Central and Nex
25. Puma
With Rihanna, Kylie Jenner and Cara Delevingne at its forefront, it's no surprise that Puma is one kickass sports shop in Singapore. Whether your tastes veer towards more timeless styles like the Suede Classic or a more edgy vibe, courtesy of Fenty Puma By Rihanna, there's no denying this brand is also one of the leading contenders in the streetwear or athleisure arena.
Puma, shop online and at multiple locations including Jewel Changi Airport and Ion Orchard
26. Decathlon Singapore
French mega sports retailer Decathlon is a great hit amongst fitness enthusiasts. Head over to its massive sports shops in Singapore for an extensive array of sporting goods, clothing and accoutrements at shockingly affordable prices.
Decathlon Singapore, shop online and at multiple locations including Novena and City Square
27. Adidas
Colourful and slick, Adidas not only houses its cult Originals range. It also carries super-exclusive limited editions and big-name collaborations including Jeremy Scott, Opening Ceremony and Bedwin & The Heartbreakers. The standout in our books? You can never go wrong with the Miss Stan Shoes in white.
Adidas, shop online and at multiple locations including Paragon and Suntec City
28. Nike
Nike never disappoints. We adore this sports shop in Singapore for its expansive collection of highly coveted fashion and athletic gear such as Flyknit racers, Air maxes and Roshes. Their stuff doesn't stay on the shelves for long, so we suggest you get that pair of sneakers, stat! We've also got major love for the Nike Pants Studio: a range of nine tights specifically designed to suit a range of athletic activities, including ones for running competitively, high-intensity interval training, spin classes and yoga.
Nike, shop online and at multiple locations including Paragon and Bugis
29. New Balance
Since undergoing a redesign, New Balance has been riding high on the sneaker fashion trend. You'll find high-quality running shoes and its stores, including the lifestyle MadebyNB range you'd be happy to wear every day.
New Balance, shop online and at multiple locations including Velocity and Nex
30. Cheak
Love, Bonito has always been well-loved for quintessential pieces in its staple, bridesmaid and maternity collections. Now, fans of the brand have one more line of outfits to be obsessed about: activewear. Launched under the label Cheak, this collection features neutral and pastel fitness pieces such as leggings, sports bras and joggers. You'll be looking extra fly on the treadmill.
Cheak, shop online
31. Ninja by Yeomama
Temporarily closed.
Did you know this adorable mother-daughter batik label also carries activewear? Ninja by Yeomama has a collection of just a few items but the designs speak volumes. Clad in vibrant colours and mega mendung prints, the sheer mesh and criss-cross cuts are suitable for all active and water sports.
Ninja by Yeomama, shop online
Thanks to these activewear and sports shops in Singapore, you're ready to look good while sweatin'!