Photography: Ozgur Kara via Unsplash
London is calling and we're all too happy to answer. That's why we've put together an epic itinerary covering the city's finest attractions.
London, it's been a minute! No doubt you've risen like a phoenix after going through Brexit, lockdowns, the Queen's passing, and skyrocketing inflation. We love that the city's shining once again 'cos we adore so much about it: the theatre scene, afternoon tea sessions, and a rich tapestry of culture. If London's on your must-visit list, check out our itinerary guide to all its top attractions.
Best attractions and places to visit in London
1. Get a dose of royalty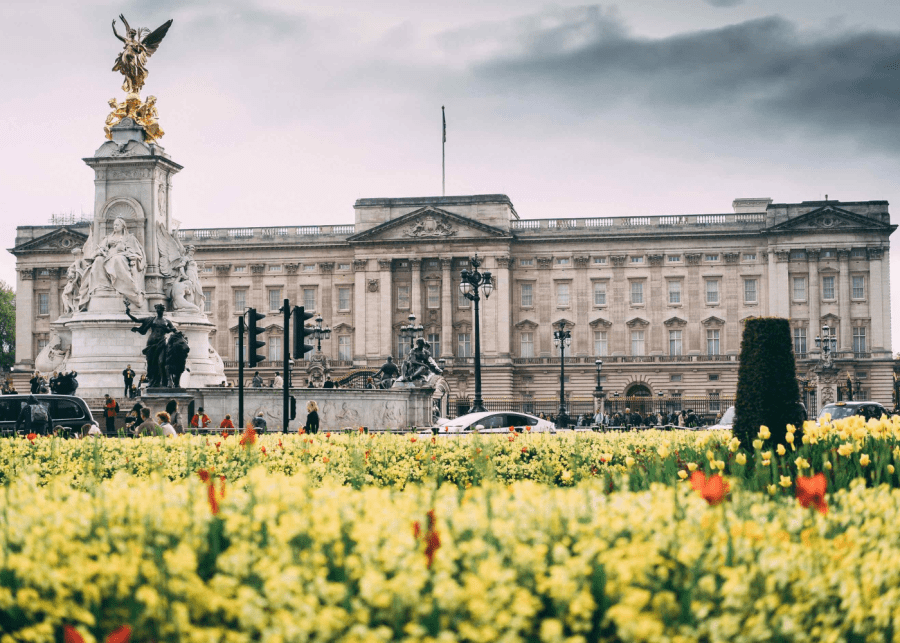 A visit to London isn't complete without a peek into the royal family's lives and their impact on British history. That means visiting their homes: Buckingham Palace, The Queen's Gallery, Windsor Castle, and Kensington Palace. Tip: plan to arrive just in time to witness a Changing the Guard ceremony, or join a guided tour if you're popping by during summer. Make a day of it and explore whichever element catches your fancy; just keep tabs on the latest happenings online. After all, London isn't quite as majestic without the royals!
2. Tour castles and iconic landmarks
Every tourist should add historical places in London to their list of must-see attractions. That includes Westminster Abbey, St Paul's Cathedral, and the world's most famous clock, Big Ben, which sits in Elizabeth Tower at the Houses of Parliament. Alongside the court of Henry VIII, which transports you back to Tudor times when you enter the majestic Hampton Court Palace, you won't want to miss these beautifully preserved pieces of British history.
Don't forget about the Tower of London – alongside the Tower Bridge, a suspension bridge that's a glittering example of late Victorian architecture. You'll be in awe of this Unesco World Heritage Site and its collection of Crown Jewels, stored and displayed since 1661. Be dazzled by the legendary Yeoman Warders, the ravens and Henry VIII's enormous suit of armour, all where Anne Boleyn lost her head!
3. Stroll along South Bank for London's popular attractions
Just walking along the south bank of the River Thames will lead you to some of the most visited attractions in London. We're talking about the iconic London Eye, offering panoramic views of the city's heart and soul, Sea Life London Aquarium, and The London Dungeon for all manner of special effects, thrilling scenes and rides. Let's not forget Shrek's Adventure for Dreamworks fans of the fairytale. Make sure you squeeze all that into your itinerary of attractions before noshing at any number of pubs and food joints in London.
4. Goodies for all kinds of shoppers
Few cities can rival Singapore for shopping, but London gives us a decent run for our money. You won't be able to resist entering classic department stores like Selfridges, Harvey Nichols and Harrods. We also love the high street offerings in Oxford and Regent Streets, as well as the designer boutiques of Bond Street, Knightsbridge, Covent Garden and Leicester Square. There's something for every style and budget, including places like Portobello Road Market, with its rows of pre-loved gems and vintage fare waiting to be discovered.
If you're travelling during the August bank holiday, check out the colourful Caribbean celebration, Notting Hill Carnival. Oh, and Camden and Borough Markets are world-renowned as some of London's best and oldest food markets, with stalls selling everything from local cheeses to slow-cooked curries. Plus, don't skip past Chinatown for a taste of Asia when you're in Soho!
5. Hit the West End (hard)
So many musicals and productions, so little time. If you're a theatre enthusiast, it'll be a crime not to see as many shows as you can while you're in town. Tip: when you're passing by a theatre that's playing a matinee, pop in and ask for an affordable seat! They usually have last-minute tickets for sale at the box office. Just tell them your budget, and you're in the mix to see some of the world's best shows.
If you fancy watching one of the longest-running musicals in the West End, Agatha Christie's Mousetrap is 70 years strong and currently showing at St. Martin's Theatre. Abba Voyage is another show-stopper this year. The virtual concert residency at Abba Arena stars virtual representations of the Swedish pop group, showing them as they were in 1977. Other famous productions not to be missed include Wicked, The Lion King, Les Miserables, Matilda, Hamilton, Moulin Rouge, Mamma Mia, and the list goes on.
6. Admire iconic London views
For some of the best sights of the city, check out the new Battersea Power Station. Grab the crew and head up in Lift 109 to enjoy 360-degree vistas from inside a glass elevator. If a glass-domed indoor garden is more your vibe, swing by Sky Garden, London's highest public garden which also has a lovely bar. The view is free, but to avoid disappointment we recommend you book a ticket.
The Gherkin is a short stroll away and not generally open to the public, but if you visit Helix restaurant and Iris bar on the top floors, you can enjoy mesmerising panoramic views across the city. For more stunning scenery, The Shard has an open-air sky deck that towers above the cityscape, and it's home to Shangri-La Hotel, where you'll find an infinity pool on level 52.
7. Themed fun for kids at heart
Renowned for being the best toy shop in the world, the 250-year-old Hamleys is dedicated to entertaining its visitors across seven floors of toy heaven including a huge new Harry Potter space. For die-hard Harry Potter fans, check out the trolley at Platform 9¾ at King's Cross station or visit The Making of Harry Potter exhibition at the Leavesden Studios where the movies were filmed. Explore the sets, lay eyes on the costumes and props, and learn about the special effects that made the books come to life. That's pretty much where our love affair with all things British began!
8. Cruise around the city without breaking a sweat
One of the most relaxing ways of seeing old London town is from the Thames River which flows through the city. Witness all your favourite sights here – from Westminster to Greenwich, you can tour the Cutty Sark or take a sightseeing cruise. For speed junkies, try the Thames Rockets cruise for the fastest speed boat river ride. While you're on a high, the IFS Cloud Cable Car experience is Britain's first and only urban cable car that flies 90m above the Thames.
For land lovers, London is full of parks. The glorious famous Hyde Park, one of eight royal parks, is right in the centre. In summer, you can swim or hitch a boat ride on the Serpentine, smell the fragrant rose gardens or enjoy 350 acres of green space.
Unesco put Kew Gardens on its list of World Heritage Sites in 2003, and today there are 300 acres housing over 50,000 living plants, including rare and threatened species in Temperate House. But our favourite way to cruise around London? An open-top bus tour! Or you can simply catch the number 11 bus, as the route passes by Parliament Square, Big Ben and St Paul's Cathedral.
9. Admire art for art's sake
The galleries in this golden city overflow with iconic gems, including the National Gallery that's home to more than 2,000 regular collection exhibits. Famous paintings include Sunflowers by Vincent van Gogh and The Water-Lily Pond by Claude Monet. Don't miss the National Portrait Gallery, Tate Britain & Tate Modern – all free to enter with paid exhibitions throughout the year.
10. Go museum-hopping
Ever seen the movie Night at the Museum 3? Well, it was filmed in London's British Museum. Come face-to-face with objects from the Sutton Hoo ship burial, then explore the wonderful collection of the Islamic world and Egyptian mummies. Dinosaur enthusiasts shouldn't miss the Natural History Museum, where you'll see the rare first edition of Charles Darwin's 'On the Origin of Species'. Plus, a real moon rock sample (gifted to the UK by President Nixon) that was collected on Apollo missions.
There's so much more to be discovered at the Science Museum, from award-winning exhibitions and educational tours (like the world's oldest collection of clocks and watches!) to a Red Arrow simulator ride. War buffs, you have to see the bunkers of the Churchill War Rooms. Meanwhile, fashionistas can explore the Victoria and Albert Museum, the world's largest applied arts, decorative arts and design museum with two million objects in situ.
Oh, and the London Transport Museum hosts exhibitions connecting transport with the social and cultural history of London and the stories of the people who have travelled and worked in the city over the last 200 years. Any gloomy rainy London day can be cured with a visit to one of these famous museums. Best of all, entry is mostly free!
11. Who's up for afternoon tea?
There's a famous saying, 'A cup of tea solves everything'. This is absolutely true when you experience extraordinary afternoon tea in London. After all, this is where the tradition began nearly 200 years ago thanks to Anna Russell, the 7th Duchess of Bedford.
Our advice? Make the most of this fabulous British institution and indulge in a truly high-end version starting at The Promenade in The Dorchester, or at The Rosebery in Mandarin Oriental Hyde Park, London for an extravaganza complete with champagne cocktails. But the quintessential afternoon tea sesh and the epitome of elegance can be found at Claridge's Hotel in Mayfair. Dine on sandwiches, scones, pastries and cakes – the perfect blend of sweet and savoury accompanied by the finest selection of teas. Go ahead and book one of life's finest pleasures!
The Big Smoke, we see you and all your eclectic array of offerings. Bookmark this itinerary of things to do and attractions to see in London for your next visit.