Photography: Carlos Nunez via Unsplash
From ghoulies to ghosties and long-leggedy beasties to things that go bump in the night – why are we so obsessed with the supernatural?
It was a dark and stormy night. My friend Fatimah Latiff and I were huddled in the living room, trading ghost stories and discussing Singapore's haunted spots. We thought we saw something. Could it be a ghost? My hair stood on end; we didn't wait to find out…
Cut! Sorry, folks. I was being dramatic to set the stage. We were actually talking about the supernatural – specifically the pontianak and Sungei Api Api at Pasir Ris – in the middle of the day at a brightly-lit cafe. Mid-conversation, I looked at Fatimah and blurted out: "Gosh, you're so obsessed with Miss P!" (We've been warned not to refer to the pontianak by her actual name for fear of invoking her.)
We're not the only ones fascinated by the supernatural. Go online and you'll find videos and podcasts of people recounting their personal experiences, sharing folklore, and spooking the heck out of everyone. As Fatimah and I went on about this topic, I can't help but wonder…  is our fascination with the supernatural a haunting figment of our imagination, or are we unleashing the ghosts within us?
Help, there's a hantu!
We're going way, way, way back to the 1800s, when Fort Canning Hill was known as Bukit Larangan (Forbidden Hill in Malay). Back then, no one dared to go up the hill because spirits – allegedly, hundreds of men – haunted the dark forest. Sometimes, people heard the sounds of heavy drums and shouting.
Eventually, more people settled on our island, bringing with them their supernatural beliefs. Besides the pontianak, I'm sure you're familiar with the pocong (a body wrapped in white 'coffin cloth'), shui gui (water ghost), and macabre spectres tortured during World War II.
As these ideologies continue to thrive, they pose the question: why do we still believe them? According to Kyle Ong, executive producer of the Ghost Maps podcast, people love the idea of the unknown because modern life "can get boring". Natasha Oh, our colleague and resident expert on all things supernatural, concurs: "I'm drawn to things that I don't have answers to, and I get to create my own narrative in my mind."
Wayne Rée, Kyle's creative partner, opines that faith in the supernatural gives people hope for life after death and a chance to settle unfinished business with the living. You've probably heard stories of spirits unable to move on because they have to tie up loose ends in the living realm with loved ones or enemies.
The circumstances can be sad or malevolent. Unfortunately, there's only so much the living can do, and getting involved with the ghosts isn't beneficial. That's why Chinese folks leave out offerings for the dead during the Hungry Ghost Festival – they believe doing so will appease the spirits, and they won't bother the living.
So, how did these tenets flourish and evolve? Well, we have technology and the media to thank for that.
From spooky stories to incredible tales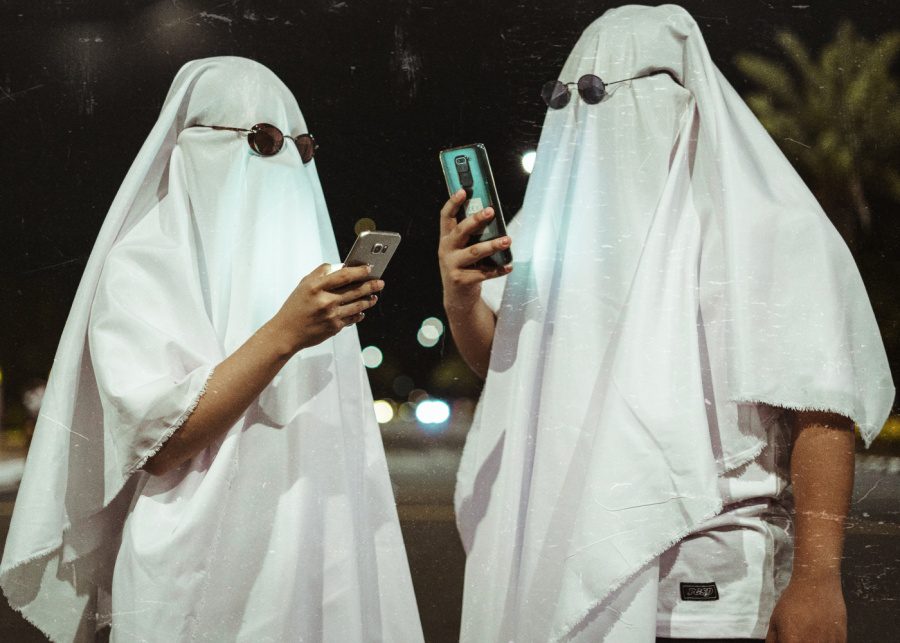 The ghost stories we know (and love) have stood the test of time. They're passed down from generation to generation to warn others about the living dead or bring people together (in fear). But are these urban legends real? Or have these shared stories been distorted till they're not plausible? In a Literary Hub post, author Sarah Rose Cavanagh notes that while the details in ghost stories may change with each retelling, the basic structure remains.
Natasha likens the exchanges to a game of telephone: "Certain parts may be true to some extent, but because it's been passed on for several generations, the message can get lost in translation."
Regardless, this hasn't stopped the stories from circulating. Nowadays, digital technology – specifically social media – plays a pivotal role in spreading them. But Wayne and Kyle don't think technology dilutes the tales; it helps bring them to a broader audience, allowing them to live on for years. "It enables people to continue the tradition of telling ghost stories on a larger scale," Kyle says.
Naqiah Ayub, creator of the True Horror Stories POV YouTube channel, agrees. "Previously, most were unaware of a certain traditional supernatural belief. Social media has helped create awareness of these things. However, the credibility of such beliefs is another matter."
Technology allows our ghostly tales to go beyond the spoken and written words and into contemporary media. These anecdotes are easily accessible through YouTube, Instagram, and TikTok videos. Although I don't actively search for these clips, I'm not opposed to watching them if they appear on my feed or are shared by my family and friends.
It seems we can't truly escape from spooky stories being shared online, seeing as they entertain us. This also bolsters the weaving of such themes into mass media.
Lights, camera, haunting!
Actually, supernatural folklore has been part of entertainment since the late 1950s. Cathay-Keris Productions' first horror film, Pontianak, reimagined the infamous long-haired female vampire as a wife who became homicidal due to a curse. The movie was a success, which led to other Malay supernatural myths adapted to the silver screen. I recall watching Sumpah Orang Minyak (Curse of the Oily Man) – about a hunchback who sexually assaults women – as a kid, and I got so scared because I believed the story was true.
Supernatural elements continue to haunt the movies, which have expanded beyond the region to include Western horror. In fact, many Asian horror films have influenced their own Hollywood remakes. Even then, Asian horror hits differently than their international counterparts. Natasha cites The Maid, a 2006 release by local filmmaker Kelvin Tong, as the film impacted her the most with its cultural references and lifestyle portrayal.
However, the phantom phenomenon isn't exclusive to films. Remember Russell Lee's True Singapore Ghost Stories? During my adolescence, I voraciously lapped up those books. Perhaps you grew up with the Mr. Midnight books by James Lee or Pugalenthii's Nightmare series. Beyond those three works, our horror literary scene brims with stories worth reading, such as Othman Wok's highly-lauded A Mosque in the Jungle, a compilation of his best fictional outputs.
Of course, we can't talk about entertainment and not mention television. Everyone knows Incredible Tales, which left an indelible mark on viewers. "It's definitely one of the most significant horror shows in Singapore. In fact, we have friends across Southeast Asia telling us they've watched it too," Kyle shares.
"From the iconic theme song with the creepy visuals, down to Utt giving us a TL;DR of the episode's ghost story… good times!"
Are you for real, ghosts?
While all this talk about our fascination with the supernatural has been riveting, it leaves me thinking – is it all real? My quest to unravel that question led me to Kiran Kumari, a senior clinical psychologist working with adults in crisis situations. According to Kiran, the answer is more nuanced than we think.
"Definitions vary, and the construct could be challenging to measure and research in studying the supernatural. Based on current research and research methodology, ghosts are construed to give meaning to the unknown to some extent," Kiran tells me.
So, ghosts are there but also not there. If we can't fully determine their existence, why are we so fixated on them? Kiran regards it as our way of understanding what we don't know or what's different about the things we know. "The curious mind to reason things out can have some adaptive functions to how we perceive and relate to the world."
I've never thought about making sense of the supernatural. And from conversations with my interviewees, neither do they. It's an aspect that's firmly ingrained in our culture, and we don't question it. More than anything, we just love being scared while still being safe from things that frighten us. "That desire for that thrill, that rush of fear, won't go away," Wayne says.
From the looks of it, I reckon there's no concrete explanation as to whether ghosts are real. Ultimately, it boils down to our personal beliefs in the supernatural.
More than just spirits
When I meet Fatimah again, I question her obsession with the pontianak. She reasons that her fascination stems from what she thought she knew about Miss Ponz. However, after watching Revenge of the Pontianak and reading Suffian Hakim's The Minorities, Fatimah became sympathetic to the supernatural figure.
"People always thought of her as someone scary. The reason why she's that way is because she's reclaiming her womanhood and power," she explains.
Kyle agrees with Fatimah's statement: "I remember reading Vice's article on the pontianak. It made me think about how we were terrified of Kakak growing up. Now, I understand and almost appreciate what she stands for."
I can't speak for everyone, but my curiosity for the supernatural is because I'm genuinely interested to know if it's real. Upon reflection, I've realised my fixation goes beyond the spirits themselves – it's a part of Singapore's history and culture. Our country is rapidly developing, and because of that, she has lost plenty of things. Some of what's left are folklore and stories, so it's vital to cherish them.
That said, it's also important to not let your fascination with the supernatural consume you. "Please remember to be respectful and don't endanger yourself unnecessarily," Natasha advises. Otherwise, you might just unleash the ghosts…