Photography: Ashe Liao
Prep your wallets and bank accounts for the best shops in Singapore. We're talking about everything from clothes to books to furniture!
It's no secret that our little red dot is known for its good food, gorgeous heritage architecture, and scenic hiking trails. But did you know we also have plenty of cool shops for retail therapy? There are tons to check out (whether you're visiting the country or just need some inspo for your weekend plans) so we've rounded up the top shops in Singapore you have to stop by.
The best shops in Singapore
1. Mash Keyboard
Mechanical keyboards had a huge burst of virality a couple of years ago, but they've never gone out of style. Gone are the days when only the most dedicated tech fans collected keyboards because now you can get one to jazz up your desk. Mash was founded by a group of enthusiasts who want to share this hobby with the world. Its experience centre is a one-stop shop for all things keyboard-related. Get up close and personal with the keyboard bodies, switches, keycaps, and various accessories to personalise your own keyboard.
Mash Keyboard, #02-328/329, Tower 5, West Wing, Suntec City, 3 Temasek Boulevard, Singapore 038983
2. Galeri Tokokita
Are you a fan of batik? Then you need to check out Galeri Tokokita. This Singaporean boutique specialises in batik, offering a selection of ready-to-wear apparel and art pieces you'll be dying to add to your wardrobe and abode. You'll even learn more about the history and significance of batik when you shop here, so you can better appreciate the fine pieces you take home.
Galeri Tokokita, 757A North Bridge Road, Singapore 198725
3. In Good Company
We adore the clothes from this local fashion label, best known for its clean-cut design aesthetic and classic pieces with a twist. Founded in December 2012, the brand has a strong aesthetic of non-boring yet wearable womenswear – think simple dresses with enough quirk to make them stand out from the crowd of same-same fashion.
In Good Company, available at multiple locations including Ion Orchard and Jewel Changi Airport
4. Cat Socrates
There's so much to love about Cat Socrates! In between its cat-themed stationery, books and puzzles, you'll find everything from succulents and whimsical tin robots to analogue cameras and handmade journals. Don't forget to spot its resident cat that spends time lounging near the window.
Cat Socrates, available at multiple locations Tiong Bahru and Joo Chiat
5. Design Orchard
Design Orchard is a retail space that spotlights Singapore creators and local brands. Explore further and you'll find an incubation workspace for designers, a public amphitheatre for events, a cafe and a tranquil rooftop to rest your legs at. As its selection of local brands is ever-changing, you'll always find something new and intriguing with every visit.
Design Orchard, 250 Orchard Road, Singapore 238905
6. Carrie K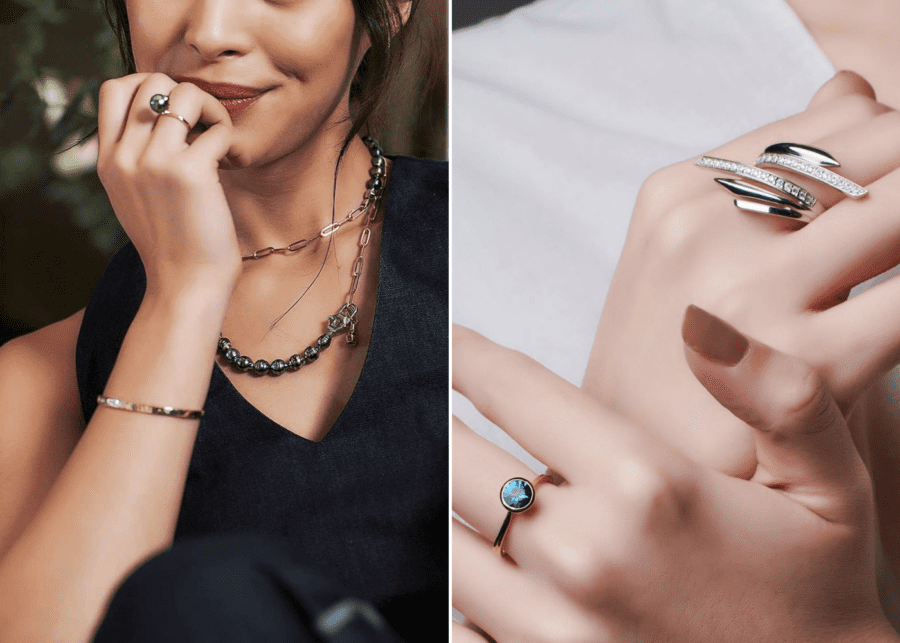 There's nothing like supporting local talent in Singapore! When it comes to creativity and success, one brand stands out. Check out Carrie K, one of our fave jewellery brands in Singapore. We guarantee you'll find a selection of versatile, meaningful jewellery that'll bring your personal story to life.
Carrie K, #02-02, National Design Centre, 111 Middle Road, Singapore 188969
7. Supermama
This four-in-one store, artist residency studio, gallery and space for people to escape, is inspired by local experiences. You can also bet it has a loyal following! It stocks an array of wittily and handsomely designed souvenirs – and it's just a cool space to hang out with friends on the weekend.
Supermama, available at multiple locations including National Museum of Singapore and Asian Civilisations Museum
8. Dover Street Market
Inspired by the low-key stalls of London's Kensington Market in the 70s and 80s, Dover Street Market combines art and street fashion to provide customers with a unique shopping experience. Feed your contemporary street style by browsing through racks of fashion lines from top brands!
Dover Street Market, 18 Dempsey Road, Singapore 249677
9. Zerrin
Into sustainability? Zerrin is dedicated to building a community of shoppers who shop meaningfully. Founded by Susannah Jaffer, the one-stop-shop for all things ethical is home to a variety of eco-conscious and socially responsible fairtrade jewellery lines and handmade clothing.
Zerrin, available online
10. Weekend Sundries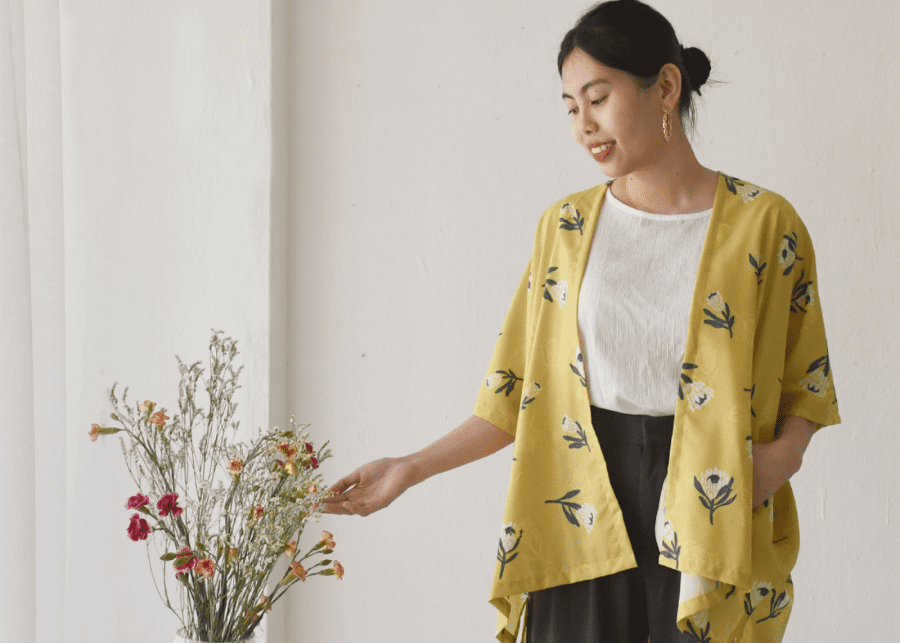 With threads that scream chic, you're bound to find something at Weekend Sundries. This conscious brand ticks all the boxes: comfort, quality, sustainability, and collections that transcend trends. The textile prints are created in-house so expect locally-inspired designs. Even the fabrics are sustainably sourced with eco-friendly materials like organic cotton and tencel lyocell.
Weekend Sundries, #02-108, Great World City, 1 Kim Seng Promenade, Singapore 237994
11. Eden + Elie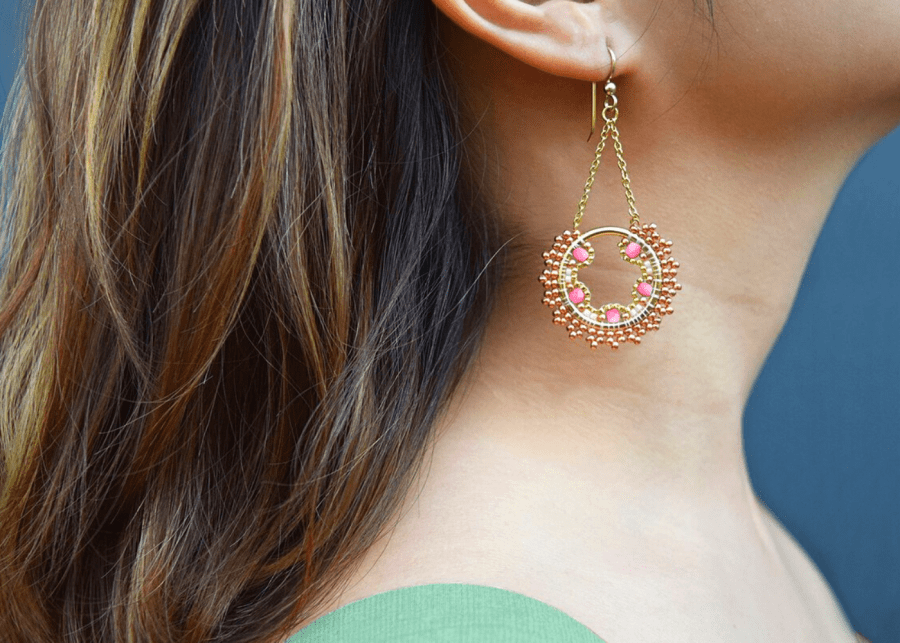 The handmade creations from this Singapore jewellery brand are simply outstanding. Each stunning piece is uniquely made using classic techniques like weaving Japanese beads with a needle or on a loom and embellishing them on quality, lead-free metal sourced and plated in the US. We absolutely love the label's beautifully vibrant tassels and statement drop earrings.
Eden + Elie, 160 Owen Road, Singapore 218953
12. Ling Wu
You can't have too many arm candies. Adding another bag to your collection? Check out the gorgeous designs at Ling Wu. We love its super chic bags that are buttery soft, supple and light – the result of extensive handling of skins, which has allowed the team to choose the most luxe of leathers for each bag.
Ling Wu, #02-78, 43 Jalan Merah Saga, Singapore 278115
13. Scene Shang
This contemporary Asian homeware brand is popular for its original designs and elegant styles. Scene Shang tells a narrative through its classic designs created with a contemporary touch. Its original designs have won several awards such as a special commendation at the President's Design Award and the Asean Furniture Design Award.
Scene Shang, Level 4, 435 Orchard Road, Singapore 238877
14. By Invite Only
We can't get enough of the exquisite pearl and moonstone necklaces, delicate bracelets and rose gold beauties at By Invite Only. Every piece is thoughtfully made, hypoallergenic and packed in sustainable packaging. Stack and layer these dainty designs easily for any day and event!
By Invite Only, available online and at multiple locations including Ion Orchard and VivoCity
15. Perk by Kate
This local shop in Singapore is known for its exquisite selection of lingerie but it's also recently ventured into the athleisure world. Find a variety of inclusive sizes that range from S to XXL. There are also tons of colours that range from burnt orange to sage green to dusty blue. You'll be comfy in these standout threads while you're working that bod!
Perk by Kate, 134A Telok Ayer Street, Singapore 068600
16. Our Second Nature
We're familiar with the crisp, button down dresses at Our Second Nature. Inspired by intangible everyday moments, the label works with a London-based designer on every collection to create an original print that sets the theme for each. You'll be browsing this store for hours.
Our Second Nature, available online and at #01-66, Chip Bee Gardens, 43 Jalan Meran Saga, Singapore 278115
17. XM Studios
Have you visited this award-winning global design studio? Its first-ever flagship concept shop in Singapore features an extensive collection of statue collectibles. These include designs inspired­ by Marvel, DC, Hasbro, Godzilla and more! Keep an eye out for the launch of lifestyle products, apparel and more collectibles that will soon be released.
XM Studios, #03-31, Kitchener Complex, 809 French Road, Singapore 200809
18. Monument Lifestyle
Monument Lifestyle is a multi-concept store that sits along Duxton Road and houses fashionable menswear, grooming kits, home decor and even surfboards. When you're done shopping, consider staying for a cuppa made with beans from San Francisco's Four Barrel. For non-coffee drinkers, settle for cups of Samovar tea which come in a variety of flavours.
Monument Lifestyle, 75 Duxton Road, Singapore 089534
19. TwoLips
Luxury intimate care brand TwoLips stocks a stellar line of 16 vulva care products that can be used on the face and body. The brand has truly brought vulva care, a topic rarely discussed, to the forefront by breaking taboos and empowering women to love their vulvas.
TwoLips, #B3-37, Ion Orchard, 2 Orchard Turn, Singapore 238801
20. Tumbleweed Plants
Looking to hone your green thumb, or just need a few plants to spruce up your home? You'll find everything from monstera and fiddle-leaf fig to money tree and aloe vera here. Its artisanal pots are equally pretty, and make good statement pieces for the shelves. Don't forget to stock up on tools, bug busters and plant nutrition products.
Tumbleweed Plants, available online
21. Kiehl's
Kiehl's is a brand that's built on an impressive 170 years of heritage. Expect a range of products that are nature-inspired and use scientifically-proven formulas to achieve visibly healthier-looking skin. You'll find a large array of skincare, hair and body products, and a whole range catered specifically for men.
Kiehl's, available at multiple locations including Ion Orchard and Isetan Scotts
22. Swee Lee
Trust us when we say Swee Lee is a haven for music lovers. You can get almost anything you need to set up your own music nook at home – we're talking everything from turntables and records to guitars and keyboards. When you're done shopping, grab a cuppa at the Swee Lee Social Club, a cafe and social space within the store.
Swee Lee, #01-07/08/09/10, The Star Vista, 1 Vista Exchange Green, Singapore 138617
23. Well Bred
The streetwear scene in Singapore has been lit since Well Bred opened its doors in 2018. If you're into hypebeast apparel and accessories, you'll love this shop. Get access to new-wave brands like Acme De La Vie (ADLV), Fog Essentials, Poshbrain and Carhartt that'll have you spending all your dollars in the blink of an eye.
Well Bred, #04-18, 313@Somerset, 313 Orchard Road, Singapore 238895
24. The Editor's Market
This chic shop in Singapore makes curating a timeless wardrobe easy, no matter if you've just stepped into working adult life or you're well on your way up the career ladder. Browse through a variety of styles that are both playful yet minimalistic enough to mix and match. It even has a collection of homeware that'll help you build your dream abode!
The Editor's Market, available online and at multiple locations including Tampines 1 and Bugis+
25. YeoMama Batik
The handmade batik designs at YeoMama span tops, dresses, the cutest jumpsuits and even dungarees. It's incredibly size inclusive, with options for the guys and kiddos as well! Just drop by the boutique to try some pieces on – though be warned, you might want to buy everything.
YeoMama Batik, #01-87, Oxley Bizhub, 65 Ubi Road 1, Singapore 408729
26. Beyond The Vines
The designs at Beyond The Vines are best described as pared down essentials in soft hues and flattering contours. We love the selection of basic tops and bottoms that make building the ultimate capsule wardrobe a piece of cake. Don't forget to check out its ultra popular dumpling bags – we have one in every colour.
Beyond the Vines, available online and at multiple locations including Funan and Takashimaya
27. Chokmah
This is the place to be if you're looking for sustainable handcrafted lifestyle products. Think lovely trays, coasters, organisers, pots and soap dishes made from eco-friendly jesmonite. We want everything! If you'd like a more hands-on experience, sign up for one of its workshops to make your own terrazzo trays.
Chokmah, #02-K10, Funan, 107 North Bridge Road, Singapore 179105
28. Curated Records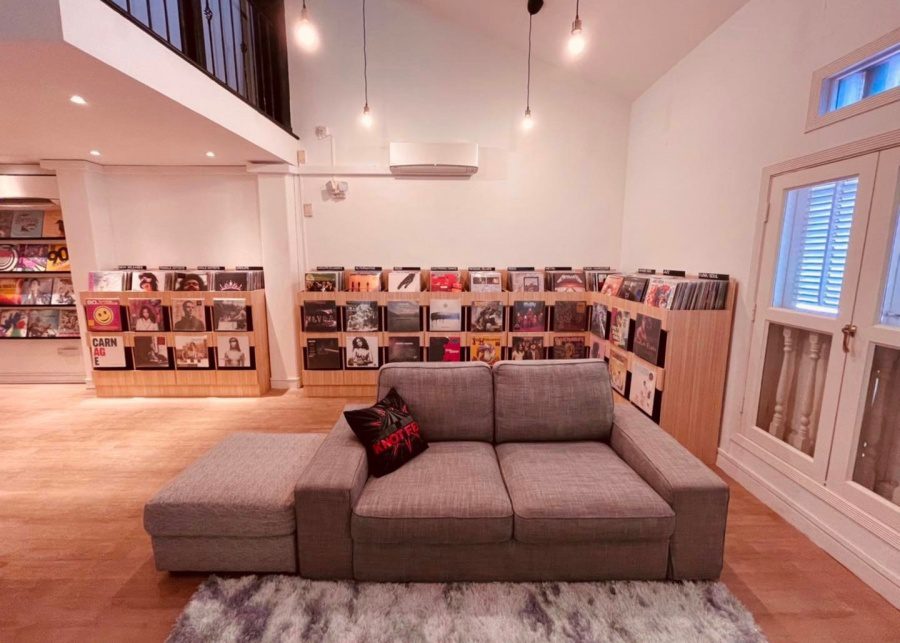 Looking for indie music on vinyl? Curated Records is probably your best bet. Rummage through hundreds of records to find your favourite tunes and artistes. It's definitely a treasure vault for hipsters.
Curated Records, 766A North Bridge Road, Singapore 198734
29. Jo Malone
Find the most luxurious fragrances at Jo Malone. Its unique candles, perfumes and diffusers will leave your home smelling like the world's most wondrous spa. In particular, we love the English pear scent. But don't take our word for it. Head down to the store and take a whiff yourself.
Jo Malone, multiple locations including The Shoppes at Marina Bay Sands and Takashimaya
30. Penhaligon's
Penhaligon's is a 147-year-old fragrance house from London that's all about heritage and sophistication. No matter which perfume, cologne or candle you pick, you're guaranteed to come away feeling like royalty.
Penhaligon's, multiple locations including Ion Orchard and Raffles City
31. Love, Bonito
Love, Bonito is a homegrown fashion label known for its widely-popular selection of gorgeous looks coveted by women of all ages, sizes and styles. The household brand has also collaborated with celebrated designers and appeared on fashion runways.
Love, Bonito, available online and at multiple locations including Funan and 313 @ Somerset
32. The Green Collective
For those who love to live well, The Green Collective is a must-visit. Pick up zero-waste essentials including cutlery kits, colourful masks (perfect, given the current Covid climate) and divine handmade manuka soaps. It even has a range of sustainable fashion and accessories to boot.
The Green Collective, #02-18, Funan, 107 North Bridge Road, Singapore 179105
33. When I Was Four
If you grew up in Singapore, you'll really feel like a four-year-old in this hipster shop. Everything has a local slant to it, from the familiar jotter book-designed pouches to the curry puff cushion covers to the leopard balm socks. It even has Singaporean motif-inspired tees to browse through!
When I Was Four, #04-41, Bras Basah Complex, 231 Bain Street, Singapore 180231
34. Love & Bravery
Need a statement look, or just an everyday outfit? Love & Bravery has everything you want – even shoes and accessories. Head down to its physical stores to try on clothing, or visit its website where you can browse by occasion. This means anyone looking for workwear or party pieces can head straight to those collections. You can also filter according to dress length, pattern and sleeve length to make shopping a breeze.
Love & Bravery, available online and at multiple locations including Jem and Tampines 1
35. Charles & Keith
Charles & Keith opened in Singapore in 1996, and now it has over 350 shops around the world. It's likely you'll find a well-made version of trending shoes, bags or accessories at this store. Its prices are also affordable, and the pieces last way longer than you'd expect. We particularly like this brand for when we need classy work heels and handbags.
Charles & Keith, available at multiple locations including Ion Orchard, The Shoppes at Marina Bay Sands and VivoCity
36. The Stage Walk
A familiar name to local shoppers, The Stage Walk has been around for over 10 years and sells wearable, affordable clothing suited for the modern woman. Expect new arrivals twice a week that are full of contemporary outfits, shoes, bags and accessories. If you're not too careful, you may spend more than you budgeted for…
The Stage Walk, available online and at multiple locations including Bugis Junction and Tampines 1
37. First Stitch
Tired of the cookie-cutter apparel that everyone else is wearing? The folks at First Stitch know every individual is unique, and their clothes should be as such! Choose from a selection of garments that are well thought out and cared for, and don't forget to use the in-house alteration service for a fit that falls perfectly over your curves and edges.
First Stitch, #01-21, 58 Seng Poh Road, Singapore 160058
38. Woods in the Books
This indie bookstore transports you to your childhood. Located in a charming corner of Tiong Bahru, you'll find a collection of illustrated books for all ages. We're talking Tintin comics and even the well-loved story of The Hungry Caterpillar. Pop by for a quiet hang if you're itching to relive your childhood days, or if you're hoping to get a gift for the young 'uns in your life.
Woods in the Books, 3 Yong Siak Street, Singapore 168642
39. The Ride Side
Feed your hunger for the thrill at The Ride Side – Singapore's first action-sports store for snowboards, skateboards, surfskates, longboards and more. We love that you can browse through a selection of products from 50 global action sports brands in Southeast Asia. You can even sign up for surfskating lessons on its website if you're thinking of picking up a new sport.
The Ride Side, #01-10, Kallang Wave Mall, 1 Stadium Place, Singapore 397628
40. Grassroots Book Room
Would you believe us if we said this indie Chinese bookshop has been around for decades? You'll find it at a lovely little space tucked away from the bustle of Keong Saik Road. Swing by to browse through the selection of Chinese history, film, literature and politics, while you enjoy its cosy and calm vibes.
Grassroots Book Room, 25 Bukit Pasoh Road, Singapore 089839
41. OliveAnkara
A fan of bold prints, head-turning patterns and vibrant colours? Put OliveAnkara high on your list. Deeply rooted in African culture and fashion, these designs are a breath of fresh air. Its handmade pieces are unique, and no two are the same. It also abides by a strict zero-waste philosophy, where every spare fabric is upcycled and used to make other items.
OliveAnkara, #01-02, 79 Chay Yan Street (opposite Plain Vanilla), Singapore 160079
42. Vintagewknd
Say goodbye to fast fashion at Vintagewknd. This shop offers upcycled retro clothes with prices that won't break the bank. Cart out some fun 'fits online, or drop by its physical store to browse a charming collection of dresses, pants, skirts, windbreakers and more.
Vintagewknd, 41 Haji Lane, Singapore 189234
43. Goodluck Bunch
We love this multi-label boutique in Kampong Glam that sells established and underrated gems to fill your wardrobe. Shop everything from t-shirts and hoodies to headwear and shoes from intriguing fashion labels like Novesta, Patagonia and Chinatown Market. Also, keep an eye out for capsule collections that are launched in partnership with like-minded brands.
Goodluck Bunch, 26 Bali Lane, Singapore 189862
44. Monica Vinader
We love bracelets, especially those dainty, delicate ones that make us look oh so chic. That's why we especially adore the range of arm candy at Monica Vinader that features everything from thin cuffs to light gemstone chains. It also has a stunning variety of earrings, necklaces and rings for layering and stacking.
Monica Vinader, available online
45. Hooga
If you're looking to fill your home with cosy decor, look no further. Here, you'll find sweet Scandinavian decor pieces and homeware that's minimal, stylish and functional. We particularly love its soft fluffy blankets (no really, we can't stop running our fingers over them).
Hooga, available at multiple locations including Plaza Singapura and Great World
46. AkaMotif
Authentic handmade textiles abound at AkaMotif. It offers batik shirts and sarongs, as well as beautiful Indonesian accessories such as porcelain dolls, paper fans, brooches and coasters that are perfect for both adults and kids.
AkaMotif, #03-142, Tanglin Mall, 163 Tanglin Road, Singapore 247933
47. Actually
This multi-label concept store carries an eclectic mix of premium streetwear brands. Think labels such as Freitag, Playhood, Fjallraven and Keen. The store constantly switches up and rotates items on its shelf, so you'll always find something new to buy.
Actually, #03-37, 313@Somerset, 313 Orchard Road, Singapore 238895
48. Diptyque
Covet-worthy fragrances are abundant at this gorgeous tropical luxe shop. You might be familiar with its legendary candles which are a must-have for home scent fans. The brand even makes gorgeous brush holders once the wax has burnt up. Don't forget to get your hands on the room sprays and diffusers!
Diptyque, #B1-33A, Ngee Ann City, 391A Orchard Road, Singapore 238873
49. The General Co
This shop features a well-curated selection of artisanal wares ranging from accessories and jewellery to tote bags and cute cushion covers. And yes, it's all made by young, emerging crafters and makers. Pop by the quaint store for a peek!
The General Co, #05-04A, B-Central, 996 Bendemeer Road, Singapore 339944
50. Loop Garms
Y2K fashion is a thing, but if you're looking to go further back in time, hit up this cosy store for a trip back to the 80s and 90s. You'll find racks of cool tees that are old but gold. Think comic characters, band merch, vintage sportswear and even football jerseys.
Loop Garms, #01-148, 635 Veerasamy Road, Singapore 200635
51. Littered with Books
E-books are all the rage now, but there's nothing like holding a good ol' book in your hand. If you're looking for a bookstore to visit, we recommend this quaint little space in the hip Duxton area. This place has fantastic service, competitive prices and a well-edited selection of titles. Take your pick from non-fiction, crime, thriller, sci-fi, fantasy and children's books, then read to your heart's content.
Littered with Books, 20 Duxton Road, Singapore 089486
We hope you've got enough money in the bank, because these awesome shops in Singapore are oh so tempting.
[This article was originally published in 2022 and updated in 2023 by Ashe Liao.]