Photography: Rachel Sweeney via Unsplash
If OTT designs aren't your thing, complete your outfit with minimalist jewellery from these affordable accessory stores in Singapore.
Sometimes, a simple statement is all you need. If you're looking to steer clear of bold designs and frilly embellishments, Singapore's minimalist jewellery brands will definitely suit your fancy. These sleek and elegant accessories – also known as the little black dress of jewellery – are suitable for anything and everything. That includes a casual athleisure outfit or stand-out evening wear. Plus, anyone can pull off dainty gold and silver earrings, necklaces, rings and bracelets. It's time to don minimalist jewellery for maximum style.
Where to buy minimalist jewellery in Singapore
1. Monica Vinader
Big on arm candy? You'll love Monica Vinader. It's home to the most delicate bracelets. The range includes everything from thin cuffs to light gemstone chains. But more than just wrist accessories, it also features a stunning variety of earrings, as well as necklaces and rings for layering and stacking.
Monica Vinader, multiple locations including #B1-09, Ion Orchard, 2 Orchard Turn, Singapore 238801
2. Studio Emoi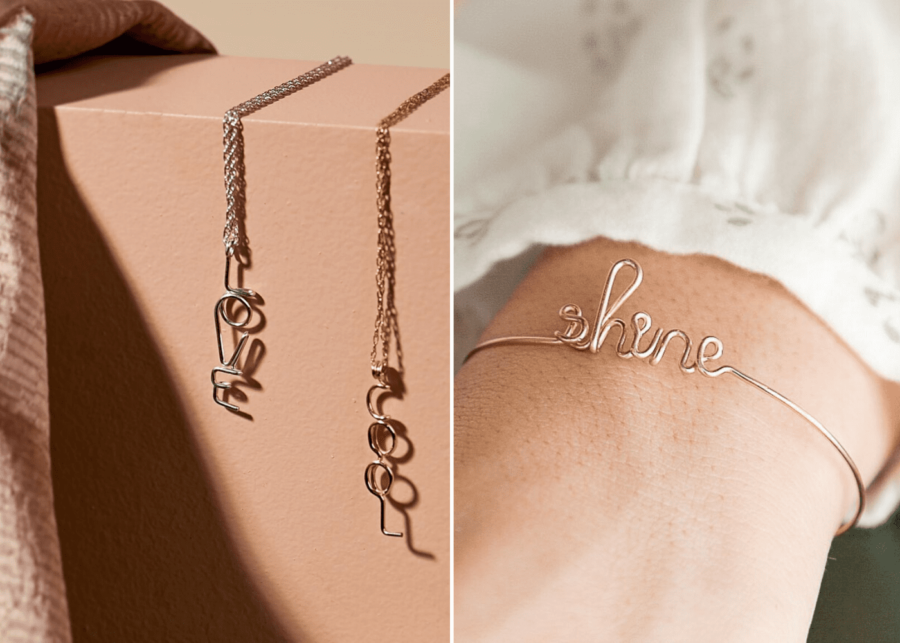 Studio Emoi prides itself on handcrafted, customised jewellery for that one-of-a-kind look. Sticking to its "less is more" motto, the designs here belong to the minimalist, sentimental category, with elegant expressions of empowerment like "believe", "shine" and "hope". So if you'd like an accessory special to you, take a look at its sleek selection of rings, bangles and necklaces.
Studio Emoi, available online.
3. The Mindful Company
The Mindful Company is all about meaningful and modern jewellery, individually created to add to the uniqueness of each piece. Just take a look at collections like "I Am" or "In Bloom" and you'll see that these designs go beyond fashion. For something closer to your heart, the "Reminder Gemstones" collection looks elegant with natural pearls that symbolise wisdom, serenity and purity.
The Mindful Company, available online 
4. Tessellate.Co
Travel is its inspiration, and high-quality semi-precious and precious gemstones are its focus. Known for classic designs that can range from modern and minimalist to quirky statements, the jewellery brand also partners with fair trade artisans and donates a dollar for every item sold to Fior Di Loto for the education of underprivileged girls in India. Whether you're looking for diamond earrings, moonstone rings or silver charm bracelets, there's something for every style – even customised pieces!
Tessellate.Co, available online and at #02-14, Wheelock Place, 501 Orchard Road, Singapore 238880
5. Rina Lee Jewellery
It's no surprise that the designer and owner of Rina Lee Jewellery is trained in contemporary arts – her creations immediately give it away. These collections of sterling silver and 18k gold jewellery may be small in size but they're show stoppers on their own, especially when they tell tales of self-love, strength and courage. Plus, the materials are ethically sourced and made. We absolutely need those gorgeous gemstone earrings!
Rina Lee Jewellery, available online
6. By Invite Only
Exquisite pearl and moonstone necklaces, delicate bracelets and rose gold beauties – there's always an element of grace with By Invite Only and we can't get enough. Best of all, every piece is hypoallergenic and the minimalist jewellery brand in Singapore strives for sustainability in its materials and packaging. We're big fans of stacking and layering these dainty designs.
By Invite Only, available online and at multiple locations including Wisma Atria and VivoCity
7. The Ordinary Co.
So you're all about staying in trend? Check out this local gem. The Ordinary Co. stocks everything from minimalist jewellery to statement pieces, including necklaces, rings, earrings and bracelets. And if you've got a specific outfit all planned out, why not bag these fashion add-ons in styles like classic, glam or bohemian? Nothing feels good like an easy shop!
The Ordinary Co., available online
8. Olivia Burton
Founded by two best friends, the British accessories brand is popular for its lovely watches and feminine jewellery. Need a little gold, silver or rose gold to jazz up your look? Browse through glamorous bracelets, earrings and necklaces from series like Under The Sea, Rainbow, Celestial and Swarovski.
Olivia Burton, available online and at multiple locations including Ion Orchard and VivoCity
9. Amado Gudek
Eco-warriors, sustainable jewellery is actually a thing – just look to Amado Gudek. The Singapore atelier's minimalist pieces are crafted using environmentally-friendly bioresin, which contains bio-based renewable materials and UV properties to prevent yellowing. The best part? Everything resembles wearable art, and no two pieces are entirely alike. We've got our eyes on the sophisticated Diamonds Fauxever collection and the unique Drift Away series made with driftwood.
Amado Gudek, #02-02, Resin Play, 37 Beach Road, Singapore 189678 (by appointment only)
10. Curious Creatures
Stand out from the masses with gorgeous minimalist jewellery from this lovely brand in Singapore. These tiny pieces go a mighty long way in giving your look a boost. Playing with semi-precious stones and geometric shapes, its designers think out of the box to come up with new ways to don everyday jewellery. Oh, and bespoke creations are available too if you'd like to tell your own story.
Curious Creatures, available online and at #03-21, 333 Kreta Ayer Road, Singapore 080333
11. State Property
If you're going for the minimalist ensemble, State Property's your best bet. Despite its clean, dainty pieces, this local label has incorporated hints of playfulness in its collection by adding coloured gems and geometric lines – with subtlety, of course! Bag everything from its chic bracelets to its lovely drop earrings that are guaranteed to serve looks.
State Property, available online and at multiple locations including Orchard and Marina Boulevard
12. Made Different Co
Based in Singapore, this jewellery label creates classic, sophisticated minimalist designs that are easy on the purse strings. Its stainless steel and 925 sterling silver pieces are long-lasting, and you can get yours personalised with complimentary engraving services. Keen to grow your accessory collection? Shop its delicate chokers, cuffs, studs, bangles and more.
Made Different Co, available online and at #08-26, Oxley Bizhub, 69 Ubi Road 1, Singapore 408731
13. Minimalist Lab
The name says it all. Expect a range of sleek and tiny clean-cut jewellery that's classy, timeless and versatile – a total triple threat! For all types of outfits, Minimalist Lab offers gold and silver accessories of premium quality, catering to the comfort and style of its wearer. And if you're planning to gift a pal, the store also stocks charms for the refined fashionista.
Minimalist Lab, available online
13. Wanderlust + Co
Describing itself as a label designed by women for women, Wanderlust + Co creates wearable, affordable pieces that are influenced by fresh trends, materials and shapes. Each design is hand-crafted by artisans and accented with sparkle from the likes of glass stones and ethically sourced opals. Some of its bestsellers include star-studded earrings, necklaces with inspirational inscriptions and charms. With new arrivals coming in every so often, you'll have more reason to check back regularly for updates.
Wanderlust + Co, available online
14. Arva.co
Arva.co is all about the minimalist modern woman, with its line of stylish yet simple and sophisticated jewellery. If you're looking for something unique or personal, try its customisation option, which lets you carve your name onto rings, bracelets and necklaces. Plus, you can totally shop rose gold if gold and silver ain't your colour!
Arva.co, available online
15. Afterall
Afterall is an extension of popular clothing brand, The Editor's Market. With an array of accessories and jewellery pieces, you can expect to bag elegant earrings ranging from hoops and drop earrings to clip ons without breaking the bank. The label aims to elevate your look with its small but unique jewellery pieces that can be worn daily. Check out other items like minimalistic tote bags and hair accessories, too!
Afterall, available online and multiple locations including #B1-26/27, Wisma Atria, 435 Orchard Road, Singapore 238877
There you go! A list of elegant minimalist jewellery brands in Singapore to accompany your favourite looks.