Photography: Social Cut via Unsplash
Yes, you can still enjoy beautiful things – it's all about shopping with a conscience. We let you in on our favourite sustainable fashion brands in Singapore.
We know how difficult it is to kick a high-street shopping habit. As hard as we try to reduce waste by renting clothes and shopping for high-quality wardrobe essentials, it's a struggle to resist the allure of commercial fashion and choose sustainable fashion brands in Singapore.
Our inspiring interviews with Style Theory's Raena Lim, Green is the New Black founder Stephanie Dickson, Mahima Gujral Wadhwa of Sui and Raye Padit of The Fashion Pulpit are real eye-openers about the part we all play in consumption, waste and pollution. Yes, we can still enjoy beautiful things. But the point is to think about what you're putting your money towards. Get what you really need, and shop with a conscience. This means supporting sustainable fashion brands that aren't just environmentally friendly, but ethical too.
Best sustainable fashion brands in Singapore
1. Maisha Concept
Maisha means "giving life" in Swahili, and this brand's definitely giving us life with its designs. Its founder launched the fashion brand to showcase global cultures and traditions through collections. Everything is handcrafted by artisans in India using both traditional and artisanal methods. If you're into vibrant prints and rich fabrics, drop your dollars here – stat!
Maisha Concept, available online and at #06-03, Far East Shopping Centre, 545 Orchard Road, Singapore 238882
2. Lily & Lou
Into customising your own clothes? You have the power to do just that at Lily & Lou. Choose your favourite style, customise the fabric and garment details, and pick your size. The good folks here will take care of the rest. This made-to-order model ensures nothing is wasted while giving customers a personalised wardrobe. If you're not keen on customising, you can also select from the available collection online or at the showroom.
Lily & Lou, available online and at 16 Kallang Place, Singapore 339156
3. Sui
Sui, which translates to 'needle' in Hindi, is dedicated to connecting the threads of nature with fashion. Besides its versatile collections, the sustainable fashion label also aims to create pieces with minimal impact on the planet. It respects nature and the people who craft the clothing along the way. The use of recycled fabric, organic cotton, linen and tencel is perfect for our tropical weather, too.
Sui, available online
4. Our Barehands
This may be a young brand, but it's already making strides in the sustainable fashion community. Inspired by the people they've met over the year, the three co-founders decided to take a leap of faith and start Our Barehands. The social enterprise collaborates with various communities to produce unique, quality apparel that makes a statement. We also appreciate the brand's transparency – read its two-year journey update to learn more about what's happened and how it plans to improve.
Our Barehands, available online and at Pop Palette, #02-19, i12 Katong, 112 East Coast Road, Singapore 428802
5. Indosole
Soles with soul – that's what Indosole's all about. Since 2009, it has repurposed motorcycle tires sourced from landfills into "the perfect sandal". The brand has managed to save over 80,000 tires to date! It became a certified B-Corp company, which means it meets the highest standards in terms of being accountable, both environmentally and socially. Are you soled yet? If not, the company lists eight reasons why you should be.
Indosole, available online and at multiple locations including Joo Chiat and Tiong Bahru
6. Outfyt
Work up a sweat and still look chic in Outfyt, a homegrown activewear brand. The pieces are made using sustainable fabrics and channel a Scandinavian aesthetic. Expect a minimalist design with great functionality. We love how everything's made to last for years! Plus, its sustainability efforts extend to its boutique at Haji Lane.
Outfyt, available online and at 35 Haji Lane, Singapore 18922
7. Nost
This local loungewear label features prints and weaves inspired by architecture. We'd like to think that founder Felicia, a trained architect herself, may have played a large influence in the design too. Each garment is handmade from scratch with raw fabrics such as organic cotton. Natural and eco-friendly azo-free dyes are used for the design motifs.
Nost, available online
8. The Reoutfitter Shop
The Reoutfitter is conceptualised by personal fashion stylist Sera Murphy. Throughout her career in fashion, Sera found a love for thrifting and vintage apparel. She even hosted swap parties with friends. Now a personal fashion and wardrobe consultant, Sera promotes circular fashion to create a more eco-friendly world. At the Reoutfitter Shop, you'll find plenty of cult favourites up for sale. Take home brands like Gucci and Cos that are often pre-loved and gently used.
The Reoutfitter, available online
9. Theresa Cotton
A love of prints led to the creation of Theresa Cotton, featuring Ankara fabrics, which are African-inspired prints. The fabrics are block printed in Jaipur and are made with 100% cotton. The clothes created are meant to be timeless, perfect for a casual lunch or cocktails at night. Cop dresses, jumpsuits or even face masks, and get your print on.
Theresa Cotton, available online and at 16A Haji Lane, Singapore 189209
10. Nimbu
Parents, have you ever thought about the number of clothes you'd be buying for your kid? This revelation came to the founders of Nimbu, who were shocked by the number of clothes their son had outgrown in a year (over 50kg worth!). As adorable as those baby socks might be, it won't take long for your little one to move on to big kid shoes. Nimbu aims to change this cycle by being the first circular brand for kids, offering a wardrobe that can grow with your child. How does this work? Purchase clothes from Nimbu's website, and return them in exchange for credits to offset your next purchase!
Nimbu, available online
11. Ashepa Lifestyle
First of all, we have to thank Ashepa Lifestyle for introducing Afroluxe to Singapore. The person behind it all is Kenya-born, Singapore-based Chetna Bhatt. She collaborates with African artisans and makers to showcase their incredible skills to the world, in turn uplifting their lives and honouring age-old crafts. The result? Hand-painted ceramic jewellery, handwoven basket bags and unique homeware pieces for us!
Ashepa Lifestyle, available online and at Badger & Fox, #02-151, Tanglin Mall, 163 Tanglin Road, Singapore 247933
12. Canvas and Weaves
A brand that combines art with fashion, Canvas and Weaves is a platform that features mixed media, watercolour, charcoal and acrylic works alongside wearable art. Working with artists who love to experiment and push the boundaries, it looks away from trends and focuses instead on classy designs that are dramatic yet minimal. In its commitment to sustainability and the environment, it spotlights handcrafted dresses, jumpsuits and scarves made with organic materials by names like Shades of India, Moborr and AlterEgo.
Canvas and Weaves, available online
13. OliveAnkara
If your style tends toward bold prints, head-turning patterns and vibrant colours, OliveAnkara will sit high on your list. Deeply rooted in African culture and fashion, these pieces are a breath of fresh air. As everything is handmade, two pieces are never the same. OliveAnkara also abides by a strict #zerowaste philosophy, where every spare fabric is upcycled and used to make other items.
OliveAnkara, #01-02, 79 Chay Yan Street (opposite Plain Vanilla), Singapore 160079
14. Haikini
We love a sleek bikini, so swimwear that's stylish, functional and affordable is like music to our ears. Founder and designer Beckie Liu brought Singapore's first surf-swimwear brand Haikini to life when she realised there was a gap in the industry. With these designs, you don't have to worry about your bikini falling off the next time you hit the waves. All pieces are handmade in Bali by lovely Haikini mamas who are paid fair wages to support their households. Oh, and the adorable pouches that come with the swimwear are made with leftover fabric. *Squeals in delight.*
Haikini, available online and at Shop Outfyt, 35 Haji Lane, Singapore 189228
15. Gypsied
This brand champions traditional batik techniques. It works closely with textile artisans and expert craftsmen to bring you sustainable fashion pieces with a story. Select from dresses and jackets, or add character to your ensemble with a bag or clutch. Clothes aside, you can extend the eco-friendly lifestyle to your home with gorgeous cushion covers.
Gypsied, available online and at Design Orchard, 250 Orchard Road, Singapore 238905
16. Boheme
The handcrafted statement earrings at Boheme are works of art with a selection of semi-precious stones such as rose quartz, rainbow moonstone, and lapis lazuli. All designs are handcrafted by artisans from India, in a workshop in Jaipur. Boheme's collections are largely inspired by founder Vero's journeys around the world. Each line is intended to share a story of the location and allows you to indulge in these travels in a small way.
Boheme, available online
17. By Invite Only
We're no stranger to By Invite Only's chic, minimalist and affordable jewellery. The brand works with factories that are members of the Business Social Compliance Initiative (BSCI), a system that supports companies to encourage social compliance and improvements in the work environment. The biz has also eliminated plastic from its packaging, which gets a thumbs up from us!
By Invite Only, available online and at multiple locations including VivoCity and Nex
18. Wray Crafted
Partnering with artisanal communities in India, this homegrown label is ethical and low impact, going for timelessness in its designs. New collections are released throughout the year in collaboration with a women's group in Udaipur. This provides employment in the city and nearby villages. The brand's design base is located directly alongside the community that produces its garments. And each drop is created in limited batches to reduce waste as much as possible. Only natural fabrics are used and scraps are repurposed for packaging, too. Look out for elements of mirror embroidery, Dabu painting and Bandhani, a tie-dye technique from India.
Wray Crafted, available online
19. Eco Staples
Eco Staples was launched with the aim of providing a greener alternative to a wardrobe basic: the t-shirt. Its bamboo range of essential tees is comfortable, versatile and soft to the touch. The tees are also anti-bacterial and odour resistant, with UV protection and hypoallergenic properties. Plus, they come in easy-to-match colours like black, white and grey, with crew, scoop or v-neck options. So you can easily wear 'em to the gym or out for some weekend fun!
Eco Staples, available online
20. Zerrin
Zerrin is dedicated to building a community of shoppers who #shopmeaningfully. Founded by Susannah Jaffer, the one-stop-shop for all things ethical is home to a variety of eco-conscious and socially responsible fairtrade jewellery lines and handmade clothing. It's even got some of Singapore's best organic beauty brands in stock, including Green Gaea and The Skin Firm.
Zerrin, available online
21. Veja
We've heard of ethical beauty, fashion and even food, but sneakers? That's a first. At Veja, shoes are crafted in Brazil and feature only sustainable materials. Soles are made with natural rubber from the Amazon, while everything else is made with vegetable-tanned leather and ecological cotton. Best of all? The shoes are sleek and minimal, and will fit right in with the rest of your sneaker rack.
Veja, available at Zalora
22. Tessellate.Co
Jewellery with a conscience? Yes, please! Travel-inspired Tessellate.Co works with fair trade artisans and commits to empowering underprivileged girls with education. For every item sold, the boutique donates a dollar to Fior Di Loto, a non-profit organisation in India that improves the lives of village girls. Its bling is nothing less than stunning, with designs inspired by Southeast Asia's traditional jewellery. Our picks include the Aspirations collection, featuring bedazzling star charms and mother of pearl compass pendants.
Tessellate.Co, available online and at #02-14, Wheelock Place, 501 Orchard Road, Singapore 238880 
23. Source Collections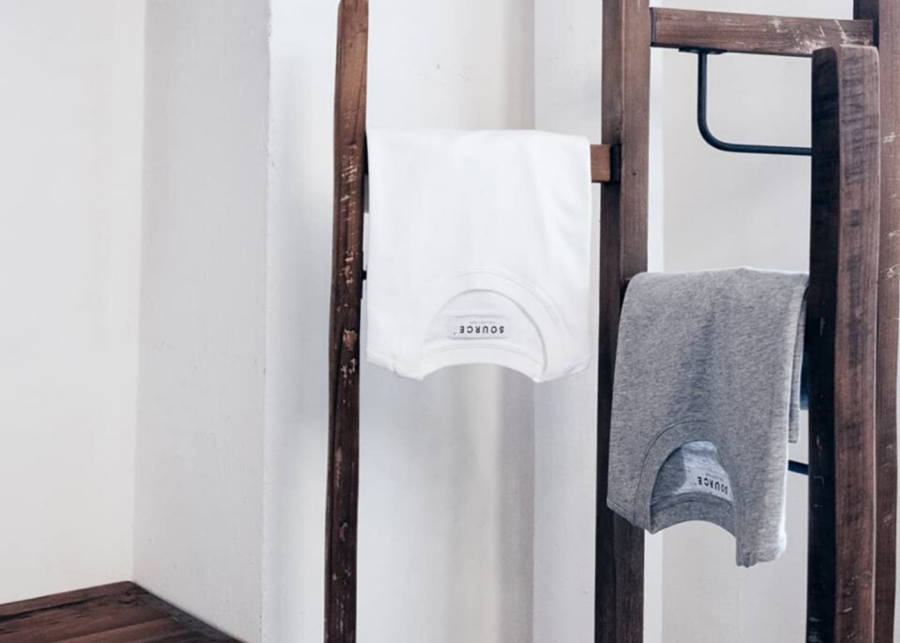 We'll come out and say it right now: soft t-shirts make us go weak in the knees. So when we heard of a sustainable fashion brand that delivers this, we rejoiced! This under-the-radar brand ticks all the right boxes. Its tees are made with quality, sustainable fabrics and delivered in eco-friendly and plastic-free packaging. Best of all, it takes care of its workers, offering excellent working conditions.
Source Collections, available online and at multiple locations including Nana & Bird and Perk by Kate
24. Sojao
Okay, this one's not fashion, but hear us out. Bed linens aren't the first thing you'll think of when you hear the word 'sustainable', which is why we applaud local brand Sojao's championing of its 100% organic cotton sheets. Think the higher the thread count, the better? Sojao proves you wrong. These sheets are seriously soft, despite only having a 300-thread count.
The secret is in the thread used – they're made of single-ply yarn spun from long-staple (the shorter they are, the rougher they are) cotton fibres. And with all that time spent rolling around in your sheets, it's always good to know you're not getting cosy with toxic pesticides. Sojao's sheets are treated with low-impact dyes, without formaldehyde resin or toxic chemical fabric finishes.
Sojao, available online and at 251 Joo Chiat Road, Singapore 427505
25. Esse
Mark our words: local womenswear label Esse is one to watch. Born out of a desire to redefine "disposable" mindsets towards fashion, the brand delivers quality classics made of sustainable fabrics like tencel and 100% organic cotton. Esse prioritises knowing and respecting its partners, with regular visits to the seamstresses at its factories in Ho Chi Minh. Design-wise, we love how it combines clean silhouettes with neutrals.
Esse, available online and at #05-09, 28 Senang Crescent, Singapore 416601
26. Anothersole
Aside from oh-so-comfy shoes (made with premium leather, flexible rubber soles and an ergonomic sports footbed), the local shoe brand also gives back. As part of its #buy1feed1 initiative, 10% of its profits are given to build sustainable communities, feed hungry children and support their growth.
Anothersole, available online and at multiple locations including Wisma Atria and PLQ Mall
27. One Puram
This slow fashion label hailing from Bali fuses style and sustainability with ease. Every item is made with breathable Tencel lyocell fibres that are produced from sustainably sourced natural raw material wood, and digital printing is done with GOTS-certified dyes. All packaging materials are sourced within Indonesia to reduce carbon footprint too. One Puram also gives back to the community by organising workshops for locals and employing ex-hospitality employees who lost their jobs during the pandemic. We love the pops of colour from the bold and vibrant Para-sol collection.
One Puram, available online
We're feeling inspired to live eco-consciously, thanks to these sustainable fashion brands in Singapore. How about you?