Tired and stressed? These are the best staycations in Hong Kong, so you'll feel refreshed and re-energised in no time.
While we enjoy traveling to beautiful places like Hua Hin, Thailand, Okinawa, or Mauritius, sometimes, it's nice to stay at a home-away-from-home. We're kind of obsessed with mini-breaks here at Honeycombers, so we've rounded up the best hotels for you to have a staycation in Hong Kong (plus, there will be hotel brunches!) Pack an overnight bag and get ready to check in.
21 best staycations in Hong Kong (for every budget!)
1. Hyatt Centric Victoria Harbour Hong Kong
A tranquil spot hidden from the city's hustle and bustle, Hyatt Centric Victoria Harbour Hong Kong is a place for you to spend a restful mini-holiday with your loved ones. Around the vicinity is the North Point Ferry and promenade, quaint cafes, and a stone's throw away from Quarry Bay. This pet-friendly hotel is definitely an all-in-one solution for a well-deserved getaway.
The trendy rooms are well-designed and offer stunning, undisrupted views of the Victoria Harbour. Other note-worthy highlights include the rooftop infinity pool, the glamorous alfresco restaurant and bar Cruise (with a scrumptious brunch offering), a VR workout machine in the gym, and self check-in/out services to help you avoid the queues. Oh and the buffet dinner at The Farmhouse is AMAZING! All of this comes with an unbeatable price.
Hyatt Centric Victoria Harbour Hong Kong, 1 North Point Estate Lane, North Point, Hong Kong, p. 3896 9888, 北角邨里1號海匯酒店
2. Rosewood Hong Kong
One of the newest kids on the block, Rosewood is the ultimate in luxe hotel glamour. From the imaginative art programme to the gorgeous interiors of each space and the thoughtfully designed layout, you'll feel at home as soon as you step inside. We love Asaya, the wellness centre that provides everything from massages to alignment checkups, plus the accompanying Asaya Kitchen serves healthful dishes perfect for any diet. Get lost in the offerings at The Manor Club, listen to live music at Darkside bar or enjoy fine Chinese at Legacy House, whatever you do, you'll have a mighty fine time on staycation at Rosewood Hong Kong.
Rosewood Hong Kong, Victoria Dockside, 18 Salisbury Road, Tsim Sha Tsui, Kowloon, Hong Kong
3. Kerry Hotel, Hong Kong
Life doesn't get much sweeter than a stay at Kerry Hotel, Hong Kong. We love that the swimming pool looks out across the harbour, and have you seen those guestrooms? Another huge plus at The Kerry is the wonderful spa that offers some of the best treatments we've had in HK – heaven!
Here's another five reasons why you will love staying at Kerry Hotel, Hong Kong.
Kerry Hotel, Hong Kong, 38 Hung Luen Road, Hung Hom Bay, Kowloon, Hong Kong, p. 2252 5888, 九龍紅磡灣紅鸞道38號
4. The Hari
Bridging Wan Chai and Causeway Bay, The Hari opened doors in December 2020 (yes they braved the pandemic). This sleek and stylish hotel remains comfortable whilst glamouring its luxurious designs. The Premium Corner Room show-offs its vast windows that bring you up close to Wan Chai's skyscrapers. We definitely need to mention the stunning suite situated on the top floor, spanning a generous 830 square feet. Aside from the gorgeous rooms, the exquisite restaurants at The Hari need some limelight too. Zoku and Lucciola serve guests with the utmost quality (and taste!).
Also, enter our staycation giveaway at The Hari for a chance to win a one night stay at the suite.
5. Cordis Hong Kong
It may seem like an oxymoron to go to Mong Kok for a restful staycation, but hear us out. When it comes to a staycation in Hong Kong, Cordis Hong Kong is a must-visit, thanks to it's epic swimming pool and Chuan Spa that blends TCM with relaxation techniques. Splash out and upgrade to a corner room, we promise you'll love the view, and you'll have access to the awesome Club Lounge that has one of the best bars we've seen in a hotel lounge and a changing selection of daily food delights. #TakeUsBackToCordisHongKong!
Cordis Hong Kong, 555 Shanghai Street, Mong Kok, Hong Kong, p. 3552 3388, 旺角上海街555號
6. The Murray Hong Kong, a Niccolo Hotel
If refined elegance is your thing, The Murray should be your first port of call. Offering rooms with stunning views of the city, this hotel also has a staggering number of stellar restaurants and bars to choose from, including a beautiful afternoon tea at the Garden Lounge. Swim in the pool, take part in the hotel wellness programmes, or just bliss out in the uber soft robes and binge watch your fave shows for a weekend. Sounds like heaven.
The Murray Hong Kong, a Niccolo Hotel, 22 Cotton Tree Drive, Central, Hong Kong, p. 3141 8888, 香港中環紅棉路22號
7. The Peninsula Hong Kong
Presenting a blend of the best Eastern and Western hospitality, The Peninsula Hong Kong is one of the oldest and most spectacular establishments in Asia. Other than its world-famous high tea experience, they also offer a personalised spa service to its visitors (we love hotel spas in Hong Kong!) and a gorgeous swimming pool with panoramic views of Hong Kong's skyline. When we are after a luxurious staycation in Hong Kong, this is our pick of the litter.
The Peninsula Hong Kong, Salisbury Road, Kowloon, Hong Kong, 香港九龍梳士巴利道
8. Conrad Hong Kong
Looking for a great staycation in Hong Kong? Towering above Pacific Place, the five-star hotel Conrad Hong Kong offers a wide selection of luxurious facilities such as hotel spa, fitness, swimming pool and six award-winning dining spots – from an Italian restaurant to innovative Cantonese restaurant, AND their new weekend brunch service on the eighth floor, is absolutely amazing!
Conrad Hong Kong, Pacific Place, 88 Queensway, Admiralty, Hong Kong, p. 2521 3838, 金鐘金鐘道88號太古廣場港麗酒店
9. Hotel Icon
Between the swimming pool that looks out over the city and the Angsana Spa (that is run by Banyan tree), Hotel Icon has it going on when it comes to taking a staycation in Hong Kong. We love the green elements that the hotel incorporates into its every day (including the free electric shuttle to the MTR), dining on classic Cantonese at Above & Beyond and chilling out in the spacious rooms.
Read our full review of Hotel Icon.
Hotel Icon, 17 Science Museum Road, Tsim Sha Tsui East, Kowloon, Hong Kong, p. 3400 1000, 尖沙咀科學館道17號
10. pentahotel Hong Kong, Kowloon
Featuring a warm European design, pentahotel Hong Kong, Kowloon is a great place to get away on staycation. The modern hotel has some of the friendliest staff in town, along with games rooms, a gorgeous swimming pool and a restaurant that serves up delicious food. Be sure to order some of their tasty pizzas that are made with a selection of unique local ingredients.
Read our full review of pentahotel Hong Kong, Kowloon.
pentahotel Hong Kong, Kowloon, 19 Luk Hop Street, San Po Kong, Kowloon, Hong Kong, p. 3112 8222, 新蒲崗六合街19號香港九龍貝爾特酒店
11. W Hong Kong Hotel
If you fancy a dip in a rooftop swimming pool followed by a luxurious massage at a world-class spa, then take a staycation in Hong kong at W Hong Kong Hotel. This beautifully designed space has stunning views of the city from nearly every room, and we are huge fans of their ever-changing afternoon tea sets.
W Hong Kong Hotel, 1 Austin Road West, West Kowloon, Hong Kong, p. 3717 2222, 西九龍柯士甸道西1號
12. The Fleming
Are you as obsessed with good design as we are? If so, you must, must, must treat yourself to a weekend at The Fleming in Wan Chai. While the hotel may not have a swimming or spa, it more than makes up for this with lush bathrooms, comfy beds, a great mini-bar selection and in-house restaurant Osteria Marzia. It's just a general good time, and you won't be disappointed.
Read our full review of The Fleming hotel.
The Fleming, 41 Fleming Road, Wan Chai, Hong Kong, p. 3607 2225, 香港灣仔菲林明道41號
13. The Upper House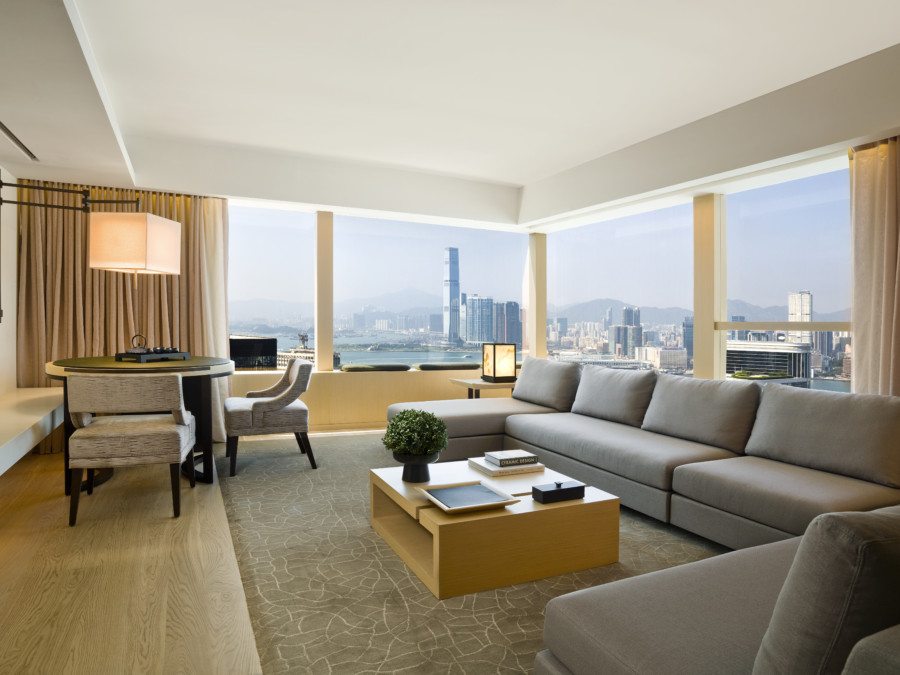 Part of The House Collective by Swire Hotels, The Upper House is the ultimate in refined luxury, right in the heart of Hong Kong. With interior design by Andre Fu and a selection of art pieces to complement the setting, escaping to The Upper House is like finding a little slice of paradise. Spacious rooms offer all the mod-cons with views of either The Peak or The Harbour available. And don't forget to chill out on The Lawn and enjoy a few cocktails before checking out.
Find our more about Cafe Gray Deluxe at The Upper House.
The Upper House, Pacific Place, 88 Queensway, Hong Kong, p. 2918 1838, 香港金鐘道88號太古廣場
14. EAST
Enjoy a staycation in Hong Kong at EAST. Within walking distance of one of Hong Kong's largest shopping centres, this is a lifestyle business hotel with just the right amount of luxury thrown in for good measure.
The rooms offer views across the harbour and are fitted out in an effortlessly cool and crisp style. Once checked in, guests can enjoy drinks at Sugar, the rooftop bar that is a favourite of office workers in the area, or take a dip in the heated outdoor swimming pool.
Read our full review of EAST hotel.
East, 29 Taikoo Shing Road, Taikoo Shing, Hong Kong, p. 3968 3968, 香港太古城太古城道29號
15. The Mira Hong Kong
A design hotel in bustling Tsim Sha Tsui, The Mira Hong Kong hits all the right marks when it comes to offering sophisticated accommodation in the city. Every single one of the over 400 rooms is slightly different, but all boast a bold colour palette and a host of design elements such as Arne Jacobsen egg chairs. But you won't want to stay in your room for too long, as the hotel also has a number of great restaurants and bars including Vibes, an outdoor space complete with shisha master. Don't miss the swimming pool and spa here!
Read more about things to do at The Mira Hong Kong
The Mira Hong Kong, 118 Nathan Road, Tsim Sha Tsui, Kowloon, Hong Kong, p. 2368 1111, 香港九龍尖沙咀彌敦道118-130號
16. Tai O Heritage Hotel
The building that houses the Tai O Heritage Hotel was once a police station, built to combat the pirates (yes, we said pirates) who were prevalent in the neighbouring waters. In 2010, it was converted into a quaint, nine-bedroom hotel, with guest rooms overlooking both the water and the surrounding greenery. Rooms and suites are spacious and feature a blend of contemporary and traditional furnishings – think a Hamptons-type vibe – with some photos of old Tai O added as a nod to the history of the site. Meals can be enjoyed at Tai O Lookout, the glass-roofed restaurant on the first floor that has a panoramic view of the South China Sea.
See our full guide to Tai O for more staycation inspiration.
Tai O Heritage Hotel, Shek Tsai Po Street, Tai O, Lantau Island, Hong Kong, p. 2985 8383, 大澳石仔埗街14號
17. Island Shangri-La
This is where the Real Housewives of Beverly Hills stayed when they graced us with their presence, so you know it's good. From the world class drinks at Lobster Bar & Grill to the stunning interior design, this is one luxe staycation in Hong Kong that you need to splash out on.
Read more to live like the Real Housewives of Beverly Hills in Hong Kong.
Island Shangri-La, Pacific Place, Supreme Court Road, Central, Hong Kong, Hong Kong, p. 2877 3838, 金鐘法院道太古廣場香格里拉酒店
18. Ovolo Southside
Hong Kong's first warehouse-conversion hotel, Ovolo Southside brings the fun to the funkiest little area in town. Nestled beside industrial warehouses, artist's studios and great coffee joints, this hotel knows that service is key.
Inside, modern design elements and artwork bring the space to life, while guest rooms have a monochromatic palette. With three eateries to choose from (we are obsessed with Komune), you certainly won't go hungry here, and you can't leave without having a cocktail at the rooftop bar, Above.
Ovolo Southside, 64 Wong Chuk Hang Road, Wong Chuk Hang, Hong Kong, p. 3460 8100, 香港黃竹坑道64號
19. Eaton HK
This gorgeous hotel in Yau Ma Tei is the coolest little hideout in town. Home to Terrible Baby, one of the best bars in Hong Kong, and an array of dining options, including Yat Tung Heen, this hotel is packed full of character and even has a poll surrounded by flamingos on the rooftop!
Eaton HK, 380 Nathan Road, Kowloon, Hong Kong, p. 2710 1866, 佐敦彌敦道380號香港逸東酒店4樓
20. Camlux Hotel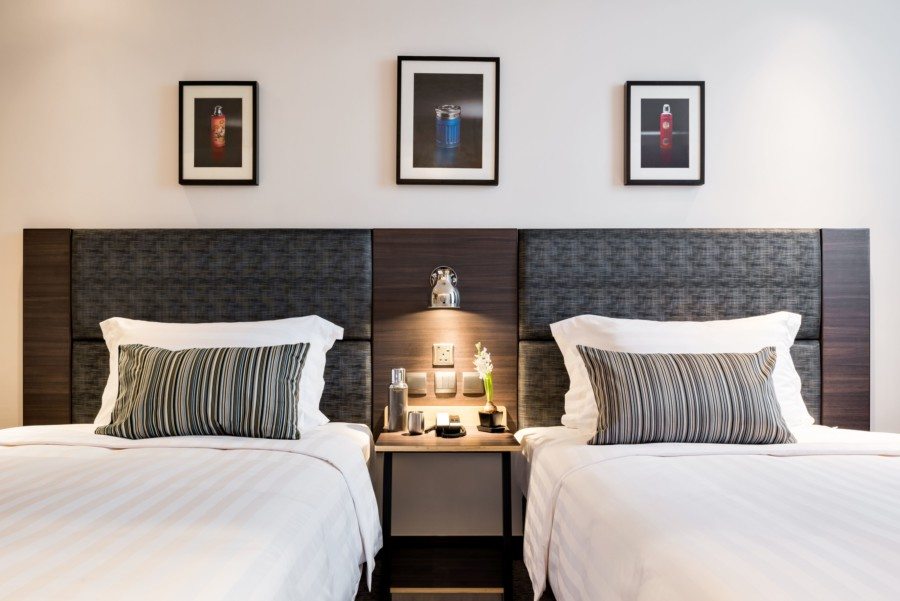 Housed in a converted factory in Kowloon Bay, Camlux Hotel features 185 contemporary guest rooms amid a unique heritage site. While the exterior of the building remains the same, the interior has been carefully refurbished to allow plenty of natural light to flow into the property.
Each room ranges in size from 22sq-m – 32sq-m and features elegant decor that sits next to original architectural features. The non-smoking property also provides a host of extra amenities, such as Smart TVs that can be conveniently connected to personal entertainment, a 24-hour gym, on-call, currency exchange, laundry and dry cleaning, luggage storage, and limousine service. This is a great place to stay if you want to explore Kowloon Bay.
Camlux Hotel, 15 Wang Kwong Road, Kowloon Bay, Hong Kong, p. 2593 2828, 香港九龍灣宏光道15號
21. Le Méridien Cyberport
Whether you're looking to surprise your S.O. with a romantic weekend away, or if you and the family just need a relaxing change of scene, Le Méridien Cyberport is one of our favourite places to staycation in Hong Kong. Spend time in the sun next to their fab swimming pool, or get cosy in the rooms before exploring all of their different dining options. We really love the modern art that brings this hotel to life, and the friendly staff who make staying here an absolute delight.
Le Méridien Cyberport, 100 Cyberport Road, Hong Kong, p. 2980 7788