An aerial view of the child-friendly pool at Hong Kong Ocean Park Marriott Hotel
We've tried-and-tested all these family-friendly hotels in Hong Kong for your staycationing pleasure
Enjoying a staycation in Hong Kong is popular with Hong Kongers looking to recharge with the family (or to escape them entirely). While there are loads of sustainable family resorts in Asia and plenty of great family-friendly hotels in Macau, a staycation in town avoids any added organisational hassle that comes with travel, so we've compiled a list (in no particular order) of our favourite family-friendly hotels in Hong Kong for a staycation, enjoy!
Family-friendly hotels in Hong Kong for a staycation
1. Hong Kong Ocean Park Marriott Hotel
An exciting addition to the staycation scene is the new Hong Kong Ocean Park Marriott Hotel. Situated on the beautiful south-side of the Island, the hotel is at the doorstep of the local institution, Ocean Park. The hotel has a lagoon pool, complete with kid's pool and also offers a Kid's Corner where the littlies can enjoy a range of educational programmes and fun activities. And if all else fails, the water park next-door offers even the youngest of thrill-seekers exciting rides, an incredible aquarium and a cable car that unnervingly travels along the edge of the coastline hugging the mountainside.
Hong Kong Ocean Park Marriott Hotel, 180 Wong Chuk Hang Road, Aberdeen, Hong Kong, p. 3555 1688, 香港仔黃竹坑道180號
2. Kerry Hotel
Kerry Hotel is a relatively new addition to the Shangri-La Hotels and Resorts' repertoire. First and foremost a luxury hotel; however, it diversifies with a strong focus on family and lifestyle at its core. The group wants to create an urban resort with a long list of different experiences. The hotel offers outdoor green spaces (of which we're big fans), as well as a diverse mix of dining options and family and activities for kids. The kids will love the surprising amount of green space; five different dining options and the impressive views from the outdoor pool. The adults will most definitely relish the unwavering luxury and relaxation, it's definitely one of our top favourite family-friendly hotels in Hong Kong.
Kerry Hotel, 38 Hung Luen Road, Hung Hom Bay, Kowloon, Hong Kong, p. 2252 5888, 九龍紅磡灣紅鸞道38號
3. Silvermine Beach Hotel
Lantau is home to some of Hong Kong's most incredible hiking trails, countless options all varying in difficulty. We at Retykle believe there's nothing better than an outdoor adventure and immersing yourself in nature. You can go camping, exploring the rock pools, mountain climbing, enjoy several beautiful beaches, jump on cable cars for a bird's eye view or visit an impressively large Buddha. Whatever you decide, the family will love it. Boho style cafe jaunts are dotted around the island where you can get an excellent coffee or set up for a family brunch. With so much to do on the Island, having Silvermine Beach Hotel located on its very own beach is a great way to extend your day trip with the family right into the weekend.
Read our guide to these gorgeous islands around Hong Kong.
Silvermine Beach Hotel, D.D.2 Lot 648, Silvermine Bay, Mui Wo, Lantau Island, Hong Kong, p. 6810 0111, 香港大嶼山梅窩銀礦灣D.D.2 地段648銀鑛灣渡假酒店
4. Hong Kong Disneyland Hotel
Who doesn't want to get lost in a Mickey Mouse shaped garden maze? The Disneyland Hotel is home to the weird and wonderful world of a child's wildest dreams realised. While for adults it may not be at the top of your bucket list (unless you are embracing your inner-princess), you can't deny the magic. There is really nothing better than watching your children's pure excitement in reaction to this magical wonderland, making it one of the best family-friendly hotels in Hong Kong. Why not have an action-packed day and instead of the long trip home, look forward to checking in and unwinding. Followed by a family breakfast with Mickey Mouse, of course!
Hong Kong Disneyland Hotel, Magic Road, Lantau, Hong Kong, p. 3510 6000, 大嶼山香港迪士尼樂園度假區
5. Grand Hyatt Hong Kong
One of Hong Kong's popular brunch locations, the Grand Hyatt is the perfect one-night getaway to relax and repose with the kids. They have a 24-hour check-in process which sets them aside from the rest. Whatever time you check in, your check out is 24 hours later. The brunch is situated right next to a sun-drenched 50m swimming pool, where the kids can idle away the afternoon, and you can finally catch up on a backlog of reading. Whichever room you choose – whether you splurge or book a standard – they all have fantastic views of the beautiful harbour. Note, try some of their WWF approved sustainable seafood and choose from their 'Ocean friendly' menu.
Grand Hyatt Hong Kong, 1 Harbour Road, Wan Chai, Hong Kong, p. 2588 1234, 灣仔港灣道1號君悅酒店
6. Four Seasons Hotel
The hotel has possibly the best view of Hong Kong's glorious harbour and sits at the epicentre of the city. It's of course known for a diverse clientele, from business travellers to celebrities. However, it has a strong family following here in Hong Kong and is frequently a destination for family staycations. The concierge is at your disposal with any requests you may need such as booking a babysitter, organising children's meals or booking off-site activities for the Tykes. Why not spend the day with the kids pool-side or head over to the renowned spa and choose any number of treatments where professional hands will induce a state of complete Zen. Yes, please. And did you know, the Four Seasons launched ten million Trees? As the name suggests, the programme is a long-term commitment to reforestation with more than 35,000 employees in thirty-four countries digging to help meet their goals!
Four Seasons Hotel, 8 Finance Street, Central, Hong Kong, p. 3196 8888, 中環金融街8號
7. Hong Kong Gold Coast Hotel
How to ramp up the fun in your staycay? Go for these amazing themed rooms in Hong Kong Gold Coast Hotel for a promising escape by the seaside, they all come with a jaw-dropping balcony! There are a total of nine different themes to pick from; Princess Room for the posh little ones, Outer Space room with an interesting circular bed, or the Tram Room with a tram bed for the kids (how cute!), to name a few. If that doesn't excite the kids enough, there's a Shark and Pirate Adventure Zone all sea-themed for some thrill and fun. Cool off after in either the Gold Coast beach or the kids water park area.
Hong Kong Gold Coast Hotel, 1 Castle Peak Road, Hong Kong, p. 2452 8888
8. Warwick Hotel, Cheung Chau
If you plan on spending the weekend on one of Hong Kong's tranquil islands, Warwick Hotel in Cheung Chau is an apt choice for its fun ocean-themed rooms and great service. Enjoy the calming sea views with a cup of morning coffee and breakfast on the balcony. Cheung Chau is a local's favourite for quality family time, what's not to enjoy with the bicycles, seafood restaurants, and the beach? Oh and the giant fishballs!
Read our full guide to Cheung Chau.
Warwick Hotel, East Bay, Cheung Chau, Hong Kong, p. 2981 0976
9. Stanley Oriental Hotel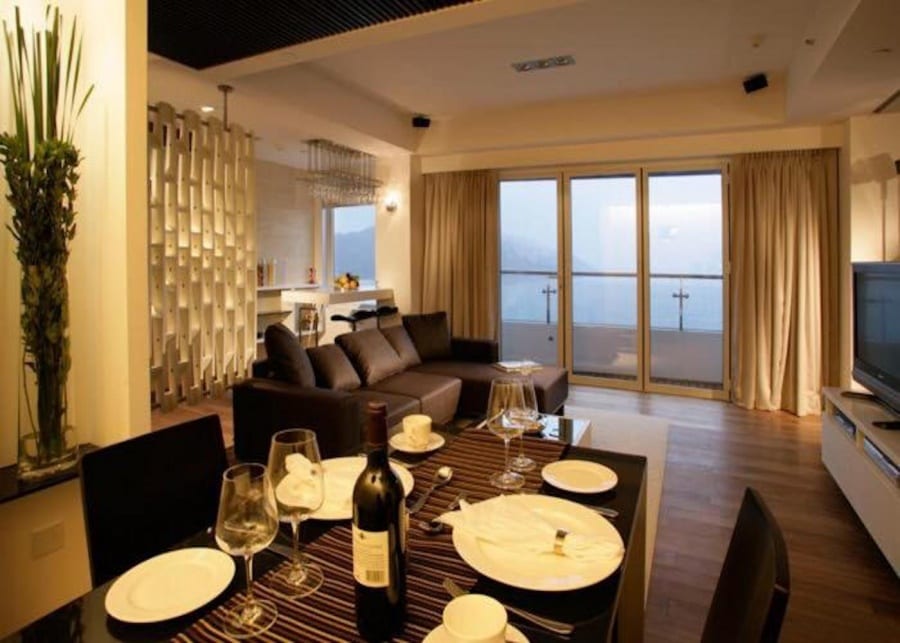 The spacious studio suite is what you can spoil your family with for a home-away-from-home luxury. Stanley Oriental Hotel is cosy yet feels high-end without a doubt. We ain't kidding, see for yourself when zoning out in the rooftop patio jacuzzi with a 180 degrees sea view , also equipped with barbecue facilities & deck chairs. Heck there are even optional limousine services for those who want to be extra extra.
Stanley Oriental Hotel, 2/F, 90B, Stanley Main Street, Stanley, Hong Kong, p. 2899 1688
10. Rosewood Hotel
The Victoria Dockside has become one of the popular spots in Kowloon for all the right reasons. Located in the vicinity of The Space Museum, the clock tower, and Harbour City, Rosewood Hotel honestly has more than enough on their plate to offer. They don't fall short of note-worthy cafes, restaurants, and bars. When the kids are dipping in the 25-metre-long infinity pool, you can treat yourself to some spa time at Asaya.
Rosewood Hotel, Victoria Dockside, 18 Salisbury Road, Tsim Sha Tsui, Kowloon, Hong Kong, p. 3891 8888