K11 Musea's Bohemian Garden is beloved by pets and their owners
Hong Kong's pet-friendly malls welcome both you and your furry family members to shop, dine, explore, and enjoy quality time together without hassle.
Who says shopping and puppy love don't mix? We know your furry friend is part of the family too, which is why we've scouted out Hong Kong's most paw-some malls that roll out the red carpet for pets. Skip the hassle of leaving your pooch at a pet boarding facility or tied up outside when it's time to hit the shops. Whether you want to enjoy a relaxing afternoon tea with your cuddle-loving canine, or reward your playful hound with new toys, these pet-friendly malls in Hong Kong make it easy. Read on for our guide to the city's best shopping centres for pampering both pets and their parents – no leash required!
Pet-friendly malls in Hong Kong where your furry pals take centre stage
1. The Wai
Animal lovers rejoice! Newly opened in July 2023, The Wai is Hong Kong's new haven for pets. This expansive four-story pet-friendly mall brought 650,000 square feet of retail therapy to the Eastern New Territories part of Hong Kong, a welcome alternative to Shatin's New Town Plaza. To make your lives easier as pet parents, The Wai offers VIP parking and pet-friendly elevators, so that furry friends can ride in style. Additionally, special amenities like pet toilets and water bowls make visits a breeze. There are lush green spaces that invite pets to play and relax, too. With its minimalist, open-air design, The Wai delivers a refreshing pet-friendly shopping experience.
The Wai, 18 Che Kung Miu Road, Tai Wai, Hong Kong, p. 2567 9766
2. The Mills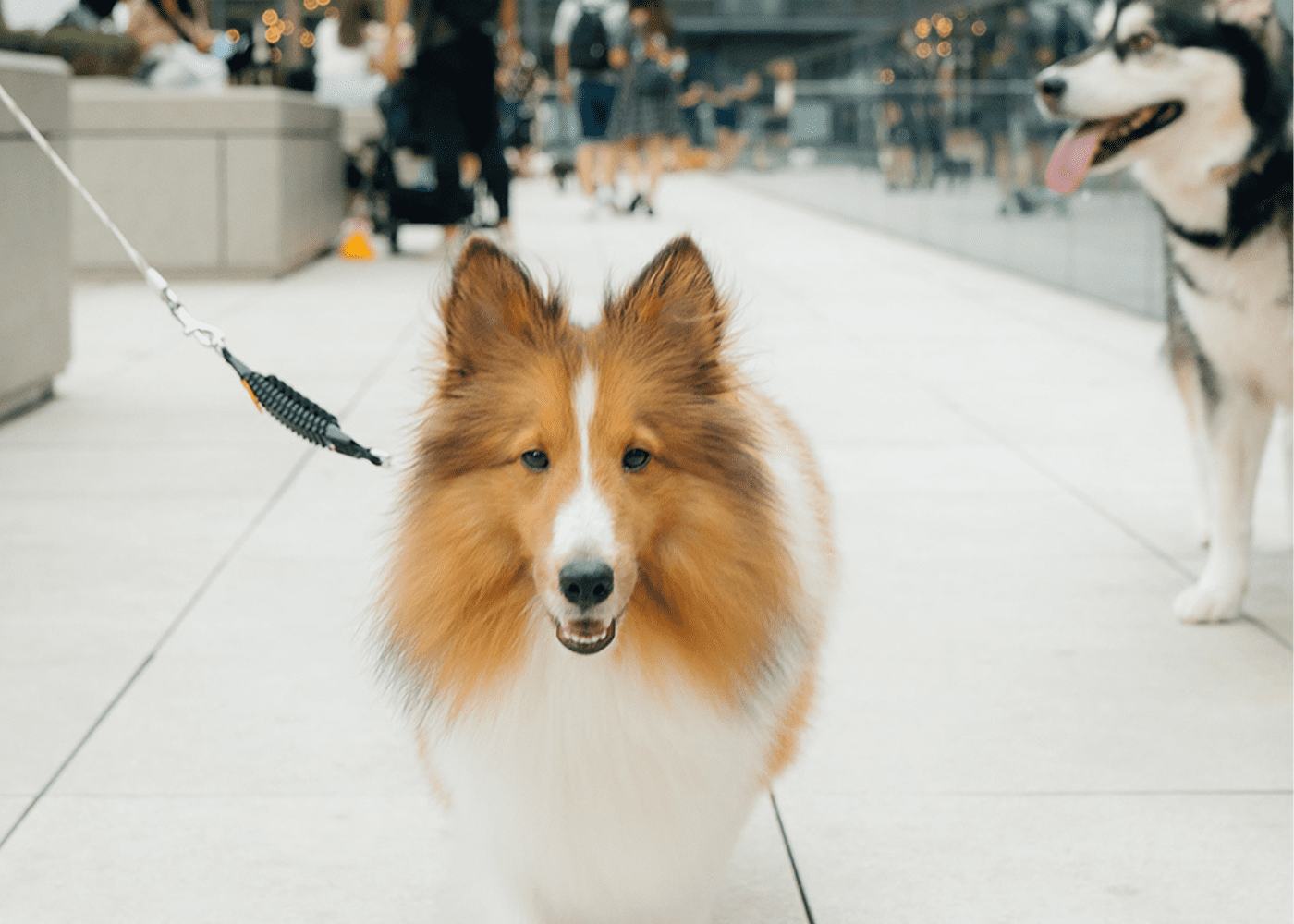 History buffs and pet lovers alike adore The Mills – Hong Kong's iconic revitalised textile hub turned arts destination. Within its historical walls, pet owners can enjoy plenty of shopping and dining with dogs in tow. Enjoy an alfresco meal at Cozy Coffee or Fleur Café, where special outdoor seating areas and doggy menus await. For the fashion-forward pet, The Common Ground offers a curated selection of chic accessories from brands like Wild One and Momotone. Plus, Vet 01 clinic is conveniently located on the ground floor, providing comprehensive pet care services. And when your furry companion needs to stretch their legs, head to the sunny outdoor rooftop garden on level four for some playful fun.
Read our guide to The Mills.
The Mills, 45 Pak Tin Par Street, Tsuen Wan, Hong Kong, p. 3979 2300
3. Peak Galleria
Treat your pet to a fun day out at the Peak Galleria, where they're welcomed to stroll, dine, and explore right alongside their owners. Pets can accompany you inside shops proudly displaying special pet-friendly stickers. If needed, you can borrow a pet trolley from the Peak Galleria to stroll through the mall with small dogs, too – the first three hours are free! What's more, The Barkyard pet store at the Galleria features a mini pool for dogs to take a refreshing dip. Got a photogenic furball? Get them to pose at the Pawfect Barber Shop photoshoot station. On weekends, the mall frequently hosts lively pet markets where local brands sell toys, treats, and more for animal lovers, so don't miss out.
Peak Galleria, 118 Peak Road, The Peak, Hong Kong, p. 2849 4113
4. Stanley Plaza
With its breezy seaside location and plethora of outdoor dining options, Stanley has long been the top destination for pet owners in Hong Kong. At the heart of this pet-friendly haven lies Stanley Plaza, where alfresco restaurants like Beef and Liberty offer spacious grounds for pets to roam freely. The Plaza is also home to The Dog's Garden, a pet supply store that provides grooming services on top of a wide range of accessories and treats. Take a leisurely stroll along the piazza, taking in the sights of the nearby historical Murray House. As one of Hong Kong's oldest surviving colonial buildings, the 160-year-old edifice graces the Stanley Promenade, offering a variety of shops, eateries, and breathtaking bay views. What's more, pets are welcome inside and can even join the weekend markets held periodically.
Read our neighbourhood guide to Stanley.
Stanley Plaza, 23 Carmel Road, Stanley, Hong Kong, p. 2813 4623
5. K11 Musea
At the artsy K11 Musea, pets are more than welcome – they're the VIPs! While browsing the shops, smaller pets can ride in free strollers from the concierge desk (though larger pets may need to sit those areas out). But the real pet paradise is up on the seventh floor! Take the pet-only lift to access the entire level dedicated to pampered pets. The outdoor garden is a pup's dream, with facilities like stepping stones, benches, and climbing platforms designed just for your paw pals. Owners will also love the tranquil green space, art installations, and alfresco dining options.
K11 Musea, Victoria Dockside, 18 Salisbury Road, Tsim Sha Tsui, Hong Kong, p. 3892 3890
6. Yoho Mall
The massive Yoho Mall in Yuen Long has always welcomed pets, providing amenities like stroller rentals and supplies. This year, the mall went a step further for animal lovers by opening Dot Park, – a dedicated pet play space that spans over 7,600 square feet. Dotted with rainbow colours and playful designs, Dot Park features three designated zones specifically tailored for furry friends to enjoy. These lively areas give your pets room to roam while you hang out with fellow owners.
Yoho Mall, 8-9 Long Yat Road & 9 Yuen Long Street, Yuen Long, Hong Kong, p. 2828 5188
7. The Pulse
Tucked along the shores of Repulse Bay, The Pulse offers a beachside retreat for pets and their owners. Grab a bite at one of the many pet-friendly eateries like Sip Song, which serves up special doggie menus. Respect is the name of the game at this refreshing pet-loving destination – respect others sharing the space! The Pulse also houses the Paws United charity adoption centre, providing homes for cats and dogs in need. Though the actual Repulse Bay Beach prohibits dogs, The Pulse brings a pet-friendly vibe to the seaside neighbourhood with its outdoor options tailored to both people and pets.
These beaches in Hong Kong make the perfect places for you and your pooches to frolic around.
The Pulse, 28 Beach Road, Repulse Bay, Hong Kong, p. 2815 8888
8. APM
Located right by the Kwun Tong MTR Station, the sprawling APM mall welcomes pets – with some caveats. While the animals can accompany their owners inside the mall, they must be carried in a pet carrier or stroller. Though not as freely accessible for four-legged friends as other malls, APM does make an effort to accommodate pet owners. Just be sure to check with each store before venturing in with your furry pal!
APM, 418 Kwun Tong Road, Kwun Tong, Hong Kong, p. 2267 0883