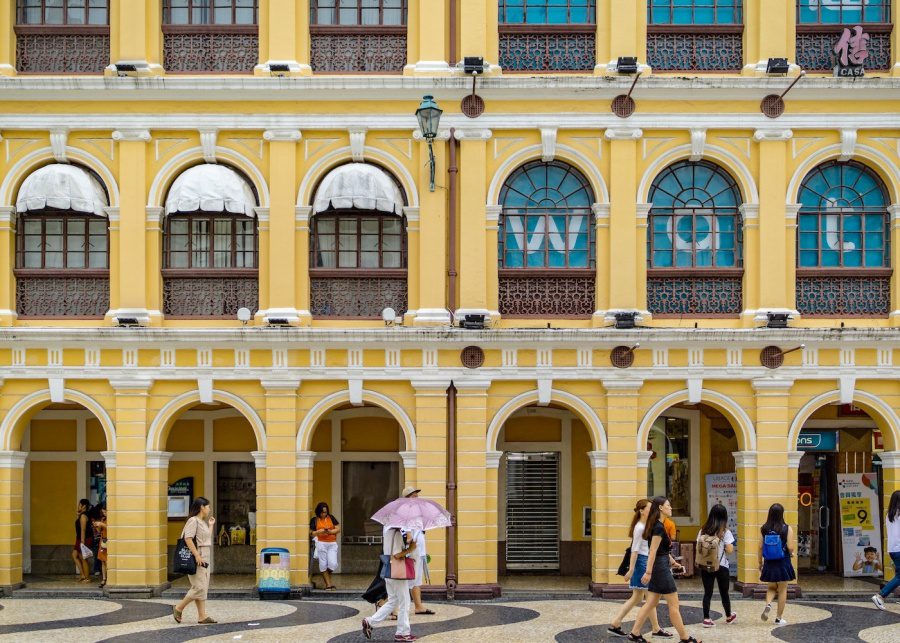 Walking down the streets of Macau, you'll discover a lot of interesting colonial buildings featuring an array of vibrant colours (Photography: MJ Haru via Unsplash)
Tired of the casino life? There's a myriad of funky restaurants, coffee shops, and bookstores in Macau worth checking out, and we've found the best!
While our neighbour Macau is known for its casino empire, we think there's an understated cultural side of the city that often gets overlooked. From the art galleries to the family-friendly hotels and the cafés in Macau, it's a diverse place that is changing very regularly. So we have found some things to do in Macau that you may not know about; jump on the ferry and get stuck in.
Things to do in Macau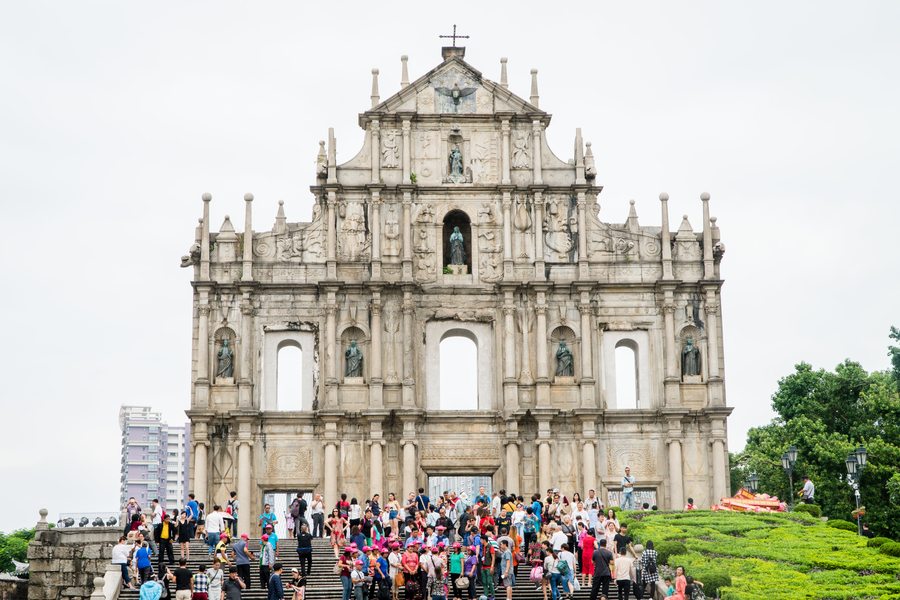 Macau is often thought of as a one-off destination for hen's parties, international gigs, and a dose of gambling, but the Portuguese enclave has so much more to offer. Just a one hour ferry ride from Hong Kong, it's a great (almost) staycation destination when you need to escape the city, and the beautiful buildings, cathedrals, bookstores, and design shops just add to the atmosphere. We hope you enjoy the East meets West dichotomy as much as we do.
Things to do in Macau: Eat
1. Lord Stow's Bakery
The smell of freshly baked Portuguese egg tarts is always wafting through Rua do Cunha. Tried and tested by our team and our dear Macau friends, we assure you that the crispy flaky pastry and rich custard filling of Lord Stow's Bakery's palm sized goodness is the best in town!
Lord Stow's Bakery has multiple locations across Macau.
2. The Blissful Carrot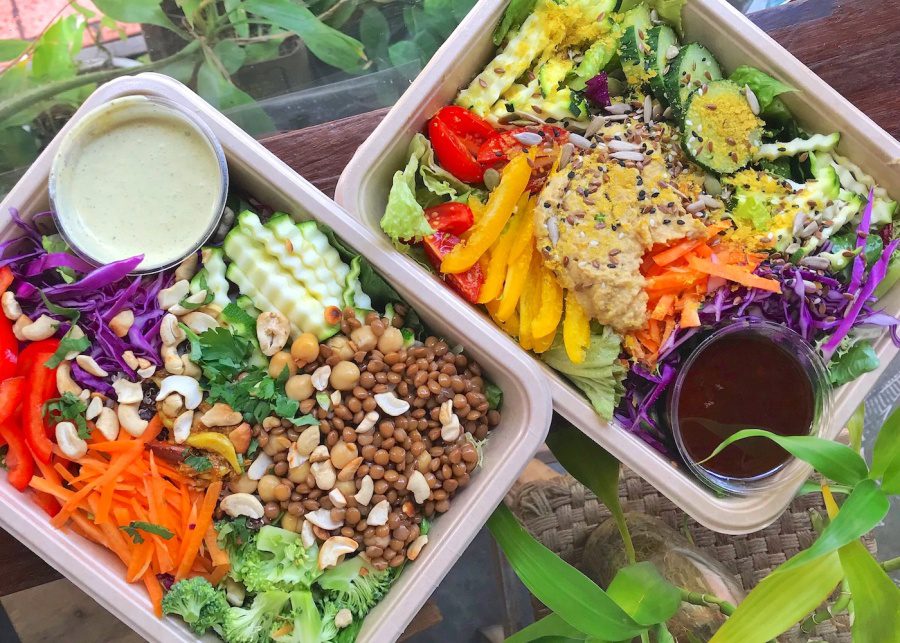 The Blissful Carrot is a hip takeaway gem located in the heart of Taipa Village. From indulgent Mexican grilled cheese to Indian curry bowls, to savoury sweet coconut cream pasta, we give them our biggest thumbs up. Plus, everything is vegetarian!
Take a look at our full guide to vegetarian restaurants in Macau.
Blissful Carrot, Unit D, 1/F, Va Nam Industrial, 522-568 Avenida Olimpica Edificio, Macau, p. +853 6298 8433
3. IFT Educational Restaurant
IFT Educational Restaurant is not just another typical restaurant, but rather a special training unit for students at the Institute for Tourism Studies, Macau – meaning you'll receive the excellent service of future hoteliers. Not only do they serve an array of European cuisine and desserts, they're also big supporters of organic agriculture by growing most of their own herbs, salad leaves, and vegetables, as well as utilising recycled food waste wisely as fertiliser.
IFT Educational Restaurant, Colina de Mong-Há, Macau, p. +853 8598 3077
4. Chakra Space
Another hidden vegetarian gem in Macau, Chakra Space is all about serving hearty home-cooked food with fresh ingredients and minimal seasoning, such as vegan Japanese curry and panini with roasted vegetables. Last but not least, their vegan burger with handmade tofu patty is just excellent (note that it's not on the menu – you'll have to ask!)
Chakra Space, 12A Tv. dos Santo, Macau, p. +853 6677 8669
5. Clube Militar de Macau (Macau Military Club)
Housed in one of Macau's most famous buildings is a Portuguese restaurant worth writing home about. Clube Militar de Macau's pink and white colonial structure is as Instagrammable as the food being dished out. Expect incredible modern Portuguese fare like the Portuguese duck rice and sauteed clams Portuguese-style. There is also an extensive wine list that can be enjoyed in the historic military building.
Clube Militar de Macau, 975 Avenida da Praia Grande, Macau, p. +853 2871 4004
Things to do in Macau: Drink
6. Blooom Coffee House
Not only does local coffee roastery Blooom provide a great selection of coffee beans with different interesting flavours from across the globe, they also roast the coffee beans themselves to ensure quality and freshness. This place is voted by a number of coffee lovers that we know as the ultimate coffee spot in the 853.
Blooom Coffee House, No. 5 Rua De Horta E Costa, Macau, p. +853 6666 4479
7. Rethink Coffee Roasters
Unlike Hong Kong, there are independent coffee shops around every corner in Macau and Rethink is one of our favourites. It's a local craft coffee shop that sources top-quality coffee beans and roasts them itself. The cafe offers a wide range of delicious caffeinated drinks; non-dairy milk like almond milk and soy milk are also available upon request.
Rethink Coffee has multiple locations across Macau.
8. Goa Nights
If you're a self-proclaimed adventurous imbiber, drinking is probably on your list of things to do in Macau. So, head to Goa Nights for a unique cocktail journey. Inspired by the discoveries from Portugal to India by famous explorer Vasco da Gama, the cocktail menu highlights the spirit of this voyage. With craft cocktails alongside Indian and Goan cuisine, Goa Nights is the place to go for a night of revelry.
Goa Nights, 118 Rua Correia da Silva, Macau, p. +853 2856 7819
Things to do in Macau: Art and music
9. Pin-to Livros & Musica
As Pin-to means "where to" in Cantonese, the name of this store could be translated as "Where to Find Books and Music" – literally! Book lovers and vinyl collectors will absolutely adore this place. From the popular L'Etranger by Albert Camus to Mark Frost's The Secret History of Twin Peaks, they have a vast selection of novels and non-fiction. Their vinyl section also showcases some of the best unheard-of bands and musicians, such as Secret Pyramid's ambient music or SaffronKeira's experimental album. Have fun digging and discovering new music here!
Pin-to Livros & Musica, 47 Rua de Coelho, do Amaral, Macau, +853 2833 0909
10. Live Music Association
In search of cultural activities in the 853? Live Music Association is an underground venue that always invites the coolest international bands and musicians to perform, including rock, indie, and electronic artists. Sometimes, they even do collaborations with film festivals like LUFF (aka Lausanne Underground Film and Music Festival) and host the most wonderful contemporary experimental film screenings.
Live Music Association, 11B, 50 Avenida do Coronel Mesquita Freguesia de Nossa Senhora de Fátima, Macau, p. +853 2875 7511
11. Livraria Portuguesa
Scouting out bookstores is one of our favourite things to do in Macau. Livraria Portuguesa is the only bookstore in the city that sells Portuguese books, as well as a significant number of both English and Chinese selections. Away from the hustle and bustle, its cosy ambience makes the shop a haven for all you bookworms.
Livraria Portuguesa, 16-18 Rua de São Domingos, Macau, p. +853 2837 8014, 澳門板樟堂街16-18號地下
12. Cinematheque Passion
Cinematheque Passion is an interactive platform for artists, filmmakers, and frequent moviegoers in Macau. Not only do they offer day-to-day film screenings and occasional foreign film festivals, there's also book-reading service, including all the ultimate guides to Stanley Kubrick and Wes Anderson, local film materials, clips, periodicals, and magazines.
Cinematheque Passion, 13 Travessa da Paixao, Macau, p. +853 2852 2585
Things to do in Macau: Experience
13. AJ Hackett Macau Tower
Fancy doing something a little wild while you're in Macau? Push yourself to your limits at AJ Hackett Macau Tower. Offering the highest Bungy Jump experience in the entire world, get strapped in and get ready to take off thanks to the experienced team who have been doing this for years. If you want to get higher, then the Tower Climb sees you climb 100-metres of vertical stairs to get to the very top of the tower. Looking for something less extreme? Try out the Skywalk, where you can walk around the outer rim of the tower while being harnessed in, or take a vertical Bungy ride with the Skyjump. Whatever you choose to do, the friendly team at AJ Hackett Macau Tower will definitely make your trip a memorable one. And if you book any Bungy Jump, you'll also get a free Skywalk ticket so you can experience the views at a slower pace too.
See the full story on AJ Hackett Macau Tower.
AJ Hackett Macau Tower, Level T2 – Adventure Zone – Macau Tower, Macau, p. +853 999 078
14. Zipcity Macau
The new best way to immerse yourself in the beauty of Macau is to literally fly right through it! Located at the Lisboeta Macau, Zipcity lets you zoom through the Cotai area and make memories of a lifetime. The family-friendly activity allows up to five zipliners to ride alongside each other on the world's third longest urban zipline. Get your adrenaline pumping on this immersive skyscraper zipline, complete with a light show and music.
Zipcity Macau, Lisboeta Macau, Rua da Patinagem, Cotai, Macau
Things to do in Macau: Stay
15. Macau Roosevelt Hotel
Macau Roosevelt Hotel is a five-star hotel in the Taipa district that ditches the garish over-the-top style, so often favoured in the region. The hotel is modern, edgy, and offers fantastic hospitality from friendly staff. The leisure facilities are amazing, with a huge swimming pool, and a large gym room sprawled across the third floor available for guests to use and idle away their time. Just so you know, we had a really relaxing stay here, and thoroughly recommend this as an off-the-beaten track location.
Read our full review of Macau Roosevelt Hotel.
Macau Roosevelt Hotel, Avenida dos Jogos da asia Oriental, Taipa, Macau, p. +853 2882 0100
16. Family-friendly Hotels in Macau
Macau is the perfect spot to take the whole family for a weekend away, and thankfully there's a bunch of family-friendly places to stay. Whether you're looking for a beachside resort or a wet-and-wild time complete with rides and shopping malls, take a look at our guide to family-friendly hotels in Macau, and get ready for a good time.
Other secret spots to visit in Macau
17. Future Bright Amusement Park
If you want to find fun things to do in Macau, Future Bright Amusement Park offers a wide range of comprehensive bowling and ice skating facilities. There's also a family-friendly game centre where you can play Taiko no Tatsujin, Mario Kart, and more nostalgic action games with your friends. With so many facilities, you might find yourself losing track of time when you're in Future Bright Amusement Park!
Future Bright Amusement Park, Lai Hou Garden, R/C, Praça de Luís de Camões (Near Camões Garden), p. +853 2895 3399
18. Taipa Houses Museum
One of the most important things to do in Macau is to have a look at their lovely heritage buildings. Taipa Houses Museum showcases the rich Portuguese heritage and colonial past of the city. The five distinct green houses constructed in Portuguese style, are quite iconic throughout the region and, hold great architectural value that you won't want to miss out on.
Taipa Houses Museum, Avenida da Praia, Taipa, Macau, +853 2882 7103
19. Rua Do Volong
Translated to peace and prosperity in Cantonese, Rua Do Volong is one of the beautiful boulevards in the 853. If taking Instagram pictures is on your list of things to do in Macau, this is undoubtedly one of the best spots to do so!
Rua Do Volong, Macau