Cruise along the weekend with your friends at Hyatt Centric Victoria Harbour Hong Kong
From luxurious hotel gourmet to dim sum, there's something for everyone in our guide to the best brunch in Hong Kong
Hong Kong is known for its multicultural culinary scene, whether it's finding the most exotic halal restaurants and French restaurants or local favourites like yum cha or hot pot restaurants – there are always numerous options. And everyone fancies a good weekend brunch, for it's even more relaxing and perfectly sinful with buffet goodness. So here we present to you, our picks for the best brunch in Hong Kong, enjoy!
If you're on the hunt for the best brunch in Hong Kong, you're in the right place.
1. Cruise Restaurant & Bar, Hyatt Centric Victoria Harbour Hong Kong
What better way to celebrate the weekend than to revel in Hyatt Centric's scrumptious Lunch & Buffet? At Cruise, the Hotel's rooftop restaurant and bar, you can take in panoramic views of the Harbour while enjoying a range of hearty Asian dishes. Enjoy the flavours of the sea with So Chilled Out, a decadent platter featuring a Canadian lobster, Alaskan king crab, hamachi, king salmon, and other seafood.
The next dishes will whisk you away to Korea with its K-inspired flavours. Try the Spicy Green Stuff, which is Korean fried broccoli, chilli paste, and summer slaw. Or, carnivores can opt for Chang's Pork Belly Ssam, which consists of grilled Iberico pork belly, little gem lettuce, and mustard relish. The culinary journey then moves onto Indonesian Bro, a braised beef short rib dish that can be upgraded to the Signature Cheeky Massaman – a must-have for wagyu lovers. Finally, wrap up your meal with Coconuts in Paris, a fruity and refreshing ice cream dessert that satisfies those with a sweet tooth.
Oh, and did we mention there's a two-hour free-flow option? Complete your ultimate brunch experience with the unlimited prosecco, wines, beers, and soft drinks. Or, why not check in for a staycation and keep the party going all weekend?
Cruise Restaurant & Bar, 23/F, West Tower, Hyatt Centric Victoria Harbour Hong Kong, 1 North Point Estate Lane, North Point, Hong Kong, p. 3896 9898
2. Nissa La Bella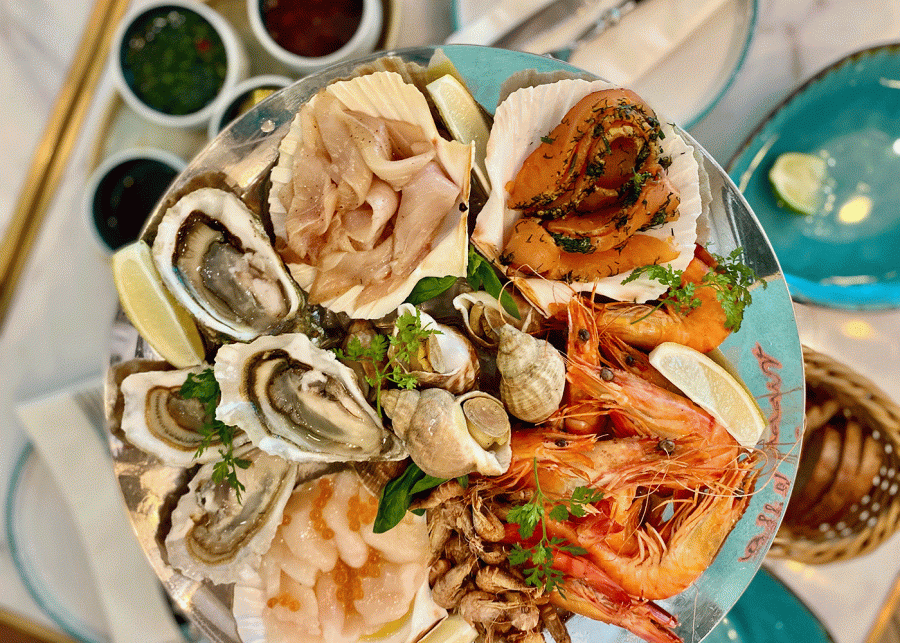 Take a mini-trip to the French Riviera with the luxurious weekend brunch at Nissa La Bella. (Bonus points: no jet lag! But with the option to add free-flow drinks—including Whispering Angel rosé wine and Veuve Clicquot Champagne—you might still be in the mood for a lie in on the next day.) A seafood feast is a 'must-have' for some of the best weekend brunches in Hong Kong and, with fresh seafood imported from France, the weekend brunch at Nissa La Bella does not disappoint. In addition to the signature 'socca' (a flat-bread like pancake made with chickpea flour and a quintessential staple of street food in Nice) with marinated peppers to whet the appetite, the brunch at Nissa La Bella not only includes a show-stopping seafood platter—with oysters, prawns, gravlax, and hamachi—but also a brimming bowlful of moules with french fries. Seafood lovers can also choose to add either an additional half or whole lobster with beurre blanc sauce and roasted potatoes. Book your table—and put a standing appointment in your calendar—for the last Saturday of the month to enjoy the relaxed Mediterranean vibe with the weekend brunch at Nissa La Bella.
Nissa La Bella, 6-14 Upper Station St., Sheung Wan, Hong Kong, p. 9549 3882
3. Zuma
This chic and spacious Japanese izakaya's brunch is naturally one of Hong Kong's favourites – they've bagged the Gold Award in our 2021 Love Local Awards for Best Brunch! Their weekend brunch runs from 11am to 3pm – plenty of time to sample their sharing plates. For mains, you can opt for flavourful dishes like teriyaki salmon fillet, spicy beef tenderloin, grilled hamachi kama and more. And then indulge in an extravagant dessert platter served much like a sashimi – fresh fruits on ice, with ice-cream on top and assorted dessert. You can add in two and a half hours of free flow bubbles, because what is brunch without free flow? Choose from their signature, deluxe, or premium selection of French champagne to start your weekend on the right foot.
Find more Love Local winners here.
Zuma, Level 5&6 Landmark Atrium, 15 Queen's Road Central, Central, Hong Kong, p. 3657 6388
4. Club Rangoon
Looking for something different? Be sure to try the colourful brunch set from the one of the few Burmese restaurants in Hong Kong. Loaded with classic street snacks and less well known authentic main dishes, such as Burmese Shan tofu, A Kyaw Sone (vegetable fritters with tamarind sauce), and an authentic curry of your choice. The fun doesn't end there – make room for Burmese tea ice-cream with banana crumble and free flow signature cocktails, all bursting with tropical flavour.
Club Rangoon, Ground Floor, 33 Aberdeen Street, Central, Hong Kong, p. 2503 3077
5. Ruam
Looking for a brunch that's both affordable and delicious? You need to head to Ruam in Wan Chai to sample their Thai extravaganza. For only $248, you'll get to tuck into five different small plates, such as barbeque skewers of juicy pork, Som Tum Papaya Salad and Larb Gai lettuce cups before choosing a main dish from the menu. Enjoy the Red beef Curry with flaky roti, go for the classic Pad See Ew or sample the traditional Green Chicken Curry with rice, whatever you choose, you'll be in good hands. Make it boozy with free-flow wine, prosecco and Singha lager for an extra $248.
Ruam, Shop 9, 1/F, J Senses, 60 Johnston Road Wan Chai (entrance on Ship Street), p. 3160 8535
6. Honjo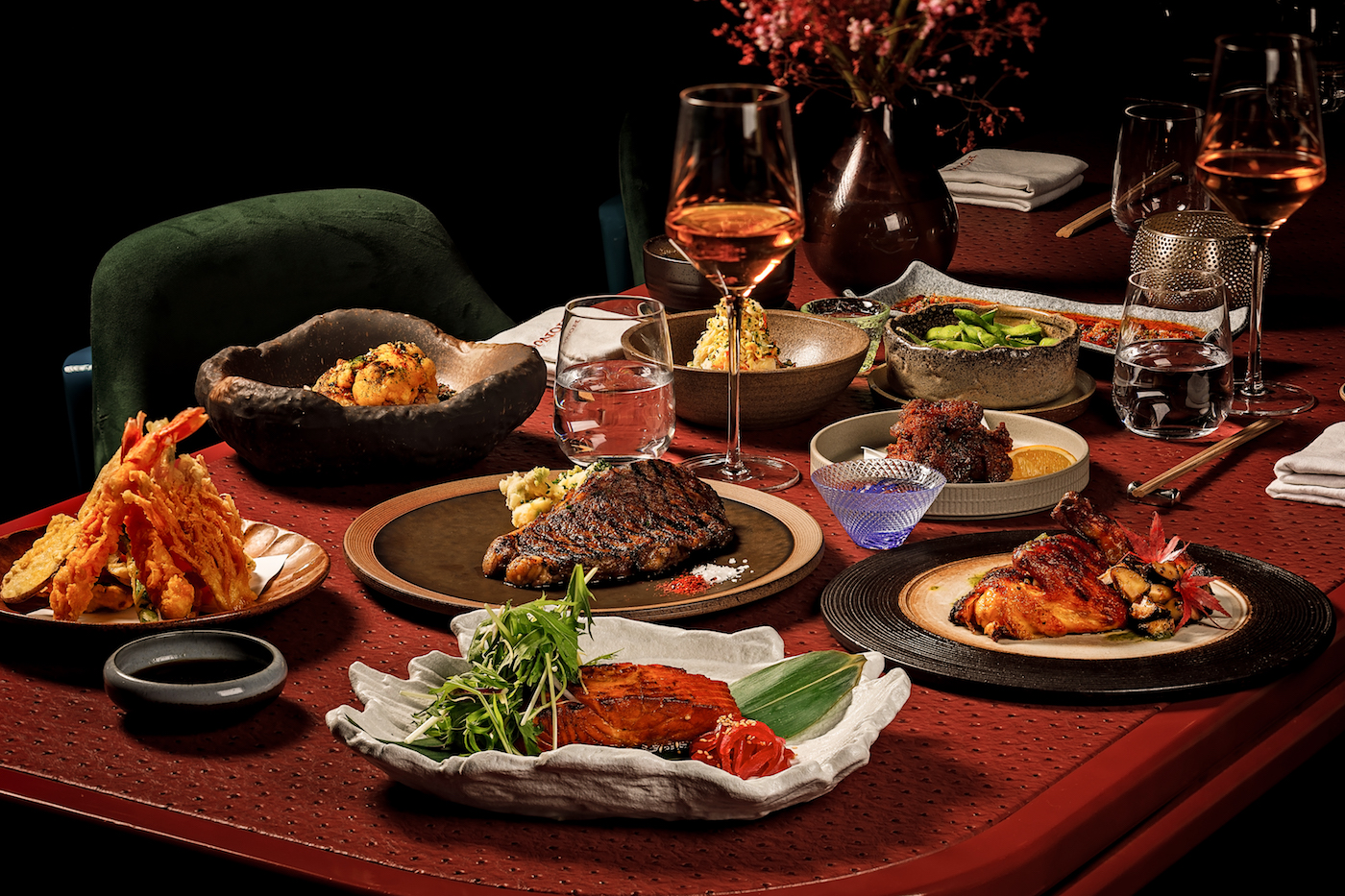 What don't we love about the newly-opened brunch at Honjo? If you're a fan of Japanese food, this is where you'll want to be on weekends and public holidays from 11.30-5:30pm, just make sure you go with an empty belly, as this feast will have you full. Starting off with a selection of starters to share: edamame, spinach and sesame dressing, wagyu tataki, and good ol' fried chicken. When we went, we opted for matcha tea, but you can add free-flow booze (including sake, wine, and beer) for $220.
The sushi, sashimi, and maki station is filled with fresh delights from the sea along with a range of vegetarian options, and you can't beat the oyster station that is packed full of Ireland's plumpest goodies. Choose your own main course, we love the crispy cauliflower dish and the hearty salmon, before moving on to a selection of desserts–our fave was the matcha and chocolate lava cake! At $498 and $98 for kids, we think this is one of the best brunches in Hong Kong, plus there's a playroom to keep the little ones busy while you fill up.
Honjo, 1/F Hollywood Centre, 77-91 Queen's Road West, Sheung Wan, Hong Kong, p. 2663 3772
7. Champagne Brunch on the Eighth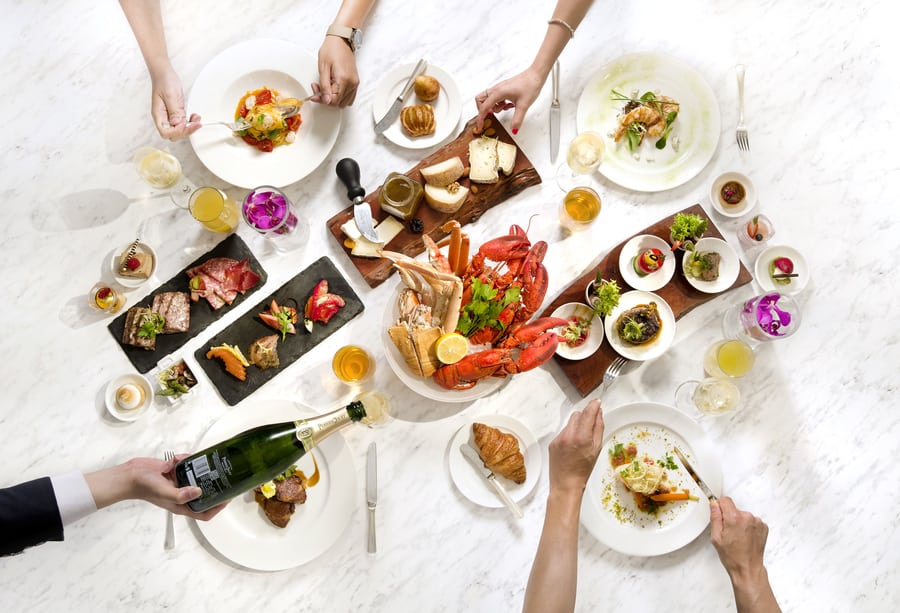 The Conrad does brunch up right on Sundays with its amazing Champagne Brunch on the Eighth. Spread across the whole 8th floor (between Nicholini's and Brasserie on the Eighth) you'll want for nothing at this luxurious spread. From the seafood station to the Chinese kitchen and the wonderful antipasto garden, there's something for everyone, even us pesky vegetarians! And if that's not enough, you can order unlimited a-la carte dishes like lobster eggs Benedict and fish & chips. Throw in free-flow Perrier-Jouët and a bar that makes a selection of cocktails, and it's pretty much perfection!
Read our full thoughts on Champagne Brunch on the Eighth.
Brunch on the Eighth, Conrad Hong Kong, Pacific Place, 88 Queensway, Admiralty, Hong Kong, p. 2822 8801, 金鐘金鐘道88號太古廣場港麗酒店; $938/adult or $398/Child (aged 3-12)
8. Hotal Colombo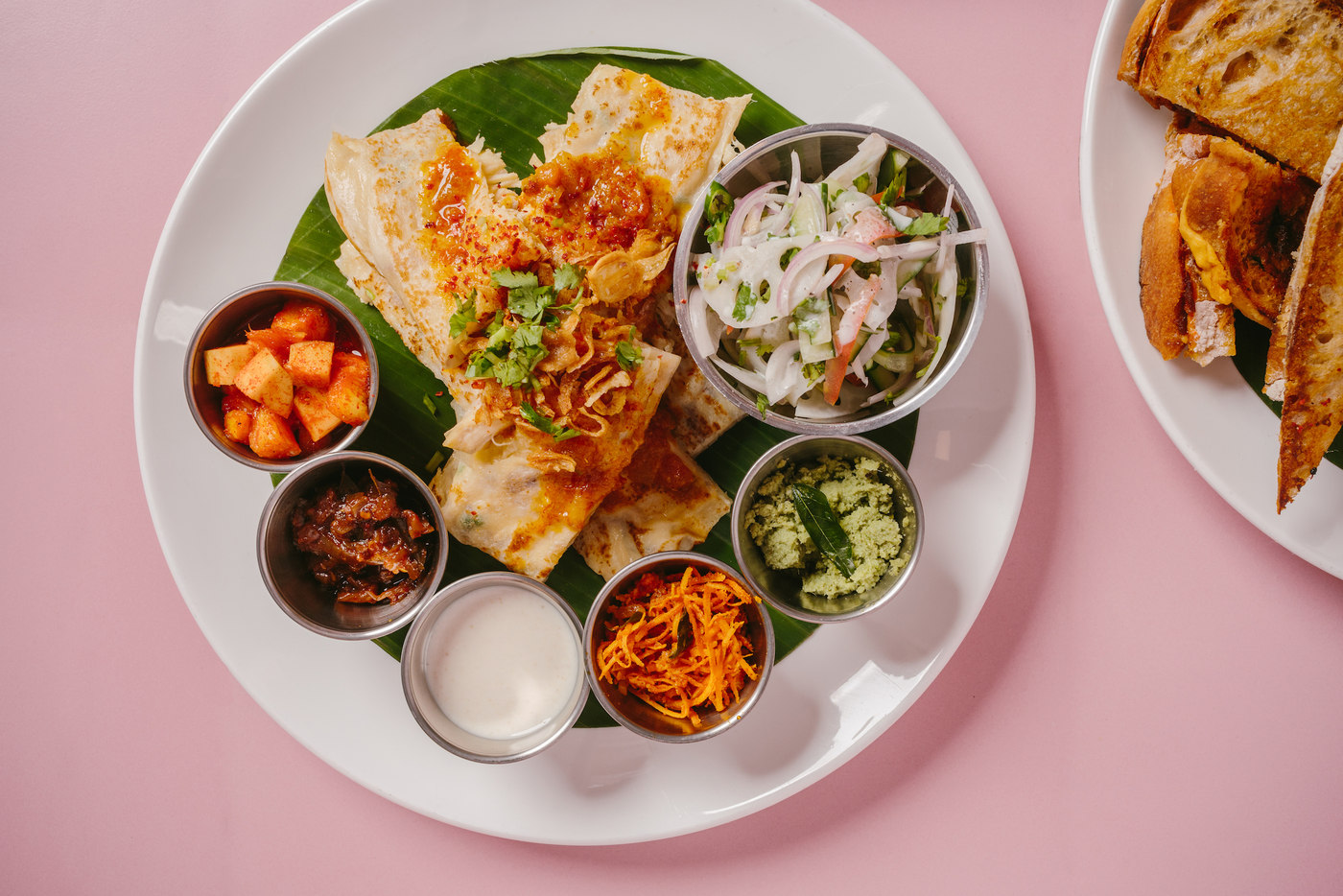 On the hunt for a cheap and cheerful Sunday brunch full of flavour and deliciousness? Hotal Colombo has a brunch offering that we can't get enough of. You'll be served snacks of devilled chickpeas, lunu miris (sambal paste) and fried sprats as you decide what main you want to enjoy. There's loads of choice, including many vegetarian options, but we love the string hoppers with potato kiri hodi and Maalu fry with Sri Lankan cucumber slaw best, plus they have some tasty bottomless sides to enjoy too. And all of this for just $188 +10% service. Throw in a jug of cocktail or a dessert and you'll be officially done for the weekend.
Hotal Colombo, 31 Elgin Street, SoHo, Hong Kong, p. 2488 8863
9. Spiga
Located in the heart of Central, Spiga's brunch is a perfect way to enjoy Sunday with friends and family in Hong Kong. Running from 12-3pm and costing $418, enjoy one of the freshest buffets in town, filled with seafood, salads, fresh bread, and condiments before tucking into the carving station complete with pasta and hot dishes. Next up, order a main dish, such as homemade sea urchin angel hair pasta with garlic, chilli, olive oil, and bottarga, or add on $180 and upgrade to Catch-of-the-Day served Pescatora style with prawns, squid and mussels. The dessert bar is full of beautifully executed delights (we loved the coffee and chocolate mousse treats) and even has a strawberry fountain! If you're looking for a boozy one, you can add $240 for a free-flow for two hours, choose from wines and cocktails. This is definitely one of the best summer brunches in Hong Kong, and the live music makes it a lovely meal to remember.
Spiga, 3/F, LHT Tower, 31 Queen's Road Central, Hong Kong, p. 2871 0055
10. Chaiwala
The Holi Brunch at Chaiwala brings good food, drinks and colour to your weekend. Running from 11-2:00pm every Saturday and Sunday, get transported to India in a venue decorated with flowers, lights, and colorful Holi powder before tucking into a selection of chaats from the buffet area. Pani Puri and Dosas will be delivered to your table before you order your tandoor and curry dish (vegetarian, vegan, and gluten-free option available!) A selection of desserts close out this $298 brunch, including wonderful gulab jamun, and don't miss the selection of chai on offer or forget to claim your G&T from the drinks trolley. Looking for free-flow? Add $180 for beer, wine and spirits, $298 for some French champagne, or $120 for soft drinks and lassis.
Chaiwala, Basement, 55 Wyndham Street, Central, Hong Kong, p. 2362 8988
11. The Tai Pan Sunday Brunch
Every Sunday, The Tai Pan at The Murray, Hong Kong creates a feast for the eyes, senses and taste buds, and we are huge fans. We recommend getting there early to kick things off with some free-flow Ruinart or a cocktail from the drinks trolley before starting off your food journey on the buffet tables that include loads of vegetarian options alongside charcuterie, cheese and sashimi. Or perhaps you'd like to indulge in Peking Duck or other delights from the carvery?
Next up are the oysters that are delivered to your table, followed by a signature egg dish to tick off those egg cravings. Choose your main from the likes of beef rib, seasonal fish or risotto, but be sure to leave room for the epic dessert selection. The handmade delights look (almost) too good to eat, and we still can't decide if we liked the strawberry and dark chocolate treats or the lemon and coconut delights the best.
This is also a great brunch for the littlies with an assortment of small sized food treats to keep them happy and different activities to keep them occupied each week, so you can enjoy an extra glass of bubbles. The Tai Pan Sunday Brunch is $698 or $298 for kids aged 5-11. You can add $328 for a free-flow of selected alcoholic beverages.
The Tai Pan, The Murray, Hong Kong, 22 Cotton Tree Drive, Central, Hong Kong, p. 3141 8888, 香港中環紅棉路22號
12. Olé
We're head-over-heels for brunch at Spanish restaurant Olé. Featuring the greatest hits from the kitchen over its twenty years in Hong Kong, you can indulge in a wonderful selection of tapas before choosing your own main and dessert. The fact that you are serenaded by live guitars during the course of your meal only makes this brunch even sweeter. The price point is fantastic too, at just $398 plus $180 for free-flow sangria and cava. This might just be the best brunch in Hong Kong. Olé for Olé!
Read our full review of brunch at Olé.
Olé, 1/F, Shun Ho Tower, 24-30 Ice House Street, Central, Hong Kong, p. 2523 8624, 中環雪廠街24-30號順豪商業大廈1樓; Brunch at Olé is available on Saturdays, Sundays, and public holidays.
13. MEATS
MEATS in SoHo serves perhaps the perfect cure for hangovers in Central on the weekends. Guests can order from the a la carte menu, or opt for the Set Brunch ($248), which comes with a starter, main, side and dessert. Mains include the exclusive Chicken Waffle topped with hot Tabasco honey, smashed avocado and spring onions, while the a la carte menu features dishes such as crispy smoked pork belly, jalapeño sausage, a slow-cooked egg, ugly potatoes and homemade béarnaise sauce.
With its relaxed atmosphere and indoor-outdoor seating, even the kids will be happy with the Kids Brunch Menu ($78) that includes Chicken Schnitzel with Fries, Mac'n'cheese or Mini Burgers with Fries.
MEATS, G/F, 28-30 Staunton Street, SoHo, Central, Hong Kong, 中環蘇豪士丹頓街28-30號地下
14. The Fiasco at Buenos Aires Polo Club
Like to do brunch a little differently? Happening on the last Saturday of every month, Buenos Aires Polo Club hosts one of the most lavish, exciting and high-energy brunches in town: The Fiasco. This theatrical brunch (expect extravagant entertainment, an abundant family-style menu, generous free-flow prosecco and house wine) features live entertainment and gunfights along with loads of tasty food, and of course plenty of booze to go along with the madness. The Fiasco is definitely vying for the title of best brunch in Hong Kong. If you can't make it on the last Saturday of the month during brunch hours for this hedonistic event, then you may want to try out their night brunch.
Read our review of The Fiasco.
The Fiasco at Buenos Aires Polo Club, 7/F, LKF Tower, 33 Wyndham Street, Lan Kwai Fong, Central, p. 2321 8681, 中環蘭桂坊雲咸街33號LKF Tower 7樓
15. Beef & Liberty
All Beef & Liberty restaurants across the city serve a huge brunch menu that is perfect for both omnivores and vegetarians alike. From opening time till 6pm, indulge in tasty treats such as classic avocado toast with ricotta, a breakfast burger, Beef & Liberty English breakfast or yoghurt and berries. Side dishes include Scotch eggs (a must try!), cheese and beets and an indulgent bread n' butter pudding. We recommend washing it all down with an Autumnal lemonade or a cheeky Bloody Mary, alternatively, you can pick any drink from the long list of 50 beverages. We like the fact that B&L ditched the usual buffet style, making it one of the best brunch in Hong Kong.
Beef & Liberty has branches across Hong Kong
16. The Envoy
Served every weekend (and public holidays) at The Envoy in Central, this all-you-can-eat brunch is full of colonial-inspired delights. For $380 + 10%, enjoy small plates, such as Butter Chicken Lollipop, Pulled Pork Mini Burgers, and Nine Vegetables Ragout. Big plate options include The Classic Sunday Roast, and Bangers and Mash, and it's all available between 12-3.30pm. Plus, for an additional $320, guests can add on free-flow wine and champagne.
The Envoy, 3/F, The Pottinger Hong Kong, 74 Queen's Road Central, Central District, Hong Kong, p. 2169 3311, 中環皇后大道中74號中環石板街酒店3樓
17. Casa Lisboa
Home to contemporary Portuguese cuisine, Casa Lisboa is home to brunch on Saturdays, Sundays and public holidays. For $388 per person, guests can enjoy six starters – featuring classics like gazpacho and Codfish cakes, followed by a choice of main. Chase it all down with a sweet treat, such as Pineapple, Vanilla Ice-cream & Pistachio Sponge Raviolis, and you will be all set to take on the weekend. If you want free-flow wines to pair with your food, add an extra $250 and sip away.
Casa Lisboa, 2/F, Parekh House, 63 Wyndham Street, Central, Hong Kong, p. 2905 1168 中環雲咸街63號巴力大廈2樓
18. Mak Mak
One of the tastiest brunch offerings in town, Mak Mak serves up a range of non-stop Thai cuisine every Saturday and Sunday. For just $298 per person – including free-flow soft drinks and mocktails – diners can enjoy classic specialities such as green chicken curry, tom yum goong and pad Thai along with an assortment of tasty starters. Upgrade to free-flow Veuve Clicquot champagne, Aperol Spritz, house wines and Singha beer for $518.
Mak Mak, 217A, 2/F Landmark Atrium, 15 Queen's Road, Central, Hong Kong, p. 2983 1003, 香港皇后大道中15號置地廣場中庭2樓217A號舖
19. FINI'S
Looking for somewhere to enjoy pasta, pizza and prosecco on the weekend? Look no further than FINI'S. For only $99, add the restaurant's buffet to any order of pasta, two slices of daily pizza special, secondi or grilled pizza wrap, or feast on a host of scrumptious delights from the antipasti including a fresh seafood buffet for an additional $199. Free flow prosecco, Asahi or Bloody Marys can also be added on for $99 each.
FINI'S has locations in SoHo and Wan Chai
20. 208 Duecento Otto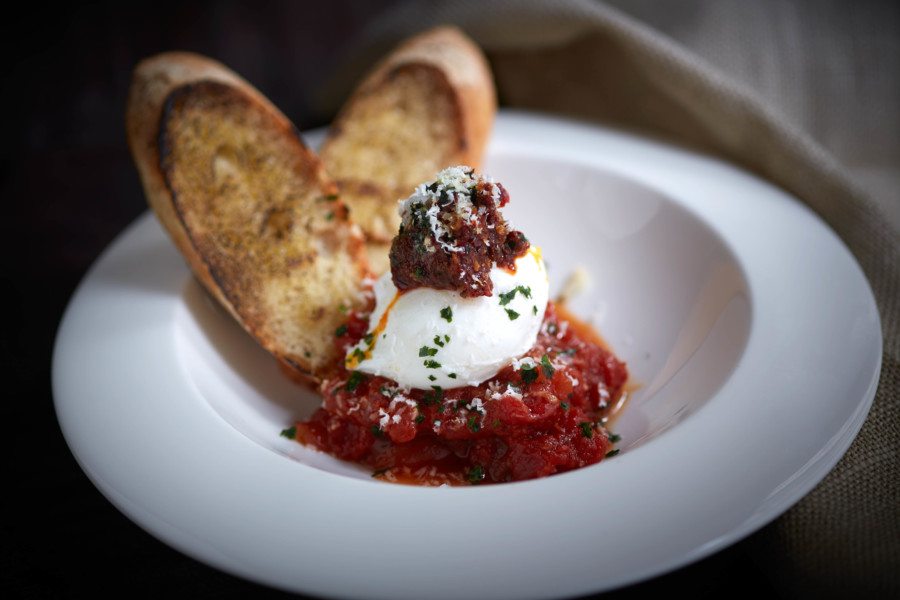 A long-time Sheung Wan favourite, 208's brunch serves appetizers and two hours of free-flow wine for $448 for unlimited helpings of antipasti, seafood, salads, cheese, and Dolci. The restaurant serves up a delicious Italian inspired menu including homemade pasta and pizza, and free flow champagne for just $200 per person.
208 Duecento Otto, 208 Hollywood Road, Sheung Wan, Hong Kong, p. 2549 0208, 上環荷李活道208號地舖
21. Kaum
The Indonesian-inspired brunch at Kaum is a taste sensation that is sure to kick off your weekend on a good foot. For just $398, sharing portions of delights such as gado gado, poached scallop with coconut and lime, and nasi goreng are served to your table, with diners enjoying unlimited portions of small plates and a choice of a large plate plus veggies and dessert. You can upgrade to free flow booze including Perrier-Jouet Grand Brut and Indo Bloody Marys priced at $298 for two hours and $398 for three hours.
Kaum, 100 Third Street, Sai Ying Pun, Western District, Hong Kong, p. 2858 6066, 西環西營盤第三街100號地下
22. Dragon-I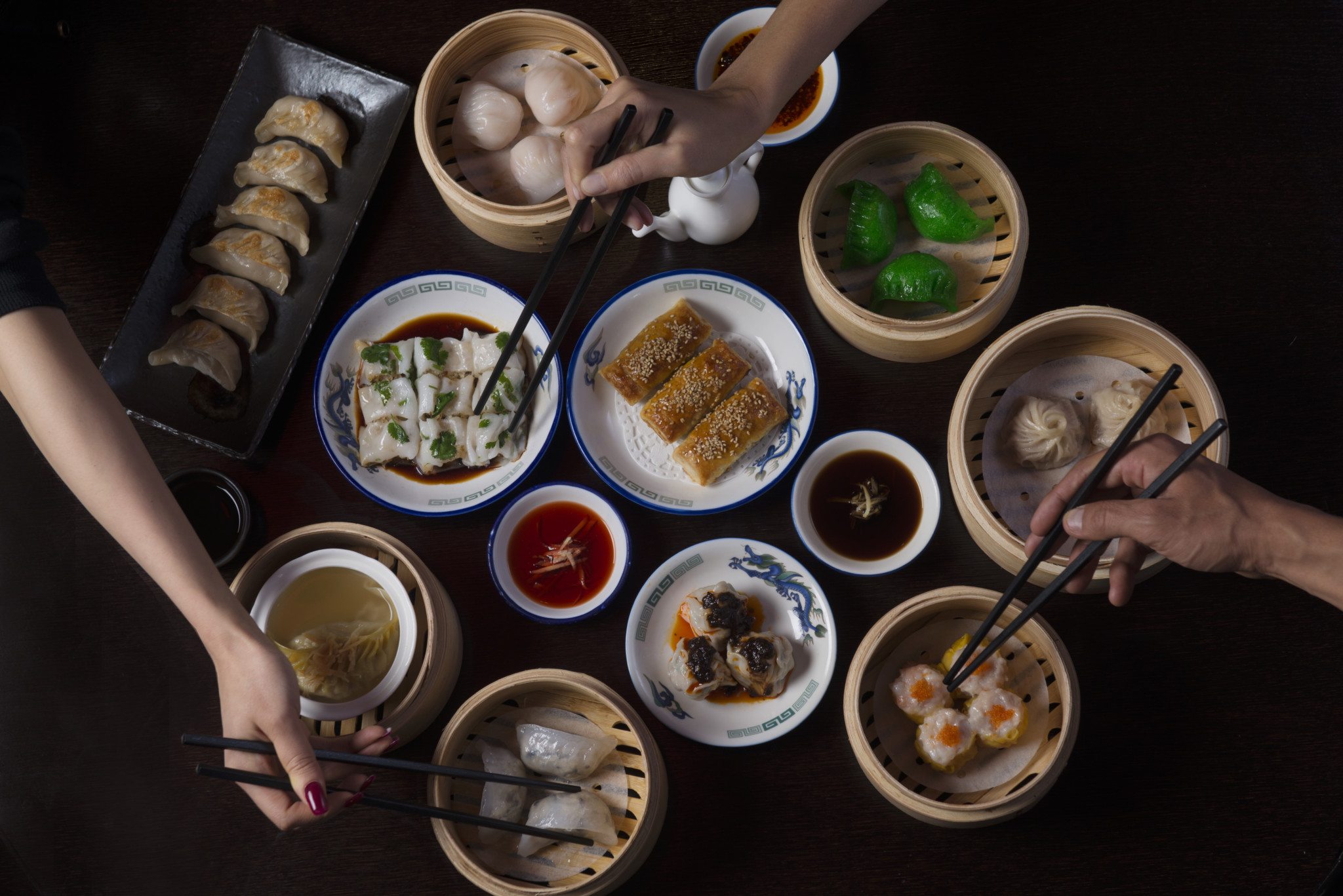 On Saturday's, Dragon-I – one of Hong Kong's hippest venues – offers its weekend dim sum brunch. From 12:00-3:30pm, guests can enjoy all-you-can-eat dim sum and free flow Moët Ice Impérial, house beers, house spirits and house wines. Priced at $550 + 10% service charge, this is the spot you want to hit if you are looking to do some celeb spotting.
Dragon-I, UG/F, The Centrium, 60 Wyndham Street, Hong Kong, p. 3110 1222, 中環雲咸街60號中央廣場平台
23. Hutong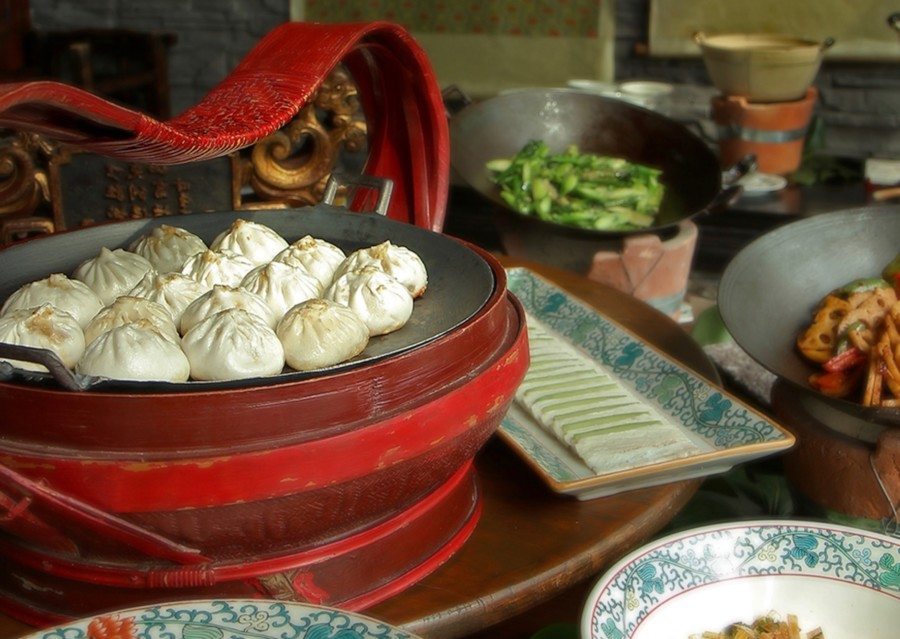 Taste the flavours of Beijing and Sichuan cuisine at the Feng Wei brunch at Hutong. For $588 per person, guests can enjoy the dim sum buffet plus a selection of main dishes and non-alcoholic beverages. Watch as the master chef prepares fresh noodles as entertainment, and enjoy the stunning views of Hong Kong Harbour. One of the best brunch in Hong Kong for dim sum lovers.
Hutong, 28F, One Peking Road, Tsim Sha Tsui, Hong Kong, p. 3428 8342, 尖沙咀北京道1號28樓
24. Lumi
French Japanese restaurant Lumi serves an all-you-can-eat weekend brunch ($338) that provides a great value for money. Created by renowned chef Kihachi Kumagai, over twenty signature dishes like Seared Maguro Salad, Sauteed Boston Lobster Tail Linguine and Peach Melba are available. Enjoy Two hours of free-flow prosecco, house red and white wines with an extra $180. Bonus: you can get 20% off if you pay your bill by 12:30 pm.
Lumi, Shop 301, Level 3, Pacific Place, 88 Queensway, Admiralty, Hong Kong, p. 2918 1313
25. SOMM
The latest SOMMkind of brunch ($698) at The Landmark Mandarin Oriental comes with ninety minutes of free-flow sparkling wine, cocktails, and many other beverages. Begin the brunch with a huge box of artisanal starters, featuring scrumptious Chocolate Brioche, croissants, smoked salmon as well as a Les Frères Marchand ham & cheese platter. Then, choose a main from the six options, such as Omelette Katsusando and Hakata Cabbage Japanese Pork Belly. End the feast with SOMM's signature desserts and you are done for the day. Bonus: enjoy free-flow packages of champagne, sake, white & red wine curated by the sommeliers with an extra $100.
SOMM, The Landmark Mandarin Oriental, 15 Queen's Road Central, Central, Hong Kong, p. 2132 0055
These spots get our vote for best brunch in Hong Kong, so be sure to check them out soon.
26. Madame Fu
Classic Parisian decor meets Cantonese favourites in the historic site of Tai Kwun. Guests here are not only spoilt for choice when it comes to seating and setting, their weekend Love to Brunch ($550 per person) delights offer unlimited Peking duck, dim sum, and lots more. We love that there are plenty of vegetarian options to choose from and of course, we love their free-flow of finely selected wines, sake, and spirits for which you'll have to pay an extra of just $200.
Madame Fu, 3rd Floor, Barrack Block, Tai Kwun, No. 10 Hollywood Road, Central District, Hong Kong, p. 2114 2118
27. Lucale
Luc, we know where to get the sweetest deals for brunch and we can't deny that we love a brunch package that comes with free-flow wines and prosecco. For a tempting price of just $388, dive right into a food coma with unlimited salumi, burrata, and healthy salads. For dessert, you either opt for a chocolate and cardamom with guava ice-cream (how good does that sound?!) or a classic tiramisu. The brunch menu is available on Saturdays and Sundays from 12-3pm.
Lucale, Shop A, 100 Third Street, Sai Ying Pun, Hong Kong, p. 3611 1842
28. Fumi
Holy crab! Head over to Fumi during weekends and public holidays to taste the exquisite Hokkaido King Crab All You Can Eat Brunch ($528 for adults and $288 for children) that offer unlimited Japanese delicacies ranging from appetiser and salad, sashimi and sushi to tempura and grill. You can pick one of the main dishes to devour and upgrade your brunch for $368 that includes a choice of wines, sake, champagne, and beer.
Fumi, 6/F California Tower, 30-36 D'Aguilar Street, Lan Kwai Fong, Central, Hong Kong, p. 2328 3302