Cheers to brunch!
From luxurious hotel gourmet to dim sum, there's something for everyone in our guide to the best brunch in Hong Kong.
Hong Kong is known for its multicultural culinary scene, whether it's finding the most exotic halal restaurants and French restaurants, or local favourites like yum cha and hot pot – there are always a great deal of options. And everyone fancies a good weekend brunch, for it's even more relaxing and perfectly sinful with buffet goodness. So here we present to you our picks for the best brunch in Hong Kong. Enjoy!
Our picks for the best brunch in Hong Kong
1. Cruise Restaurant & Bar, Hyatt Centric Victoria Harbour Hong Kong
What better way to celebrate the weekend than to revel in Hyatt Centric's scrumptious Lunch & Buffet? At Cruise, the Hotel's rooftop restaurant and bar, you can take in panoramic views of the Harbour while enjoying a range of hearty Asian dishes. Enjoy the flavours of the sea with So Chilled Out, a decadent platter featuring a Canadian lobster, Alaskan king crab, hamachi, king salmon, and other seafood.
The next dishes will whisk you away to Korea with its K-inspired flavours. Try the Spicy Green Stuff, which is Korean fried broccoli, chilli paste, and summer slaw. Or, carnivores can opt for Chang's Pork Belly Ssam, which consists of grilled Iberico pork belly, little gem lettuce, and mustard relish. The culinary journey then moves onto Indonesian Bro, a braised beef short rib dish that can be upgraded to the Signature Cheeky Massaman – a must-have for wagyu lovers. Finally, wrap up your meal with Coconuts in Paris, a fruity and refreshing ice cream dessert that satisfies those with a sweet tooth.
Oh, and did we mention there's a two-hour free-flow option? Complete your ultimate brunch experience with the unlimited prosecco, wines, beers, and soft drinks. Or, why not check in for a staycation and keep the party going all weekend?
Cruise Restaurant & Bar, 23/F, West Tower, Hyatt Centric Victoria Harbour Hong Kong, 1 North Point Estate Lane, North Point, Hong Kong, p. 3896 9898
2. Brooklyn Yakuza
Did someone say free-flow sake? Yep, we did, as Brooklyn Yakuza is now launching its brand new Bottomless Saké Brunch menu! You can sip on Yakuza Highballs while feasting on a variety of starters to share, followed by a choice of mains such as the miso grilled salmon, wasabi prawn udon, wagyu beef cheek, and more. For those with a sweet tooth, make sure to leave room for desserts – although the tabletop sake carafe towers will also need some work, because did we mention that those are unlimited? And if you want to continue the party after brunch, simply head downstairs from the main dining area to Brooklyn Yakuza's Oyabun cocktail lounge for more fun and booze. Tempted? Simply send a WhatsApp message to the hotline 5460 0014 to get booking!
Brooklyn Yakuza, 29 Wyndham Street, 29 LKF, Central, Hong Kong, p. 2866 1034
3. Nissa La Bella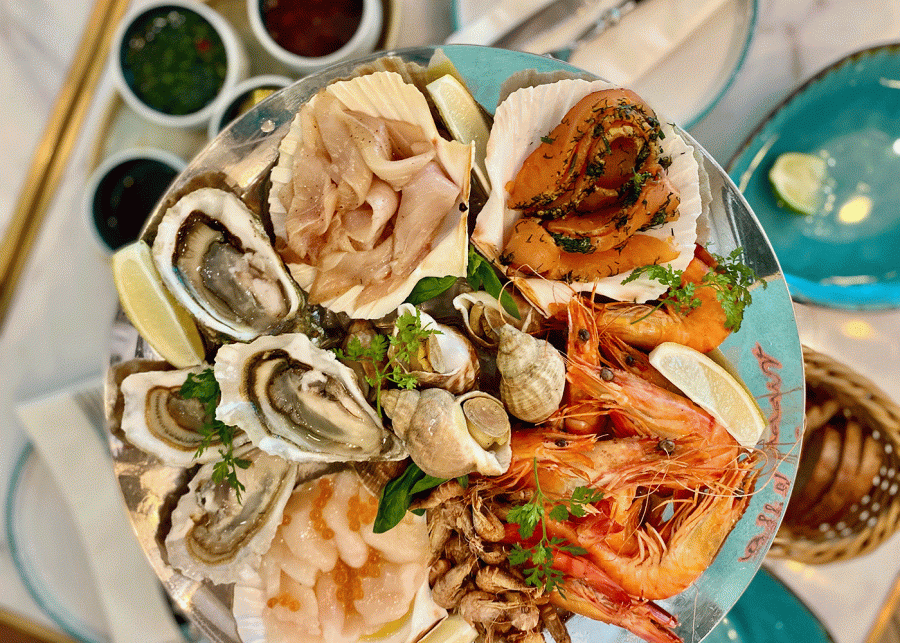 Take a mini-trip to the French Riviera with the luxurious weekend brunch at Nissa La Bella. (Bonus points: no jet lag! But with the option to add free-flow drinks – including Whispering Angel rosé wine and Veuve Clicquot Champagne – you might still be in the mood for a lie in on the next day.) A seafood feast is a 'must-have' for some of the best weekend brunches in Hong Kong and, with fresh seafood imported from France, the weekend brunch at Nissa La Bella does not disappoint. In addition to the signature socca (a flat-bread like pancake made with chickpea flour and a quintessential staple of street food in Nice) with marinated peppers to whet the appetite, the brunch at Nissa La Bella not only includes a show-stopping seafood platter – with oysters, prawns, gravlax, and hamachi – but also a brimming bowlful of moules with french fries. Seafood lovers can also choose to add either an additional half or whole lobster with beurre blanc sauce and roasted potatoes. Book your table – and put a standing appointment in your calendar – for the last Saturday of the month to enjoy the relaxed Mediterranean vibe with the weekend brunch at Nissa La Bella.
Nissa La Bella, 6-14 Upper Station Street, Sheung Wan, Hong Kong, p. 9549 3882
4. Zuma
This chic and spacious Japanese izakaya's brunch is naturally one of Hong Kong's favourites – they've bagged the Gold Award in our 2021 Love Local Awards for Best Brunch! Their weekend brunch runs from 11am to 3pm – plenty of time to sample their sharing plates. For mains, you can opt for flavourful dishes like teriyaki salmon fillet, spicy beef tenderloin, grilled hamachi kama, and more. And then indulge in an extravagant dessert platter served much like a sashimi – fresh fruits on ice, with ice-cream on top and assorted desserts. You can add in two and a half hours of free-flow bubbles, because what is brunch without free-flow? Choose from their signature, deluxe, or premium selection of French champagne to start your weekend on the right foot.
Find more Love Local winners here.
Zuma, Levels 5 & 6, Landmark Atrium, 15 Queen's Road Central, Central, Hong Kong, p. 3657 6388
5. TokyoLima
Planning to head out for a nice brunch in Hong Kong when the sun's out? TokyoLima's new Raymi Brunch (from $398/person) will be the perfect way to spend your weekend and public holidays. A traditional celebration in Peru, 'Inti Raymi' is the festival dedicated to the Sun God, and the word 'Raymi [Quechua]' itself signifies party, festival, and ritual. So, there's no better way to celebrate the fine weather – and the even finer company of your friends and family – than sharing a feast at TokyoLima.
The brunch begins with a trio of ceviches on a Nikkei Ice Bowl, followed by the restaurant's signature T-3 Salad, Ki-Mo-Chi Fried Chicken, and Chicharron Platter with slow-cooked pork belly and pork leg. Next, for the entree, you can take your pick between a roasted spring chicken; a juicy rump steak; grilled salmon; and more. To wrap things up is the Happy Ending dessert platter. Don't forget to order a free-flow package (from $198/person) to wash it all down!
TokyoLima, G/F, 18-20 Lyndhurst Terrace, Central, Hong Kong, p. 2811 1152
6. Percy's
Opened since only 2021, Percy's is one of the newest restaurants you should add to your brunch list. Available every Friday to Sunday, its Free-Flow Brunch Menu features an eclectic mix of seafood and meats. Our favourite starters include the razor clams and freshly shucked oysters. These are followed by the unique Dry-aged Tuna Merguez Sausage and a hearty Seafood Quiche, packed with scallops, prawns, blue crab, caramelised onions, and more. The Tuna Melt and the signature Percy's Burger are also crowd favourites, which you pair with sides such as Smoked Eel Hash Browns. Finish off with desserts like the Chocolate Croissant Bread Pudding. And, drinkers, don't forget to add on a two-hour free-flow package, which offers Tamarind Margaritas, prosecco, campari spritz, and other bevs to wash everything down!
Percy's, G/F, 18-18A Shelley Street, Mid-Levels, Hong Kong, p. 2898 2699
7. Club Rangoon
Looking for something different? Be sure to try the colourful Sagaw Hta Min Brunch from Club Rangoon, the one of the few Burmese restaurants in Hong Kong. The menu is loaded with classic street snacks and less well known authentic main dishes, such as A Kyaw Sone (vegetable fritters with tamarind sauce) and an authentic curry of your choice. The fun doesn't end there – make room for Burmese tea ice-cream with banana crumble and free-flow signature cocktails, all bursting with tropical flavour.
Club Rangoon, Ground Floor, 33 Aberdeen Street, Central, Hong Kong, p. 2503 3077
8. Brasserie on the Eighth, Conrad Hong Kong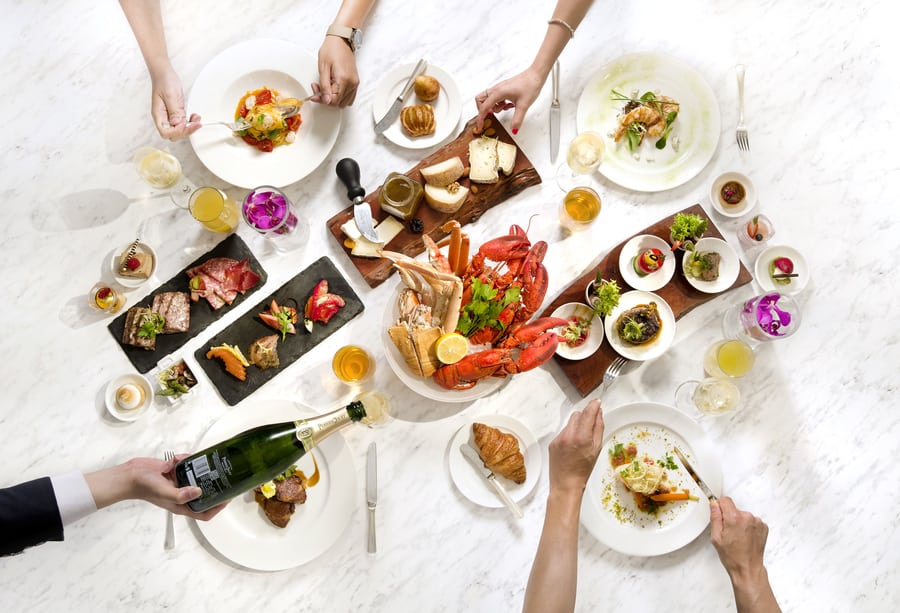 Brasserie on the Eighth at Conrad does brunch up right on weekends with its amazing Champagne Brunch on the Eighth. Spread across the entire floor, all the way from the Brasserie itself to the neighbouring Nicholini's, the brunch offers various stations for you to take whatever you fancy. Find yourself at the seafood corner on one end, then head to the cheese library – but not before stopping by the live carving station and the Mix & Shake Bar for a quick refill. Don't forget to choose your main and explore the dessert selection for the perfect brunch experience!
Read our full thoughts on Champagne Brunch on the Eighth.
Brasserie on the Eighth, Level 8, Conrad Hong Kong, Pacific Place, 88 Queensway, Admiralty, Hong Kong, p. 2822 8803
9. Hutong
Taste the flavours of northern Chinese cuisine with the Feng Wei Brunch at Hutong. Coinciding with its move to the nearby H Zentre, the weekend brunch menu has also been refreshed, now offering unlimited dim sum and Sichuan chicken. And as if the stunning views of the Victoria Harbour aren't enough, the chef also prepares selected dishes at the table for your entertainment. With free-flow champagne, cocktails, wine, sake, and beer as part of the menu, the Feng Wei Brunch is definitely one of our favourite brunches in Hong Kong.
Hutong, 18/F, H Zentre, 15 Middle Road, Tsim Sha Tsui, Hong Kong, p. 3428 8342
10. Ruam
We can't get enough of the Thai extravaganza at Ruam. For brunch, you get to tuck into an assortment of small plates, such as barbeque skewers of juicy pork belly, Som Tum Papaya Salad, Tom Yum Kung, and more, before choosing a main dish from the menu. Enjoy the red beef curry with flaky roti, or go for the classic Pad See Ew – whatever you choose, you'll be in good hands. Make it boozy with a two-hour free-flow package with wine, prosecco, and Singha lager.
Ruam, Shop 9, 1/F, J Senses, 60 Johnston Road Wan Chai (entrance on Ship Street), p. 3160 8535
11. Spiga
Located in the heart of Central, Spiga's brunch is a perfect way to enjoy Sunday with friends and family in Hong Kong. This al fresco restaurant features one of the freshest buffets in town, filled with premium Italian cold cuts, jet-fresh seafood, salads, and other delicacies. You can also tuck into the meats offered at the carving station, complemented by pasta and hot dishes. Next, order a main dish, with choices such as tagliatelle with wild mushrooms and pork jowl, USDA ribeye, seafood stew, and more. In addition to leaving some room for the desserts, you can add on a wine and cocktail free-flow for two hours. This is definitely one of the best brunches in Hong Kong, with the live music making it a lovely meal to remember.
Spiga, 3/F, LHT Tower, 31 Queen's Road Central, Central, Hong Kong, p. 2871 0055
12. Honjo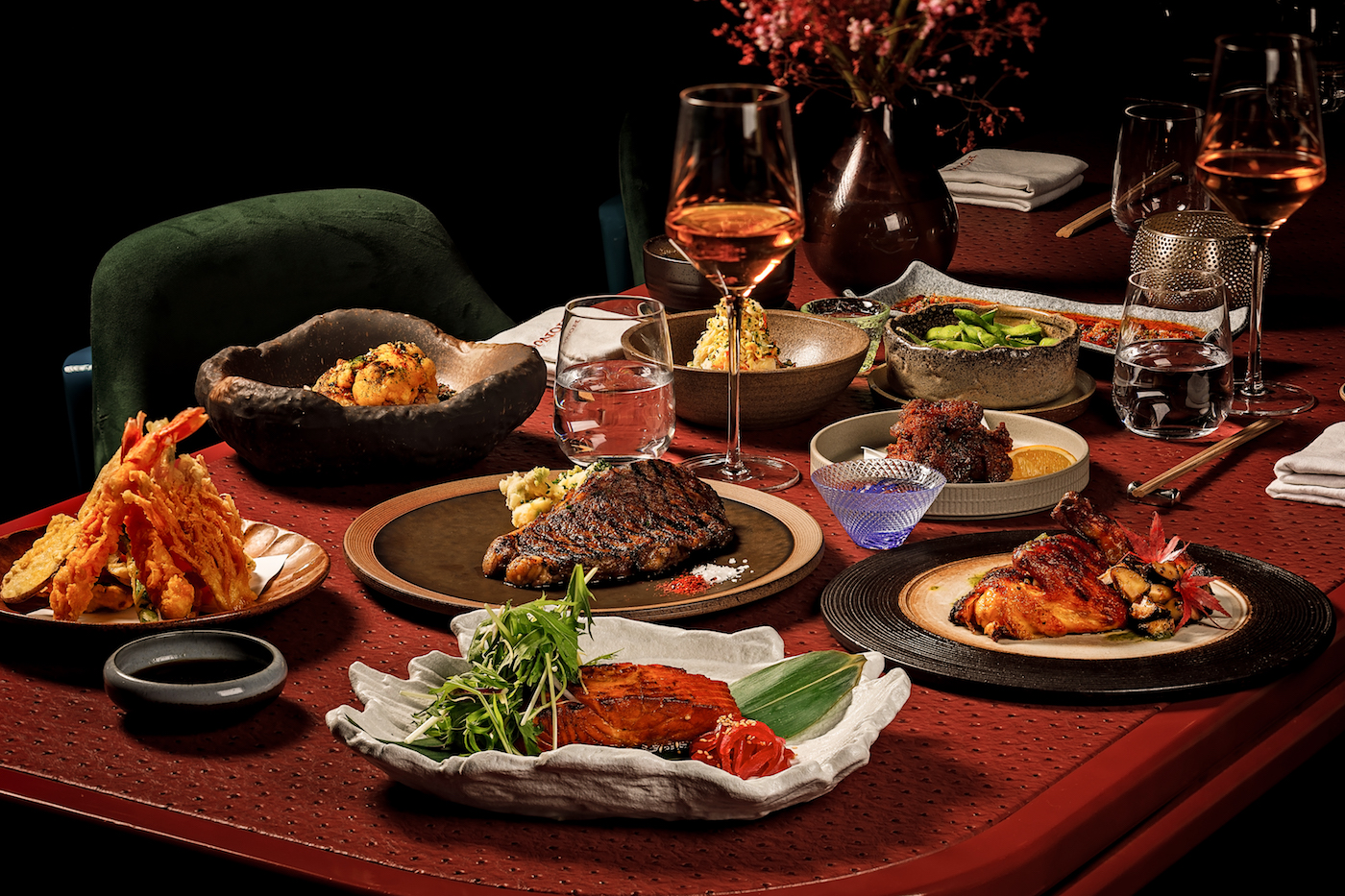 What don't we love about the brunch at Honjo? If you're a fan of contemporary Japanese food, this is where you'll want to be on weekends, especially when there are vegetarian and kids brunch menus available to keep everyone happy, too. Starting off with a selection of starters to share, the brunch follows with an unlimited(!) service of sushi, sashimi, and oysters. Next, you can choose your own main course – with options such as the marinated baby chicken served with kale and pumpkin miso puree, flank steak with roasted oyster mushroom, and Honjo tempura – before moving on to a selection of desserts. Add on a two-hour free-flow package to keep the sake and cocktails going!
Honjo, 1/F Hollywood Centre, 77-91 Queen's Road West, Sheung Wan, Hong Kong, p. 2663 3772
13. The Tai Pan, The Murray, Hong Kong
The Tai Pan at The Murray, Hong Kong creates a feast for the senses. We recommend getting there early to kick things off with some free-flow champagne and cocktails before starting off your food journey at the buffet. Find a variety of salads, cold cuts, and cheeses, or try the Peking duck and other delights from the carving station. After the freshly shucked seasonal oysters or crispy crab cakes are delivered to your table, you can tuck into your choice of main, like the squid ink seafood linguine, grilled lamb chops, and grilled hanger steak. Wrap up the brunch with the epic selection of homemade cakes, pastries, and fruits.
In addition, the brunch at The Murray is also kid-friendly, with an assortment of fingers foods and treats to keep them happy in the children's section. What's more, there's even a doggie food menu, so you can bring your furry pals along and no one gets left out!
The Tai Pan, The Murray, Hong Kong, 22 Cotton Tree Drive, Central, Hong Kong, p. 3141 8888
14. Olé
We're head over heels for the brunch at Spanish restaurant Olé. Featuring the greatest hits from the kitchen over its 20+ years in Hong Kong, you can indulge in a wonderful selection of tapas before choosing your own main and dessert. The fact that you are serenaded by live guitars during the course of your meal only makes this brunch even sweeter. The price point is fantastic too, with free-flow options for wine, cava, and sangria. Olé for Olé!
Read our full review of brunch at Olé.
Olé, 1/F, Shun Ho Tower, 24-30 Ice House Street, Central, Hong Kong, p. 2523 8624
15. Te Quiero Mucho
This buzzing three-storey Mexican eatery takes brunch to a homey, cosy level by pairing it with board games and booze. Te Quiero Mucho's brunch menu includes four starters (three of them veggie-friendly), free-flow tacos, and churros for dessert. As for board games, prepare to get competitive over a classic game of Uno, Foosball, Air Hockey, Cards Against Humanity, and more. Wait, it gets better – simply add on the drinks package for all-you-can-drink margaritas, paloma, wines, and bubbles! Brunch in Hong Kong just can't get better than this.
Te Quiero Mucho, 286, Queen's Road Central, Central, Hong Kong, p. 3423 3290
16. Chaiwala
The neighbourhood favourite, Chaiwala, brings good food, drinks, and colour to your weekend. Running from 11am to 2.30pm every Saturday and Sunday, get transported to India in a venue decorated with flowers, lights, and colourful Holi powder. Dig into a selection of chaats served to your table for sharing, then you can order your tandoor and curry dishes (with vegetarian, vegan, and gluten-free options available), lastly followed by a selection of desserts to close out this brunch. Looking for free-flow? For an extra, you can sip on some lassi, wines, and even champagne.
Chaiwala, Basement, 55 Wyndham Street, Central, Hong Kong, p. 2362 8988

17. Hotal Colombo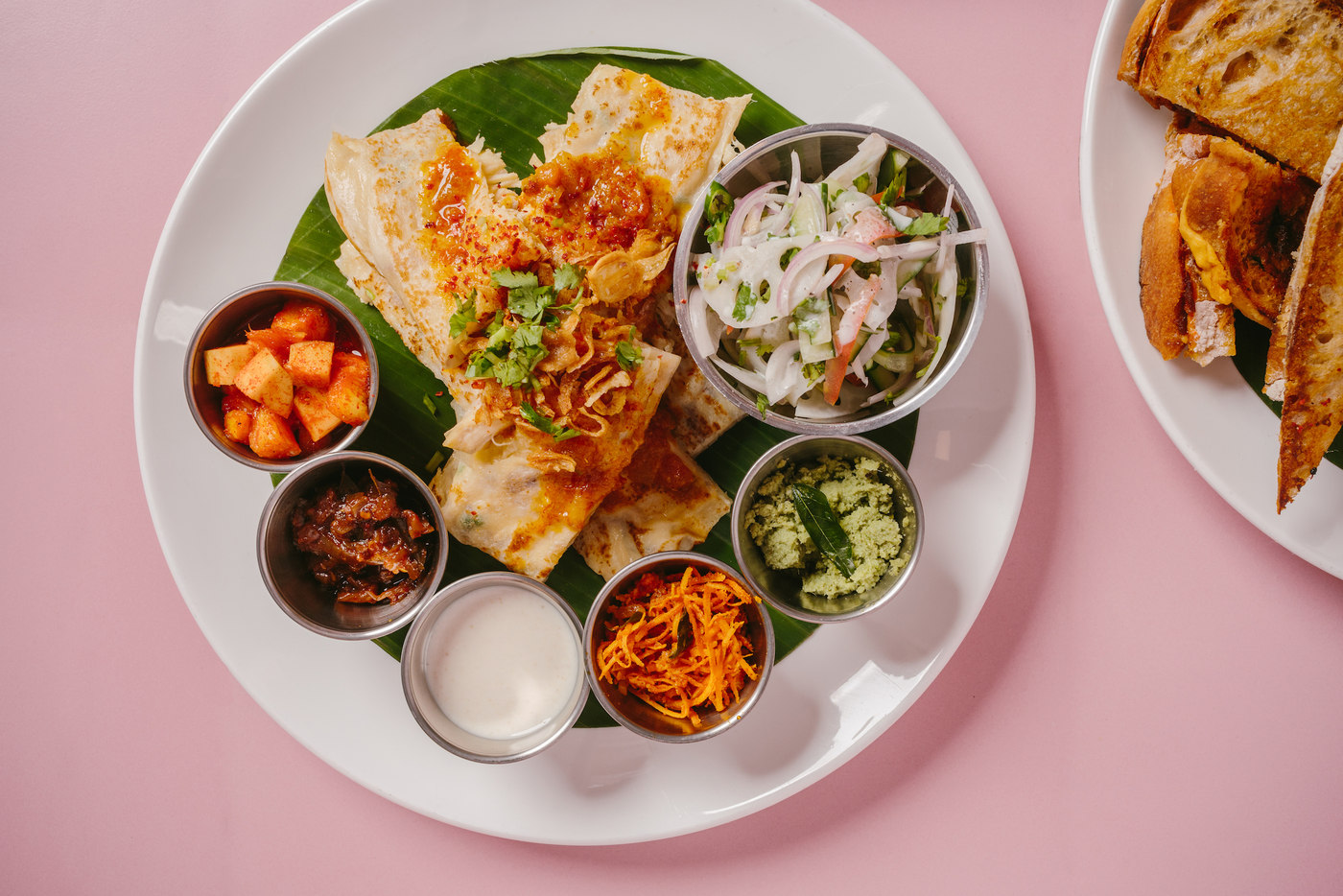 On the hunt for a cheap and cheerful weekend brunch? Hotal Colombo has you covered. Whet your appetite with some devilled chickpeas, yoghurt, papadums, and other snacks as you decide on which main you'd like to enjoy. Choices include kothu, milk rice with jaggery and lunu miris, and more, but our favourite has always been the string hoppers and pol sambol. Throw in a jug of cocktail or a dessert, and you'll be officially done for the weekend.
Hotal Colombo, 31 Elgin Street, SoHo, Central, Hong Kong, p. 2488 8863
18. Beef & Liberty
All Beef & Liberty restaurants across the city serve a huge brunch menu that is perfect for both omnivores and vegetarians alike. Available all day on weekends, the brunch features popular dishes such as The Full English, Breakfast Hamburger, and hearty toasties. Sides include crispy onion rings, Liberty Fries, and more, as well as a range of desserts to wrap it all up.
Beef & Liberty has numerous branches across Hong Kong.
19. The Envoy, The Pottinger Hong Kong
Served every weekend at The Envoy in The Pottinger Hotel, the all-you-can-eat brunch is full of colonial-inspired delights. Expect an array of small plates, such as Auntie's Netted Spring Rolls, Butter Chicken Lollipops, and veggie-friendly tater tots. Big plate options include the classic Bangers and Mash, steak and fries, and more. For those who drink, don't miss out on the bottomless wines, beer, and champagne package. And while you're there, be sure to check out The Envoy's seasonal cocktails, too.
The Envoy, 3/F, The Pottinger Hong Kong, 74 Queen's Road Central, Central District, Hong Kong, p. 2169 3311
20. Mak Mak
One of the tastiest brunch offerings in town, Mak Mak serves up a range of non-stop Thai cuisine every Saturday and Sunday. Its basic package already comes with free-flow non-alcoholic beverages, and diners can enjoy specialities such as green chicken curry, tom yum goong, and pad Thai along with an assortment of delicious starters. You can also upgrade your brunch to enjoy free-flow champagne, house wines, and more.
Mak Mak, Unit 217A, 2/F, Landmark Atrium, 15 Queen's Road, Central, Hong Kong, p. 2983 1003
21. Casa Lisboa
Home to contemporary Portuguese cuisine, Casa Lisboa offers a fantastic weekend brunch menu. It offers five starters, featuring classics like codfish cakes and Clams Bulhão Pato, followed by a choice of main. Chase it all down with a sweet treat, and you will be all set to take on the weekend. If you want free-flow bevs to pair with your food, there are sangria, wines, and cocktails available.
Casa Lisboa, 2/F, Parekh House, 63 Wyndham Street, Central, Hong Kong, p. 2905 1168
22. Kaum
The Indonesian-inspired brunch at Kaum is a taste sensation that is sure to kick off your weekend on a good foot. Dig into unlimited portions of small plates like the gado-gado, marinated fresh tuna, grilled prawn and mackerel fish satay, and more. Then, choose a main dish to serve with rice, and finish off with the Indonesian traditional dessert platter. Two hours of free-flow champagne, cocktails, and other alcoholic beverages are also available for you to add on.
Kaum, 100 Third Street, Sai Ying Pun, Hong Kong, p. 2858 6066
23. Lumi
French Japanese restaurant Lumi serves an all-you-can-eat weekend brunch that'll certainly satisfy your appetite. Created by renowned chef Kihachi Kumagai, there are over 20 signature dishes for you to enjoy, including the Kihachi Curry with Prawn Tempura, Hokkaido Sea Urchin Légume Jelly, and more. Add on two hours of free-flow bubbles, house wines, sake, and umeshu to complete the experience.
Lumi, Shop 301, Level 3, Pacific Place, 88 Queensway, Admiralty, Hong Kong, p. 2918 1313
24. SOMM
The SOMMkind of Brunch at The Landmark Mandarin Oriental comes with 90 minutes of free-flow sparkling wine, seasonal cocktails, and other beverages, curated by the sommeliers. Begin the feast with a huge box of artisanal starters to share, featuring freshly shucked oysters, Kamchatka king crab, Polmard heritage beef tartare, and more. Then, choose a main from five options, such as the signature Japanese pork belly with Hakata cabbage. End the feast with one of SOMM's scrumptious desserts and you are done for the day.
SOMM, 7/F, The Landmark Mandarin Oriental, 15 Queen's Road Central, Central, Hong Kong, p. 2132 0055
25. Madame Fù
Classic Parisian decor meets Chinese favourites in the historic site of Tai Kwun. Guests here are not only spoilt for choice when it comes to seating and setting, but Madame Fù's weekend Love to Brunch also offers unlimited Peking duck, dim sum, and lots more. We love that there are also full menus for vegetarians, vegans, and those who require gluten-free options. And, of course, don't miss out on the restaurant's free-flow of bubbles, wines, sake, and spirits.
Madame Fù, 3/F, Barrack Block, Tai Kwun, 10 Hollywood Road, Central, Hong Kong, p. 2114 2118
26. LucAle
Brunch for six days a week, with free-flow drinks at no extra cost? You heard that right. At LucAle, get ready to dive right into a food coma with unlimited plates of salads, mixed cold cuts, and burrata with parma ham. Plus, your glasses will always be full, as the brunch comes with two hours of free-flow house red, white, and sparkling Italian wine. If you want something more filling to prep your stomach for the bottomless drinks, opt for a pasta or meat dish to add onto your brunch.
LucAle, Shop A, 100 Third Street, Sai Ying Pun, Hong Kong, p. 3611 1842
27. Fumi
Holy crab! Head over to Fumi to taste the exquisite Crab Feast Weekend Brunch that offers unlimited Japanese delicacies, ranging from salads and sashimi, to tempura and grill. You can pick one main dish, such as grilled miso cod, braised Angus beef, A4 Miyazaki beef with Himi udon in soup, among other options. There are three free-flow packages to choose from, with the most comprehensive one covering champagne, wines, sake, beer, and more.
Fumi, 6/F, California Tower, 30-36 D'Aguilar Street, Lan Kwai Fong, Central, Hong Kong, p. 2328 3302
28. Foxglove
The much loved jazz lounge is taking Hong Kong's brunch scene by storm! The all-new exciting weekend brunch set features a fine selection of dim sum, such as Sichuan and Shanghai xiao long bao and har gow. Pair your brunch with two hours of free-flow house wines, cocktails, and craft beers. And be sure to catch the live DJ performances between 12:30 and 3:30pm to celebrate the weekend in style.
Foxglove, 2/F, Printing House, 6 Duddell Street, Central, Hong Kong, p. 2116 8949
29. Uma Nota
Until 2 May, Uma Nota's #LetsGetRio brunch set (from $370/person) can whisk you away to Brazil every weekend. The boteco experience starts with a bottled beer and flowing cachaça to go with a selection of savoury snacks, such as fresh mussels, grilled pork ribs, and grilled squid. You'll also get to stuff your own croquettes at the table when the deconstructed Bolinho de Aipin con Camarão  (deep-fried cassava croquette) is served with a side of creamy coconut prawns, cooked with tomato and onion. Next up are the mains, which include the File de Costela; rib-eye steak with potatoes cooked in garrafa (a Brazilian ghee); a seafood stew served with rice; and the must-try Rio staple, carioca beans (pinto beans) served with slow-cooked pork belly. Upgrade your meal with free-flow bubbles and beer for $195, or cocktails and more for $245.
Uma Nota, 38 Peel Street, Central, Hong Kong, p. 2889 7576
30. Maka Hiki
Fancy a tropical escape this weekend? Check out the brunch at Maka Hiki, one of the new restaurants in Hong Kong that only opened in December 2021. Its Weekend Brunch Menu includes three hours of free-flow, the perfect accompaniment to the restaurant's most popular dishes. The starters and sides are all made for sharing, followed by one main dish of your choice, and ending with some desserts. Highlights include the Coconut Indo Fried Chicken, the vegetarian coconut curry, the sticky-sweet Half Lombok Baby Chicken, amongst others. If you're a fan of cocktails, sample Maka Hiki's island-inspired cocktails, such as the Pina Colada and the fruity Bikini Girl.
Maka Hiki, 2/F, Little Tai Hang – The Corner House, 98 Tung Lo Wan Road, Tai Hang, Hong Kong, p. 2155 1777
31. Meats
Meats in SoHo serves perhaps the perfect cure for hangovers in Central on the weekends. Guests going for the brunch will enjoy a starter, main, side, and dessert. Highlights include the signature Meats Burger, The Works (which consists of smoked pork belly, jalapeño sausage, fried egg, and more), the vegetarian Cauliflower Bum Bum, and more. And with the Kids Brunch Menu, even the little ones will be satisfied.
Meats, G/F, 28-30 Staunton Street, SoHo, Central, Hong Kong, p. 2711 1812
Dragon-I (brunch no longer available)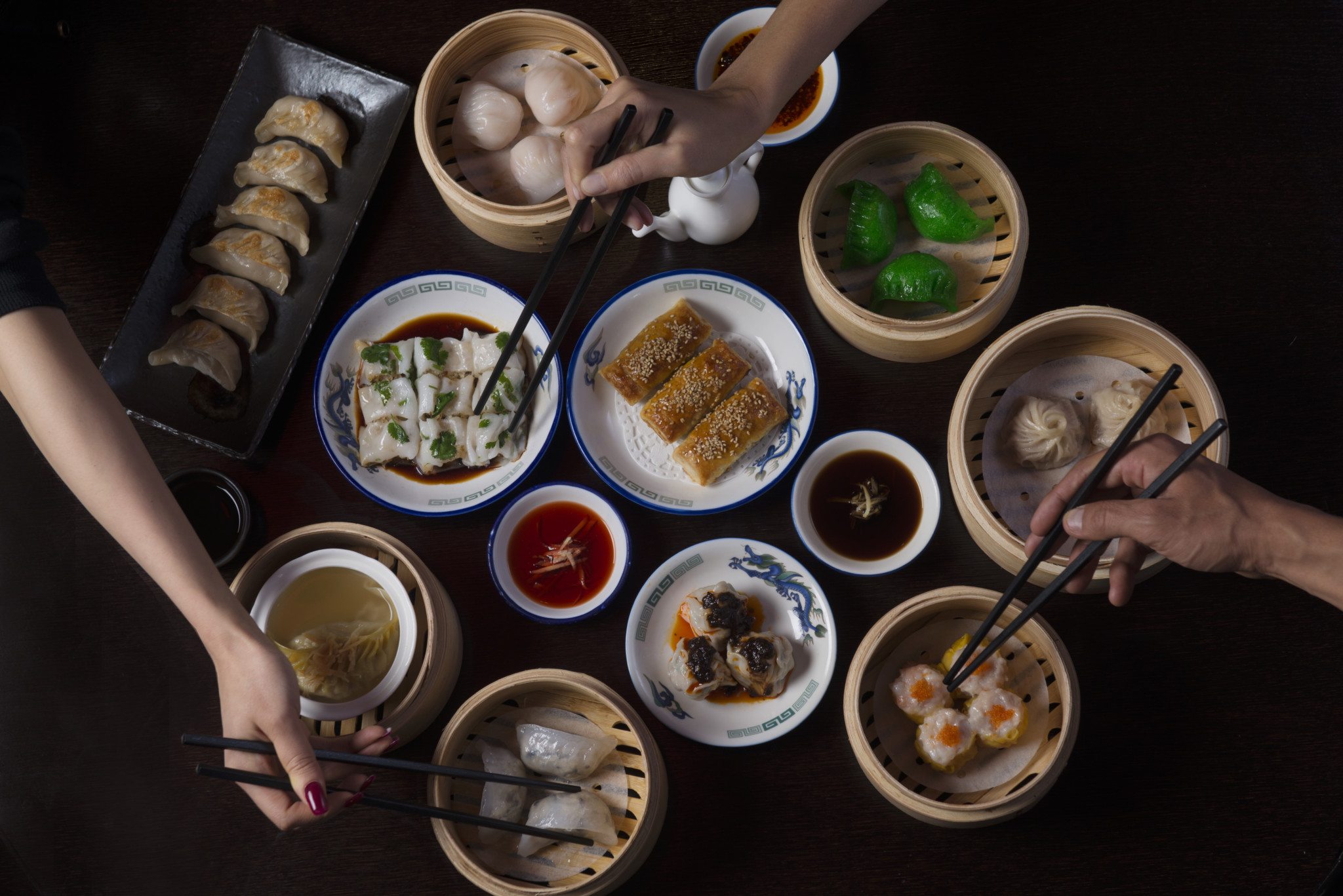 On Saturdays, Dragon-I – one of Hong Kong's hippest venues – offers its weekend dim sum brunch. From 12 to 3.30pm, guests can enjoy all-you-can-eat dim sum and free-flow champagne, house beers, spirits, and wines. This is the spot to hit if you are looking to do some celeb-spotting.
Dragon-I, UG/F, The Centrium, 60 Wyndham Street, Hong Kong, p. 3110 1222
208 Duecento Otto (permanently closed)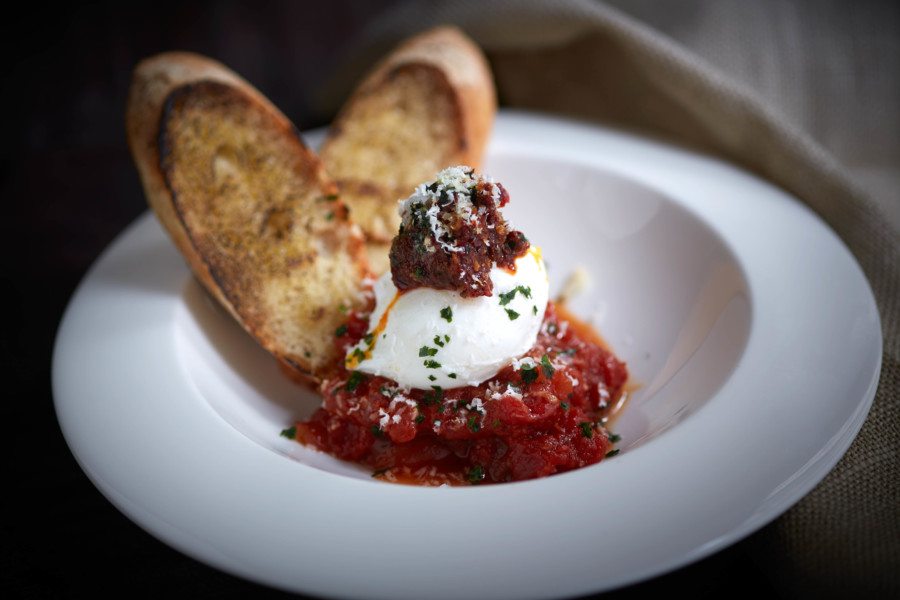 A long-time Sheung Wan favourite, 208 Duecento Otto's brunch serves two different packages: a two-course menu with appetisers and a dessert, or three courses to include a main dish. The appetisers come in a platter, with six drool-worthy items, such as parma ham and burrata, cold cuts of porchetta, homemade marinated salmon, and mussels marinara. You can add on two hours of free-flow prosecco or champagne, as well.
208 Duecento Otto, 208 Hollywood Road, Sheung Wan, Hong Kong, p. 2549 0208, 上環荷李活道208號地舖