You won't be disappointed by the wok-fried lobster with egg white and black truffle that is topped with gold leaf
Fans of Cantonese cuisine should definitely add Above & Beyond to their list of must-try restaurants in Hong Kong. Focusing on classic food with a twist, expect top quality and beautifully executed dishes
For those of us who were born and raised in Hong Kong, celebrating a special occasion usually involves a long (and oftentimes stressful!) process of research to find the latest new restaurants, artisan desserts and fine dining spots. And from time to time, it's nice to enjoy heartwarming Cantonese dishes in an elegant and comfortable ambience, and this is exactly the offering at Above & Beyond on the 28th floor at Hotel Icon in Tsim Sha Tsui.  
Above & Beyond: A sleek sitting room with a view
Dining at Above and Beyond is like savouring modest yet refined Hong Kong comfort food at your friend's tasteful holiday home – comfortable enough to let you take a nap on the plush sofas yet sophisticated enough for you to enjoy an intimate soirée with good company.
Read more about our staycation at Hotel Icon here.
As the brainchild of famed British architect Sir Terence Conran, the restaurant is decked out in furniture in earth tones along with minimalist art pieces that evoke understated Chinese aesthetics. In case your date is late, make yourself at home by picking up one of the books about Hong Kong from the shelf and enjoy a good read over a glass of champagne. Don't forget to request a table by the floor-to-ceiling windows where you and your guest can feast your eyes on the city's breathtaking harbour view.
Well-executed Hong Kong fare with surprise twists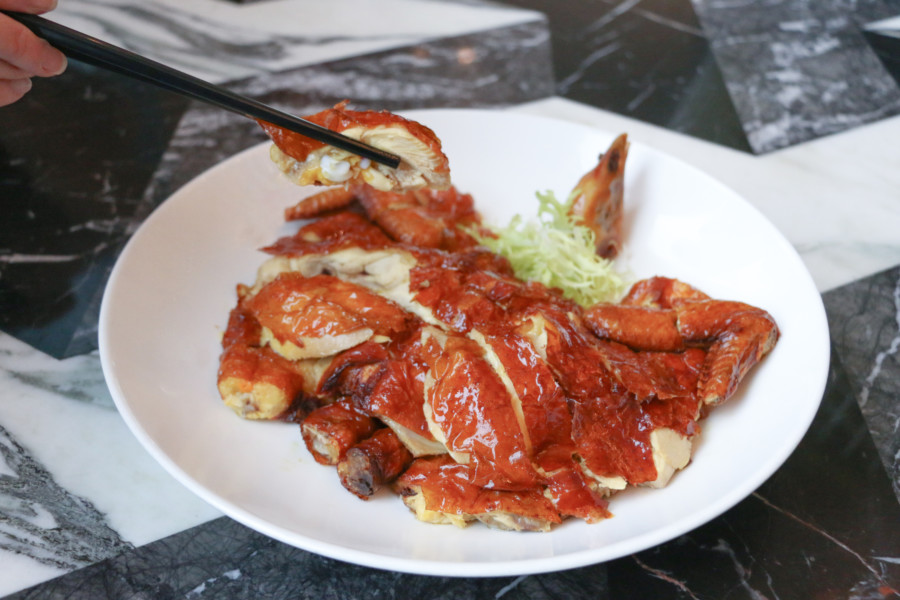 Taking centre stage at the restaurant are indulgent Cantonese offerings. Expect classic dishes served with lavish ingredients and Instagram-worthy presentation skills.
We began our dinner with wok-fried lobster with egg white and black truffle, an exquisite starter that marries fragrant tastes with a heavenly silky-smooth texture. Did we mention that it's topped with gold leaf?
Moving onto mains, the range of quintessential Cantonese dishes certainly didn't disappoint. The crispy skin chicken was incredible – with the skin seared to a flawless crispy texture and its meat succulent and tantalising, while the stir-fried pork tenderloin with Italian balsamic vinegar is a heartwarming dish that evokes childhood memories. Served with slices of Osmanthus poached pear on the side, the dish offers a good balance of crunchy texture and refreshing taste. Bonus? The hand-drawn sakura on the plate creates a unique artistic touch.
The tossed noodles with poached egg and barbecued kagoshima, on the other hand, was a little bland, as the spicy sauce wasn't really saturated into the noodles properly and the barbecued pork had a rather chewy and dry texture. But the sensational jasmine tea crème brûlée certainly won us over. As we cracked through the top layer of burnt sugar to get to the silky custard beneath, we were surprised by the rich jasmine aroma which left an invigorating and fragrant after taste on our palate long after the last spoonful.
Above and Beyond, 28/F, Hotel Icon, 17 Science Museum Road, Tsim Sha Tsui East, Kowloon, Hong Kong, p. 3400 1000, 尖沙咀科學館道17號