Precisely cut and beautifully seasoned skewers
It's all about experimenting with techniques and textures to Chef Phillip Pak of Zoku, and he has us enthralled with his dishes!
To say that the Land of the Rising Sun is one of our fave places would be an understatement. From the best books by Japanese authors to travel in Okinawa and even must-know Japanese stores in Hong Kong, there's just something about the island nation that makes us green with happiness. Of course, we've already hunted down the best Japanese restaurants in Hong Kong, now we're bringing you the latest (and sleekest) resto to dip into all things wasabi, sashimi, and teriyaki at Zoku. Check out our review of this new Wan Chai hang below.
We review Zoku: Cosy meets contemporary vibes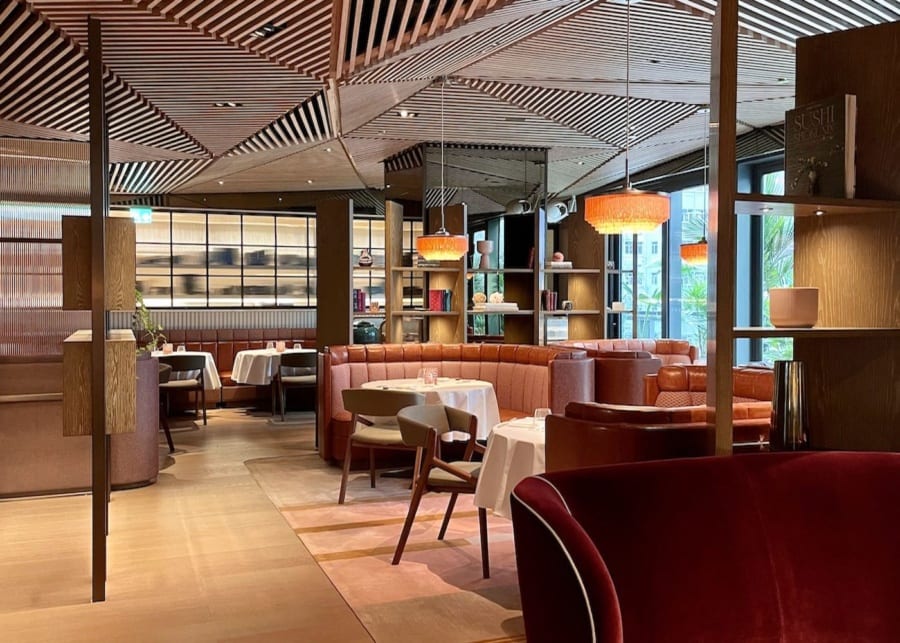 As you get off the elevator on the second floor, the sophisticated design of the entrance gives a modern edge to the restaurant. Zoku means "clan" in Japanese, and the restaurant pays homage to Japanese cuisine whilst romancing Japanese zen with Western aesthetics. Chef Phillip Pak hails from Aspen, Colorado and has worked alongside renowned chef Nobu Matsuhisa. Chef Phillip Pak uses Japanese produce sourced seasonally to reinvent classic dishes for modern plates.
As for the interior, the woodsy elements of the restaurant are met with leather seatings in warm tones. When you're not too distracted by the gorgeous plating of food, the asymmetric ceiling is likely to steal your attention with its origami design. Other features include tall wooden bookshelves displaying books and accent pieces, also acting as a divider between tables for added privacy, thoughtful use of space. Since the restaurant had just opened about a month ago, the alfresco terrace is still under works (but we know we'll be there sipping on cocktails soon!).
Let's talk food…
We're guessing you didn't just pop open this article to read about the ambience, so let us give you the highlights reel. You have our word that Zoku serves a refreshing take on Japanese cuisine that'll have you stepping out of your comfort zone. The yellowtail sashimi hits every not on the savoury scale, and it's wrapped in pickled radish and served in yuzu soy and serrano for garnish. The handroll is a definite show-stealer – crafted with toro, uni, caviar, and finished with gold leaf, it takes inspiration from tacos being partially wrapped and is served in a custom-made wooden holder.
And, oh boy! The desserts are the way to end the meal. Being just the right amount of sweet, the tofu cheesecake and the mochi cake with coconut sorbet again are a fusion experiment that had us asking for more.
A moment of appreciation for the drinks
Mixologist Sabrina Budden knows what's up when it comes to mixing drinks. There's just so much creativity in curating the drinks and it's seen through the taste, presentation, and even the names. Tsundoku means to acquire books and simply let them pile up (whoops, we can relate); the cocktail is served in a tall glass with a touch of origami crafted from a book's page. And we have the elegant Suzie Wong (bibliophiles will know all about her!)  consisting of Japanese whisky, rose syrup, cucumber and yuzu soda – so delightful and refreshing.
If you're looking for a fab new place for gathering with the gals and guys, head over to Zoku at The Hari. The food and the service will have you wanting to come back for more. And you should.
Zoku, 2/F, The Hari Hong Kong, 330 Lockhart Road, Wan Chai, Hong Kong, p.2129 0338