Bibi and Baba's special prawn mee, Nasi Lemak, and more are available in the takeaway menu (Photography: Bibi and Baba via Facebook)
What time is it? Laksa time! This Southeast Asian nation is home to one too many comfort foods. Grab the most flavourful staples at the best Malaysian restaurants in Hong Kong.
If you follow us on social media, it'll come as no surprise that we're always eating (not to sound like a glutton!) Whether it's Japanese, Italian, or Mexican, Hong Kong knows no borders when it comes to restaurants. Calling all gastronomes out there, here are nine drool-worthy Malaysian restaurants in Hong Kong to try.
Best Malaysian restaurants in Hong Kong
1. Bibi and Baba
The black and white tiles, rattan stools, and their iconic pink tones give a coastal vibe to this Wan Chai eatery. The dishes are a breath of fresh air, stop by for a great lunch deal – pick one from three starters and main courses, you can add an extra ten bucks to go for the signature prawn mee (all worth it). The fusion cocktails defo need some loving, pandan white old fashioned and kaffir colada? Yes please!
While you're in the neighbourhood, why not check out more lunch spots and cafes in Wanch (for your next date)?
Bibi and Baba, 1-7 Ship Street, Wan Chai, Hong Kong, p. 2555 0628
2. Café Malacca
If you're staying at Hotel JEN in Shek Tong Shui, then booking a table at Café Malacca is a must! We love that there's plenty of vegetarian options on the menu (no, not just salad!) Though some dishes may have meat, you can request an all-veggie option and the waiters won't make a fuss of it. Personally, we love the afternoon tea set featuring all of our fave Malay snacks – kaya toast, Murtabak, curry puffs, and durian pudding (you know durian has to be here!).
Café Malacca, Level 2, JEN Hong Kong by Shangri-La, 508 Queen's Road West, Shek Tong Tsui, Hong Kong, p. 2213 6613
3. Penang Prawn Noodle Shop
When a restaurant has prawn noodles right in its name, you know that's one dish you definitely have to go for! There are four different soup bases; spicy prawn, curry laksa, pork and chicken, and Hokkien style cream base. You can pair your prawn toppings with other meats and seafood, make it a set meal to include a Malay snack (chicken skewers maybe?). Think of this as a Hong Kong-style Tam Jai but with all Malaysian dishes.
Penang Prawn Noodle Shop, Shop 3 G/F, Hon Way Mansion, 11 Hoi Kwong Street, Quarry Bay, Hong Kong, p. 5595 5662
4. Satay Inn
Located just above the Macau Ferry Terminal in China Hong Kong City is Satay Inn, offering both indoor and outdoor seating. The signature dishes that we've tried and tested are the laksa – with king prawns and fish cakes in coconut curry base, assorted satay, and Hainanese Chicken. Pair your meal with some seasonal drinks for a complete experience.
We won't ever let your day go wasted, here are all the things to do in Tsim Sha Tsui after or before your meal at Satay Inn.
Satay Inn, Shop 3, Tower 1, Podium Level, China Hong Kong City, 33 Canton Road, Tsim Sha Tsui, Hong Kong, p. 2738 2368
5. Malacca Cuisine
For some of the pro foodies out there, this resto may need no intro but we'll proceed anyway because the menu just has so much to offer. We are personal fans of their beef rendang served with rice, the beef is well-cooked and it's balanced with the perfect amount of spice and all things nice. The laksa and fried noodles are a must, the pictures on the menu alone will tempt you alone. Add on some traditional snacks and you'll be pleased with the service, taste, and price.
Malacca Cuisine has multiple locations in Hong Kong.
6. Ancient Moon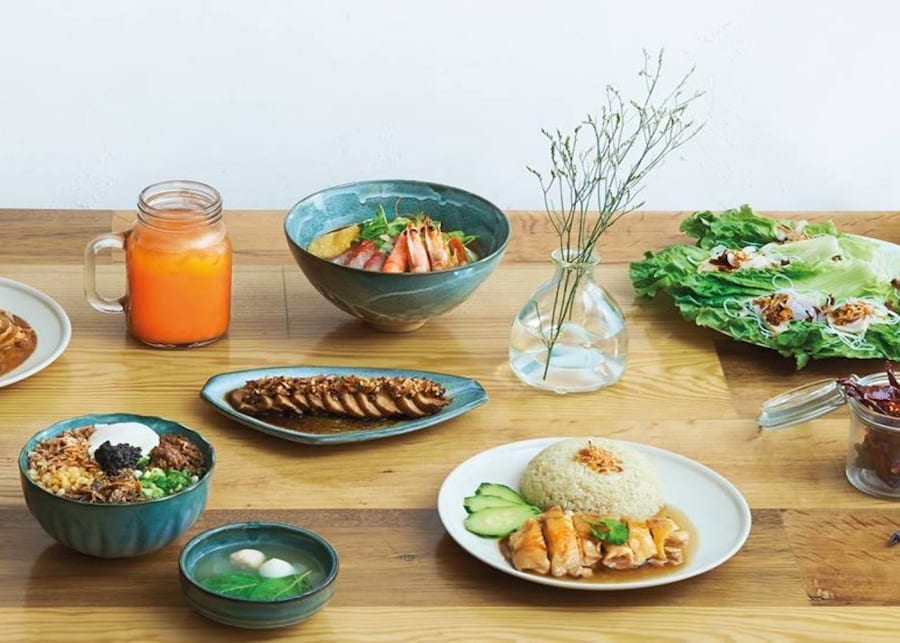 You can trust the makers of Ancient Moon to stay true to the authenticity of Malaysian cuisine, as they've flown over to Kuala Lumpur plenty of times to master the techniques and Malay cooking styles. As humble as the menu may be, the taste is what truly matters. We recommend going for their signature chilli pan mee and nasi lemak. Side note: the menu is all in Chinese so you may need a helpful bud to translate.
Ancient Moon, Shop A, 29 Kam Ping Street, North Point, Hong Kong, p. 3568 4530
7. Baba Nyonya Restaurant
This spacious eatery hailing straight from Malaysia offers an extensive menu with affordable prices. Paying homage to traditional dishes, the best bites to get on your plate have to be the sambal braised minced pork with tofu puffs, Baba Nyonya jumbo laksa, enoki mushroom bak-kut-teh (can be ordered in either a big or small portion). Of course, you can go with your gut and order practically anything from the menu for a good meal.
Did you know? We also have a round-up of cafes in Yau Ma Tei and Jordan.
Baba Nyonya, G/F, 501 Nathan Road, Yau Ma Tei, Hong Kong, p. 3594 6026
8. Mumum Shop
At Mumum Shop, the menu may not be all that elaborate but the bright side is, it's easier when it comes to decision-making. Aside from the laksa, the bidor curry chicken and kampong asam campur with rice (seafood platter with tofu and lettuce) are worth taking note of. Add in an extra five bucks for yellow ginger rice and another $20 for a yum kaya butter toast.
If you're at the Hung Hom branch, be sure to check our neighbourhood guide for more things to do.
Mumum Shop has locations in Hung Hom and Tuen Mun.
9. Lee Laksa
Best believe that Sheung Wan restos and cafes do convey a bit of zen and Lee Laksa is no exception. The most popular dish here is Lee style Hainan chicken rice with laksa but let's also turn the limelight to some others on the menu. The Malaysia char kway teow stir-fried flat noodles, vegetarian rice paper rolls, and grilled sambal pork neck have our nod. Cool off the summer heat with their coconut ice cream or taro balls with coconut milk. Oh, and the pandan mango glutinous rice balls, honestly we'd just eat up a storm!
Lee Laksa, 302 Queen's Road, Sheung Wan, Hong Kong, p. 2265 8999