From traditional taquerias to stylish speakeasies, these Mexican restaurants in Hong Kong are bursting with flavour
We know where to hit when you're in need of French cuisine and when only the best Italian restaurants will do. But what if you're crazy about churros or hankering for a hot tamale? We're totally there for Margarita Mondays, Taco Tuesdays and guacamole every single damn. day. That's why we've scoured the city to find the most crave-worthy cantinas. Trust us, these Mexican restaurants in Hong Kong will have your tastebuds en fuego. If you love tacos and tequila then this one's for you.
1. Chino
Not your average Mexican restaurant in Hong Kong, Chino is a contemporary restaurant insired by Japanese ingredients and cooking techniques. Run by Chef Erik Idos, who grew up around Mexican street food in L.A. and honed his Japanese cooking skills at the likes of Nobu, expect a neighbourhood feel and fresh seasonal ingredients here.
Chino, 1B-1C New Praya, Tung Fat Building, Kennedy Town, Hong Kong
2. Te Quiero Mucho
Serving breakfast, brunch, lunch and dinner, this little gem is nestled inside Mojo Nomad in Central. Spread over two floors, we recommend getting their early and nabbing the couches upstairs (or at least enjoying a drink on the terrace.) Then settle in for a tasty menu full of delights, including a selection of vegetarian options. Our picks? The Green tacos and the Shrimp Quesadilla. Churros are also a must – obvs!
Te Quiero Mucho, 286 Queen's Road Central, Hong Kong, p. 3423 3290
3. Cali-Mex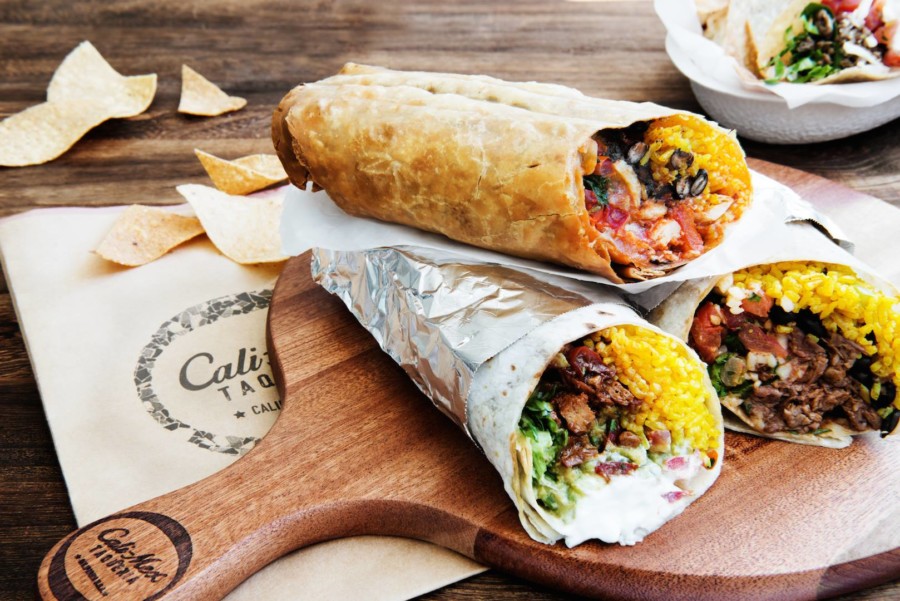 Cali-Mex is a casual chain serving takeaway Tex-Mex. The dishes are made-to-order, with diners choosing a base (burrito, quesadilla, taco or salad), filling (from a variety that includes beef, chicken, pork, veggies and seafood), spice level (salsa verde, salsa chipotle, and salsa brava) and beans (black or refried pinto). Creamy guacamole is extra, but essential, and salad bowls are served in a crispy tortilla shell. Do yourself a favour and bag an order of churros to-go.
Cali-Mex has branches across town
4. Taco Chaca
Looking for wallet-friendly tacos to satisfy you through your Tuesday cravings? Taco Chaca is a casual tacqueria serving damn good Mexican food. The small eatery is no-frills – think aluminum tables, a few stools, paper plates – but the food is amaze. Chow down on tacos made with tortillas flown in from California and monster nachos to share. To quench your thirst, an order of ice cold Corona will hit the spot. Not feeling alcohol? Taco Chaca does a mean horchata too.
Taco Chaca, G/F, 119 Second Street, Sai Ying Pun, Western District, Sai Ying Pun, Hong Kong, p. 2559 9519, 西環西營盤第二街119號地下
5. Taqueria Super Macho
The newest Mexican restaurant in Hong Kong, Taqueria Super Macho is brought to you by Black Sheep Restaurants. This Baja-inspired joint serves its tacos naked and with a bunch of condiments on the side, so you can spice them up however you like them. They also have a range of ceviches and sides, including Mexican street corn, which seems to be a fave for everyone. Don't miss the cocktails.
Taqueria Super Macho, 33-35 Bridges Street, Sheung Wan, Hong Kong, p. 2333 0111
6. Agave Central
Tequila is the name of the game at Agave, which serves an intense selection of almost 200 types of high-quality tequila straight from Mexico. It's a casual cantina for serious drinkers – people flock to here for a happy hour fiesta that pours the best damn margarita in town. Food-wise, try their roasted cactus salad, chalupas, and nachos machos – a towering plate of crispy corn chips made with Oaxaca cheese, serrano, and a hefty dollop of guacamole. The crispy churros are next level – served with coronado cajeta – aka Mexican dulce de leche. Delish.
Read our full review of Agave Central here
Agave Central, G/F, 26 Hollywood Road, Central, Hong Kong, p. 2523 1988, 中環荷李活道26號地下
7. 11 Westside
Probably best known for his role on Netflix's Final Table, 11 Westside is helmed by Mexican native Chef Esdras Ochoa. Utilising imported Mexican ingredients, expect the fresh flavours you love made by hand, including table-side guacamole. There are loads of options for vegetarians, pescatarians and flexitarians here, including a range of tacos, ceviches, salads and more.
11 Westside, 11 Davis Street, Kennedy Town, Hong Kong
8. Coyote Bar and Grill
Coyote Bar and Grill is a casual Mexican restaurant with a great atmosphere that's perfect for fiery fiestas. Plop a giant sombrero on your head and get the party started with an order of their Signature Coyote Fish Bowl (a 2.3 litre margarita topped with fish candies) and signature guacamole that's mixed table-side. Their party platter loaded with crowd pleasers including chicken wings, chorizo quesadilla, jalapeno poppers, pulled pork sliders, cowboy skewers, tortilla chips and guac is a solid bet if you're heading there with a hungry group of amigos, then grab yourself a steaming hot chimichanga or fajitas. Churros are a must of course, but Coyote's Mexican Flan is also the perfect way to round the night off.
Coyote Bar and Grill, 114–120 Lockhart Road, Wanchai, Hong Kong, p. 2861 2221, 灣仔駱克道114-120號
9. Tequila on Davis
For a quick Mexican fix in Kennedy Town, head straight to Tequila on Davis. The casual and cheerful restaurant serves all the authentic Mexican staples we all know and love – the beef chimichanga is great as are the chicken enchiladas, but it's their tasty empanadas that keep patrons coming back from more. Once you've had your fill of tasty treats, get the Mexican Fried Banana for dessert, and a pitcher of their frozen margarita to enjoy while the night is still young.
Tequila on Davis, G/F, 1 Davis Street, Kennedy Town, Hong Kong, p. 2818 1766, 西環堅尼地城爹核士街1號地舖 
10. XOCO Mexican Cantina and Bar
XOCO Mexican Cantina and Bar brings you fresh American-Mexican comfort eats. They've nailed the colourful cantina look, with cheerfully fun murals on the walls and huge sombreros to don while you knock back a tequila shot or two. But first, prepare your stomach for a night of serious drinking with a heaping plate of nachos, an order of pork tacos and some chimichangas.
XOCO Mexican Cantina and Bar, 31-37 Mosque Street, Mid-Levels, Hong Kong, p. 3620 2323, 半山摩羅廟街31-37號
11. Tequila Jack's
Hoards of people flock to Tequila Jacks on Tuesdays. The casual Mexican restaurant in Tsim Sha Tsui does a pretty incredible Taco Tuesday deal at HKD10 a pop. Pair this with a happy hour that runs from 5pm until 10pm, and you've got some happy diners. Frozen margaritas are as big as your head, and they've also got hard-to-find Mexican beers like Bohemia, Tecate and Carta Blanca. ¡Salud!
Tequila Jack's, 33-35 Chatham Road South, Tsim Sha Tsui, Kowloon, p. 3428 5133, 尖沙咀漆咸道南33-35號
12. Los Sotano
When it comes to Mexican restaurants in Hong Kong, Los Sotano is not your traditional Mexican joint, not that we're complaining. The trendy speakeasy-esque tequila and mescal bar has more than 80 types of bottles imported all the way from Mexico. That includes a cool HKD3,000 a shot drink. Agave-based cocktails like their Mescal Mule and Tequila Makes My Clothes Come Off – also the neon sign that greets drinkers at the door – are a must order.While drinks are undoubtedly the star of this hotspot, palm-sized tacos made with authentic corn tortillas make for the perfect midnight snack. If you're hungry for more, there's a Patron Silver marinated tomahawk steak cooked to perfection, and even a dessert waffle taco to end things on sweet note.
Check out our full review on Los Sotano here
Los Sotano, 21 D'Aguilar Street, Lan Kwai Fong, Central, Hong Kong, p. 2970 3887, 中環蘭桂坊德己立街21號地下及地庫
Brickhouse (Closed for now)
Tucked away down an alley in LKF, Brickhouse is hard to find but oh-so-worth-it. The award-winning Mexican joint is a Honeycombers Hong Kong favourite for doing top-notch tacos and cocktails just the way we like it – kicky and strong. Brickhouse's buzzy atmosphere is unbeatable, with a lively crowd that knows how to get down on the weekends. Start the night with their signature Diabla, a fresh and spicy concoction complete with a jalapeno, and an order of their Mexican street corn. You know a place doesn't take itself too seriously when it names its dishes things like Wagyu Lookin' At, Piggie Smalls, Cluck You, and Prawn To Be – all of them must-order tacos. And that's why it's one of our fave Mexican restaurants in Hong Kong.
Read our full review of Brickhouse here
Brickhouse, G/F, 20A D'Aguilar Street, Lan Kwai Fong, Central, Hong Kong, p. 2810 0560, 中環蘭桂坊德己立街20A號地下