All aboard the ship that never sails (Photography: Fashila Kanakka)
Venture out to where the end of the green line takes you. Here's our guide to the bustling area of Hung Hom.
In a cosmopolitan city like Hong Kong, it's easy to find luxury brands in all corners. But if you wander far enough, you're likely to discover some real hidden gems. Whether you're in Shek Tong Tsui, Sai Ying Pun, or Wong Tai Sin, our neighbourhood guides never fall short of squeezing out the best bits of different districts. And now, we present our guide to Hung Hom – get ready for it!
Guide to Hung Hom: Where to eat
1. Moreish & Malt
Gather round steak-lovers, we've found a cosy joint that's reasonably priced. Though the steak is the show-stealer here, you've also got to try their saucy pasta and their happy hour – wines, cocktails, and beers all at just $48 for a glass.
Moreish & Malt, 1/F, Hotel Sav, 83 Wuhu Street, Hung Hom, Hong Kong, p.2275 8778
2. California Pizza Kitchen
The menu here is quite a handful (no shame in checking the menu beforehand on Openrice!), and heck there are 20 items on the list just for salads! Also, it's quite a rarity to find a place that serves both delectable pasta and pizza but no complaints here. Though, we do wish they served more vegetarian options despite the extensive choices of food.
California Pizza Kitchen, Shop 302, 3/F, Gourmet Place (Site 8), The Whampoa, Hung Hom, Hong Kong, p. 3152 3313
3. Tenno Ramen
Slurp away with Tenno Ramen's flavourful broths. There are four signature types of ramen – pork tonkotsu broth, spicy pork tonkotsu broth, truffle oil broth, and a limited edition special. The toppings and type of noodle can be customised according to your preference.
Tenno Ramen, G/F, B5B, 17-27 Tak Man Street, Hung Hom, Hong Kong, p. 2627 0766
4. Mikawaya
Hong Kong boasts a plethora of ramen joints so in most cases you'll know what to expect. At Mikawaya, you can opt for ramen noodles or udon (the udon with Hokkaido cream soup and the Inaniwa noodles sound appetizing). Don't shy away from Mikawaya just because it's low-key and small, this humble ramen spot hits all the notes in flavour. Note: barely any vegetarian options.
Mikawaya, Shop D, G/F, Lux Theatre Building, 14 Ming On Street, Hung Hom, Hong Kong, p. 2330 7175
5. Sushi Man
Here's something to tickle your fancy bone, so mark your reservations for this one. Sushi Man specialises in high-end omakase sets. The dishes here are meticulous to detail and the precision in cutting is unparalleled by well-trained and skilled chefs that bring nothing but authenticity to the table.
Sushi Man, 6 Tak Hong Street, Whampoa Garden, Hung Hom, Hong Kong, p. 2794 3995
Guide to Hung Hom: Cafes
1. NOC Coffee Co.
Located near Hung Hom Ferry pier, this cafe boasts an all-white aesthetic with sea views. Aside from coffee, what we personally love from NOC is their smoked salmon toast, the acai bowl, and the NOC benedict. There are vegan options available on the menu and any special dietary requests can be made with the staff.
NOC Coffee Co., Shop G42, G/F, Lily Mansions (Site 9), The Whampoa, Hung Hom, Hong Kong, p. 2122 9751
2. & green
This spacious cafe is a treat for your eyes with the calming woodsy elements and green plants. With the large number of seats, it can get quite noisy here so may not be the ideal place if you want to get some work done (but they have sandos, so we're sold!).
& green, Shop1B, G/F, Harbour Place, 8 Oi King Street, Hung Hom, Hong Kong, p. 2735 8789
Guide to Hung Hom: Shop
1. Planet Square
Whether you want cheap clothing, Filippino and Indonesian snacks, or even if you're looking to get your ears pierced, Planet Square is the place to be. On Sundays, the mall transforms into a social space for ladies and gents from the two island nations, all spreading cheers and lots of food.
Planet Square, 1-15 Tak Man Street, Hung Hom, Hong Kong, p. 2330 1213
2. Hung Hom Square
Another low-key and Hong Kong-style mall similar to Planet Square, but this one is located closer to To Kwa Wan. You can shop for bags, suitcases, clothes, and video games from local vendors.
Hung Hom Square, Hunghom Commercial Centre Block A, Ma Tau Wai Rd, Hung Hom, Hong Kong, p. 2334 4393
3. Dock Street
There are shops, cafes, and restaurants lined on both sides of Dock Street. You will be able to find children's clothing, simple workout clothes (lots of socks included), flowers and plants, and home appliances. Quite the range, yes. They are all reasonably priced and you will be giving business to local vendors once again.
Guide to Hung Hom: Things to do
1. Go inside a ship-shaped shopping mall
The former dockyard keeps the relics of its history in the form of a ship, not your average one though – this handy superstore, Aeon is your one-stop shop for all things for home (groceries, loungewear, electronics, and more). And well, the bright white exterior sure does look photogenic on your socials.
The Whampoa, 10 Shung King Street, Whampoa Garden, Hung Hom, Hong Kong, p. 2121 8344
2. Go to the cinema
The entrance of GH Whampoa looks straight out of a sci-fi movie, a portal to another planet if you will. The seating inside the cinema is spacious and the screen is a generous size (for an HK cinema).
GH Whampoa, Whampoa St, Hung Hom, Hong Kong, p. 2364 7434
3. Temple hopping
Most of Hong Kong's temples were built before we were even born, so visiting temples always holds a bit of history and spirituality. Kwun Yam Temple in Hung Hom is dedicated to the God of Mercy and is worshipped by both Taoist and Buddhist faiths. A side note when visiting; do be mindful that this is a sacred site of worship so it's important to pay your respects (don't be loud and don't obstruct worshippers).
Kwun Yam Temple, 15 Station Lane, Hung Hom, Hong Kong, p. 2363 4930
4. Go bowling
Lightning and the thunder, thunder. It really is a shame as to how few bowling alleys we have in Hong Kong, and when one is right here in Kowloon (and not tucked away in Sai Kung), you simply need to take advantage of its location – (and give it some business!
ThunderBowl, Whampoa Garden Site 8 Whampoa Plaza, Shop 2 Screen World, Hung Hom, Hong Kong, p. 2122 9822
5. Take a ferry to North Point or Central
We are blessed to have a vast transport system, especially ferry rides, it's just a perfect way to slow down in the midst of the hustle and bustle. If you're not a fan of taking the slower route, perhaps a long stroll by the Hung Hom Promenade?
Guide to Hung Hom: Hotels
1. Hotel Sav
If you're looking for a hotel that is trendy and will not cost a fortune, Hotel Sav in Hung Hom is here for ya. If you're a Tesla owner, there are charging stations on the ground floor (thoughtful and resourceful!). The [email protected] is a fun way to have a private party booked for events and cocktails, with outdoor seating and pillows in funky colours.
Hotel Sav, 83 Wuhu St, Hung Hom, Hong Kong, p. 2275 8888
2. Kerry Hotel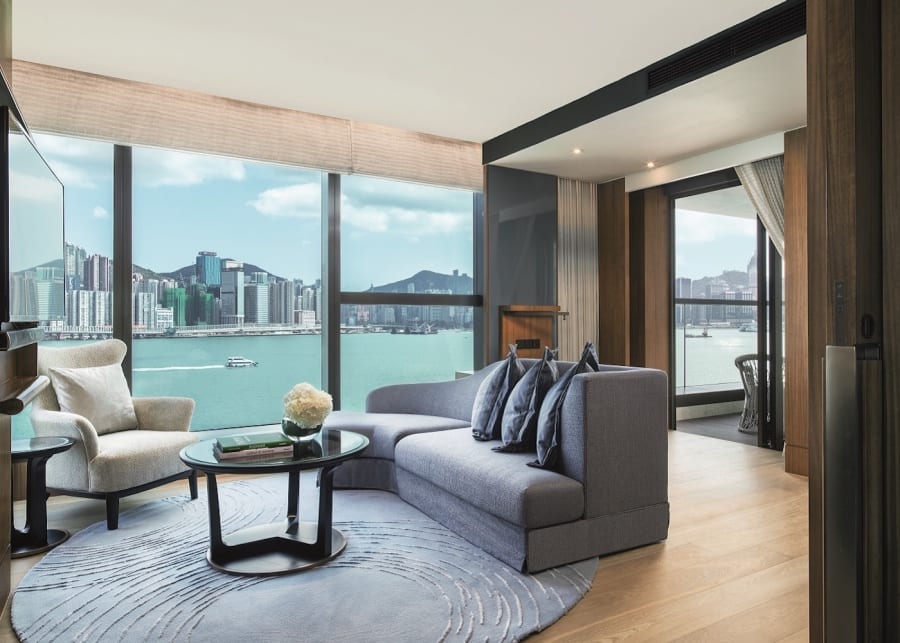 Okay, does the Kerry Hotel really need a big intro? The hotel may have just opened four years ago but it's safe to say it almost has a cult-like fan following and we can't blame them.
Read more on why we love The Kerry Hotel.
Kerry Hotel, 38 Hung Luen Road, Hung Hom, Hong Kong, p. 2252 5888