Sheung Wan is where you will find some of the best street art, antiques, restaurants and bars in Hong Kong
Explore an area of Hong Kong that has preserved its heritage over time, where you will find a world of specialty shops, art galleries and temples. Here's our guide to Sheung Wan.
Sheung Wan is one of the coolest places in Hong Kong thanks to its quirky mix of historic temples, antiques stores, colourful street art, dog-friendly cafes and fine dining restaurants. We love the relaxed and artsy vibe of the neighbourhood, as it's the perfect place to chill with friends and family. Enjoy exploring with our Sheung Wan guide!
Guide to Sheung Wan
1. Stop by Squarestreet
Shopping in Sheung Wan doesn't get any cooler than this. Pick up a stunning watch designed right here in Hong Kong by Swedish-born Alexis Holm, and then settle in at the in-store KAFFE and enjoy a cup of Swedish coffee. It's all about fika here, so expect good vibes, friendly service and tasty bites.
Squarestreet, 15 Square Street, Sheung Wan, Hong Kong
2. Discover the nutritional benefits of dried seafood at On Kee
Just follow the sharp, salty smell that pervades the air and you'll definitely find this store. On Kee is a place where customers pay HK$1,000 for a kilogram of black fungus that looks like human hair!
From 8am to 5pm, people come to bargain with vendors they have known since childhood; stiff paper boxes full of dried seafood are carried onto minivans; and curious tourists take photos of molluscs and other sea life, alongside sacks full of herbs, and snakes displayed in glass jars.
Although super expensive, we at Honeycombers are huge fans of sea cucumbers as they are believed to have anti-aging effects. They can be eaten after being soaked and boiled. How easy is that?
On Kee Dry Seafood, 8C-8J Cleverly Street, Sheung Wan, Hong Kong, p. 2544 6336, 上環急庇利街8號金豐大廈1樓及地下F-G鋪
3. Uncover lost antiques at Liang Yi Museum
One of Hong Kong's largest private museums, the four-storey Liang Yi Museum houses one of the finest collections of Chinese antique furniture from the Ming and Qing dynasties. The museum regularly holds special exhibitions of its furniture pieces and also shows pieces from its collection at museums across the globe.
For lovers of European craftsmanship, Liang Yi Museum also houses a collection of bejewelled cutches, compacts and powder boxes from houses such as Cartier, Boucheron and Van Cleef &Arpels. Antiques aficionados and collectors are sure to love all of the treasures at this museum.
Discover all our favourite Hong Kong museums.
Liang Yi Museum, 181-199 Hollywood Rd, Sheung Wan, Hong Kong, p. 2806 8280, 香港上環荷李活道181至199號
4. Up your Insta game
Thanks to its art-filled shops and cafes, many walls in Sheung Wan have been covered in street art. If you're looking for great Instagram spots in Hong Kong, then this suburb definitely needs to be on your list. Although the works are often changing, we're sure you'll find loads of inspiration.
5. Soak up Chinese culture at Man Mo Temple
Enjoy Chinese culture at one of Hong Kong's oldest temples and a declared monument. Built in 1847 during the Qing Dynasty by wealthy Chinese merchants, atmospheric Man Mo Temple is dedicated to the gods of literature ('Man'), holding a writing brush, and of war ('Mo'), wielding a sword.
Lending the temple its beguiling and smoky air are rows of large earth-coloured incense spirals suspended from the roof. Seek your future as fortune-tellers beckon from inside, and as worshippers bring offerings for the gods. No Sheung Wan guide would be complete without this favourite spot.
Man Mo Temple, 124-126 Hollywood Road, Sheung Wan, Hong Kong, p. 2540 0350, 上環荷李活道124-126號
6. Yarn In The Works is Seventh Heaven for Wool Aficionados
A hip new wool shop in Sheung Wan is attempting to knit the community together. Looking like a space you might find in London or New York, the captivating workshop by Nicola Robb is jam-packed with utterly fabulous yarns that are guaranteed to excite ardent yarnistas and get creative juices flowing. Although Robb stocks familiar brand names such as Debbie Bliss, her luxurious inventory is anything but run-of-the-mill. Drop by for Knit Nights on Thursday evenings from 7pm to 9pm – it's free and a great chance to experiment and meet like-minded knitters.
Yarn In The Works, 28 Pound Lane, Sheung Wan, Hong Kong, p. 2914 8211, 香港上環磅巷28號
7. Get you hair did at SHHH
Hidden away on Hollywood Road, SHHH is all about refined luxury and quality hairstyling. Though you'll probably have to book ahead to nab a spot, it's well worth it for the amazing ambience and great design. Plus, you can pick up a range of eclectic hair accessories, products and exclusive fragrances (including the first perfume launch from Cire Trudon) here.
Here's our full review of SHHH.
SHHH, G/F 94 Hollywood Road, Central, Hong Kong, p. 2915 1001, 上環荷李活道94號
8. Wander through all the art and antiques on Cat Street
Itching to use your uber cool purchase at Lomography? Grab the chance to snap that #OOTD, as you'll find some of the best Hong Kong street art right outside this store. Along Cat Street, you can practice your bargaining skills for jade jewellery, Mao memorabilia, porcelain ware and much more. If you're looking for bronze-lacquered Buddha statue to fill your home, look no further than Arch Angel Antiques. Browsing this treasure trove of Asian antiques and art can easily fill a few hours for serious antiques hunters.
Arch Angel Antiques, 70 Hollywood Rd, Sheung Wan, Hong Kong, p. 28516848
9. Learn how to bake at The Mixing Bowl
Hosting baking workshops for adults and kids for the past three years, the passionate owners of The Mixing Bowl wish to share the joy of baking with everyone. The 2,000 sq-ft space means the duo are able to hold big classes with lots of variety. Look out for new classes including cake decorating, fresh pastry, a wide selection of bread workshops and the Junior Baker Summer Camp, which kids are going to love!
The Mixing Bowl, 23/F, The Pemberton, 22-26 Bonham Strand, Sheung Wan, Hong Kong, p. 2524 0001, 香港上環文咸東街22-26號栢庭坊23樓
10. Swing by Chachawan for lunch
Isaan food, the incendiary cuisine of Thailand's northeastern province, has spread far beyond its rural origins. At Chachawan the kitchen pounds up fiery larps and som tums in immense mortars. We are fans of the pork larp moo, which is a fiery version of the classic mixed salad and the flavourful gai yung, chicken thighs that have been marinated for 24 hours. And the mango sticky rice is a great way to balance out all that spiciness!
Chachawan, 206 Hollywood Road, Sheung Wan, Hong Kong, p. 2549 0020, 上環荷里活道206號地舖
11. Rejuvenate at Beijing Tong Ren Tang
Everyone's aware of Traditional Chinese Medicine (TCM) and how it works wonders – so why not try it out for yourself? With a long history that originated in ancient China, Beijing Tong Ren Tang is a trusted store for most locals if they're looking for herbal medicines, acupuncture, massage (Tuina) and dietary therapy. They also offer Chinese herbal teas such as the Snow Pear Loquat Tea.
Beijing Tong Ren Tang Chinese Medicine Co., Shop No. 242-243, 2/F Shun Tak Centre, 168-200 Connaught Road Central, Sheung Wan, Hong Kong, p. 2858 0723, 上環干諾道中168-200號信德中心2樓242-243號舖
12. Enjoy a cold beverage at 208 Duecento Otto
We just love this rustic yet fashionable bi-level Italian joint, which was actually a meat warehouse back in the day. Free your calendars every Wednesday from 7pm for their Highballs and Meatballs evenings  when selected drinks are just $50 and come with snacks such as sliced pizza and wagyu meat balls. But it gets even better as their happy hour is everyday from 3-7pm where you get two-for-one drinks – yes!
208 Duecento Otto, 208 Hollywood Road, Sheung Wan, Hong Kong, p 2549 0208, 上環荷李活道208號地舖
13. Try out one of the many vegetarian restaurants
There are a number of vegetarian restaurants in Sheung Wan, making it the perfect spot for any plant-based eaters. From Chinese-style places like Harvester to restaurants that serve dishes from around the globe, like Confusion Plant Based Kitchen, check out full guide to vegetarian restaurants in Sheung Wan, and you'll never go hungry again!
14. Indulge in fine dining at Table
This fine dining seafood restaurant is a must-visit when in Sheung Wan. Run by self-taught chef Sandy Keung, it delivers the freshest seafood in Hong Kong thanks to its depuration concept, and incorporates a wonderful array of local ingredients into its dishes, meaning the food you try here will be truly unique.
Read our full review of Table.
Table, 8/F, The Pemberton, 22-26 Bonham Strand, Sheung Wan, Hong Kong, p.2815 2367, 上環文咸東街22-26號柏廷坊8樓
15. See if you can spot Meimei and Snowy
These two sisters can often be spotted frequenting the many cafes in Sheung Wan or just cruising streets. See if you can spot them as you explore the colourful street of Sheung Wan.
Take a look at our interview with Meimei and Snowy.
16. Eat up a storm at Honjo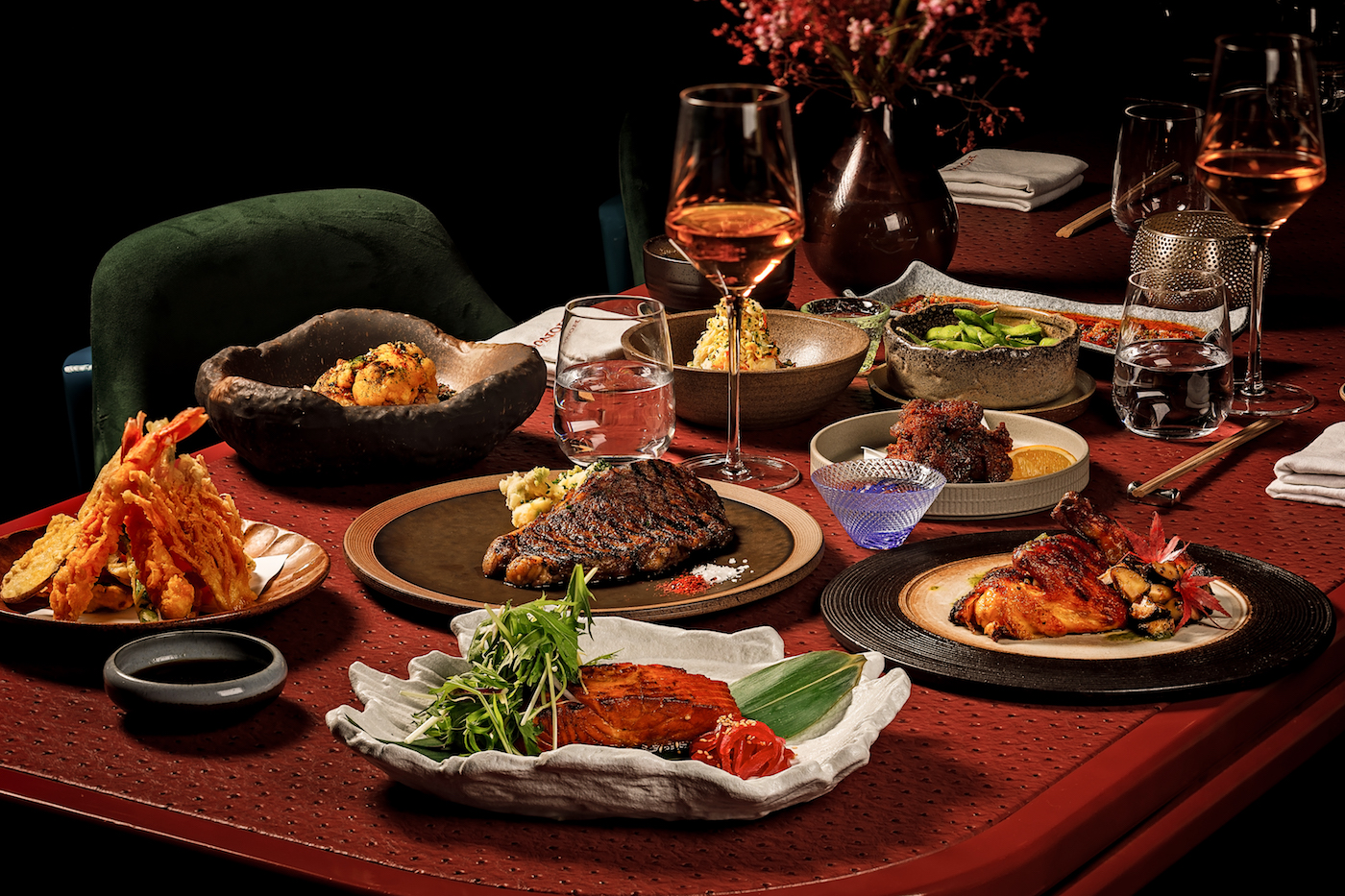 We like Honjo for brunch, lunch, and dinner, and it has some of the best service in Hong Kong. Step into the lush interiors and get ready for a dining experience that will definitely be one for the books. The weekend brunches offer a good chance to taste a little bit of everything, while the dinner menu has an array of Japanese classics with a twist.
Read our full review on Honjo here
Honjo, 1/F Hollywood Centre, 77-91 Queen's Road West, Sheung Wan, Hong Kong, p. 2663 3772
17. Grab a coffee at DeTour
This new coffee shop has become a firm favourite in Sheung Wan with its excellent brews and handy location. The second branch for the brand that was born in Sai Ying Pun, this little DeTour outlet even has a convenient takeaway window for when you're on the go.
18. Enjoy cheap eats
Cheap & cheerful eats are easy to find in the neighbourhood if you know where to look. From damn good Cantonese to tasty Indian and Korean, you'll find everything you're salivating for on our guide to cheap eats in Sheung Wan.
19. Get inked at Blackout Tattoo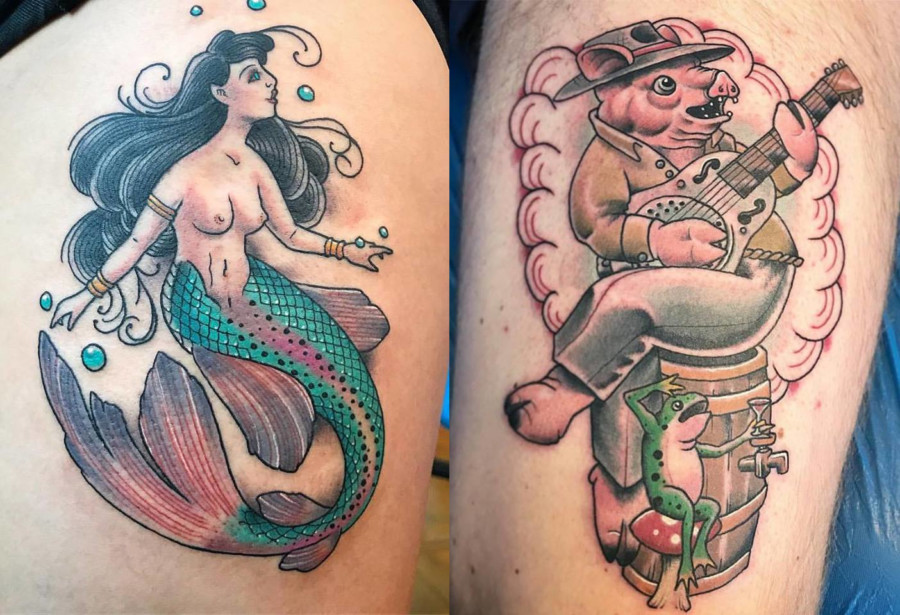 Rob Kelly set up his studio in Sheung Wan in 2010 and quickly became known as THE custom artist in town. This is where you go for truly unique creations and for that piece you've always been dreaming of; big or small, they'll make sure it's what you want.
Blackout Tattoo, 502 Hing Tai Commercial Building, 114 Wing Lok Street, Sheung Wan, Hong Kong, p. 9427 2278, 香港上環永樂街114號興泰商業大廈502室
Try out new and comfortable clothing at Grana (now closed)
Hong Kong-based online fashion company Grana offers affordable garments for both men and women. Whether you prefer t-shirts, dresses or swimwear, you will be able to find some stylish and comfortable clothing there. Their first off-line showroom Grana The Fitting Room on Hollywood Road allows you to try offline and buy online, plus, they know how to throw a great party, so keep your eyes peeled.
Grana, 108 Hollywood Road, Sheung Wan, Hong Kong, p. 6013 2118, 上環荷李活道
Grab a scrumptious burger at Veggi Monster (now closed)
Vegan burgers are real and satiating, and it's right here in Sheung Wan! Veggi Monster has an impressive range of flavourful and protein-packed burgers available – including vegan peking duck burger, spicy tofu burger and Chinese yam burger – their black truffle cream penne is also a scrumptious treat not to be missed.
Read our full review of Veggi Monster.
Veggi Monster, G/F, Shop 1B, Cheungs Building, 1 Wing Lok Street, Sheung Wan, Hong Kong, 上環永樂街1-3號世瑛大廈
Have a nice healthy dinner at Grassroots Pantry (now closed)
Catering for people with different dietary choices and food allergies, chef Peggy Chan creates an innovative vegan and vegetarian-friendly menu for her customers. With delicious food such as teff shiitake gnocchi and orange sans-butter cake and a relaxing ambience, Grassroots Pantry is undoubtedly one of the best spots to dine in Sheung Wan.
Read our full review of Grassroots Pantry.
Grassroots Pantry, 108 Hollywood Road, Sheung Wan, Hong Kong, p. 2873 3353, 中環荷李活道108號
Go for fine dining at A Side/B Side
A Side/B Side offers a pleasant respite from the bustle of the city, with its 'slow food for a fast city' mantra. Sit at the intimate counter top, and watch as Chef Jon Irwin prepares a selection of dishes right in front of you. Indulge in a few heavenly French wines as you listen to the curated soundtrack and you'll truly feel like you're not even in Hong Kong.
A Side/B Side, G/F, 53 Sai Street, Sheung Wan, Hong Kong, p. 2857 5055, 上環西街53號地舖