Life's too short to live with bad nails, so treat yourself to a mani-pedi or fancy foot massage at one of Bali's best nail salons
Let's face it, holidays are for pampering. And besides Bali's fabulously affordable spas and swanky hair salons, the island's best nail salons are where it's at for some hand and foot indulgence. From too-legit-to-chip Shellac manicures, to perfect pedicures and foot treatments, visit any of these top nail salons in Bali for some cuticle care and colourful nail therapy. Because you're worth it!
The best nail salons in Canggu
AMO Spa
AMO Canggu is the bomb when it comes to a top-notch manicure or pedicure. With over over 1000 different colours to choose from, you're truly spoilt for choice here. They have a separate section upstairs for nails, strewn with fabulously comfy couches, and best of all, they give one of the best shoulder massages around while your nails are drying.
AMO SPA Canggu, Jl Pantai Batu Bolong No. 69, Canggu, p. +62 361 473 7943, e. [email protected]a.com. Open daily 8am – 10pm.
Maria Curau
A vegan nail bar extraordinaire, Maria Curau is a holistic nail and pedicure salon in the rice fields of Pererenan. All-natural and non-toxic products are the main focus here, finished off with artistic nail art designs (all done freestyle!) and wrapped up in tropi-cool aesthetics. Settle in for a relaxing reflexi and sip on cleansing homemade kombucha while the expert staff paint your nails all colours of fabulous. Add on that awesome nail art for a mani like no other.
Maria Curau, Jl Munduk Kedungu no. 45, Pererenan, p. +62 81 338 775 526, e. [email protected] Open daily 10am – 7pm.
Spring Spa
Head to Spring Spa for some of the island's best chic treatments, wrapped up in an architecturally-perfected space. These guys are experts in touching up your tootsies, going beyond the usual buff-shape-paint-repeat combo. Not only do they offer Shellac here, you'll also be treated to a brown sugar hand and/or foot scrub, before the Shellac professionals paint to perfection as you sip on cold coconuts or icy mocktails. Top tip? Go for one of the spa packages to really get a taste of the Spring Spa treatment.
Spring Spa Canggu, Jl Raya Batu Bolong 83c, Canggu, p. +62 853 3844 7500, e. [email protected] Open daily 9am – 9pm.
Colors Nail & Juice Bar
Give your nails the pampering they deserve at this gorgeous nail-slash-juice bar. Here you can expect the very best nail services, all the while sipping on organic cold-pressed juices or frothy flat whites. Polishes, gels, colourings and extensions are all on the menu thanks to the in-house nail care brand NAILBERRY, and on a Friday, it's 50% off. So go on, treat yo'self!
Colors Nail & Juice Bar, Jl Raya Semat No.15B, Canggu, p. +62 812 384 000 45 / +62 821 4535 8935. Open daily 10am – 7.30pm.
Goldust
A one-stop shop for some serious "me time", Goldust is where it's at for an endless list of perfectly divine spa treatments for hair, face, body, and of course, nails. The boutique and cosy nail lounge makes you feel right at home, and the therapists here are as experienced as they come, painting on OPI polish to military precision. The manicures use indulgent cacao and a warm shea butter – a beautiful and natural alternative to paraffin. Spa parties are also a specialty here, so round up the gals and enjoy a day of pampering with lashings of wine, nibbles and giggles.
Goldust Beauty Lounge, Jl Batu Bolong no. 66, Canggu, p. +62 81 138 3721, e. [email protected] Open daily 9am – 9pm.
Glo Day Spa & Salon
With three other locations on the island (Sanur, Seminyak & Lembongan), Glo Day Spa is a go-to for all things nails. Not only do they use imported and cutting edge nail products and polishes, their Glo Nail Technicians have had special training in nail hygiene and avant-garde techniques. We especially love their smudge-free policy –  should you smudge a nail within 24 hours, come back and they'll re-do it for free!
Glo Day Spa, Jl Subak Sari No.90, Canggu, p. +62 361 934 8844 / +62 813 53307 803. Open daily 10am – 8pm.
Tip & Toe
A boutique nail bar in the hip and happening Tamora Gallery, Tip & Toe is where you'll find professional nail technicians and the specialist collection of EVO gel polish that's vegan, vitamin-infused, and doesn't damage nails thanks to its unique oxygenating technology. Yup, Tip & Toe know exactly what's hot in the nail world (after all, they come to Bali after launching in Jakarta way back in 2008) and they certainly know how to deliver the polished goods. Choose from the extensive menu of treatments, from the signature mani-pedi, to the hand and foot spa that includes a soak, shape, buff and scrub, before a mask, cooling gel, massage and perfect polish.
Tip & Toe, Tamora Gallery, Stage 3, 2nd Floor No. 20, Berawa – Canggu, p. +62 8133 908 8959, e. [email protected] Open daily 9.30am – 7pm. 
The best nail salons in Seminyak
Think Pink Nails
There's a lot to love about Think Pink Nails – from the awesome massage chairs, to the iPads at the manicure station and the excellent selection of imported magazines. And did we mention the polish selection? Choose from OPI, Nars, Chanel, Tom Ford, Dolce & Gabanna, Laura Mercier or Dior… Need we say more?!
Think Pink Nails, Jl Batu Belig 108, Batu Belig, p. + 62 361 918 8116. Open daily 10am – 8pm.

La Beaute
A forever-fave amongst Bali's expat crowds, La Beaute is a one-stop budget spot for all of your beautifying needs – perfect mani-pedis included. Not only are these spa therapists some of the best in the business (despite the affordable price-tag) these lovely ladies are Shellac experts too. You could spend an entire day here without breaking the bank, while one therapist touches up your tootsies, the other buffs your nails, and another treats you to a blissful shoulder massage. In fact, we've had a football team-sized amount of therapists working on us before, and boy did it feel good. Psst, you'll even be treated to complimentary cups of ginger tea!
La Beaute, Jl Pengubengan Kauh No. 18,  Kerobokan, p. +62 361 847 6074. Open Tuesday – Sunday 10am – 8pm. 
The Shampoo Lounge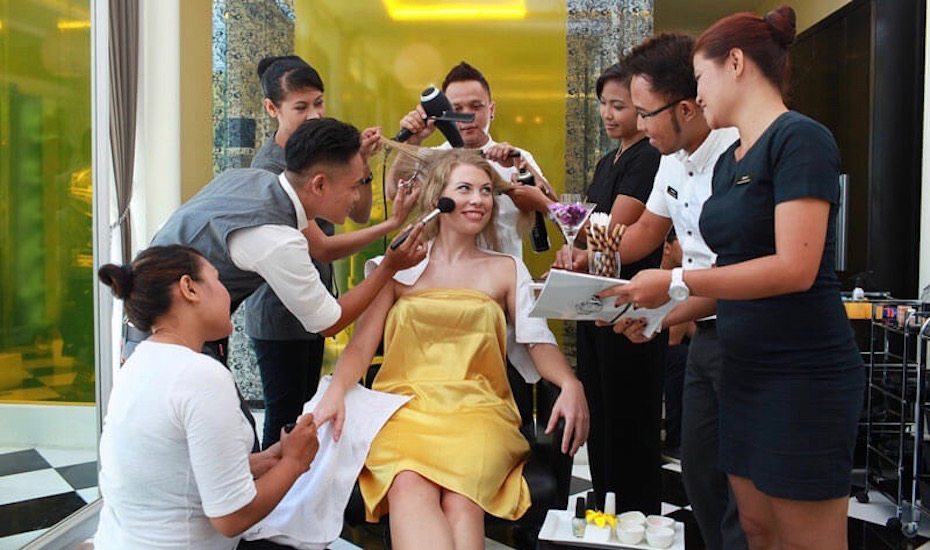 Don't let the name fool you. The Shampoo Lounge doesn't just do locks, it has an upstairs area where you can get a great mani-pedi. Men can also indulge in a sports manicure, which is basically all the goodies, without the polish. Our fave treatment is the Hot Stone aromatherapy massage – relax as your feet and legs are pampered, and the treatment includes an OPI polish to make sure they not only feel good, but look fab too! And psst – they're now open in Nusa Dua and at Sofitel Bali, too!
The Shampoo Lounge, Jl Raya Basangkasa 8x, Seminyak, p. + 62 361 843 9868. Open daily 9am – 7pm.
Rin Beauty Studio
This popular spot may be famous for its eyelash extensions, but Rin Beauty Salon is a specialist in gel nails, offering dazzling nails with the latest Japanese-inspired nail art designs – all with that incredibly shiny gel feel with no chips or peels. And psst! They're now open in Canggu, too…
Rin Beauty Studio, Jl Mertanadi No 92, Kerobokan, p. +62 361 847 5754. Open daily 9am – 7pm.
JazB Beauty Space
JazB Beauty Studio offers everything from a quick express pedicure to a luxurious manicure and paraffin hand treatment, and there's even plenty of treatments for the kids too. Located in Seminyak Square, it's a cozy and intimate space where you can get that much-needed you-time. And did we mention, there are free drinks and snacks too? (We know what sways us!).
JazB Beauty Space, Seminyak Square, Seminyak, p. +62 361 738 882. Open daily 10am – 8pm.
Lady Marmalade
A spot for girly girls, Lady Marmalade in Seminyak is a great burlesque-inspired nail bar, which offers glamorous treatments such as Acrylic Gel, Shellac and designer nail polish from Chanel, DIOR, MAC, Anna Sui and Butter London – ooh la la! The best bit about Lady Marmalade?  You can pamper yourself whilst sipping on bubbles, beer or even a G&T!
Lady Marmalade, Jl Drupadi No.9Q Seminyak, Seminyak, p. +62 361 738516, e. [email protected] Open daily 10am – 8pm.
The best nail salons in Uluwatu
Esthetic
Offering everything you could ever need to pamper yourself silly, Esthetic Spa is home to one of our fave nail bars. But what makes it different from the rest, we hear you cry? Esthetic's nail treatments use warm thermal gloves and booties to help make your nails even softer and smoother than ever before – not to mention super cosy! And psst, you can find two other Esthetic Spas in Canggu too…
Esthetic Uluwatu, Jl Labuan Sait, Padang-Padang, Uluwatu, (behind Pink Coco hotel), p. +62 813 376 85108. Open daily 10am – 9pm.
D'Nail Bar
At D'Nail Bar in Uluwatu, they believe that both beauty and friendship should always come together, so they've created a cosy and intimate space to gather the girls in a comfy spa environment that's free from the noises of hairdryers or the hustle and bustle of a large salon. Instead, expect a boutique style space with good music that's perfect for a beauty hangout with your bffs – all with a complimentary coffee, tea or glass of vino while your nails get polished with OPI.
D'Nail Bar, Jl Labuan Sait 10 C, Pecatu, p.+62 878 5380 8190, e. [email protected] Open daily 9am – 8pm.
The best nail salons in Ubud
Nail Spa Bali
As well as the nail treatments and OPI mani-pedis, Ubud's famous Nail Spa will leave your hands and feet feeling gorgeous with their special foot and hand scrubs and massages. Treat yourself to an exfoliating scrub, followed by a reflexology massage (using special oil), then go all out with some unique 3D nail art.
Nail Spa Bali, Jl Dewi Sita, Central Ubud, p. +62 81237 210 242, e. [email protected] Open daily 10am – 10pm.