Life's too short to live with bad nails, so treat yourself to a mani-pedi or a fancy foot massage at one of Bali's best nail salons
Let's face it, holidays are for pampering. And besides Bali's fabulously affordable spas and swanky hair salons, the island's best nail salons are where it's at for some hand and foot indulgence. From too-legit-to-chip Shellac manicures, to perfect pedicures and foot treatments, visit any of these top nail salons in Bali for some cuticle care and colourful nail therapy. Because you're worth it!
The best nail salons in Bali: CANGGU
1. House of Orange
Surfed or shopped out in the 'Gu and need to show some love to your fingers and toes? House of Orange treats your tootsies to clean shaping, polishing and cuticle care with their advanced manicures and pedicures. There's even gel-polishing and bold nail art too – some of the very best we've seen on the island. You can also level up your mani-pedi with a nail strengthening treatment, meaning your new look will last for longer. Top it off with a relaxing hand and foot massage, and soak up the artsy vibes of this sleek vintage space.
House of Orange, Jl Pantai Berawa No. 5, Berawa, p. +62 821 4455 7203; Open Wed – Sun 10am – 6pm.
2. Trove Artistry
With combined experience of over 40 years in the beautifying business, you know you're getting the best of the best at Trove. Not only one of Bali's most popular hair salons, Trove is a chic and modern beauty studio that also specialises in nails and nail art, as well as on-fleek brows. Our top tip? Arrive early for your complimentary consultation with your beauty specialist, who'll spend the time tailoring your nail treatment to your beauty needs.
Trove Artistry, Jl Pemelisan Agung, Canggu, p. +62 812 3969 9891, e. [email protected]; Open Mon – Sat from 9am.
3. AMO Spa
AMO Canggu is the bomb when it comes to a top-notch manicure or pedicure. With a whole wall full of different colours to choose from, you're truly spoilt for choice here. They have a separate section upstairs for nails, strewn with fabulously comfy couches, and best of all, they give one of the best shoulder massages around while your nails are drying.
AMO SPA Canggu, Jl Pantai Batu Bolong No. 69, Canggu, p. +62 361 907 1146 / +62 811 399 9806, e. [email protected]; Open daily 9am – 8pm.
4. Estetica Belle
With the tagline "Support your local nail gang", Estetica Belle is a team of local beauticians specialising in all-things beauty: from luxury mani-pedis, nail extensions using press-on, acrylic or gel, to lash extensions and brow waxing. Glam up with Korean-Japanese inspired nail art, or treat your feet to a callus removal treatment… Whichever treatment you choose, self-care is the name of the game here, with beauty experts trained in bespoke treatments and cutting-edge technology.
Estetica Belle, Taman Tamora, Jl Raya Semat, Canggu, p. +62 896 0408 2475, e. [email protected]; Open daily 10am – 6pm.
5. Maria Curau
A vegan nail bar extraordinaire, Maria Curau is a holistic nail and pedicure salon in the rice fields of Pererenan. All-natural and non-toxic products are the main focus here, finished off with artistic nail art designs (all done freestyle!) and wrapped up in tropi-cool aesthetics. Settle in for a relaxing reflexi and sip on cleansing homemade kombucha while the expert staff paint your nails all colours of fabulous. Add on that awesome nail art for a mani like no other. Psst… Ubud crowds, Maria Curau is open in your 'hood too!
Maria Curau, Jl Munduk Kedungu No. 45, Pererenan, p. +62 813 3877 5526, e. [email protected]; Open daily 10am – 7pm.
6. Spring Spa
Head to Spring Spa for some of the island's best chic treatments, wrapped up in an architecturally-perfected space. These guys are experts in touching up your tootsies, going beyond the usual buff-shape-paint-repeat combo. Not only do they offer Shellac here, you'll also be treated to a brown sugar hand and/or foot scrub, before the Shellac professionals paint to perfection as you sip on cold coconuts or icy mocktails. Top tip? Go for one of the spa packages to really get a taste of the Spring Spa treatment.
Spring Spa Canggu, Jl Raya Batu Bolong No. 83C, Canggu, p. +62 853 3844 7500, e. ca[email protected]; Open daily 9am – 8pm (to 9pm Fri & Sat).
7. Colors Nail & Juice Bar
Give your nails the pampering they deserve at this gorgeous nail-slash-juice bar. Here you can expect the very best nail services, all while sipping on organic cold-pressed juices or frothy flat whites. Polishes, gels, colourings and extensions are all on the menu thanks to the much-loved nail care brand Nailberry. And psst – on a Friday it's 50% off. So go on, treat yo'self!
Colors Nail & Juice Bar, Jl Raya Semat No. 15B, Berawa (p. +62 821 3658 5059‬) & Jl Pantai Batu Bolong No. 45, Canggu (p. +62 811 383 3317); Open daily 10am – 6pm.
8. Goldust
A one-stop shop for some serious "me time", Goldust is where it's at for an endless list of perfectly divine spa treatments for hair, face, body, and of course, nails. The boutique and cosy nail lounge makes you feel right at home, and the therapists here are as experienced as they come, painting on OPI polish to military precision. The manicures use indulgent cacao and warm shea butter – a beautiful and natural alternative to paraffin. Spa parties are also a specialty here, so round up the gals and enjoy a day of pampering with lashings of wine, nibbles and giggles.
Goldust Beauty Lounge, Jl Batu Bolong No. 66, Canggu, p. +62 811 383 721, e. [email protected]; Open daily 9am – 8pm.
9. Glo Day Spa & Salon
With multiple addresses in and around Bali (in Canggu, Sanur and Lembongan), Glo Day Spa is a go-to for all things nails. Not only do they use imported and cutting edge nail products and polishes, their Glo Nail Technicians have had special training in nail hygiene and avant-garde techniques. We especially love their smudge-free policy –  should you smudge a nail within 24 hours, come back and they'll re-do it for free!
Glo Day Spa, Jl Subak Sari No. 90, Canggu (p. +62 361 934 8844 / +62 813 5330 7803) & Jl Pantai Batu Mejan No. 126, Echo Beach (p. +62 361 939 9479 / +62 811 399 0199); Open daily 10am – 7pm.
10. Therapy.
For Bali's Gu crew, Therapy is the place to head when you're in serious need of some post-shopping pampering. An emporium of calm, Therapy is a wellbeing sanctuary par excellence that does exactly what it says on the tin: damn good therapy. Enjoy tried-and-tested mani-pedis that can express or ultra-luxe. For tired hands and feet, try the luxe package that includes exfoliation, masking and moisturisation, alongside nail trimming, shaping and polishing. All you need to do? Sit back and let the skilled Therapy therapists work their magic. You'll leave feeling like a million Rupiah!
Therapy Canggu, Jl Pantai Batu Mejan, Echo Beach, Canggu, p. +62 878 6213 7603 / +62 822 4724 2233, e. [email protected]; Open daily 10am – 8pm.
11. Tip & Toe (currently closed)
A boutique nail bar in the hip and happening Tamora Gallery, Tip & Toe is where you'll find professional nail technicians and the specialist collection of EVO gel polish that's vegan, vitamin-infused, and doesn't damage nails thanks to its unique oxygenating technology. Yup, Tip & Toe know exactly what's hot in the nail world (after all, they come to Bali after launching in Jakarta way back in 2008) and they certainly know how to deliver the polished goods. Choose from the extensive menu of treatments, from the signature mani-pedi, to the hand and foot spa that includes a soak, shape, buff and scrub, before a mask, cooling gel, massage and perfect polish.
Tip & Toe, Tamora Gallery, Stage 3, 2nd Floor No. 20, Berawa – Canggu, p. +62 8133 908 8959, e. [email protected]. Open daily 9.30am – 7pm. 
The best nail salons in Bali: SEMINYAK
1. Think Pink Salon
There's a lot to love about Think Pink Salon – from the awesome massage chairs, to the iPads at the manicure station and the excellent selection of imported magazines. And did we mention the international standards and never-ending nail polish selection? Choose from OPI, Nails.Inc, Gelish, Morgan Taylor or Essie… Need we say more?!
Think Pink Salon, Jl Batu Belig No. 108, Batu Belig, p. + 62 361 918 8116, e. [email protected]; Open daily 9am – 7pm.
2. La Beaute
A forever-fave amongst Bali's expat crowds, La Beaute is a one-stop budget spot for all of your beautifying needs – perfect mani-pedis included. Not only are these spa therapists some of the best in the business (even with such an affordable price-tag) these lovely ladies are Shellac experts too. You could spend an entire day here without breaking the bank, while one therapist touches up your tootsies, the other buffs your nails, and another treats you to a blissful shoulder massage. In fact, we've had an entire team of therapists working on us before, and boy did it feel good. Psst, you'll even be treated to complimentary cups of ginger tea!
La Beaute, Jl Pengubengan Kauh No. 18,  Kerobokan, p. +62 813 3807 3387; Open Tuesday – Sunday 10am – 8pm. 
3. The Shampoo Lounge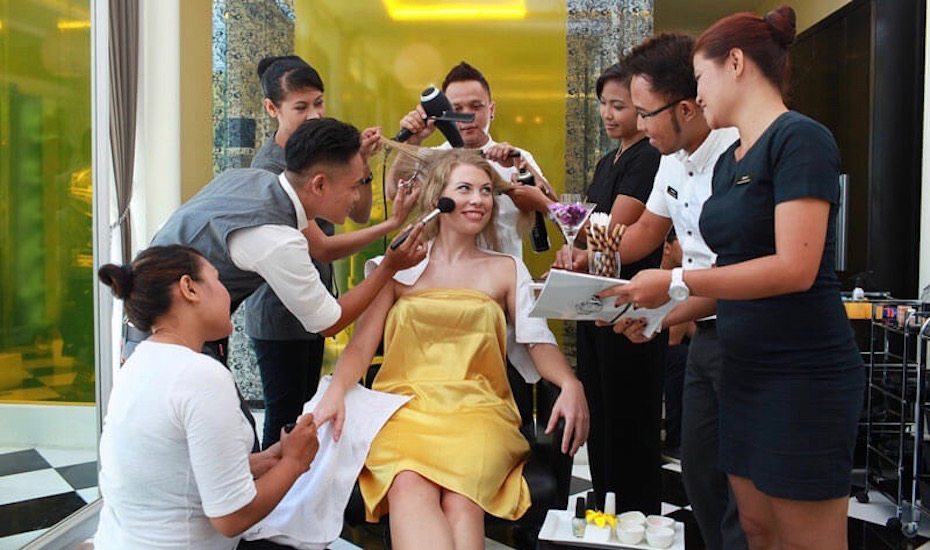 Don't let the name fool you. The Shampoo Lounge doesn't just do locks – it has an enormous upstairs area where you can get a great mani-pedi too. Men can also indulge in a sports manicure, which is basically all the goodies, without the polish. Our fave treatment is the Spa Manicure and Polish – relax and be pampered with a soothing mask, your choice of milk or green tea, filing, shaping and cuticle care, and finished off with a nail polish. And psst – they're open in Sanur, too!
The Shampoo Lounge, Jl Raya Basangkasa No. 8, Seminyak, p. +62 853 3833 3338; Open daily 9am – 7pm.
4. Rin Beauty Studio
This super popular salon may be famous for its eyelash extensions, but Rin Beauty Studio is a specialist in gel nails, offering dazzling nails with the latest Japanese-inspired nail art designs – all with that incredibly shiny gel feel with no chips or peels. And psst – they're now open in Canggu, too!
Rin Beauty Studio, Jl Mertanadi No 92, Kerobokan, p. +62 819 9904 5597, e. [email protected]; Open daily 10am – 5pm.
5. JazB Beauty Space
JazB Beauty Studio offers everything from a quick express pedicure to a luxurious manicure and paraffin hand treatment, and there's even plenty of treatments for the kids too. Located in Seminyak Square, it's a cozy and intimate space where you can get some much-needed you-time. And did we mention, you'll be treated to free drinks and snacks too? (We know what sways us!).
JazB Beauty Space, Jl Kayu Aya, Seminyak Square 2nd Floor, Seminyak, p. +62 819 3870 2952, e. [email protected]; Open daily 10am – 8pm.
6. Lady Marmalade Nail Boutique & Spa
A spot for girly girls, Lady Marmalade in Seminyak is a fabulous burlesque-inspired nail bar that offers glamorous treatments galore. Go for Acrylic Gel and Shellac, or upgrade to include a paraffin treatment and hand reflexology – ooh la la! The best bit about Lady Marmalade? You can pamper yourself whilst sipping on Biku tea, bubbles, beer or even a G&T!
Lady Marmalade Nail Boutique & Spa, Jl Drupadi No. 9, Seminyak, p. +62 857 9265 7787, e. [email protected]; Open daily 10am – 6pm.
7. The Cottage Beauty House
An emporium of all things beauty, The Cottage Beauty House is a stunning spa spot that's become a favourite with Bali's in-the-know spa-goers. This Australian-operated beauty destination offers a whole host of indulgent treatments for Bali's babes, from waxing, tinting, facials, and microdermabrasion, to AHA peels, eyelash Keratin treatments, acrylic nails, cosmetic tattooing and more – not to mention one of the best and most professional spots for shellac mani-pedi…
The Cottage Beauty House, Jl Batu Belig No. 9, Kerobokan, p. +62 877 6187 4440, e. [email protected]; Open Mon – Sat 10am – 6pm.
The best nail salons in Bali: ULUWATU
1. Ours Spa & Boutique
If you want to nurture your nails with the pretty colours, the sleekest nail art and the very best in global polish brands, you'll want to check out Ours. This boutique, spa and nail salon gives your nails the stellar treatment they deserve. The mani-pedi includes trimming, shaping, cuticle removal, cleansing and exfoliation, followed by a massage using a hydrating cream. You'll get to choose from plenty of pastels and summer-inspired nail art, and you can also opt for or add-on BIAB – a naturally strengthening gel polish for those wanting longer nails. Pssst, – it's vegan and cruelty-free too!
Ours Spa & Boutique, Jl Labuan Sait, Pecatu, p. +62 813 5354 2803; Open daily 9am – 9pm.
2. Esthetic Spa
Offering everything you could ever need to pamper yourself silly, Esthetic Spa is home to one of our fave nail bars. But what makes it different from the rest, we hear you cry? Esthetic's nail treatments use warm thermal gloves and booties to help make your nails even softer and smoother than ever before – not to mention super cosy! And psst, you can find two other Esthetic Spas in Canggu too…
Esthetic Uluwatu, Jl Labuan Sait, Padang Padang Beach, Uluwatu, (behind Pink Coco hotel), p. +62 818 0533 5701, e. [email protected]; Open daily 10am – 8pm.
3. HerSpot Salon
With services ranging from nails and waxing, to hair styling and lash care, this really is a spot for her (and it's super affordable too!). The HerSpot team is an all-Indonesian female force of well-trained technicians who have years of beautifying experience, so you know you'll be in great hands here. Choose from a long list of mani-pedi treatments, like Acrylic, gel, nude or vibrant colours, or go avant-garde with cool nail art. It truly is a one-stop-shop for all things beauty, and the best part is, you can also visit them on Sunset Road or in Denpasar too.
HerSpot Salon, Jl Raya Uluwatu No. 279, Ungasan, p. +62 811 399 0929; Open daily 10am – 8pm.
4. D'Nail Bar
At D'Nail Bar in Uluwatu, they believe that both beauty and friendship should always come together. So, they've created a cosy and intimate space to gather the girls in a comfy spa environment that's free from the noises of hairdryers or the hustle and bustle of a large salon. Instead, expect a boutique style space with good music that's perfect for a beauty hangout with your bffs – all while you sip on coffee, tea or glass of vino while your nails get polished with OPI. Top tip: we prefer going for normal polish here, rather than gel or Shellac.
D'Nail Bar, Jl Labuan Sait No. 10C, Pecatu, p. +62 811 380 1885, e. [email protected]; Open daily 9am – 7pm.
The best nail salons in Bali: UBUD
1. Nail Salon Ubud
As well as top-notch nail treatments and OPI mani-pedis, Ubud's famous Nail Salon will leave your hands and feet feeling gorgeous with their special foot and hand scrubs and massages. Treat yourself to an exfoliating scrub, followed by a reflexology massage (using special oil), then go all out with some unique 3D nail art.
Nail Salon Ubud, Jl Dewi Sita No. 10 – 11, Central Ubud, p. +62 812 3721 0242, e. [email protected]; Open daily 9am – 10pm.
Happy mani-pedi day, Honeys!
Looking for more ideas on where to primp and preen in Bali? Check out our top spa picks in Canggu, Seminyak, Kuta and Uluwatu too!