On the hunt for the best restaurants and cafes in Bali? You've come to the right place. These were the hottest new openings of 2020.
Sure, 2020 was a total sh*t show all thanks to the Coronavirus pandemic. But that didn't stop some of Bali's best chefs and restaurateurs. Oh no siree. For the island's most gifted gourmands, 2020 was filled with fabulous new cafes, five-star date night destinations and even a handful of hidden speakeasy bars that just couldn't remain a secret. So without further adieu, here we bring you the very best new restaurants, cafes and bars in Bali that opened in 2020 – from Seminyak and Canggu all the way to Ubud, Uluwatu and beyond. And if you're still hungry for more? Check out all of the best meals we ate in Bali in 2019 and 2018 too. And of course, check out the best new restaurants of 2021!
Happy feasting, Honeys…
ALL THE BEST RESTAURANTS THAT OPENED IN BALI IN 2020
1. Ours Bali – Uluwatu
Nope, this isn't one of Canggu's uber-trendy cafes. This is Ours Bali in the Bukit, the latest all-day restaurant to up the gourmet game in Uluwatu with its menu that would fit right into Bondi Beach, wrapped up in tropi-cool interiors that mix Balinese open-living with Scandinavian architecture and a touch of Mediterranean flavour. All of this, and that's before we mention how damn delicious the food is. Graze on Moroccan fried eggs on chargrilled spicy sourdough for brekkie, crispy skin salmon bowls for lunch, and chicken stroganoff for dinner, best enjoyed with Ours' list of classic cocktails. And with a focus on high quality local ingredients and a sustainable approach to food packaging, you can feel good about tucking into the whole lot too…
Ours Bali, Jl Labuansait No.39, Pecatu, Uluwatu, p. +62 8135 3373 163, e. [email protected]. Open daily 7am – 11pm.
2. BAKED.Bali – Berawa
Soft, springy and perfectly crunchy on the crust, BAKED.Bali had us at homemade, still-warm sourdough. But flawless loaves aren't the only specialty at this new Berawa hotspot. Throughout the day, you can tuck into gammon ham toasties with cheddar cheese and a truffle bechamel, ricotta pancakes with stewed strawberries and whipped mascarpone. Or our fave: the Vadouvan with labneh, poached eggs, za'atar, and that epic house sourdough, garnished with garden herbs. Settle in to the fresh whitewashed interiors, and whatever you do, make sure you take home their doughy creations…
BAKED.Bali, Jl Raya Semat, Gang Kupu Kupu No.1, p. +62 812 3985 3040, e. [email protected]. Open daily 7am – 4pm.
3. Vincent Nigita Dessert Bar – Canggu
A multi-course menu of desserts and cocktails? Yes puh-lease. Well, the Vincent Nigita Dessert Bar in Canggu is answering all of our sugar-coated prayers, because this sweet new spot is designed to take you on a 'voyage' around the world – one dessert at a time. Choose from the a la carte selections, or go with a set menu and cocktail pairing. A dessert in one hand, and a cocktail in the other? Just how it should be! And the cherry on the top of the cake: all of this is from France's legendary French pastry chef, Vincent Nigita. Try his signature caramelised 'Arlette', featuring black truffle infused chocolate, a chocolate sea salt crumble, vanilla and cacao nib ice cream, plus a chocolate and cognac ganache. YUM.
4. Neighbourhood Food – Berawa
Dedicated to fresh local produce and artisan makers, Neighbourhood Food is Berawa's local eatery and coffee shop that's serving up a refined take on Western Australian cuisine. Think slow breakfasts, laid-back afternoon snacks and weekend brunches that are fresh, simple and a reflection of today's wholesome and healthy lifestyles. Expect the very best of local produce, used wherever possible because these guys believe that the quality and treatment of ingredients are the key pillars for great tasting food… Amen to that. Try the Hood Benedict for brekkie (with confit potato hash, soft eggs, jalapeño hollandaise and a choice of smoked salmon, halloumi or bacon), then come back again and again for the lineup of lunch staples, like the beetroot fritters, the chicken salad and the crispy skin barramundi with local greens and a lemon-herb dressing. YUM. Recognise those epic house-blend coffees? Neighbourhood Food is from the same folks who gave us Ruko Cafe – Berawa's Melbourne-inspired nook just footsteps away…
Neighbourhood Food, Jl Pantai Berawa, 99BB, Berawa – Canggu, e. [email protected]. Open daily from 9am.
5. Enso – Canggu
Helping to fuel our serious sushi obsession, Enso is the latest Japanese restaurant to open in the heart of Canggu, dishing up authentic and delicious Japanese food done just as it should. Think takoyaki, tataki, soba and sushi, served in a stunning Japanese-style space with quintessential clean lines, uncluttered aesthetics and a backdrop of light wood. Our menu faves? Try the Golden Roll and the Rainbow Roll with all sorts of scrummy seafood, the takoyaki with octopus, leek, cheese & bonito, and the tuna garlic tataki that looks *almost* too good to eat. And psst – there's even a full vegan menu for plant-based diners too…!
Enso, Jl Tanah Barak No.19, Canggu, p. +62 812 3909 1550, e. ens[email protected]. Open Tues – Sun, 4pm – 11pm.
6. Nourish – Ungasan & Bingin
Delicious, organic and locally sourced, Nourish in both Ungasan and Bingin sets out to do exactly that – nourish your tummies with nutrient-rich foods, cold-pressed juices, superfood bowls and healthy salads – plus an all-day breakfast and pizzeria menu. You see, these guys are obsessed with using high-quality, soul-serving ingredients in their recipes, cooking with as much organic produce as possible, sourcing ingredients locally, from farm to table. In fact, the entire team and cafe concept is focused on conscious sustainability, so you can feel good about grazing through delish dishes that make you feel great on the inside too…
7. Tanaman – Seminyak
It's official – the Potato Head Family are once again breaking boundaries and blowing minds. And it's not the first time they've featured in our Hot New Tables roundups. First they opened Ijen – Indonesia's first ever zero-waste restaurant – and now they've given us Tanaman, a plant-powered vegan restaurant that celebrates the flavours of the region. The multi-course tasting menu is designed to pay tribute to Indonesia's family kitchens, street vendors and warungs, with familiar flavours fused with progressive techniques and organic ingredients. Think jackfruit rendang (cooked and braised for 16 hours), mushroom satay with a sticky, spicy sambal kecap, and Lotek, AKA the ever-famous Gado-Gado. It's a creative and plant-based take on Indonesia's most-loved comfort food, served up in a breathtaking OMA-designed space, best enjoyed with Tanaman's botanical cocktails. This one's a real game-changer…
Tanaman at Desa Potato Head, Jl Petitenget No.51B, Seminyak, Open daily 6pm – midnight.
8. 2080 Burger – Canggu & Uluwatu
Seriously smokey and obscenely succulent, we've been stuffing our faces with beer battered drunken chicken and double beef patties ever since 2080 Burger swung open its doors in both Uluwatu and Canggu. This hole-in-the-wall-style burger joint means big business when it comes to juicy whoppers. Think Aussie beef, Philly cheese, homemade BBQ sauce, and bacon-loaded fries on the side. And FYI – these guys also serve the best veggie burger around too, made from ooey-gooey smokey mushrooms and a dousing of 2080's signature "magic sauce".
9. The Bakery – Uluwatu
Cinnamon scrolls, artisan sourdough, flaky croissants and continental pastries – The Bakery is The Bukit's brand new hub of all things naughty and oh so very, very nice. Topped up with great coffees and fresh-made sandwiches, everything here is created by hand daily using locally sourced ingredients. Take out, eat in or take to the beach – The Bakery is officially our everyday staple.
10. Montana Del Cafe – Kintamani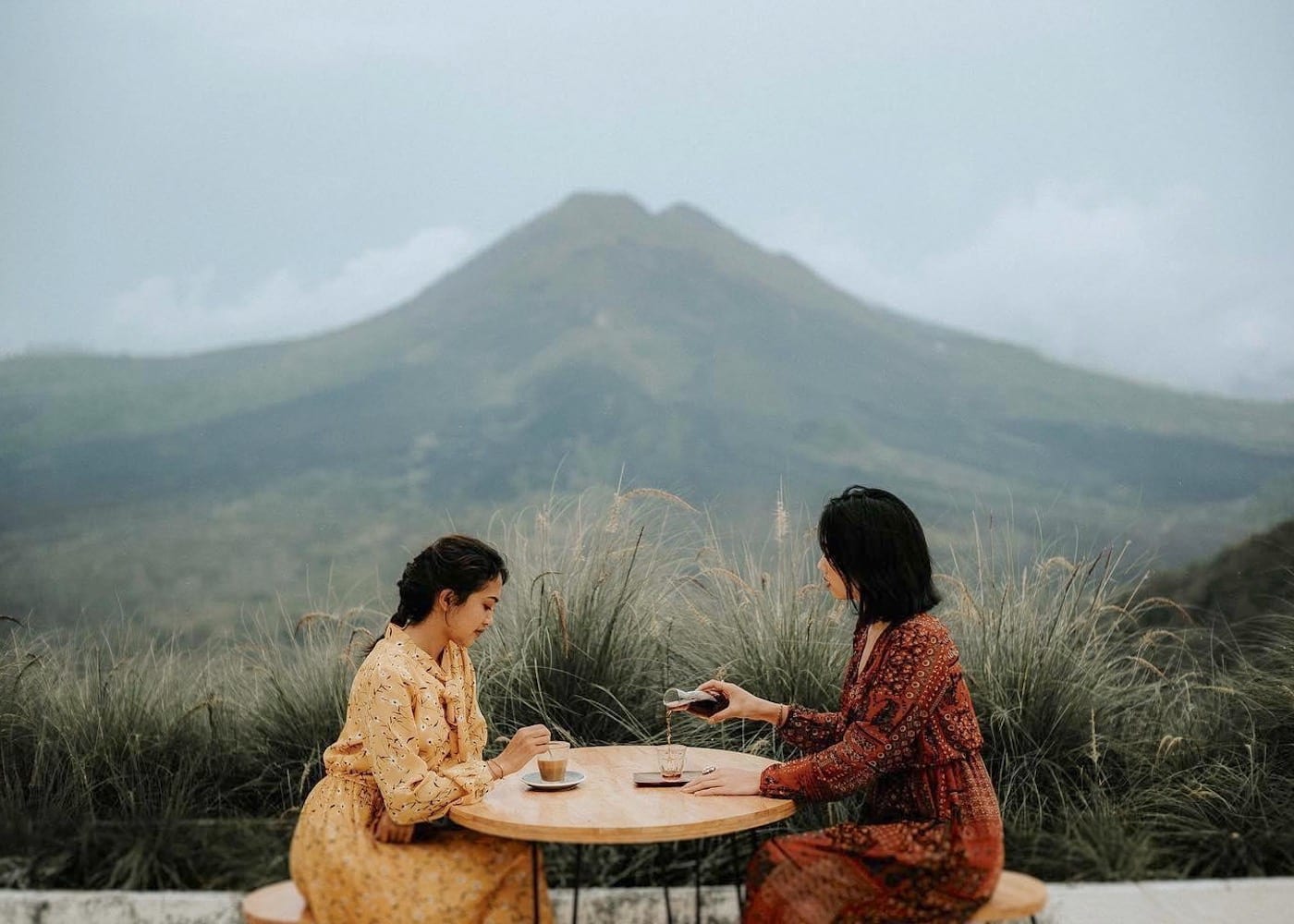 High up in the hills of Kintamani, Montana Del Cafe is the brand new "brunch with a view" that everyone's talking about. With its clean, crisp and air-conditioned cafe indoors, and a breezy open-air deck with breathtaking views outdoors, this new destination takes brunching to the next level – literally. Graze on croissants, hot cakes and great coffee while gazing at Bali's majestic volcano, Mount Batur – this is one brunch for the books!
11. Grill'd – Seminyak
Brought to Bali from Australia, Grill'd in Seminyak is where you can chow down on homemade signatures from this Aussie icon, alongside exclusive, island-inspired sides to keep the tropical vibes alive. Everything here is as fresh as it gets, grilled-to-order and served alongside a Bali-fied cocktail and drinks list. Graze on the Almighty burger with tasty cheese, crispy bacon, egg, beetroot & herbed mayo, and whatever you do, don't miss the exclusive Bali debut of the famous Beyond Meat burgers – plant-based patties that are as beefy and delicious as their meaty contenders. Pair with a side of crispy onion rings, cauliflower bites or their famous potato chips with herb salt.
Grill'd, Jl Kayu Jati No 3X, Petitenget, Seminyak, p. +62 811 399 9716, e. [email protected]. Open daily 10am – 2am.
12. The Black Box Provisions – Canggu
Honestly, we don't even know where to begin with this one. The branding, the packaging (plastic-free, FYI), the epic menu and the ridiculously scrummy sushi that ranges from all-vegan to raw and cooked too – it's all indescribably delicious. Yup, The Black Box Provisions almost has us speechless, and not just because of the crazy amounts of sushi we've been shoving into our mouths ever since they launched. What started as a mere pop-up concept amid the pandemic has taken off so quickly and fiercely, that it is now an official resident within Canggu's Restaurant Naga. Believe us when we say you'll want to try everything on the menu here, including the vegan sushi (pictured above on the left) that you'll hardly believe is 100% plant-based.
13. Holi Curry House – Berawa
As colourful and vibrant as the annual Indian celebration it's named after, Holi Curry House is cooking up affordable and kick-ass curries with a variety of rices, sides and chutneys. Using family recipes to keep the authenticity on point, the menu rotates daily, featuring all-time Indian favourites like pork vindaloo, dahl and curry puffs with crispy onion pakora. And psst – Holi is from the same peeps that gave us Sisterfields, Bikini and Boss Man, so you can expect big things from this new Berawa name…
14. Shotgun Social – Sanur
Shaking up Sanur's social scene, Shotgun Social is a breezy brewhouse and beer garden that pairs top-notch imported craft beer with local brews, great wines and a solid food menu to boot. Prop up the bar and sample your way through the selection of 16 craft beers on tap, or settle in for a long and leisurely lunch within the spectacular domed interiors. As for the menu, think gastropub classics like big burgers, Caesar salads, NYC-inspired pizzas and our fave: the Australian Wagyu and pork meatballs in a rustic herbed tomato ragout with truffled balsamic. And the kicker? The restaurant and garden is family-friendly too!
15. Petisqueira Bali – Seminyak
A breezy and botanical spot to drink and dance beneath the palms, Petisqueira in Seminyak is where you can graze on Petiscos (finger food) from all around the world. Alongside pitchers and classic cocktails, nibble on Spanish-style shrimp, French oysters and even Canadian poutine – all in a truly beautiful setting. Spanning the continents and their signature dishes, Petisqueira takes you from Britain to Brazil and back again in just a few delicious bites.
16. Street 32 – Kuta
Think that Kuta is only dive bars and clubs? Think again. Street 32 is a vibrant cocktail bar and eatery at MAMAKA by Ovolo – Bali's newest urban resort. Serving up refined Pan-Asian street food as well as hand-crafted drinks to sip alongside front-row views of Kuta beach, Street 32 is the new place to see and be seen. By day, graze on timeless classics like ceviche, Laksa, Pad Thai as well as Street 32's very own Nasi Goreng, while by night, the beachside venue transforms into a sultry spot for wining, dining and socialising beside an iconic Kuta sunset.
17. Craftsman – Ubud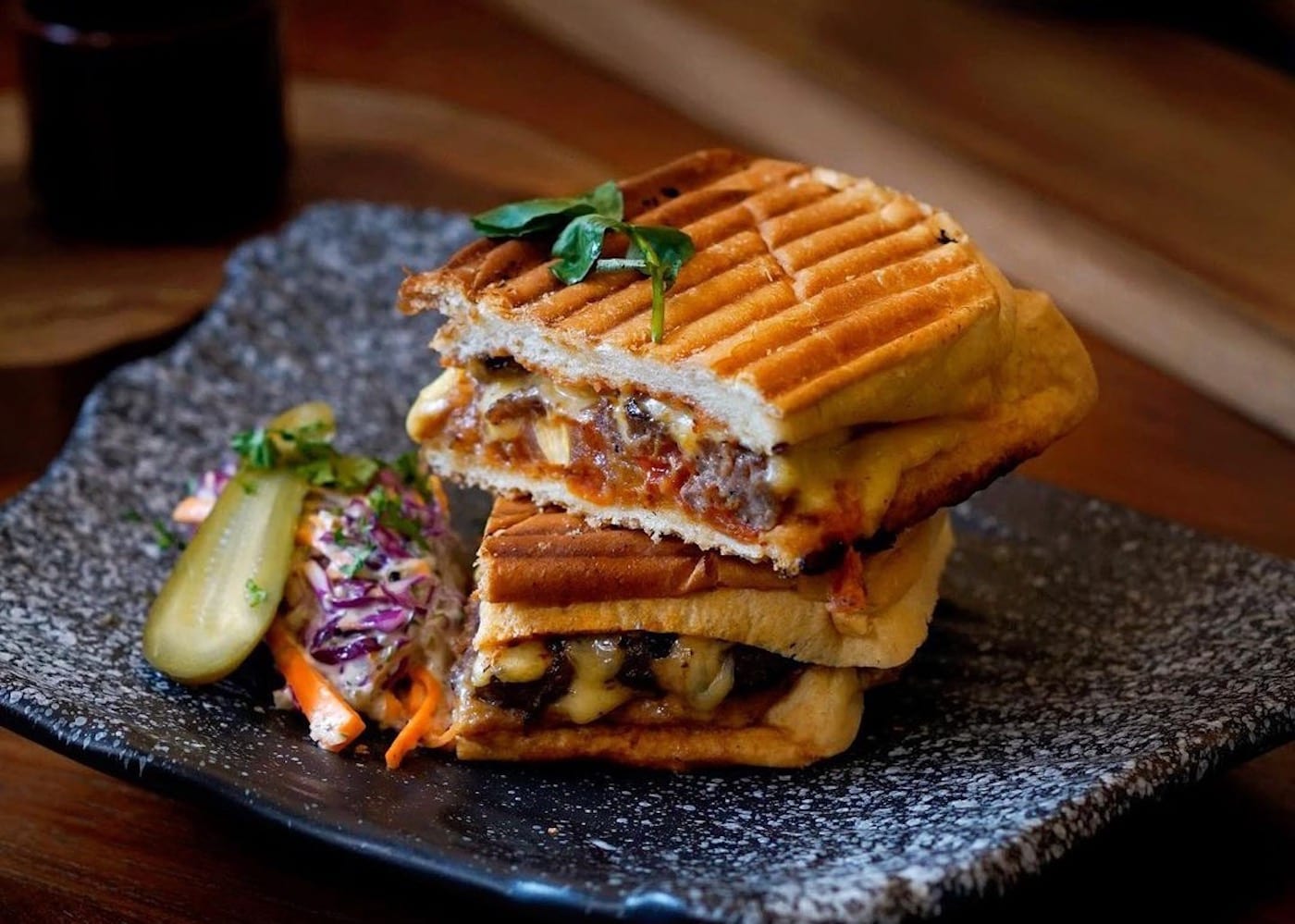 A tropical and cosy cafe that doubles up as a homely co-working space, Craftsman in Ubud is where you'll find both digital nomads and foodies grazing the day away on hand-crafted, home-comfort specialties. Think Panini Burgers, BBQ ribs, and warm steamy vegetables in a Balinese broth. Top it all off with the squishy leather sofas and decadent rugs, and you want to leave.
18. The Tasting Room – Canggu
Vinophiles, this one's for you. The Tasting Room is the first of its kind in Canggu: a dedicated wine house with a cellar of 50 different vintages that date as far back at 1970! Not only a place to purchase your fave fine grapes, The Tasting Room also serves flights of wine where you can sip your way through 5 different vinos, with pairing platters of cheese, nuts, grapes and other delish nibbles too. Bordeaux, Burgundy and Champagne – all of the biggest French wine regions make an appearance here, served up in 1920s-inspired interiors, and joined by wine tasting events and crash courses for beginners too…
19. The Shady Pig – Canggu
Think that Canggu is only raucous beach bars and wild parties beneath the stars? Think again. The Shady Pig has officially upped Canggu's cocktail scene with a sophisticated twist. Branded as an experimental sipping lounge that's inspired by the glamour, decadence but also the roughness of the 20s, this new and exclusive Canggu bar will transport you to Birmingham – England, in the "secret laboratory of a contraband syndicate". And when we say secret, we mean there's a "no password, no entry" policy that you'll only crack by contacting them directly on Instagram…
20. Dreamwave Donuts – Canggu
Putting sticky smiles on the faces of Canggu's sweet-toothed crew, Dreamwave Donuts is an eccentric and new-retro nook slinging homemade donuts in an urban and minimalistic space – all with a zero-waste and plastic-free philosophy at its core. Organic, conscious and wholly committed to the very best produce, the cherry on the top of the donut is that Dreamwave also happens to be 100% plant-based. Try the Blueberries & Cream with muddled blueberry icing, lemon citrus coconut cream and a sprinkling of fresh soaked blueberries in vanilla and nutmeg – best served with Dreamwave's epic coffees. Chocolate lovers? Get your mouth around the Triple Chocolate, drizzled with coconut milk chocolate icing and a sprinkling of sweetened cacao nibs and a dollop of avocado chocolate mousse. It's what donut dreams were made of…
21. Yema Kitchen – Canggu
We just LOVE the tropical vibes and wholesome recipes at Yema Kitchen – a homely Canggu restaurant. Not only do the interiors make you want to cosy up here all day, but the food is made with all the love you find at home. Fresh and regional ingredients have been sourced from Mother Bali herself, herbs are handpicked each day from the garden, and the fish is caught fresh from the nearby ocean. All dishes are also designed for sharing with loved ones, like the bountiful tapas menu (the falafel is sublime!) or the slow-roasted eggplant, the oven-baked chicken ratatouille, and our fave, the fresh snapper ceviche. All best enjoyed with the botanical cocktails, naturally.
22. Peacezza – Seminyak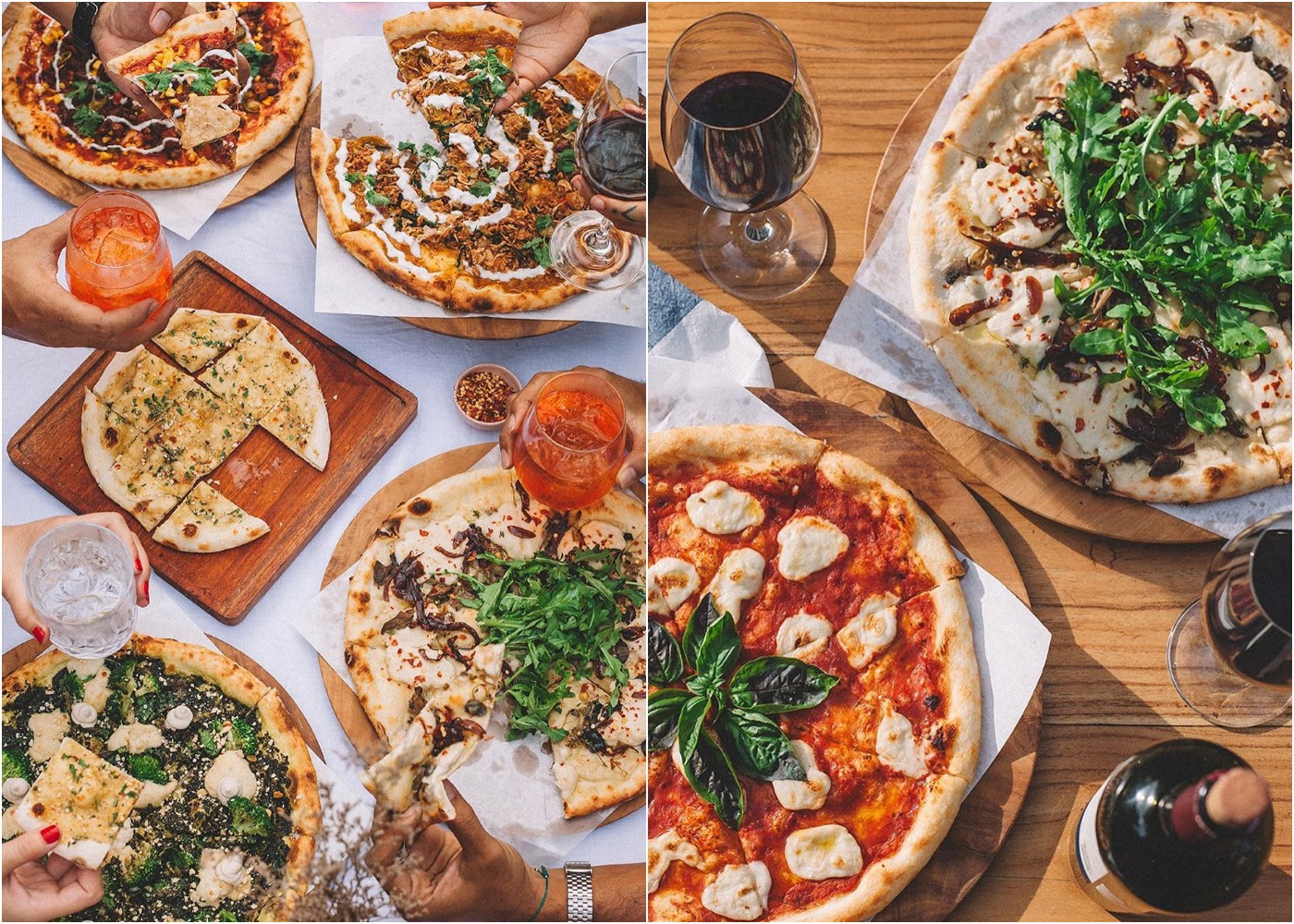 From the same ladies who gave us KYND in Seminyak and GIVE in Canggu, Peacezza is the latest vegan venue from these conscious foodies, and this time they're slinging plant-based pizzas. All of the pizza bases are made using artisan sourdough, later cooked in a custom lava stone oven. As for the toppings? Think homemade nut cheeses, farm-fresh veggies and alll the gourmet oils, from truffle to garlic and everything in between. Our fave? Try the Green Peace with a pesto base, loaded with crispy kale, broccoli, pine nuts, "goats" cheese, nut parmesan and garlic oil.
23. The Forge Gastropub – Seminyak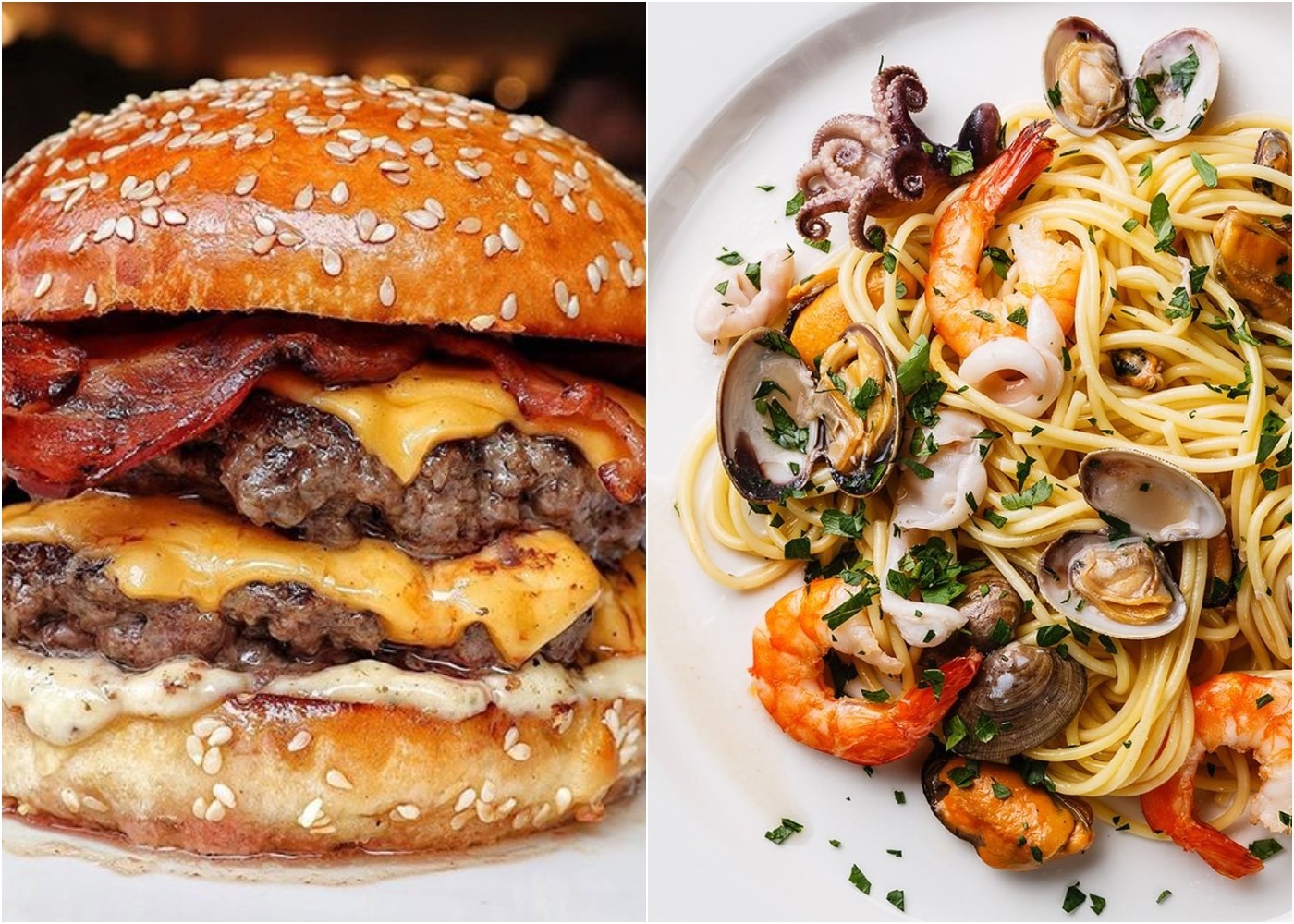 Officially the most popular pub on the Petitenget block, The Forge Gastropub takes us right back to our days in the UK, feasting on British pub favourites done right. It goes without saying that the craft beers here are top notch (as they should be), but it's the rustic and authentic pub food that gets our attention. The clams in a white wine sauce , the steak & Guinness pie, the big beef burgers and of course the British Sunday roast – they're all here, and they're as traditional as they come.
24. ShiShi – Seminyak
Party animals, you've probably already sampled your way through the Espresso Martinis at ShiShi – Seminyak's newest late-night lounge and club. But what you might not know is, ShiShi is also where you can turn up before things get wild to feast on fine Lombok oysters, Pork & Prawn Shumai, build-your own Temaki (served atop smokey dry ice, no less) and even an insta-worthy sushi tree for sharing and grazing with your party pals. An Asian inspired bistro by dusk, and a wild party destination by night? Welcome to Seminyak….
ShiShi, Jl Petitenget 208x, Seminyak, p. +62 819 1888 8056. Open daily from 6pm – late.
25. Coco Penida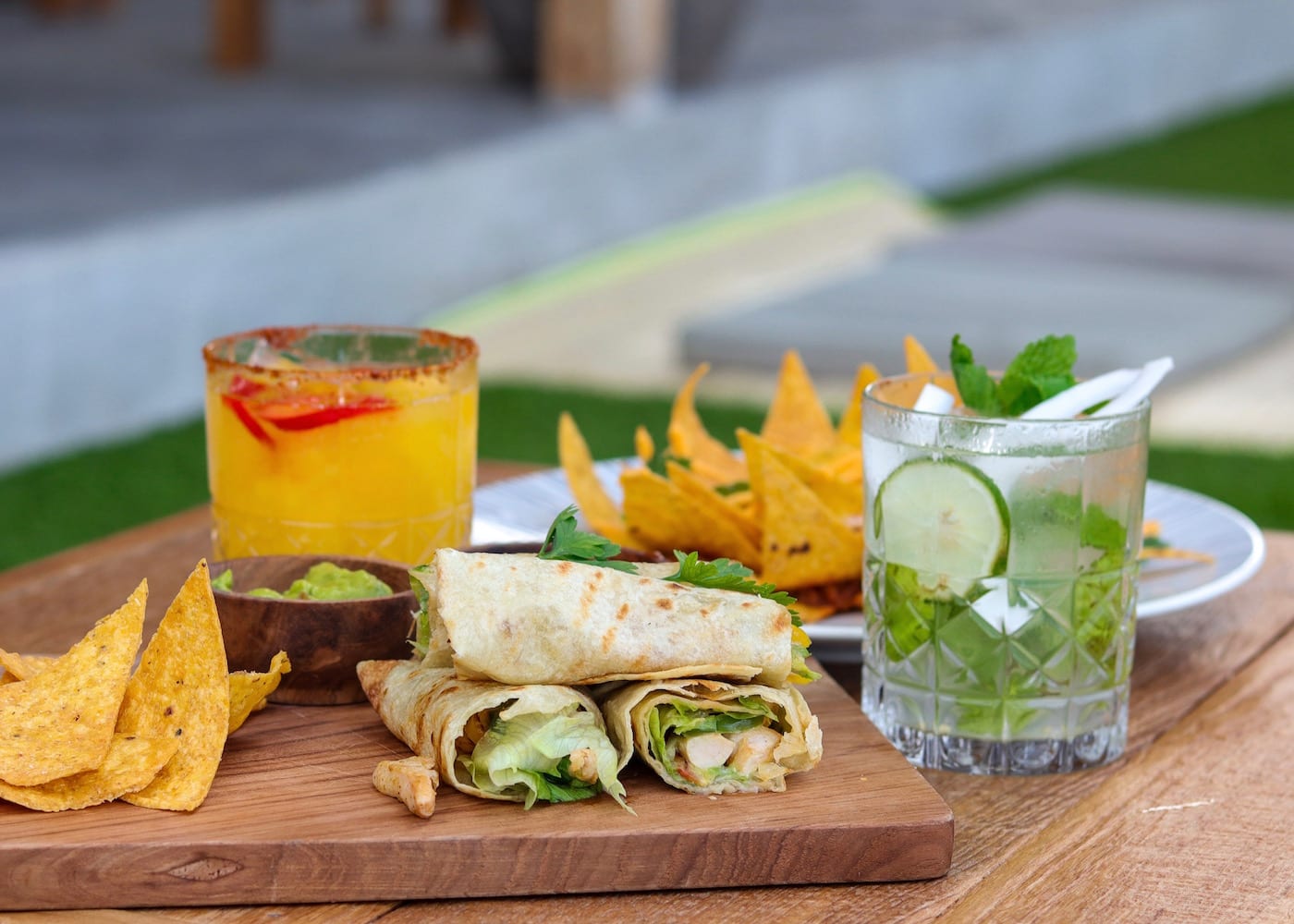 We don't need any excuse to sail over to Bali's little sister island, Nusa Penida, but ever since the opening of Coco Penida right on the white-sand beachfront, well, we can't keep ourselves away. This brand new shabby-chic restaurant & bar is a breezy and beautiful spot to while away a sunshiney day, grazing on cocktails and the seaside-inspired cuisine that merges Indonesian flavours with Australian-style flair. Think avo on toast with spicy jumbo prawns, big burritos and our fave, the Nusa Penida Chicken Curry with red chillies, apple and eggplant. Perch up for a picnic on the emerald green lawn, or raise a glass within the lofty open-air dining room and catch the regular live music performances throughout the week.
Coco Penida, Jl Ped – Buyuk, Ped, Nusa Penida, p. +62 878 6147 8222, e. [email protected]. Open daily 12pm – 11pm.
26. Riviera Bistro – Berawa
From the French Riviera to buzzing Berawa, the Riviera Bistro (AKA the Sea Bistro) is where you can tuck into Mediterranean classics and fresh-from-the-net seafood. And the kicker? This fine destination doubles up as a wine bar too. Try the Gnocchetti that uses homemade semolina pasta, muddled with a seafood ragout, herbs and citrus zests.
Riviera Bistro, Jl Pemelisan Agung, Berawa – Canggu, p. +62 821 4798 9098, e. [email protected]; Open daily.
27. Pesona Lounge – Ubud
If you've ever been to Gili Trawangan, you'll already be familiar with the Pesona name. But instead of a stunning beach resort, this time, Pesona Lounge is Ubud's newest and most vibrant Indian restaurant, laced in luxury, local heritage and modern Indian indulgences. Expect to see all of your fave Indian staples here, like tikka masala, tandoori chicken, pork vindaloo and rogan josh – most of which feature vegetarian variations too, from the mushroom masala to the jackfruit biryani. All of this is then served up alongside bespoke cocktails, mocktails, and exotic shisha…
Pesona Lounge, Jl Goutama Sel. No.25A, Ubud, p. +62 811 3802 572. Open daily, midday – midnight.
28. Minoo Beach Club – Ungasan
Beach club boppers, this one's for you. Newly opened along the bright white sands of Melasti Beach, Minoo Beach Club is a bohemian-inspired destination that's all about beachfront grazing. Nibble on local seafood in the al-fresco restaurant, or take the day's catch to your poolside sun-lounger. Grilled, steamed or wok-fried – the choice is yours.
29. HATIKU – Jimbaran
Three of our greatest loves? The ocean, the beach, and great food. Well, HATIKU Jimbaran has nailed this tropical trifecta – a brand new seafood restaurant right on the sands of Jimbaran Bay, committed to dishing up the very best of the ocean's abundance. They've carefully preserved the real tastes and iconic vibes of Jimbaran's famous seafood hub (once a sleepy village of local warungs serving grilled seafood fresh from the fisherman) and they've paired it with decades of experience in the hospitality industry. Not to mention sleek interiors that are as breathtaking as the nearby horizon. All of this is then wrapped up with a sunset backdrop, and world-renowned resorts just a stone's throw away…
HATIKU Jimbaran, Pantai Muaya, Jl Bukit Permai, Jimbaran, p. +62 877 8611 2121, e. [email protected]. Open daily 8am – 10pm.
30. Vietnam Kitchen – Legian
Love Vietnamese food? You'll wanna make a bee-line for Vietnam Kitchen in Legian. This humble little eatery is all about authentic Vietnamese eats, without any of the fancy frills or non-traditional twists. You'll find beef Pho, Bahn Mi, and Bún chả (which originated from Hanoi) served with grilled fatty pork over a plate of white rice vermicelli, herbs with a side dish of dipping sauce. YUM.
31. Porncakes – Legian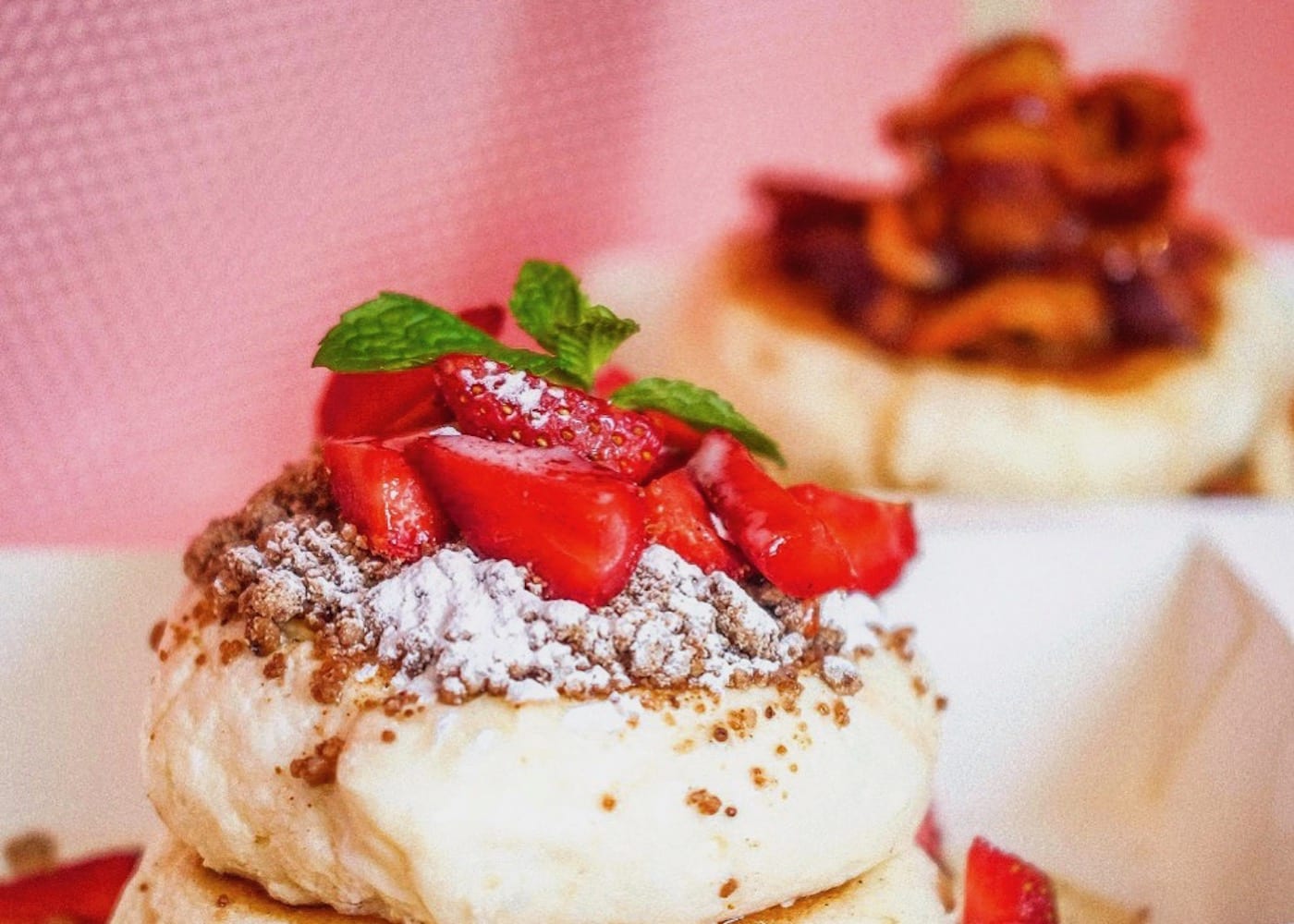 Yes, you read that name right, but get your head out of the gutter, because this brand new Legian restaurant is all about sweet and fluffy pancakes served up in a super-cute, pink pancake house. Taking the original ricotta soufflé pancakes made famous by Brunch Club Bali, here you can tuck into exclusive, drool-inducing flavours like sticky toffee pudding, chocolate fudge brownie or New York cheesecake – or do yourself a favour and try them all…
Porncakes, Jl Legian No.457, Legian. Open daily 9am – 8.30pm.
32. Yatta Izakaya – Ubud
We can hardly keep up with the ever-growing collection of world-class ventures from celeb Indonesian chef Mandif Warokka (the man behind Teatro Gastroteque in Seminyak & BLANCO Par Mandif in Ubud), but Yatta Izakaya is the latest showstopper from this culinary mastermind, and this time, he's introducing fine Japanese food to the Ubud 'hood. Dished up Izakaya style (AKA in a casual and social atmo) every dish at Yatta (all 200 of them!) is designed to tell the stories of Japanese culture, rituals, memories and people. You'll have to try it to know exactly what we mean, but just be sure to graze your way through the sushi and sashimi, the create-your-own tempura, and the selection of smokey Yakitori…
Yatta Izakaya, Jl Monkey Forest, Pertiwi Resort & Spa Ubud, p. +62 361 978 189, e. [email protected]. Open daily, 11am – 11pm.
33. Island Life Poke – (now closed)
When it comes to island grazing, it doesn't get more tropical than a poke bowl. And that's where Island Life Poke has stepped in. Dishing up healthy and delicious poke bowls for The Bukit's surf crew and beach-goers, this new nook is where you can grab your go-to bowl and take it to your fave island perch – or eat-in, hang out and watch the sunset. The pokè here is mostly raw, whole food and plant-based, mixed with healthy proteins like tuna, salmon and tofu. It's a little bit Japanese (and Hawaiian, naturally), with some Mexican fusion thrown in too. Our fave is the signature 'Pokerito': a mix between a poke bowl and a burrito served with guacamole and chips. And if you don't find your perfect bowl? Build your own and soak up the surf vibes and good times with great company…
34. Laci Restaurant – Canggu
Serving up modern Australian cuisine infused with Indonesian flavours, Laci restaurant in Canggu is where you can feast on fruit-loaded Coconut Hotcakes and a Hash Brown Benedict by day, before moving onto big bacon-cheese burgers and juicy ribeyes for dinner. Our fave? Try the grilled chicken with pimento cream, and wash it down with a Rujak Rum cocktail or three…
Laci Restaurant, Jl Munduk Catu No. 88X, Canggu, e. [email protected]. Open daily 12pm – 10pm.
35. Panen Padi Lounge – Ubud
Tapas, cocktails and endless rice field views – Panen Padi Lounge is one of those breathtaking beautiful destinations that lets you sit back, soak it all up and fall in love with Bali all over again. It's nestled on the elevated grounds of Tanah Gajah estate, which in itself is a treat to visit. Graze on the tapas-style nibbles inspired by house-smoked and house-cured produce (like Wagyu short ribs, skewered prawns and crispy roasted pork belly), and pair each plate with the lounge's signature cocktails and mocktails, crafted using the freshest herbs harvested from the estate's organic garden. Come for the food, stay for the views, and clear your diary for the rest of the day because you won't want to leave in a hurry.
Panen Padi Lounge at Tanah Gajah Estate, Jl Goa Gajah, Tengkulak Kaja, Ubud, p. +62 361 975 685, e. [email protected]. Open daily 12pm – 8pm.
36. The Clubhouse Bar at Ulu Cliffhouse – Uluwatu
A sleek lifestyle and fine-cocktail destination sitting atop the soaring cliffs of Uluwatu (and just a stone's throw from the sister Ulu Cliffhouse), The Clubhouse Bar is where you can sip on perfectly crafted sundowners and premium single malts alongside a late-night bites menu to keep you going until the wee hours. The bar's exclusive, sophisticated ambience and iconic mid-century design makes this new Uluwatu icon a perfect date-night destination, or head in for an after-party with friends to kick back with something a little stronger. And the draw card? The list of brilliantly creative and experimental drinks are created by some of the world's hottest and most in-demand bartenders, courtesy of quarterly pop-ups and the finest portfolio of imported spirits from around the world – shaken, stirred and always surprising with clever twists on the classics. Try the Midnight Express(o) with a touch of cinnamon, or the tropical Honol-Ulu with refreshing citrus matched by smoky tones. Salty rustic fries, creamy guacamole and a decadent Grilled Cheese Sandwich tops it all off…
The Clubhouse Bar at Ulu Cliffhouse, Jl Labuansait No.315, Pecatu – Uluwatu, p. +62 813 3999 7598, e. [email protected]. Open daily from sunset.⠀⠀⠀⠀
37. Tacos Aqui – Umalas
When it comes to the best new restaurants in Bali, this new Mexican joint in the quiet Umalas 'hood had us at beer-battered fish tacos and tempeh-tofu veggie fajitas. Colourful, cosy and kept alive with hip hop beats, head here for carnivorous carnitas, homemade tortillas and big burritos stuffed with allll the meaty, cheesy goodies.
Tacos Aqui, Jl Bumbak Dauh No.81, Umalas. Open Tues – Sun, 5pm – 11pm.
38. BGS – Uluwatu
It seems that three really is the magic number for Bali's burgeoning coffee shop & surf hub, BGS Bali. First they opened in Dreamland, then they dominated Canggu's coffee scene, and now they've opened in Uluwatu just a few sandy-footed steps from The Bukit's best surf breaks. Bringing all your favourite BGS brews to this sleek new space (we're looking at you, vanilla-spiced Almond Milk Latte) plus all of your surf, beach and bikini staples, this new address is already a community hit with Uluwatu's in-the-know Javaheads.
BGS Uluwatu, Jl Labuansait, Uluwatu, p. +62 878 6181 3103, e. [email protected].
Looking for more of the best new restaurants in Bali? Check out our Hot New Tables roundups for 2019 and 2018 too!