In this very special edition of Hot New Tables, we've cherry picked the best new restaurant, cafe and bar openings of 2018. Drumrolls please…!
As our dust-collecting gym memberships will tell you, this year, we've eaten our way across the island and back again. We've feasted at five-star buffets, we've brunched at hipster cafes, and we've gorged our way through some of Bali's best (and worst!) new restaurants. 
So as 2018 draws to a close, it's time to reminisce on the scrumptiousness we've devoured this year. We've seen countless restaurants and bars come and go, but we've also seen culinary game-changers that turned our gluttonous world upside-down.
So without further adieu, in this very special edition of Hot New Tables, we bring you a definitive roundup of 2018s culinary greats . From boundary-pushing bars, to easy breezy beach clubs and award-winning restaurants, here's our favourite openings of the year.
Best new sustainable restaurant:  Ijen at Potato Head
Brought to us from Bali's most progressive beach club, this year Ijen at Potato Head became Indonesia's first ever restaurant to follow a zero-waste philosophy. Their ocean-fresh seafood is caught locally using a hand-reeling process, their menus are printed on sustainably harvested paper and recycled truck tyres, the furniture is made from foam offcuts and recycled wood, and the floor is poured from a mix of broken plates, glasses and cement. Mahi mahi, barramundi and local snapper are grilled simply over an open fire, and the best local sambals we've ever tasted are served up alongside a range of creative veggie dishes. This is guilt-free feasting at its best.
Ijen at Potato Head Beach Club, Jl Petitenget No.51B, p. +62 361 4737979. e. [email protected]. Open daily 6pm – midnight.
Best new beach club:  Finns VIP Beach Club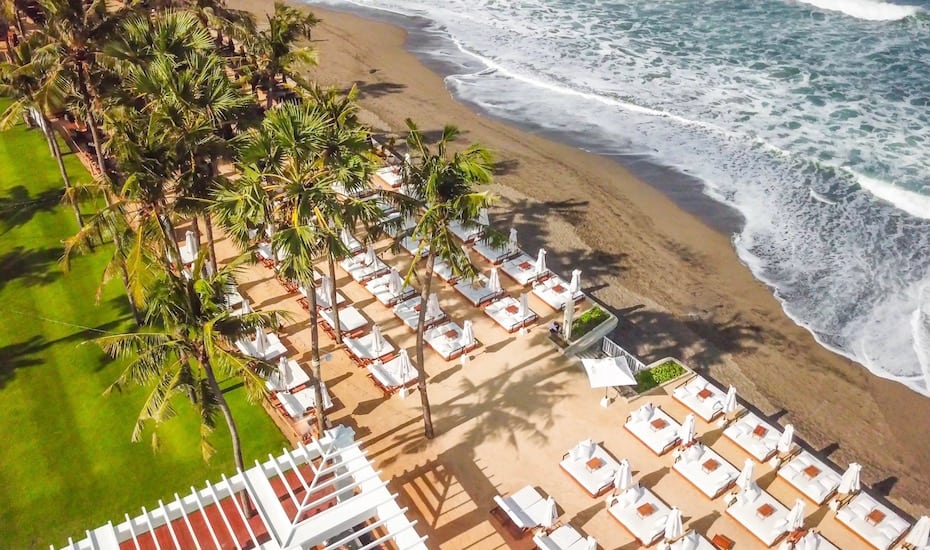 Sitting right next door to the Finns Beach Club OG, this year's new and exclusive VIP venue brought celeb-status services to Canggu – the kind that Beyoncé herself would be proud of. We're talking sunglass-cleaning services, face towels, complimentary canapés and of course, plenty of bubbles. Yup, this year Finns VIP Beach Club upped the Bali beach club stakes once more, and we're totally hooked.
Finns VIP Beach Club, Jl Pantai Berawa, Canggu, e. +62 361 844 6327 / +62 828 9701 6178, e. [email protected].
Best new hotel buffet:  Taman Wantilan
Just when we thought Four Seasons at Jimbaran Bay couldn't get any more fabulous, the resort's ever-scrummy signature restaurant, Taman Wantilan, received a glamorous makeover in late 2018 – and what a delicious, dazzling destination it became. Now a jaw-dropping, interactive dining destination, this breezy, ocean facing restaurant is peppered with live cooking stations and cooked-to-order cuisine that traverses the globe. From Indian dhal to homemade Italian pasta, all of the best bites from around the world are right here for the tasting – backdropped by Jimbaran's breathtaking 3-mile, crescent-shaped beach.
Taman Wantilan at Four Seasons Resort Bali at Jimbaran Bay, Jimbaran, p. +62 361 701010. Open daily 6.30am – 11am & 6pm – 10pm.
Best new seafood joint:  Fishbone Local
In 2018, Fishbone Local gave Canggu's very best restaurants a run for their money with its fresh-from-the-net sustainable fish dishes served up within breezy, industrial-chic interiors. The all-star Australian minds behind this hip new hotspot (with ties between Sydney's Iceburgs, the Bondi Beach Public Bar, and Bali's Da Maria & Motel Mexicola) are all very well versed in the art of faultless hospitality, and Fishbone Local is no exception. Come for the pan-seared barramundi with spicy sambal matah, stay for the Cup of Joe cocktail (using Expat. Roasters coffee) and come back again and again for this locally-focussed international knockout.
Fishbone Local, Jl Pantai Batu Bolong No. 117X, Canggu, p. +62 361 9342 779, e. [email protected]. Open daily 12pm – late.
Best new cocktail spot:  Lacasita Fonda Mexicana
First came Lacalaca in Seminyak, then came Lacalita in Canggu, and this year, the technicoloured team behind Bali's best Mexican joints set up shop in Ubud with Lacasita Fonda Mexicana. Expect all of your favourite Laca staples here (like the famous Jalapeno margarita and those Pescado Tacos) alongside additional Ubud-inspired bites to tickle your tortilla. Try the Abodo & Lime duck leg croquettes, washed down with the Frozen Guava Colada cocktail – one of the best libations we've found in Ubud.
Lacasita Fonda Mexicana, Jl Sri Wedari No. 4, Ubud, p. +62 822 4784 7216, e. [email protected].
Best new fine diner:  Padi Fine Dining
A fine dining game-changer, Padi Fine Dining in Ubud this year dazzled Bali's foodies with its rather unexpected concept: an epicurean degustation menu sans meat, serving up pesco-vegetarian cuisine to high-end standards. The work of celeb Indonesian chef Mandif Warokka (the kitchen genius who gave us Teatro Gastroteque in Seminyak and BLANCO Par Mandif in Ubud) Padi Fine Dining makes up for what it lacks in rumps and ribeyes, with stunningly delicious avante-garde creations from both garden and sea. Think top-shelf Hotatei scallops from Japans's Tsukiji fish market, transformed into an exquisite carpaccio that looks almost too good to eat.
Padi Fine Dining at Desa Visesa Ubud, Jl Suweta, Banjar Bentuyung Sakti, Ubud, p.+62 361 2091788, e. [email protected]. Open Tues – Sun 6pm – 11pm.
Best new date night spot:  MASON
At the beginning of 2018, these guys blew our minds with Fishbone Local (above), and by the end, this unstoppable team of hospitality hotshots did it again with MASON. Just a few sandy-footed steps from Fishbone, MASON on Canggu's Batu Bolong is all about top quality meats, cheeses, dips and veggies done right – homemade and served simply to let the flavours really shine. And of course, true to their form, MASON also slings superb cocktails that we can't get enough of. Encore!
MASON Bali, Jl Batu Bolong No. 83, Canggu, e. [email protected]. Open daily, 6pm – midnight.
Best new coffee spot:  Full Circle
Any coffee connoisseur in Bali will know of Expat. Roasters. They're the coffee experts whose beans have made their way into the coolest cafes and restaurants across the island. Well, following the opening of their very own Expat. Roasters cafe in Petitenget, these bean buffs opened Full Circle in Ubud – a place for good food, great coffee, and a conscious effort to support sustainable processes from bean, to farmer, to cup, and back again – good practices that go full circle. Alongside your syphoned latte, try the French Toast with espresso ice cream, and wash it down with an Espresso Martini topped with a Tim-Tam.
Full Circle by EXPAT. Roasters, Jl Jatayu, Gianyar, Ubud, e. [email protected]. Open daily 7am – 11pm.
Best new cafe:  Coffee & Coconuts
Freshly opened on the quiet beachside streets of Nelayan in Canggu, Coffee & Coconuts is breezy, tropical and laced in palm, bamboo and swathes of sunlight – it also happens to serve the best buttery-soft avocado on toast in town. 99% of the ingredients here are also locally-sourced, with farm-to-table creations like babi guling Scotch eggs, sloppy fries with a goat rendang ragu, spiced pumpkin tacos and bountiful salad bowls packed full of veggies, dressings and soft shell crab. Coffee & Coconuts has officially raised the bar for Canggu's best cafes.
Coffee & Coconuts, Jl Nelayan, Canggu, p. +62 821-4506-9378, e. [email protected]. Open daily, 6.30am – 11pm.
Best new vegan cafe:  I Am Vegan Babe
So much more than "just" another vegan cafe, I Am Vegan Babe upped the plant-based stakes right at the end of 2018 with its BLTs stuffed with vegan fried eggs, creamy vegannaise and you-won't-believe-it's-not-bacon fake-on; its impossibly cheesy chunky sandwiches; and its burgers that are so big, so juicy and so gluttonous, you could almost call them beefy. Try the enormous Hawaiian burger, best enjoyed within the cafes tropi-chic interiors.
I Am Vegan Babe, Jl Tanah Barak No. 49, Canggu. Open daily, 7am – 5pm.
Best new vegetarian restaurant:  Dumbo
Three really is the magic number for Bali's most treasured vegetarian restaurant group. First came Green Ginger Noodle House in Canggu, then The Elephant in Ubud, and this year, we gained Dumbo – a modern wood-fired Italian that's just as green, clean and organic as its predecessors. Dumbo is all about good, honest food that's as earth friendly as possible. Try the tempura zucchini flowers with ricotta, lemon, mint and green chilli mayo, or the polenta with braised beetroot cheeks.
Dumbo, Jl Raya Sanggingan, Ubud, p. +62 812 3838 9993, e. [email protected]. Open daily 12pm – 3pm & 5pm – 10pm.
Best New Bar:  El Nacional
From the same peeps who gave us 40Thieves, Mad Sparrow and Mad Ronin, El Nacional recently became the latest venue from Bali's food and party professionals. Less about late night debauchery and more about post-dinner tipples, El Nacional is a cosy cocktail bar with a Cuban flavour (cigars and Havana happy hours come as standard). Expect smooth Cuban jazz, Afro-chunes and the largest collection of rum bottles in Indonesia, with an ever-growing collection of 250 rums from all over the world.
El Nacional, Jl Petitenget No. 114, p. +62 878 6226 7657, e. sparrownacio[email protected]. Open Tues – Sun, 6pm – midnight (2am on weekends)
Best new lifestyle destination:  Manarai Beach House
As the only beach club, restaurant and wine shop combo on the island, Manarai Beach House became our go-to lifestyle destination in 2018. Perched on the pristine white sands of Nusa Dua, with island vibes aplenty and a laid-back, loungey soundtrack to match, Manarai Beach House was brought to us by Jakarta's unstoppable ISMAYA Group, and with it they brought us a panoramic palette of paradise in fifty shades of blue, with world-class cuisine, the finest wines, and a beachy hideaway with boundary-pushing designs.
Manarai Beach House, Jl Nusa Dua, Lot N5 BTDC, Nusa Dua. Open daily 9am – 1am.
Best new Mexican:  Two Fingers
This year, Cali-Mex munch finally arrived in Berawa thanks to Two Fingers – the hopping new Mexican that us at hola with their street-style tacos, girthy burritos and corn finger snack stacks, served up in a share-style menu with puddles of jalepeño infused tequila to wash it all down. It became the latest venture from the Nude, Kembali & Front Cafe team, so you know you'll be in good hands here. Yup, it's two thumbs up for Two Fingers.
Two Fingers, Jl Pantai Berawa, No.101A, Berawa, Canggu, e. [email protected]. Open daily 5pm – midnight.
Best new Vietnamese:  Leroy's
We could hardly believe how long it took for an epic Vietnamese restaurant to open on the island, but luckily in 2018, Leroy's in Canggu finally brought us exactly what we'd all been waiting for: a relaxed, homely eatery that dishes up all of our fave Vietnamese staples in a slightly more modern way. Think steaming Pho with fresh veggies, sticky bao buns with tofu, enormous Banh Mi and even Vietnamese tacos – all wrapped up with chill vibes, hip hop beats, intimate antique decor and daily cocktail deals.
Leroy's, Jl Tanah Barak No.43, Canggu, p. +62 812 3836 8100, e. [email protected]. Open Tues – Sun 5pm – 11pm.
Best new Italian:  Mauri
Opened right at the end of 2018, Mauri is the new Seminyak icon from award-winning Chef Maurizio Bombini, dishing up his very own contemporary Italian dining experience. Open for dinner only, top shelf local ingredients (mostly homegrown within Mauri's own rooftop hydroponic garden) are served in their purest form on an a la carte and seasonal tasting menu. Prop up at the 5-seat chef's counter for an intimate and private tasting, or meander up to the mezzanine bar and lounge where small bites and cocktails are served "Aperitivo Style".
Mauri, Jl Petitenget No 100, Seminyak, p. +62 817 776 177, e. reser[email protected]. Open Tues – Sun, 6.30pm – 10.30pm.
Best new Indonesian:  GIVE Cafe
Just when we thought the KYND Community crew couldn't get any more awesome, along came GIVE Cafe in Canggu. Doing things a little differently, GIVE dishes up wholly vegan Indonesian food Nasi Campur-style. We're talking meat-less chicken and pork, heaps of veggies and cruelty-free sauces and sambals. But that's not all. GIVE Café donates 100% of its profits to charity, meaning your "cheeken" satay could save a puppy's life, or your morning almond latte could provide education for children with disabilities. Whatever you choose, it's 100% vegan, 100% not for profit, and 1000% delicious.
GIVE Cafe, Jl Padang Linjong No.85, Canggu, p. +62 818 0566 4720. Open daily 11am – 8pm.
Best new Japanese:  Mad Sparrow
From the same team who bought us the killer Negronis at 40 Thieves and the best ramen we've ever tried at Mad Ronin, Mad Sparrow is Seminyak's modern contemporary Japanese diner serving up damn good Yakitori, sushi rolls done right, internationally-sourced craft beers on tap and bacon-wrapped everything. We're talking bacon wrapped asparagus and cherry tomatoes, skewered meat dripping in juice and chicken wings that use the flip & pinch technique. Yup, these mad hatters have done it again.
Mad Sparrow, Jl Petitenget No.114, Seminyak, p. +62 811 3882 980, e. [email protected]. Open Tues – Sun 5pm – 11pm.
Best new pizza place:  Pizza Fabbrica
As hot as its traditional wood fired ovens, this year Fabbrica heated up the pizza competition in Canggu with its thin and crispy, slightly charred creations, loaded with authentic ingredients that shine in all their Italian glory. Try the Capricciosa topped with lashings of tomato sauce, mushroom, ham, black olives, salami and artichokes, or get the best of everything with a Quattro Stagioni. Oh and don't miss the almost-molten Burrata -it's pure cheesy heaven.
Pizza Fabbrica, Jl Batu Mejan, p. +62 819 9933 0880, e. [email protected]. Open daily 10am – midnight.
Best new pool club:  Tropicola
Where the palm trees sway, the piña coladas flow and shellfish sizzles on an open fire, you'll find Tropicola –  Bali's utopian pool slash beach club invention that opened in summer 2018 thanks to the unstoppable squad that gave us Motel Mexicola in Bali and Bucket List in Bondi Beach. It sits on a whopping 7000 square-metre expanse of beachfront hedonism, with three bars across multiple levels, two giant pools, a wood-fired kitchen slinging some of the best beachy bites around, and of course, more cocktail-sipping, sun-soaking spots than you can shake a sarong at – all on Seminyak's seemingly endless stretch of golden sand.
Tropicola Beach Club, Jl Pantai Batu Belig No.5, Seminyak, e. [email protected].
Best new surf hangout:  Mana Uluwatu
Perched high up on the cliffs of Bali's Bukit peninsula, Mana Uluwatu stands tall on the stunning grounds of Uluwatu Surf Villas, and in 2018, it became the first restaurant for this iconic cluster of breathtaking abodes, all of which overlook the pumping waves and glittering horizon. In true surfer style, the food here is all about wholesome, nourishing bites from both land and sea – all dished up in a gorgeous open-air pavilion made of reclaimed teak and ironwood. The views, the food and the hella good vibes here are all best enjoyed with a Mana cocktail – try the Spiced Espresso Martini, and the Baja Shrimp Tacos.
Mana Uluwatu, Jl Pantai Suluban (inside Uluwatu Surf Villas), Uluwatu, p. +62 817 555 421 e. [email protected]. Open daily 7am – 10pm.
Best new neck-to-tail dining:  Api Jiwa
Tucked away in the lush jungles of central Bali, Api Jiwa is the Asian barbecue restaurant at Capella Ubud, the island's first and only luxury glamping retreat. It follows a neck-to-tail, farm-to-table cooking philosophy, using high grade cuts of Australian meat, seafood, fish and offal – all chargrilled on a live Robatayaki grill right in front of your eyes. And to really keep you on your toes, the 8-10 course menu is ever-changing according to seasonality, thanks to the nifty work of famed Aussie chef, Matt McCool.
Api Jiwa at Capella Ubud, Jl Raya Dalem, Banjar Triwangsa, Desa Keliki, Tegallalang, Ubud, p. +62 361 2091 888, e. [email protected]. Open for dinner only.
Best new fast-food joint:  Plant Cartel
This may come as quite a shock, but Bali's best new fast-food joint is 100% vegan. Yes you read that right. Proving that vegans really are taking over the world one beef-less burger at a time, Plant Cartel is all about fast food that's just as "meaty", just as naughty and just as satisfying as its carnivorous contenders. As such, the menu reads like a carby dream, from the Double Pleeseburger, Popcorn Chick'n and The PcMuffin, to the Mac & Pleese, vegan hotdog and loaded fries with a mountain of gooiness. Sorry Maccas, this is fast food of the future.
Plant Cartel, Jl Batu Bolong No.83A, Canggu, e. [email protected]. Open daily 8am – 10pm.
Best new cliff club:  OMNIA Dayclub
If soaking up the sunshine, sipping on sake and tucking into gourmet sushi atop Uluwatu's awesome cliffside sounds too good to be true, then raise your glass to the famous Hakkasan Group, because they made all of our dreams a reality with the opening of OMNIA Dayclub – Bali's ultra-hot spot to see and be seen. Think majestic and uninterrupted views of the Indian Ocean, stylish designs by Singapore's WOHA and NYC's Rockwell, culinary magic from Sake no Hana, swanky VIP areas for sunning and sipping, and a roster of international superstars for your dancing pleasure – all the while teetering on a 100 metre plateau…
OMNIA Dayclub, Jl Belimbing Sari, Banjar Tambiyak Desa, Uluwatu, p. +62 361 8482 150, e. [email protected]. Open daily 11am – 7pm.
Best new island escape:  Ohana's
In 2018, our weekend getaways luxed up a notch with the opening of Ohana's – the newest beachfront destination on Nusa Lembongan. A glittering pool teeters on the edge of crystal clear waters and bright white sand, while small bites, seafood and salads are served up under breezy umbrellas and daybeds. Come early for the daytime vibes, stay for the sunset sessions, and stick around until after dark for dinner beneath the stars.
Ohana's, Jungut Batu Beach, Gg. Nusa Indah, Nusa Lembongan, p. +62 811 3960 0787, e. [email protected]. Open daily 7am – 11.30pm.
Like this story? Here's four more we think you'll enjoy:
Ubud's 50 best restaurants for all budgets
It's brunch o'clock at Canggu's best cafes!
The Bukit List: Where to eat in Uluwatu
50 best restaurants in Canggu