From Latin American fusion to cool cafes and fine dining degustations, these are the very best restaurants that opened in Bali in 2021...
Pandemic aside, 2021 was a year of great things when it came to food in Bali. The island has always been hot on the heels of the world's culinary capitals, and 2021 proved that Bali's gourmet bunch aren't slowing down. From celebrity chefs to cool neighbourhood cafes and everything delicious in between, these are the best new restaurants in Bali that opened in 2021…
And psst- if you're still hungry for more, check out all of the best new restaurants to try in 2022, and all of our favourite meals we ate in 2020, 2019, and 2018 too… Happy munching, Honeys!
ALL THE BEST RESTAURANTS THAT OPENED IN BALI: 2021
Hot New Tables
1. Sa'Mesa – Canggu
One long table, and one helluva foodie experience. Sa'Mesa is Canggu's latest dining destination that's dripping in exclusivity; the kind of place that feels like you're eating within the chef's own home. You've got to book your seat well in advance if you want to secure your spot around the main communal table – it's here that you'll be served exceptional Italian-inspired plates like tuna crudo, chargrilled octopus and homemade king prawn fettuccine. And with the chef helming the open kitchen every night, no two dinner experiences are the same. Expect the unexpected, and don't leave without trying the Negroni…
2. Madame Gou – Berawa
If you've cruised around the Berawa block recently, you've no doubt spotted Madame Gou. You can't miss its sleek and stylish wood-panel frontage, or the blazing charcoal grill and steamy hot wok set inside the bustling dining space that's booked out almost every weekend. The big draw? The simmering Peranakan spices and hawker street-style spreads of BBQ duck pancakes, wok-tossed kway teow, Singapore swimmer crab and plump and steamy dumplings. Settle in for a long and leisurely nighttime feast with friends, and sip your way through the signature cocktails that add a pan-Asian twist to all-time classics.
3. Good Mantra – Berawa
Good Mantra is exactly what we've all been waiting for: a wholly plant-based restaurant with big and bright flavours, easy-breezy community vibes and an address that's just a stone's throw from Berawa's sand and surf. Oh yes, this brand new name is the ray of sunshine (and epic eats) that we've all needed. And boy is it a goodie. Legendary chef Dom Hammond is behind the pans, dishing up wholesome plant-based creations that use fresh ingredients from small local farms. Almost everything is then made in-house, from the nut-milks to the granolas and even the zingy relishes and sauces. And what a result. Try the vanilla buckwheat hotcakes (yup, all vegan!) or the avocado and herbed hummus on sourdough for brekkie. Then for lunch, tuck into big-energy salads and stuffed sandwiches with layers of seasonal baked veg and a good slather of plant-based mayo. This earth-to-plate ethos trickles over to the bar, too, where mixologist Anya Montague has designed cocktails and mocktails inspired by Bali's landscapes and seasons. We'll take two Good Mantra mojitos, please…
4. Times Warung – Canggu
Toes-in-the-sand vibes meet sublime food and cocktails at Times Beach Warung – Canggu's hottest new oceanfront perch by the same peeps who gave us The Lawn. By day, graze on yummy brekkie and brunch staples (avo on toast and Acai bowls, we're lookin' at you), and by night, swap and share the beach snacks and bites alongside a few rounds of cold beers and shaken or stirred signatures. Unsurprisingly so, golden hour is when the good times really ramp up at this shabby-chic seaside destination…
5. Touché – Pererenan
You'll feel like you're in Seminyak in this stylish cafe, just a few metres away from Pererenan beach. With the dreamiest island-chic interiors that match its urban-style menu, Touché is where you'll find Pererenan's finest sipping on coconut milk lattes over a plate of truffle gnocchi and a crisp tuna tataki salad. From breakfast through to lunch and even tapas too, the menu goes from fluffy soufflé pancakes, to creamy baked camembert, before finishing off with Mediterranean-inspired mains and desserts. Top tip: Touché doubles up as a prime perch to watch Pererenan life go by, topped off by their iced double espresso with cocoa and orange-infused milk.
6. Manina – Seminyak
If you love brunching at Sisterfields, feasting on burgers at Boss Man and sipping cocktails at Bikini, you'll want to check out Manina – the latest creation from 8 Degree Projects and the first speakeasy of its kind in Seminyak. To find Manina, you'll need to speak to the Cendana meatball hawker out front who'll offer a clue and reveal the red door entrance. Step inside from this inconspicuous frontage, and you'll find minimalist interior, dim lighting, an intriguing ambience and the Manina charm – AKA craft cocktails and all your favourite morsels from the Bikini menu. Sip on a Kintamani Coffee Negroni alongside a Mongolian Beef Taco, or the signature Gulf of Mexico with a babi guling croquette. All ingredients are sourced
directly from the root of Bali, and all cocktails are shaken and stirred by the one-and-only Arey Baker. Psst – this one's open from 4pm on Friday and Saturday evenings only.
7. Shelter – Pererenan
Seminyak's beloved breezy cafe has finally made it to Pererenan, and this time, it comes with nighttime vibes, rooftop views and a brand new menu to boot! Shelter's unique take on Middle Eastern and Mediterranean cuisines come with a contemporary twist, and we can't get enough of the roasted eggplant drizzled in coriander oil, served with labneh and pomegranate molasses. Start off with a flatbread slathered with fluffy whipped chickpeas and smoked paprika oil, then continue your culinary journey with a wood roasted salmon with paprika, raisins, pine nuts and green olives. Or how about the chermoula crusted chicken with herbs, spices, tahini and burnt lemon – best enjoyed with Shelter's signature Espresso Martini. Cheers!
8. Akar Restaurant & Bar – Ubud
We can't decide what we love most about Akar Restaurant & Bar. Is it the breathtaking domed interiors that tower taller than the indoor palms? Or the premium organic ingredients sourced straight from the farm that are reinvented into fine dining masterpieces? Whatever it is, we can't get enough. Graze through the menu of mainly vegetarian and pescetarian share plates, alongside a few select organic and grass-fed steak options four our meat eater friends. Think roasted local camembert, charcoal Balinese tuna and organic Australian flank steak. Top tip: save space for desserts like the chili chocolate lava and caramel creme brulee.
9. The Hula – Pererenan
This new curb-side community cafe in the heart of sleepy Pererenan had us at Hula Hula Scramble. Yep, The Hula is where you can linger over a long and lovely breakfast, sip on multiple cups of home-roasted coffee, and fill the break between brunch and lunch with breads and pastries from the cafe's own roaster and bakery. As for the menu, it's a fusion of fresh global food with plenty of vegan options too. Think American-style pancakes or a Brazilian acai bowl. Or a sweet potato masala alongside a super kale salad. And then there are the interiors. Graze on these all-day delights amid wabi-sabi influences; a mid-century modern sofa, local handcrafted bamboo furniture and antique dark teak table tops. Unsurprisingly so, The Hula is already a big hit with Bali's brunch crowds…
10. Rize Cafe – Canggu
A perfect fit for Canggu's healthy bunch, Rize Cafe creates dishes with classic Indian flavours and vegan, vegetarian and gluten-free options, all using the freshest local ingredients. For a healthy yet hearty brekkie, the vegan bowl is loaded with scrambled akuri tofu, masala beans, and a grilled veg and herb salad. The cafe is also just three minutes away from the beach, so if you're taking a midday break from surfing, drop by for a light lunch: try one of the house dosas, with dahl and homemade chutney. Cool down with a plant-based smoothie, and get back in time for the next wave!
11. The Boujee Egg – Canggu
Small in size but deliciously decadent by nature, The Boujee Egg ain't your usual Bali brunch spot. The menu at this new Canggu hotspot (curated by Chef Bowdy Tolhopf) is bringing boujee back to Bali's brunch scene. With a focus on fresh, locally sourced produce, The Boujee Egg has been winning fans fast with a 'brunch outside the box' mentality and a menu revolving around the mighty egg. Think Hollandaise Eggs with gin-cured salmon and miso creme fraiche, or smashed pork and Wagyu sausages with a fried egg and apple relish. Oh, and because this is an all-day brunch joint, there's also delish desserts (like the yuzu curd, vanilla ice cream and meringue cookie) and signature breakfast cocktails for an all-important daytime tipple. And psst – come 5pm, The Boujee Egg doubles up to become LucyLu… read more below!
12. Apsara – Ubud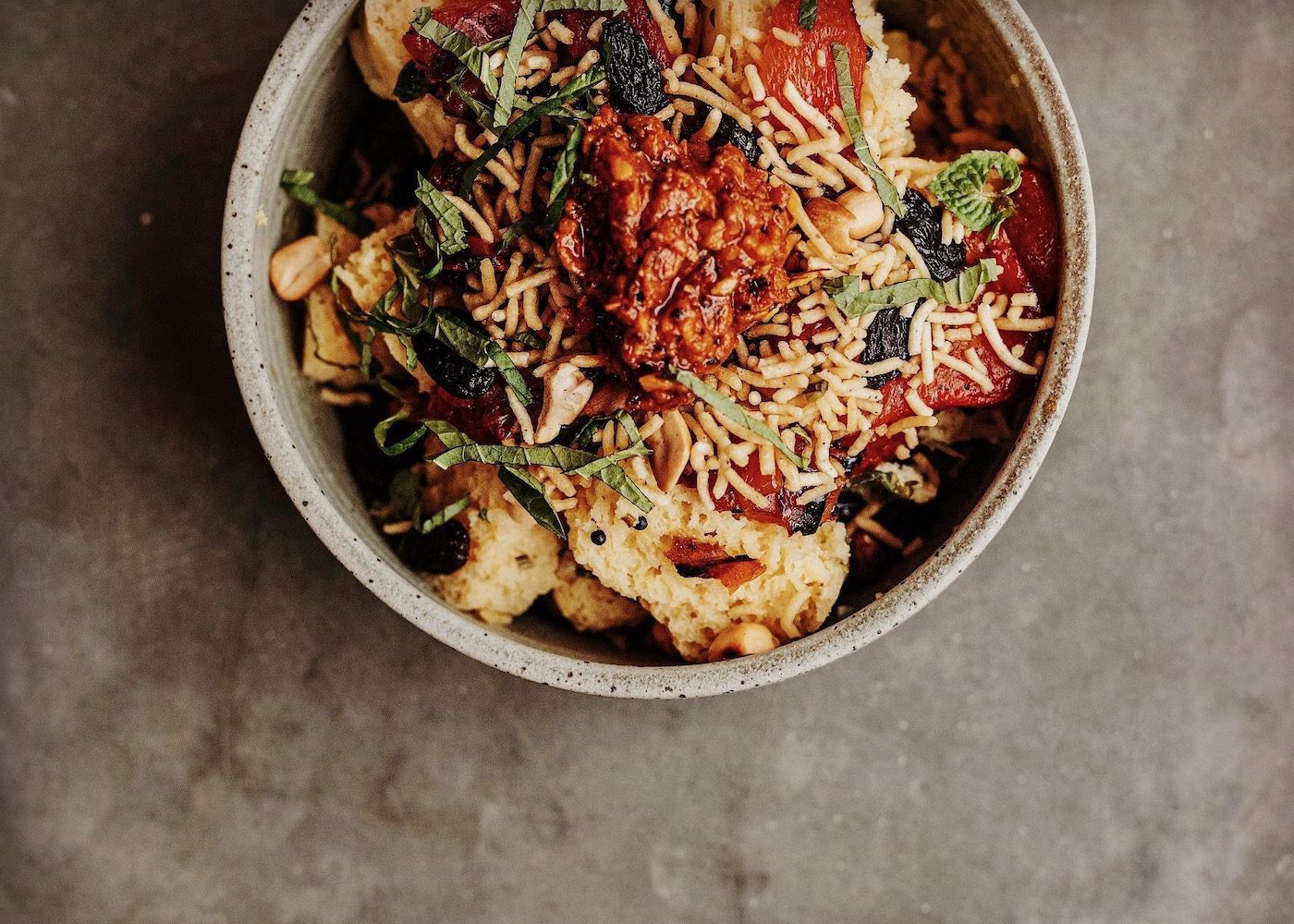 A contemporary take on Indian food, Apsara brings authentic flavours and a semi fine dining concept to Ubud, with an all-day thaali menu and tapas-style dinner too. Rooted in authenticity and reflecting how Indians eat at home on an everyday basis, by day you can choose from three different thaalis (a tray full of small dishes, sides and condiments) while by night, dinner is designed for sharing and experiencing different flavours and Indian staples. As for the drinks, you can't go wrong with a traditional lassi, or pair your Indian tapas with a glass (or three) of wine.
13. Little Ripper Cafe – Kedungu
Little Ripper Cafe had us at "sourdough doughnut". Oh yes, this brand new and homey cafe in Kedungu is home to the "Sourbomb", AKA Bali's very first sourdough doughnut. And this divine, doughy creation sits proudly alongside an impressive menu of brekkie and lunch dishes – all of which are as visually stunning as they are delicious. Not only that, but head upstairs and you'll find a snug little library that makes for the perfect afternoon nook, best enjoyed with their creamy burrata and a hot cuppa.
14. Zali – Pererenan
Described as 'a story of love', Zali came about thanks to a Lebanese grandmother's passion for cooking, and her love of gathering friends and family to share good food around a table. As such, the dishes at Zali showcase her very best recipes, all the way from Beirut. Healthy, natural and with plenty of vegetarian and vegan dishes, you'll want to order one of everything from the menu. Our faves? The falafel saj, the tabbouleh salad, and alllll of the mezzeh plates (hello hummus, baba ganoush and cauliflower moutabbal. And psst – the Zali chocolate cake is probably the best we've ever had!
15. Bai Yun – Nusa Dua
Craving Chinese? Hot-foot it to Bai Yun at The Apurva Kempinski Bali resort in Nusa Dua for a truly spectacular Chinese hot pot experience. Meaning "white cloud" in Chinese-Mandarin (referring to the steam that comes from a simmering hot pot), Bai Yun is all about recreating and refining this soup-style delicacy. There's the chicken herbal broth, pork ribs and vegetarian hot pot, all with a focus on fresh seasonal ingredients. Not into hot pots? Bai Yun is also a go-to for all-you-can-eat dim sum at the "Dim Sum and More" unlimited lunch that takes place every single day, featuring 31 different types of handcrafted dim sum (fried, steamed and sweet too!) alongside other homemade dishes. Yum!
16. Milano Restaurant and Bar – Berawa
For a truly metropolitan ambiance, head to new kid on the Berawa-block, Milano Restaurant and Bar. You'll be whisked away to a buzzy piazza in central Rome, complete with sleek lines and sophisticated decor. Make no mistake, Milano is all about the bar and the exceptional mixologist skills on hand, serving up Michelin quality cocktails that put the pizzazz back into happy hour. Choose from light bites, pizza, antipasti cold cuts, nibbles and delish pasta dishes. It's the perfect place to settle in for a delectable lunch or easy breezy evening – the cherry on the top being Ladies Night on Wednesdays with half-price cocktails.
17. Sando Sando – Seminyak & Denpasar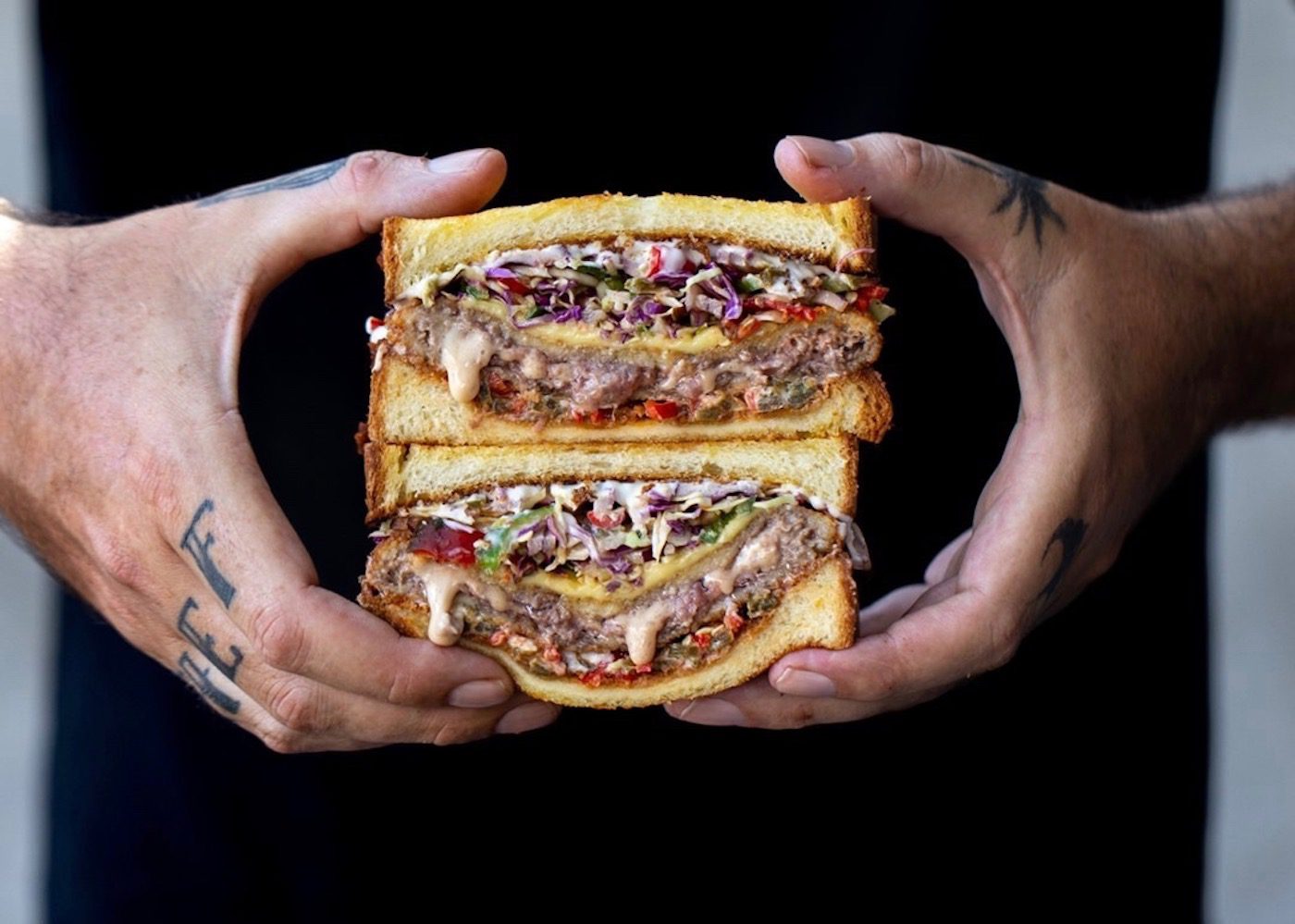 Three of our biggest loves? Chunky sandwiches, crunchy katsu and great beer. So what did Sando Sando go and do? They brought these three beauties together. The result is a menu of enormous Japanese-inspired sando's, stuffed full of ooey-gooey deliciousness like katsu mozzarella, spicy chicken and succulent pork covered in slaw and panko breadcrumbs. Pair a Sando Sando creation with a local Kura Kura beer and you've got yourself a winner.
18. LucyLu – Canggu
From the Big Apple to Batu Bolong, Chef Bowdy Tolhopf has delivered a double whammy when it comes hot new restaurants in Bali. Come 5pm each evening, The Boujee Egg (above) doubles up as a brand new pizza place named LucyLu. This happening new joint serves up slices of Sicilian pizza by the square alongside sides that will get you talking. Our faves? A slice of Wagyu beef pizza with mustard-hoisin BBQ sauce alongside cajun-Asian hot wings and crispy pork belly with sticky soy. Or for our veggie friends, a slice of artichoke and turmeric-cauliflower pizza with a side of organic burrata and heirloom tomatoes. And of course, it wouldn't be a proper pizza place without some serious cocktails to match, so we also recommend sipping your way through LucyLu's drinks list too. We'll take two Tangerine Mimosa's and a Campari Spritz, please!
19. Tanau – Berawa
An Indonesian fusion restaurant with a difference, Tanau is helmed and run by a husband-wife duo with serious credentials: he worked for Gordan Ramsey in the UK, and she worked at Mozaic in Ubud and NOBU in Malaysia. The result? Fine western techniques coupled with explosive Asian flavours, topped off by local spices and ingredients to recreate Indonesian specialties with a twist. Think glazed ribeye in a rendang oil with grilled okra and chilli. Or blood clams in a Padang-style sauce with a thick slice of fresh sourdough. And our fave? Some homemade sambal on the side for that all-important kick.
20. Restaurant Naga – Canggu
Modern Vietnamese meets Japanese deliciousness at Restaurant Naga – a brand new concept by Chef Amy Baard. Here you can feast on Vietnamese favourites given the gourmet touch, alongside sushi and sashimi from The Black Box Provisions. Trust us when we say you'll want to try the Banh Mi with house made pork rillete, nuoc mam aioli, pickles, fresh herbs, cream cheese and bean sprouts. Or the pan-seared Tasmanian salmon, nestled in nori & sake cream and sided by ginger sautéed greens, charred pok choy and finished with nori dust. The presentation of each dish, the flavour combinations and even the interior design of the restaurant is all top-notch, temporarily whisking us away from laid-back Bali to the world-class kitchens of Vietnam and Japan. Bravo, Restaurant Naga!
21. 101 Ramen Yakitori Bar – Berawa
Handmade noodles, just-steamed dumplings and stacks of freshly grilled yakitori sticks with a sticky charred skin: 101 Ramen Yakitori Bar has officially brought the best of Japan to Berawa. Served up in an industrial space with a long bar, open kitchen and communal tables, here you can graze on 12-hour pork broth ramen, sichuan-spiced dumplings and beef yakiniku yakitori – topped off with a potent cocktail list. You'll want to invite your veggie friends here too, because 101 has also whipped up a vegan coconut ramen with a chilli-lemongrass broth, plus plant-based dumplings and even chashu tempeh yakitori. Oishi!
22. Manusa Cafe – Berawa
If you're looking for somewhere fresh and exciting to park up for the day, then bee-line to Manusa Cafe in Berawa. You'll be impressed by the tropical decor and abundance of shaded seating areas; it even has its own family-friendly pool if you need cooling down in between Wi-Fi stints. Serving up a whole lotta wholesomeness for breakfast, lunch and dinner, spend the day grazing on Eggs Bennies, classic Caesar salads, followed by a dinner of salmon linguine. There are also small bites and tapas, like mini burgers or garlic squid a la plancha to share with your fave glass of vino. Not forgetting the local fare that's dished up with an abundance of herby flare, like grilled tuna steak flavoured to the hilt with lime, Himalayan sea salt and jasmine coconut rice. Bonus points for the ultra-friendly, smiling staff.
23. Melali – Ubud
Serving up wholesome Mediterranean-inspired plates in a stylish street-side setting, Melali is Ubud's newest neighbourhood eatery that's perfect for a post-yoga brunch or laptop lunch. Cosy, modern Moroccan interiors set the scene here, brought to life by a menu of healthy eats and easy-breezy laidback vibes. After all, Melali is a Balinese word that roughly translates to mean "to spontaneously take time out to chill, grab a bite to eat, and maybe a coffee". An all-day breakfast menu helps with exactly that, featuring, poached eggs, potato rostis and all the Hollandaise sauce. Or even the falafel bowl, the fresh juices, and of course, the local Arabica beans. Come nightfall, Melali transforms into a hub of craft cocktails and house-infused gins, alongside those Mediterranean-inspired plates and a homely atmo that means you'll never want to leave.
24. Rocinha by La Favela – Seminyak
Think that La Favela is only wild parties and late-night DJ sessions? Think again. La Favela is now home to Rocinha – an epic new restaurant concept that brings Spanish fusion flavours to this Seminyak icon. The menu has been curated by the one-and-only Jethro Vincent (the man behind the Sisterfields menu) so you know you're getting a feast par excellence here. Try the tacos and tostados (the baja battered fish tacos were our fave) then graze your way through the meats, seafood, breads and sides – best enjoyed with La Favela's famous cocktail list. And psst – those hopping nightlife vibes are still ever-present, with a DJ on the decks from daytime til late, topped off with taco deals and multiple happy hours from 3pm.
25. Ocaso – Padang Padang
Perched above pumping waves and a pristine coastline, Ocaso is the brand new rooftop bar and restaurant that teeters above Padang Padang beach. Brought to us by the Braga Group, Ocaso dishes up Latin-inspired specialties in a modern and minimalist setting – all with breathtaking views from the third floor. You'll want to try the big and bold double-Wagyu burger, the signature and smokey barbecue pork ribs, and our fave, the Colombian-style chicken wings. Vegetarians, you're not forgotten either. Plant-based signatures include the vegan portobello mushroom burger, the tempe and roast veggie satay, and the patatas a tierra with guac and aji picante. And to top it all off? A top-notch drinks list laced with signature and classic cocktails mixed by the in-house mixologist. Come early – Ocaso is where it's at for a spectacular sunset too…
26. Cafe Coach – Canggu
Calling all health professionals! Cafe Coach is where coffee, coaching and co-working with like-minded peers come together – not to mention plushy green interiors and an extensive menu of eggs, smoothie bowls, wholemeal pancakes and the staple avo on sourdough toast for brekkie, sprinkled with dukkah, vegan feta, basil and oil. Head in after midday for a pit stop of healthy supernatural salads, the organic pulled pork burger, or the Green Goddess, lovingly packed with kale, quinoa, greens, beans and almonds. Mains are served all day too, along with great coffee, calming teas, smoothies, juices and healthy shots for those that need the extra boost.
27. Brunch Club – Berawa
The Brunch Club has finally swung open doors in Berawa, backing onto the ever-enticing Bali Equestrian Centre. Anyone who's ever tried the infamous wobbly gooey souffle pancake stack at Brunch Club Legian will testify to its addictive qualities! One bite is never enough, but throw into the mix great coffee, juices, salads, all-day fry-ups, and all the western faves, and you have a firm all-day brunch favourite. Mimosas and rice paddy views included!
28. Dapur Raja – Ubud
Meaning "King's kitchen" in Indonesian, Dapur Raja in Ubud lets you feast like royalty on authentic Balinese cuisine in a truly regal setting. The restaurant is traditionally decorated and serves up the full Indonesian experience of "rijsttafel" – an elaborate, multi-course meal that features local delicacies and age-old recipes. You'll get to try signature Balinese dishes like Nasi Kuning Bira, Urab, sweet tempeh and tofu, as well as Bali's culinary centrepieces: babi guling (suckling pig) and bebek betutu (spice-roasted duck). There is also a vegetarian rijsttafel option, as well as a la carte signatures too. If you're after the true taste of Balinese and Indonesian cuisine, this is it.
29. Mad Ronin – Canggu
It feels like only yesterday that we first slurped on the epic tonkotsu ramen at Mad Ronin in Seminyak. And now, after multiple years and countless bowls of steamy Japanese deliciousness, the Mad Ronin masterminds have opened a new location on Canggu's buzzing Batu Bolong. You'll find all of your fave Mad Ronin ramen signatures here, plus a new addition of shirataki noodles, vegan and veggie ramen and gyoza, free ocha, plus complimentary karaage chicken with every ramen order – not to mention happy hours on cocktails and discounts for kids. To find this new ramen hotspot, look for the mural out front, painted by the one-and-only Eka Mardiys.
30. ARTE – Canggu
A relaxed beachside space in the peaceful village of Pererenan, ARTE (pictured top) is dishing up the hearty flavours of a wood-fired oven and homemade Italian cuisine – all in a welcoming, artsy ambiance. You see, this brand new Bali restaurant aims to reflect the island's creative energy and community spirit, by bringing a warm atmosphere, open-air design, collaborative library, and deliciously comforting food all under one roof. We're talking big seafood salads, loaded Napoli-style pizzas and hearty pastas that feel like home. And though the wholesome mains from the wood-fired oven are the standouts, you'll want to come early to try the all-day brunch spreads and freshly roasted coffee.
31. Coffee Cartel – Berawa
Because the island just couldn't get enough of Coffee Cartel, these bean buffs have recently opened a brand new location in Berawa, making it the third address for this boutique cafe and coffee spot. Joining its sister locations in Seminyak and Legian, this new Berawa address is bringing all those signature Coffee Cartel pink hues, cute potted cacti and subtle Mexican aesthetics, as well as your fave menu staples. Think colourful poke bowls, big burgers, and those vegan smak hotcakes that come with candy floss, mixed berries and pink strawberry coco over custard. Yum!
32. Jipsi fish – Canggu
Jipsi Fish is Canggu's newest fish'n'chippy is making a splash at Canggu Square. Choose from freshly caught fish of the day, beer battered, crumbed or grilled in garlic and herb butter (yum) with a selection of sides, including mushy peas! For those feeling extra-specially hangry, grab a side-kick and dig into the whopping Jipsi Basket to share, loaded with calamari, prawns, fish, potato scallops, chips and sauces. Yes please!
33. Oo Beach Club – Seminyak
Not only a vibrant sunshine destination in the heart of Seminyak, Oo Beach Club is also where you can graze all day on seaside-inspired fare, poolside. Tuna ceviche, seafood paella, lobster ravioli and crunchy salads – all of your fave beach club staples dished up alongside signature cocktails and those breathtaking Seminyak sunsets.
34. Pastelaria – Canggu
Sit back against whitewashed walls and sip on a coffee and freshly baked pastry while you watch the world go by at Canggu's latest Portuguese cafe, Pastelaria. Open for brekkie, lunch, and an early dinner, graze on locally sourced oven-baked sandwiches, pastries, salad bowls, and of course, the signature Portuguese egg tarts that keep the regulars returning. We'll take two!
Looking for more of the best new restaurants in Bali? Check out our Hot New Tables roundups for 2022, 2020, 2019 and 2018 too!