Photography: Tamal Mukhopadhyay via Unsplash
From Chinatown to Kampong Glam, check out our list of the most beautiful mosques in Singapore.
One of the beautiful things about Singapore is our multicultural society. Our cosmopolitan state is rife with diversity and cultures that have influenced our food, created incredible local talents, and shaped our city as a whole! So far, we've covered where you can go to admire the panoramic pagodas of Chinese temples and bask in the stained-glass windows of churches in Singapore. In this piece, we're giving you the scoop on where to see beautiful domes, majestic mosque structures and places to learn more about Islam here on our sunny tropical island. Here are the most iconic mosques in Singapore.
Iconic mosques in Singapore
1. Sultan Mosque
A prominent landmark in Kampong Glam, Sultan Mosque is one of the most popular mosques in the city. It was built for Sultan Hussain Shah, the first sultan of Singapore, in 1824. Sultan Mosque has a majestic golden-domed structure and the interior is made entirely out of glass bottles – how fascinating is that! Today, the mosque is a national monument that welcomes thousands of devotees and curious tourists on tour.
Sultan Mosque, 3 Muscat Street, Singapore 198833
2. Masjid Darul Ghufran
Completed and opened in 1990, Masjid Darul Ghufran is currently the largest mosque in Singapore with a towering minaret (affectionately referred to as menara biru by the Muslim residents in Tampines). Follow their social media pages for the latest updates on events happening at the mosque, and tune into their YouTube page for live streams of prayers.
Masjid Darul Ghufran, ​​503 Tampines Avenue 5, Singapore 529651
3. Masjid Omar Kampong Melaka
Visit the oldest mosque in Singapore: Masjid Omar Kampong Melaka. Built in 1820, Masjid Omar Kampong Melaka was constructed a year after the British set up a trading post on the island. While most mosques typically have a minaret (a tall tower in which a muezzin calls Muslims to prayer), this mosque was built without one. The mosque only got its minaret after over 150 years.
Masjid Omar Kampong Melaka, 10 Keng Cheow Street, Singapore 059607
4. Masjid Al-Ansar
Masjid Al-Ansar was one of the first mosques in Singapore to be built under phase one of the Mosque Building Fund Programme. It was completed in 1981 and serves as a place of worship for the Muslim community in Bedok for over three decades. The metal structures within the mosque feature intricate Islamic geometric patterns. The mosque also has many ramps making it wheelchair accessible.
Masjid Al-Ansar, 155 Bedok North Avenue 1, Singapore 469751
5. Hajjah Fatimah Mosque
With its Islamic and European architectural features, Hajjah Fatimah Mosque is definitely a must-see when in Singapore. Designed by colonial architect John Turnbull Thomson and established in 1846, the mosque's architecture features a unique blend of cross-cultural influences –traditional Malay-Muslim woodcarvings in its interior, Chinese glazed porcelain tiles, and a minaret that looks like a church spire! Trivia: Hajjah Fatimah mosque was named after a generous donor to the building.
Hajjah Fatimah Mosque, 4001 Beach Road, Singapore 199584
6. Masjid Maarof
This mosque is easy to spot with its distinctive dome. It pays homage to the original Masjid Maarof that was torn down to make way for development in 1960. The building showcases delicate mesh patterns on the outside, and skylights flood the space with natural light.
Masjid Maarof, 20 Jurong West Street 26, Singapore 648125
7. Jamae Mosque (Masjid Chulia)
Built in 1826, Jamae Mosque was one of the earliest mosques in Singapore. And what's even more intriguing is the mosque's location in a predominantly Chinese vicinity. The area was also commonly frequented by the Tamil Muslim community in Singapore. Jamae Mosque also has an eclectic architectural design – the entrance of the mosque has a distinctively South Indian facade, while its interior adopts a neo-classical style by George Drumgoole Coleman.
Jamae Mosque (Masjid Chulia), 218, South Bridge Road, Singapore 058767
8. Al-Abrar Mosque
Al-Abrar is a tiny mosque located on Telok Ayer Street, and while it was originally built as a thatched hut in 1827, today, Al-Abrar Mosque is a gazetted national monument tucked between shophouses. This building also has elements of South Indian architecture, putting a little spin on a local building.
Al-Abrar Mosque, 192 Telok Ayer Street, Singapore 068635
9. Al-Istighfar Mosque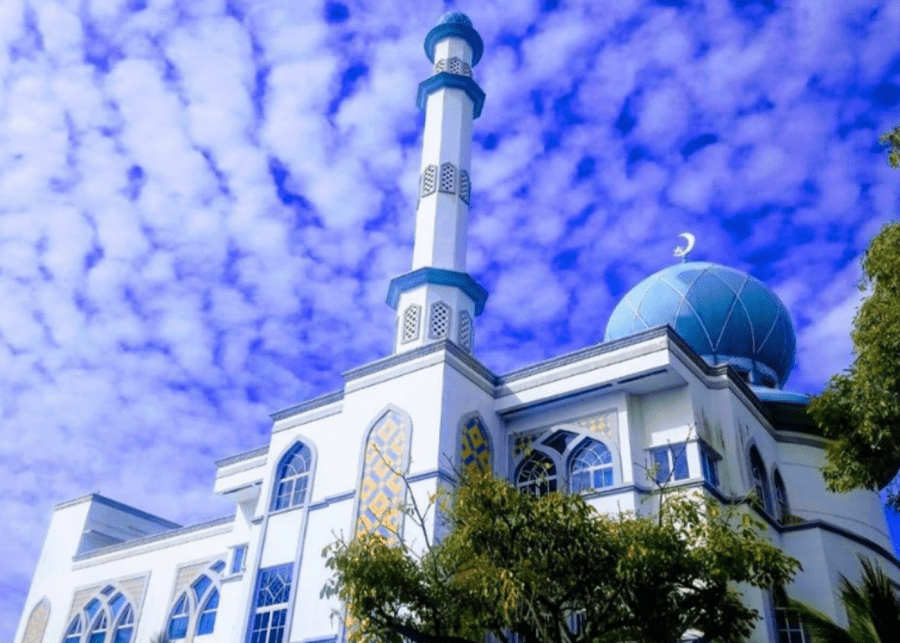 Built in 1999, Al-Istighfar is an iconic mosque in Singapore due to its modern Islamic architecture, opting for a clean, minimalist structure. And yet another striking feature of Al-Istighfar Mosque is of course its eye-catching, incredible blue dome.
Al-Istighfar Mosque, No. 2 Pasir Ris Walk, Singapore 518239
10. Assyafaah Mosque
The winner of The Chicago Athenaeum International Architecture Award, the Assyafaah Mosque breaks tradition with its futuristic design and new-age architectural elements. On its exterior are aluminium facade panels for solar shading to keep the mosque and its worshippers cool. Adorned with eye-catching Arabesque screens, the panels allow for plenty of air ventilation and delicate shadowplay. As a result, this gives the mosque an industrial feel that blends in with the neighbourhood's surroundings.
Assyafaah Mosque, 1 Admiralty Lane, Singapore 757620
11. An-Nahdhah Mosque
Nestled within Bishan is An-Nahdhah Mosque. It's regarded as a new generation mosque thanks to its modern architectural structure. The mosque also houses the MUIS's Harmony Centre, a welcoming platform where non-Muslims can learn more about the Muslim Community and Islam practices.
An-Nahdhah Mosque, 9A Bishan Street 14, Singapore 579786
And there you have it, the most breathtaking mosques in Singapore.