Photography: Church of Saint Alphonsus via Facebook
Visit stunning churches in Singapore for beautiful architecture and a slice of history.
Singapore is a melting pot of religions: we have several religious temples, monuments and landmarks to stop by for a dose of history and culture. Did you know almost 19% of Singaporeans follow the Christian and Catholic faith? This means we've got a good number of churches scattered across the island – including plenty of historically significant places of worship sporting gorgeous architecture. Christian or not, you're always welcome to visit these famous churches in Singapore.
Where to find iconic churches in Singapore
1. Church of Saint Alphonsus
Located right next to Novena MRT station, the Church of Saint Alphonsus is one of the city's most beautiful churches. The original building was established in 1935 to serve the poor and the abandoned. In fact, the 'hood of Novena derived its name from the church itself. It was well known for holding Saturday novenas back in 1949 – devotions that were carried out over nine days or weeks. The new worship hall was completed in 2017 and stands next to the original, featuring impressive Gothic-style architecture and interiors.
Church of Saint Alphonsus, 300 Thomson Road, Singapore 307653
2. Cathedral of the Good Shepherd
It's hard to miss this national monument if you're in town. Built in 1847, it's one of the oldest Catholic churches in Singapore and sits a walk away from Bras Basah, Bencoolen and City Hall MRT stations. Plus, it's near some of Singapore's best museums! If you're familiar with the beautiful architecture of churches and cathedrals around the globe, you'll notice it resembles London's St. Paul's Church and St. Martin-in-the-Fields.
Cathedral of the Good Shepherd, A Queen Street, Singapore 188533
3. Armenian Church Singapore
This is actually Singapore's very first Christian church. Built in 1835, it's considered a masterpiece designed by Irish architect George D. Coleman. You might notice its vaulted ceiling, cupola, tall spire and Doric columns – all features based on traditional Armenian Church architecture. Its Memorial Garden even contains tombstones of famous Armenians. This includes Agnes Joaquim, founder of Singapore's National Flower.
Armenian Church Singapore, 60 Hill Street, Singapore 179366
4. Blessed Sacrament Church
Possessing one of the most contemporary designs in church architecture, this Catholic sanctuary is often dubbed the "origami church" by visitors and parishioners alike. Its blue "folded" roof symbolises the "tent of meeting" in the Old Testament, and its interior symmetrical slits illuminate the church with rays of natural light.
Blessed Sacrament Church, 1 Commonwealth Drive, Singapore 149603
5. St. George's Church
A pristine artefact that remains intact in the heart of Dempsey, this Anglican church caters to those who wish to engage in Sunday mass (perhaps before brunch at a nearby cafe). Despite its leisurely surroundings, history buffs will be familiar with how this rustic establishment once withstood the tides of history. It endured the torment of WWII as a Japanese ammunition dump, yet continues to stand protected (perhaps by a higher power).
St. George's Church, 44 Minden Road, Singapore 248816
6. Church of St. Bernadette
St. Bernadette was a revered figure who drew pilgrims with her unbreakable devotion to God. A 14-year-old in 1858 France, she blessed and healed faith-seeking folks with a stream of holy water she'd dug with her own two hands. Today, this Catholic church in Singapore continues to honour her name. It features France-imported bells inscribed with the name of St. Bernadette and her parents – reinforcing the values of family.
Church of St. Bernadette, 12 Zion Road, Singapore 247731
7. Church of the Holy Trinity
Unlike most churches in Singapore that plaster their main prayer halls with a crucified portrayal of Jesus Christ, Holy Trinity conveys a more positive and powerful message. It contains a statue of the Risen Christ, exalting the return of the Messiah from the dead – a pivotal act that Christians deem a miracle. Holy Trinity is an apt locale to celebrate the birth of this saviour.
Church of the Holy Trinity, 20 Tampines Street 11, Singapore 529455
8. Church of St. Teresa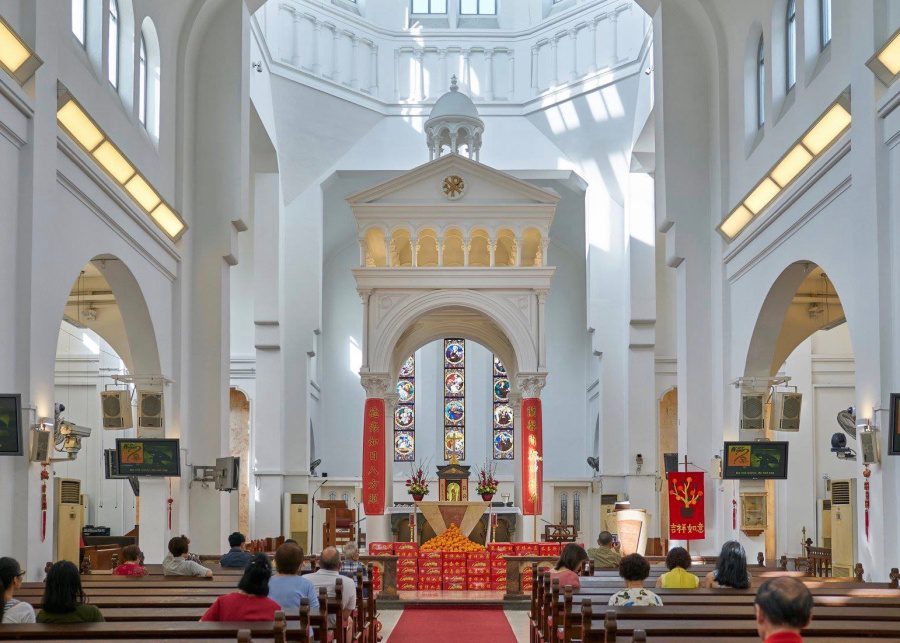 Named after a devout French nun who was referred to in the 19th century as The Little Flower of Jesus, this Catholic sanctum will put anyone at peace. Its archaic architecture is inspired by dome-roofed Basilicas of the Vatican City and features stained-glass windows that peer over grand aisles. It's also a favourite amongst couples for weddings!
Church of St. Teresa, 510 Kampong Bahru Road, Singapore 099446
9. St. Andrew's Cathedral
Not many churches in Singapore can regard themselves as a gazetted national monument. Now an immortalised fixture of City Hall, this Anglican architectural icon is also the largest cathedral in Singapore. With its heavenly-white walls, Neo-Gothic steeples and arched pathways, the landmark never fails to impress.
St. Andrew's Cathedral, 11 St. Andrew's Road, Singapore 178959
10. St. Joseph's Church
St. Joseph's Church is another sacrosanct gem that resides on the rat-racing commercialism of Victoria Street. Its origins go back to the Portuguese crusaders of the early 1900s who helped build it in 1912. Until this day, this Catholic relic is still a sight to behold with its Gothic ambience and awe-inspiring octagonal towers.
St. Joseph's Church, 143 Victoria Street, Singapore 188020
11. Prinsep Street Presbyterian Church
Compared to Catholic and Anglican denominations, the quantity of Presbyterian churches on this island is much fewer. So when it falls upon the oldest Presbyterian church in Singapore to uphold its traditions, PSPC is spiritually committed. Its warm, brick-red exterior also presents a sight for sore eyes amidst the cold commotion of the city.
Prinsep Street Presbyterian Church, 77 Prinsep Street, Singapore 188649
12. Church of Our Lady of Perpetual Succour
For over 50 years, OLPS has been a haven for Catholic worshippers residing in Katong and Siglap, with a seating capacity of close to 2,000. Honouring the Virgin Mary, mother of Jesus Christ, OLPS depicts this figure of prayer with a vast stained-glass window that overlooks a wooden crucifix mounted on ebony marble walls.
Church of Our Lady of Perpetual Succour, 31 Siglap Hill, Singapore 456085
13. Wesley Methodist Church
The oldest amongst Methodist churches in Singapore – also the second to be built in 1907 – WMC guides the Methodist congregations from all walks of life. From its Filipino Fellowship to its Mandarin Ministry, to groups catered to children, seniors and women, it's regarded as home to hundreds who gather beneath its Gothic-Revivalist interior and maroon-bricked embellishments.
Wesley Methodist Church, 5 Fort Canning Road, Singapore 179493
Immerse yourself in history, religion and fascinating architecture at these beautiful churches in Singapore.