Here are our top reads for a slice of Singapore.
We're spotlighting new local titles and our favourite Singlit reads for National Day.
With National Day just around the corner, we think it's only apt that we show some love to the local literature scene. Every year, the SingLit collection inevitably grows and we've put together a mix of new and iconic titles everyone should add to their reading list.
Honeycombers Book Club: Bestseller books for National Day
Secret Singapore by Heidi Sarna and Jerome Lim
Think you know the city inside out? Well, think again. Just like the title suggests, the pages of Secret Singapore will implore you to explore every nook and cranny – 160 places, to be exact. Forget about the tourist traps and go off the beaten path. Find a Shinto shrine deep in the forest, visit the last surviving kampung or spot Singapore's oldest railway relic at Neil Road.
Nimita's Place by Akshita Nanda
Split into two narratives, Nimita's Place tells the story of two women from the same family but in a different time. Nimita Khosla's story takes place in the 1940s and is set against the backdrop of India's partition. On the other side, you'll meet Nimita Sachdev (Nimita Khosla's grandkid) in 2010s Singapore, hoping to put down roots. As the chapters alternate between the two timelines, you'll notice similar problems these women face despite their generational differences.
Ministry of Moral Panic by Amanda Lee Koe
Ministry of Moral Panic is a standout for Singapore literature, having garnered numerous accolades including the Singapore Literature Prize in 2014 and Singapore Book Awards 2016 for Best Fiction. Amanda Lee Koe's debut collection of short stories is at its core about the Singaporean way of life. Using perspectives from different characters and her bold voice, she takes on taboo subjects such as xenophobia and rape. She also shines a light on marginalised groups in Singapore like domestic workers and the LGBTQ+ community.
Shantih Shantih Shantih by Daryl Qilin Yam
If Daryl Qilin Yam's debut novel Kappa Quartet is anything to go by, we can't wait to fall in love with his upcoming title. Set to release in late October, Shantih Shantih Shantih tells the story of 12 individuals who observe – wait for it – snowfall in Singapore, which lasts for exactly four minutes and twenty-six seconds. That's all we got for now, but we're sure Daryl will hook us with his poetic way of writing.
Love Is An Empty Barstool by Pooja Nansi
Pooja Nansi needs no introduction. But for those new to the Singlit scene, she's the very first Youth Poet Ambassador Singapore has ever seen. She's also the festival director for the annual Singapore Writers Festival. In Love Is An Empty Barstool, Pooja beautifully weaves words together on heartbreak, loss and relationships. There's even a recommendation for you to read it with a glass of single malt whiskey.
Sugarbread by Balli Kaur Jaswal
The same author who gave us Erotic Stories for Punjabi Widows and Inheritance presents us with a heartwarming tale told through the lens of 10-year-old Pin. Set in the 90s, Sugarbread gives a glimpse of the Sikh diaspora in Singapore and deals poignantly with issues of racism, classicism and sexism.
The Naysayer's Book Club: 26 Singaporeans You Need to Know by Simon Vincent
As the saying goes, "All that glitters is not gold." From social issues to the legal system and everything pertaining to the civil society of Singapore, this book interviews 26 Singaporeans who have challenged the status quo. That includes June Chua, Sonny Liew, M Ravi and Kirsten Han. A must-read for anyone who's interested in Singapore's future as a progressive nation.
---
Honeycombers Book Club: Bestseller books for Pride Month
The Sky Blues by Robbie Couch
If you enjoy queer YA novels like 'What If It's Us?', you'll love this debut novel by Robbie Couch. Meet Sky Baker, a queer teenager living in a close-minded town. But that doesn't stop him from going all out to ask his crush to be his prom date. Well, not until his big plans are exposed with a slew of hate comments. While it covers relevant themes like homophobia and bullying, the book is a heart-warming read.
She Drives Me Crazy by Kelly Quindlen
What do you do when you lose a basketball match to your ex? You end up fake-dating your worst enemy, right? Well, at least that's what Scottie Zajac does. She bribes Irene to play along in her scheme. The best part? The book will bring you back to the 90s rom-com renaissance.
Here for It: Or, How to Save Your Soul in America by R. Eric Thomas
In this poignant memoir, R. Eric Thomas takes you on a journey through his experience as a gay Chrisitan black man in America. The essays revolve around self-acceptance, family and gay pride. The themes may seem heavy, but it's written so candidly that you'll end up letting out a chuckle.
The Stonewall Reader edited by The New York Public Library
Pride Month is dedicated to showcasing LGBTQ+ visibility, but did you know it also commemorates the Stonewall riots in June 1969? The riot catalysed the gay rights movement in America, and this book commemorates the significant event in queer history. The pages are filled with a collection of first accounts, diaries, literature and articles revolving around the riot. A must-read for anyone who is new to queer lit.
Real Life by Brandon Taylor
This may be Brandon Taylor's debut novel but it has already received praises from the likes of Roxane Gay (a New York Times bestselling author). Real Life tells the story of Wallace, a gay black man who's at odds with his past while trying to live a new life in college. The book manages to express the nuances of racial prejudice and trauma in beautiful prose. And as for the title, let's just say the author draws his own experiences to breathe life into the protagonist.
If I Was Your Girl by Meredith Russo
Here comes a heartwarming love story that will give you warm fuzzies. High school student Amanda Hardy never lets anyone in too close until she meets Grant. As she falls for him, she finds her walls coming down and wants to share every aspect of her life. But she's wary her trans identity may change the way Grant sees her. Set in the YA universe, trans author Meredith Russo presents themes like gender identity and self-acceptance brilliantly.
Over The Top: A Raw Journey to Self-Love by Jonathan Van Ness
The road to self-acceptance can be a winding one – be it queer or straight. Take a cue from Jonathan Van Ness of Queer Eye fame. From sexual abuse and drug use to depression and living with HIV, he shares his personal journey in this raw and witty bestseller memoir. Just be prepared to LOL and cry at some parts.
---
Honeycombers Book Club: Bestseller books on travel
The Salt Path by Raynor Winn
This poignant bestseller book tells the story of how Raynor and her terminally ill husband lost everything after a sour legal battle. With their home and livelihood snatched away, the middle-aged couple take shelter by venturing out to the rugged South West Coast Path. Follow them as they travel the 360-mile stretch through Somerset, Dorset, Devon and Cornwall with nothing but a tent and sleeping bags. After you're done, you'll be adding this nature trail to your bucket list.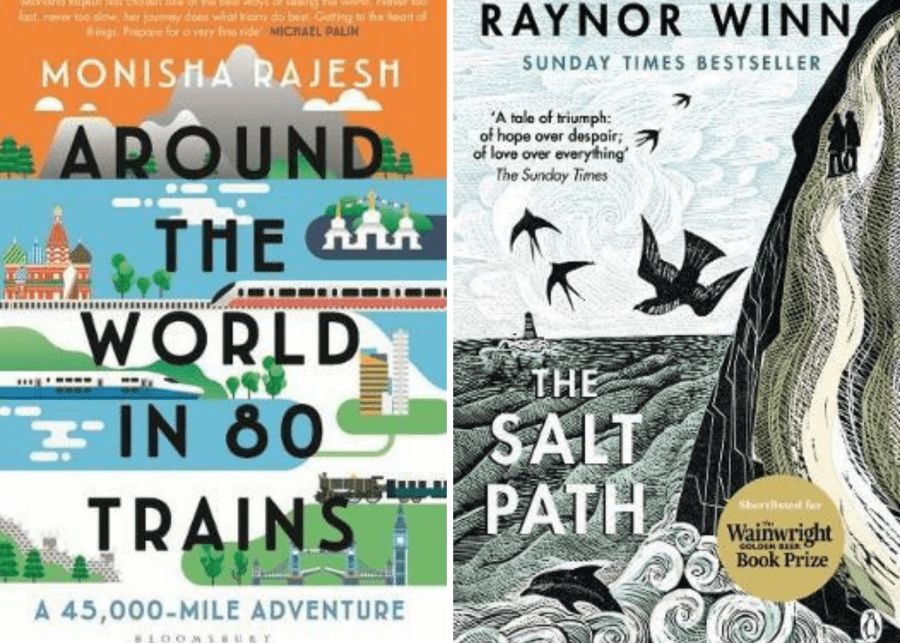 Around the World in 80 Trains: A 45,000-Mile Adventure by Monisha Rajesh
We all can take a cue from Monisha Rajesh. Determined to explore the world by rail, she maps out a route that essentially covers 45,000 miles (almost twice the circumference of our planet!). From London and Canada to North Korea and Tibet, the book will take you on a whirlwind journey replete with adventures, beautiful friendships and gorgeous locales.
I See London, I See France by Sarah Mlynowski
Set against the backdrop of Europe, Sydney and her best friend Leela embark on the perfect summer holiday. What's the plot twist? Sydney bumps into Leela's cheating ex, has a crush on said ex's hot friend, and worries about her mum's mental health back. All this is beautifully wrapped with vivid descriptions of Amsterdam, Switzerland, Italy and France.
The Hound From Hanoi by Moire O'Sullivan
A book about travel and a dog? We're sold! The dog in question is an adorable puppy whose fate changes when it's rescued from a dog meat restaurant in Hanoi by an Irish couple. In this tribute memoir to her late husband, Moire O'Sullivan details their adventures with the canine through Nepal, Vietnam and Cambodia. A tearjerker for sure.
The Land Beyond: A Thousand Miles on Foot Through the Heart of the Middle East by Leon McCarron
Leon McCarron takes the road less travelled by hiking through the Middle East. Starting from Jerusalem, he makes his way to the West Bank. Next, he visits the ruins of Hellenic citadels in Jordan and climbs the biblical Mount Sinai. His narrative is told through a historic lens, providing a deeper understanding of the region.
Holy Cow: An Indian Adventure by Sarah Macdonald
Essentially a love letter to India, Sarah Macdonald recounts her experience with this beautiful country in a hilarious bestseller book. After backpacking through India in her 20s and witnessing poverty and pollution, she vowed never to return. But before her departure, a beggar told her she'll be back for love. Fast forward 11 years, when she follows her partner to New Delhi. (On a side note, the Covid-19 pandemic has ravaged the country. If you can, lend a helping hand to India.)
The Third Pole: Mystery, Obsession, and Death on Mount Everest by Mark Synnott
As its moniker suggests, this book revolves around the enigmatic Mount Everest. It's widely known that Sir Edmund Hillary and Tenzing Norgay were the first two people in the world to reach the summit in 1953. But was that the first ascent? In 1924, George Mallory and Sandy Irvine were on their way to the top before they mysteriously disappeared. Set on solving the mystery, Mark Synnott takes the same route as the mountain climbers in the search of a Kodak camera that belonged to Irvine. If you ever dreamt of climbing Mount Everest one day, this book offers a glimpse into the mountaineering culture and why people are obsessed with it.
Travel around the world with our list of bestseller books!
---
Honeycombers Book Club: Bestseller books about the environment
Eating Animals by Jonathan Safran Foer
Ever wondered whether it's right to eat meat? Well, Jonathan Safran Foer tackles this nuanced question by getting to the root of the matter. He interviews vegan activists, farmers and even takes a peek into the inner workings of slaughterhouses. Don't worry, the bestseller book doesn't shove its vegan agenda down your throat. Instead, it probes you to question your food choices and their implications.
No One Is Too Small to Make a Difference by Greta Thunberg
We can learn a thing or two from Gen Z-ers. Case in point: Greta Thunberg. Over the past year or so, she's become the poster child for climate change. From demanding world leaders to take immediate action against global warming to galvanising people around the world to fight the climate crisis, the Greta Thunberg effect is real. While some might think her approach is a tad extreme, we can't deny her passion and dedication to the cause. In this bestseller book, you can read up on her collection of speeches, which were presented in front of the EU and the UN, including the memorable "Our House Is on Fire". Like what the title says, we all can make small changes to create a collective effect.
How to Give Up Plastic: A Guide to Changing the World, One Plastic Bottle at a Time by Will McCallum
The title says it all. With big players in the F&B industry ditching plastic straws, it's time we do our part too. Will McCallum offers us an in-depth look at how plastic is essentially destroying the planet. You'll also learn how to reduce single-use plastics in your life with expert tips from environmentalists.
The Loneliest Polar Bear by Kale Williams
The book brilliantly weaves in the real-life story of captive polar bear Nora and the effects of  global warming. Just like how rising temperatures and melting polar caps are driving the great white bears to extinction, Nora is struggling to survive after being abandoned by her mother at six days old. As you follow her survival story, you'll learn how her father ended up in captivity – and the ramifications of climate change. Just be prepared to shed a tear or two.
The Oak Papers by James Canton
Take a closer look at the natural world with James Canton. After the breakdown of a long-term relationship, Canton seeks solace in an 800-year-old Honywood Oak tree in North Essex, England. The book is essentially a love letter to oak trees, as he spends two years exploring the history behind them. Equal parts meditative and poignant, the book shows us trees and humans have much more in common than we think.
The Uninhabitable Earth: Life After Warming by David Wallace-Wells
David Wallace-Wells paints a grim picture of how the world could possibly look like in 2100.  And no, it's not just a vague prediction. He backs it up with studies, research and citations. We have to warn you this is not an easy read. If we keep going at this rate, the earth will eventually become inhabitable.
The Sixth Extinction: An Unnatural History by Elizabeth Kolbert
Elizabeth Kolbert's narration of how mankind is responsible for destroying the planet is the humble pie we all needed. It's not about pushing blame. Instead, we're encouraged to understand how our roles have an effect on other species. The book touches on endangered and extinct animals, and how we might actually be in the midst of the sixth extinction.
---
Honeycombers Book Club: Bestseller books by amazing female authors
Braised Pork by An Yu
This might be An Yu's debut novel but we are already huge fans. It's set in Beijing, where Jia Jia finds her husband dead in the bathtub with an odd sketch of a 'fish-man' next to him. As much as she feels free from her suffocating marriage, she is now haunted by the mysterious character. Equal parts surreal and dreamy, An Yu will suck you into the world of myths and legends.
Inheritance by Balli Kaur Jaswal
This coming-of-age story is written by the same author who gave us Erotic Stories for Punjabi Widows. Spanning from the 1970s to the 1990s, Inheritance is the story of a Punjabi family in Singapore adapting over the decades. As the Lion City goes through rapid changes, Balli Kaur Jaswal brilliantly introduces the parallels of identity, community and history to the protagonist's family.
Burnt Sugar by Avni Doshi
Avni Doshi takes you on an emotional journey of love and betrayal between a mother and her daughter. The 240-page book is not a light read. The opening line of the novel, "I would be lying if I said my mother's misery has never given me pleasure," sets the tone for the entire narrative. These words are laced with grit and raw emotion, and they might just cut you as you turn the pages. All of this is set against the backdrop of the Indian city of Pune.
All You Can Ever Know by Nicole Chung
Given up for adoption by her Korean parents, Nicole Chung was brought up by a white family in Oregon. In this poignant memoir, she recounts her experience of transracial adoption, from growing up in a predominantly white environment to facing prejudice her adoptive parents couldn't see. Since childhood, she was told of her adoption story (albeit sugar-coated). But when she started on the path of motherhood, she decided to seek her birth parents to find some answers.
Gods of Jade and Shadow by Silvia Moreno-Garcia
Think Cinderella meets Mexican folklore. Casiopea Tun, who wishes to get away from her hometown, comes across a wooden box while cleaning her grandfather's room. Just like how all the evil was released when Pandora's box was opened, Casiopea frees the spirit of the Mayan God of Death. She has to help him get his throne back from his brother, but failing to do so will lead to her death. However, if she succeeds, all her dreams will come true.
Convenience Store Woman by Sayaka Murata
In the same vein as Eleanor Oliphant is Completely Fine, Convenience Store Woman is a novel that captures the in-between moments of Tokyo resident Keiko Furukura. She is happy working part-time in a convenience store for the past 18 years, but her family has different opinions about it. On the surface, it looks like Keiko has not much going on but Sayaka Murata makes the mundane ever so interesting.
A River of Stars by Vanessa Hua
In her debut novel, Vanessa Hua touches on the Chinese immigrant experience in America with two characters: Scarlett Chen and Daisy. The former is a factor worker who ends up pregnant from an affair with her married boss. In hopes she will give him a son, he sends her off to give birth in America. The latter is a high-spirited teenager who is kept apart from her American boyfriend. Follow these two resilient women as they navigate through a foreign land despite unfavourable circumstances.
---
Honeycombers Book Club: Bestseller books for a romantic read
The Course Of Love by Alain De Botton
What happens after 'happily ever after'? Find out through the lives of Scottish couple Rabih and Kirsten. Don't expect a sugar-coated love story though. Instead, Alain De Botton gives a realistic perspective on modern-day romance. From electrifying dating days to monotonous marriage life to everything in between, the bestseller book stays true to its name by showing us all the facets of love.
The River's Song by Suchen Christine Lim
Set in 1960s Singapore, the novel chronicles the tale of Ping and Weng, who both come from different family backgrounds, falling in love with each other. But young love soon gives way to realities of life with Ping leaving to the US for studies and Weng behind bars. Fast forward to Singapore on the precipice of modernisation, when Ping returns to rekindle an old flame. If you're looking for something close to home with a bit of Singapore's history, this is it.
The Duke and I by Julia Quinn
Did you know that the most-watched Netflix series, Bridgerton, is actually based on a bestseller book? If you've binge-watched the glorious period drama in one sitting (no judgement here), we suggest reliving the heady romance between Daphne Bridgeton and the Duke of Hastings with a slow read. Oh, and get comfy with a glass of wine.
The Ex Talk by Rachel Lynn Solomon
Judging from the title, this is going to be a delicious read. Meet Shay Goldstein, a producer at a radio show, and Dominic Yun, the new kid on the block. From the get-go, both are at loggerheads and things get only worse when they are both co-hosts for a new talk show. What's the plot twist? Well, they soon develop feelings for each other as they pose as exes while giving out relationship advice on air. What can we say? Opposites attract.
Mr Right Across the Street by Kathryn Freeman
Mia Abbott moves to Manchester to leave her ex-boyfriend behind. Soon enough, she finds love right around the corner in the form of a very hot neighbour, Luke Doyle. They officially meet when she heads to the building's bar for a drink. Turns out he's the bar owner! This saccharine love story is filled with cliches but we ain't complaining. Psst: maybe you happen to have a hot neighbour too.
Boyfriend Material by Alexis Hall
In the vein of Red, White & Royal Blue comes an LGBTQ+ love story about Luc O'Donnell, whose estranged rockstar dad is back in the limelight. Now, he finds himself on the page of every tabloid. In an attempt to spruce up his public image, he fake dates good boy Oliver Blackwood who is a barrister and also happens to be a vegetarian. We have read enough bestseller romance books to know how this unfolds, but what can we say? We're suckers for love.
You Deserve Each Other by Sarah Hogle
What do you do when you find out you don't really want to marry your partner? Well, take a cue from Naomi Westfield. Watch as she navigates through her relationship with her wedding right around the corner. Using the enemies-to-lovers trope, Sarah Hogle shows us that relationships are hard work but they're so worth it.
---
Honeycombers Book Club: Best self-help books
Get Your Sh*t Together by Sarah Knight
The same author who wrote The Life-changing Magic Of Not Giving A F*ck has blessed us with this gem of a book. Tired of slaving your life away in the office after work hours or procrastinating your workout routine? Fret not, Sarah Knight might be blunt but she says it as it is. Eschewing small talk, she cuts right to the chase and provides you with tools to basically get your life in order. From managing anxiety to saving tips, this bestseller book will help put your life back together – one page at a time.
The Little Book of Sloth Philosophy by Jennifer McCartney
These bizarrely cute animals typically get a bad rep for being slow and lazy. But Jennifer McCartney thinks otherwise. Drawing inspiration from their way of life, she shares with us the wisdom of mindfulness. She encourages us to slow down, be present in the now and enjoy what life has to offer. And the next time someone compares you to a sloth? Think of how peaceful the slow life is. Extra brownie points for the super adorable sloth illustrations in this bestseller book.
The Happiness Hack by Ellen Petry Leanse
Having worked with big names like Facebook and Google, Ellen Petry Leanse has learned a thing or two about people's tech habits. She believes that just like how we have created unhealthy habits with social media, we can also easily programme our brains to create good habits. With a pragmatic approach, she has created easy hacks to attain happiness. Above all, that includes less screen time and being more connected to the real world.
The Little Book of Hygge: The Danish Way to Live Well by Meik Wiking
Written by the CEO of the Happiness Research Institute, this book teaches you how to create hygge moments in your life. For the uninitiated, hygge – pronounced as 'hyoo-gah' – is a Danish way of life where you seek joy daily by engaging in cosy moments. In other words, think along the lines of reading your favourite book, lighting up scented candles and curling up with a good cup of hot chocolate. And if you need any more convincing, there's a good reason why Denmark is one of the happiest countries in the world.
Joy at Work by Marie Kondo and Scott Sonenshein
Suffering from back-to-work blues? Let organisational psychologist Scott Sonenshein and decluttering expert Marie Kondo help you get back to the office grind. Just look at their words of wisdom – for instance, personal stories and proven strategies. From clearing your email to cleaning out your office space, you will learn the art of sparking joy in a corporate environment.
Ask a Philosopher: Answers to Your Most Important and Most Unexpected Questions by Ian Olasov
If you're on the road to enlightenment in 2021, this philosophy book is for you. It's based on his Ask A Philosopher series. Ian Olasov illuminates your mind and understanding of the world by tackling life's most fascinating questions with wit. Think along the lines of "Is ketchup a smoothie?", "Is there life after death?", "Should I give money to homeless people?" and "Is it okay to have a pet fish?" But don't worry about scratching your head after you're done. It's a pretty easy read for a complex topic.
The Things You Can See Only When You Slow Down: How To Be Calm in a Busy World by Haemin Sunim
One thing the Covid-19 pandemic has taught us? We all should be slowing down to check in with ourselves. Take a cue from Korean Buddhist, Haemin Sunim. The self-help book is categorised into eight chapters including mindfulness, passion, relationships, life and spirituality. Plus, it's peppered with wisdom and beautiful illustrations that will help you lead a slower, meaningful life.
100 Days to Brave by Annie F. Downs
Ever wanted to start your own business or try something new but your inner saboteur is in the way? Annie Downs will teach you how to let go of your fears and self-doubt. These short devotions span just 100 days. This is the year where you will embrace positivity and courage – speak it into existence!
Ikigai: The Japanese Secret to a Long and Happy Life by Hector Garcia and Francesc Miralles
What's ikigai? It originates from The Land of the Rising Sun. That's Okinawa, to be exact – one of the blue zone regions where people live long lives (over 100 years old!). Similarly, this Japanese lifestyle approach helps to find your reason for living. It covers the four cornerstones of ikigai: passion, mission, vocation, and profession. The pages take a deeper look into the way of life of the people living on Okinawa island. In addition, there are practical tools to help find what you love and what you're good at, which essentially contributes to a fulfilling life.