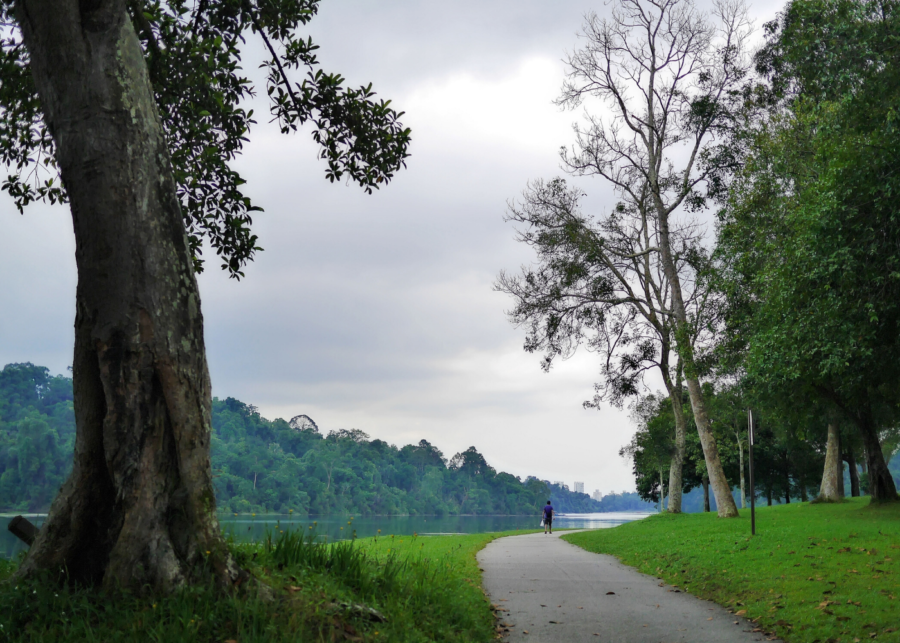 Photography: travel oriented
Here's our rugged round-up to help you get in touch with nature.
This may come as a surprise, but we do have a sheer number of parks and nature reserves that are hidden away from our rapidly developing cityscape! From forested hills to swampy wetlands, Singapore's parks have loads to offer to the intrepid hiker. Check out our list of 21 trails that'll get you out of the urban gridlock and back into nature. Here's to some solid hiking and trekking in Singapore!
Hiking in Singapore
Thomson Nature Park
Residing in Thomson? Here's one way to burn those calories after cafe hopping and prata hunting. Located between Old Upper Thomson Road and Upper Thomson Road – near Springleaf and Windsor Nature Parks – Thomson Nature Park breathes life to a former Hainan Village. The park features five trails spanning 3.8 kilometres, which is great for beginners! Look out for heritage highlights of the former village at the Runs and Figs Trail and freshwater habitat at the Stream and Ferns Trail. Oh, and if you're lucky you might just spot an adorable but critically endangered Raffles' Banded Langur. The park is a key conservation site for this primate.
Thomson Nature Park
Bukit Timah Nature Reserve
It's no Everest, that's for sure, but you'll certainly give your calves a workout as you make your way to the summit of Singapore's highest nature peak. Keep your eyes peeled and you might spot some of the island's more elusive wildlife like the Sunda Pangolin and the Blue Bronzeback snake. The hill also retains historical significance, being the spot of the British military's final stand against the invading Imperial Japanese Army.
Bukit Timah Nature Reserve
Southern Ridges
Connecting parks along Singapore's south is this 10km connector trail that offers its fair share of scenic vistas. While not a hiking destination in itself, the trail connects to five other parks, so hikers can use this path to begin exploring other areas. For instance, connecting Mount Faber to Telok Blangah Hill Park is the Henderson Waves – Singapore's tallest pedestrian bridge, and a structure famous for its distinctive wave-like architecture. Read about our trek through the Southern Ridges here.
Southern Ridges
Coast-to-Coast (C2C) Trail
This one isn't for the faint-hearted or the easily tired. The 36km-long trail gets you trekking in Singapore from Jurong Lake (West) all the way to Coney Island (North-East). This curated route cuts across 18 parks and nature areas and 11 park connectors (whoop!). Don't you worry if you can't complete this at one go – it's a long stretch and there's a lot of exploring to do across the 10 checkpoints and multiple wildlife viewing spots. We recommend downloading the Coast-to-Coast (C2C) Mobile App to plan your route and learn about the native biodiversity (with AR) you might bump into on your trail.
Coast-to-Coast (C2C) Trail
Keppel Hill Reservoir
Care to venture off the beaten track? Purists wouldn't call this a 'hike' but if you're actively seeking spooky abandoned scenes, the Keppel Hill Reservoir trail might float your boat. Head out to this forgotten reservoir with a dark past. Apparently, it was abandoned in the 50s after three drownings and was only rediscovered recently in 2014. Get your friends and walk past the old reservoir, spooky diving board, a solitary tombstone and the lush empty roads. The roads and pathways are green and dense and although we didn't take the route, we hear there's a deserted trail that goes to Mount Faber.
Keppel Hill Reservoir
Macritchie Reservoir Park
Macritchie Reservoir Park is probably one of Singapore's most popular hiking trails, and for good reason! For starters, the park offers hikers beautiful tropical scenery, an impressive variety of wildlife, and peaceful, secluded paths ideal for trekking in Singapore. Spanning Bukit Peirce and Bukit Kalang, you'll find the HSBC Treetop Walk, an aerial walkway that will give you a bird's eye view (definitely Insta-worthy) of the forest's canopy. Here, you'll see flying lemurs and long-tailed macaques up close in their natural habitat.
Macritchie Reservoir Park
Labrador Nature Reserve
Shutterbugs will want to pack their cameras for this park! One of Singapore's most scenic seaside trails, the Labrador Nature Reserve boardwalk will bring you past cliff sides, secondary forests and marshes. The path also gives hikers a stellar view of Singapore's picturesque coastline. And it's well known for its abundance of wildlife, so you'll quickly get used to seeing squirrels scurrying across the boardwalk.
Labrador Nature Reserve
Fort Canning Park
If your knowledge of Fort Canning Park merely extends to its reputation as a site for music festivals, you're missing out big time! Delve a little deeper into the lush greenery and you'll find remnants of the park's rich cultural heritage – like the Battle Box. The hill's history goes back much further than that though, archaeological digs have unearthed remains of ancient brick buildings, thought to be palaces of ancestral kings. Definitely a must-see for history buffs who prefer the great outdoors to stuffy museums.
Fort Canning Park
The Green Corridor
Once a railway track, The Green Corridor has since been repurposed into a hiking trail for trekking enthusiasts in Singapore. Much like the Southern Ridges, this route serves as a connector between several parks, like Bukit Timah and Kranji Wetlands. Along the trail, you'll find grasslands, streams and marshes that are teeming with life, thanks to the area being relatively untouched.
The Green Corridor
Pulau Ubin
Paved paths and built-up treetop walks aren't rough enough for you? Hop on a bumboat and take a trip back in time at Pulau Ubin. Here, you'll catch a glimpse of what Singaporean life was like back in the 60s. Put on a good pair of boots and take to the Chek Jawa wetlands where you'll trek through six distinct ecosystems. Don't forget to fill up on some rustic kampung fare before you leave the island too! Prefer to bike? Read about our mountain biking experience on the rustic island.
Pulau Ubin
Kranji Marshes
With three unique biomes, Kranji Marshes is the perfect destination for wildlife enthusiasts looking for a good trekking spot in Singapore. The marsh habitat is home to a broad range of aquatic plants, insects, fish and water birds like the purple heron. Lucky explorers in the woodland area of the park might even spot threatened bird species like the Changeable Hawk Eagle and the Grey-headed Fish Eagle.
Kranji Marshes
Upper Peirce Reservoir
This tranquil park offers several easy-going lakeside trails that won't leave you huffing and puffing while you embark on your trekking journey in Singapore. Like most of the parks in the Bukit Timah area, the forest is home to large populations of long-tailed macaque, so keep an eye on your snacks!
Upper Peirce Reservoir
Bukit Batok Nature Park
Want to enjoy the greenery without working your butt off on a crazy hiking trail? Bukit Batok Nature Park offers some pretty laid-back walking routes that'll reward you with some stunning views and crystal clear lakes. Hardcore hikers looking to get closer to nature can go off the beaten path and explore some of the less-travelled forest paths – just be careful!
Bukit Batok Nature Park
Lower Peirce Reservoir
Continue hiking from the Upper Peirce Reservoir and you'll find yourself surrounded by the dense forests of Lower Pierce Reservoir. The 900m boardwalk will lead you through the forest and along the reservoir, offering hikers some captivating scenes.
Lower Peirce Reservoir
Sungei Buloh Wetland Reserve
Singapore's first wetland reserve is home to myriad riverine species including water monitors, mudskippers and, if you're really lucky (or unlucky), the ferocious estuarine crocodile. If you happen to be trekking through the park's many trails during the migratory season, you'll definitely be able to see flocks of shorebirds like sandpipers and plovers. Catch a glimpse of the wildlife (otters, Grey Herons, Civet Cats and Stork-billed Kingfishers) through these videos.
Sungei Buloh Wetland Reserve
Mount Faber Park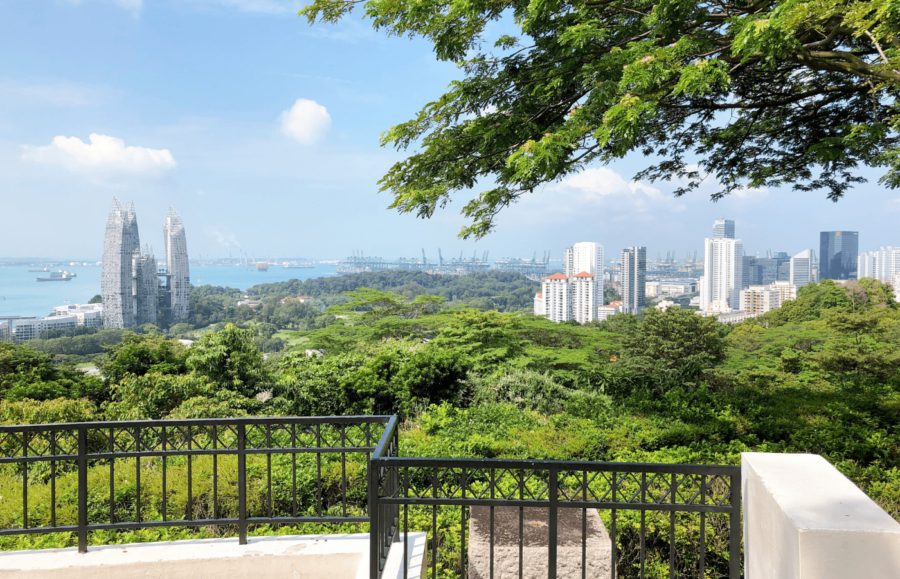 One of Singapore's oldest parks, Mount Faber offers guests much more amenities than most other trails. If you're not that big on the great outdoors, skip the hike and take the cable car to the summit where you can take a peek through several telescopes at the look-out points.
Mount Faber Park
Changi East Boardwalk
Sure, the more hardcore hikers might scoff at a 'trail' that's pretty much all boardwalk, but there's plenty to see here besides the holiday chalets and the famous Changi Village Food Centre. This easy-going boardwalk will take you past fishing villages and beaches before finally culminating at Changi Point, where you can reward yourself with some killer nasi lemak after you've completed an afternoon of trekking in Singapore.
Changi East Boardwalk
Coney Island
If you think Pulau Ubin is rustic and untouched, Coney Island is even less developed. Opened to the public in recent years, this ecologically sustainable park makes use of timber from fallen Casuarina trees to build signage, benches and the mangrove boardwalk. Budding botanists with keen eyes should look out for several rare plant species that are presumed to be extinct in mainland Singapore. The island also serves as a refuge for migratory birds, so wildlife enthusiasts might want to pack a camera and a zoom lens.
Coney Island
Dairy Farm Nature Park
The Dairy Farm Nature Park's Wallace Trail is not as done-up as other trails in Singapore, so expect mud and some harrowing terrain. While mostly used by mountain bikers, the trail is easily traversable by foot. At the end of the hike, you'll find the Singapore Quarry that has been converted into a wetland habitat with a viewing area that lets hikers admire some of Singapore's freshwater flora and fauna.
Dairy Farm Nature Park
Chestnut Nature Park
If you prefer a more laid-back hike in Singapore, grab the family, head to Chestnut Nature Park, and take advantage of its relatively flat hiking trails with the occasional slope. The park is split into two areas – Chestnut Nature Park (North) for a 3.5km hiking trail and Chestnut Nature Park (South), at 2.1km. Want a little more adventure? Hop on your mountain bike and own the 8.2 km mountain bike trail instead. Still curious? Read on to find out about our hike at Chestnut Nature Park.
Chestnut Nature Park
Windsor Nature Park
Despite its Downton Abbey-esque name, there are no sprawling, manicured gardens and palatial fountains at Windsor Nature Park. What you'll find instead is a wetland wonderland befitting of Singapore's Garden City rep. Located near Upper Thomson, the park features three hiking trails, freshwater streams and marsh habitat. Perhaps most exciting for hikers is the Squirrel/Drongo trail, which boasts a four-metre-high, 150 metre-long canopy walk for visitors to walk through flora beneath the forest. All trails are marked as easy by NParks, and will take an hour and ten minutes to complete. For hikers looking for a challenge, take the 7km trail to MacRitchie's treetop walk – this is estimated to take approximately three to four hours.
Windsor Nature Park