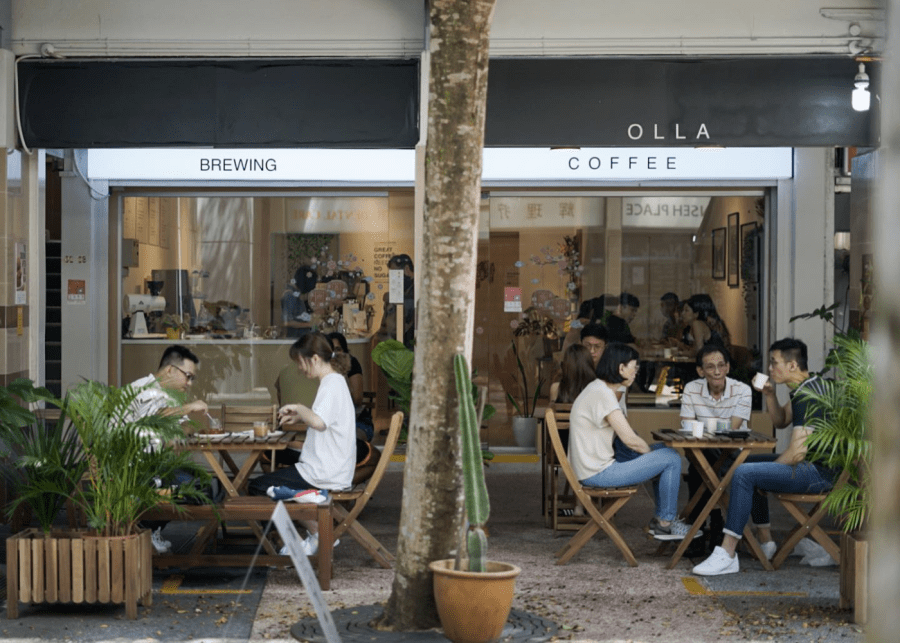 Photography: Olla Specialty Coffee via Facebook
Feeling peckish while you're out exploring the west? From hearty brunches to delectable coffee, here are our top picks for food in Clementi.
Stuck in the West of Singapore and not sure where to eat? Fret not! We've got you covered as always. And no, we're not talking about Rochester Park or Jurong this time around. Instead, we shine our foodie spotlight on Clementi – the residential town in the western region of Singapore. Here's our list of restaurants and cafes with great food in Clementi for you to munch away.
Top food spots in Clementi
1. Olla Specialty Coffee
You'll know you'll get a great cup of joe when we tell you this space was opened by a barista champion. What started off as Singapore's first mobile coffee catering company has now found its home in Clementi. This coffee bar and kitchen serves up coffees with beans roasted by Nylon Coffee Roasters. Here you can get black, white, and pour-over coffees. Or if you're feeling adventurous, try the espresso tonic for a bubbly spin. Non-coffee lovers can go for the chocolatey drinks or the selection of teas available on the menu.
Olla Specialty Coffee, #01-03, 109 Clementi Street 11, Singapore 120109
2. Madlygood
There's no shortage of good food at Clementi Mall. There's sushi, western delights, and even yakiniku! Our place of choice though? This cafe is filled with delicious desserts. Opened by a foodie couple who love to travel, they decided to share their love for food by opening this dessert cafe. At Madlygood, you'll find a menu chock full of wonderfully sweet goodies. From crepes to French toast to pancakes and even croffles! Is there any type of dessert this place doesn't have?
Madlygood, #05-22, The Clementi Mall, 3155 Commonwealth Avenue West, Singapore 129588
3. W39 Bistro & Bakery
This little cafe tucked away in Clementi is the perfect place for a quiet brunch. You've got choices that range from typical western fare to Asian-inspired mains. We're eyeing the beef chilli cheese fries and yuzu chicken burger. The menu even has recommended beverage pairings to go with your meal of the day. A big plus: it's pet-friendly! Bring your furkiddo along after your morning walk and enjoy a hot cuppa.
W39 Bistro & Bakery, 39 Jalan Mas Puteh, Singapore 128637
4. Kee Hock
Kee Hock is the place to be if you're looking for some yummy zi char dishes. But a definite must-try is the signature hor fun. Whether it's beef or sliced fish hor fun, expect aromatic and smoky flavours of rice noodles coated in eggy sauce. For those of us that prefer rice, you have the option of changing it to mui fan (rice with savoury gravy). We're not the only ones that love this place though. Expect snaking queues during lunch time when this stall opens!
Kee Hock, #01-43, Clementi 448 Market & Food Centre, 448 Clementi Avenue 3, Singapore 120448
5. Sunset Railway Cafe
Get your dose of local cuisine at this quaint cafe located in Clementi Arcade. This place is filled with local charm with classics like kaya and butter toast, mee siam, and nasi lemak. It's also got delectable cakes available, some covered in sugar glazes or doused in chocolate ganache. Keep tabs on the social media sites to get wind of what the next Sunday special is!
Sunset Railway Cafe, #01-02, Clementi Arcade, 41 Sunset Way, Singapore 597071
6. Dawn's Gelateria and Cafe
Torched mentaiko fries, pastas, and even steaks. You'll be in for a treat and a half when you pop by Dawn's. It's even got a fridge stocked with refreshing lagers and beers. And of course, we can't forget about the gelatos. There's a reason why Dawn's calls itself a gelateria! To our lactose intolerant friends, don't fret because it's got dairy-free options too. Go for the milk-free banana and raspberry, cucumber lime, or chocolate orange soberttos. Absolutely to die for.
Dawn's Gelateria and Cafe, #01-38, 106 Clementi Street 12, Singapore 120106
7. Chai Ho Satay
What's better than grilled meat on a stick? Cheap grilled meat on a stick! Satay is known for flying off the barbeque here at Chai Ho Satay. And at 60 cents a stick! As you can expect, monster queues are frequent at this westside stall. So make sure you order a heap of satay on your turn lest you wanna wait 30 minutes for seconds.
Chai Ho Satay, #01-10, Clementi 448 Market & Hawker Centre, 448 Clementi Avenue 3, Singapore 120448
8. Dario Pizza & More
Former chef of Al Forno, Dario Bonaccorso now has his very own pizzeria after a three-year stint at the pizza stalwart. Dario Pizza & More's all about the thin, crispy pies made with love. Bestsellers include the salami and cheese-laden Diavola, as well as the Bomba (artichokes, mushrooms, bacon, and ham). Can't decide which flavour to get? Never fear, because the half-and-half option lets you pick two different flavours! We're also happy to report that if you've got a hankering for calzones, you can find 'em here.
Dario Pizza & More, 6 Clementi Road, Singapore 129741
9. Prata Planet
If bland, watery curries rustle your jimmies, Prata Planet's thick, spice-heavy curries will have you singing praises. It pairs beautifully with its light crispy pratas that are never too oily. A great option for westies since it's just a short walk from Clementi MRT station too.
Prata Planet, #01-37, 320 Clementi Ave 4, Singapore 120320
Now you know where to go for some of the best food in Clementi!