Photography: The Coconut Club via Facebook
These nasi lemak eateries in Singapore serve some of the best coconut rice with egg, ikan bilis, otah, chicken wing and more.
Rice is a staple of local food – and we don't just do plain ol' white rice. There are countless varieties of fried rice, chicken rice, biryani, and the crowd favourite: nasi lemak. The word 'lemak' means full-flavoured or rich, referring to how it is cooked with coconut milk to get its distinctive flavour. It's usually served with an accompaniment of chicken wings, ikan bilis (fried anchovies), otah (grilled fish cake) and eggs – plus toppings of your liking. And, of course, don't miss out on the spicy-sweet sambal that pulls the dish together. Let's go hunting for nasi lemak spots in Singapore!
Best nasi lemak in Singapore
1. Dickson Nasi Lemak
Joo Chiat has always been quite the foodie haven with cafes and bars galore. So it's no surprise that you'll be able to get your nasi lemak craving satiated at this hip 'hood. The team behind Dickson Nasi Lemak adore the dish to bits. So much so that they decided to bring in a Malaysian-style nasi lemak. Everything's freshly made in-house, including the 18-ingredient sambal. It's only available for takeaway, so you'll need to practice a bit of patience and try not to dig into the rice right away. But we promise that it's all worth it!
Dickson Nasi Lemak, 320 Joo Chiat Road, Singapore 427571
2. No. 1 Adam's Nasi Lemak
This stall offers nasi lemak at pocket friendly prices, so it's perfect if you're on a budget. The chicken wings boast deep and savoury flavours that are sure to whet your appetite. We hear that the beef rendang is a must-try and pairs perfectly with the coconut rice.
No. 1 Adam's Nasi Lemak, Adam Food Centre, 2 Adam Road, Singapore 289876
3. M by Madas Nasi Lemak
If you're popping by Simpang Bedok, get your nasi lemak fix with M by Madas. The dish leans on the pricier side with nasi lemak sets starting as low as $8.50. But you'll have a satisfying meal that's consistent every time. The premium nasi lemak platter comes with an array of sides for those that love variety in their meal. We're talking chicken cutlet, chilli squids, begedil, fish tofu, and eggs!
M by Madas, #02-17, The Bedok Market Place, 348 Bedok Road, Singapore 469560
4. Sinar Bahru
This unassuming spot in Clementi can't be missed if you're looking for some of the best nasi lemak in town. This family-owned stall has been around for literal years and has high standards for its food. The chicken is fried but remains moist in the middle, and the coconut rice is as fragrant as it gets. Absolute heaven.
Sinar Bahru, 378 Clementi Avenue 5, Singapore 120378
5. The Coconut Club
More than $14 for a plate of nasi lemak? The audacity. But don't knock it before you try it. A typical order comes piled high with coconut rice, a generously-sized (and delicious!) chicken leg, ikan bilis, peanuts, cucumber, fried egg and sambal. You can also get other sets with chicken or otah, and heap on sides like beef rendang, sambal sotong (squid) and fried eggplant, finishing off with a bowl of cendol. It's all plated out nicely, which is a bonus since this dish isn't the most photogenic. And though this is a mighty fine specimen of our Singaporean classic, it's more of a 'treat yo'self' kind of experience.
The Coconut Club, multiple locations including Beach Road and Frankel Avenue
6. Selera Rasa Nasi Lemak
One of the more central places dishing out this breakfast delight is the popular stall at Adam Road Food Centre. Lines are always long, which is telling of its pure, savoury goodness. Choose between multiple sets – they're made up of different components like sunny side up, fried fish or otah. First timers can order the Royal Rumble ($5.90): It's packed to the brim with incredible fried goodies including chicken wing and begedil (fried potato patty). Pro tip: Be prepared to use your hands – it can and will get messy.
Selera Rasa Nasi Lemak, #01-02, Adam Road Food Centre, 2 Adam Road, Singapore 289876
7. Lawa Bintang
Weekend mornings are never complete without a dose of coconut rice and its trimmings. This Muslin-owned stall takes things up a notch with premium ingredients such as lobster, soft shell crab and smoked duck. That's right, you can get your good 'ol coconut rice, fried egg, ikan bilis and sambal to go with juicy prawns, battered fried squid and cheesy lobster. How's that for an upgrade?
Lawa Bintang, 9008 Tampines Street 93, Singapore 528843
8. Simple
The eatery once known as Jia Xiang Nasi Lemak continues its blue-tinged butterfly pea coconut rice legacy with mains like sambal chicken, fried fish and har cheong (prawn paste) chicken chop. Want more of that hearty goodness? Add on sides like curry veggies and otah, then sip on butterfly pea tea to wash it all down.
Simple, #01-13, CT Hub 2, 114 Lavender Street, Singapore 338729
9. Chong Pang Nasi Lemak
A comfort food haunt for Northerners, this Yishun/Sembawang fixture has been serving its signature nasi lemak since 1973. So you can bet it knows a thing or two about the famed local dish! It's also a great spot for supper, opening from evening till early morning. Side choices include otah, ngoh hiang (five-spice pork roll) and hash browns. Its real standout, however, is the crispy, deep-fried chicken wing that will undoubtedly get your hands deliciously messy.
Chong Pang Nasi Lemak, 447 Sembawang Road, Singapore 758404
10. Fong Seng Nasi Lemak
Something to make the journey to the west worth it? Fong Seng. It's so good, you can taste its authenticity in the rich coconut flavours of its steamed, fluffy rice. Keep add-on dishes simple with deep-fried chicken wings, sunny side up and otah (plus chilli, duh). Or let loose and pile up that plate like the champion you are. No one's judging because they're doing the same thing.
Fong Seng Nasi Lemak, 22 Clementi Road, Singapore 129751
11. International Muslim Food Stall Nasi Lemak
Like many hawker legends, this joint attracts snaking queues, so be prepared to wait a while. For braving the queue, you'll be rewarded with fragrant, lemak rice (not the starchy, sticky type), crispy fried chicken, egg and spicy-sweet sambal. Treat yourself and top up your meal with a slab of otah – it's the ultimate comfort food combo.
International Muslim Food Stall Nasi Lemak, #01-03, Changi Village Hawker Centre, 2 Changi Village Road, Singapore 500002
12. Bali Nasi Lemak
Love the coconut-infused rice but tired of your egg and fish combo? Bali Nasi Lemak in Geylang switches out regular sides for signatures like kecap manis chicken (black sauce chicken) and long beans with sambal belacan. Mix these in generously with the rice for an irresistible medley of flavours. Other add-ons include otah, luncheon meat, curry vegetables, sausages and more.
Bali Nasi Lemak, 2 Lorong 15 Geylang, Singapore 388596
13. Yi Liu Xiang Nasi Lemak
Sometimes, simple is best, and that's where this nasi lemak stall comes in. Once you've patiently stood in line for your turn, you'll be rewarded with a hearty plate of affordable comfort food. Yi Liu Xiang is famous for its kuning fish, fried to perfection, so you'll have to get that with your battered fish fillet, fried egg and fish cake.
Yi Liu Xiang Nasi Lemak, #02-30, Hainanese Village Centre, 105 Hougang Avenue 1, Singapore 530105
14. Old School Canteen
In a nod to the past, this stall in Changi Village is old school all the way. And with prices starting from $3, it's gentle on your purse strings. To go with your heap of fluffy coconut rice, ikan bilis and fried fish, you can choose to toss in sambal sotong, sambal prawns or sambal egg and anchovies. The sambal is a perfect balance between spicy and sweet, meaning even the spice weaklings can handle this. We'd recommend the sambal sotong option…
Old School Canteen, available online
15. Ponggol Nasi Lemak
No need for introductions. This brand has been around since 1979, attracting endless crowds with its tasty treats. The classic combo of aromatic rice, crispy chicken wings, crunchy ikan bilis, smoky otah and dollop of spicy chilli is the epitome of Singapore's hawker culture. No surprise why the nasi lemak here is always a hit! Feel free to upgrade your plate with sides such as fried fish, luncheon meat, battered prawns and grilled squid.
Ponggol Nasi Lemak, multiple locations including Jalan Besar and Upper Serangoon Road
16. Boon Lay Power Nasi Lemak
This spot is the answer to Ponggol Nasi Lemak for west-siders. The powerhouse (no pun intended) closes as late as 3.30am. That means if you've got any supper cravings, you know where to hit up. You can up the ante by picking options like mutton masala, paru (fried beef lung) or beef rendang. Just don't be surprised to see a long line of hungry diners ahead of you. Good things come to those who wait!
Boon Lay Power Nasi Lemak, multiple locations including Boon Lay Place and Sinaran Drive
17. Mizzy Corner
Serving up lip-smacking plates of nasi lemak since 1997, Mizzy Corner is known and loved for its fragrant basmati coconut rice, sweet sambal and delish chicken wings. Standard sets have all that and the usual fried egg and ikan bilis, while other must-try varieties feature sambal sotong, otah and beef rendang. So. Good.
Mizzy Corner, #01-26, Changi Village Hawker Centre, 2 Changi Village Road, Singapore 500002
18. Tree Coconut Nasi Lemak
This one's a family legacy – armed with their own modern recipes, the young duo behind the stall are dedicated to quality ingredients and flavours. A basic set will get you coconut rice with chicken wing, egg and sambal, but you can always spruce it up with chicken cutlet, fish cake, otah and luncheon meat. Simple, wallet-friendly and delish – what more could you ask for?
Tree Coconut Nasi Lemak, #01-27, Berseh Food Centre, 166 Jalan Besar, Singapore 208877
19. Mount Faber Nasi Lemak
Open way past midnight, the no-frills eatery sits within Chinatown Point. The mouthwatering array of food will certainly beckon you. With dishes out on display, you can choose items like fried chicken, otah, curry vegetables, fried egg and sweet and sour pork to go with your generous scoop of coconut rice.
Mount Faber Nasi Lemak, 20 Sago Street, Singapore 059018
20. Nasi Lemak Indulgence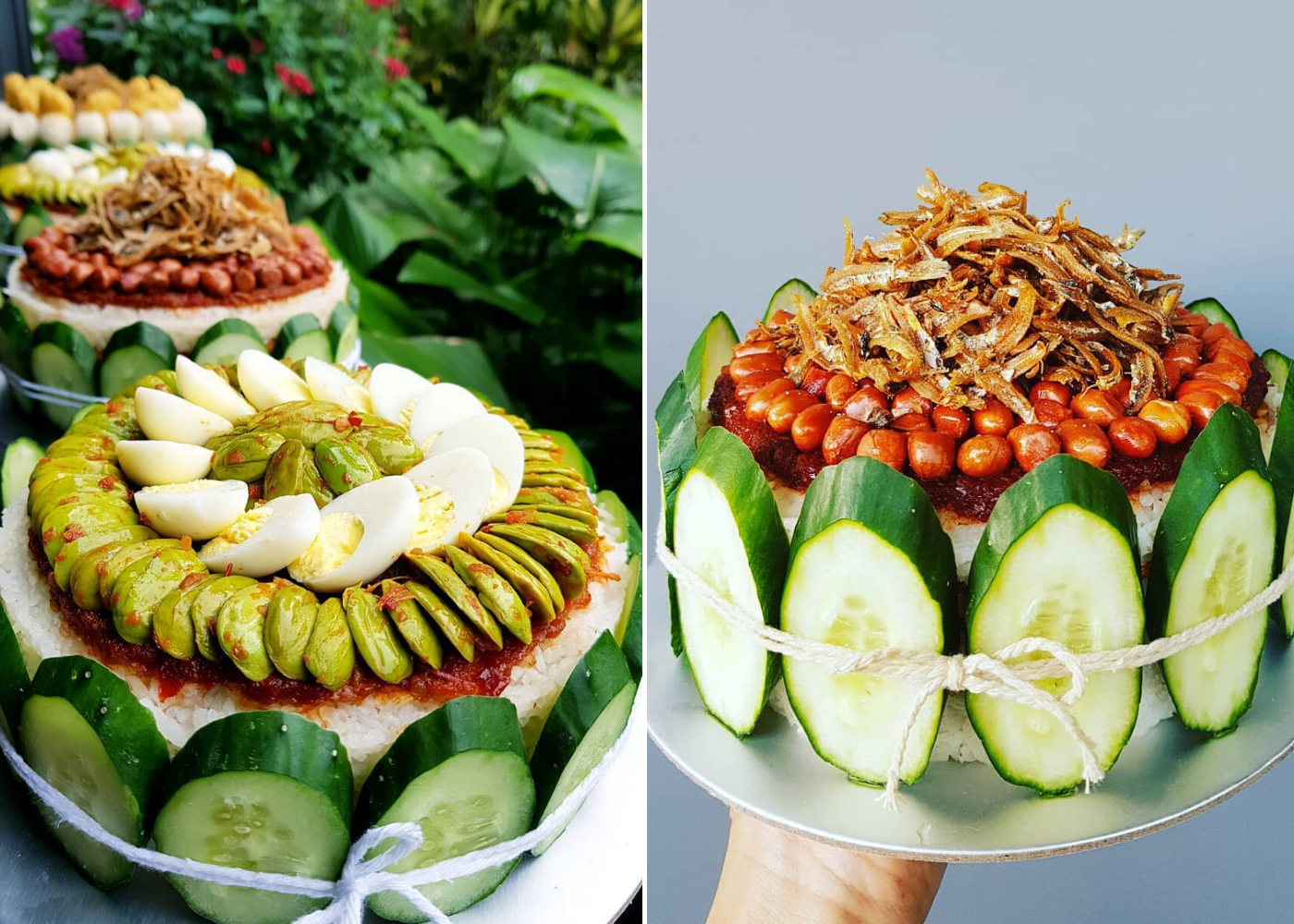 Nasi lemak cake, anyone? Using herbs, spices and all-natural ingredients, each creation is packed with punchy flavours and generous portion that can feed your entire family (and more). Only whole cakes are available, and you can order 'em topped with anchovies and peanuts, sambal prawn with quail eggs, sambal cuttlefish with sambal petai, and more. This is one savoury cake we'll happily tuck into!
Nasi Lemak Indulgence, order online.
21. Aliff Nasi Lemak
For basmati rice made aromatic with coconut milk and pandan leaves, head this way. The dish here is best paired with fried egg, ikan bilis, kuning fish and fried chicken. Oh, and you'll want to blanket everything in the spicy-sweet sambal for maximum enjoyment.
Aliff Nasi Lemak, #01-27, Serangoon Garden Market, 49A Serangoon Garden Way, Singapore 555945
22. Adimann
We've got no shortage of amazing eats at Golden Mile Food Centre, and this halal stall (with its extensive menu!) is one of 'em. Especially if you're in the mood for nasi lemak with a twist. Think chicken cutlet splashed with salted egg sauce, lying on a bed of fluffy rice, with a side of ikan bilis and a grape and quail egg salad. Intrigued? Other main options include sambal lobster and salmon.
Adimann, #B1-12, Golden Mile Food Centre, 505 Beach Road, Singapore 199583
And that's where to get some of the best nasi lemak in Singapore.