Photography: Lucas Alexander via Unsplash
Who says indulgence is reserved for weekends? Pamper yourself with a weekday high tea sesh from our list of top picks in Singapore.
High tea in Singapore? So posh. Tiny sandwiches and scones are very Downton Abbey. But, perhaps even better, we're thinking of traditional treats like kueh. We just love 'em all! Here's the thing: You don't have to save this dining experience for the weekend. The proof? We've rounded up our favourite weekday tea places in sleek hotels and cosy cafes for that perfect afternoon indulgence.
Best high tea spots in Singapore
1. Violet Oon Singapore
Available from 21st August 2022
If you're looking for something different, why not try afternoon tea with a Peranakan twist? The Singapore High Tea set ($58) at Violet Oon Singapore serves a unique selection of nibbles with familiar local flavours. Enjoy a hint of spice when you savour the otak on Belgium endive, or dig into sugee financiers if you're hankering for something sweet. For something extra to seal the deal, top up an additional $12 for house-made scones that come in original and gula melaka flavours. Delish!
Violet Oon Singapore, #02–01, National Gallery Singapore, 1 Saint Andrew's Road, Singapore 178957; available Friday–Sunday 3pm to 5.30pm
2. The Lobby Lounge at The Capitol Kempinski Hotel Singapore
Capitol Kempinski's lobby lounge is the perfect refuge for a zen high tea session in Singapore. Their five-course ($52; $58 on weekends) afternoon tea menu has a mix of sweet and savoury snacks such as smoked duck rice paper rolls, chilled chawanmushi and pandan emerald tarts. Best of all, you get tea pairings with each course to bring out the best flavours. Psst: top up $20 for two glasses of champagne!
The Lobby Lounge, The Capitol Kempinski Hotel Singapore, 15 Stamford Road, Singapore 178906; daily 2.30pm to 5pm
3. 10 SCOTTS at Grand Hyatt Singapore
Who can say no to a high tea sesh with cascading waterfall views? Ideal for cosy get-togethers, this restaurant promises delectable cuisine and Instagram-worthy views. It takes the colonial tradition of high tea up a luxurious notch with a three-course menu ($58++ per person) guaranteed to leave you satisfied.
Highlights include 18-month aged parma ham on toasted focaccia, curry puffs and a plant-based fish cake. End things on a sweet note with the likes of strawberry tarts, salted caramel ice cream and seasonal fruits.
Wash it all down with one of the Monogram bespoke teas created by master tea blenders. Or sip on coffee or juice. Craving a tipple? Top up $30 for themed cocktails and mocktails.
10 SCOTTS, Grand Hyatt Singapore, 10 Scotts Road, Singapore 228211; three-course menu, daily 12pm to 2pm and 3pm to 5pm
4. Sofitel Singapore City Centre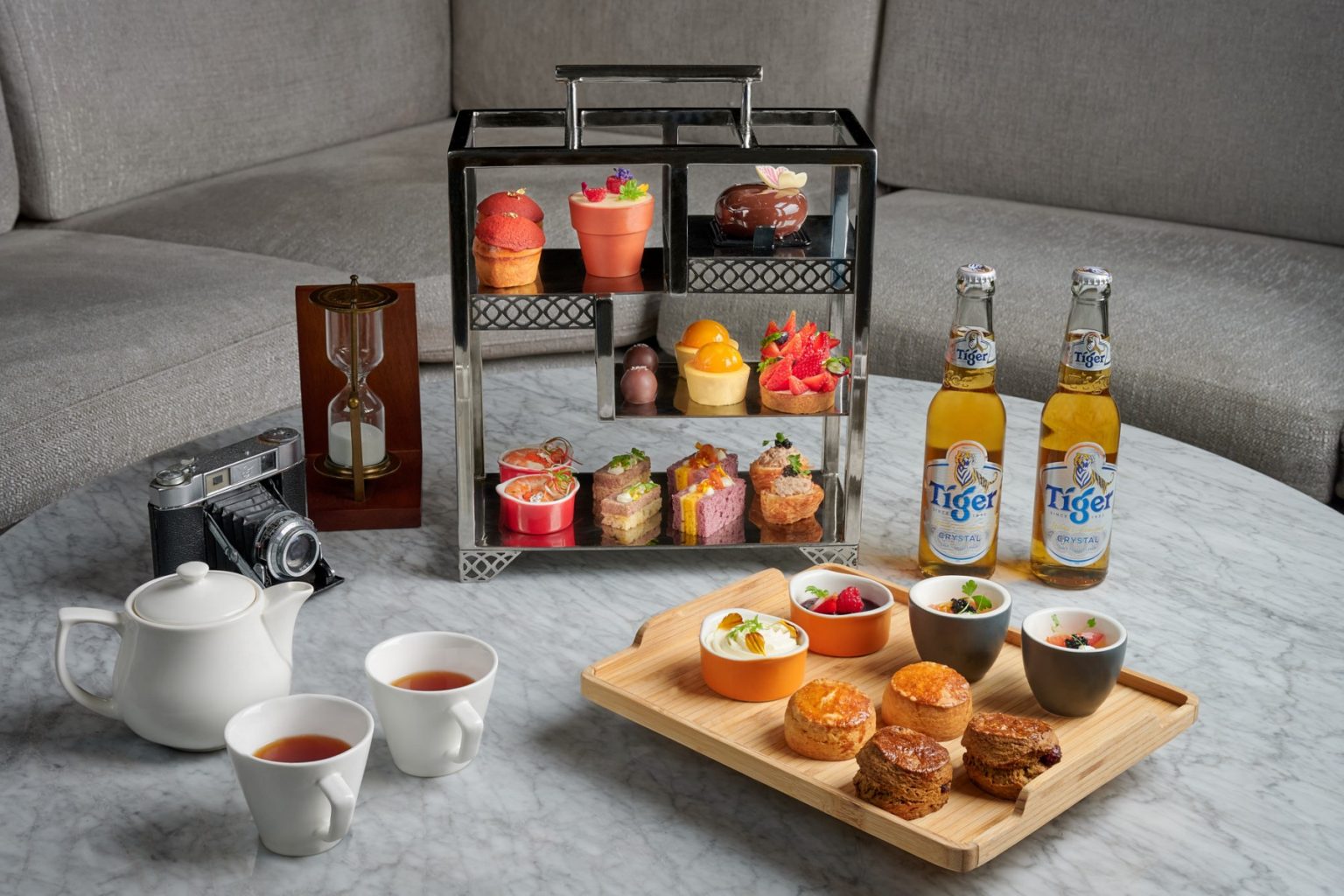 Escape the hustle and bustle of the CBD at this swanky coffee bar for a relaxing high tea session. Tuck in to decadent bites like the baked scones,matcha azuki genoise and baked frittata with octopus and smoked aioli served alongside aromatic barista-brewed coffee and TWG Tea. Now, that's what we call an afternoon well spent! For a uniquely boozey experience, you can opt for their Tiger Crystal High Tea ($118++) from 13 June to 31 August. Indulge in beer-infused treats like their beer orange caramel brioche, beeramisu, and prawn with beer-infused melon. Top up $20 for two bottles of Tiger Crystal beer to wash it all down!
Sofitel Singapore City Centre, Level 5, 9 Wallich Street, Singapore 078885; daily 2pm to 5pm
5. Tea Lounge at Regent Singapore
If you like sipping on tea amongst a charming colonial garden setting, you'll enjoy the quaint surroundings of the Tea Lounge. From July to August, indulge in luxury with a fun Singaporean twist on a classic high tea experience. The afternoon tea set ($52) comes with Regent's signature scones in plain and salted egg yolk flavours, sambal prawn and ikan bilis finger sandwiches, and a bak kut teh quiche. Top off the experience with quintessential Singaporean drinks like sweet bandung or a refreshing Singapore Sling.
Tea Lounge at Regent Singapore, 1 Cuscaden Road, Singapore 249715; Monday to Friday, 2pm to 5pm
6. Tablescape Restaurant & Bar at Grand Park City Hall
Satisfy your cravings with this afternoon tea menu ($78), which features delectable delights such as the foie gras tartlet served with nectarine and pistachio, and the apple and rosemary tart that promises a photo-worthy surprise. Get your phone cameras ready – because did it really happen if it's not on Instagram?
Tablescape Restaurant & Bar at Level 3, Grand Park City Hall, 10 Coleman Street, Singapore 179809; Monday to Friday, 2:30pm to 4:30pm
7. Lobby Lounge and The Terrace at Conrad Centennial Singapore
Have you ever wondered what chicken and chrysanthemum would taste like when you put them together? Well, now you can find out with Lobby Lounge's whimsical Language of Flowers afternoon tea. Taking inspiration from the region's best blooms, the menu features several floral-infused bites such as a tart perfumed with rose and crabmeat in a mimosa wrap. Add on $20 for unlimited Prosecco for the perfect mid week pick-me-up!
Lobby Lounge and The Terrace at Conrad Centennial Singapore, 2 Temasek Boulevard, Singapore 038982; available till 21 July 2022, daily 1pm to 3pm & 3.30pm to 5.30pm
8. Atlas
Nothing says treat yo'self like afternoon tea with a side of glitz and glam. Step into the roaring twenties at Atlas, a European Art Deco-inspired bar in the iconic Parkview Square. Settle down for a high tea spread of two selections: Atlas ($56) and Prestige ($60), with the choice of teas being the difference in price points. Savouries include pumpkin quiche with cream cheese, lobster crostini and truffled egg brioche. Meanwhile, sweets feature scones, lemon meringue tart and banana cream pie. Each component is handmade to order, so make your reservation with at least 24 hours' notice.
Atlas, Parkview Square, 600 North Bridge Road, Singapore 188778; Monday to Friday, 3pm and 4pm slots; Saturday and public holidays, 1pm, 2pm, 3pm and 4pm slots
9. Alley on 25 at Andaz Singapore
For those of you missing the whimsy of travel, you can get the experience of Japan with Alley on 25's Japanese inspired afternoon tea menu. Sink your teeth into teriyaki chicken sliders, California maki rolls, and scones flavoured with kinako and topped with kuromitsu raspberry jam. Free-flow beverages come in the form of TWG teas and coffee, or you can go all out by taking the bubbly route. Brownie points for the amazing city views! Yup, Alley on 25 is strategically located on the 25th storey of the hotel – talk about living the high (tea) life.
Alley on 25, Andaz Singapore, 5 Fraser Street, Singapore 189354; Monday to Sunday, 3pm to 5pm
10. Brasserie Les Saveurs at The St. Regis Singapore
When you're at the St. Regis, you know you're in for some pampering – and you won't even have to wait for the weekend. Just take a day off work and nibble your way through a lavish array of classic sandwiches, desserts and pastries served on a silver stand to really elevate your high tea experience.
Brasserie Les Saveurs, The St. Regis Singapore, 29 Tanglin Road, Singapore 247911; Monday to Saturday, 3pm to 5pm; Sunday, 3.30pm to 5.30pm
11. Skai at Swissôtel The Stamford
Due for a high tea sesh? Why not take it up a notch, literally. Say, 70 floors above ground? Skai has a spread of savoury and sweet creations layered with – in true Skai fashion – Japanese and Asian accents. While you admire the view, munch on bites like crab roll with ikura, foie gras on beet bun, smoked salmon with roe, raspberry almond macarons and yuzu butter cake. For $65 (per person), complete your meal with aromatic brews by TWG or Suzuki coffee.
Skai, Level 70, Swissôtel The Stamford, Singapore 178882; Sunday to Friday, 3pm to 5pm
12. The Lobby Lounge at InterContinental Singapore
One seriously spiffy option that's on our radar is the hotel's Heritage Royale Luxury Afternoon Tea. Enjoy treats like ayam buah keluak crostini, caviar and smoked salmon pumpernickel, chilli lobster sandwich and gold dusted ondeh ondeh cake. Jazz up your afternoon with two flutes of champagne, tea or coffee and unlimited servings of scones and ice cream ($228 for two).
The Lobby Lounge, L1, InterContinental Singapore, 80 Middle Road, Singapore 188966; daily, 1pm to 3pm or 3.30pm to 5.30pm

13. Prego at Fairmont Singapore
This classy Italian resto offers two afternoon tea experiences. The classic one ($48 per person) features rustic Italian treats such as focaccia with cheese and salami, puff pastry stuffed with ricotta, walnuts and honey, citrus meringue pie and parmesan cheesecake. Each set comes with TWG tea or coffee. For something a little meatier, the Gentlemen's Tea ($68 per person) on Fridays replaces delicate finger sandwiches with baked beef pie, steak and chimichurri on sourdough, coffee macchiato macaron and bitter chocolate cigars.
Prego, L1, Fairmont Singapore, 80 Bras Basah Road, Singapore 189560; daily 3pm to 5pm
14. Wildseed Cafe
We all know surrounding yourself in nature works wonders for your wellbeing. So for a change of scene, head to Wildseed Cafe. Situated amidst quiet nature, the space is decked in lush foliage. As you heal your mind, nourish your body with an exquisite selection of afternoon tea bites ($45). Bite into mini crab mayo croissants, mini spinach portobello quiche, scones with cream and strawberry jam and mini eclairs. And for an additional $10, you can clink to a glass of Cava.
Wildseed Cafe, multiple locations including The Alkaff Mansion and The Summerhouse
15. The Grand Lobby at Raffles Hotel Singapore
Settle in for an elegant afternoon at the heritage hotel with a refreshed spread of indulgences in a refined setting. You can't go wrong with the Classic Afternoon Tea ($80 per person) for a scrumptious experience! Just be sure to make your reservation a day in advance.
The Grand Lobby, Raffles Hotel Singapore, 1 Beach Road, Singapore 189673; Monday to Thursday, 1pm to 5pm; Friday to Sunday, 12pm to 6pm
16. Anti:dote at Fairmont Singapore
This fixture at Fairmont Singapore is no small contender in the cocktail scene. For its current Afternoon Indulgence tea, the splendid spread (from $58) includes delish sammies like roasted crab meat with tobiko, smoked salmon with ikura and coronation chicken with curry mayo; and tempting sweets such as financier tea cake and Nespresso cocoa macaron. Oh, and feel free to splurge on extras like champagne if you'd like. Talk about an antidote to your mid-week blues!
Anti:dote, Fairmont Singapore, 2 Stamford Road, Singapore 178882; daily from 12pm to 2pm; 3pm to 5pm
17. Atrium at Pan Pacific Singapore
Get cosy with a Japanese-inspired afternoon tea experience ($44 per person) that'll have you enjoying goodies such as salmon quiche, Japanese egg sandwich, earl grey macaron and chocolate cake. Complete the meal with two beverages from a menu that includes cold brew infusions, TWG teas and Lavazza coffees.
Atrium, Pan Pacific Singapore, Marina Square, 7 Raffles Boulevard, Singapore 039595; Monday to Thursday, 2:30pm to 5:30pm; Friday to Sunday, 12:30pm to 3pm, 3:15pm to 5:45pm
18. The Lobby Lounge at Shangri-La Hotel Singapore
Not one for finger sandwiches? Have your high tea with a homegrown twist instead! This local three-tiered afternoon tea set (from $60) features some of Singapore's all-star foods, including Nyonya kuehs and desserts like coconut kaya tart and durian dome. As for the scones, they get a splash of familiar flavours like gula melaka and pandan. Wash it all down with tea, coffee, kopi tarik or teh tarik.
The Lobby Lounge, Shangri-La Hotel Singapore, 22 Orange Grove Road, Singapore 258350; daily 3pm to 5pm
19. Lime Patisserie at Parkroyal Collection Pickering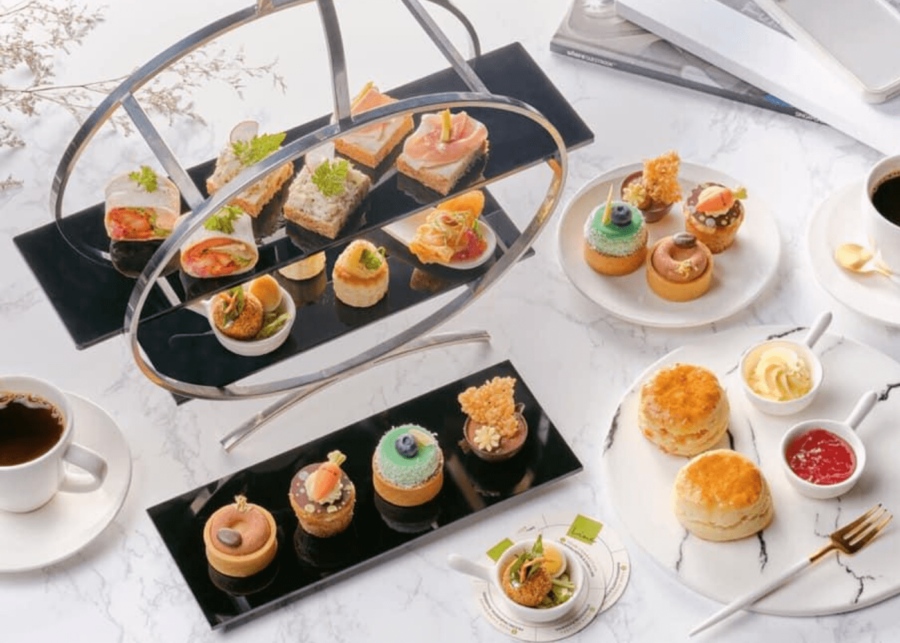 Now, here's a high tea sesh that brings us Tiers of Joy. Have tea for two in the lush, elegant space with plush sofas and comfy corner tables. From $68, the set for you and a dining partner features goodies such as Earl Grey cappuccino tart, parma ham sandwich, nasi lemak ball, mini shepherd's pie and pandan coconut tart. Oh, and did we mention the unlimited servings of coffee or TWG tea? That's your caffeine for the day, sorted.
Lime Patisserie, Parkroyal Collection Pickering, 3 Upper Pickering Street, Singapore 058289; Monday to Friday, 3pm to 5pm; weekends, 3:30pm to 5:30pm
20. TWG Tea Salons
Calling all tea lovers! Go gaga at TWG Tea salons with hundreds of brews to choose from. When tea time rolls around, you can pick a spot to lounge around with your fave flavours and light bites. Feeling peckish? Nibble on muffins or scones served with TWG Tea jelly and whipped cream, plus your choice of hot or iced tea with the 1837 set ($20). For $35, you'll enjoy all that alongside finger sandwiches such as Thai basil chicken brioche and crab meat tart.
TWG Tea Salons, multiple locations including Ion Orchard and The Shoppes at Marina Bay Sands; daily 2pm to 6pm
21. Mo Bar at Mandarin Oriental
Make your high tea situation an unforgettable one at Mo Bar. The Japanese-themed afternoon tea set ($48 per person, $88 for two) comes with rotating treats like egg roll with ikura, smoked salmon with wasabi mayo, baked cheesecake and sable tart. And yes, vanilla, and nori and truffle scones are also available. Pair your meal with a pot of tea or take it up a notch with a signature cocktail ($65).
Mo Bar, Mandarin Oriental, 5 Raffles Avenue, Singapore 039797; daily 3pm to 5pm
22. Colony at The Ritz-Carlton, Millenia Singapore
One of our favourite hotel buffets in town, Colony provides the best dining experience complemented by a sophisticated yet cosy setting. The Journey Afternoon Tea ($52) gives you a true taste of Singapore with its five-tier menu. Think scones with jam and clotted cream, mini mushroom cheese chicken pie, seafood rendang and king crab sandwiches, yuzu praline tart, lemon confit cheesecake and more. To complete the experience, you'll be sipping on your choice of champagne or prosecco.
Colony, The Ritz-Carlton, Millenia Singapore, 7 Raffles Avenue, Singapore 039799; Monday to Saturday, 3.30pm to 5.30pm
23. L'Espresso at Goodwood Park Hotel
Choose to enjoy your high tea spread in the cosy indoor space or by the breezy poolside terrace at L'Espresso. The reputable afternoon buffet-turned-tableside service (from $55) features a dazzling assortment of dainty sandwiches, cheeses, pastries, meats, ice cream, an assortment of desserts and, of course, traditional English scones.
L'Espresso, Goodwood Park Hotel, 22 Scotts Road, Singapore 228221; Monday to Friday, 12pm to 2.30pm or 3pm to 5.30pm; Saturday, Sunday and public holidays, 11am to 1pm or 1.30pm to 3.30pm or 4pm to 6pm
24. The Landing Point at The Fullerton Bay Hotel Singapore
Unwind at The Landing Point as you dine along the waterfront and soak in magnificent views of the Marina Bay area. Its East Meets West Afternoon Tea ($60) will treat you to myriad sweet and savoury flavours and complementary combinations like oolong tea-smoked duck with citrus mayo on herb bread and ondeh ondeh macaron. If you're in the mood for bubbly, add on $58 for free-flow champagne, house white and red. Cheers!
The Landing Point, The Fullerton Bay Hotel Singapore, 80 Collyer Quay, Singapore 049326; Monday to Friday, 3pm to 5.30pm; Saturday to Sunday, 12pm to 2.30pm or 3.30pm to 6pm
25. Arteastiq
Arteastiq is synonymous with relaxed art jamming afternoons and chi-chi meals. But if busting out your Picasso moves isn't the plan of the day, perch yourself on a plush, velour chair for an afternoon of dainty delicacies. The signature high tea set ($32 per person, $48 for two) comes with truffle shell pasta, mochi, mini New York cheesecake and teas. Meanwhile, the National Treasure set ($39 per person, $55 for two) goes the local route with otah fries, satay chicken with rice cake, rainbow kueh lapis and baked tapioca kueh with lychee.
Arteastiq, multiple locations including Mandarin Gallery and Jewel Changi Airport; daily 1pm to 5pm
What are you waiting for? Time to book yourself a luxe weekday afternoon tea sesh in Singapore!