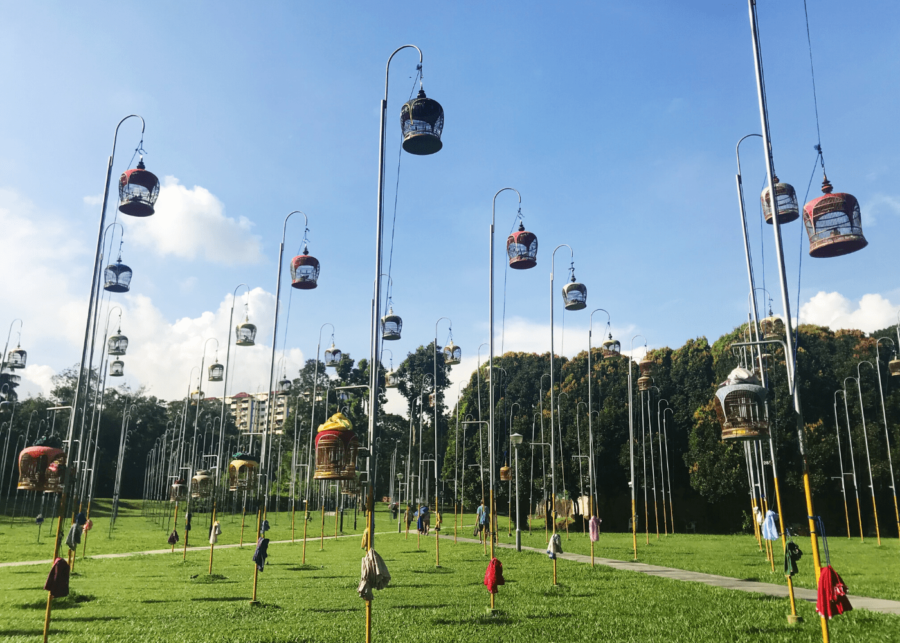 Photography: Nicole Nithiyah
From lightsaber duels and affordable cuisine to a hidden spa and the largest songbird display, our guide to Ang Mo Kio has it all.
Does your idea of fun involve visiting unique sights, getting cultured or setting off on adventures in nature parks? You'll be pleasantly surprised to know that Ang Mo Kio Town – yes, the uber-chill heartland neighbourhood in the North-East region – has it all. Our sister site HoneyKids has already covered some fun activities to do with the kids but we've got more exciting spots in our guide to Ang Mo Kio. Care to view the moon and Jupiter through a telescope, have dim sum at a coffee shop, watch songbirds compete to be the best singer or take pictures at Singapore's oldest playground? Be sure to tick these spots off your list.
SEE
Kebun Baru Birdsinging Club
Trust us, you'd want to add this spot to your off-the-beaten-track itinerary. Perched on the foot of Ang Mo Kio Town Garden and Block 159, the most popular and largest songbird display area (pictured above) in Singapore is quite a delight to the eyes and ears. Witness a bevy of songbirds in uniquely crafted cages hoisted 20ft up on poles showcasing their tunes. Sit back, relax and chat with the hobbyists or take a morning stroll along this beautiful hidden gem in Singapore.
Kebun Baru Birdsinging Club, Blk 159 Ang Mo Kio Avenue 5, Singapore 560159
Dog run at Bishan-Ang Mo Kio Park
There are two dog runs located in Bishan-Ang Mo Kio Park – both of which are separated fenced areas for small and big breeds, so there's plenty of room for your dogs to run leash-free. Water points are even located nearby to wash up your dogs or quench their thirst. Go during the weekends to witness a parade of these furry friends.
Dog Run, Bishan-Ang Mo Kio Park 2, Ang Mo Kio Avenue 1, Singapore 569981
Dragon playground
One of the only two dragon playgrounds in Singapore (its sibling is sitting at Toa Payoh), this nostalgic dragon playground is definitely a blast from the past. Bring the kids here to give them a taste of what it was like in the past or get your parents to share some fond memories with you. And of course, don't leave without taking a snap or two.
Dragon Playground, Blk 570 Ang Mo Kio Avenue 3, Singapore 560570
Spot murals around the neighbourhood
Take a stroll around the neighbourhood and you'll be surprised to see a number of beautiful murals scattered around. The most popular would have to be Yip Yew Chong's Reminiscing Old Ang Mo Kio series. Make your way to Teck Ghee Court Market and Kebun Baru Market to get a look at the gorgeous murals that spotlight the blissful kampong days. Cameras, out!
Reminiscing Old Ang Mo Kio mural series
Masjid Al-Muttaqin
Located at Ang Mo Kio Avenue 6, Masjid Al-Muttaqin is the only mosque in the neighbourhood. Built in 1980, it's the fifth mosque to be completed under the Mosque Building Fund Scheme Phase I. It can accommodate up to 3,500 worshippers and also holds preschool and part-time religious classes.
Masjid Al-Muttaqin, 5140 Ang Mo Kio Avenue 6, Singapore 569844
Gao Lin Gong Temple
Immerse yourself in a dash of culture and snap some beautiful pictures at the oldest Chinese temple in Ang Mo Kio. Named Gao Lin Kong after its mother temple in China, it's often referred to as the Temple of the Lords by locals.
Gao Lin Gong Temple, 791 Ang Mo Kio Avenue 1, Singapore 569974
---
EAT
Fish & Chicks
Crispy, golden fish fillet drizzled with signature sauces like salted egg and chilli crab sounds like our kind of comfort food. Decked out in flavours that celebrate the best of both worlds, Fish & Chicks also has carb-tastic pasta dishes topped with a slow-cooked egg and scrumptious seafood, chicken and beef.
Fish & Chicks, #01-2429, Block 531 Ang Mo Kio Avenue 10, Singapore 560531
Mellben Seafood
Mellben Seafood is definitely your go-to when your seafood and zi char cravings demand to be satisfied. A must-try is the crab claypot bee hoon – the clear winner at this restaurant. Come here for big family gatherings and special occasions 'cos everyone's bound to have a great time.
Mellben Seafood, #01-1222, Block 232, Ang Mo Kio Avenue 3 Street 22, Singapore 560232
The Workbench Bistro
As far as cafe grub goes, we're content with the usual suspects like burgers, sandwiches, waffles, pastries and, of course, a smashing cuppa. But The Workbench Bistro goes above and beyond. How does purple sweet potato waffles, chocolate s'moreffles, coffee Oreo ice cream or egg lava burger sound to you? It's got our tummies squirming in joy.
The Workbench Bistro, #01-1881, Block 332 Ang Mo Kio Avenue 1, Singapore 560332
Kow Loon Hong Kong Dim Sum
Here's another name to add to our never-ending list of dim sum spots (hey, we're not complaining). Kow Loon Hong Kong Dim Sum – located at an unassuming coffee shop on Ang Mo Kio Avenue 5 – tickles your appetite with over 50 handmade Hong Kong and Shanghai dim sum dishes. Try the har gao, prawn chee cheong fun, liu sha pao and century egg and pork congee for a simple yet satisfying meal.
Kow Loon Hong Kong Dim Sum, #01-3030, Block 151 Ang Mo Kio Avenue 5, Singapore 560151
Grub
We can't complete this guide to Ang Mo Kio without giving a shoutout to one of the most sought-after cafes in the 'hood. Ensconced right smack in the middle of Bishan-Ang Mo Kio Park, Grub serves up delectable Asian-Western cuisine in a lush setting. Burger lovers can choose from hot classics like crispy fish burger and Grub double cheeseburger, as well as fusion favourites such as har cheong gai burger and mala xiang guo burger.
Grub, 510 Ang Mo Kio Avenue 1, Singapore 569983
Kam Jia Zhuang Seafood
Take a break from cafe fare and bring your family and friends here for delish zi char featuring interesting dishes. Yes, salted egg yolk is all the rage in the city, but try the pumpkin prawns and you might just switch sides. Plump and creamy with a mishmash of savoury-sweet flavours, the dish is a healthy alternative to its cousin. The blackcurrant spare ribs, chrysanthemum fried grouper and mushroom tofu are some other dishes you must try.
Kam Jia Zhuang Seafood, #01-1690, 202 Ang Mo Kio Avenue 3, Singapore 560202
Ordinary Burger
If you've ever tried these burgers, you'll know there's nothing ordinary about them. From the creators of Stuff'd, these no-frills burgers are big on flavour. We can vouch that the spicy burger is as good as a certain spicy counterpart at McDonald's. There's also classic beef, ebi prawn, fish, buttermilk chicken and Impossible burger, to name a few. Each meal comes with a drink and fries or onion rings (get the rings!).
Ordinary Burger, #01-43 outside AMK Hub, 53 Ang Mo Kio Avenue 3, Singapore 569933
Canopy Garden Dining
Can you imagine having your meal in a beautiful setting like this at your neighbourhood? Apparently, you can. Kickstart your morning with a scrumptious brunch menu of salads, egg dishes, pastas, burgers and sandwiches, then wash it all down with a robust combination of fruit juices. Oh, and you're welcome to bring along your fur babies at this hidden gem.
Canopy Garden Dining, 1382 Ang Mo Kio Avenue 1, Bishan-Ang Mo Kio Park 2, Singapore 569931
---
DO
Refresh your body and mind at Aramsa Spa
Rejuvenate, revitalize and recover from your crazy lifestyle at Aramsa Spa. Aptly located within the lush greenery of Bishan Park, the exotic resort-like spa makes you do a double turn. Try one of the massage, specialised, detox, water, wrap and anti-stress therapies for an overall top-to-toe pampering or a skin-specific Elemis facial.
Aramsa Spa, 1384 Ang Mo Kio Avenue 1, Bishan-Ang Mo Kio Park 2, Singapore 569932
Spend hours at the arcade
Let your inner child have a ball of a time at Timezone. The arcade has a mix of carnival games, air hockey and games that need a little luck. You won't even notice the time fly by.
Timezone, #04-06, AMK Hub, 53 Ang Mo Kio Avenue 3, Singapore 569933
Lightsaber dueling with The Saber Authority
Here's something for die-hard Star Wars fans and thrill-seekers. Unleash your inner Jedi and transport yourself to a galaxy far, far away through a session of lightsaber duelling with The Saber Authority. Saber Authority brings an activity that no gym can offer. Learn Asian martial arts techniques and the art of swordsmanship with custom lightsabers – all in a fun and encouraging setting. Head to The Deck across Ang Mo Kio MRT station on Wednesday nights to join in the fun.
Saber Authority, The Deck at Ang Mo Kio Avenue 8 (under the tracks opposite Ang Mo Kio MRT station)
Free public stargazing by Singapore Sidewalk Astronomy
Aside from the otters (#RIPPapaOtter), come see Jupiter, the moon and some stars through a telescope and discuss the ABCs of astronomy with the folks at Singapore Sidewalk Astronomy. It's the perfect bonding session for the family! Follow the Facebook page for all the deets on the next session.
Public stargazing by Singapore Sidewalk Astronomy, outside McDonald's at Bishan-Ang Mo Kio Park, 1378 Ang Mo Kio Avenue 1, Singapore 569981
---
SHOP
Willow
A bike shop and cafe rolled into one, Willow offers all things bike-related including repair services. The quaint spot at Block 456 also has a cafe that offers a mean cup of joe, cold brews, waffles, brownies and homemade ice cream.
Willow, Block 456 Ang Mo Kio Avenue 10, Singapore 560456
The Wallet Shop
What if we said you don't have to travel all the way to town for a cool accessory fix? The Wallet Shop – we're unclear how it got its moniker since there's more than just wallets – carries quite the eclectic mix of bags, cardholders, laptop sleeves, travel accessories and water bottles from brands such as Bellroy, Cabin Zero, Thule, Status Anxiety and Mis Zapatos, just to name a few. No matter your preference, there's no denying The Wallet Shop is the one-stop destination for all your entire pocket needs.
The Wallet Shop, #02-49, AMK Hub, 53 Ang Mo Kio Avenue 3, Singapore 569933
Fwah
Speak Out, Pie Face, Wet Head, Save the Penguin, Fibber and Wheel of Shots… If your idea of fun includes having a go at one of these peculiar but entertaining games, this is the place to be. Add on to the quirk by bringing home an alarm clock with wheels, emoji cushion, mini claw machine or candy dispenser.
Fwah, #02-25, AMK Hub, 53 Ang Mo Kio Avenue 3, Singapore 569933