Thaiwan is a buzzy little joint on Ship Street where punters hang outside on the streets sipping cheap beers
These secret dive bars in Wan Chai serve good food and cheeky cocktails without the pretense
If you're looking to have a great time and conquer the best happy hour deals, there are a wide range of nightclubs, gay bars and rooftop bars in Hong Kong. However, if you want to grab some cocktails and food somewhere a bit more low-key, these cosy and welcoming dive bars in Wan Chai would suit your taste. Offering great drinks, tasty food and live music, it's guaranteed to be a great night.
Check out these lovely dive bars in Wan Chai
Thaiwan
This up-and-coming neighbourhood dive bar on the calmer side of Ship Street looks like a hip Taipei bar with its exposed concrete walls and a corrugated sheet metal bar painted in a brilliant red. The delightful décor displaying Taiwanese and Thai traditional ornaments reflects the quirky sensibilities of Erik, from Taiwan and Debbie, from Thailand. The husband-and-wife team runs this casual and cozy bar with a well-curated beer selection that you can enjoy with the best Taiwanese sausages and Thai snacks in town.
Thaiwan, Shop 3, G/F, Greatmany Centre, 31 Ship Street, Wan Chai, Hong Kong, p. 3709 6595, 灣仔船街31號智群商業中心地下3號舖
Back Bar
Of all the dive bars in Wan Chai, Back Bar is probably the most well-known. With its epic music selection and cosy vibes, it's the kind of place you want to hang out at after work. With no pretension in the air, expect cocktails inspired by the flavours of local cha chaan tengs along with a selection of beers and spirits.
Back Bar, 7 Ship Street, Wan Chai, Hong Kong, p. 2555 0628, 灣仔船街7號
Tai Lung Fung
The design at Tai Lung Fung  starts from the street front, where visitors are greeted by a funky neon sign. Surrounded by old movie posters and vintage toys from the 60s, walking into this dimly lit, red-hued bar is like travelling back in time. With a tasty cocktail made by one of the many lovely bar staff, you will feel nostalgic for the romantic yesteryear of old Hong Kong. It's the perfect place to hang out with some friends over skewers and cheap drinks.
Tai Lung Fung, 5 Hing Wan Street, Wan Chai, Hong Kong, p. 2572 0055, 灣仔慶雲街5號
Shack Tapazaka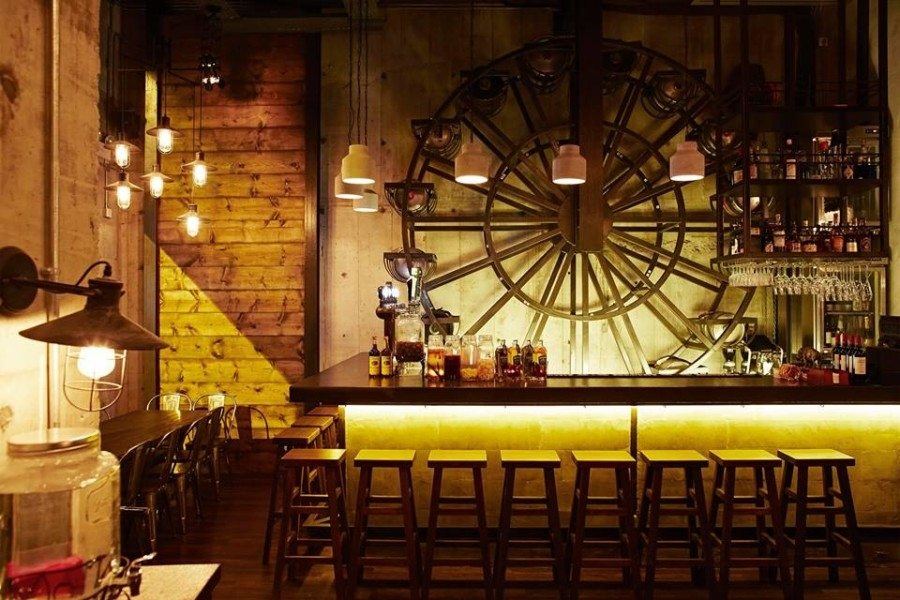 While technically in Causeway Bay, we just had to add Shack Tapazaka to our list. An exposed, black-iron clad exterior gives the dive bar a cool vibe, while inside they have a nice selection of gins, whiskies and sake that you can sample with some edamame, grilled chicken skewers and other Japanese snacks. We love that his bar offers mouthwash in the loo too, to ensure that you are always minty fresh.
Shack Tapazaka, G/F, 1-1A Yiu Wa Street, Causeway Bay, Hong Kong, p. 2555 6058, 銅鑼灣耀華街1-1A號地下
Cinta-J Restaurant & Lounge
When it comes to dive bars in Wan Chai, Cinta-J is special like no other. The tables, booths, and the seating style is reminiscent of design at an American style diner. However, with kitschy paintings collected from different parts of Asia gracing its walls, the place looks like a Denny's that has gone rogue.
At night, the stage lights up the whole place and their house band plays dancy tunes, with many of the audience singing along. In addition to their standard selection of drinks, they serve a diverse selection of delicious snacks from different parts of Asia, which is the perfect way to cap off an evening of fun in Wan Chai.
Cinta-J, Shop G-4, Malaysia Building, 69 Jaffe Road, Wan Chai, Hong Kong, p. 2529 6622, 灣仔謝斐道69號馬來西亞大廈地下