Gifts for the special man in your life! (Photography: Yan Krukau via Pexels)
Finding fun and interesting gifts for men in Hong Kong can be hard, so we've compiled a list of great gift ideas for him
On the busy streets of the city, you will always be able to find a place to shop, including Hong Kong fashion brands, street markets, and large shopping malls featuring international designers. We at Honeycombers Hong Kong love indulging in shopping adventures from time to time, but buying gifts for men in Hong Kong – and, in fact, anywhere – can sometimes be difficult. We've put together a guide to gift ideas for men in your life (including amazing experiences he'll never forget!), from action sports, to technology, homeware, wellness, and fashion – no matter what he likes, we've got some ideas for you. Plus, have you taken a look at all our gift guides?
Gifts for men
1. Terrariums
Every home could use a nice houseplant, and terrariums are a twist on the classic pot plant gift. The glass jar plant is small enough to be placed in his house, office, bathroom or desk; purchase one that is already made, or add a personal touch by customising and designing your own for him. This is one of the best gift ideas because terrariums don't require much maintenance, and everyone living in the city could use a little bit of nature and greenery in their day-to-day lives.
Shop Glass Farm online.
2. Mugs
For all men who are lovers of coffee or tea, purchase the perfect vessel for their preferred poison. Choose a quirky and fun mug that will bring a little excitement to an otherwise daily routine and average workday. Find affordable novelty designed mugs at Typo in Cotton On including The Simpson's Duff Beer mugs, Star Wars mugs, and anthropomorphic mugs.
Cotton On has branches across Hong Kong
3. Coffee beans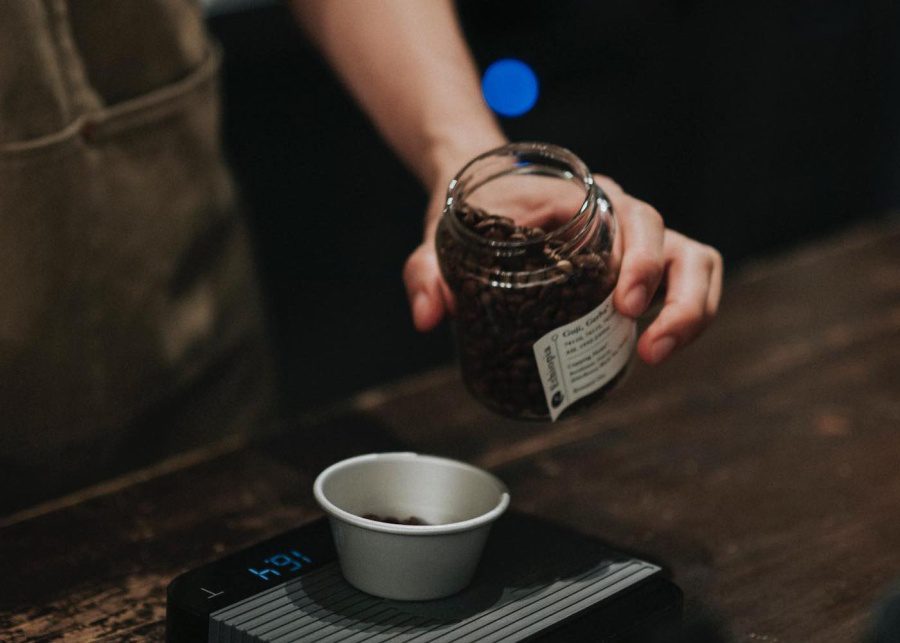 If you're looking for gifts for men in Hong Kong, a well roasted bag of coffee beans are an easy and simple gift for him. For all men who enjoy a good cup of coffee – morning, lunch, afternoon and night, grab some coffee beans from Knockbox Coffee Company. The cafe has thirteen different roasted coffee beans to choose from and enjoy.
Knockbox Coffee Company has branches across Hong Kong.
4. Scented candles
A simple homeware gift idea for him are scented candles, which are a welcome addition to any living or working space. Aromatherapy is an easy way to improve general wellbeing and depending on the individual candle scent, it can help destress, clear your mind, and relax. Grab some quality scents at Malin+Goetz online or in stores to give your gift the edge.
In search of more candles? Check out our guide to candle shops in Hong Kong.
Malin+Goetz has branches across Hong Kong
5. Whisky
Does the man in your life enjoy a nice, oaky tipple? A bottle of whisky is one of the most perfect gifts ideas that can be enjoyed while also bringing an air of sophistication. The Rare Malt has an extensive stock of almost every whisky from Scotch to Japanese, all at various price points. You can pick a bottle you think he'll find neat, or try to track down a rare bottle for the more serious collector.
The Rare Malt has branches across Hong Kong.
6. Socks
Socks are always a great practical gift; they're worn to the gym, to work, and occasionally at home to keep you cosy during the winter season. Purchase your male family member, friend, or lover a pair of quirky patterned socks that matches their personality. A striped or spotted coloured pair of socks will always brighten their day as some of the more whimsical gift ideas for men.
Pair Pair Full has branches across Hong Kong.
7. Headphones or earphones
Whether it's going to the gym, to and from work, or day-to-day travel, headphones or earphones are always a great practical gift for those who enjoy quality sounds. For the men in Hong Kong who love their music, purchase a pair of quality headphones or earphones at Bang & Olufsen that will block out outside noise and elevate their sound experience.
Bang & Olufsen has multiple locations in Hong Kong. 
8. Game consoles and video games
No matter the age, a game console or a single video game always make amazing presents. Purchase either a game console from Xbox, Nintendo or Playstation or an individual video game including Resident Evil, Horizon: Zero Dawn, Nioh, Nier Automata, Assassins Creed, Mario and Zelda. Purchase this wide variety of gift ideas online or at Fortress stores across town.
Fortress has branches across Hong Kong.
9. Camera or drone
A camera or a drone is a great gift for those who enjoy taking stunning and impressive photos and videos. For the men who aspire to be a photographer, videographer, who appreciate exploration and love travelling, gift him with the gadgets to capture those precious moments. Head to the Golden Computer Arcade in Sham Shui Po which feature the latest in technological gadgets as well as computers, video games, game consoles and more.
Need help finding the perfect film camera? Our guide to film cameras will come in handy.
Golden Computer Arcade, Golden Building, 146-152 Fuk Wa Street, Un Chau, Sham Shui Po, Kowloon, Hong Kong
10. Sex toys
Sex toys are always one of the more classic and fun gift ideas. Purchase something specifically for him, or for him and his partner to potentially use. There is a wide range of products to choose from depending on sexual preferences including sex dice, lube, flavoured condoms, blindfolds, handcuffs, whips, bondage rope, nipple clamps, dildos, vibrators, anal beads and more.
Read more about shopping sex shops in Hong Kong here.
Wanta has branches across Hong Kong.
11. Lingerie
Specifically for the girlfriends, wives or lovers of men, purchase a set of provocative lingerie as a present for him and yourself. Feel both sensual and seductive while stimulating him visually and sexually. There's a wide range of pieces to choose from, including designer, sheer, lace, floral, silk, satin, leather and bondage intimate wear.
Read more about shopping lingerie in Hong Kong here.
Intimissimi has multiple locations in Hong Kong.
12. Activewear
Have a guy in your life who is always down for a run? Stylish activewear for guys is a reality and Hong Kong is packed full of stores that sell great sports shoes, clothing, bags, and accessories to keep the special guy in your life looking on point. Lululemon is one of our go-to brands for its quality activewear. Its plethora of gift ideas will last your guy a lifetime and have him looking trendy as he works out to boot.
Check out where to shop men's activewear in Hong Kong.
Lululemon has branches across Hong Kong.
13. Craft beer
When it comes to gifts for men, beer has long been a classic option, and, in case you didn't know, Hong Kong has quite a few awesome craft breweries that make unique tipples. For some creative craft beers, try a bottle from Yardley Brothers. Whether the man in your life goes mad for IPA, fruit sours, or stout, you'll find whatever you're looking for and then some.
Check out our guide to Hong Kong craft beers.
Yardley Brothers is available at retailers across Hong Kong.
14. Notebooks
All though we are blessed with convenient e-notes, some people still prefer to write things on paper. If you are looking for unique notebooks made by local artists, check out Qraftie's Stitchable Travel Notebook or Finger Counting Notebook. Since notebooks and pens always go together, we think it would be great to pair your gift with a stylish fountain pen from Parker. These are some of the best gift ideas for the writers in your life.
Shop Qraftie and Parker online
15. Gift cards
Let's admit that it can be hard to know exactly what the man in your life wants, but  gift cards are always good gift ideas. We have gathered a list of places to buy vouchers and gift cards in Hong Kong for every budget, ranging from fashion, food, beauty to electronics.
16. Steak
Rarely do you find a guy who dislikes a hearty meat dinner. Whether you plan to get premium meat from popular butchers or have a juicy steak at restaurants, this will surely win your dude's affection. Yakinikumafia serves a delectable Ozaki Beef Omakase set where you can sample premium rare cuts like rib cap and chuck eye accompanied by mouth-watering sides. If you wish to enjoy the food at home, Yakinikumafia also provides Home Experience Grill Set for two with a 200g Ozaki Ribeye, 300g Ozaki Beef platter and a range of sides.
Yakinikumafia, 2/F Hollywood Centre, 233 Hollywood Road, Sheung Wan, Hong Kong, p. 3105 1250
17. Chocolates
It's true, it's not just the ladies who love to receive some sweet treats, men love them too! Take it up a notch and get your man chocolates infused with liquor for some extra treat on the good stuff. One of the best sellers include dark Marc de Champagne chocolate truffles, but the whisky truffles and Sipsmith gin chocolate truffles get our nod too. Of course, there are always non-alcoholic options too like the assorted chocolate and truffle gift boxes that make the perfect gift ideas.
Our list of best chocolates in Hong Kong will be sure to satisfy your giftee's sweet tooth
Charbonnel et Walker has branches across Hong Kong.
18. Hand-crafted wine stand
Handmade gifts are guaranteed to make men go pink cheeks as it's that extra thoughtful step that gets them. If you don't want to get your hands dirty, good for us that Qraftie does the job. Though this wine stand won't be showing off your own craftsmanship, its quality is assured by the hands of local craftsmen. These wine holders are combined by cutoff solid wood and mixed with different styles of epoxy resin and no two pieces look the same. We think this one is absolutely stellar!
Shop Qraftie online.
19. Did someone say cake?
Say it with cake! For men with a sweet tooth, they'll love the decadent and soft treats from Lucullus. The Dark Magic, curated with 72% dark chocolate looks so elegant and is layered with dark chocolate mousse, almond sponge and hazelnut crunchy chocolate. Or you can go for the classic Blackforest Cake with literal cherries on top for one of the tastiest gift ideas for men.
Looking for more cakes? Our list of cake shops in Hong Kong will come in handy.
Lucullus has branches across Hong Kong.
20. Hair growth serum
This one's definitely not to shame men on hair loss, it's a practical gift for the gents that worry stiff about losing hair that they end up losing hair even more! Nanogen's Growth Factor Thickening Treatment Serum promotes healthy hair growth for increased thickness and density. It's paraben-free, cruelty-free, non-clonogenic, and dermatologically tested for use on sensitive skin.
Shop Nanogen online on Look Fantastic.
Experience-based gift for men in Hong Kong
21. Facial and Massage
Facials and massages are not exclusively for women – they can also make great gift ideas for men, because who doesn't like to relax and be pampered? The special man in your life can rejuvenate his skin and melt his stress away with a facial treatment. Asaya is the perfect place to gift your man an experience of the ultimate holistic wellness treatment.
Read our guide to best facials in Hong Kong here
Asaya Hong Kong, 6/F, Rosewood Hong Kong, Victoria Dockside, 18 Salisbury Road, Tsim Sha Tsui, Hong Kong, p. 3891 8588
22. Barber cut
Gift the special guy in your life a fresh new cut and shave. Get him a buzz cut, skin fade, or beard trim at Selvedge Barbers. Make an appointment for your brother, uncle, father, boyfriend, or lover at the barbershop in Central. Located in a convenient location, he can come in and out in under an hour and have a brand new look.
Read our full list of barber shops in Hong Kong that we love here.
Selvedge Barbers, G/F, 36 Pottinger Street, Central, Hong Kong, p. 2577 3080
23. Health clinic checkup
The queen of television – Oprah Winfrey treats herself to a breast exam each and every year on her birthday, and we think prioritising one's health is both smart and sexy. Men's Health Solutions Center in Tsim Sha Tsui was founded on the principle of supporting and prioritising men's health.  The health clinic specialises in sexual health for men, and provides consultations and treatments for those suffering from erectile dysfunction, sexually transmitted diseases and issues related to the penis and foreskin. Men's Health Solutions Center also offers general health check-ups, weight management programs, vaccinations, genetic tests as well as hair loss services including toupee manufacturing.  Encourage the men in your life to get a regular health checkup and you can always go along for a little moral support too.
Men's Health Solutions Center, Room 1211, Ocean Centre, 5 Canton Road, Harbour City, Tsim Sha Tsui, Hong Kong, p. 2375 3322
24. Paint
Do you have a man in your life that loves to DIY around the house? Give him with the gift of eco-friendly paint in Hong Kong. Purchase him a range of different colours and shades for him to finish his many DIY projects or gift him with his own personalised colour and even name it after him.
Read more about founder of Eico Joakim Cimmerbeck here.
Eico has branches across Hong Kong.
25. Paintball or laser tag
Paintball or lasertag is an action sport and war game that is fun, exciting and thrilling. It is an experience-based gift, that is perfect for guys who already seem to have everything. Enjoy different styles of the classic game like team elimination, capture the flag, kill the team leader and more at D.G.W..
D.G.W., 69 Bedford Road, Tai Kok Tsui, Hong Kong, p. 2342 1393
26. Trampoline park
Exclusively for him or inclusive of his friends, gift him the experience of some thrilling and exciting action sports at Hong Kong's first trampoline park – Ryze Hong Kong. The trampoline park has a foam pit, a rope-climbing ninja course and 7000 square feet of trampolines! Prepare to run, jump, leap, climb and work on your backflips.
Ryze Hong Kong, Kodak House 1, 321 Java Road, Quarry Bay, Hong Kong, p. 2337 8191
27. Bubble soccer
For the men in Hong Kong who enjoy a unique experience, a twist on the classic game of soccer, Bubble soccer allows him and his friends to run, kick, smash, and bump into each other while wearing neon bubble suits. Referred to as the after party game of the World Cup, strategise how to score points in bubble suits by getting the ball into the opposing team's goal in four minute rounds at Crossfire Arena in Taikoo.
Crossfire Arena, 3B, On Fat Industrial Building, 12 Kwai Wing Road, Kwai Chung, Hong Kong, p. 2633 0989
28. Fishing trip
For those men out there who enjoy a good fishing trip, gift him with his next Hong Kong fishing adventure. Saffron Cruises has the largest fleet of boats, yachts, sailing boats and junk boats that are ideal for fun days out at sea. They offers three types of fishing trips including squid fishing, deep water fishing or overnight fishing. We think this is one of the coolest gifts for men in Hong Kong.
Saffron Cruises, 69 Wing Lok Street, Sheung Wan, Hong Kong, p. 9106 0265
29. Dine out
A nice meal away from home always means a great time, get dressed up for some good food, flowing conversation and superb wine at his favourite restaurant. Treat him to a dinner and a night out depending on his food palette preferences, or try one of our favourites – Arcane. Located in Central, Arcane offers a unique dining experience where you can enjoy the views of a beautiful British garden while being served delicious Hokkaido scallops, wagyu beef, sauteed potato gnocchi and more.
Read more about Arcane here.
Arcane, 3/F, 18 On Lan Street, Central, Hong Kong, p. 2728 0178
30. VR experience
Looking for gifts for men in Hong Kong who love tech? You can't beat Sandbox VR for a guaranteed good time shooting up zombies and saving the world from evil skeletons. Suit up in state-of-the-art equipment before choosing your weapon and entering another world.
Check out our review of Sandbox VR here. P.S. we loved it!
Find out more about Sandbox VR.
31. Bun's 2020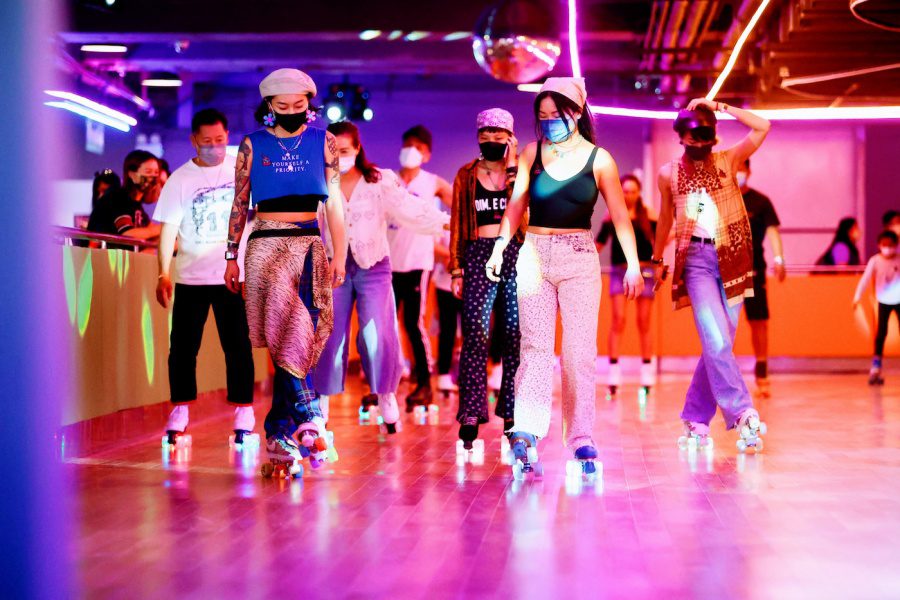 For the retro-loving men in your life, Bun's 2020 will be a nostalgic getaway. Grab your skates and roll around this Insta-worthy rink and let your inner child out. There are also courses suitable for beginners and advanced rollers. And with the blasting music, you're bound to get groovy!
Find out more about Bun's 2020. 
Bun's 2020, 7/F, Kodak House I, 321 Java Road, Quarry Bay, Hong Kong, p. 2779 2020
32. Board games cafe
It's always fun to get a little competitive when playing board games, be it a round of Monopoly, Catan, or Taboo. Our go-to board games cafe is Wheat and Wood – it's spacious, has a decent range of board games, and serves alcohol because there's nothing like drunk Jenga! You will easily spend at least three hours here and it makes for a fun afternoon or evening.
Wheat and Wood, Shop 6, Ground Floor, Brilliant Court, 28 Praya, Kennedy Town, Hong Kong, p. 2399 0433
33. Tram party
Nothing gets the party started like popping open a champagne bottle on the open roof of a tram! A unique party experience in Hong Kong, gather all your pals and throw a birthday party for your guy bestie/partner/family member and they will love it (and so will the guests!).
Book your tram party here.
34. Luggage
Have a guy in your life that's a jet-setter? Gift him a stylish luggage piece for the next time he goes on a trip! Suitcases aren't something you think about often until you're jetting off and in dire need of something sturdy to store your valuables. German brand Rimowa has an exceptionally durable and lightweight luggage range that'll take you on countless trips 'round the world.
Read more about where to shop luggage in Hong Kong.
Rimowa has locations across Hong Kong.
35. Wax
Who says only women have unwanted hair? Treat the special guy in your life to a wax (maybe even a "boyzilian") for any hair they want to get rid of in a hurry. Strip: Ministry of Waxing is a prime spot to get waxed by trained therapists who ensure quality and hygiene. Located in the heart of Central, it'll have your guy's skin smooth in no time.
Read our full list of waxing salons in Hong Kong.
Strip: Ministry of Waxing, 7/F, 8 Lyndhurst Terrace, Central, Hong Kong, p. 3950 3950